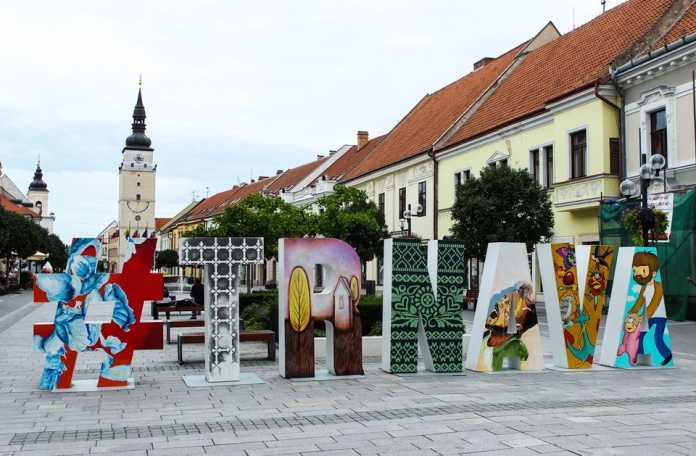 Trnava is known as Slovakia's Little Rome. A historical city with more churches than you can imagine, picturesque streets, laid back atmosphere and cozy cafes. It is not touristy at all. And we quite don't understand why! Now it is the time to make an unforgettable one day trip to Trnava with our detailed guide.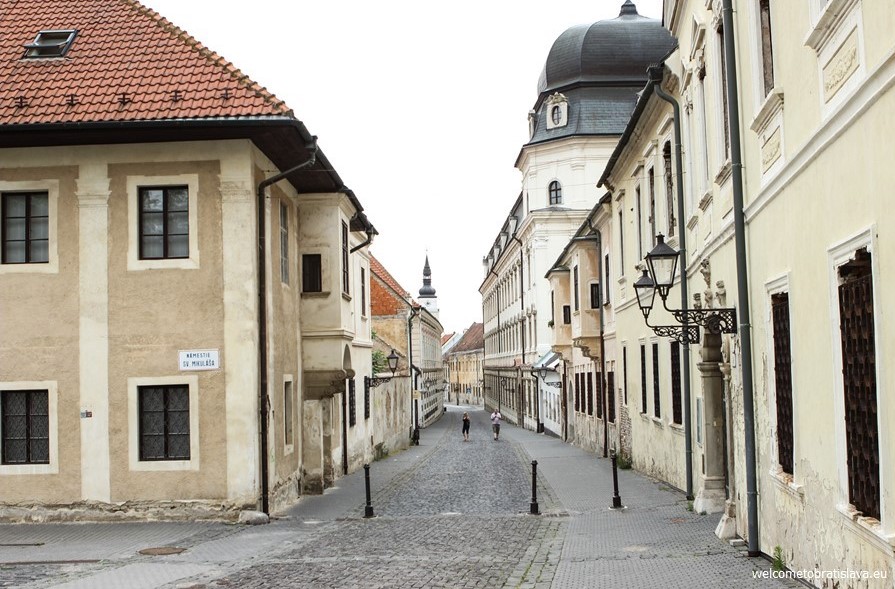 LOCATION
Trnava is located approximately 40 km from Bratislava, so it will take you around 30 minutes to get there by car, using D1 highway. There are good public transport connections, too. You can choose from several direct trains between the cities, taking from 30-50 minutes or from direct buses that take longer – from 50 minutes up to 2 hours. Check this website for more details.
WHY VISIT TRNAVA
1. HISTORY, HISTORY & HISTORY!
Trnava was the first privileged royal town in Slovakia. You can see here unique religious sights and get a glimpse of the Middle Ages when walking through its historical streets.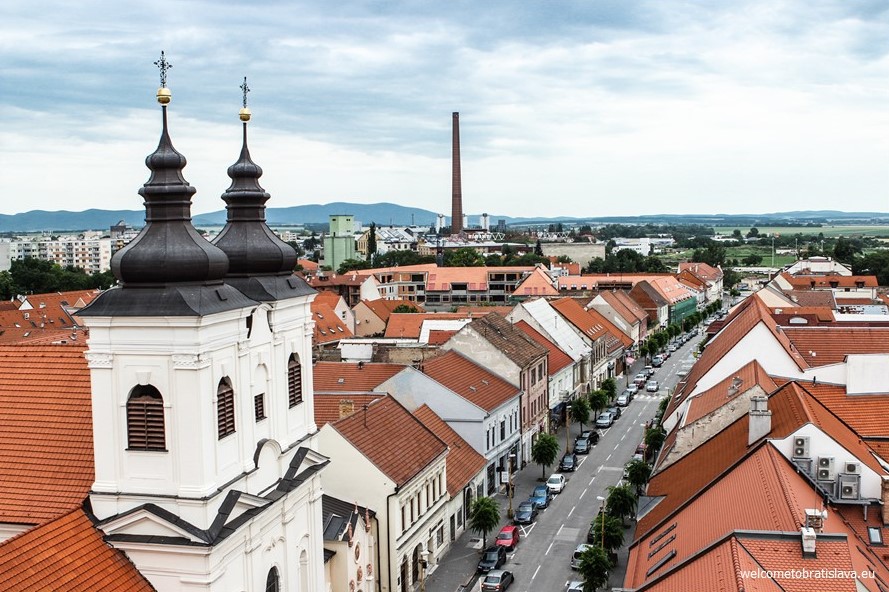 2. PHOTOGENIC STREETS
Trnava looks awesome on the pictures! Thanks to numerous churches peeking at every second corner, you can get some amazing shots here.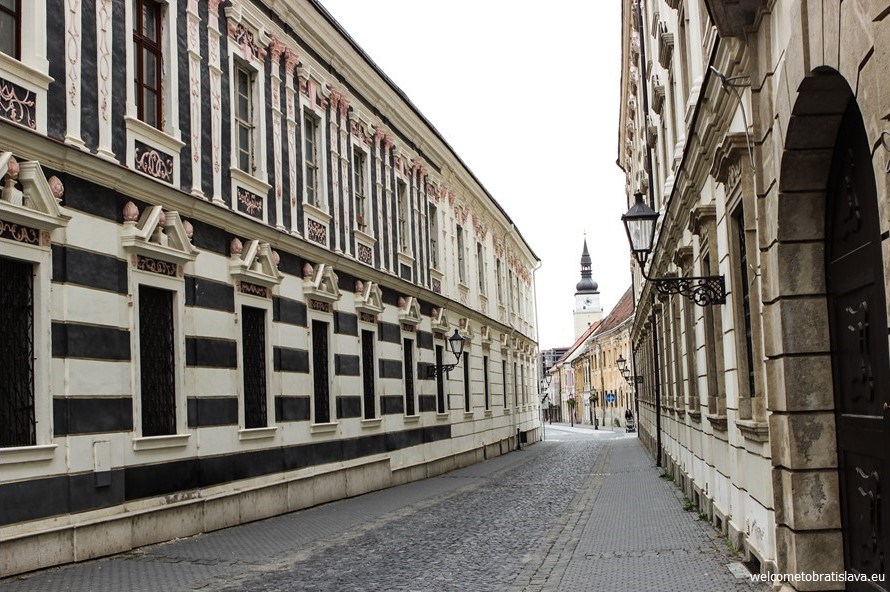 3. WINE-MAKING TRADITION
Some of the best Slovak wines come from the Trnava region. Our favourite ones are Mrva & Stanko or Magula winery but there are many!
4. HIPSTER CROWD ON THE RISE
That's right, many cute hipster hangouts have been established in Trnava. If hipsters are your crowd, do not miss a recently opened cultural center.
TOP ATTRACTIONS
There is a lot to see in Trnava – if you wanted to explore all the churches, you would need more than just a day… These are the top attractions we liked the most here. As the city is quite small, all of them are conveniently located close to each other.
THE TOWN TOWER
This renaissance tower is the city's dominant, standing at the Trinity Square since the 16th century. Absolutely a must to climb its 143 stairs to enjoy a magnificent view on the city (admission fee is 3 € per person) and take amazing pictures.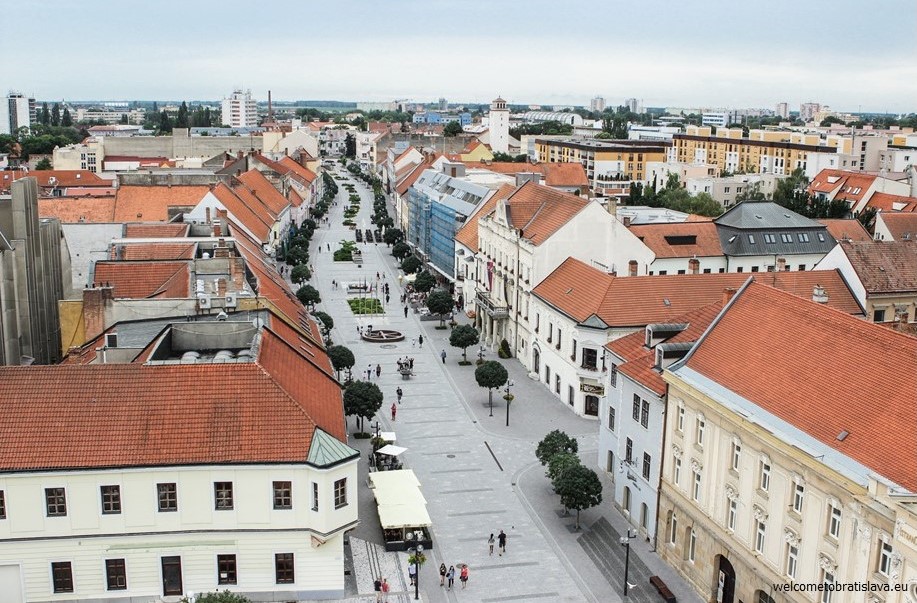 Do notice the sundial on its south-eastern side and a gilded Immaculata statue on its top. An interesting fact to notice about the statue is that it has two faces. It is because of the fear of the locals that Virgin Mary will keep an eye only on that part of the city which she faces :)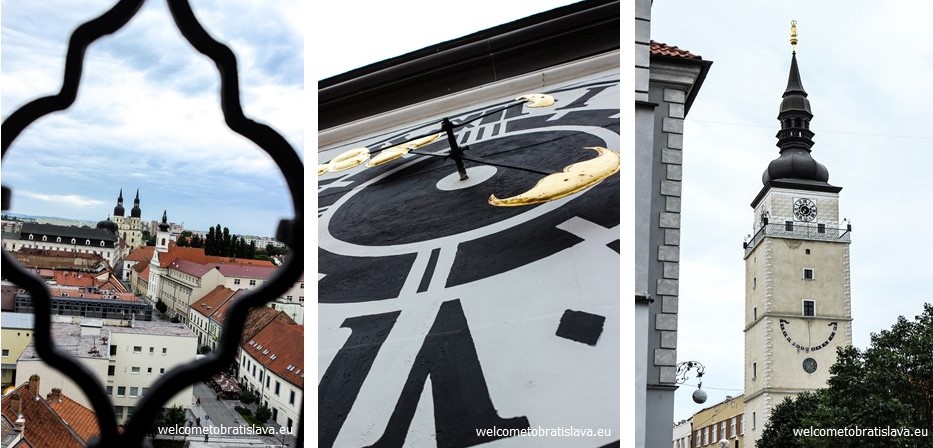 TRINITY SQUARE
Our most popular spot in Trnava. A place full of vibrant energy, with a theater, a town hall and a culture house. We especially love to look at it from the tower!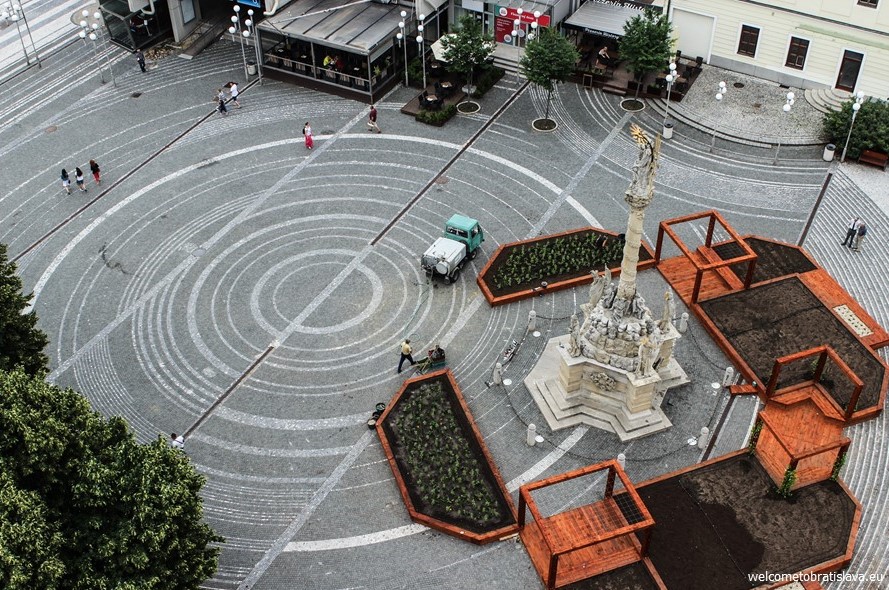 It is named after the baroque Holy Trinity Statue depicting Virgin Mary's coronation by the Holy Trinity. It dates back to the 17th century.
THE PROMENADE WITH THE CITY MODEL
The Trinity Square connects directly to the promenade. Take a stroll and watch the locals passing by and children playing in the fountain.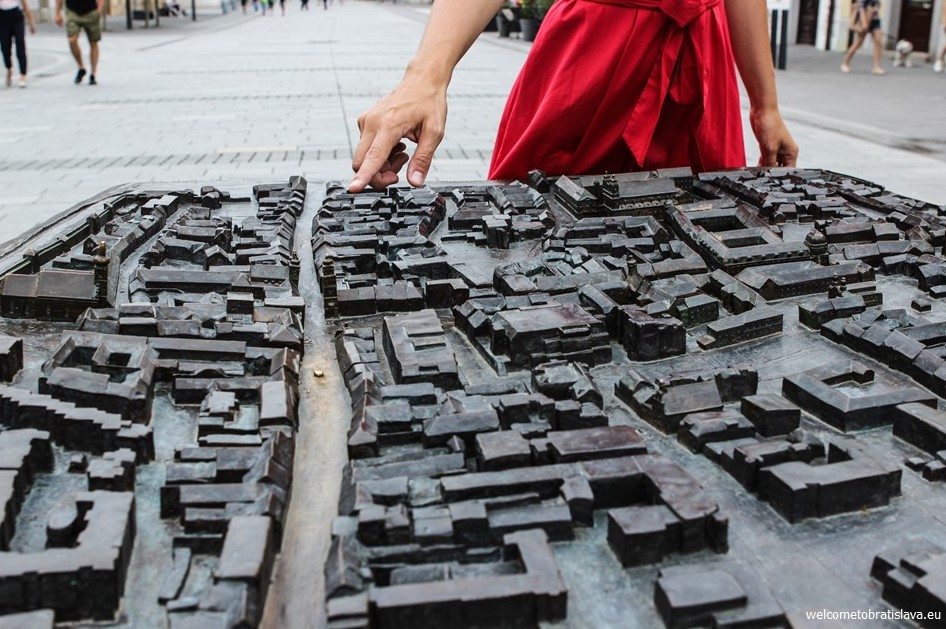 Do notice the amazing miniature of Trnava or pictures of eminent historical figures of Trnava with short stories about them. Don't forget to take a picture with the colorful letters forming "Trnava" inscription.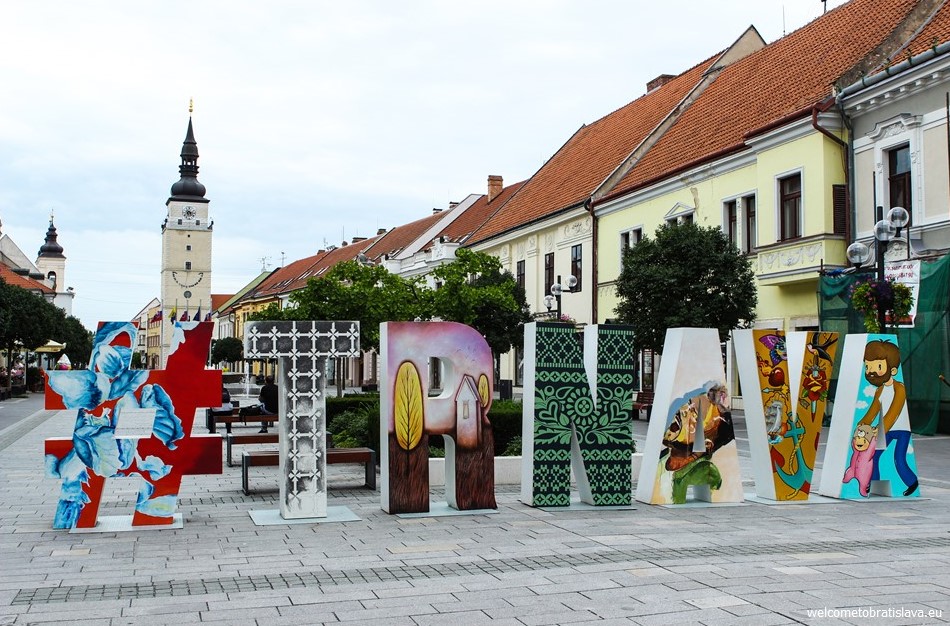 ST. NICOLAS BASILICA
You can get pretty amazing shots of the old streets with this impressive basilica standing out in the back. It was built in a late Gothic style in the 15th century. It hosts a weeping painting of Virgin Mary that is believed to have wept bloody tears during the Turkish threats.
CATHEDRAL OF ST. JOHN THE BAPTIST
The first Early Baroque building of a national significance in Slovakia, the Cathedral of St. John the Baptist, is one of the most valuable historical monuments of Trnava. The Italian builder Pietro Spazzo built it in the 17th century and it formed part of the university complex. The locals call it simply the University Church. The cathedral was visited by Pope John Paul II in 2003.
FORTIFICATION WALLS
Trnava has the oldest fortification system in the Middle Europe. It was built in a Gothic style  in the 13th century and the majority of it is still in place, including the western Bernolak's gate! How remarkable!  
SYNAGOGUE STATUS QUO ANTE
This synagogue has breathtaking architecture. It was built at the end of the 19th century and currently hosts various exhibitions and exhibition openings. It is, of course, closed on Saturdays.
JAN KONIAREK GALLERY
The gallery carries the name of the founder of the Slovak sculpture Ján Koniarek. It is a non-profit organization that focuses primarily on the core themes of the 20th century's art as well as on the current trends in the modern art. Both Slovak and foreign works are exhibited here. Jan Koniarek Gallery has two branches. One is situated in the above mentioned Synagogue – The Centre of Contemporary Art and the second one in the Koppla's Villa. Both locations are closed on Saturdays.
LITTLE BERLIN/NÁDVORIE CULTURAL SPACE
This cultural centre was opened in February 2018 by opening and connecting several burgess houses in the historical center and creating a space for various cultural events, theater performances, gastronomy events, or concerts (outside or in the two halls).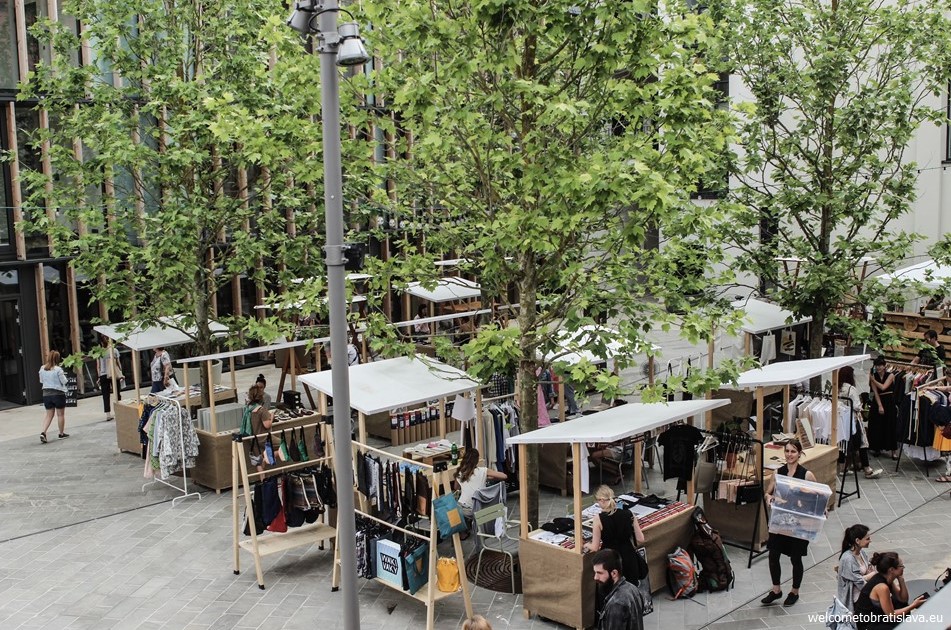 There is also a startup coworking space, a restaurant and a bakery. It is a unique place where Trnava's hipsters meet under the trees and romantic lights.
EATING OUT & DRINKS
BREAKFAST AT THALMEINER
Thalmeiner is said to be the best café in Trnava. Well, we could not check that by ourselves as it was hopelessly full. We tried returning several times but weren't lucky. It might be proof of their good name, don't you think?
LUNCH AT FORHAUS
Forhaus' cuisine is amazing! The place is quite huge, with beautiful industrial slash glamour inspired interior and cosy half-covered terrace. We enjoyed our meals here and the staff was friendly and professional. Highly recommended!
AFTERNOON COFFEE AT SYNAGOGA CAFE
How often do you get to sip your coffee in an actual synagogue? Well, for part of our crew, this was the highlight of our trip. Authentic ambiance, dimmed lights and the most beautiful ceiling! Cake and hot chocolate were great, too.
DINNER AT BISTRO ENAK
If you ask a local where to eat out in Trnava, they will all recommend bistro Enak. Its Asian cuisine is believed to be authentic and delicious. It was unfortunately closed on the day of our trip but we felt we should mention it here due to its high popularity.
DESSERT AT BABOVKA
Babovka is one of the newer places in Trnava. As the name indicates, it specializes in the sponge cake (babovka)! It has one of the most beautiful interiors we have seen – cute & clean & thought-through to the smallest detail. The service was amazing here as well as the setting – right next to the beautiful old church. We were sipping wine and eating ice-cream on the outside terrace, indulging ourselves. We just wished their sponge cakes had been bigger!
HAVE A GLASS OF WINE
If you are not driving, have a glass of wine at some of these wineries. The region is known for its tradition in wine-making and some of the best Slovak wine brands come from here.
Do you have more tips to share with us? Let us know!
Author: Zuzana Mytna