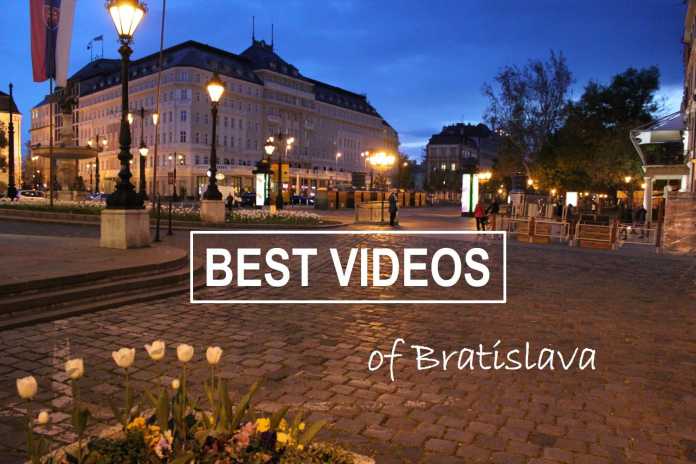 The official ones, those shot by people who like this city or by those who just recorded a video because they like filming. This is the list of our favorite videos of Bratislava. Which do you think is the best one? :)
1. CITY OF BRATISLAVA
This timelapse video was filmed over a period of one year in Bratislava by a guy called Ondrej. The music by Moby he chose for it goes perfectly with the video. Bratislava by day, by night, in summer, in winter, it has it all. Just love it.
2. BRATISLAVA TIMELAPSE
Another timelapse video about our capital. A less dynamic one, with a more urban touch. Each time we get to watch it, we wish it was summer all year long. So beautiful!
3. EVENING IN BRATISLAVA, SLOVAKIA
You can feel the wind blowing the grass, soak in the atmosphere of the city ease, watch happy people, sun set, see where friends meet in the evening… it has that comfy something that makes us say 'yeah we're so glad we live here :)
4. VISIT BRATISLAVA, SLOVAKIA
This is the official video about Bratislava. You can't really go wrong with an official vid, can you? Great photos, great music, great shots. Worth of watching if you haven't already read this blog.
5. TASTE BRATISLAVA REGION
An introduction to what the Bratislava region offers not only in terms of satisfying your taste buds. Picture taverns, wineries, local food, but also the typical souvenirs and places worth of visiting.
6. ENJOY BRATISLAVA REGION
Fun, nature, adventure! Bratislava in its sporty way – that's what you are going to get in the following video :)
7. DISCOVER BRATISLAVA REGION
A perfectly spent sunny day in Bratislava. Yes, this is exactly how we picture such a day. Like it is shown in that video:
You might also like:
Why visit Bratislava
One day trip to Bratislava
Author: Maria Kecsoova