Wondering where to take your kids when the weather is nice? Get inspired by our list of outdoor places for kids! If they like animals, prefer playing outdoors or like action, we are sure you will find a perfect spot for each of them!
PLAY AT THE OUTDOOR PLAYGROUNDS
AREAL HIER STRKOVEC
This is the biggest children playground in Bratislava. Located in the Štrkovec Lake area, it includes a beach volleyball court in the summer, ping pong tables and a mobile ice rink. More info.


(source: planetslovakia.sk)
CHILDREN PLAYGROUND IN EUROVEA
This popular playground is part of the Eurovea shopping mall complex. The kids in the age 3 – 14 can play at this wonderful location next to the Danube river. The main theme of this playground is water – a ship, blue surface imitating water, a whale, an octopus or a shark will entertain your little ones while you enjoy a nice view and a busy promenade. More info.
ROOF PLAYGROUND IN CENTRAL
This playground is described as the safest one. It is a multi-functional playground built from various materials such as Swedish steel or Northern pine located on the roof of the Central shopping center. And why the safest? It meets the highest standards of the European norms and the surface is designed in a way, so that it minimizes the injury risk in case of a fall. The surface also lets through the water, so kids can play basically immediately after the rain stops. It is also ecologically friendly as 80 % of the place is made out of recycled materials. It is closed during winter (from December until March). More info.


(source: kamsdetmi.sk)
KIDS AREA AT VELKY DRAZDIAK
This playground is located right next to the lake Draždiak. It serves the kids in the age group 2 – 16 years and contains different elements of various difficulty. More info.
PLAYGROUND BEHIND AUPARK
You can find this playground behind the popular shopping center Aupark in Petržalka. It contains a number of swings, jungle gyms and slides. It is open all year long but some of its attractions (the rope center, the climbing wall and trampolines) are seasonal. More info.
BUPPI KID WORLD IN BORY
It offers a unique combination of an indoor and outdoor playground with a total area of 4200 m2. They also organize workshops and theater performances. It can be rented out for a party, too. More info.


(source: pluska.sk)

PLAYGROUND OSADNA IN NOVE MESTO
This beautiful multi-functional playground lies in the municipality Nové mesto on Osadná Street. It has many attractions for kids that include wooden and chain swings, rocking horses, rope and chain jungle gyms, a slide or a sandbox. It also offers attractions for adults such as a basketball court, workout machines or a vast green area with trees providing shadow. More info.
PLAYGROUND AT RIVER PARK
This multi-functional playground for kids is called River Parčík as it lies at the Danube embankment close to the River Park complex. It contains modern slides and swings for bigger and smaller kids, a rope jungle gym, a net swing, a tunnel, trampolines or a carousel. The surface of the playground is soft to muffle the falls. More info.


(source: kidstown.citylife.sk)
WATCH AND PET ANIMALS
BRATISLAVA ZOO
It is one of the largest ZOOs in Slovakia. If you have some spare time, want to spend a relaxed day somewhere nice or just love animals, then this place might be worth a visit. Have a picnic with your kids or friends there, feed the animals during given times, explore the DinoPark and its extinct animals or just escape from the city noise for a few hours. We especially recommend the Monkey's Pavilion. More info.
HORSE-RIDING AND MINIZOO IN PEZINOK
The  horse-riding area Rozálka lies in Pezinok, approximately 30 minutes from the Old Town by car.  You can either attend the horse-riding school, ride a horse in the area, watch various horse-riding events or let your kids play at a meadow designed for children with a jungle gym and swings. We however think that the coolest attraction here is the minizoo with sheep, rabbits, chickens and ponies. More info.
BIOFARM IN STUPAVA
The Biofarm Príroda is a dream of each animal-loving child located 20 minutes from Bratislava's Old Town. Kids can see almost all domestic animals here – sheep, goats, horses, cats and dogs and even a roe-doe named Líza! They can see how a sheep is milked and sheep cheese is produced, ride ponies or play in a sandbox. You will also see a shepherd's hut and an old bakery with a small shop where you can buy farmers' products. The farm serves as a production site for the popular Slovak Pub in Bratislava. As a bonus, the farm is enclosed by a beautiful nature. Can you imagine a more idyllic sound than the clinking of the sheep bells? More info.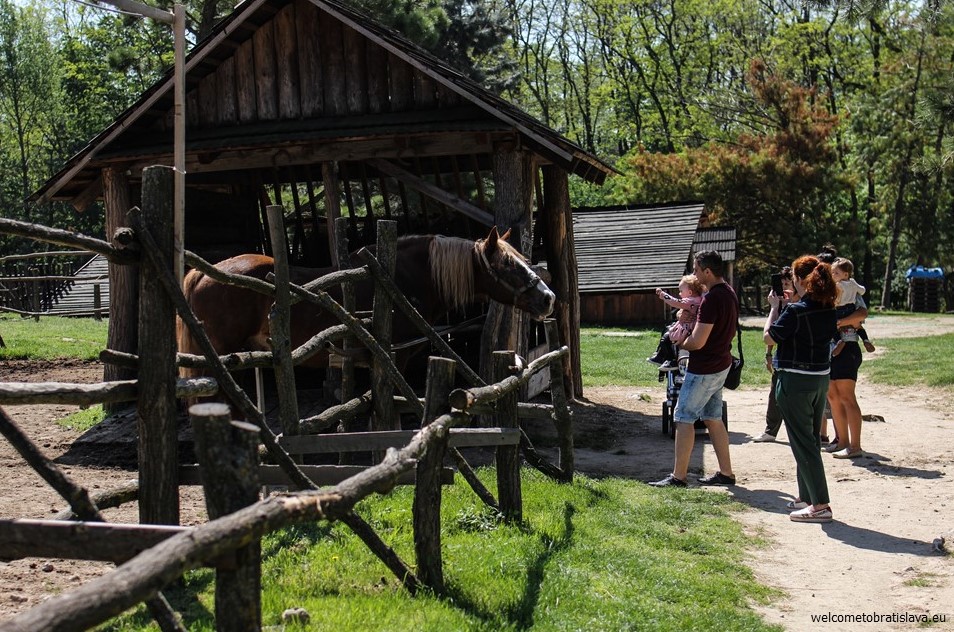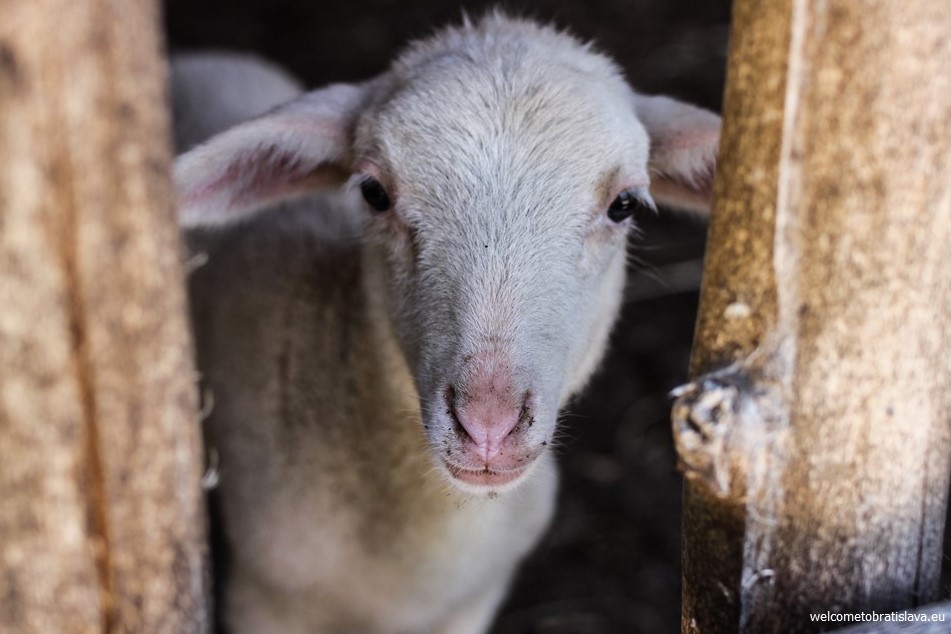 FARM ABELAND IN LOZORNO
Enjoy the countryside and visit the charming farm Abeland. It is actually a small village of crafts and arts in Lozorno, approximately 30 minutes from Bratislava by car. You can enjoy the domestic animals, visit an ecological building (made from natural materials like hay, clay, wood and stone) which serves as a tea house; or attend some of the thematic programs organized each Saturday, targeted at the traditional crafts and culture. More info.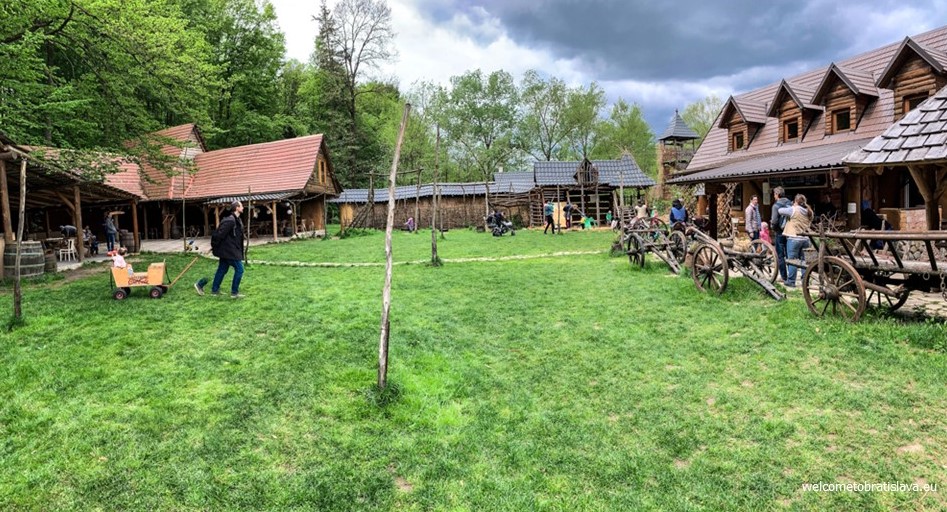 FAMILY FARM IN MODRA
Pod Gaštankou is a small family farm in the Modra district (approximately 40 minutes by car from Bratislava). Picture an idyllic location under the forest, above the vineyards and between meadows. During the main season, you can watch domestic animals, ride a horse or attend thematic weekends with creative workshops and different games. More info.


(source: Pod Gastankou FB site)
SIBERIAN TIGER OASIS
This is a unique program in Slovakia created in order to save the Ussuri tigers. The oasis lies close to Senec, approximately a 30 minute-drive away from Bratislava. Currently they have 21 tigers and 2 lions. More info.
MALKIA / BIG CATS RESCUE IN ORECHOVA POTON
The primary aim of this place is to create the most optimal living conditions for the animals that were saved from circuses and from the inappropriate domestic breeding conditions. It is located in Orechova Poton, approximately 45 minutes by car from Bratislava. You can stroke and feed some of the breeds living here. The specialty is a mobile aquarium with live sharks that was saved after the oil accident in the Gulf of Mexico in 2010. More info.


(source: malkia.sk) 
INSECT HOTEL AT PARTIZANSKA LUKA AND DEVINSKA KOBYLA
This is a unique structure built by an NGO using wood with various natural materials inside like hay, bricks, plants or pine cones. It attracts different insects including bees and bumble bees. More info and Facebook.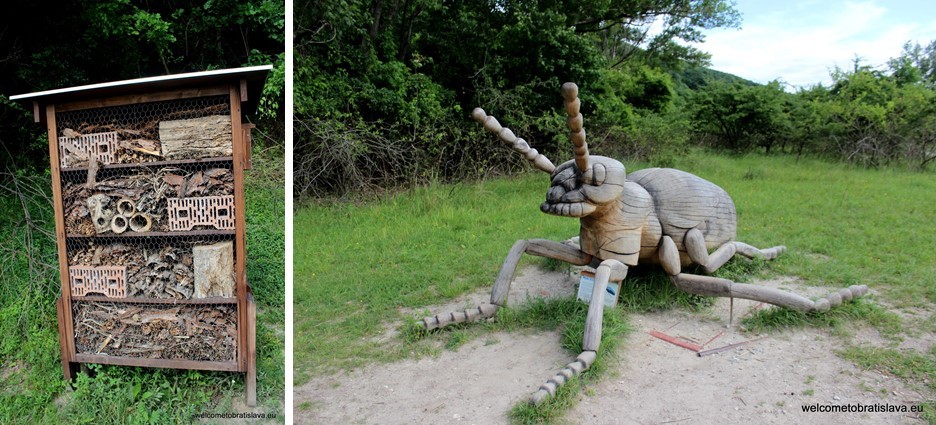 PONY RIDING AT DEVIN
The pony riding season officially starts in April and you can bring here your kids during the weekends until November. Please check the official site for any changes due to the bad weather. More info.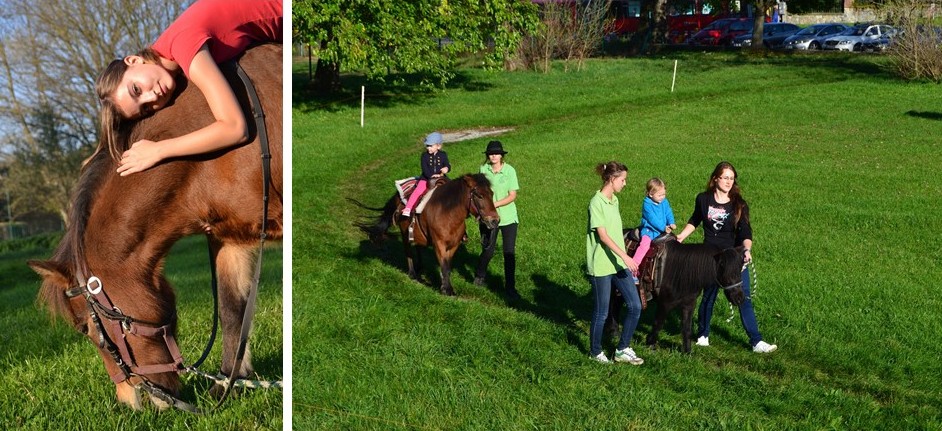 (source: konikypreskolky.sk)
EXPERIENCE ACTION
ROPE CENTER LANOLAND
The rope centre at Koliba has a length of 423 m and consists of 42 obstacles and 4 zip-lines. Obstacles are divided into three basic color-coded tracks (plus two extras) based on their difficulty, so everyone can choose the one suitable for them. Whether you want to please your kids (for kids with minimum 130 cm) or are able-bodied athlete yourself, this is something to try out. More info.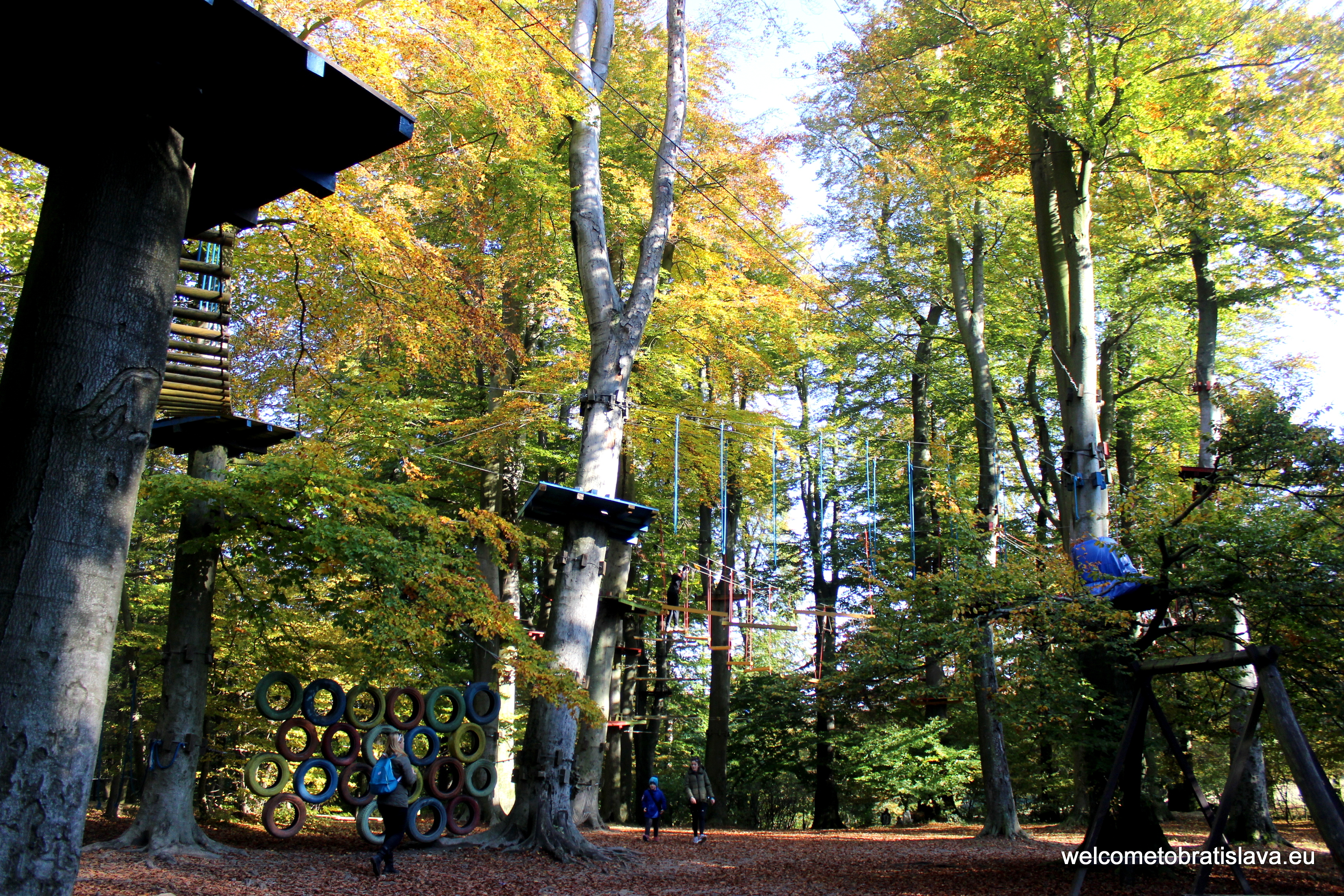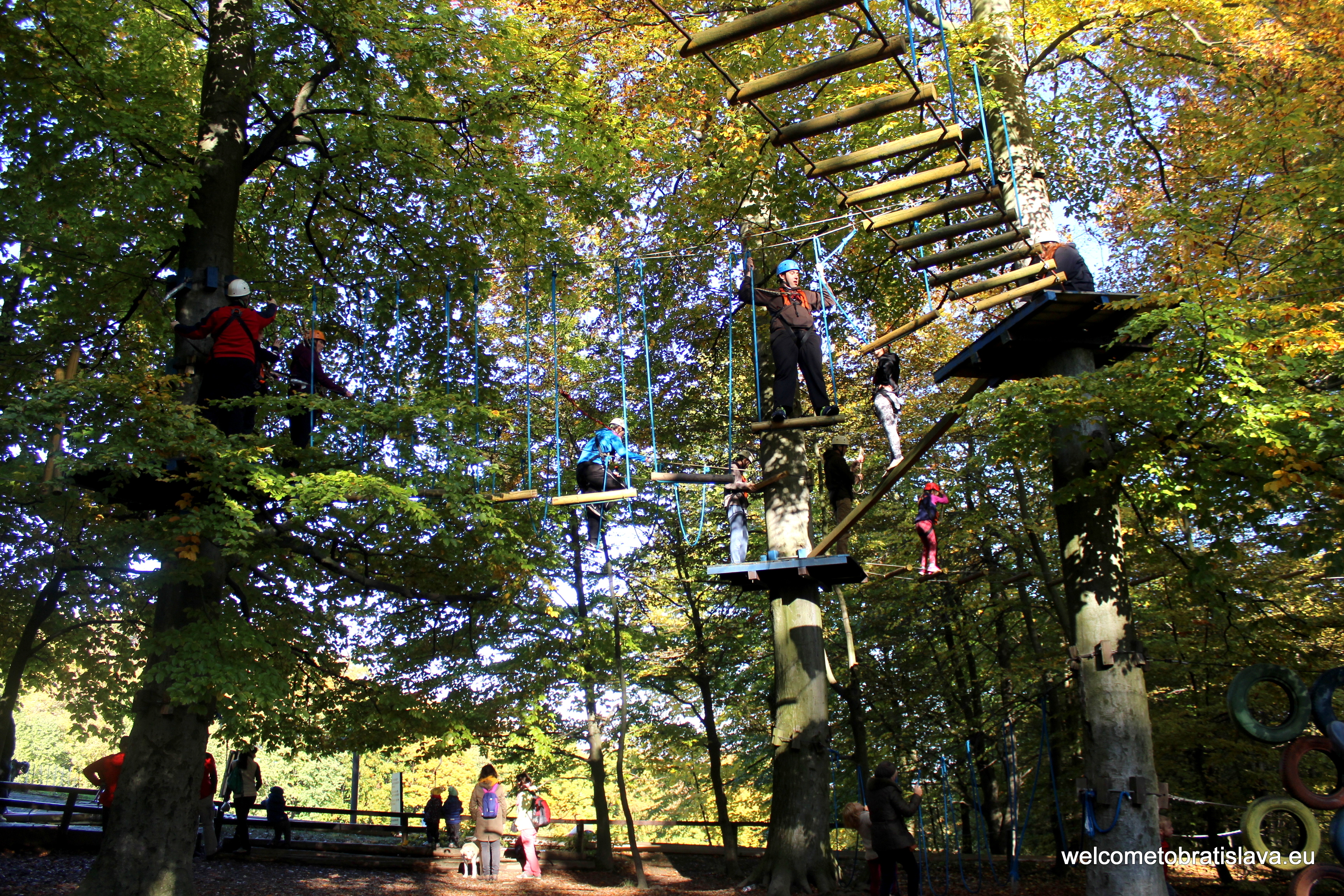 BOBSLED AND CABLE CAR AT KOLIBA
If the weather is good and you'd like to do some sport activities during, try the bobsled which is not only for kids. This is the first bobsled in Slovakia, established in 1996. It works during the summer season. Not afraid of heights? Take the cable car from Kamzik to "Zelezna studnicka" which is another forest park and a great spot for barbeques. The ride takes only 8 minutes. More info.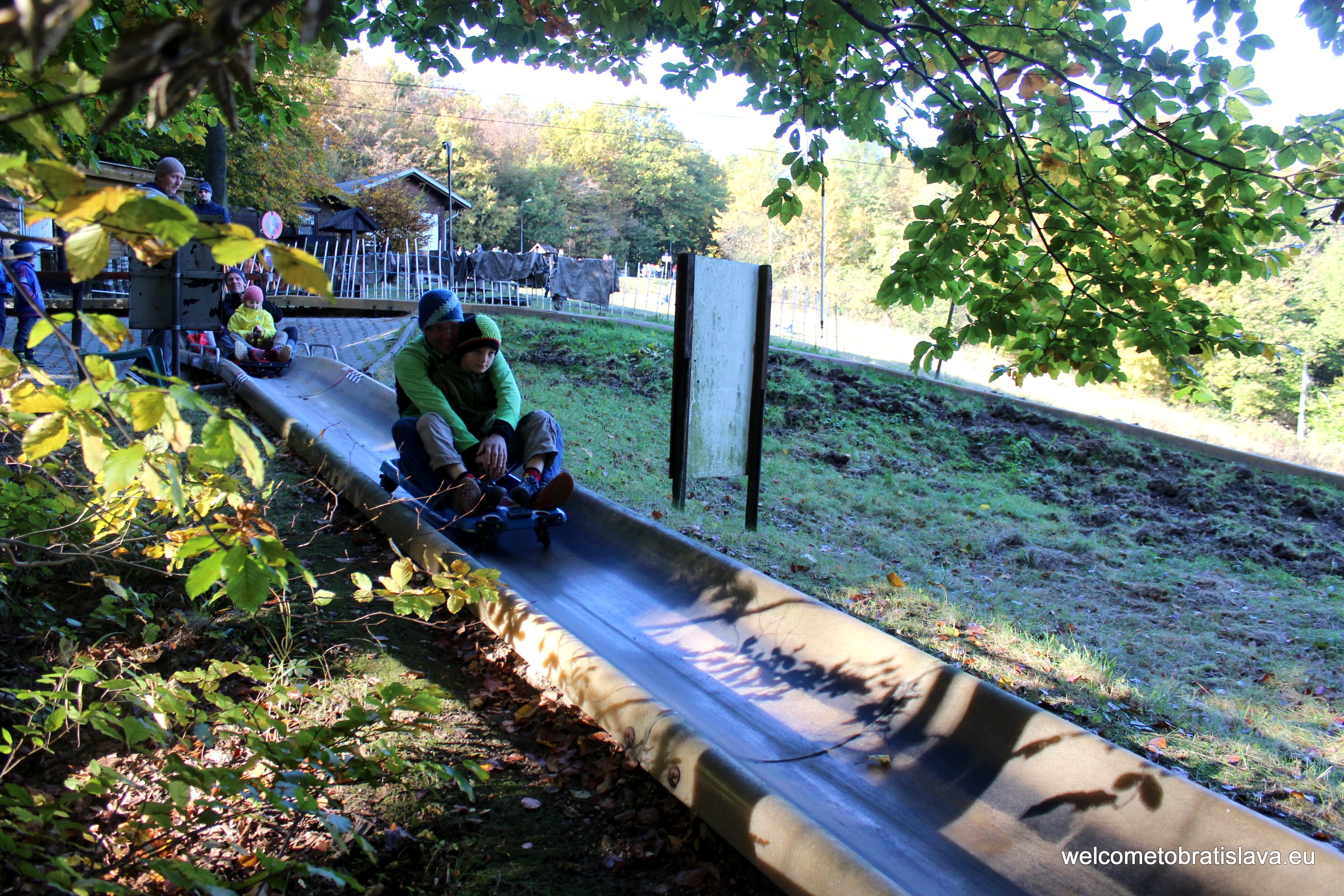 ACTION PARK CUNOVO
Experience action  on the area of 28,000 m2 where you can test up to 26 activities, 30 high rope obstacles with great fun attractions. They offer a S.W.A.T. a paintball field full of trenches and bunkers, an offroad track, a multipurpose playground (football, volleyball, bedminton, ringo), a golf extreme golf course, a Petangue field, Children's Attractions (Trampoline, Swings, etc.), a pool (6,3 x 4 m), a barbecue shed, or a bungee trampoline. More info.
EXPLORE THE CASTLES
BRATISLAVA CASTLE
It is the main tourist attraction and the most significant symbol of Bratislava. The castle which in the past was controlled by Great Moravia and for almost 200 years stored the crown jewels of Hungary, nowadays hosts many expositions and is an ideal place for walks with beautiful surroundings and views. There is also a kids playground to enjoy 🙂 More info.
DEVIN CASTLE
Devin castle was declared a national cultural monument of Slovakia. Since it is situated on a high cliff over the Morava and Danube rivers, and standing on the frontier between Slovakia and Austria, it offers beautiful panoramic views and is a very popular place to visit. Enjoy a walk in a green nature and soak in the rich medieval history. The walk is suitable also for smaller kids, as it does not involve difficult tracks. More info.

CASTLE CERVENY KAMEN
Castle Červený Kameň lies up to 1 hour drive from the Old Town, in the village Častá (close to the town Modra). It offers several family tours with a guide as well as regular thematic exhibitions and events. Ask about the "castle mysteries sheet" – a work paper for children to solve 7 castle mysteries at the courtyard while you enjoy a cup of coffee 🙂  More info.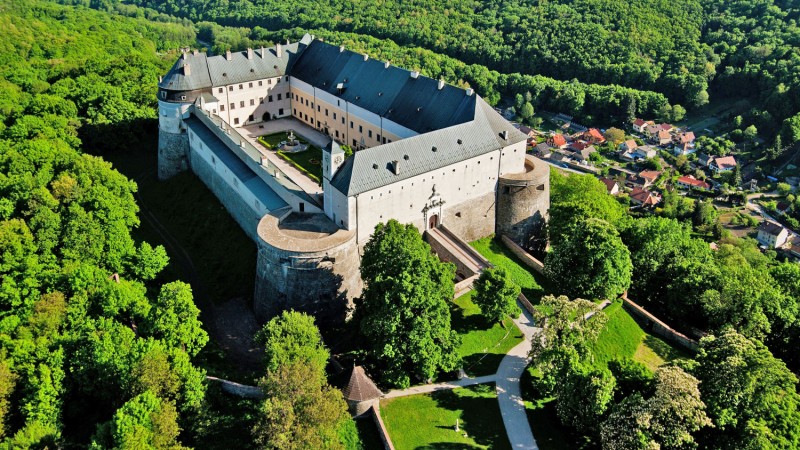 (source: travelguide.sk)
SPEND SOME QUALITY FAMILY TIME
TYRŠÁK BEACH
One of the best summer chill out spots in Bratislava with hot sand under the feet:) There is a sandy playground for children. It's simply a win-win destination for all the family members 🙂 More info.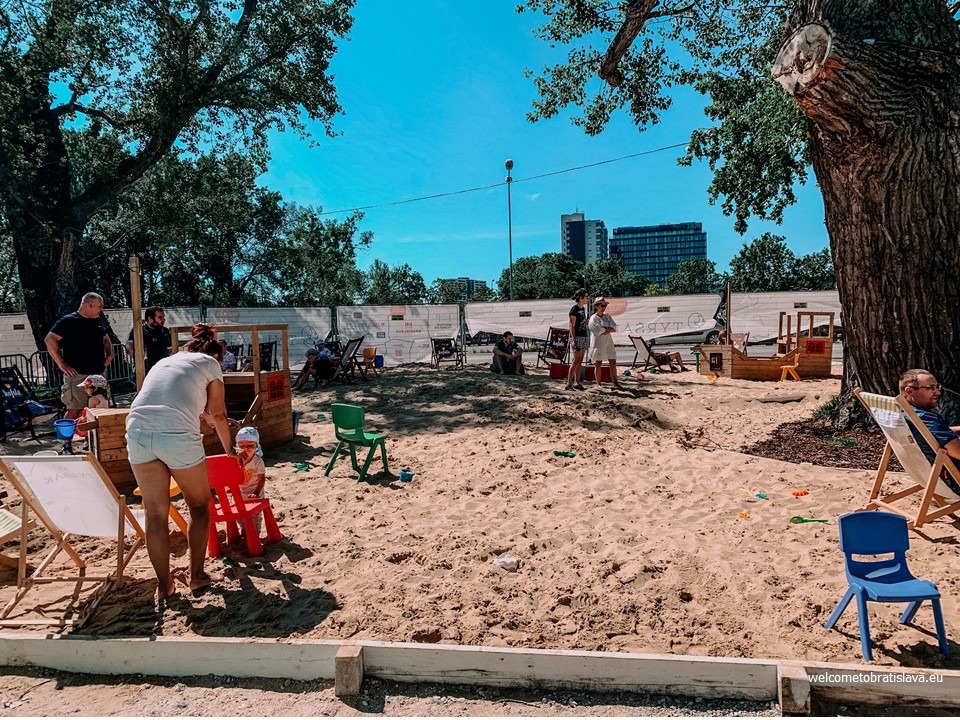 ZELEZNA STUDNICKA
This is one of the top natural playgrounds in a beautiful nature. You can spend time doing picnic, barbecuing or playing with your kids at the playground which is part of the city forest. There are several playgrounds for various age categories, a small football field, a universal asphalt field  for basketball or volleyball and a petanque field. Trust us – Železná studnička is an all time favourite spot for the families with kids!
SAD JANKA KRALA
It is one of the oldest municipal parks in Europe. There is a unique Gothic Tower – a garden arbour which was previously a Franciscan church tower, where picnics are regularly held on the green lawns. Your kids will love playing on the grass here! More info.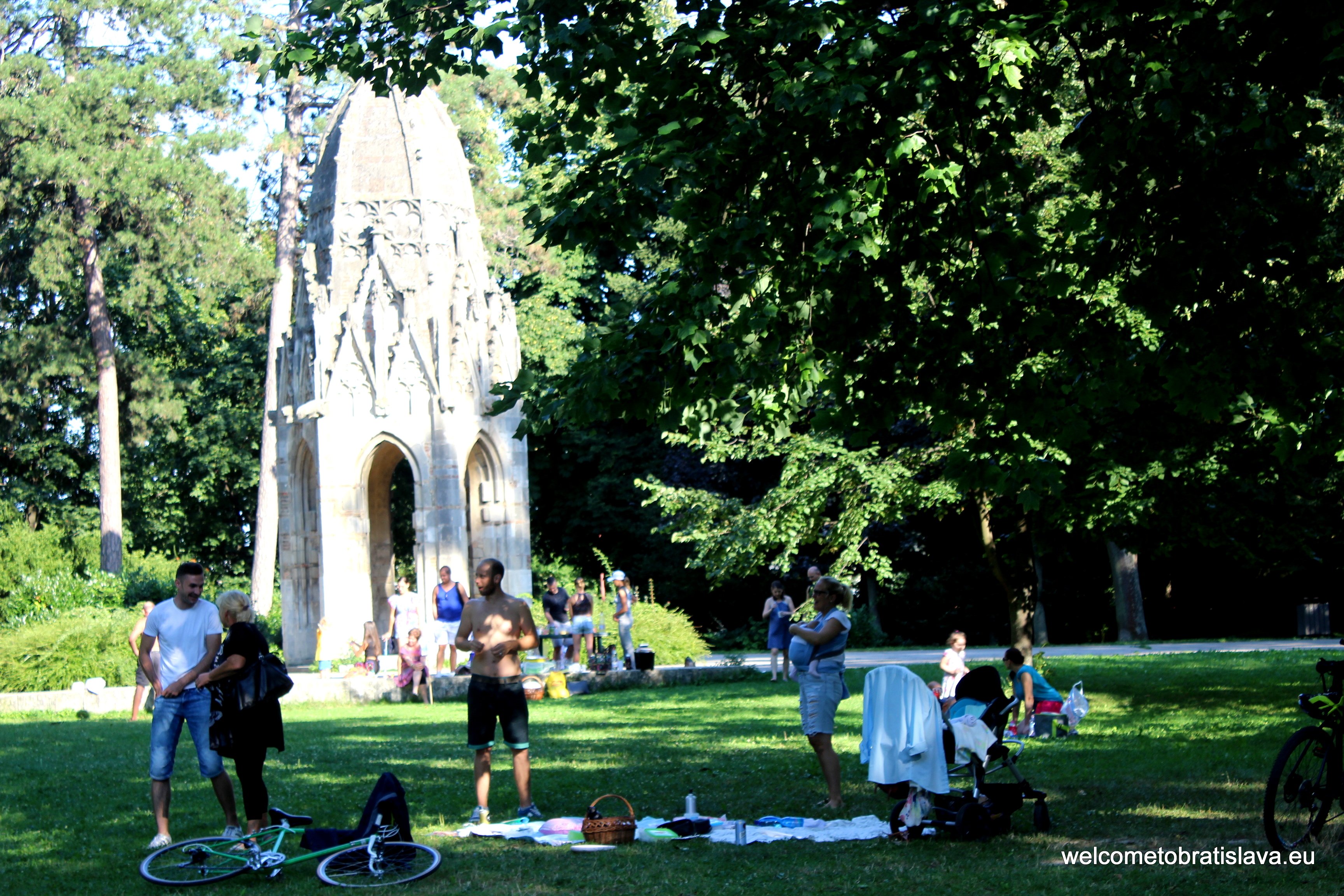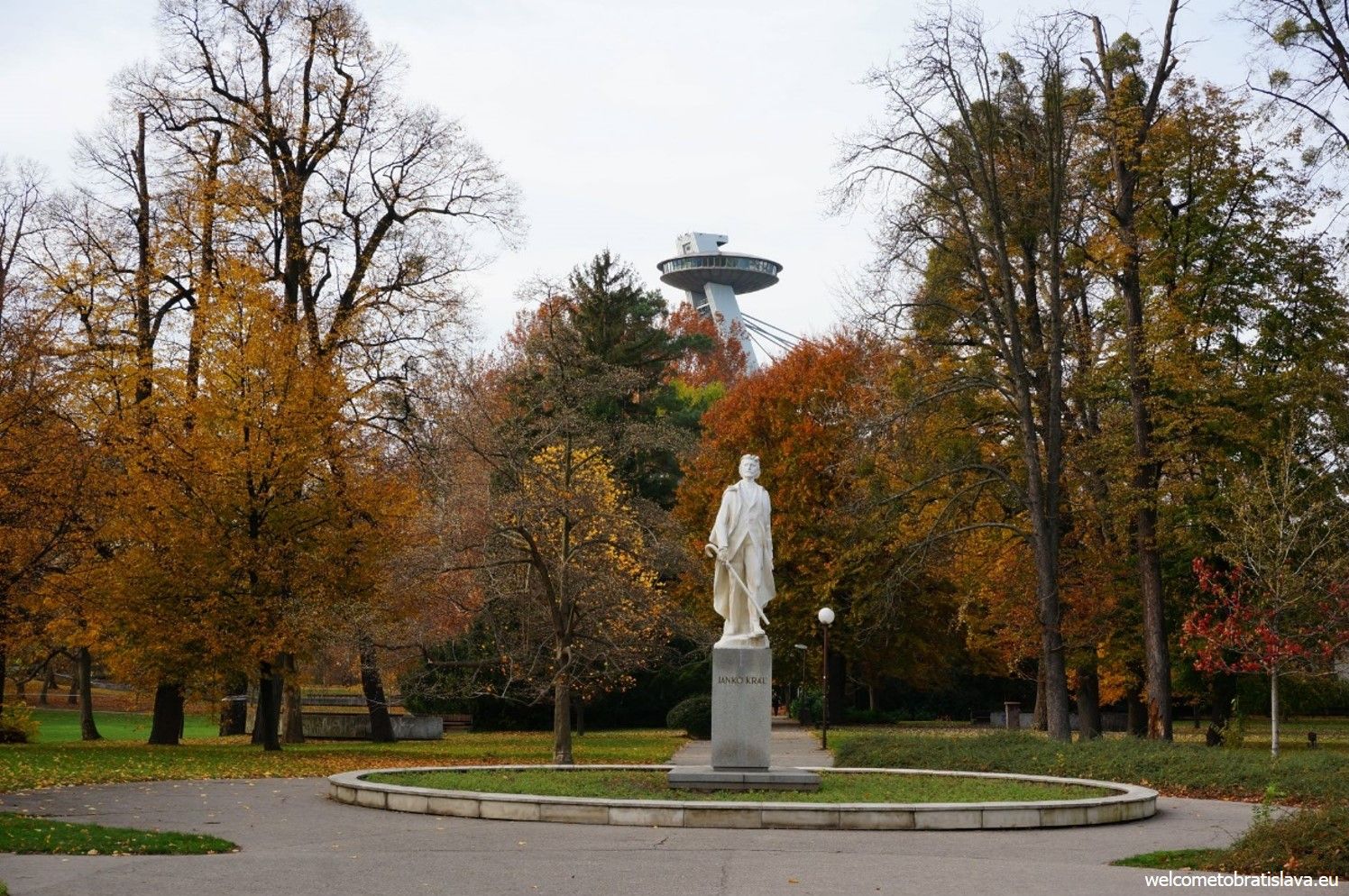 HORSKY PARK
A very popular forest that lies in the middle of the city. Enjoy a gamekeeper's house with a small cafe and a cool playground for kids. There are few animals to watch and pet, too! More info about the park & more info about the gamekeeper's house.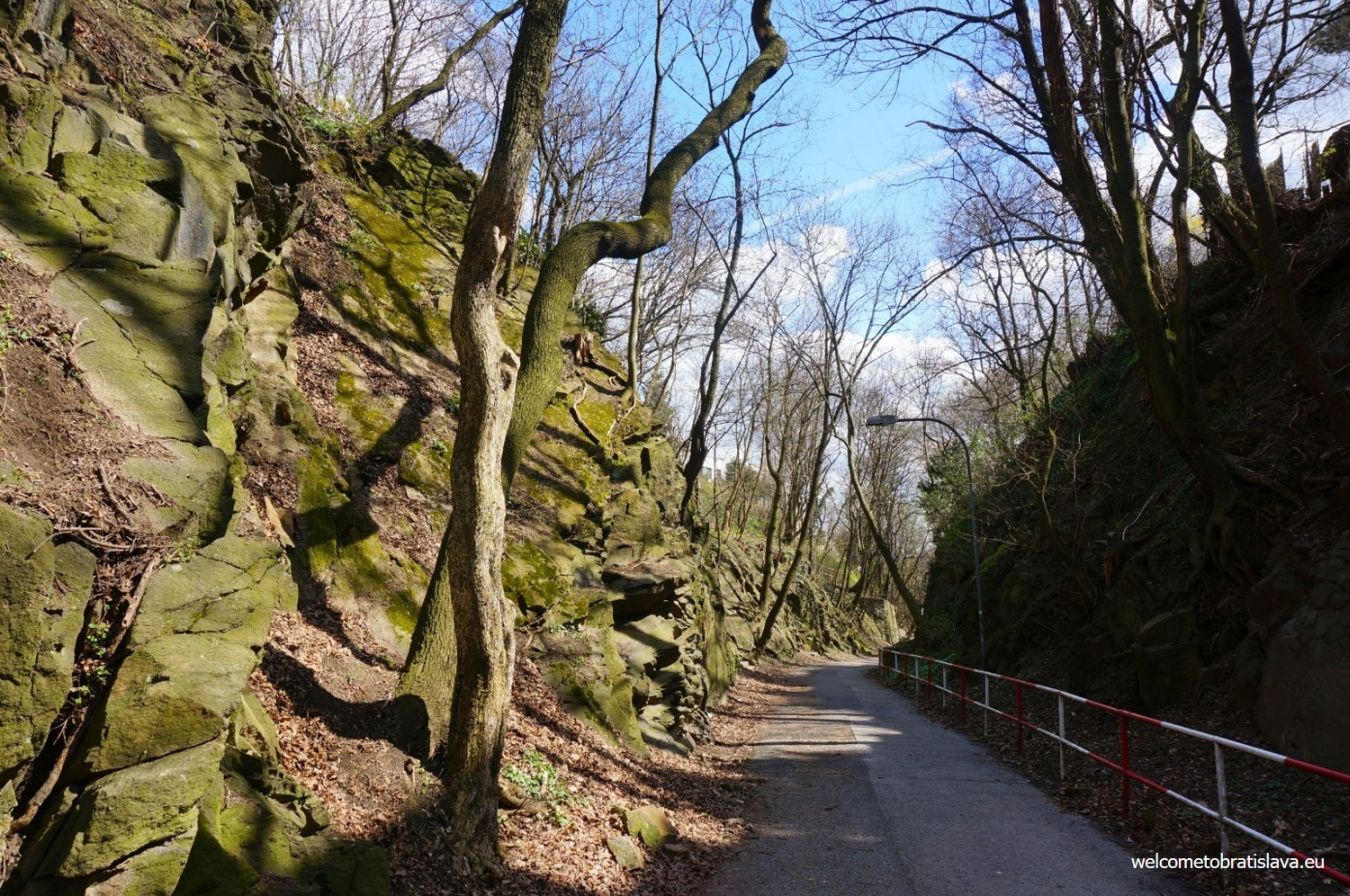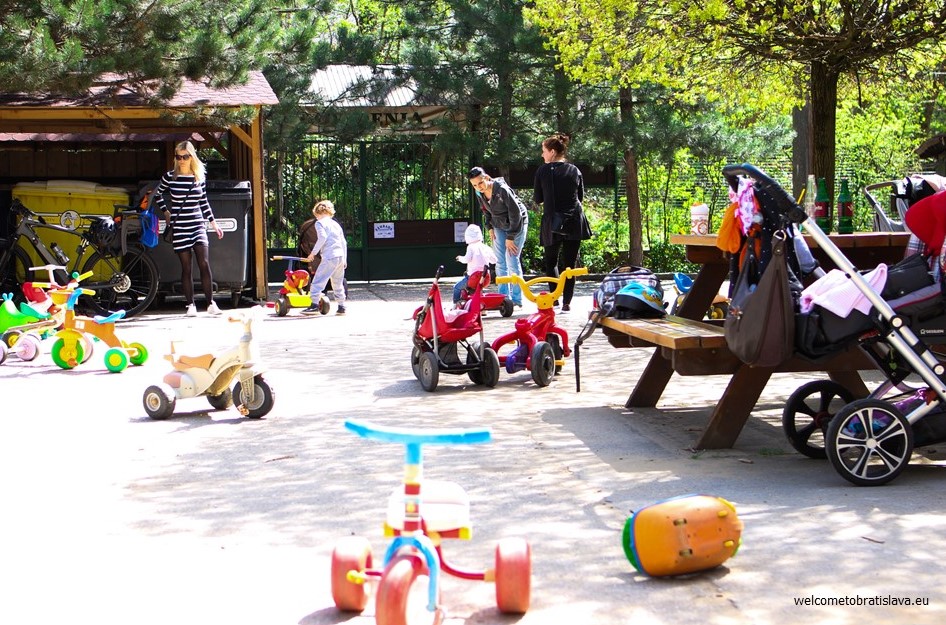 MEDICAL GARDEN (MEDICKA ZAHRADA)
Medical Garden is one of the most popular public parks in Bratislava. In the past, it used to be a French baroque garden, belonging to the summer palace of John Gobert of Aspremont and later to Count Esterhazy. Maintained grass areas, colorful flowers and a plenty of trees create ideal conditions for leisure. Kids can play at the children's playground. More info.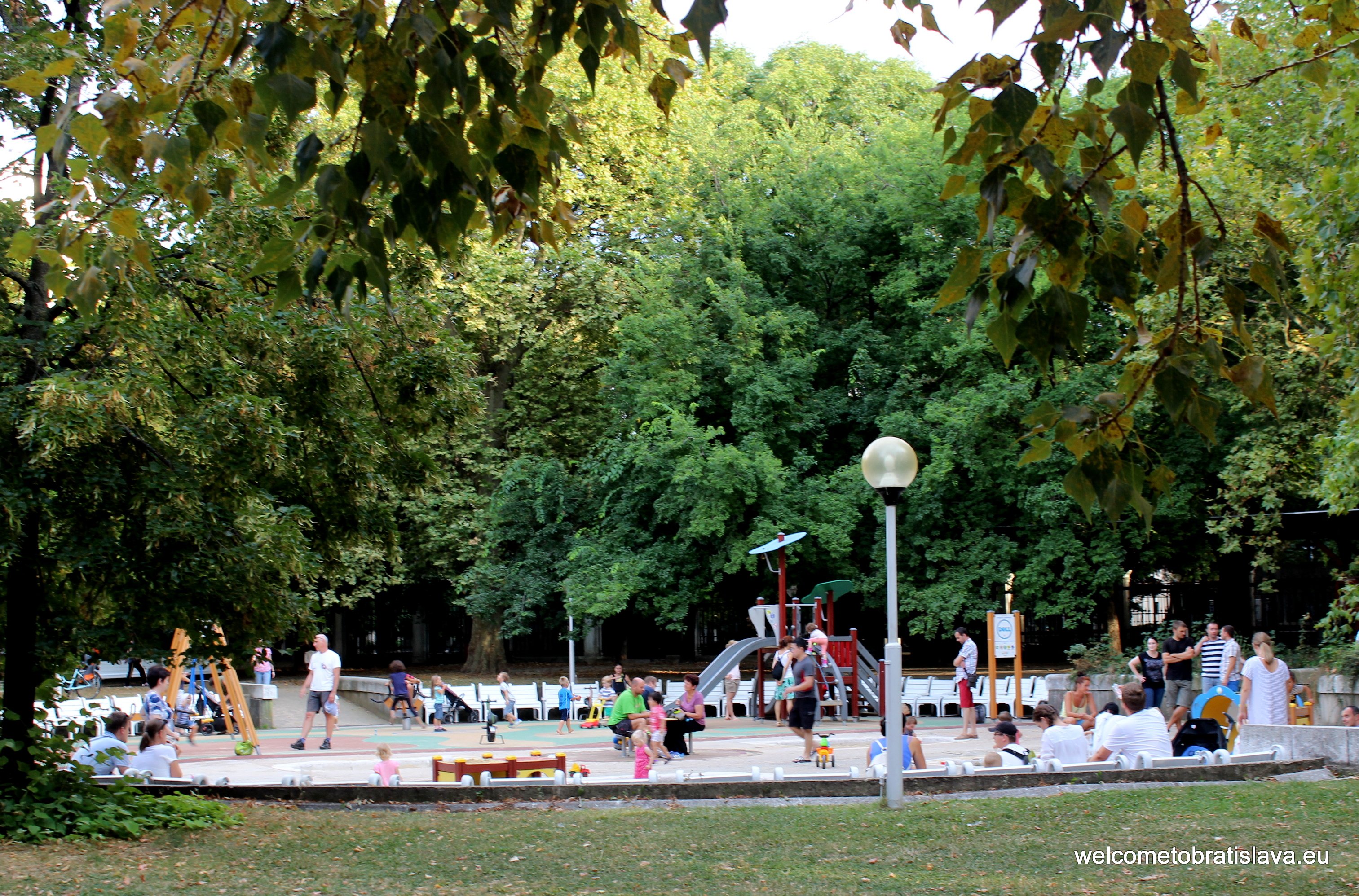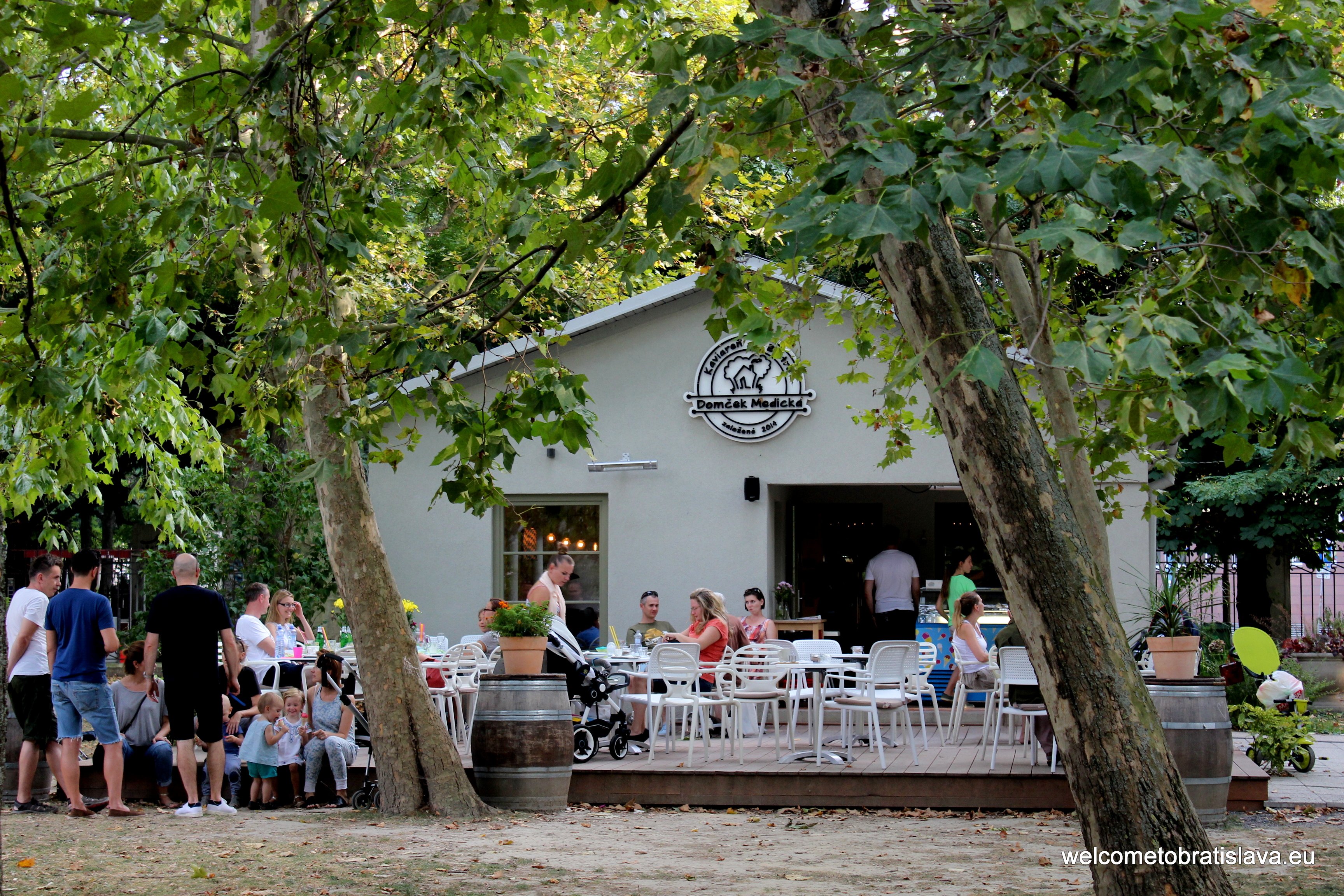 Author: Zuzana Mytna
MORE ACTIVITIES
Lakes and swimming pools
Picnic spots
Ice skating rinks
Indoor places for kids