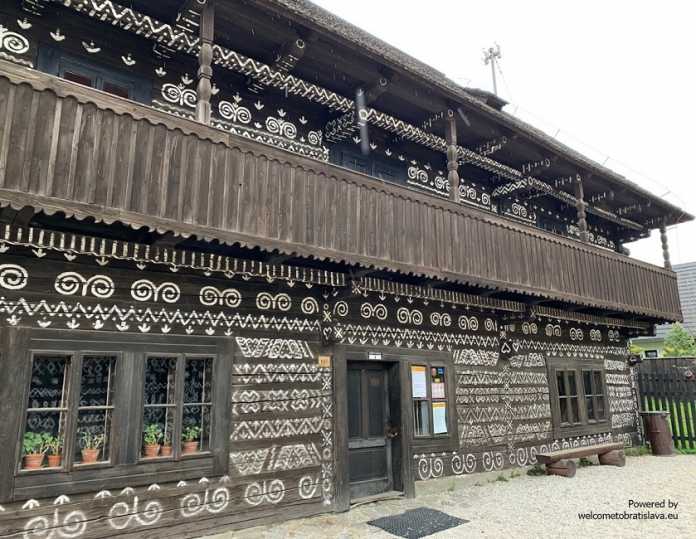 If you are interested in seeing traditional Slovak life, Čičmany is the place to visit. Čičmany is a small village located in the Žilina region of Slovakia and offers visitors the opportunity to see beautifully painted wooden houses and explore a museum about traditional life. Čičmany is great for those visiting Slovakia, those with children, and for those who love delving into history. It is a perfect place to experience more of the wonderful country of Slovakia.
LOCATION
Čičmany is in the Žilina region about 175 km from Bratislava. The easiest way to access the village is by car, which will take about two hours. There is a parking lot across from Čičmany's museum, Múzeum Radenov dom. Since the trip is far, some of you may be interested in staying overnight. You are able to book a room at a pension in Čičmany if you would like. You may also enjoy staying a little farther up the road in Rajecké Teplice. The town has Spa Aphrodite, which has a spa, sauna, and rooms to stay in. The town of Rajecké Teplice has other hotels as well so it is a great place to stay if you would like to be near Čičmany, while also taking some time to relax at the spa.
WHAT TO DO IN ČIČMANY
As you drive into Čičmany, you will start to notice the painted designs on the houses before you arrive at Múzeum Radenov dom. The museum is open from June till August so we recommend taking a trip to this village in the summer. Outside of the museum are two wooden roosters. They are the symbol of Čičmany and can be seen painted on houses throughout the village.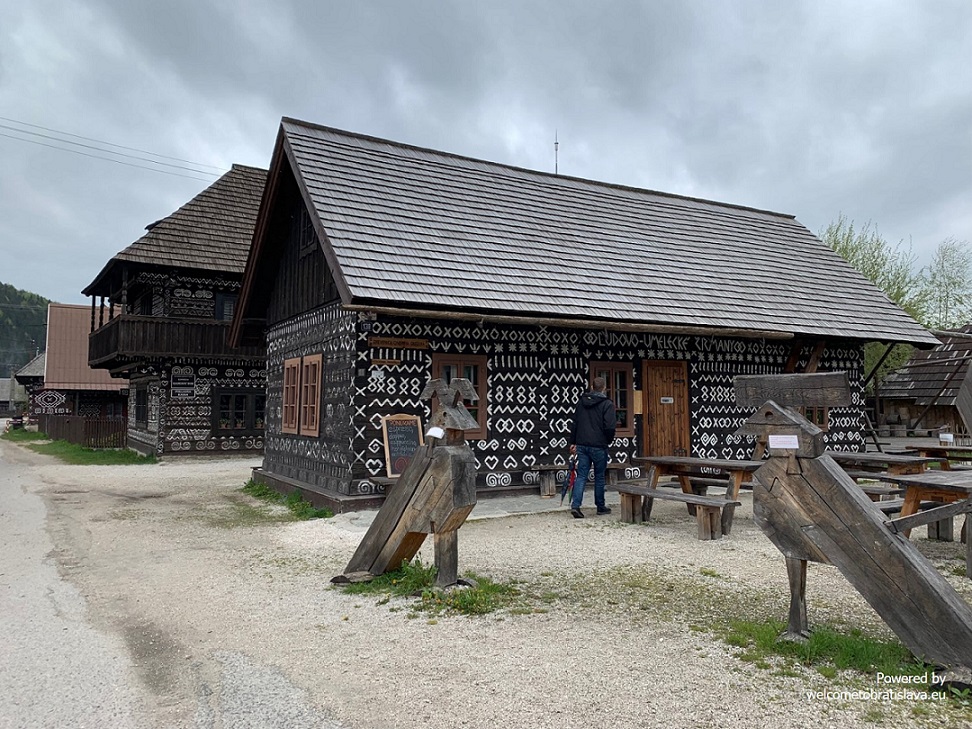 Inside the museum you will be able to see everyday household objects, such as pottery called majolika, as well as traditional dress. Čičmany's traditional dress has intricate patterns sewn in the color yellow. You are also able to take a look around the rest of the village. It is a good idea to walk along a few of the side streets since there will be more designs to look at. This will also give you the chance to admire the hills and forests surrounding the village.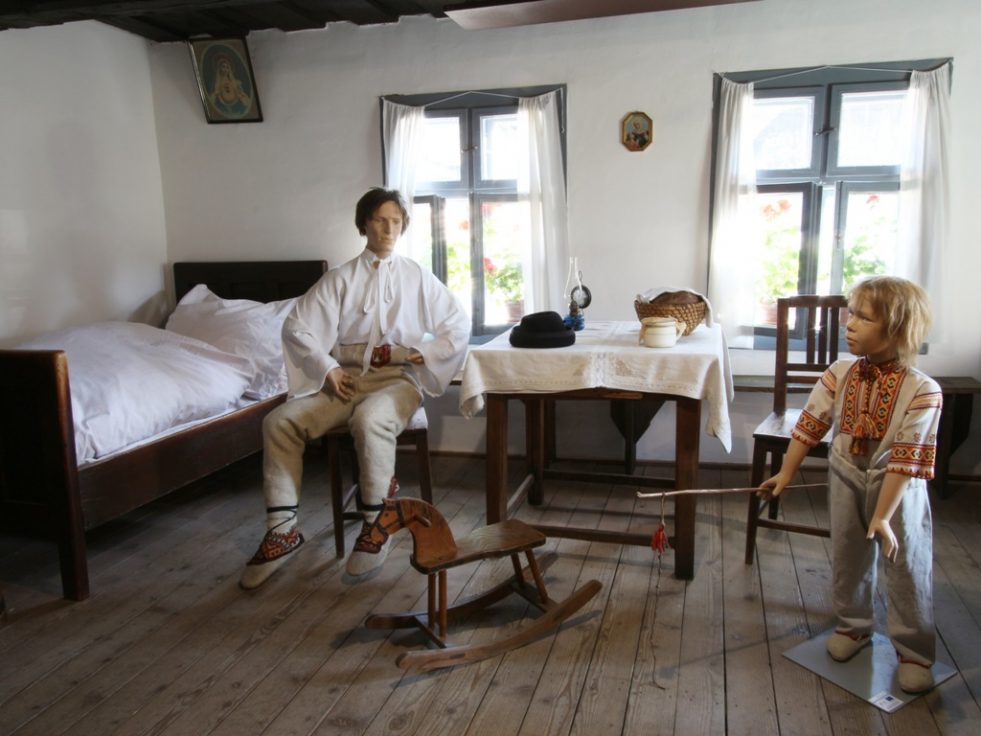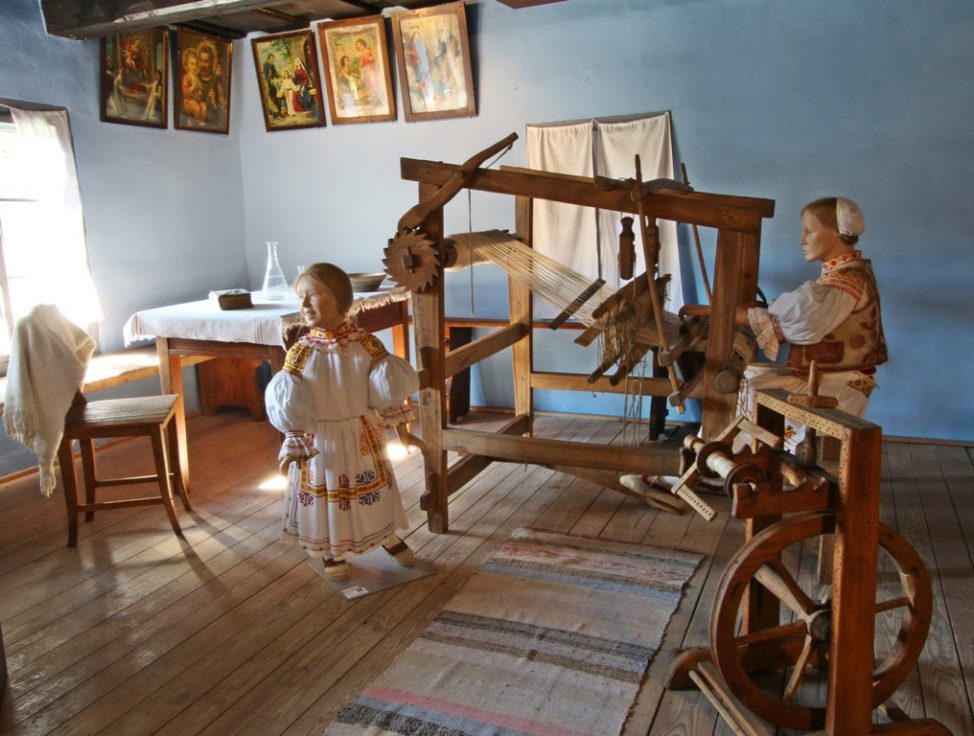 (source: pmza.sk)
FOOD & REFRESHMENTS
Kaštieľ Čičmany is the perfect spot to have a meal at a mansion that has been converted into a restaurant. It has been tastefully reconstructed and has a friendly atmosphere. Kaštieľ Čičmany is decorated with old photographs to show you what life was like over a hundred years ago. The restaurant also displays traditional folk dress and utility items. If you have children, there is a section of the restaurant that has toys and games for kids to play with. Kaštieľ Čičmany also sells souvenirs so if you decide to visit Čičmany during the off-season, you will still be able to take a keepsake home.


SLOVAK BETHLEHEM – A BEAUTIFUL ATTRACTION NEAR ČIČMANY
If you decide to stay in the area for a few days, there is another great spot to visit near Čičmany. In the town of Rajecká Lesná is the Slovak Bethlehem. Master carver Jozef Pekara built this beautiful wooden structure over a fifteen year time period. The Bethlehem shows each of Slovakia's regions. It begins in Bratislava with the UFO Observation Deck and ends in Košice with the raising of a May Pole. All of the pieces have complex carvings and many have moving parts. There is one section where a bear is chasing a sheep and the owner is chasing the bear. It is funny, marvelous, beautiful, and engaging all at the same time. The Slovak Bethlehem is truly worth visiting on your trip to Čičmany.
REASONS TO VISIT ČIČMANY
Although Čičmany is a remote village two hours from Bratislava, visiting will give you the opportunity to immerse yourself in the traditional Slovak lifestyle. It is the best way to learn about traditional Slovak life since you will be able to see the houses, the utility objects, and the dress for yourself. The houses are so charming that you will want to keep wandering up and down the streets just to see more. While you are capturing pictures to remember the trip, Čičmany will capture your heart.

OPEN HOURS: the village is open all year long, the museum June – August


 ADDRESS: Čičmany


 CONNECT: Website


 MAP LOCATION:

Author: Kathryn Baurhenn
Photo Credits: Marek Švec and Kathryn Baurhenn