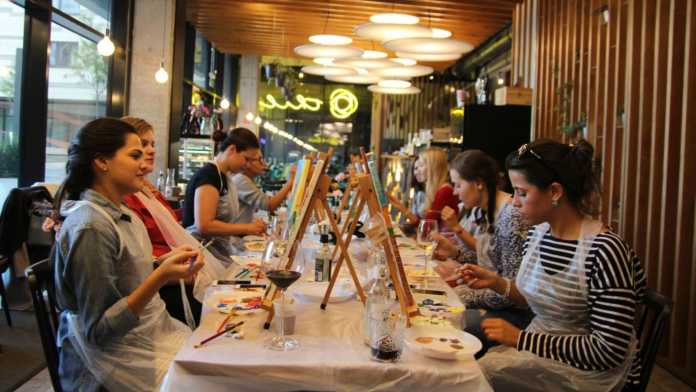 Painting and wine parties in Bratislava are on the rise – and it's easy to see why. It's so much fun – we tried it! This is an ideal chance to get creative and express yourself in a relaxed environment. The end masterpiece is often worthy of being hung on your wall, which surprises most of the people people who claim they 'can't paint'. Good news is – there are several places to paint and sip in our capital. Get inspired below :)
Art & Wine
Join the Art Parties organized by Katja, originally from Russia, at which you are guaranteed a fun focused art experience. In about 2 hours, a professional artist will guide you, step-by-step, from blank canvas through to your own masterpiece to take home while enjoying chill music and a glass of wine. The events happen approximately once a month.
This is what we managed to paint when trying out the activity for the first time :)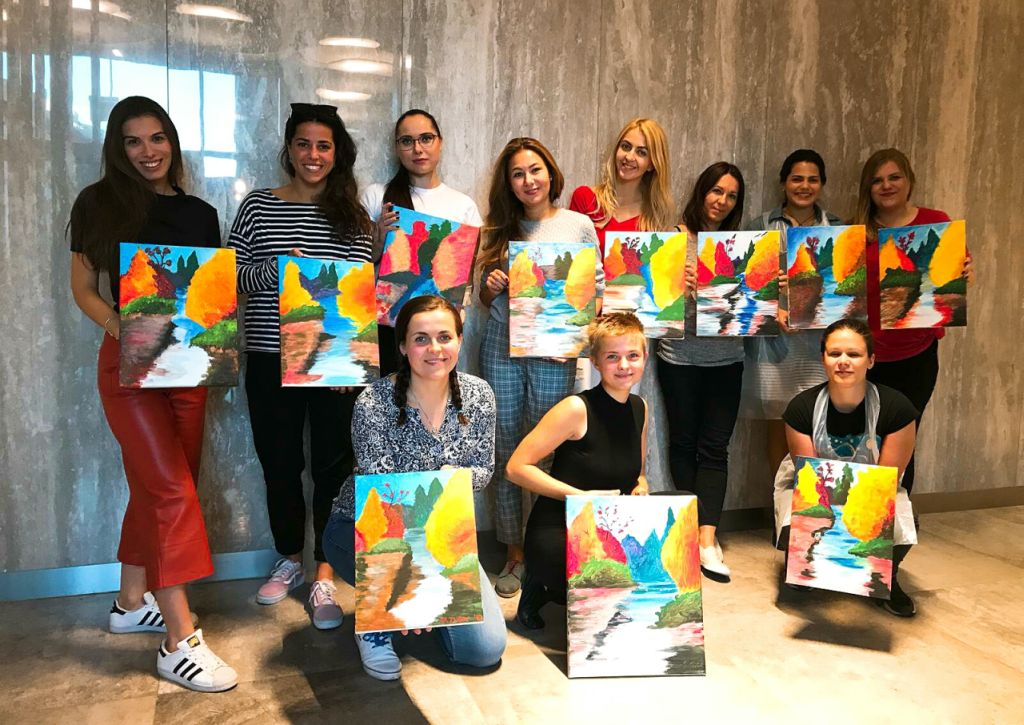 PRICE: 30 € per person (includes 1 drink & all art materials) – special discount 5 € if you use promo code "welcometobratislava" in your online order – pay only 25 €!*
CONNECT: Facebook, Instagram
*promo code valid till 31.3.2019
Paint & Wine with Abbie Puskailer
Relax with wine whilst being taken through your painting step by step, brush stroke by brush stroke. Abbie, an English artist from London, has been painting and drawing her whole life whilst also performing for audiences worldwide as a dancer. She is now pursuing her dream of being an artist and illustrator. Abbie says 'I paint from the heart,' and that passion can be seen in every painting, gift card, canvas that she makes.
(source: Abbie Puskailer Facebook)
PRICE: 25 € per person (includes a glass of prosecco, snacks & all art materials)
CONNECT: Website, Facebook, Instagram
Art Studio by Kate Grishakova
Kate is a young Russian painter and poet who creates vivid and bright paintings in an impressionistic manner, and who writes about her love for people and life. She came to Bratislava in 2015 as an Erasmus student and found the greatest inspirations here! Prior that, she studied painting in an art studio in Russia for 8 years. Now, besides having various exhibitions of her works, she also gives regular art courses for public. It is recommended to sign up for at least 1 month course (1 session per week long 2,15 h) and the students paint on quite big canvas and it takes around 4 classes to finish the art work.
PRICE: 12 € per person per sessoin (excluding all art materials – extra 4 € to use the inhouse materials)
CONNECT: Facebook
Vo víne je umenie – Wine is art
This artistic project was founded as the first one of its kind in Slovakia in August 2016. It promises a "wine therapy" with a brush in your hand. You will be spending 2,5 hours in a "different world." Two ladies – Saša a Aďka – offer painting on canvas, glasses, creating coloring books or puzzles. This class is only held in Slovak language.
PRICE: 22 € per person (includes all art materials)
CONNECT: Website, Facebook, Instagram
Ready to try out this painting with a wine twist? :)
Author: Maria Kecsoova