It is always a pleasure to see when hard work and fair approach pays off. Almost as much pleasure as enjoying a nice coffee in a pleasant interior served by friendly staff. What happens when you put these two together? Let's have a look on your own 🙂  Welcome to Pan Kralicek Priestor!
Firstly, let's start with a little introduction of the concept. Pan Kralicek (translated as "Mr. Bunny") started a few years ago as a wheeled cafeteria and as one of the first in the town. Serving tasty coffee into paper cups from tricycles with the peculiar logo – half man and half bunny – in the streets of the city centre. Nowadays you can still find them, usually on Poštová Street and Šafárikovo Square or at some music festivals, but only if the weather allows. And after a few years of riding our streets, gaining many happy customers and fans, building step-by-step its own love-brand, they have grown up to a real cafeteria where you can enjoy (not only) your coffee in every possible weather.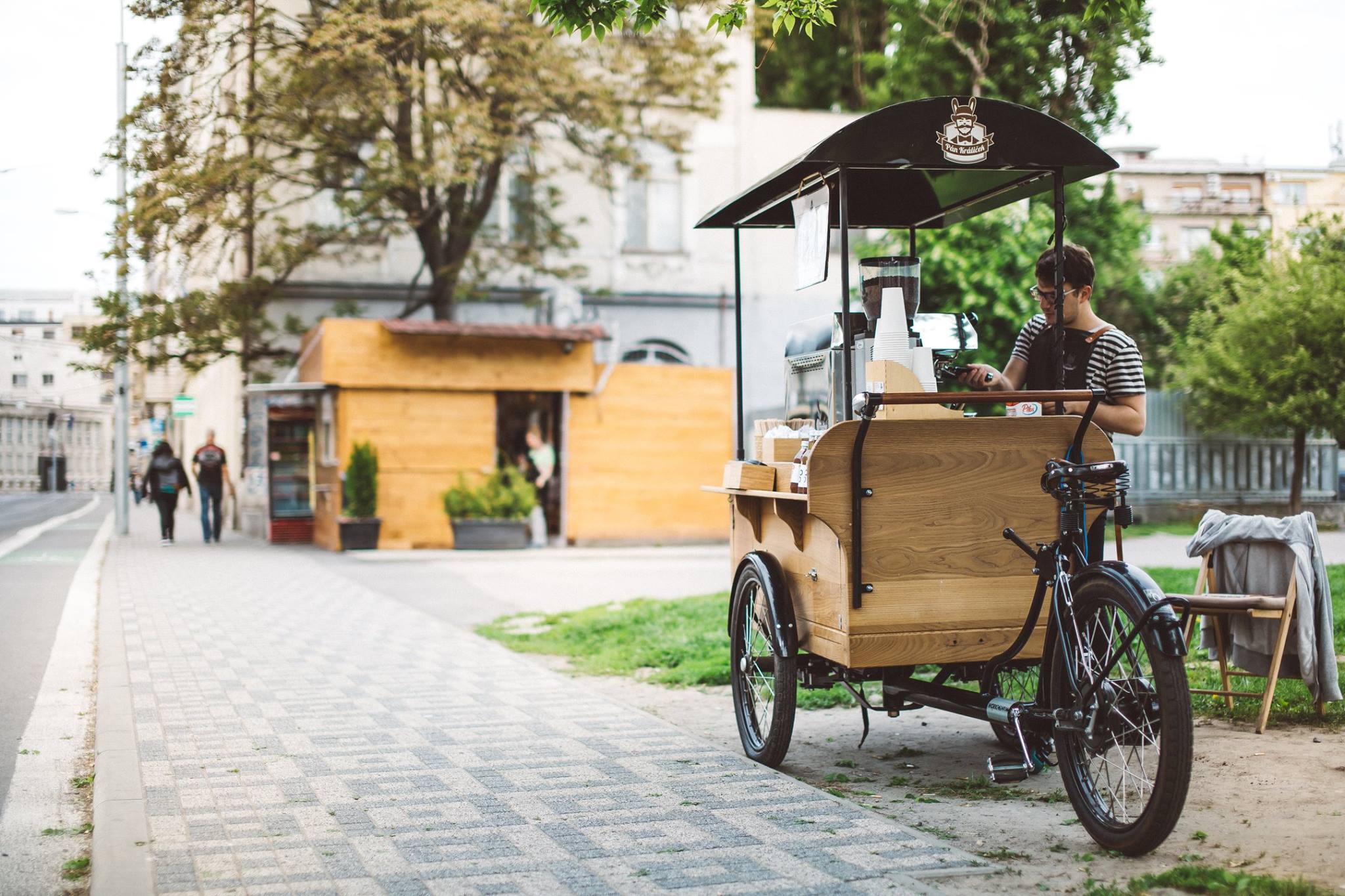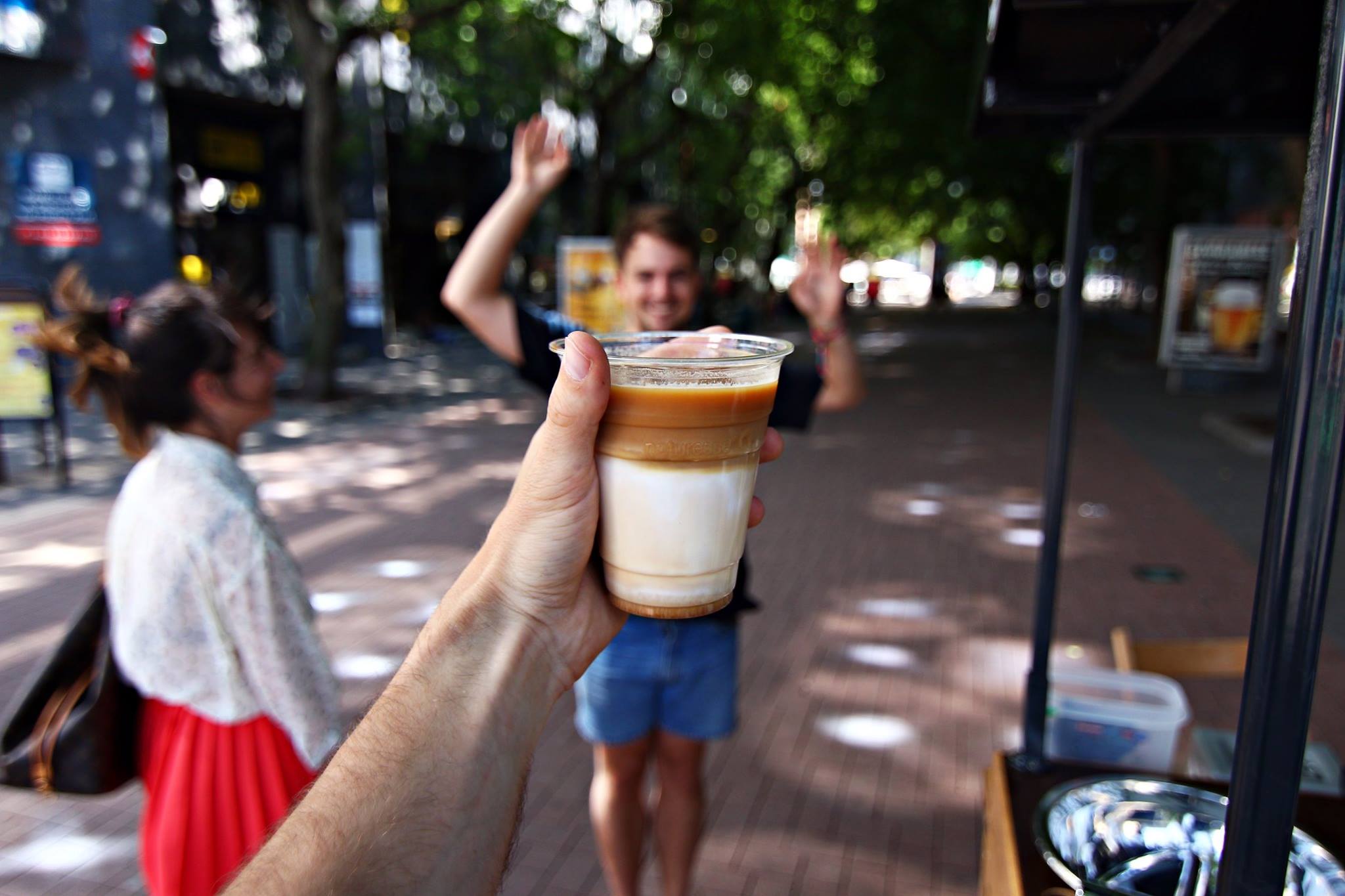 (source: Pan Kralicek)
LOCATION
So, no more hunting of tricycles in the city and praying for a good weather. You can visit Pan Kralicek on the same address (almost) whenever you want. Opening hours are very generous and the location is very convenient as well. Very close to the city center, just a few steps away from main bus station Mlynské Nivy. You can spot it on your left side when facing the bus station. There is no shown sign on the door or building, just white fine print on the window tables. Luckily situated in the corner, it is quite easy to notice. On the contrary to neglected main bus station, its surrounding seems to be in a phase of its reborn right now. Many new dandy places were opened here and this adjacent neighbourhood is favourite mostly among young, hipsterish inhabitants. Cool kids of all ages all around 🙂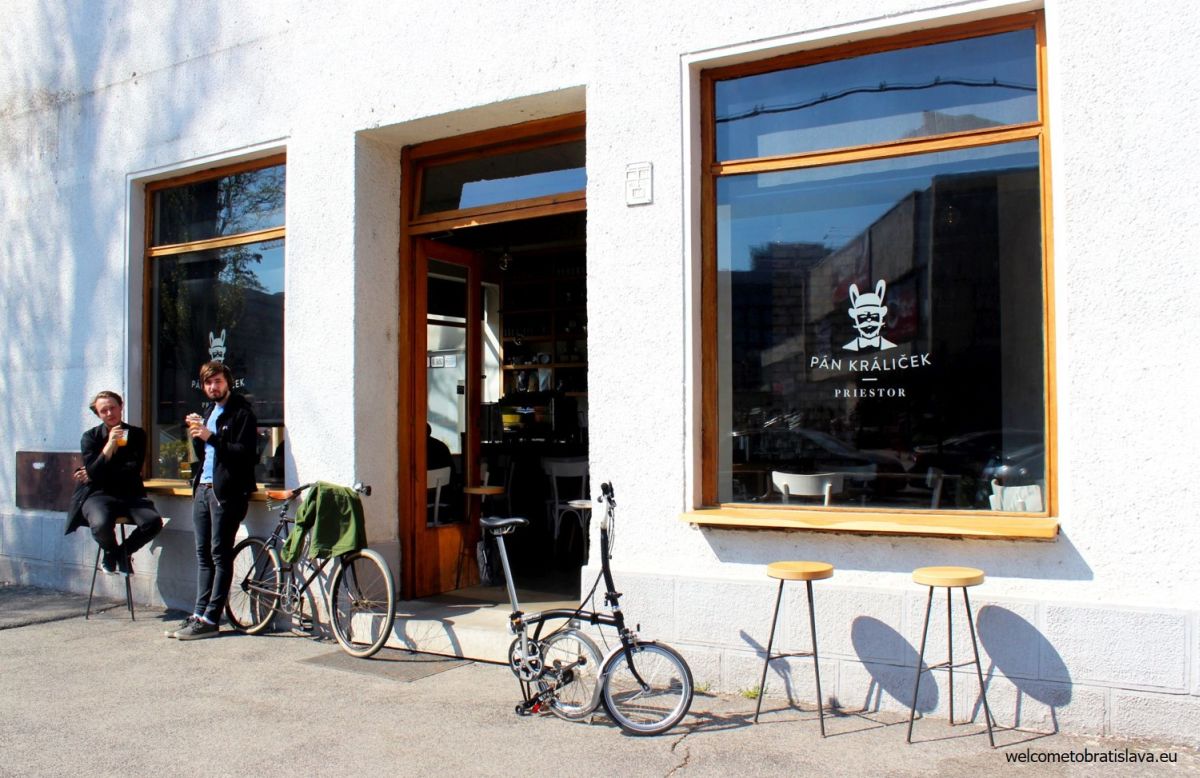 INTERIOR
Pure minimalism and functionalism in its most beautiful form, with a pinch of industrialism and exposed red bricks. No meaningless and disturbing decoration. The space is dominated by a wall behind a bar, covered with shelves full of coffee related goods you can buy, like coffee grinders, kettles, filters and a nice selection of European coffee. Another dominant are its great large windows. Besides bearing the logo, they are illuminating the whole space by allowing a lot of daily light to come in, and also allowing you to observe everything that goes around on the street outside. And during sunny summer days, you can become part of what is going on outside and take a seat on their terrace.

WHAT TO HAVE IN PAN KRALICEK
Coffee! Clearly, have a cup of coffee. You just need to choose which one. It will be easy with a brand, as usually they offer just two coffee brands – one basic and one specialty. And the barista will help you easily. Big deal comes with choosing the method of coffee brewing. They have all those classic ones and also some special ones, according to the season. For example, for the summer time they don't only have our beloved affogato (with a scoop of Madagascan vanilla ice cream that is smothered by coffee, yum! :), inverted iced cappuccino, but also cold brew or cold cascara (tea-like drink made of dried berries of coffee plant). Or try something brand new – like nitro. This is coffee cold-brewed in large barrels for more than twelve hours, with white foam on the top reminding a draft beer 🙂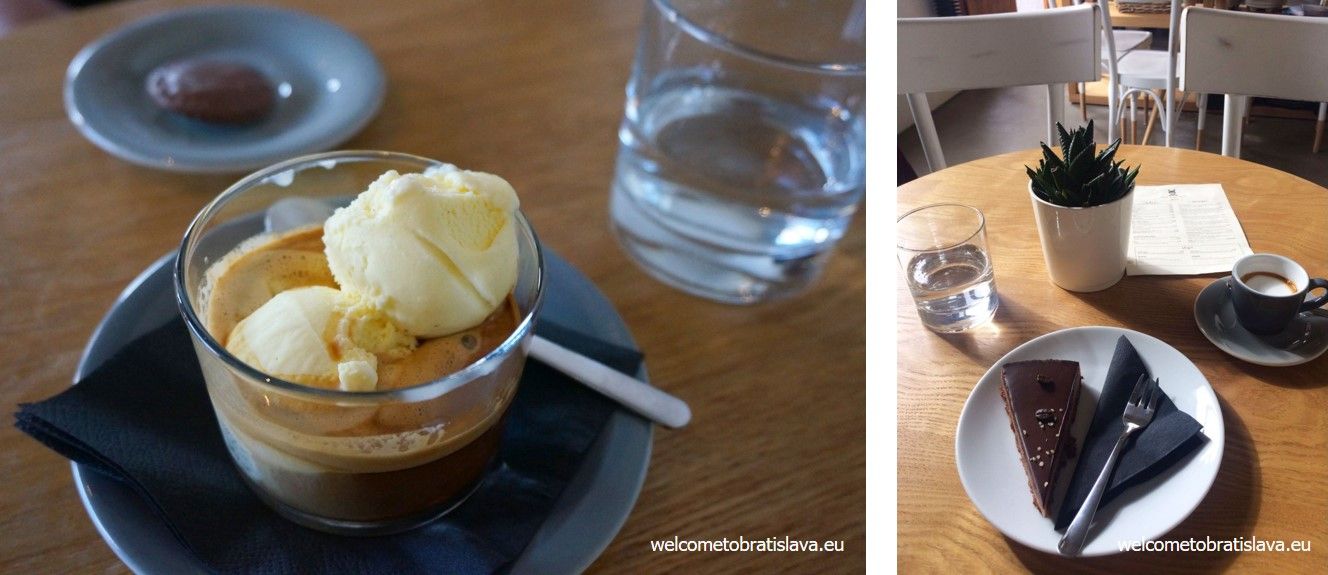 Talking about beer – it is not that common to get a good beer at a cafeteria but we promised you pleasure, right? So, here you are – you can order a craft beer here, and also some nice wine from Slovak wineries, if you wish. They don't serve any spirits but fresh lemonades and juices go without saying.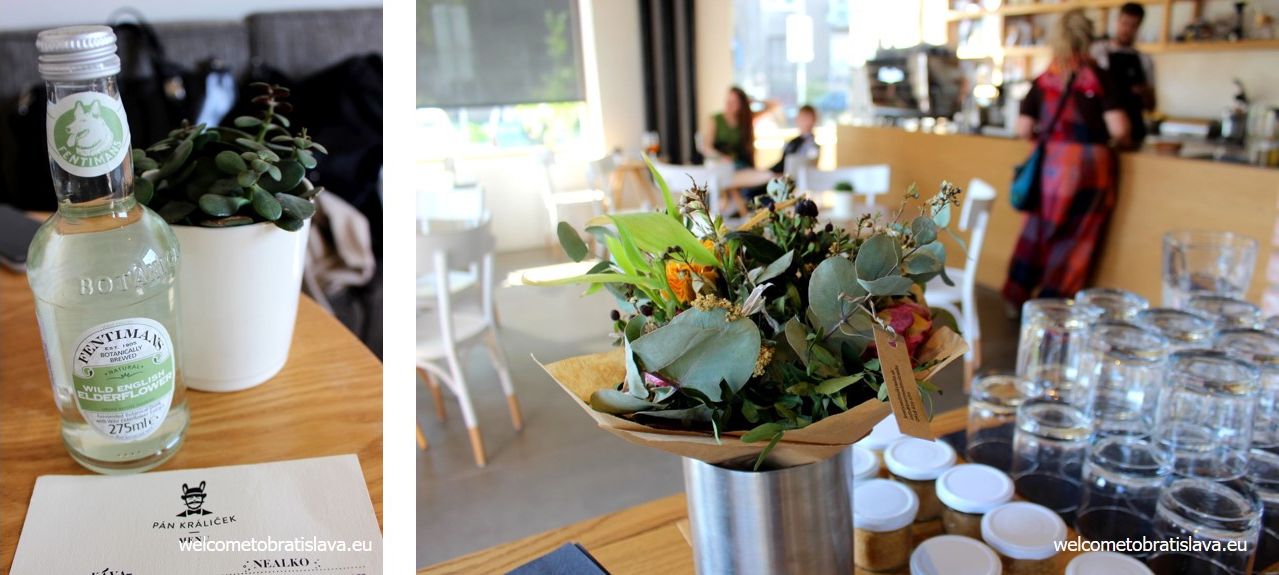 What needs to be mentioned is their Belgian waffles – from vanilla, walnut or gluten free dough, with chocolate, whipped cream and fruit, or maple syrup, beautifully served.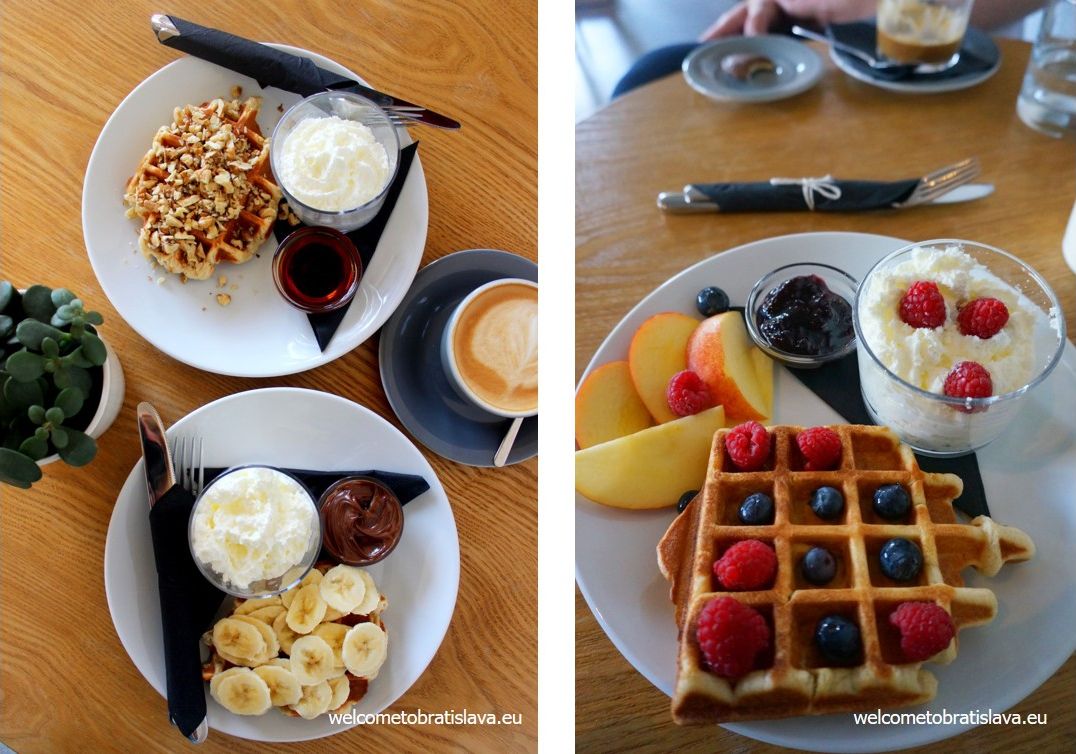 They also offer tasty breakfast – sausages, veal or vegan, or a healthier alternative of English breakfast with baked beans, fresh salad and bread. Especially appreciated is time for serving breakfast during weekends – till 15:00. And till 11:00 during working days. Cast the first stone who never needed breakfast a little late than a morning 🙂 Later, you can still get some brunch food like quiches, croissants or one of their lovely cakes!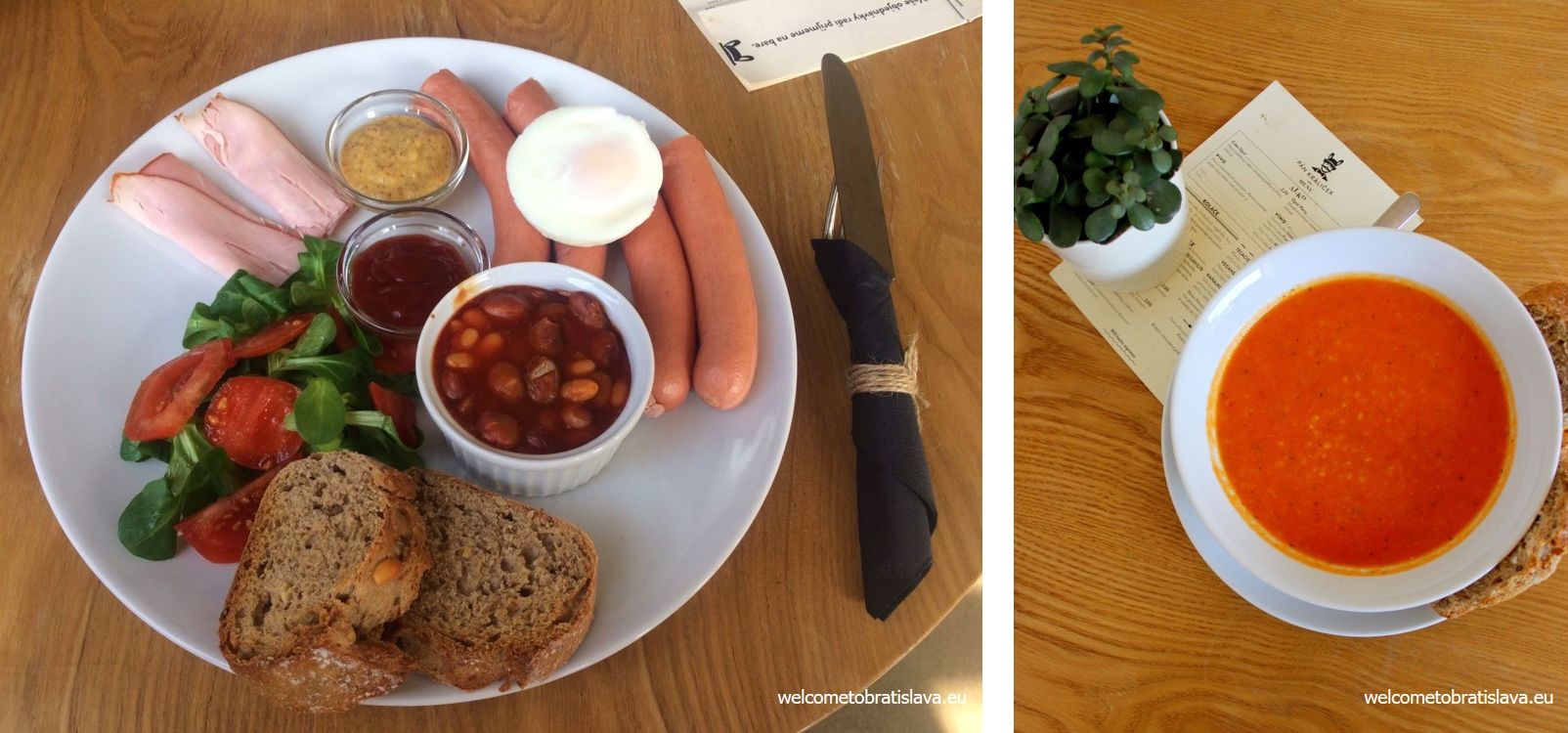 Let's sum it up: excellent coffee served in various cool ways, nice snacks, local wines and craft beer, smiling staff, generous opening hours, gorgeous minimalist interior… and there you are – pure pleasure at space of Pan Kralicek!
OUR TIP: If you are in a rush to catch your bus, you can get all coffees also "to go".
Author: Eva Latakova

 ADDRESS: Budovatelska 2


 OPEN HOURS: Check the Facebook site


CONNECT: Facebook


 MAP LOCATION: