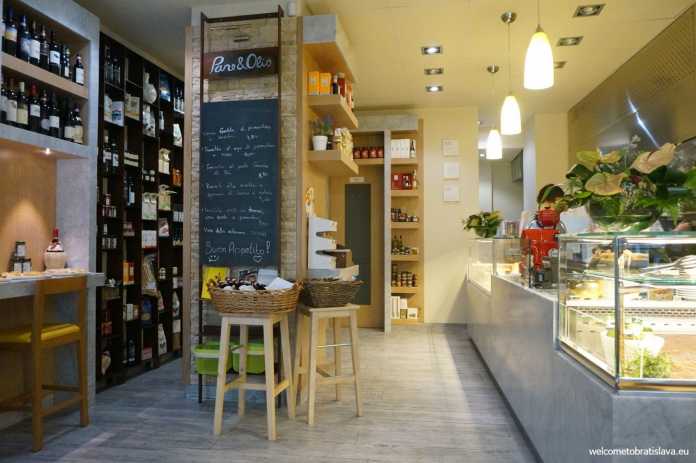 If you want to experience the tastes of real Italy in Bratislava, this is the place to be. It serves delicious meals. It is a grocery of amazing ingredients imported from Tuscany. It has an authentic atmosphere. It makes cappuccino with the most whipped milk we have had. You can stop by for breakfast, lunch or dinner. Pane & Olio Bistro simply has everything you need for coming back. And trust us – you will :)
LOCATION
You can find this cute place right behind the Slovak National Theater at the Hviezdoslav's Square – on a narrow Gorkeho Street.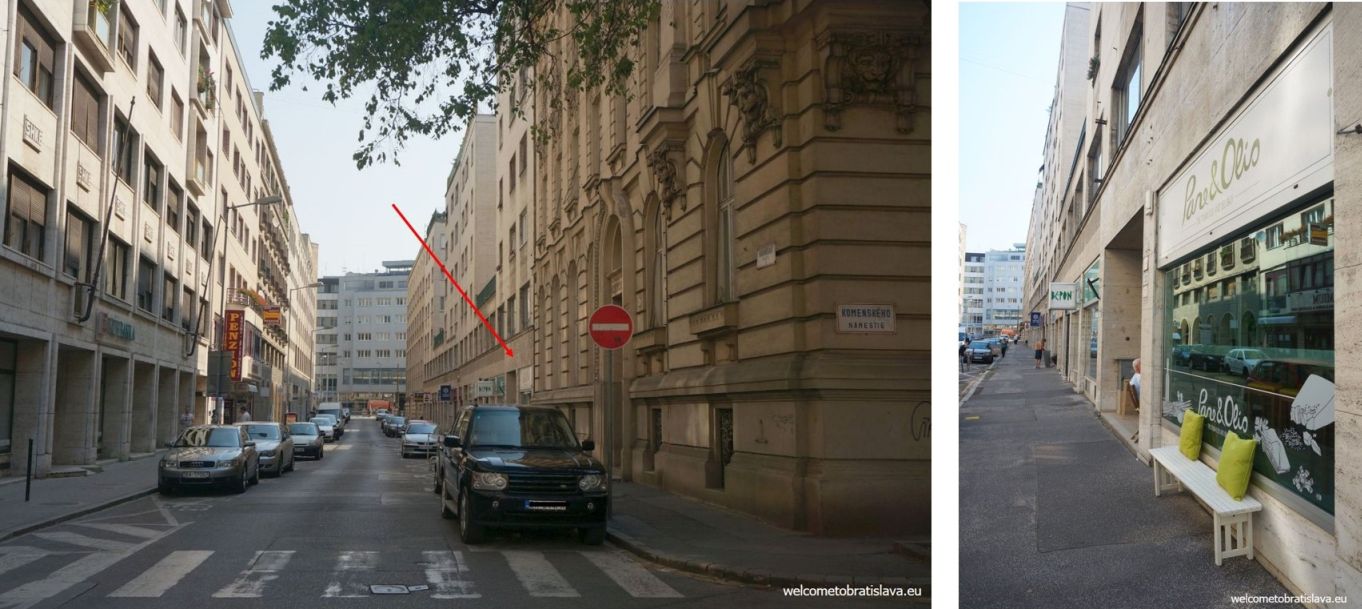 The minute you walk in, you'll feel the warm, friendly, elegant and relaxed way the interior is set up in. The whole bistro is basically one bigger room with a few tables to dine at – the rest being a showroom and grocery of the most various Italian goodies that are imported from Italy – the Tuscan region.
SHOWROOM & GROCERY
Pane & Olio is run by siblings Marco and Beata who have roots in Italy – their grandpa was Italian. Marco studied in Florence for seven years and during the uni he worked in a Michelin restaurant where he got inspired by good food. Having this background, opening a showroom and grocery thus seems as a super logical thing to do. And if you are curious whether you can brush your Italian langugage skills here, the answer is of course – they both speak perfect Italian!
The good thing about this "bottega" (shop with an open kitchen) is that you can taste many things they sell at their special tasting evenings. And anything you taste here, will be memorable. Cheeses, hams, salamis, wines, spices, spreads, pasta, sauces, sweets, coffee – you name it, they get it.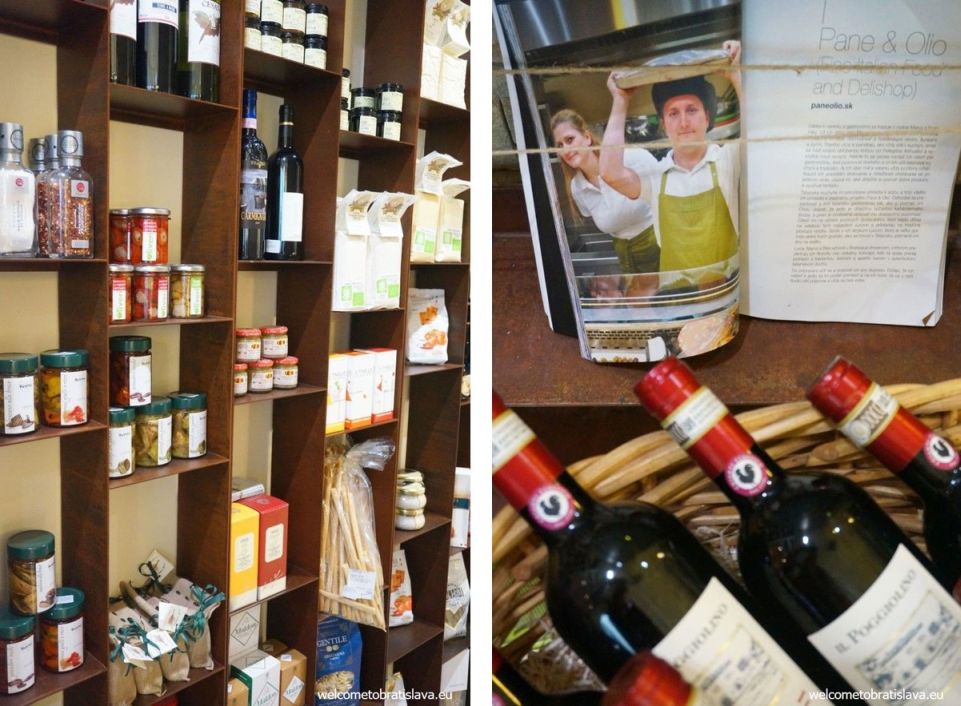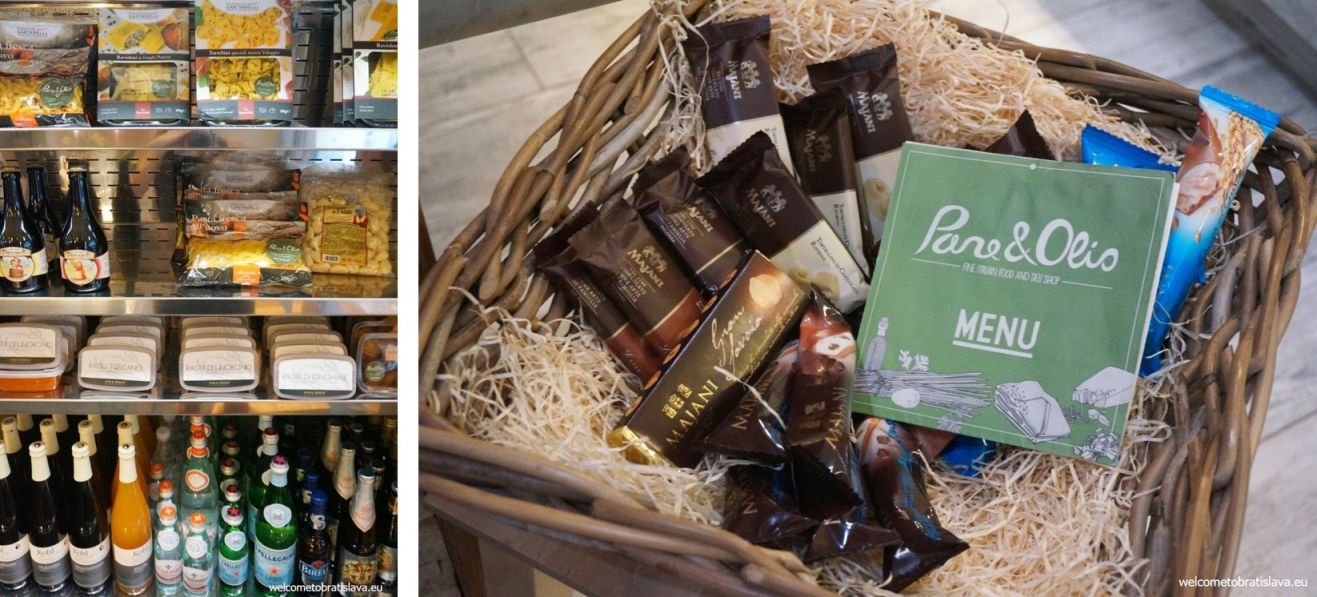 WHAT TO HAVE IN PANE & OLIO BISTRO?
Are you a morning person? Stop by for breakfast then. Their coffee (from Prato) is 50 % Arabica and 50 % Robusta and they make one of the best cappuccinos in town. Seriously. We haven't seen a better whipped milk in a cappuccino anywhere else. Have some of their delicious "sfoglie" (pastry) or fresh sandwiches – we personally recommend the pastry with yolk & vanilla filling – it is super tasty!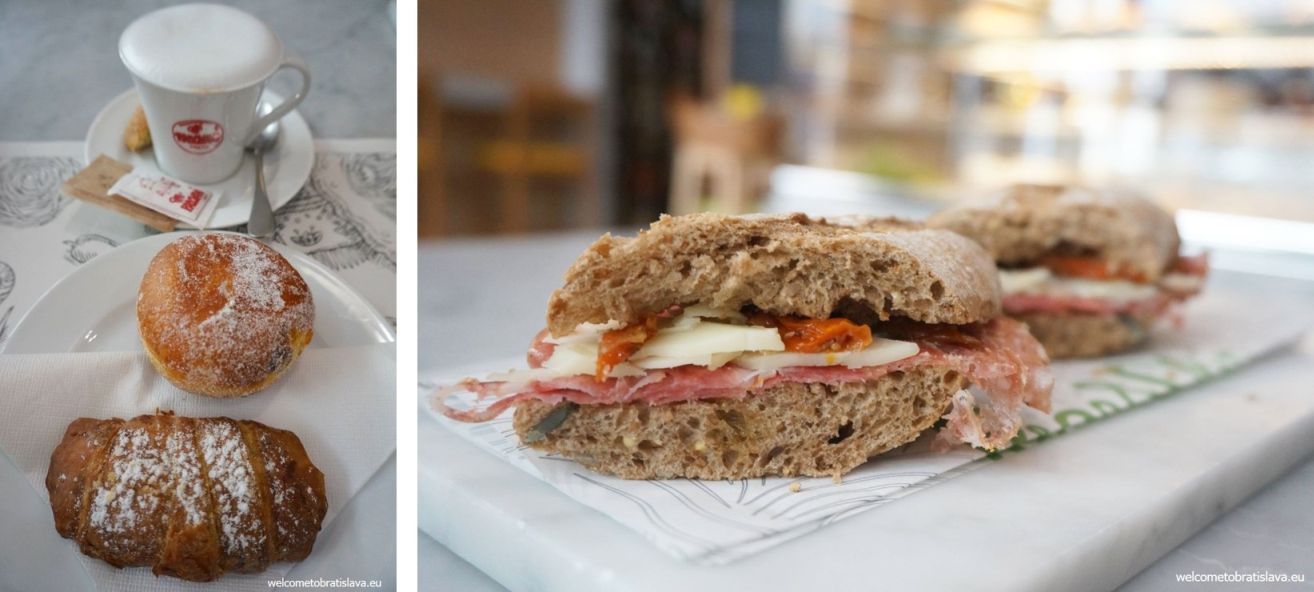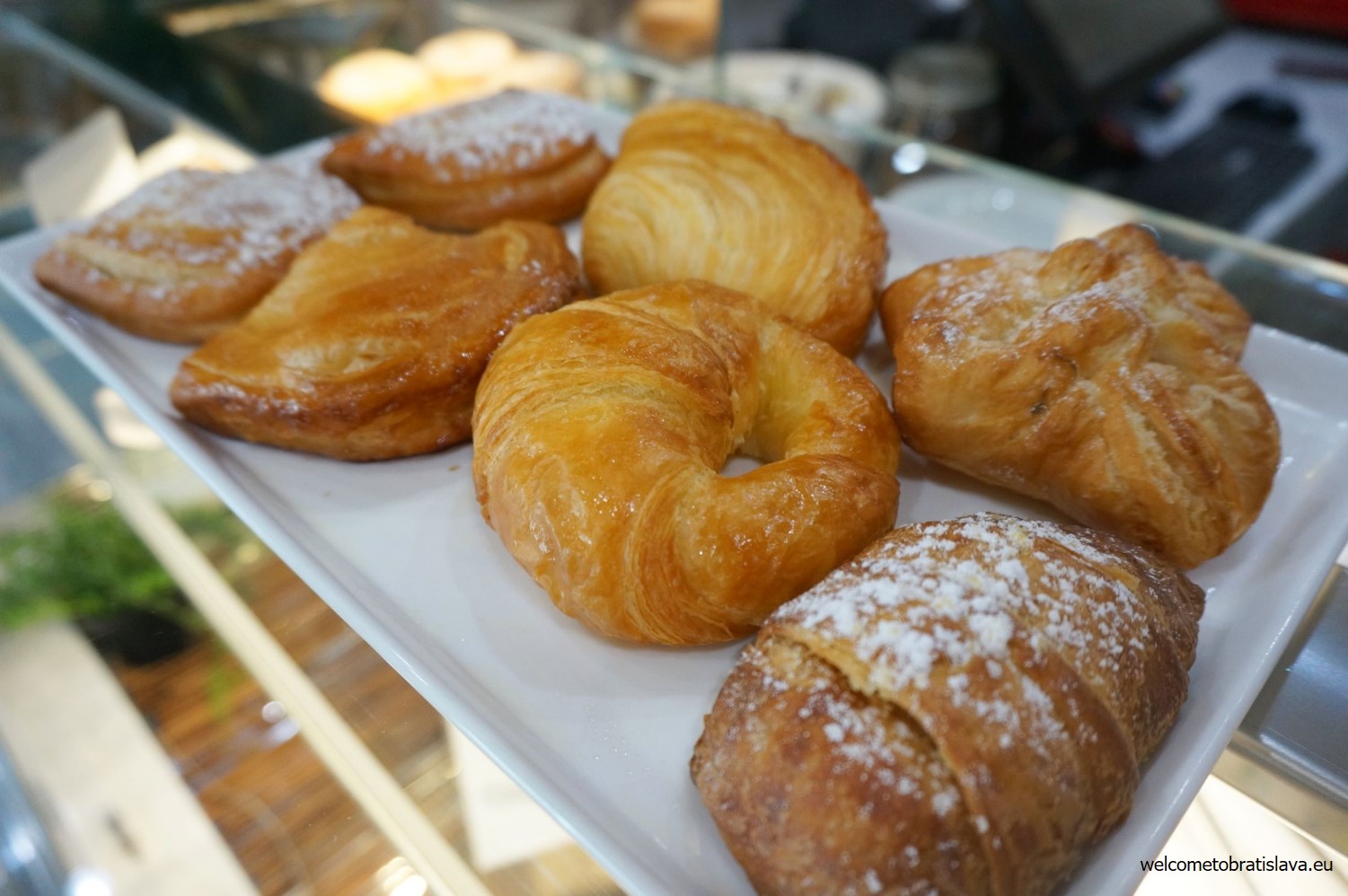 If you come around lunch time, you can enjoy a warm plate of 3-4 chosen specialties of the day (always check their webpage for the details). Usually the options include short or long pasta or gnocchi with different sauces. In the afternoon and evenings they don't serve cooked meals, however you can have some of their fresh paninis (30 different kinds!).
As we already mentioned, they hold various events here. We were lucky to be part of one tasting evening and you are now lucky to see all the delicacies on the photos :) That evening started with an Aperitivo. Its tempting selection of finger food included fresh white bread with Laudemio olive oil and crostinimisti (a mixture of white bread and various pates).
A mini focaccia with Mortadella Pasquini and bruschettas with Sicilian sausage and Taleggio DOP cheese followed.
The Aperitivo finished with a bruschetta with Gorgonzola DOP and roasted peppers. Heaven in mouth!
They also organize Saturday brunches (not regular, event always announced through their Facebook).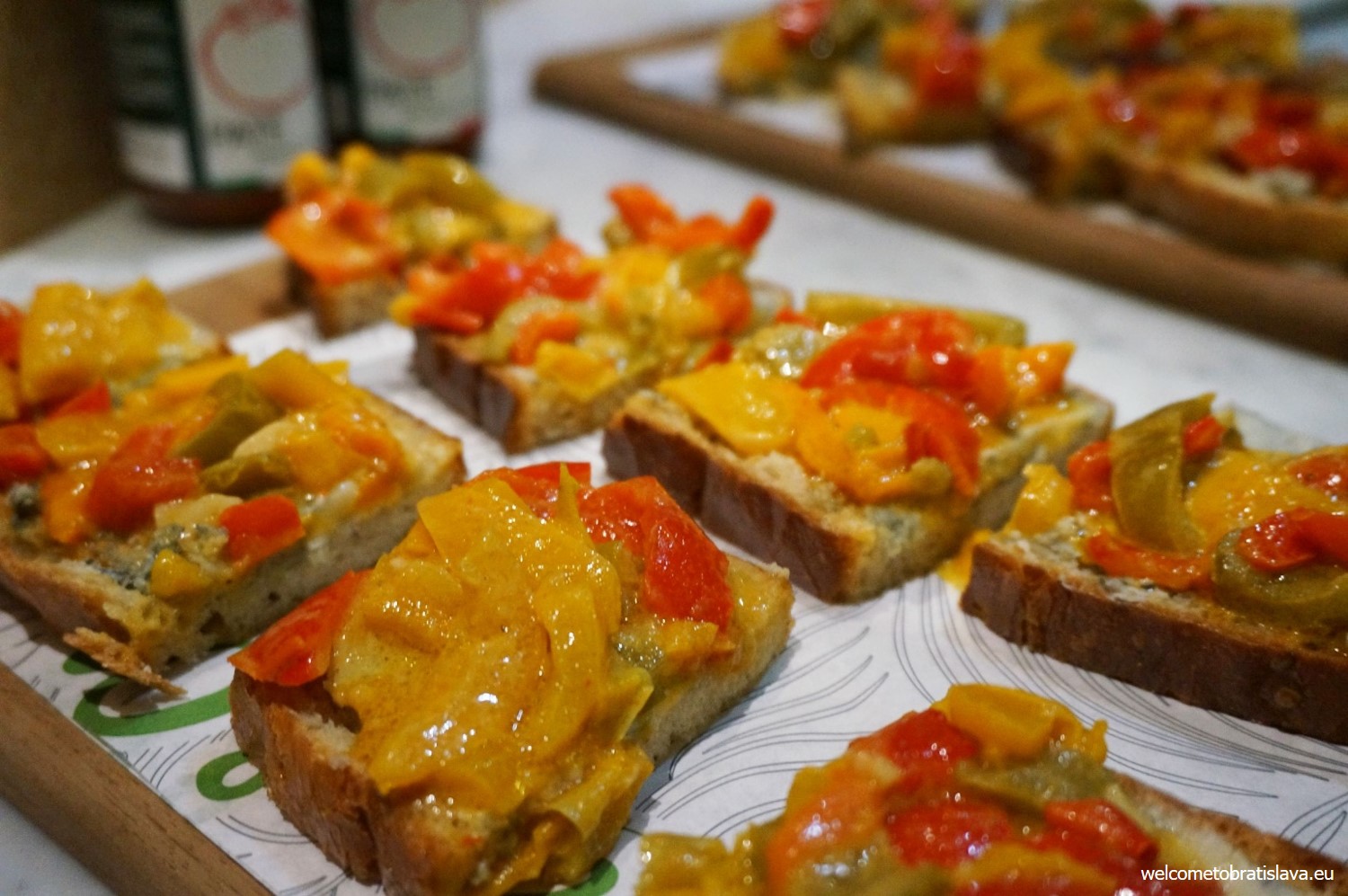 You need to make sure you don't eat too much at the beginning because there are three other courses to follow! It is not very easy as everything is so delicious but it's worth doing so because what comes next is also super tasty and we tell you, you want to have some space for it :)
As an Antipasto (appetizer) we tried a cold tomato soup with sour cream and basil. It was very smooth, very light, very nice.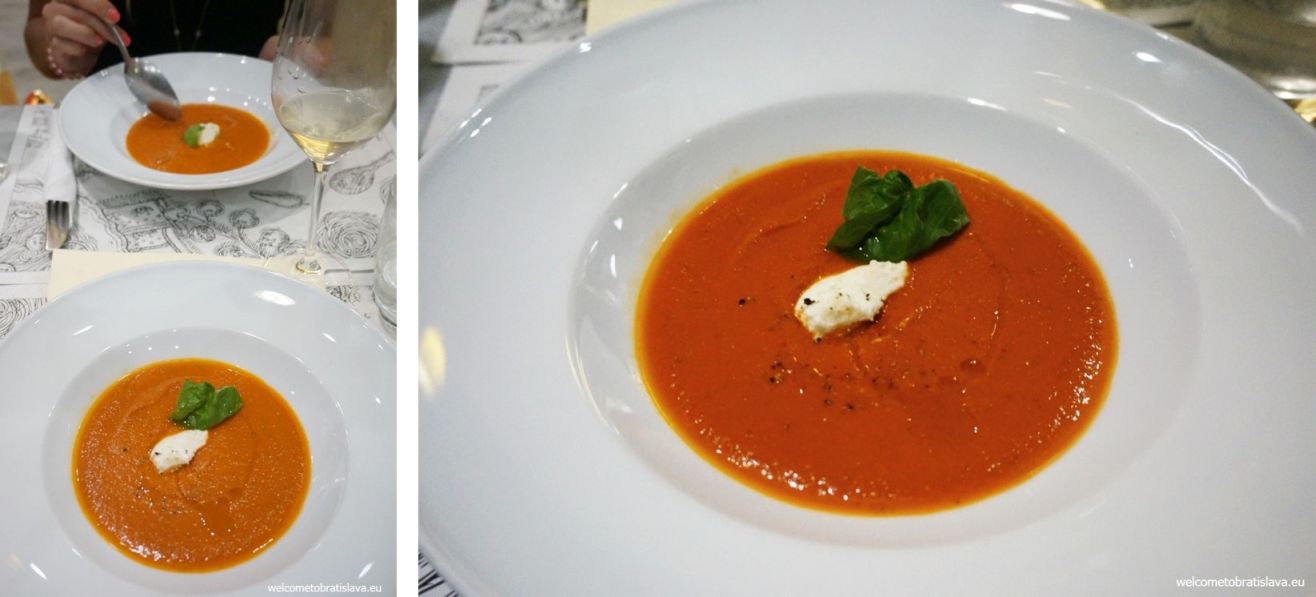 The tasting menu also included two main meals (Primi Piatti) – a risotto with a 36 month Parmesan and pasta with basil pesto. We love rice and pasta and by the time we got to eat these meals, we were already feeling sorry for eating all the breads at the beginning. The stomach was getting full! But well, we couldn't help it, the dishes looked too good – and they tasted even better than they looked.
Finally, the Dolce (dessert) time arrived! A selection of cheeses with jellies and honey was a perfect finish to all the delicacies we had just eaten. And of course the traditional hand-made cantuccini (chocolate biscuits with warm chocolate filling) could not be missing.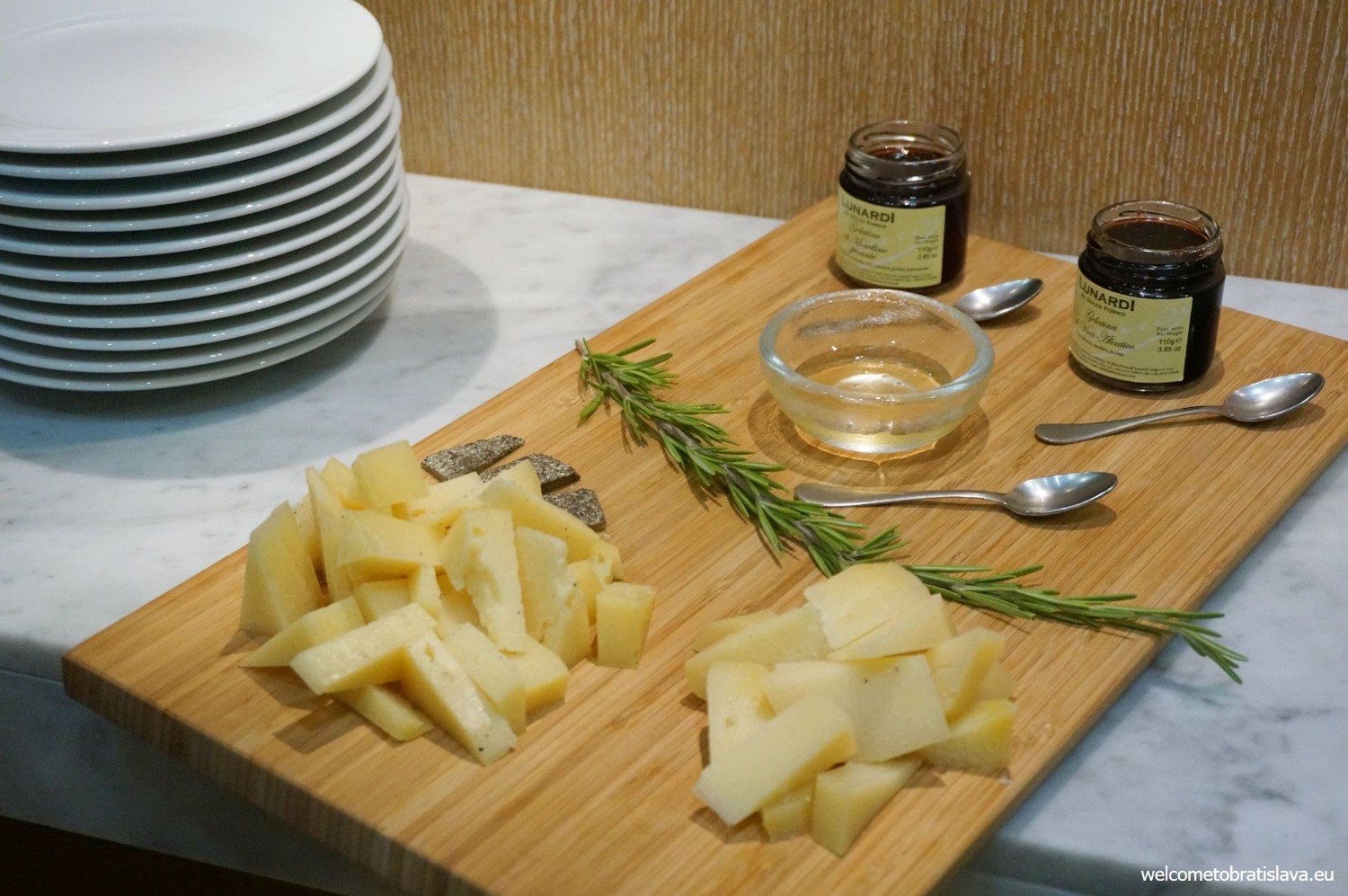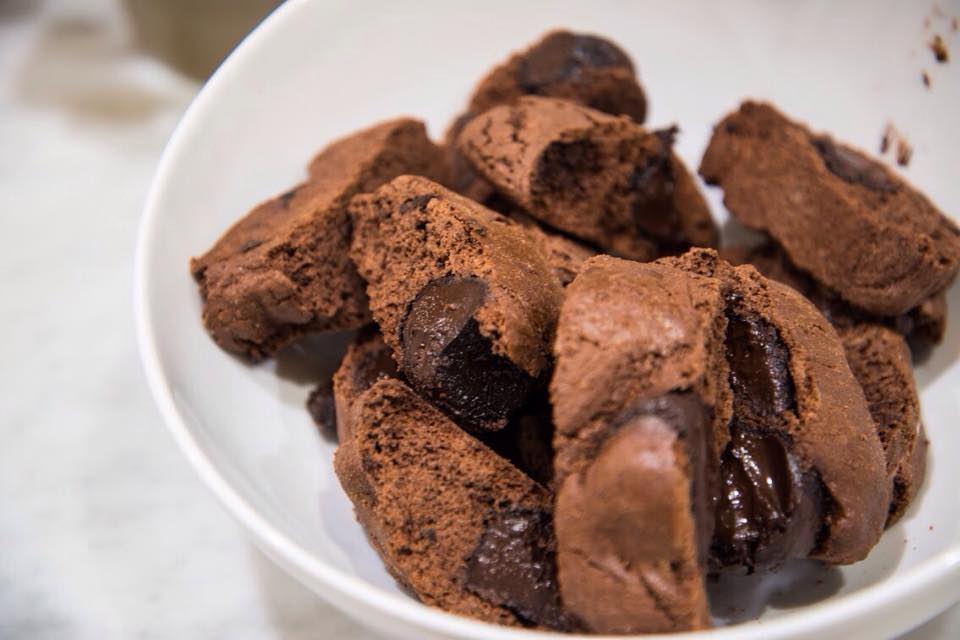 (source)
If you feel like you need something to help you digest all the food (like we all did after that dinner), have a shot (or two) of grappa – a grape-based pomace brandy of Italian origin, or a cafe – for instance cafe Shakerato :)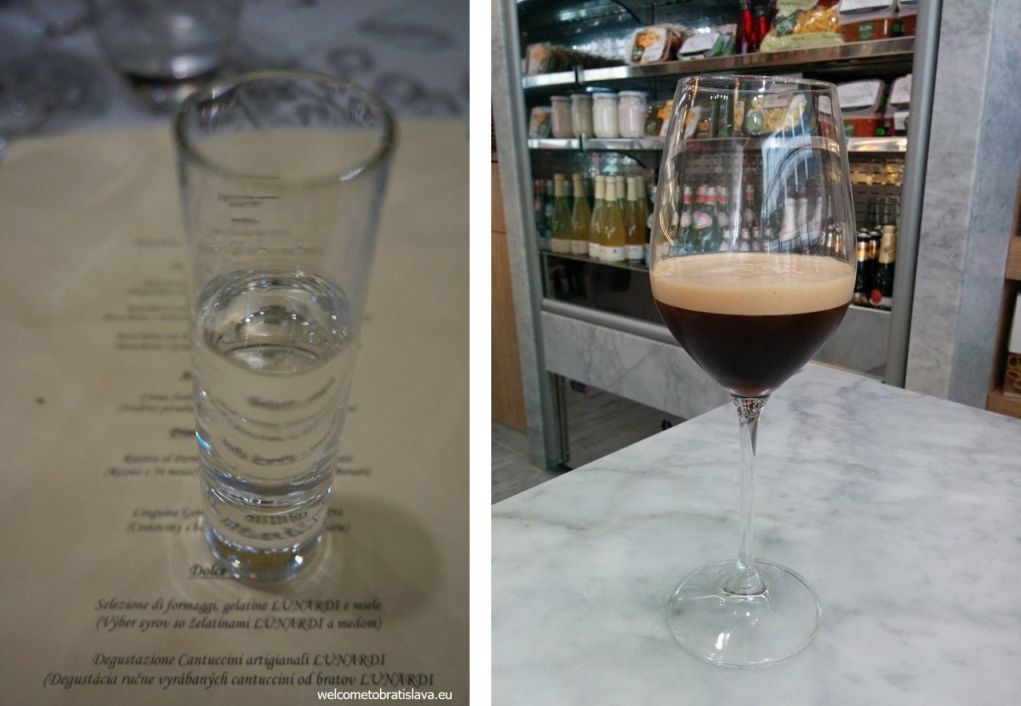 (source)
We think nothing more needs to be said. If you haven't been to Pane & Olio yet, it's time to give it a try! Faultless service, perfect food and a warm heart of the owners are proving a winning formula for this bistro and will win you as well.
Buon appetito!
Author: Maria Kecsoova

ADDRESS: Gorkeho 6


 OPEN HOURS: Check their FB page


CONNECT: Webpage, Facebook


MAP LOCATION: