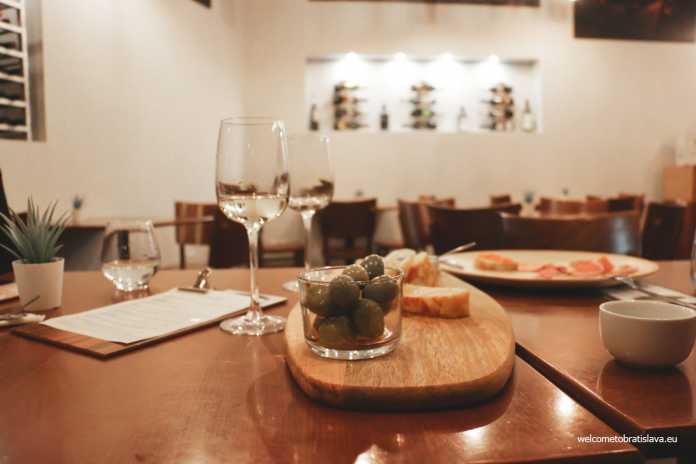 We need to start this invitation with a little story. Actually, it is a love story.. It started years ago when a Spanish schoolboy and a Slovak-Ecuadorian schoolgirl met for the first time. Then their paths split between various countries, only to meet again as adults. They soon realized they couldn't let their paths to be cut off any more. After some time in Barcelona, where José was an established cook, they decided to move to somewhere calmer. And now here they are – in Bratislava – ready to greet you at their authentic Spanish Prečo Bistro and treat you like a guest at their home.
LOCATION
Prečo Bistro found its home on Palisády, one of Bratislava's most charming streets full of glorious historical buildings. Even located on a main street and despite the central location, this place isn't really a destination for an accidental passer-by. It is a place for those who know where to go. That's primarily  due to the neighborhood itself which isn't filled with many other cafes, bars, or restaurants, but surrounded instead by residential houses and commercial premises. But now you will know where to find them, too ;)
INTERIOR
A warm welcome from the owner and the tiny size of the space  (only six tables and a bar fit inside) will soon make you feel like you're visiting a friend in their big living room. High ceilings with photos taken by José himself and huge antique mirrors above the bar only intensify such a cosy atmosphere. We found this place to be perfect for a birthday party or team-building for groups up to thirty people. And sorry for the spoiler, but we must share this with you – the secret door doesn't lead to Narnia, but has a slightly more practical purpose – it is an entrance to a bathroom :) PS – don't feel bad if you get tricked – it took us a while to realize it is actually not a bookcase!
WHAT TO HAVE IN PREČO BISTRO
We strongly appreciate that the menu is not too extensive. The owners have a priority which is pretty clear: excellent wine that perfectly goes together with delicious tapas. You can either choose from Spanish, Slovak, or Italian wines. The same applies to the tapas, which are combinations of Spanish, Slovak, and Italian ingredients at their best. As mentioned, José used to be a chef in Spain, so a homemade, yummy marinade for olives or the homemade tortilla de patata (a typical Spanish potato dish from layers of thinly sliced potatoes and seasoned egg) are unsurprisingly delicious :) Also try their variation on nachos or the sausages and hams… We're guessing that's all you'll need with your glass of wine. It needs to be said that everything is freshly prepared with care, very yummy, and offered at a reasonable price!
The owners cooperate with small wine producers, so you might find wine here that is hard to find anywhere else. And if you are a wine lover but your friends prefer something else, they can get some Slovak soft drinks like Kofola or Vinea. For beer drinkers, try a chilled Corona beer. Though we strongly recommend persuading them that this is the right time to let the wine dazzle them; the selection here is really amazing! Soon even Sangria might appear in the menu, but a special one made of cava (a Spanish sparkling wine). Can't wait to taste it!
WHY IS PREČO BISTRO SO SPECIAL?
Sure, you might find places with similar vibes in Spain, but there is definitely no other place close where you can get a trio dip of guacamole, hummus and Slovak bryndza served all together. Of course, if you know how to combine flavours appropriately, there is no limit for creativity in the kitchen! And we bet José knows. So if you don't plan a trip to Spain in the near future, this little Spanish oasis in Bratislava is here for you most days until midnight (they siesta is on Sundays and Mondays). They also organize some events mostly focused on wine tasting but have lots of other plans. Check their Facebook page for the current ones!
One last thing we didn't mention – the special name Prečo (which translates as Why / Por Que)! Wondering why they chose this name for the bistro? We already know and if you want to know, too, go and ask yourself while enjoying a delicious glass of wine ;)
Our tip: If you are into wine and wine making, you might want to explore the beautiful Slovak countryside, visit a pottery workshop, find out about the traditions and history of the Slovaks and sample some local food and wine on this 6-hour wine tour from Bratislava.

OPEN HOURS: Check the official FB site


 ADDRESS: Palisády 728/34


 CONNECT: Website, Facebook


 MAP LOCATION:

Author: Eva Latakova
Photo credits: Natalia Jankova