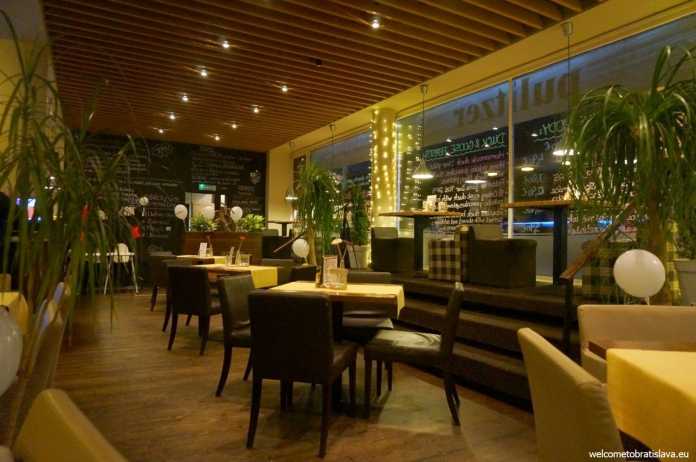 This adorable place is one of our favorite choices for eating out in the evenings. It has tasty food with a selection of local dishes as well as meals from Italian cuisine. Everybody can choose their thing, whether you come with an exact idea or not. You will definitely feel welcome here – the proof of this is that it is almost always packed :)
LOCATION
Pulitzer is located at Župné námestie (Square), with a view on the Castle and Michael's Tower from its back garden. It is a 3 minute walk from the Presidential Palace.
In summer, there is a small terrace in front of the main entrance. A garden is also open in its back and is great for enjoying some privacy with a very nice view.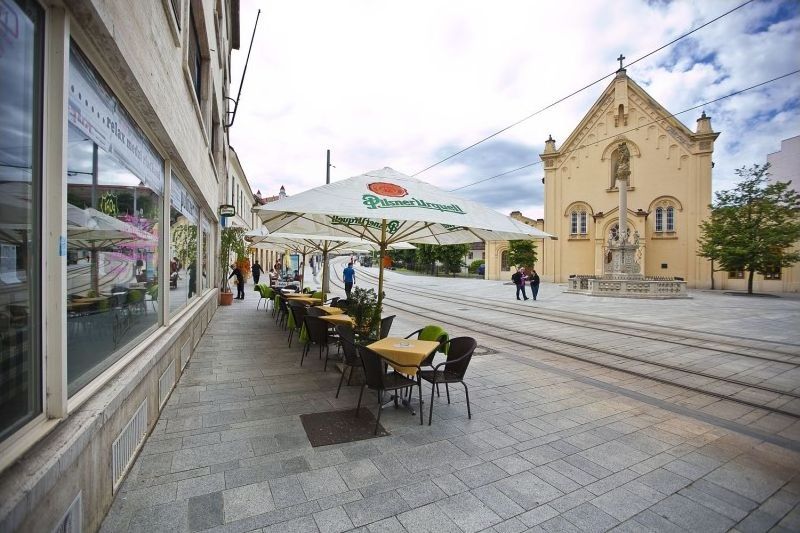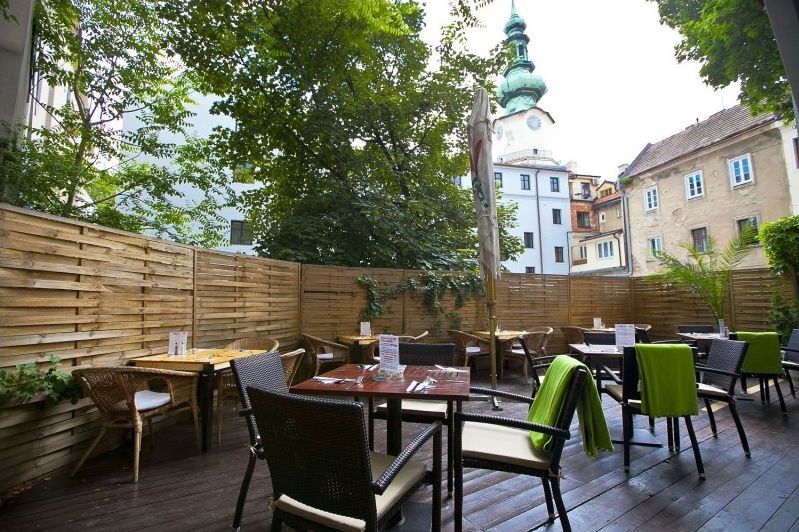 (source)
THE INTERIOR
Pulitzer is a classy place with interesting decor and very pleasant atmosphere. We like to come here especially in the evenings as for us it has more magic with the lights and the view on the dark outside.
We find really cool that their menu is part of a newspaper bearing the same name as the restaurant. And they have an English version as well! :)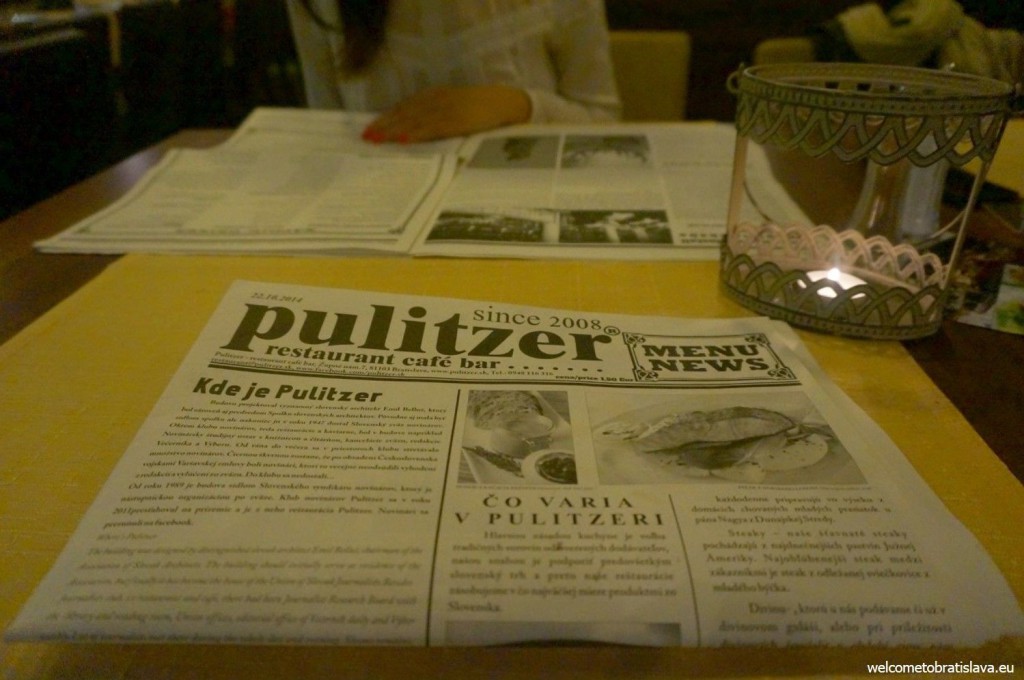 The restaurant is quite spacious, with two parts. The front part has the main bar and the kitchen is located here, too. That's also where you can sit by the windows. The back part is smaller and provides more privacy.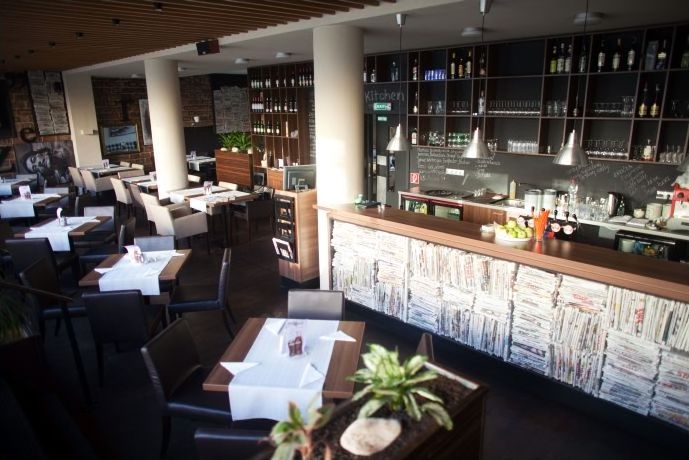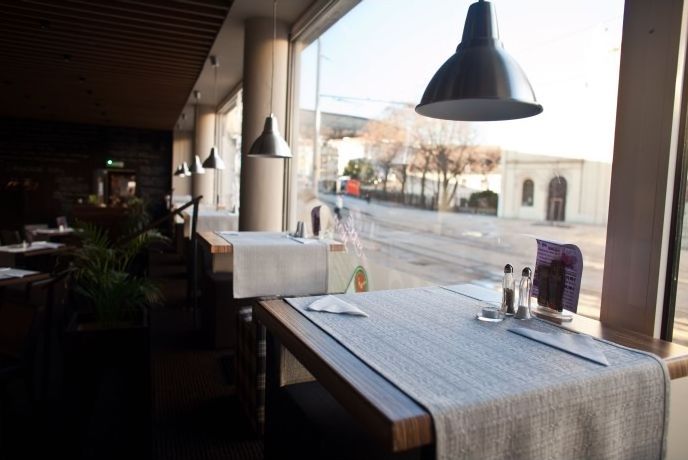 (source)
WHAT TO HAVE IN PULITZER?
Pulitzer has quite a wide menu. You can choose from a list of Slovak meals, fish, pastas, risottos, salads, meat or soups. Probably the most delicious meal we have had in Pulitzer so far is the "Pulitzer salad" which is served with grilled noble white mold hermelin cheese, green salad, sun-dried tomatoes, capers and cranberries. We can also recommend the mushroom risotto.
If you are a fan of Italian cuisine, try the "Tagliatelle Siciliana" with chicken nuggets, anchovies, capari, olives, tomatoes and cheese. Topped with a basal leave. We couldn't resist to try their Mc Pulitzer Burger (with herb mayonnaise, rucola, grilled beef, blue cheese, bacon and tomato salsa) – we  were curious whether it is good enough to be added on our list of best burgers in Bratislava. Even though it tasted OK, it did not make it to the list.
Pulitzer's dessert menu contains three items – pancakes with soft cream cheese (tvaroh) and maple syrup (yummy!), ice cream with fruit or you can have a poppy-seed strudel. We must say they make really good lemonades. Which we like a lot is the cucumber one – very refreshing. Besides lemonades and the usual soft drinks, you can have a glass of wine, a cocktail, a draft beer or try some spirits :)
We've always had a good overall impression in Pulitzer so far – happy with the food, friendly service, reasonable prices and restaurant's ambience as well. It's one of the places we like to choose for dinner because we know whatever we choose, we will satisfy our taste buds :)

OPEN HOURS: Check their website


ADDRESS: Župné námestie 7


CONNECT: Website, Facebook


MAP LOCATION:

Author: Maria Kecsoova