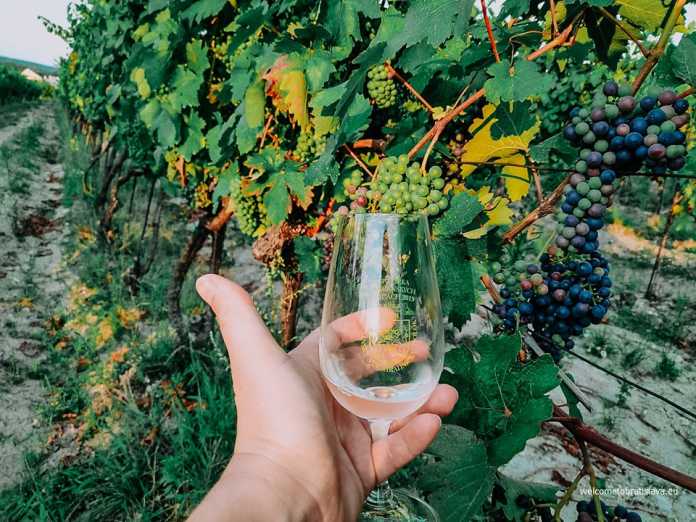 Are you looking for beautiful surroundings, excellent wines, delicious food, and nice people? Visit Rača, the capital of wine situated on the southern slopes of the Little Carpathians. Soak up a unique atmosphere of old and new cellars, admire views of never-ending green vineyards, taste magnificent wines, and embark on a journey of wine discovery, just a little wheeled train ride away.
What and where is Račanská Lokálka
Račanská Lokálka is a tourist train on wheels that has its home in Rača. One of the boroughs of Bratislava is located about 8 km from the city center. It is riddled with wine routes that connect wineries, vineyards, wine cellars, and historical sights. Secrets of this popular wine region can be discovered by Račanská Lokálka.
It starts its journey close to "Nemecký Kultúrny Dom," which can be easily reached from the Old Town. Take the 25 minute ride on tram no.3 from stops Kamenné or Šafárikovo námestie to Hybešova.
From the tram stop, you'll continue on foot. Turn left to Oblačná, turn right onto Kubačova and again left to Barónka. There you'll spot a big yellow building belonging to Nemecký Kultúrny Dom a few minutes ahead.
The place where the train stops is not indicated, but you cannot miss the vehicle arriving. It halts on the street next to the yellow building, under the stop of public buses.
Magic hidden in vineyards and cellars
Today you can get acquainted with them on a guided trip on Račanská Lokálka. As the wheeled train drives around Rača, your guide tells you captivating stories about the famous wine region, its history and wine, and points out some of its most particular buildings.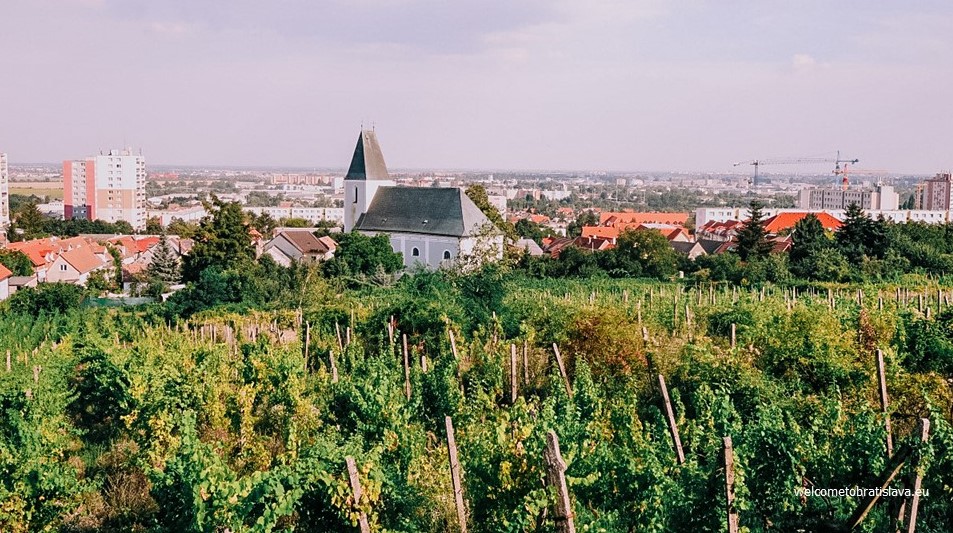 The vehicle follows the historical streets of the borough and dusty roads which are often surrounded by vineyards. It offers views that are especially enchanting during  sunset. Along the way, you will stop in various places connected to delicious wine. You will visit family-run wineries, where proud owners speak about the pains and gains of this industry. They will, as you taste their heady potion, share secrets of grape growing, cropping, harvesting, and winemaking. They may also show a trick or two, like how to open a bottle of wine with a sabre.
You will also head straight up to the vineyard, where you can sit and sample. Or walk around and admire grapes and views of Rača and Bratislava from atop.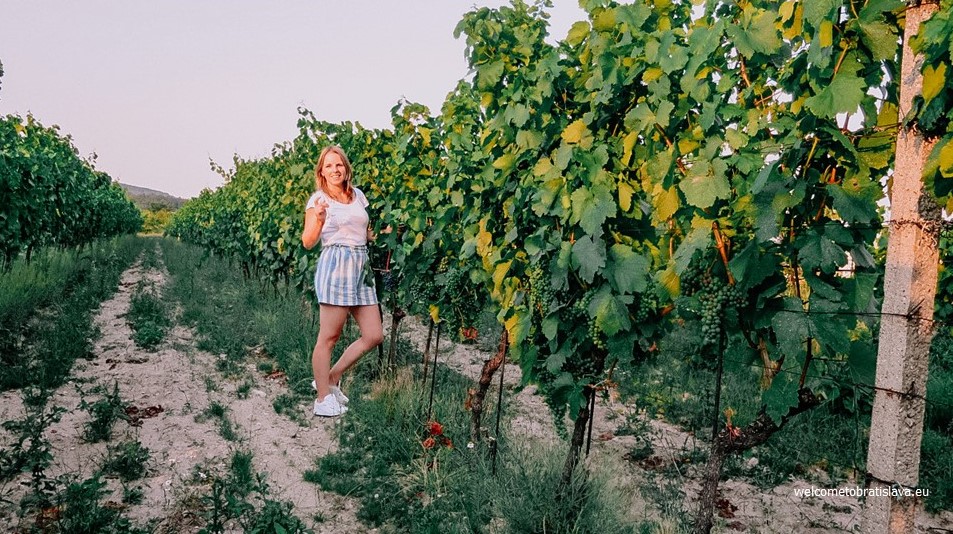 Next, you will head straight down to the historical cellar. Located in a manor house and with the statue of St. Urban, patron saint of winegrowers, it offers a truly unique atmosphere for wine tasting.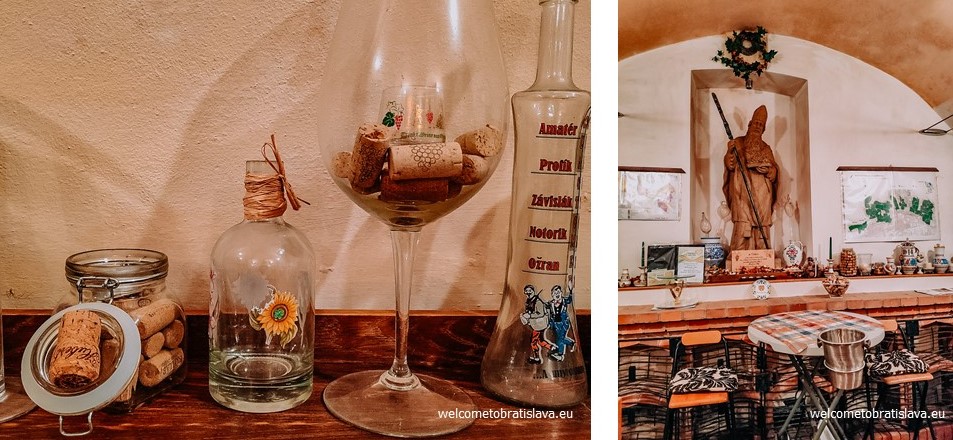 During the trip you will also stop in a superb neighborhood restaurant. The tasty local fare will prevent you from being light-headed and give you the strength to drink more in a wet, cold and cool cellar, where hundreds of litres of wine are stored.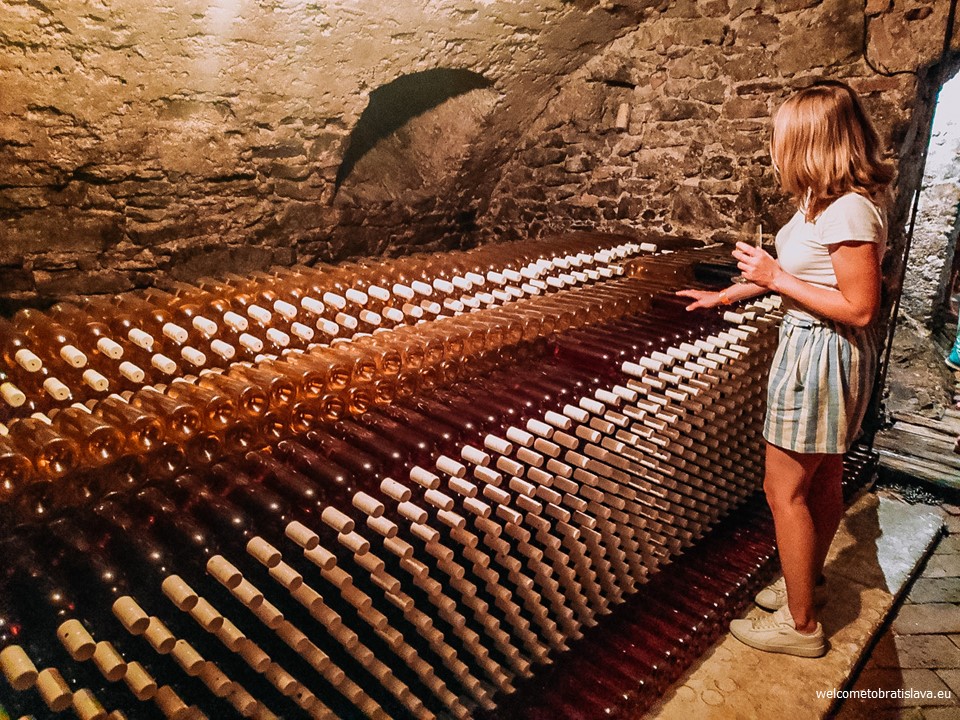 Wines you can enjoy
Rača Wine Region offers some of the best wines from the Lesser Carpathians. They are being made exclusively from grapes grown on the slopes of Rača, and come in many sorts, colors and flavors. You will have a chance to taste the Slovak version of Chardonnay, Cabernet Sauvignon, Devín, Hron, Müller Thurgau, Rizling, Veltlínske zelené, Rulandské, Sauvignon Blanc, and Frankovka – the crown jewel of Rača.
This famous and sought-after wine is produced by (almost) every local winemaker. The fine red wine is linked to Empress Maria Theresa, who, as the legend says, herself experienced its healing effects. She recognized it as wine worthy of the imperial table. If you find it worthy of your table, you can purchase it, and other wines, directly on the spot.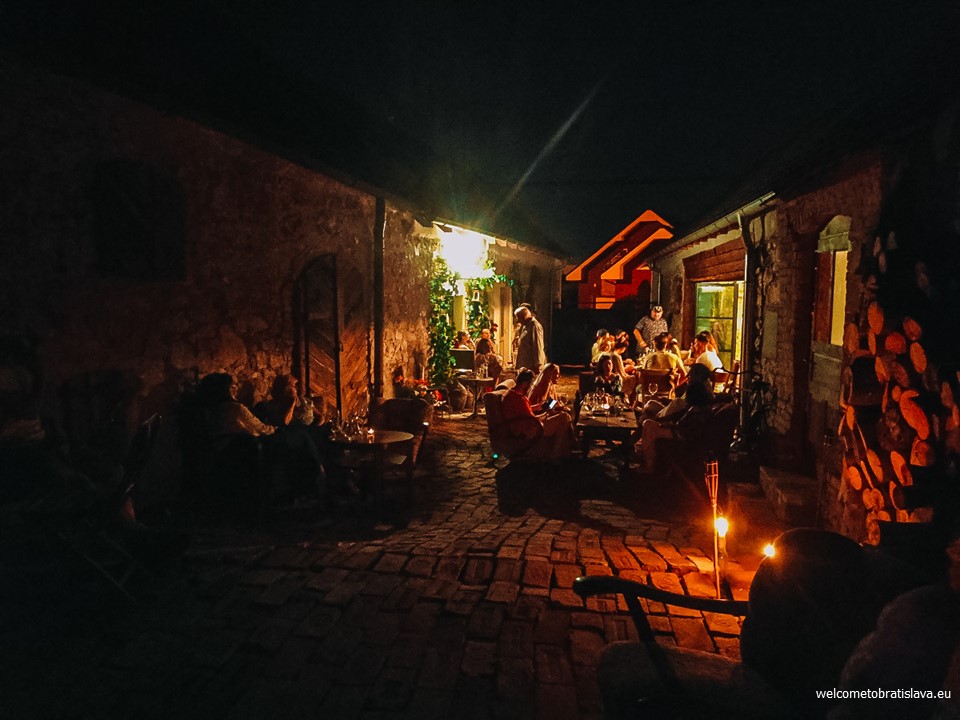 Know before you go
A ticket for Račanská lokálka needs to be purchased online for a specific date and time. Every participant gets a pouch, sampling glass, an information brochure with a map, and a bracelet.
The price includes 14 coupons for tasting (1 coupon = 2 x 0.025 samples, 2 coupons = 1 dl of wine). Coupons are accepted in pre-selected cellars. If you run out of them, you simply purchase the samples. Don't forget to take cash.
The bracelet allows you to get on the train that completes the entire circuit every hour, anywhere on the route. The website, which at the moment is only available in Slovak, states that you can use the vehicle until 8 p.m, but we found that  it can run a bit longer. We started the trip at 5 p.m., and the train left us at its final stop around 9 p.m. From there our guide took us for a short walk to one more winery, where we visited its cellar.
To sum it up, the guided program was much longer than expected, but it was totally worth it. It is optional, not obligatory, to follow the guide. You are free to leave anytime or to do your own thing. If you want to go, ask your guide to advise you on how to reach a public transport stop.
Author & photo credits: Jana Kristeková

 OPEN HOURS: Runs only on Fridays. It starts at 4 p.m., the latest you can start the trip at Nemecký Kultúrny dom is at 6 p.m. At the moment it runs only during the summer season, until the end of September.


 ADDRESS: Barónka 3


 CONNECT: Website. Tickets need to be purchased online in advance through wine adventure operator WE ARE WINE (through their website or contacting directly Mr. Matus Burian: 00421 948 004530, info@peknacesta.info)


 MAP LOCATION: