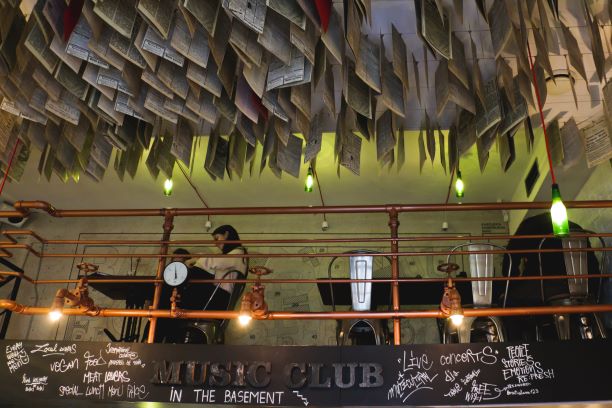 Actually delivering on the promise that "here you can have it all," Re:fresh is one of those little-hyped but much loved establishments in Bratislava that make this city's growing restaurant scene special.
LOCATION
As if we needed another reason to frequent Re:Fresh, it being situated in the heart of Old Town is a real plus. The picturesque Ventúrska Street is home to many of Bratislava's best cafes and drinking spots and is one of the city's "Must Visit" areas. From the patio of this trendy restaurant you can casually spy on Fach's beautiful people lunching on small bites and wine, or watch the parade of day-trippers and British stag parties wander from the Michael's Gate and back again while seeking out the best local pubs. In our experience Re:Fresh is not one of their common stops, so you'll be dining with a mix of savvy young tourists and locals in the know. All the better for people watching!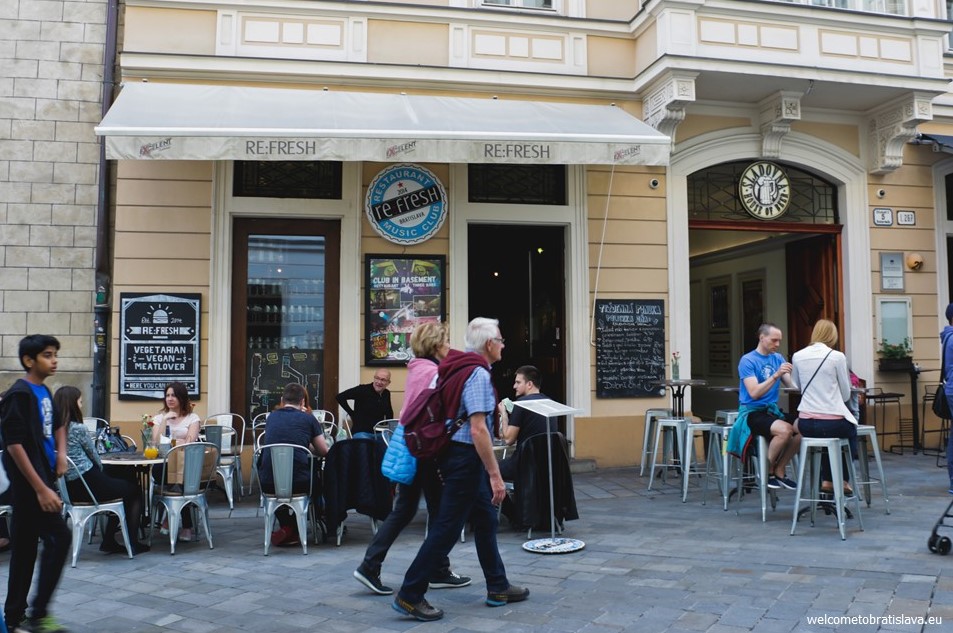 INTERIOR
Once inside, Re:Fresh feels less spacious than it is, mainly due to its slightly cramped configuration. The back of the dining room is walled off to separate the kitchen and hidden extra seating in the form of a few high tables and stools. 
And what's easy to miss is their mezzanine section that bulks up the accommodation options while offering an aerial view of the bar and dining room. In contrast to the limited physical space, the decor and design mimic an extended industrial warehouse turned trendy artist's loft. Replete with white-washed brick, repurposed shipping crates, and Edison bulbs.
While there is cozy bar seating available, this seems to be the best option when sticking to drinks. Our advice is to snag a patio table if you can and enjoy the scenery. During colder months, though, arrive early and sit at one the half-booths lining the main wall.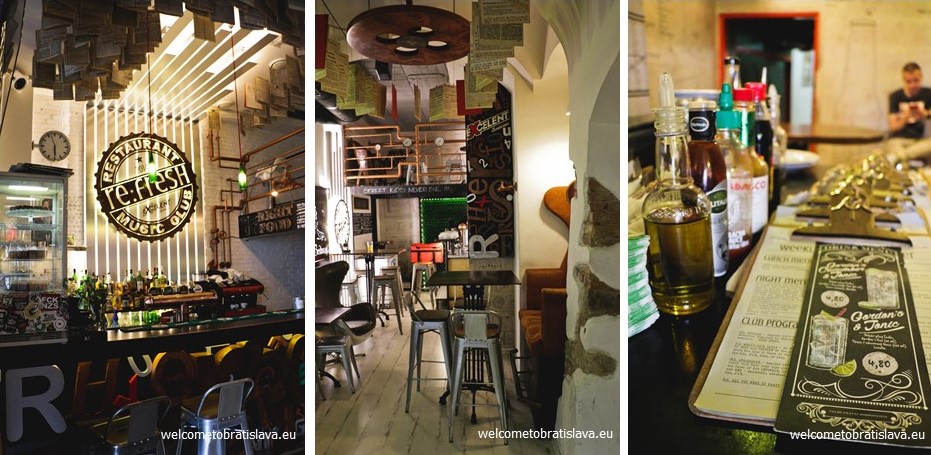 WHAT TO HAVE AT RE:FRESH?
This is one of the most solid kitchens in town. Cross our hearts. True, many restaurants claiming to specialize in food fit for vegans AND carnivores don't deliver. And cuisine that hints at the pleasures of traditional Czechoslovak comfort food alongside feel-good healthful eating can come across as gimmicky. Re:Fresh gets it right.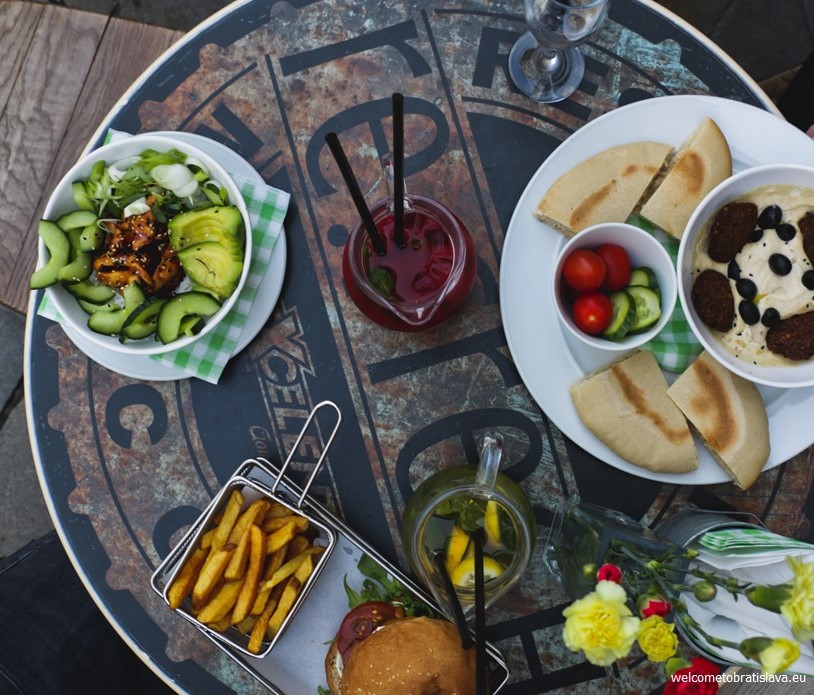 Take the classic schnitzel – a long standing favorite in Central European cooking and staple in many restaurants – this basic dish of pounded veal, breaded and fried, can sadly disappoint if under seasoned or served greasy and lukewarm. Here the schnitzel is served XXL with the perfect ratio of tender pork to crispy breading. The accompanying roasted potatoes are just savory enough with hints of nearly caramelized onions.
Equally good is the Old School Vegan Czechoslovakian salad. For the non-Slavic team members at Welcome to Bratislava, this is simply a delicious serving of vegetables and mock-ham in a vegenaise sauce. The native Slovaks, however, were genuinely surprised at how much this tastes like the Parížsky šalát of their youth: a retro mix of tender peas, onions, salami-style ham and of course generous amounts of mayo and whipping cream.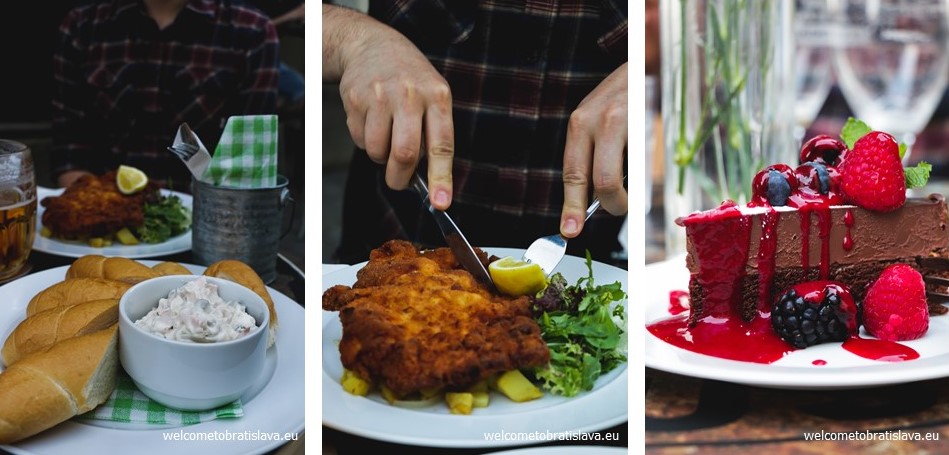 The burgers are quite popular and there is always a special version on offer, for example the all-beef burger topped with grilled halloumi cheese bacon, tzatziky, and olive tapenade. Decadent! Vegans and vegetarians are never left out here so the kitchen serves meat and dairy free versions of this and many other dishes, too. Speaking of which, there are always two quesadillas on the menu – vegetable and chicken – that take you as close to Tex-Mex as you can possibly get in these here parts.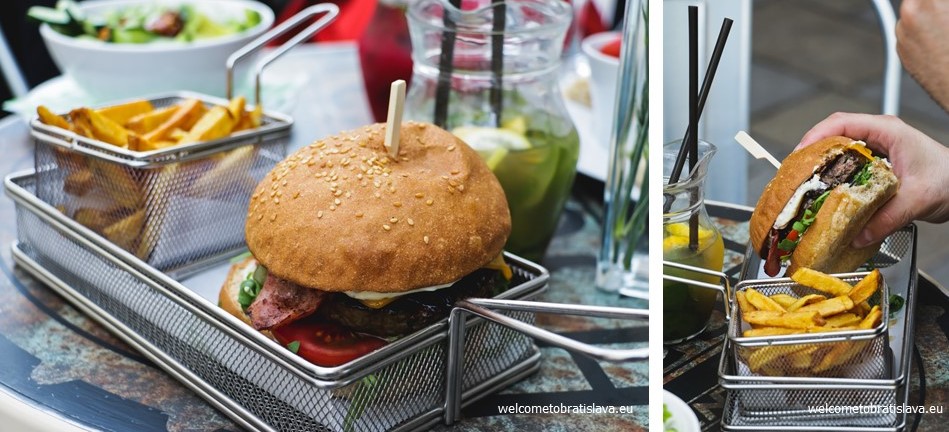 We can't wrap this section up without raving about the hummus. There is some fantastic hummus in town, but this one gets a honorable mention. The texture is perfectly smooth without suffering from a watered down consistency. The seasoning, too, is very balanced and the garlic, cumin, tahini and chickpea flavors each stand out without fighting for dominance on the palate. Served with crispy, savory falafels and fresh seasonal vegetables, you can order this dish as a satisfying breakfast, lunch or dinner. (Yes, this is so good it can even be found on their breakfast menu!)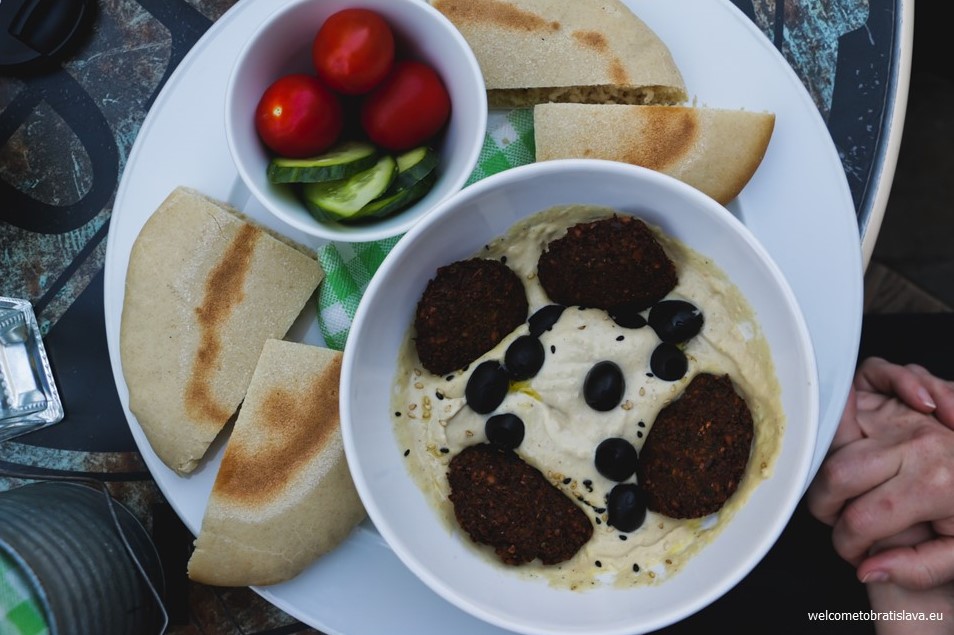 If none of the standard menu items are grabbing your attention, Re:Fresh may tempt you with one of their rotating weekly specials, always inspired by global cuisine and always – dare we say – refreshing options in an often predictable neighborhood food scene. At the time of this writing examples include a spicy Tofu Tikka Masala with soy yoghurt, fresh cilantro and jasmine rice and Grilled Rosemary Lamb Skewers served with Greek green beans and herbed yogurt.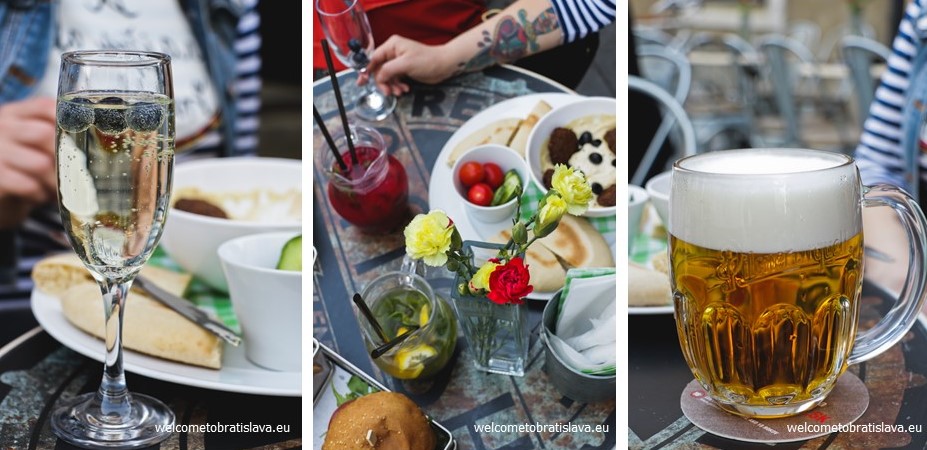 WHY IS RE:FRESH SPECIAL?
Whether you are vegan, vegetarian or pure carnivore – or like us a bit of each – all the options here are great. Combine this with the cool full-bar drink menu, including tasty beer tap and a decent wine by the glass selection, and you have a restaurant that is able to satisfy nearly everyone. A testament to this is the demand for a midweek delivery service, added recently to cater to the interest in fresh, healthy lunches brought right to your door or office. For brunch lovers, breakfast is served on weekends and while the menu is small, the food is great and it's an excellent deal.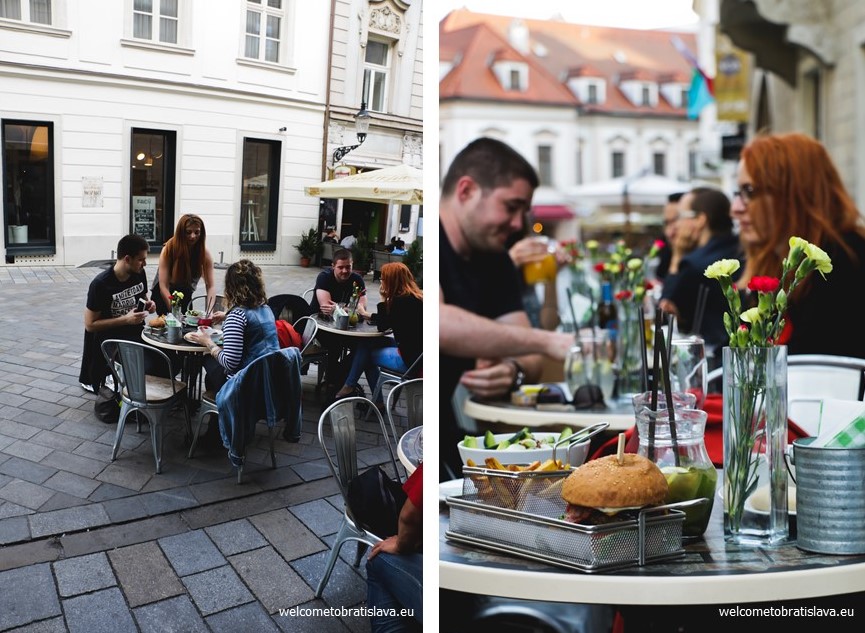 The kitchen's passion to serve ultra fresh ingredients extends to the smallest detail: a sweeping herb garden is tucked away on the restaurant's private balcony and harvested from daily. This explains why so many dishes are served with the perfect, generous handfuls of cilantro year round!
The service is noteworthy as well. The especially friendly servers – usually young, spritely, and fluent in English – welcome you to their restaurant like you are a new friend. Even at their busiest, we find the staff here courteous, patient and helpful. This makes for a really enjoyable dining experience.  
P.S. If dining out isn't really your thing or you just need to keep the party going, check out Re:Fresh Club for hip-hop beats, throwback favorites and more.
Author: Jennifer Brown
Photo credits: Natalia Jankova

 OPEN HOURS: Check their Facebook page


 ADDRESS: Ventúrska 5


 CONNECT: Website,  Facebook


 MAP LOCATION: