Are you a sports enthusiast? Do you like to spend time actively in the nature? What about climbing in the trees? If your answer is "hell yeah," then try the rope centre LANOLAND in the beautiful scenery of Koliba.
LOCATION
Rope Centre LANOLAND is located at Koliba – Kamzík, right below the Kamzík TV Tower. The easiest way to get there is by a car, as it is in a forest park. The trolley bus 203 ends its route at the "Koliba" stop which is the closest you can get there by public transportation. However, we would only recommend to take it in a nice weather – as it is still quite an additional walk up the hill (up to 20 mins by road or following the green tourist trail). If you don't rent a car during your trip, you might as well want to get a taxi.
When you get to this crossroad, turn right and walk until you reach the rope centre (on your right side). It is located in close proximity of the summer bobsled track.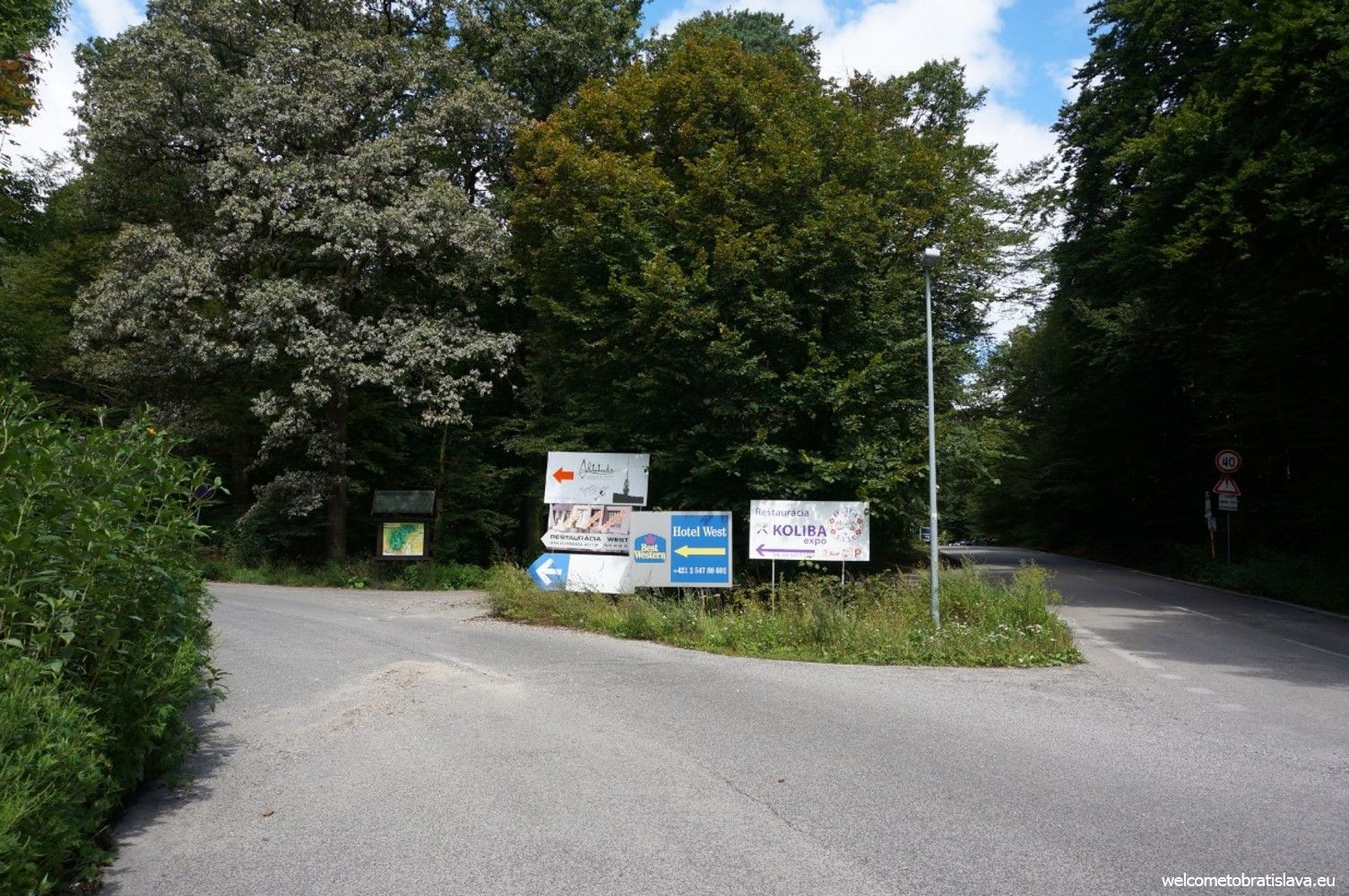 WHAT TO EXPECT?
The rope centre has a length of 423 m and consists of 42 obstacles and 4 zip-lines. Obstacles are divided into three basic color-coded tracks (plus two extras) based on their difficulty, so everyone can choose the one suitable for them. Whether you want to please your kids or are an able-bodied athlete yourself, this is something to try out.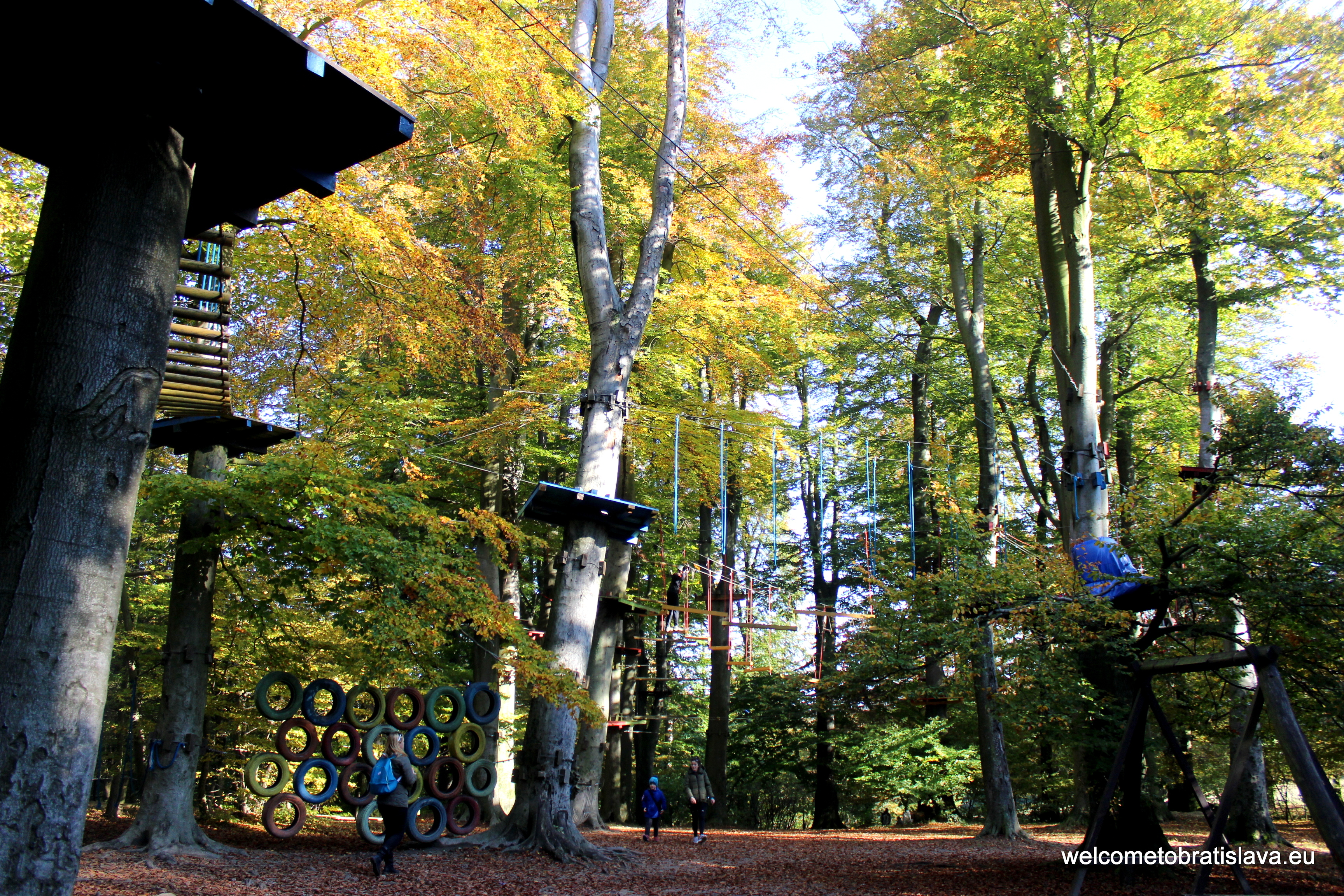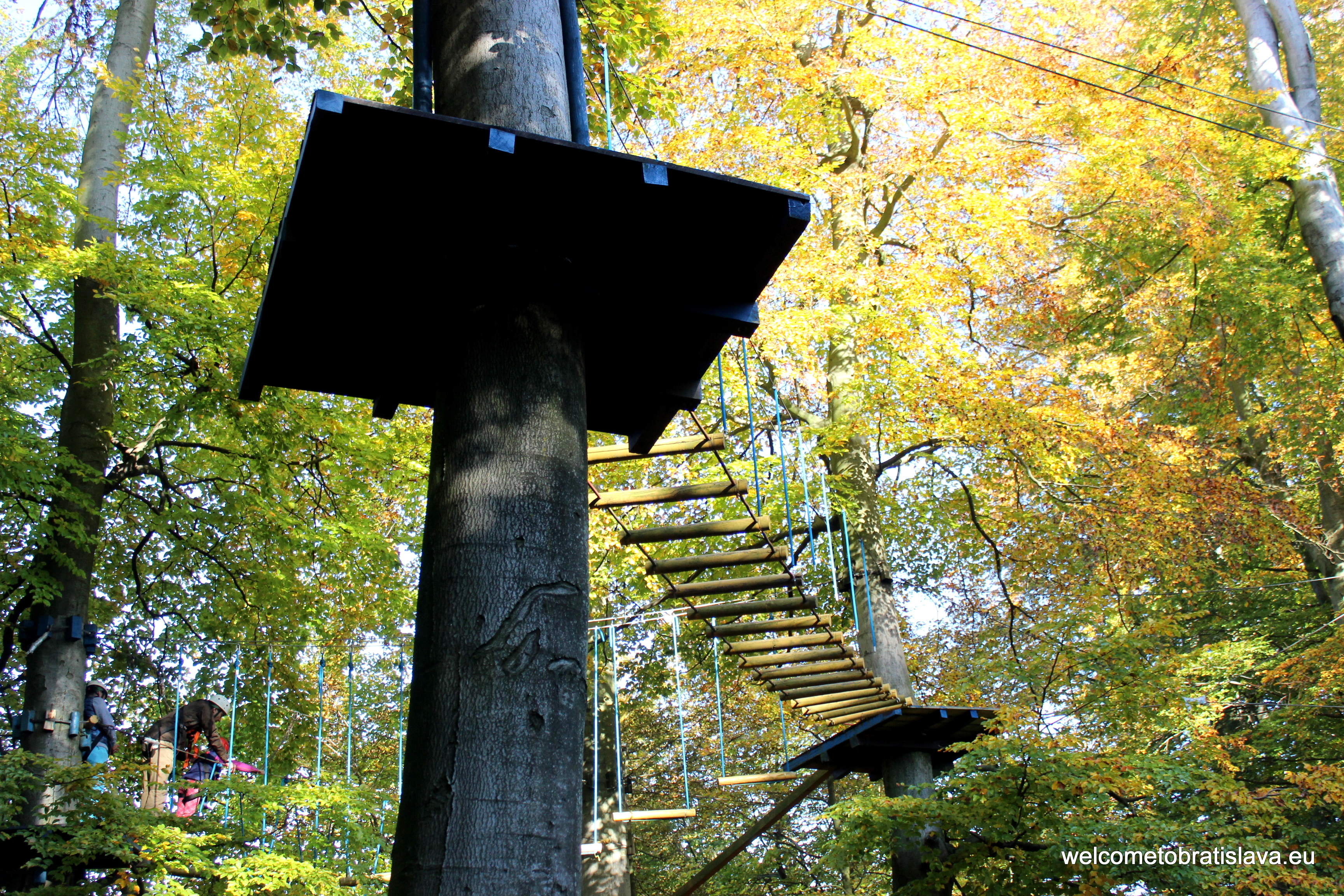 Here is the basic info on the tracks:
Blue track – light intensity, suitable for children under 15 years and as warm-up for adults, located 4 to 6 meters above ground (consists of 15 obstacles and a zip-line)
Red track– medium intensity, suitable for athletic young people and adults, 6 to 10 meters above ground (22 obstacles and 2 zip-lines)
Black track – severe intensity, suitable for experienced visitors (5 obstacles and a zip-line)
Team (yellow) track – designed primarily for couples, it is part of the red track (6 obstacles)
Ground track – for the youngest children (low ropes course, a swing and a climbing wall)
The basic entrance fee is for one hour within which you can enjoy the tracks of your choice.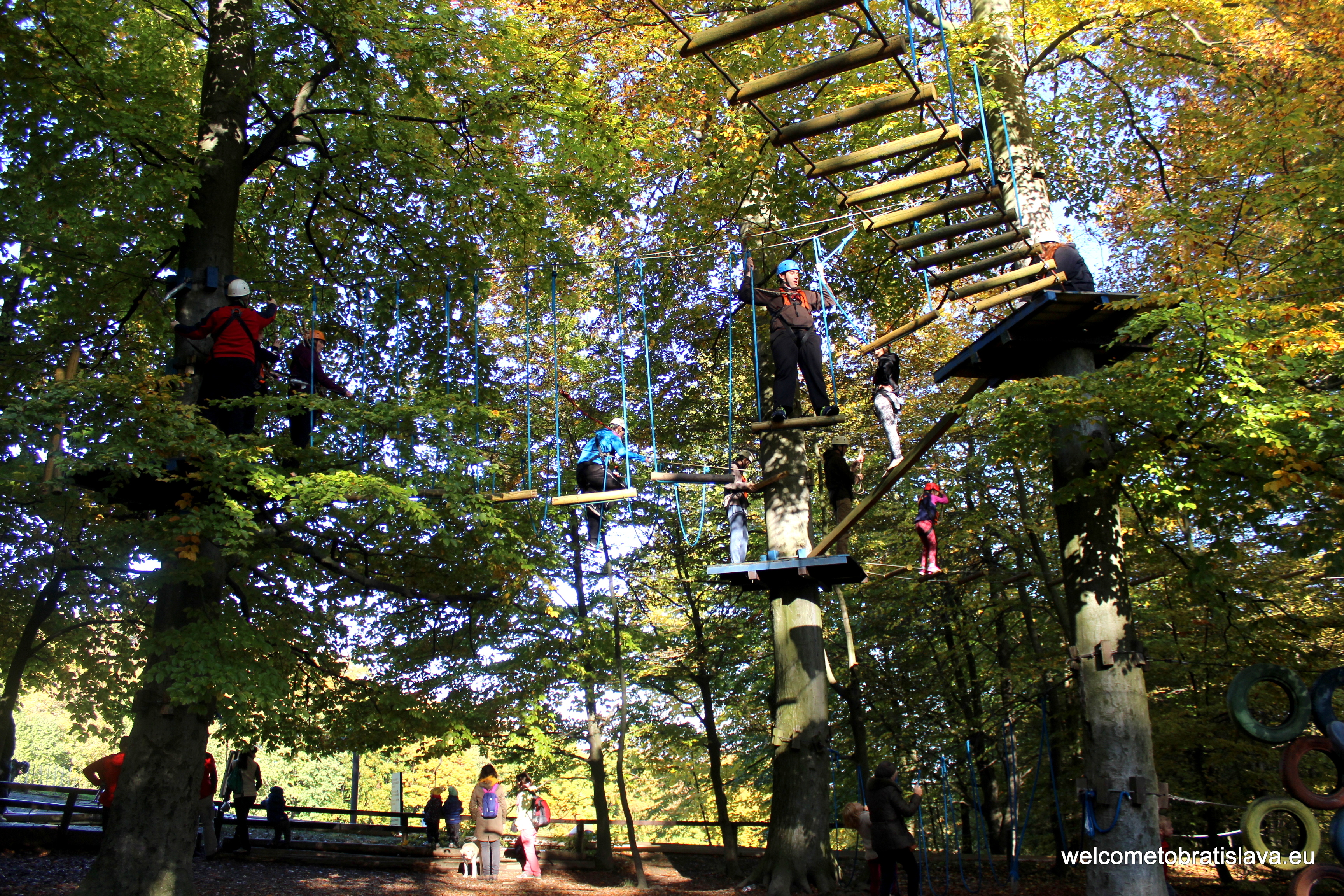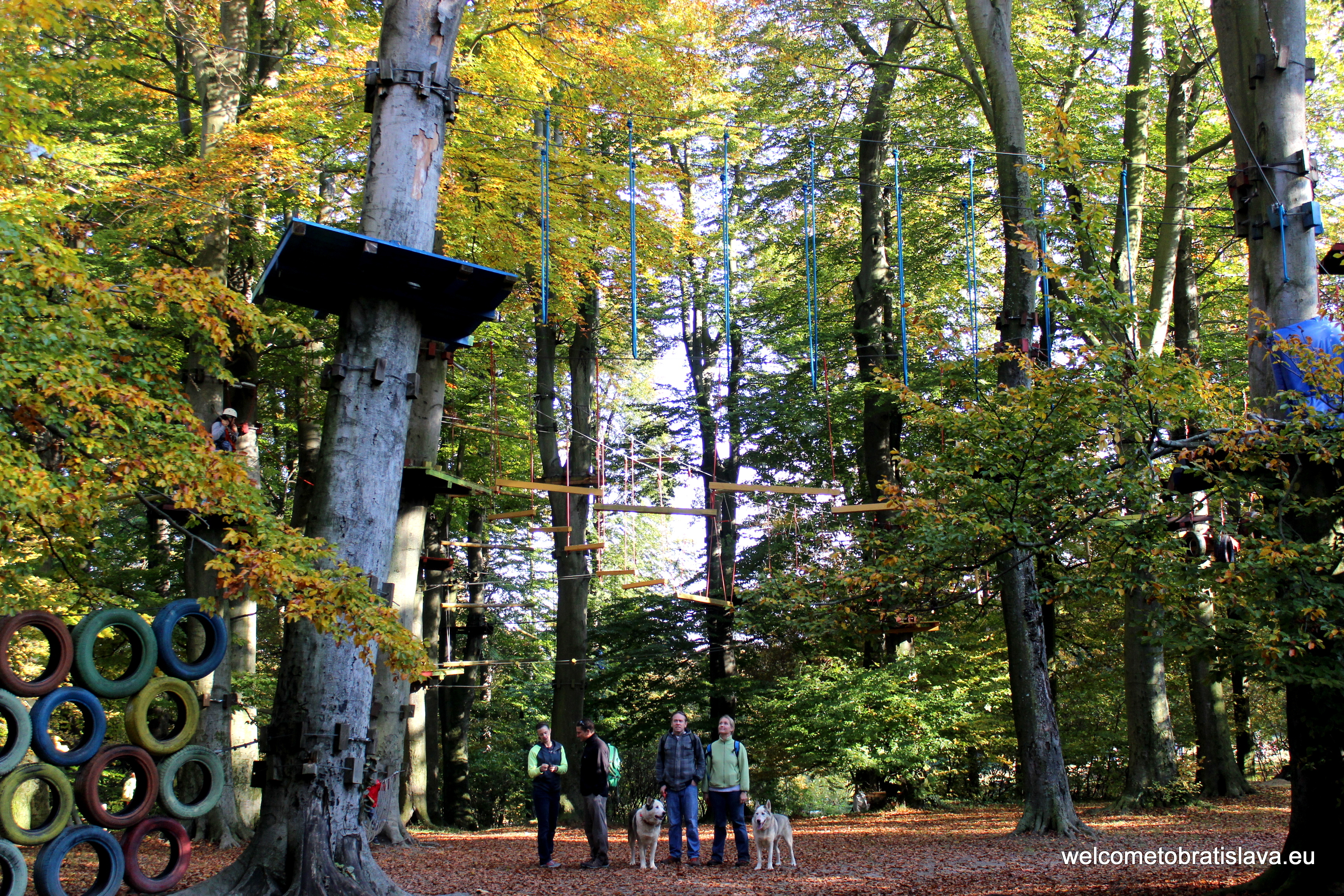 HOW DID WE LIKE IT?
It's really hard! Don't be fooled by the pictures – it is a true challenge, especially if you are trying it for the first time. As the practice makes perfect, we are sure that it becomes easier with each time. It can get very addictive though, as you wish to improve, challenge yourself and become even better!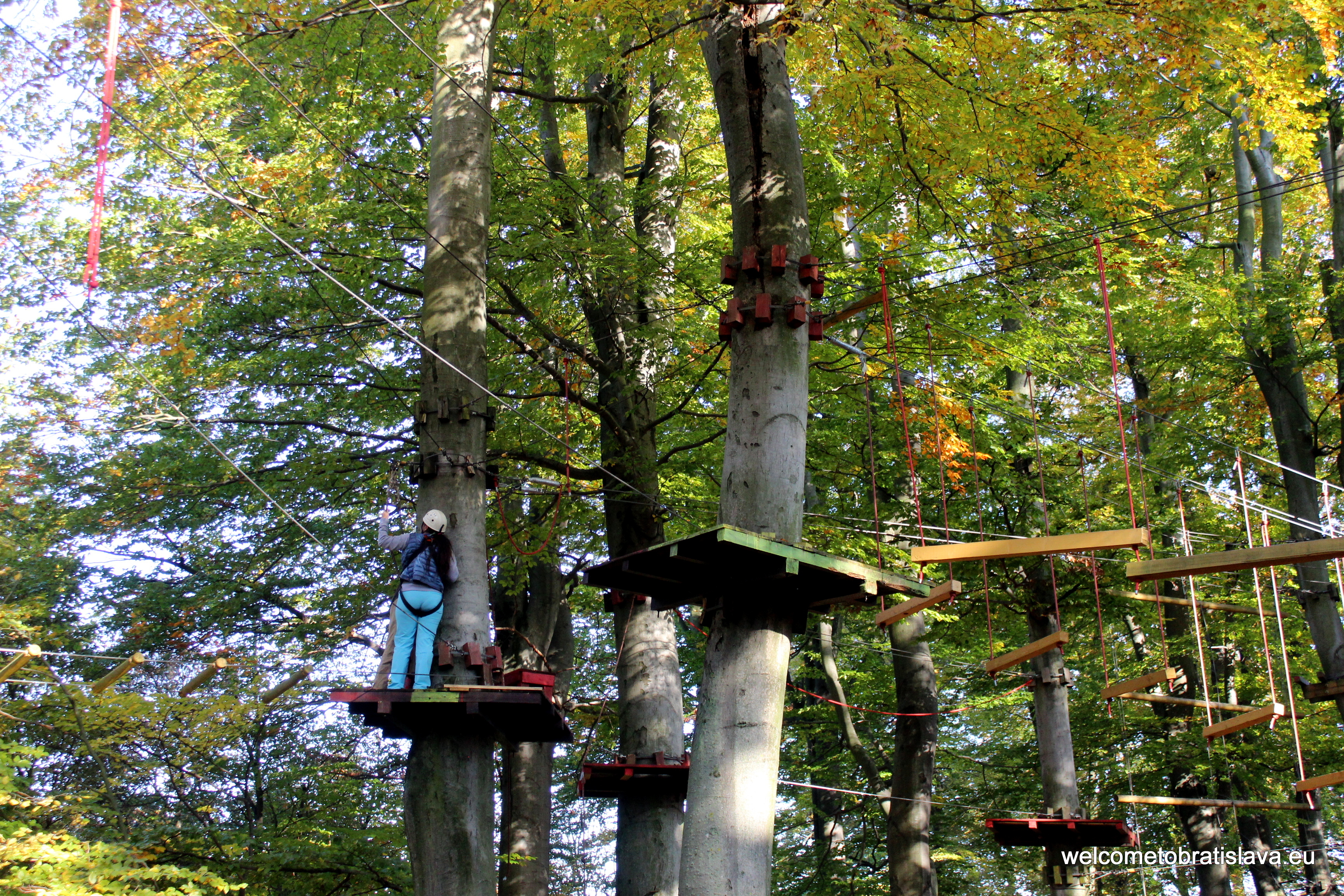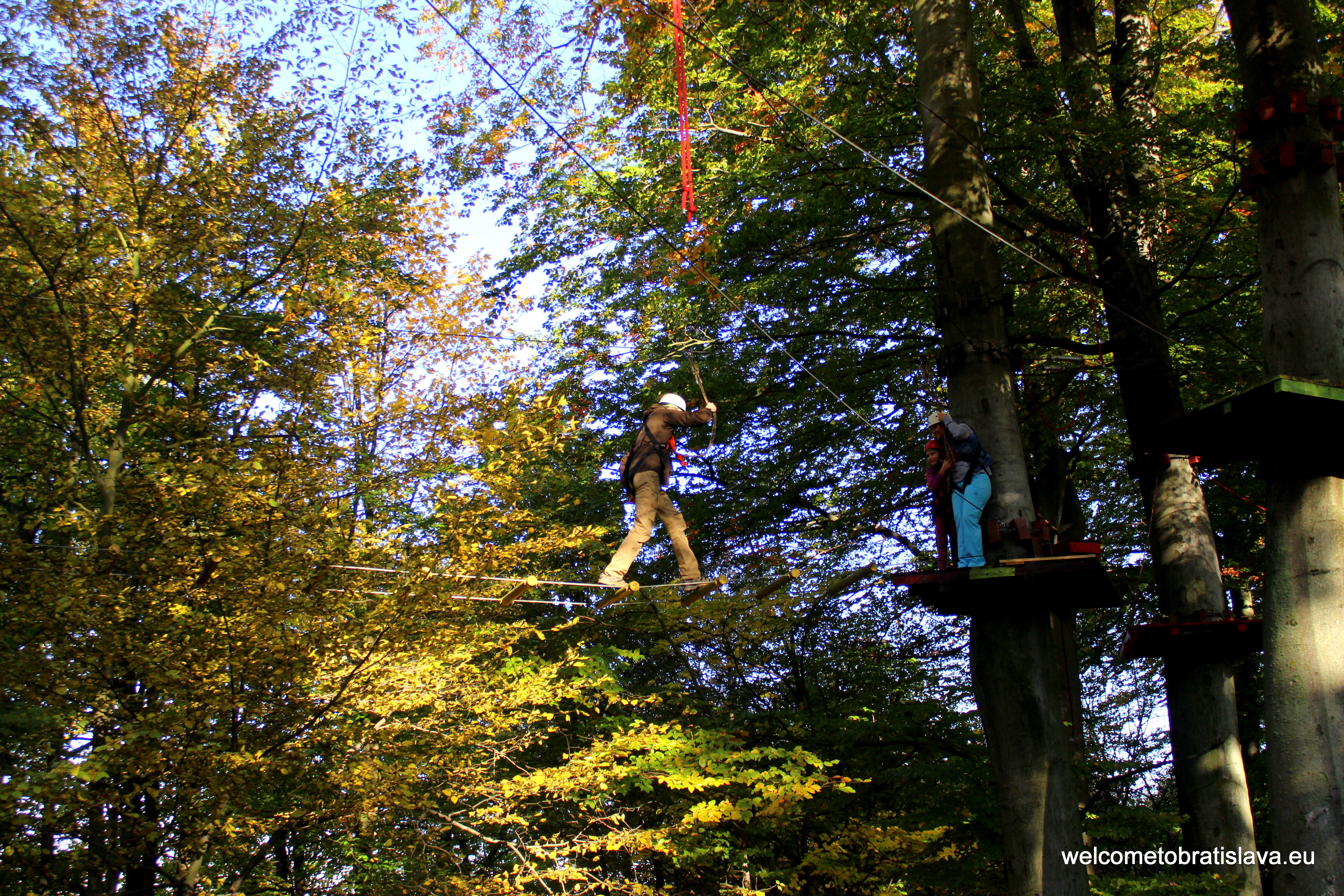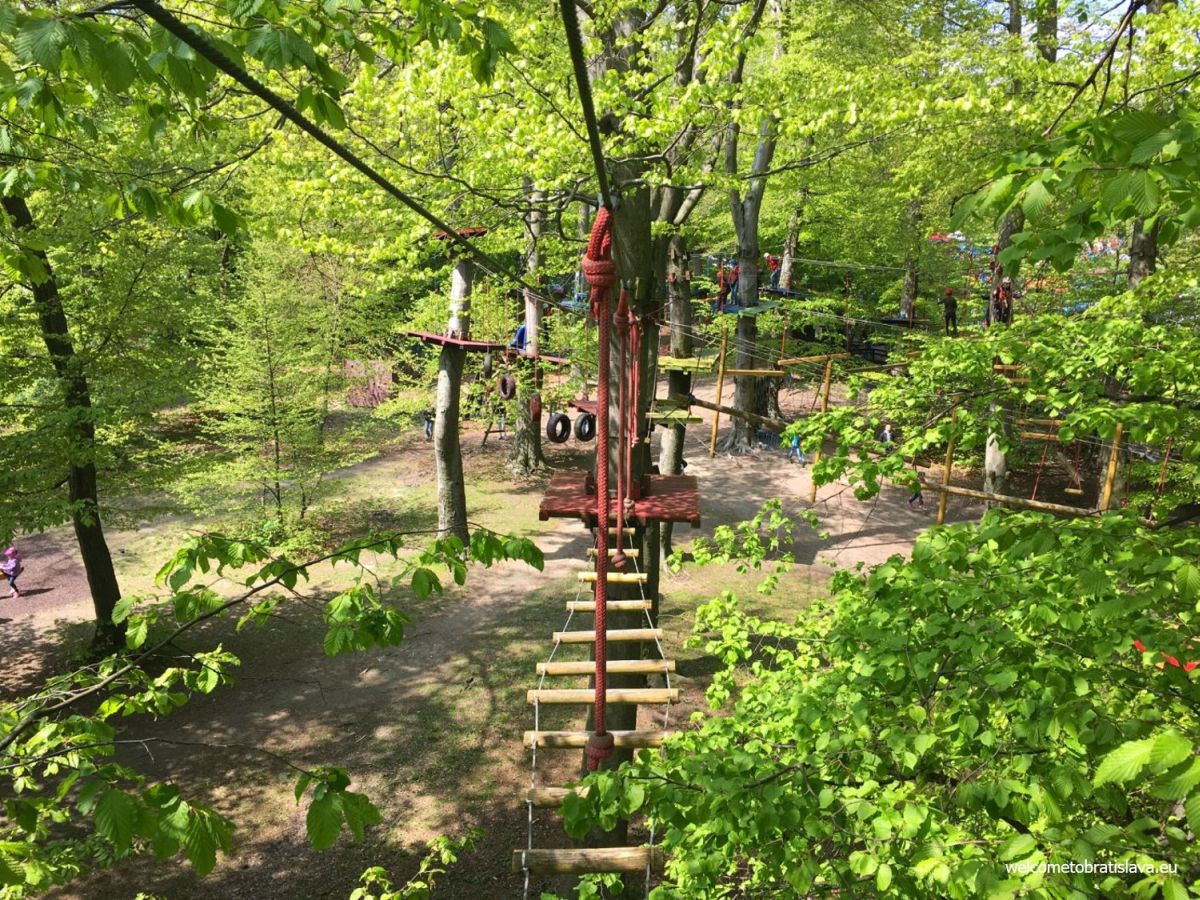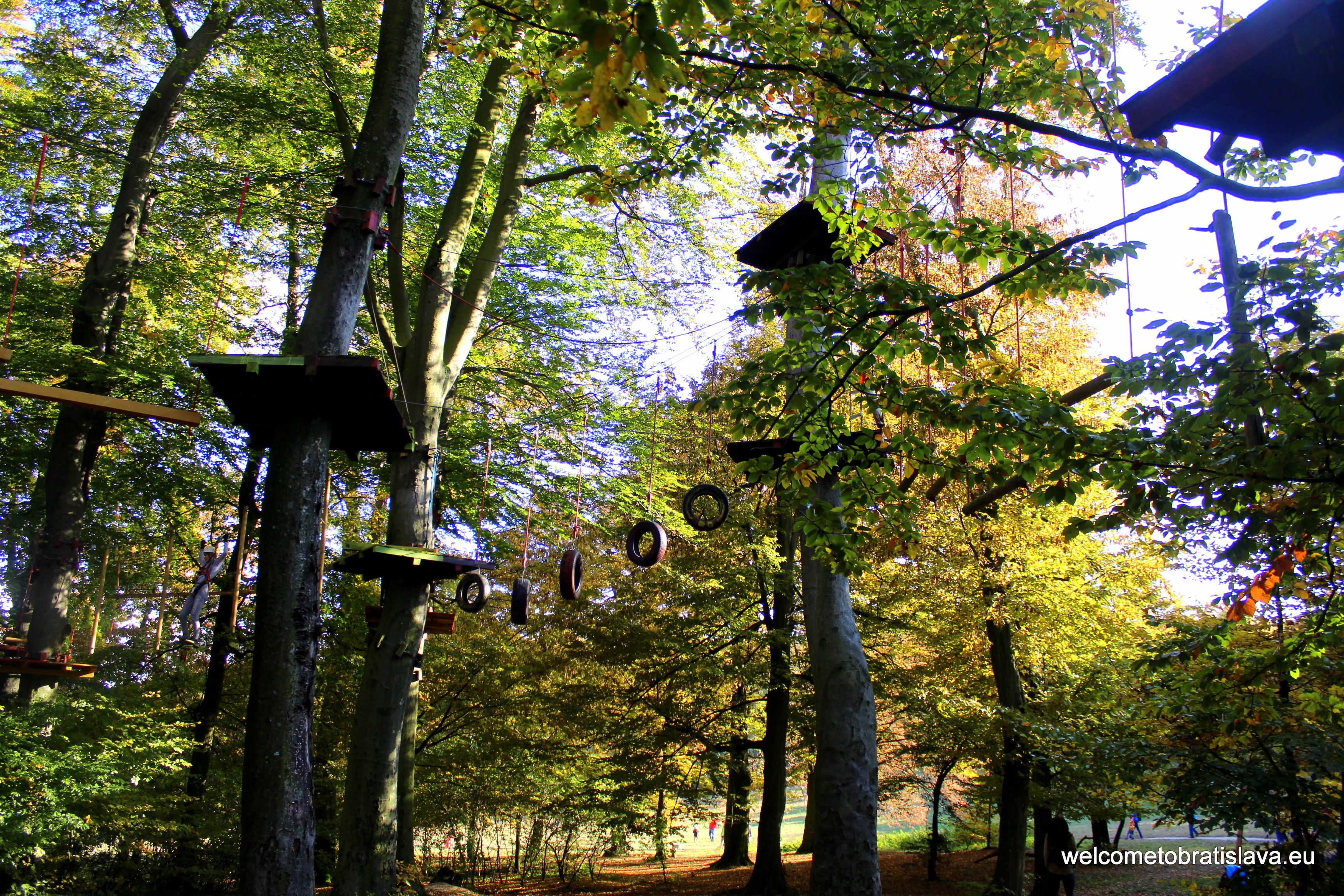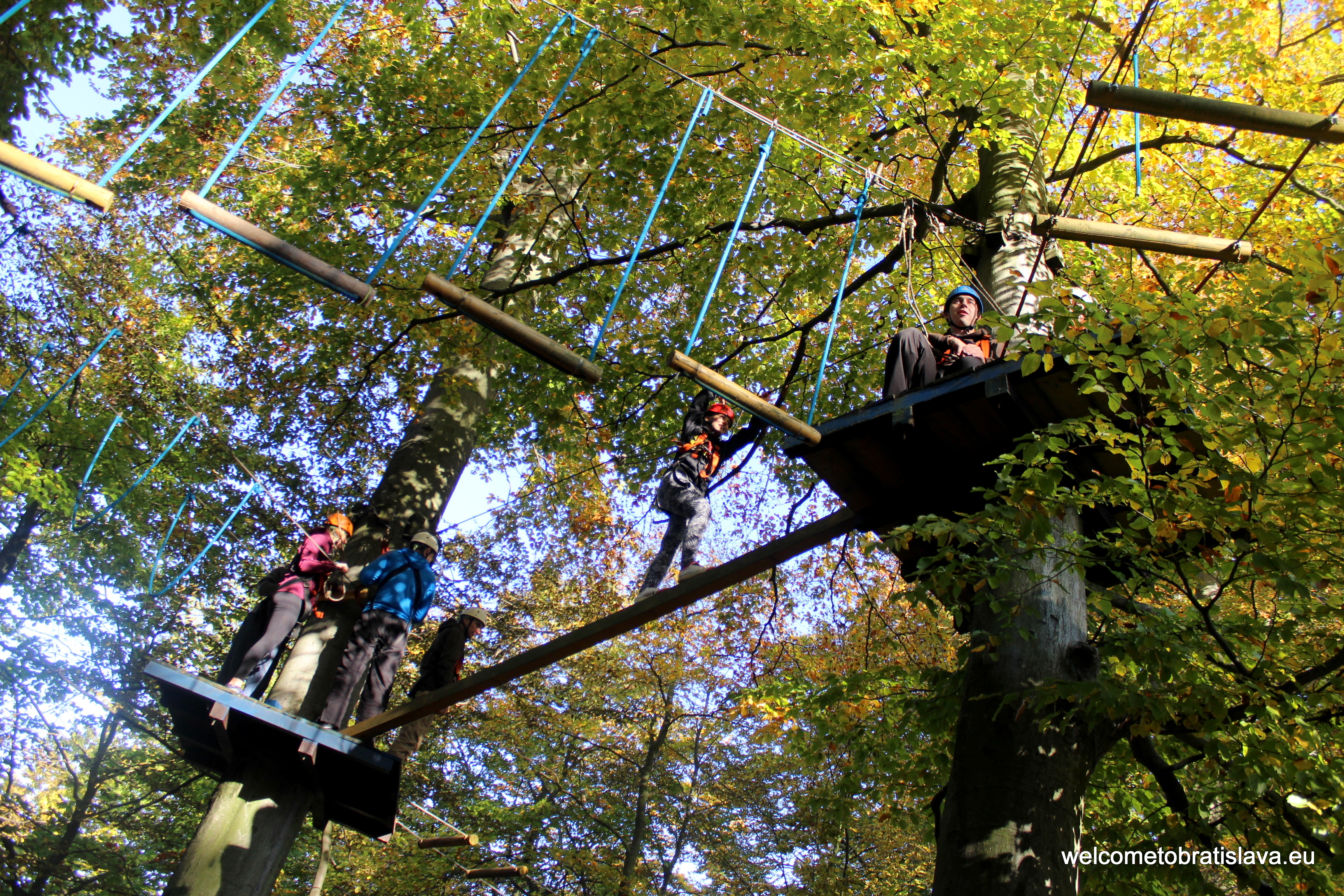 Before getting up in the trees, you will get a special full body safety harness and a helmet. You will also get a crash course by an instructor on safety rules and basic principles to follow when climbing. It feels safe to climb if you follow the instructions you receive – the worst thing that can happen if you do not master the obstacle is that you stay hanging from the safety rope and have to wait for the staff to get you down 😀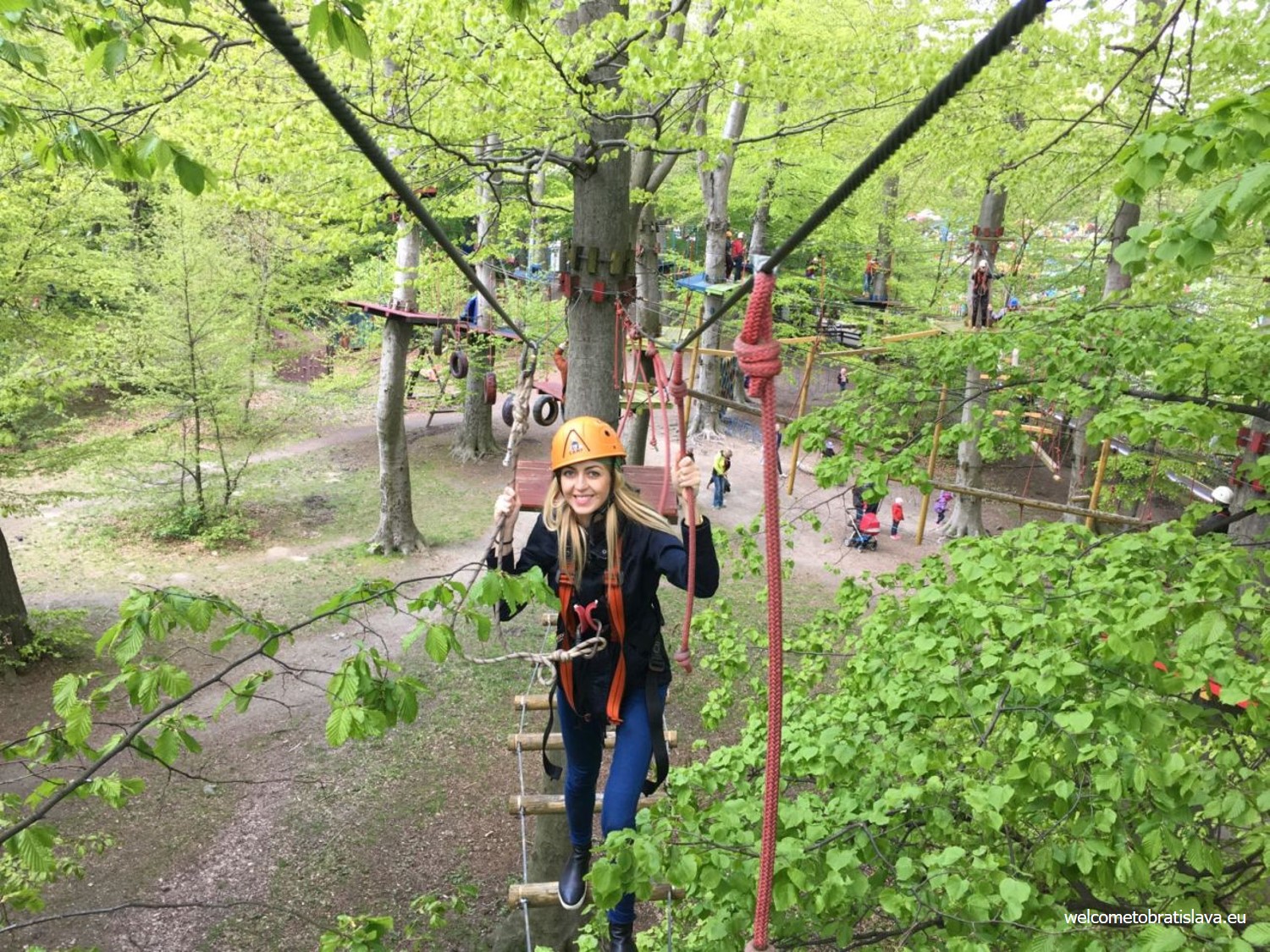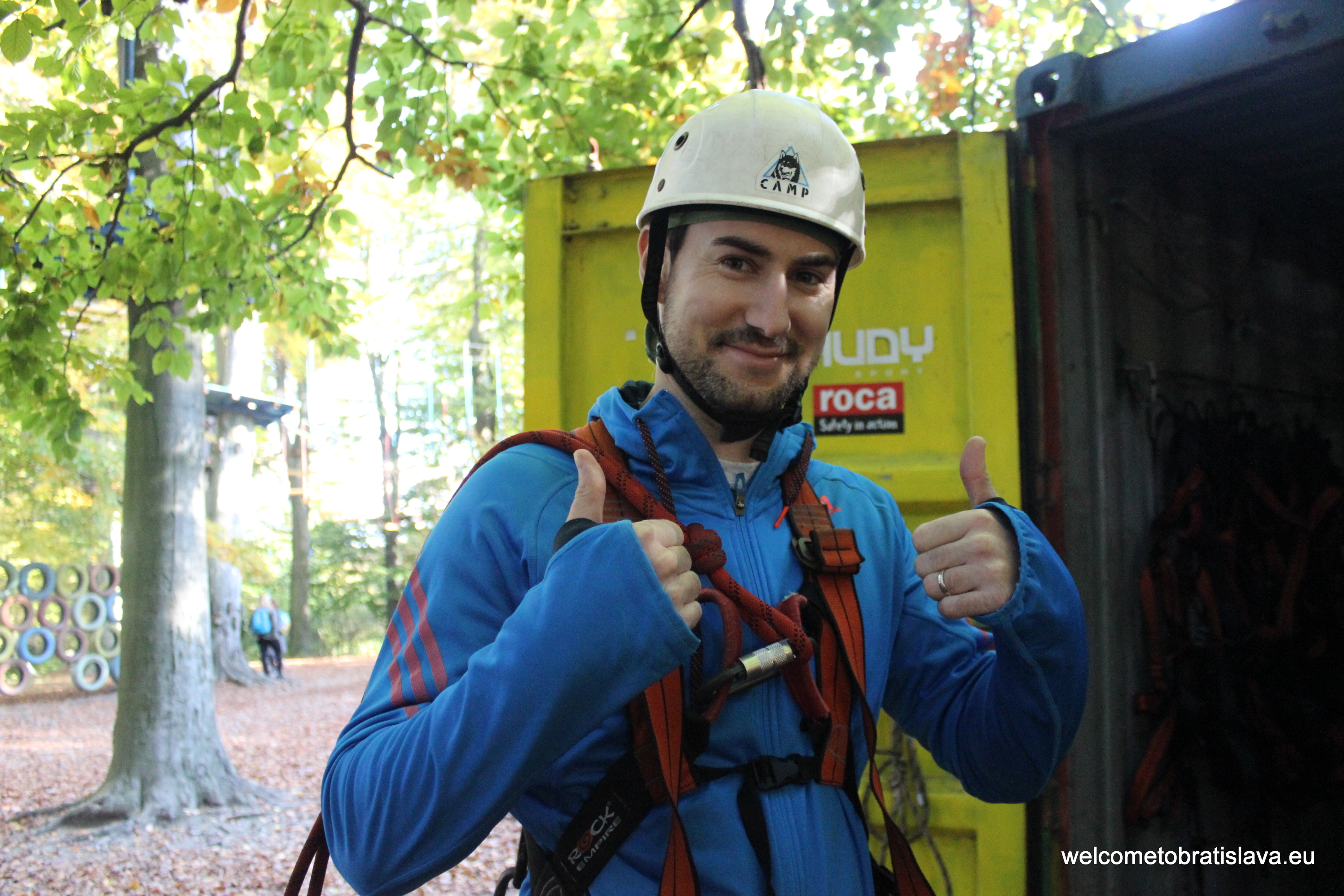 We recommend to go through it with at least one more person, as it is more fun to think strategically in a couple and cooperate to conquer the obstacles. It can be a great teambuilding activity and the course can be booked by companies for this purpose.
It seemed that kids liked the climbing, too – it looks like a perfect weekend family activity.
Author: Zuzana Mytna

OPEN HOURS: Check the official website. The rope centre is closed in case of bad weather conditions which is always announced through their Facebook page. Open during the season April 1st – October 31st.


ADDRESS: Kamzík


TICKETS: Basic entrance fee for one hour: 11 €, surcharge of 4 € for every started 30 minutes.


CONNECT: Website, Facebook


MAP LOCATION: