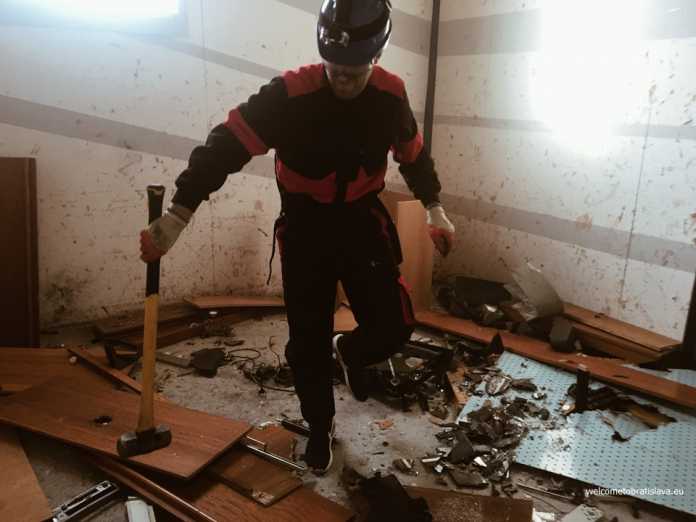 Imagine a place where you can break the mould and let your id kick your super-ego's ass. You get a natural high and even squeeze in a workout. Bring your colleagues, grandpa or even your spouse to this rather unusual bonding activity. Welcome to Rozbijacka, a place where things get broken, crushed, smashed, torn apart, whacked and destroyed. And guess what – the prevailing clientele are young women.
LOCATION
Although they have the Sliacska 10 address on their website, you will be better off looking for Mustova 3. The nearest bus stop is Sliacska for bus 151. The trams 3, 5, 7 on Riazanska are a bit farther, yet still within a short 7-minute walk to your destination. Should you prefer bus 50 or 51, get off at Kukucinova.
As you turn to Sliacska from Racianska Street, walk beneath the railroad overpass and turn left to Mustova. Then walk for about 150 m until you reach the AVT garage. Go in and right, continue towards a big, squalid-looking building with a black double-decker bus next to it. There is a sign that reads "Divná Basa" on the building. That's your place. You may park there as well.
INTERIOR
These guys are pros. Rozbijacka is by far not the only thing you can do there. There are 3 other escape rooms, to say the least. And an escape caravan which they use for festivals and events.
The premises are huge and emanate just the right impression. You can tell you're in for a treat, just because you wouldn't find such a huge establishment in the center. They've got everything in one place and are free to do what they want with it.

There are lots of things inside, most of them are on the waiting list for the demolition. At the same time, it felt nice and cozy, the gear (consisting of a helmet, goggles, and overalls) was resting on a rack. We could chit-chat a bit on the sofas as the waiver and assumption of risk forms were calmly waiting on the counter to be signed.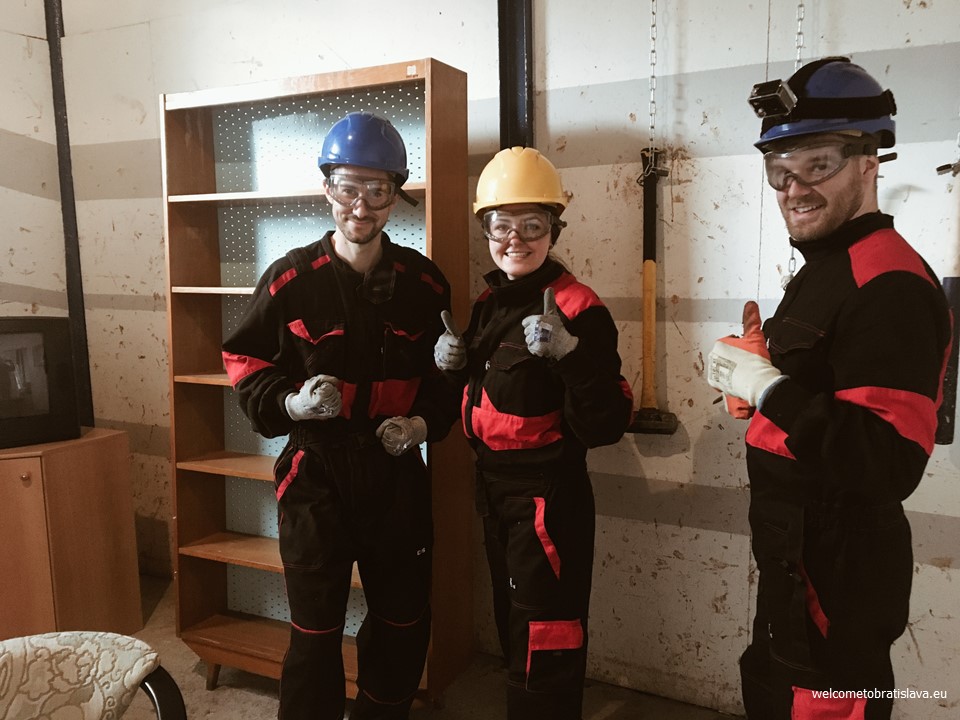 The owner is a jolly fellow. He'll tell you all about the place and provide useful instructions.
HOW IT WORKS 
You get 10-40 minutes, depending on your approach. As we were told, there are people who see it as a relief valve and are done in 10 minutes once everything is shattered and you can't tell laptops from printers. Others tend to ease into it more slowly, by discovery, gently shifting gears towards mass destruction.

The guys from Rozbijacka took it a step further and have applied elements of an escape room for you to unlock more things to destroy and weapons to smash them with. No worries, it is super easy to find the code to the locks. There have been people who never even tried to search for clues and just used what was at hand to jemmy the locks and destroy stuff.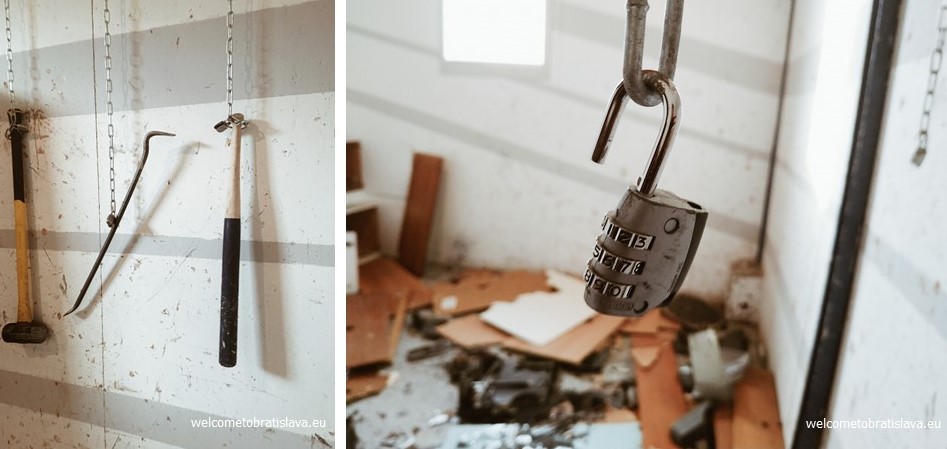 As first-timers, we started off gently, taking turns. We were eyeing the TV from the very beginning but wanted to save the best for last. But that's us. Go for it. It was damn satisfying to throw that telly into the wall. The rest is up to you.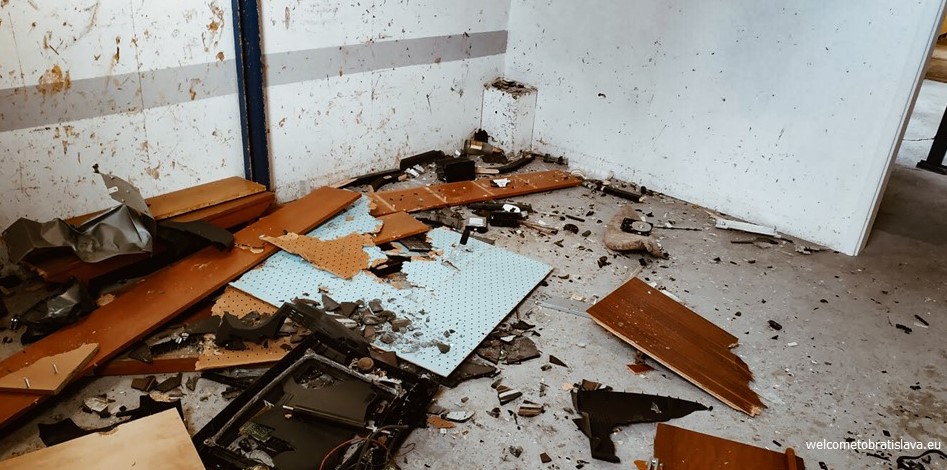 A couple of pointers – safety first! We were covering our faces as others were breaking stuff, especially the bottles. One splinter ricocheted off the wall and hit our "pitcher" in the face, resulting in a teeny weeny wound under her nose. They know why they insist on you wearing the gear.
Once you're in full swing, you lose your inhibitions and it is hard to resist pulverizing the objects. Let's face it – how often do you get a green light to do so. It's not to say that we're all innately evil. It is to say that some of you have, at some point in time, wanted to take that keyboard off your work desk and bat the screen with it.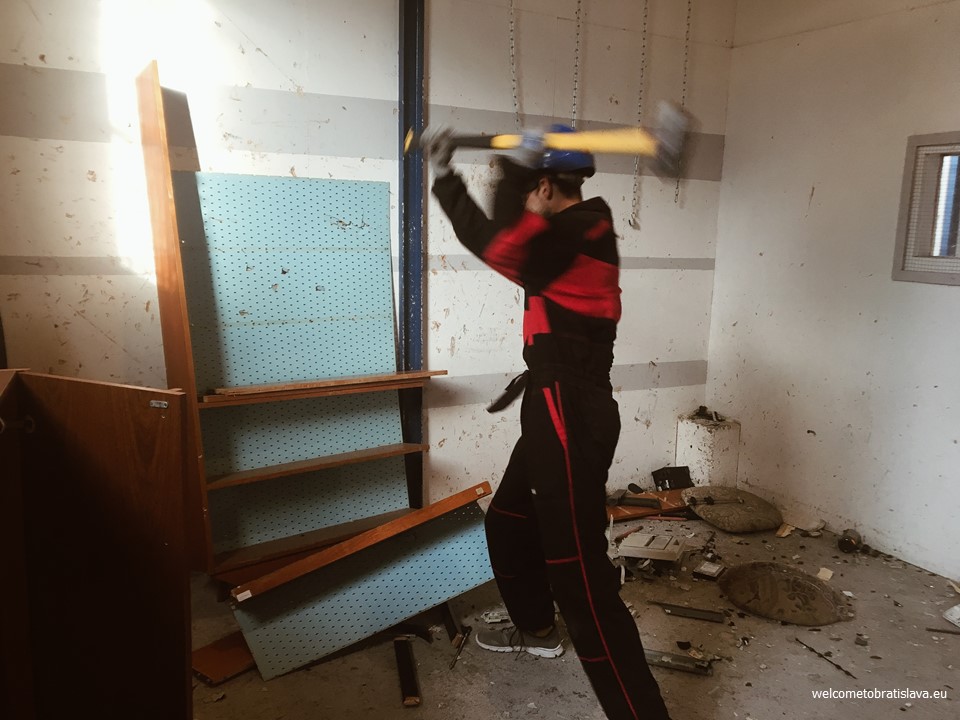 It is hard to imagine how liberating it can be. We recommend you try it.
WHY IS ROZBIJACKA SPECIAL?
This would make an ideal field trip for teenagers. Why? Because you can actually discover what things look like from the inside – TV, radio, printer, even a 1 TB external hard drive! They will encourage you and clean after you. If you have stuff of your own you wish to smash, bring it. They carefully select the things people demolish, e.g. fridges and microwaves are off limits. Safety first. We can imagine people with stressful jobs really appreciating this. There've been instances where people called in to book a demolition on the same day because they NEEDED it. It's cheap therapy.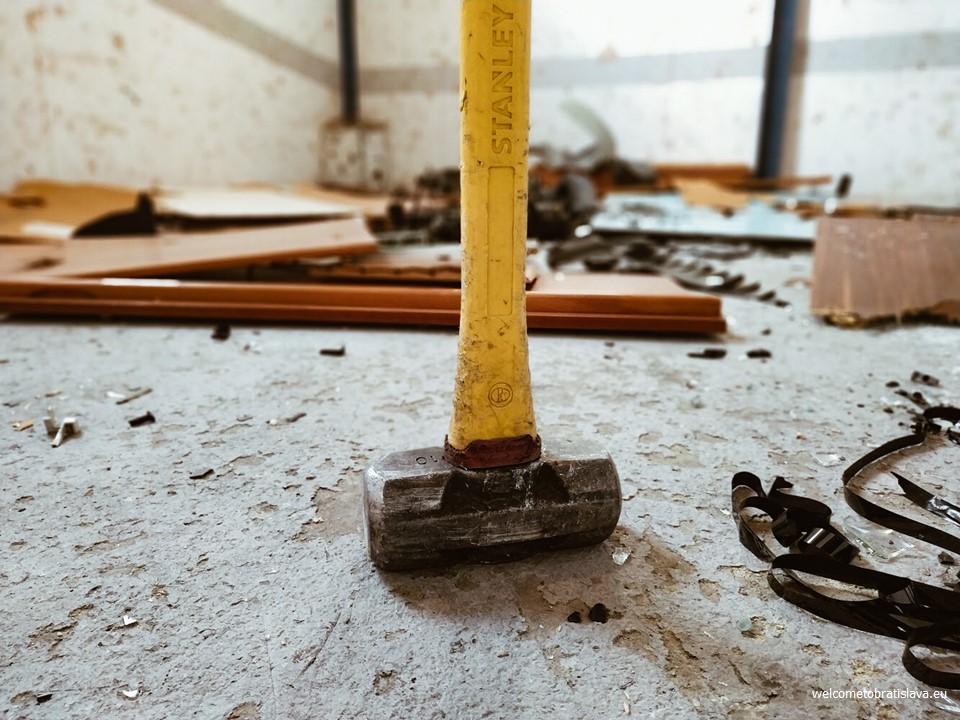 Check out our experience in this video:

OPEN HOURS: MON-SUN: 10:00 – 22:00


 ADDRESS: Muštová 3


 CONNECT: Website, Facebook


 MAP LOCATION:

Author: Tomáš Mýtny, photo/video credits: Radka Horáková, Martin Komloš