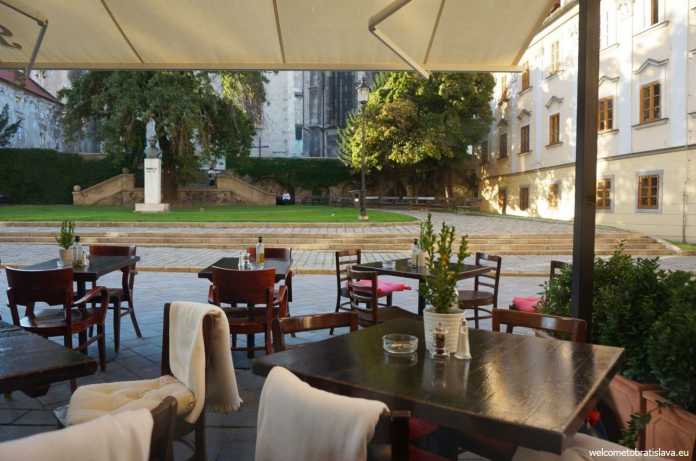 Are you a wine lover? Then this is the place to go! San Marten has some of the best wines in the city, and with its "al fresco" dining & charming ambience, it's a popular venue. Beautiful location. Beautiful meals and drinks. What else do you need for a perfectly spent time? :)
LOCATION
San Marten can be found in one of Bratislava´s historical buildings in the city center. It has an exclusive location with the view on the St. Martin´s Cathedral. Literally a few meters away from the UFO bridge. The name of the street is Panská and it used to be the best address in town during the reign of Maria Theresa.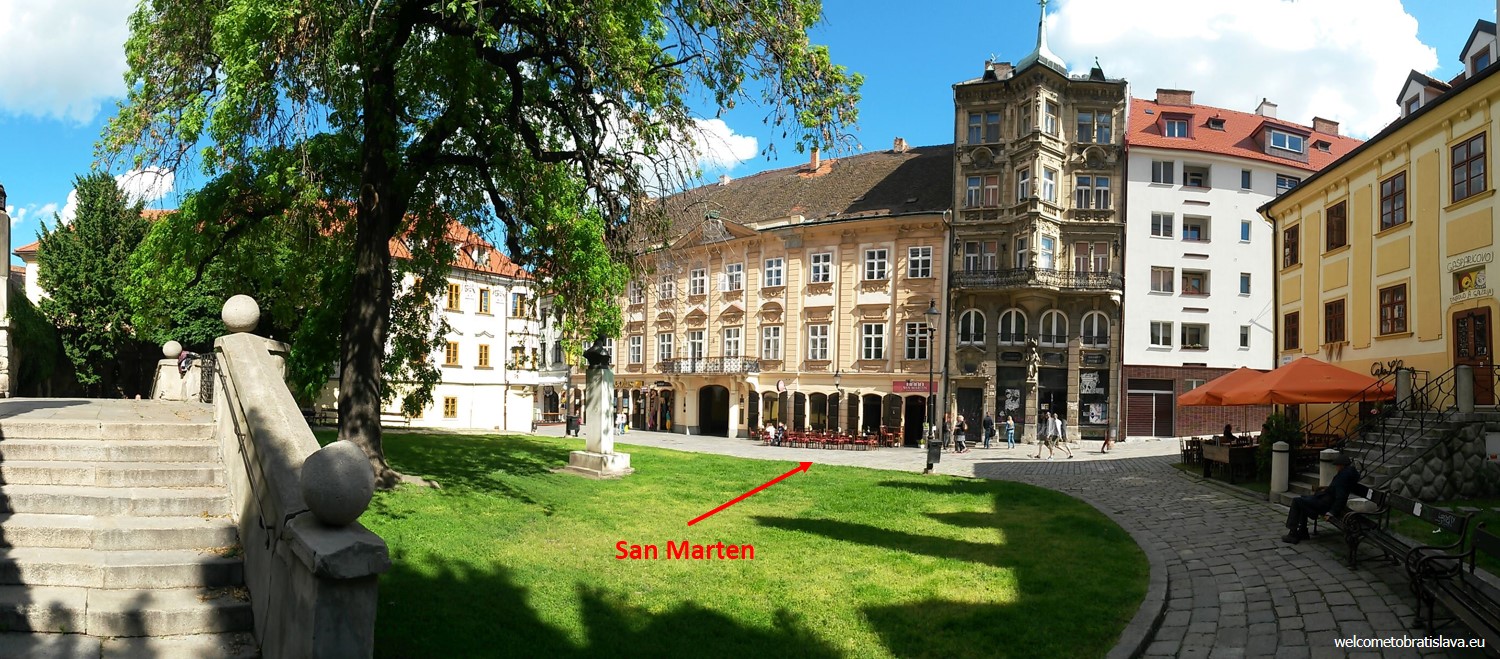 There is an outdoor terrace which is usually quite busy when the weather is nice. In the summer there are various concerts held at the square between the restaurant and the cathedral.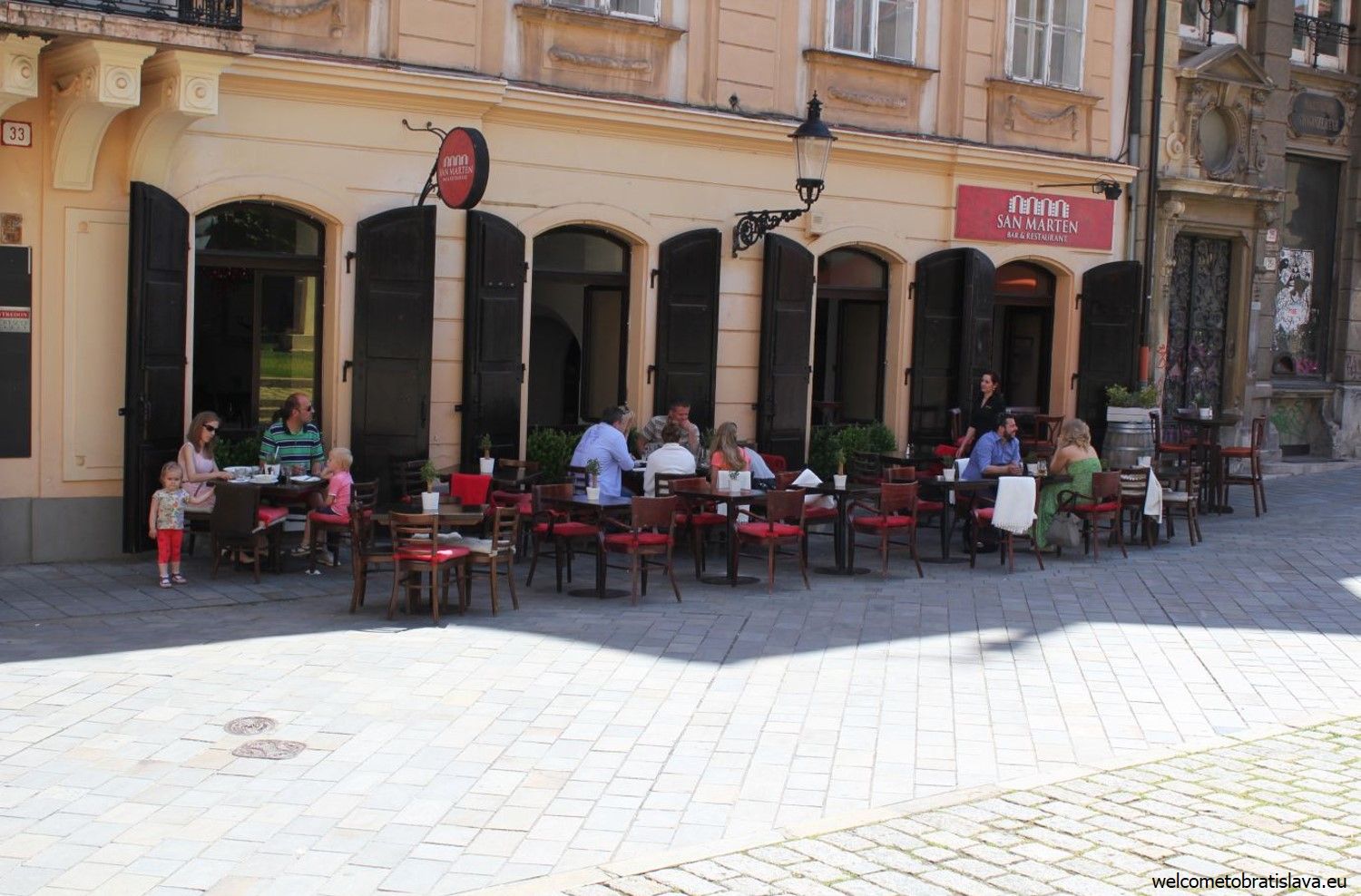 THE INTERIOR
The interior is designed in a minimalist way. A long red leather sofa is spread along the wall opposite the main bar. Small wooden tables are placed in both parts of the restaurant – as it is divided into two sections.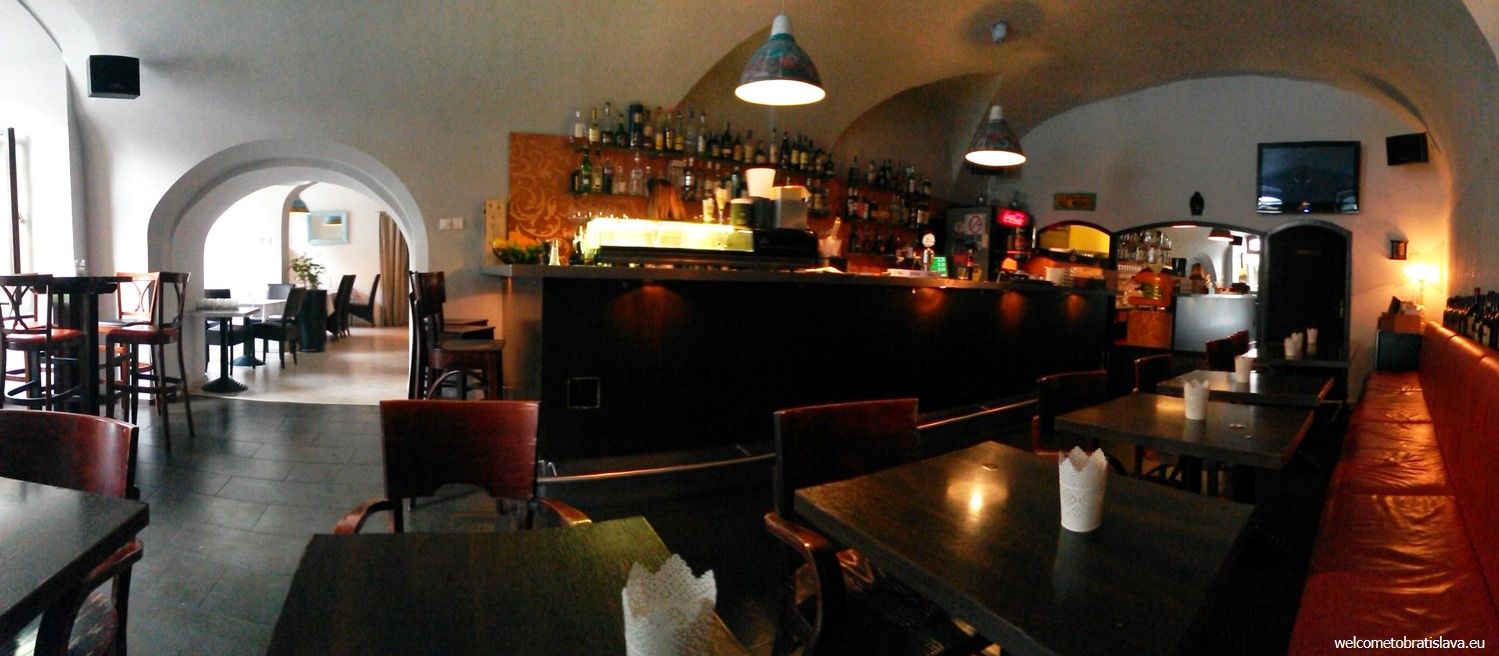 You can either sit in the front where the bar is, or hide in the back to have some more privacy. The back part is great for coming with a date. Tables laid with white cloths, purple flowers and candles will be waiting for you.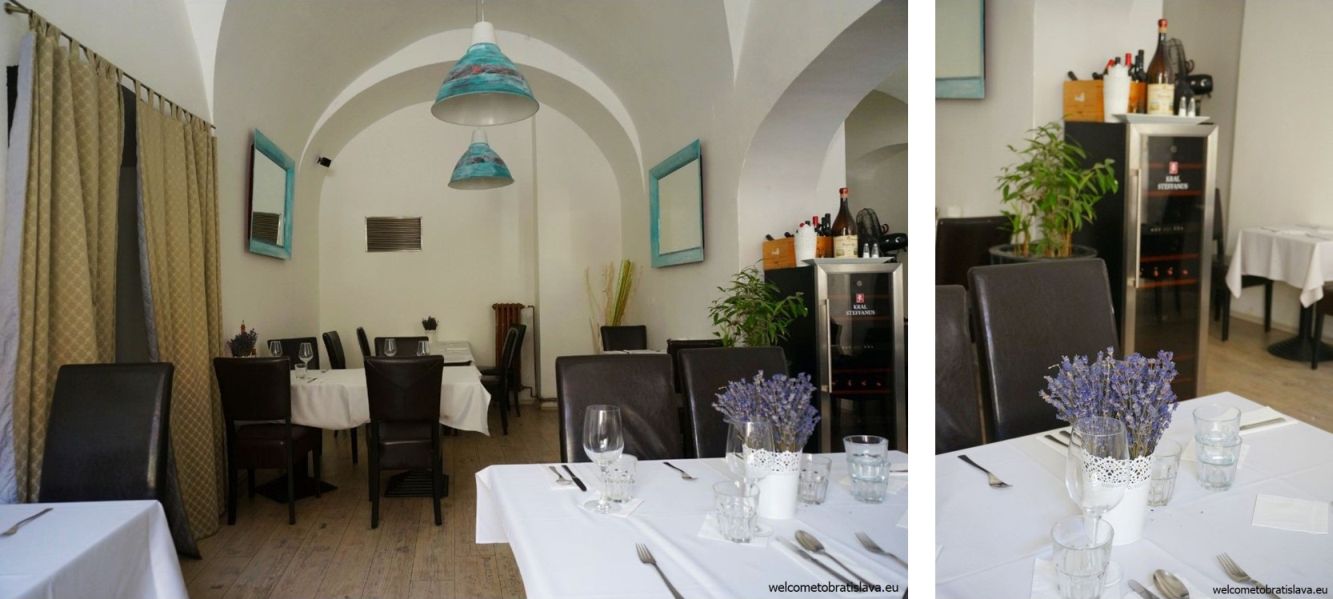 San Marten is a spot where you can meet a lot of local people. It is a very relaxed place with a nice feel, with the lounge music in the background. Unlike the usual touristic traps in the city center, it has its own unique charm.
WHAT TO HAVE IN SAN MARTEN?
If we need to think of one thing we would recommend to visit this place for, it is its wines. This is the place we go to when we feel like having a glass of wine – you can choose from an extensive wine list. From their lemonades, we really like the one with the mix of berries. It is very refreshing. That exotic soft drink is sweeter than expected, we would not order it again.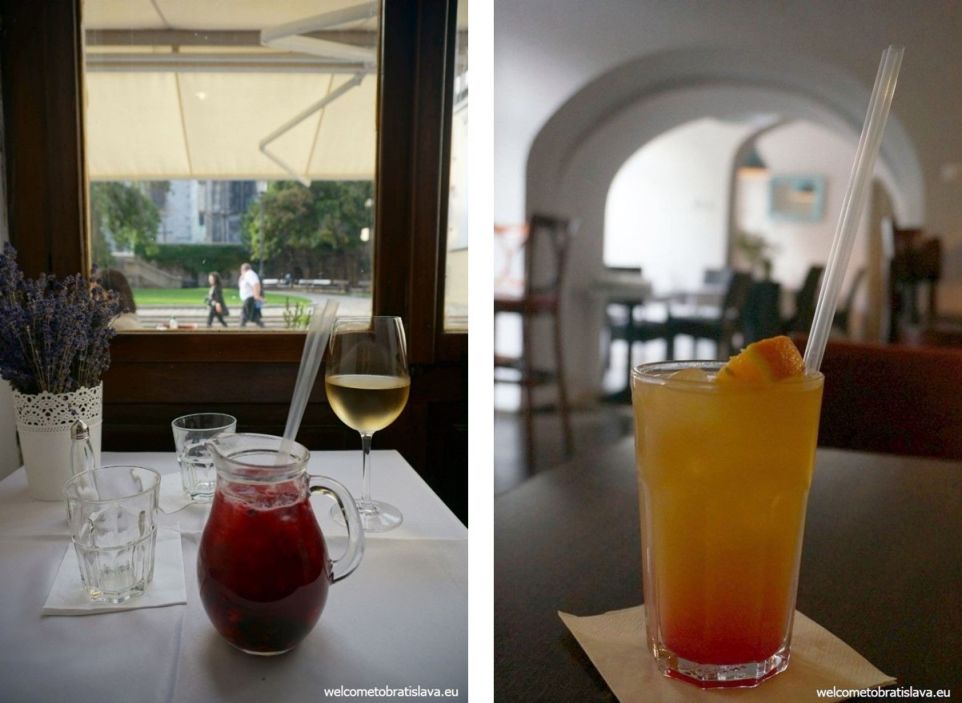 The combination of Mediterranean and Italian cuisine gives you a clue about what you can find on the restaurant's menu. Most various antipasti such as carpaccio di salmone, polenta con funghi, shrimps or mozzarella with prosciutto. Minestrone soup can't be missing, plus they serve a daily soup as well. You can also order many kinds of salads with meat, cheese, seafood and also vegetarian ones. A small selection of desserts is available, too.
We were soooo glad to order the "San Marten salad" during one of  our last visits – it was a fantastic meal! A Caesar-like salad with chicken, grilled bacon, rucola and Parmesan, really nicely served. And it was a huge portion, we could hardly finish it. The mushroom risotto was also very tasty, you can't go wrong with that option either.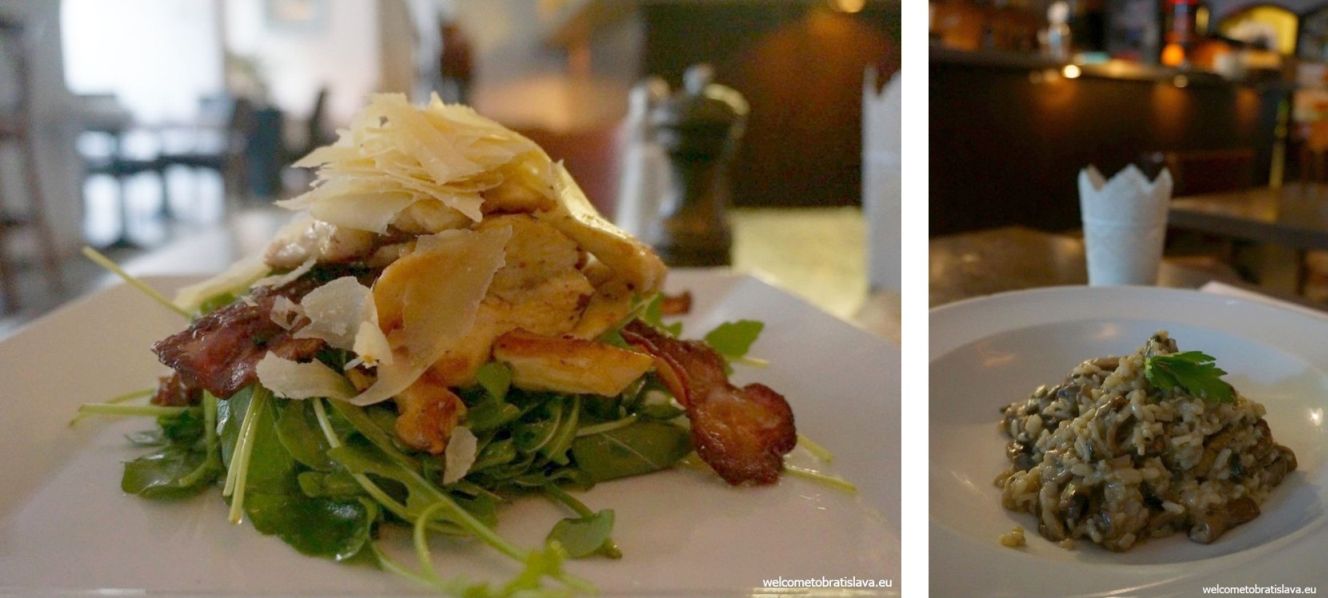 If you like pumpkin, try the baked pumpkin salad with rucola. Another delicacy we have tried is the salad with goat cheese, figs and ham.
San Marten builds its reputation on serving fresh food, main courses as well as 'tapas' style food. If you decide to try this place out, make sure to book a table – especially if you plan to come in the evening during the weekend. Otherwise you might not be lucky to find a spot to sit :)
Last but not least, even though we really like this place, we need to say the personnel is not the most ideal, a bit slower than you would like, sometimes even careless and a smile on the girls' faces would not hurt either.. And the other thing you should know before going there is that the rest rooms are outside of the building and you need to ask for the key at the bar. It is quite ok, unless you visit it in the winter :)
Author: Maria Kecsoova

OPEN HOURS: Check their website


ADDRESS: Panská 33


CONNECT: Website, Facebook


MAP LOCATION: