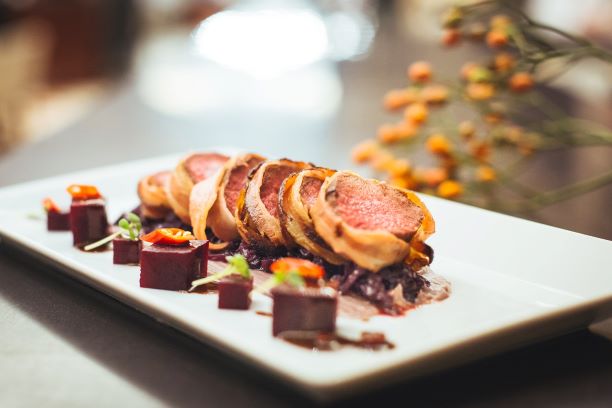 In the building of the Raddisson Carlton Hotel at the iconic Hviezdoslav's Square, rules a newly renovated Savoy Restaurant, combining local tradition with the latest culinary trends. The concept of Flavours of Pressburg channels the first class luxurious experience of the old Bratislava taste with a fancy twist to its curious consumers. If you want to add something new to your gastronomy map and would like to try a challenge of traditional but interesting delicacies, Savoy is the right place to book a table at.
LOCATION
Savoy is located at Bratislava´s biggest square, Hviezdoslav's Square, in the very heart of the city center. When standing in front of the historical building of the Slovak National Theater facing it, you can see the Raddisson Carlton Hotel to your right side. After entering the hotel, you will see a reception on your left side. To get to the restaurant, you need to turn right.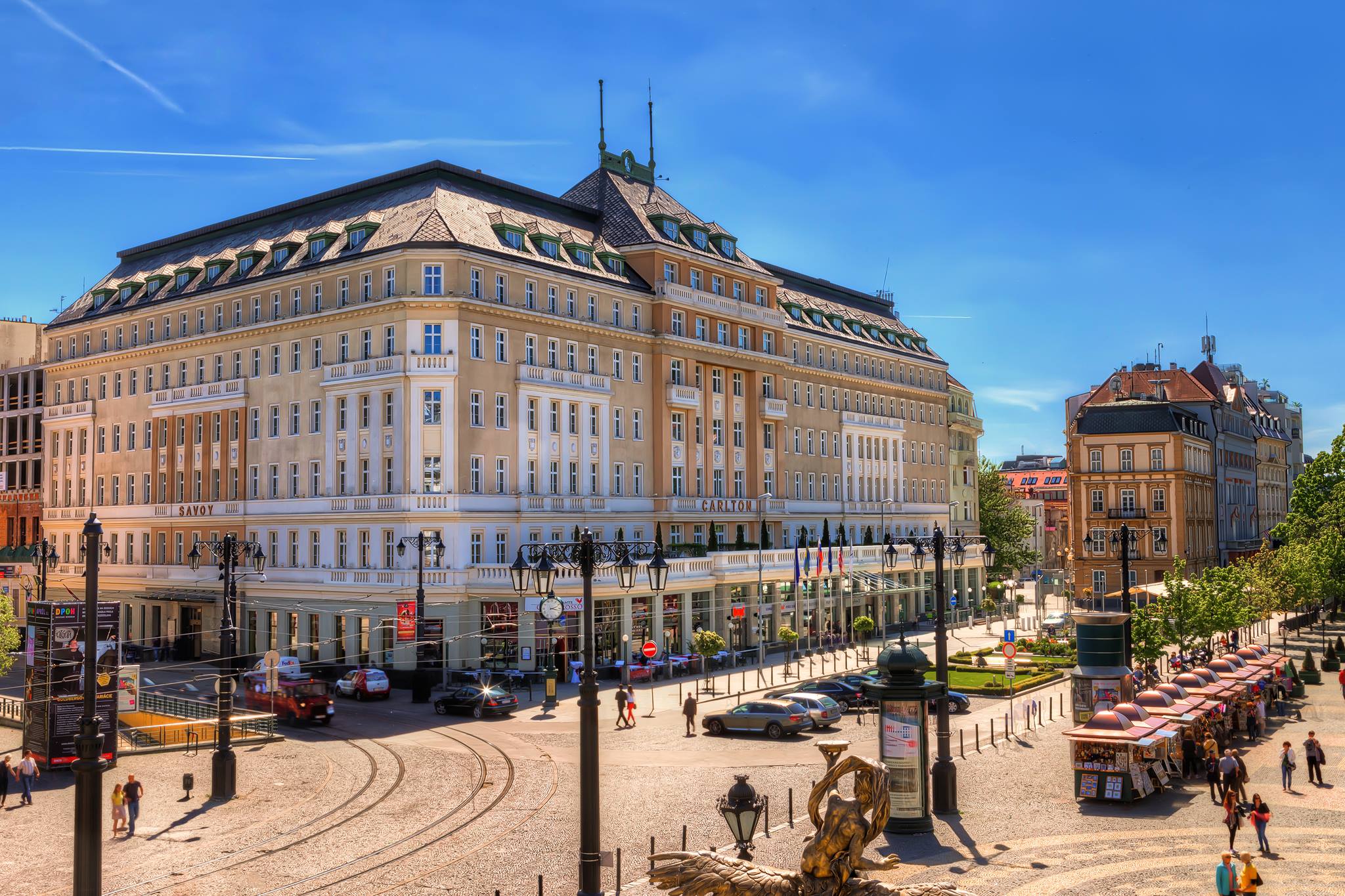 (source)
INTERIOR
Dominance of white and dark brown colors creates an elegant impression. Despite the elegance and elite attitude, the place does not feel too snobbish and you can imagine spending time with friends, family and even small children here. The premises are luminous with an impressive view on the Hviezdoslav's Square through the big windows. Old Bratislava from 1950s – 1970s is recalled through black and white photos captured by the famous Slovak photographer Karol Kallay, hanging on the walls. In the evening, it is brightly lit up, so do not expect any romantic dim lights.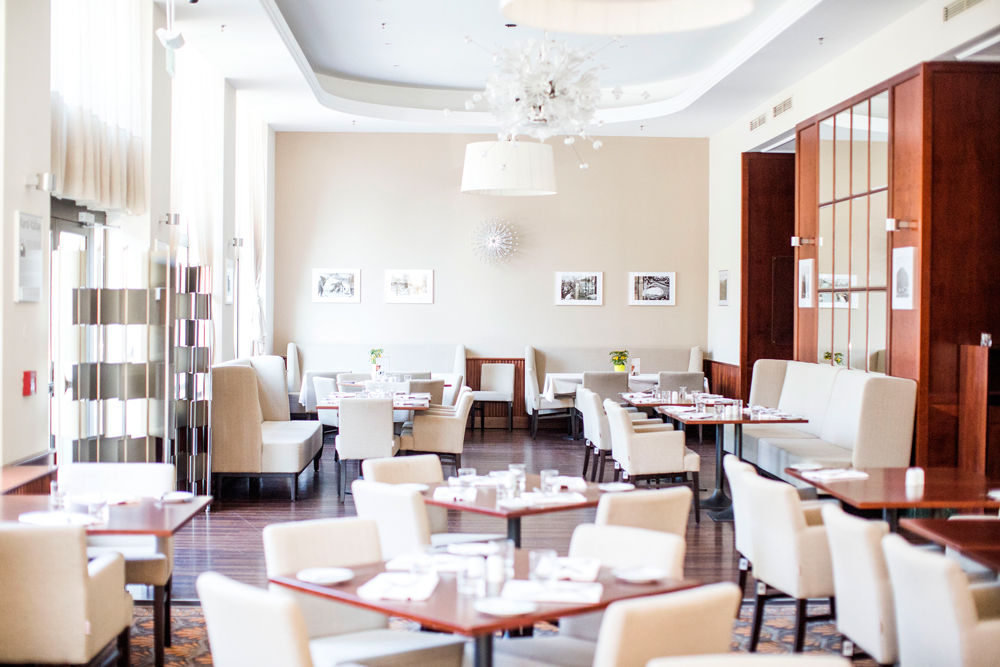 (source)
WHAT TO HAVE IN THE SAVOY RESTAURANT?
The army of cooks is led by chef Jozef Riska who defines his cuisine's philosophy as based on seasonal ingredients, local breeding and farming traditions and cultural influences of Central European Region. We had a chance to experience the tasting menu specifically designed for a community of expats InterNations. These are our impressions!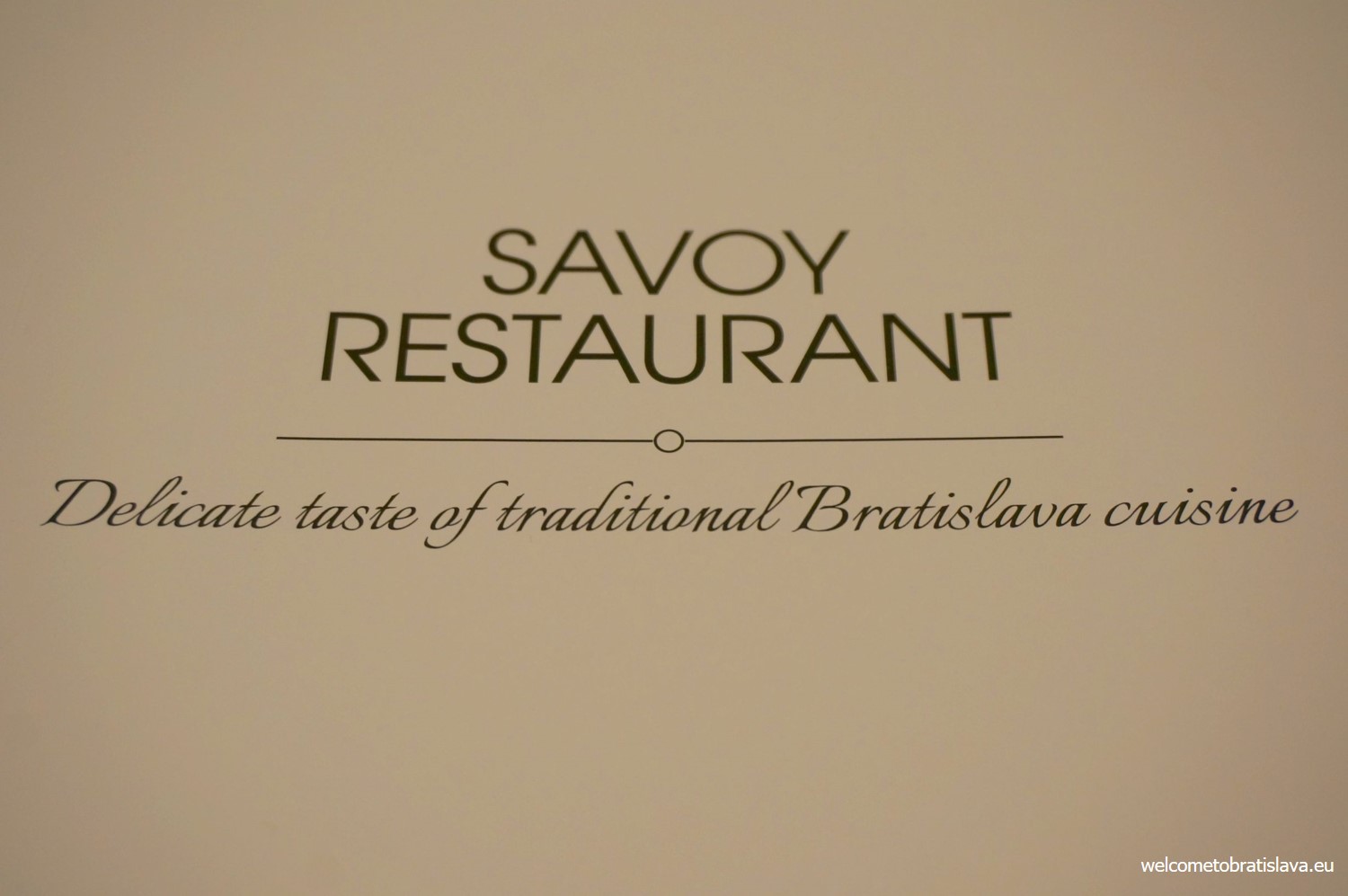 The first item on the menu was a cold veal and pork jelly served in a soup bowl with vinegar and onion. We loved everything except of the pork jelly – because we're not fans of this kind of treats – but some other people were praising it so you might want to give it a try to see yourself.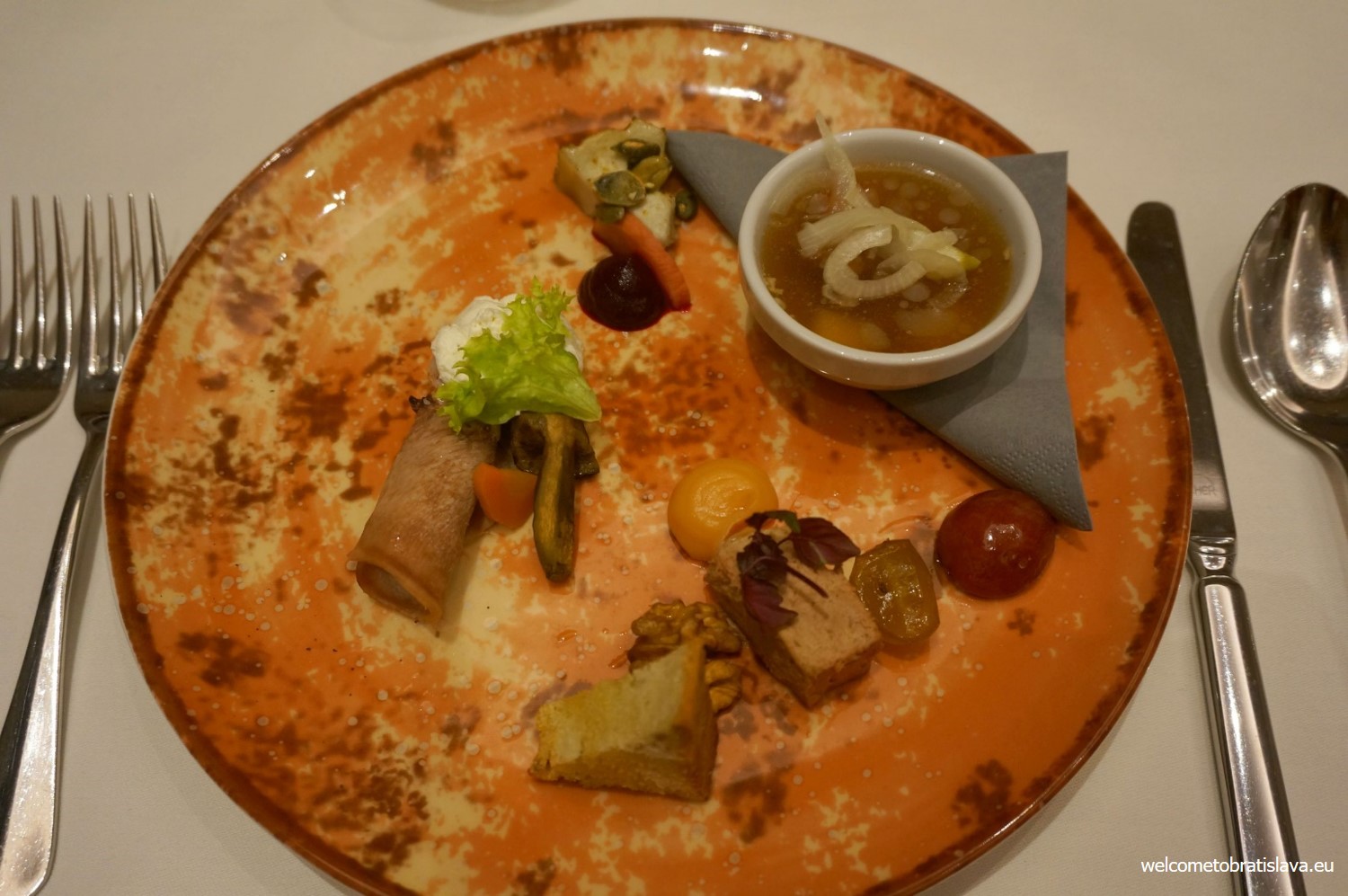 From the soup menu we tried the very tasty oxtail broth with home-made pasta and boiled vegetables and the creamy pumpkin soup – if you like pumpkin, you really want to try this thing.
The first main dishes included pan-fried veal sweetbread caulifower purée with roasted garlic, pickled chickpeas in rum with raisins and herb emulsion and Venison ragout with dried mushrooms, junipers and rosemary, with bread and bacon dumpling. Both were amazing. Very light, very tasty, perfect combinations of tastes.
If you like Pressburger schnitzel, you can have its delightful version in Savoy as well – a cutlet marinated in white wine, deep-fried in butter and oil and served with traditional potato salad.
Fish lovers might fall in love with the pikeperch with mushroom and hazelnut crust served with topinambur purée and spinach – this was probably the best dish of the evening for us. The smoked eel with Spaetzle, wholegrain mustard and poached egg was very interesting as well.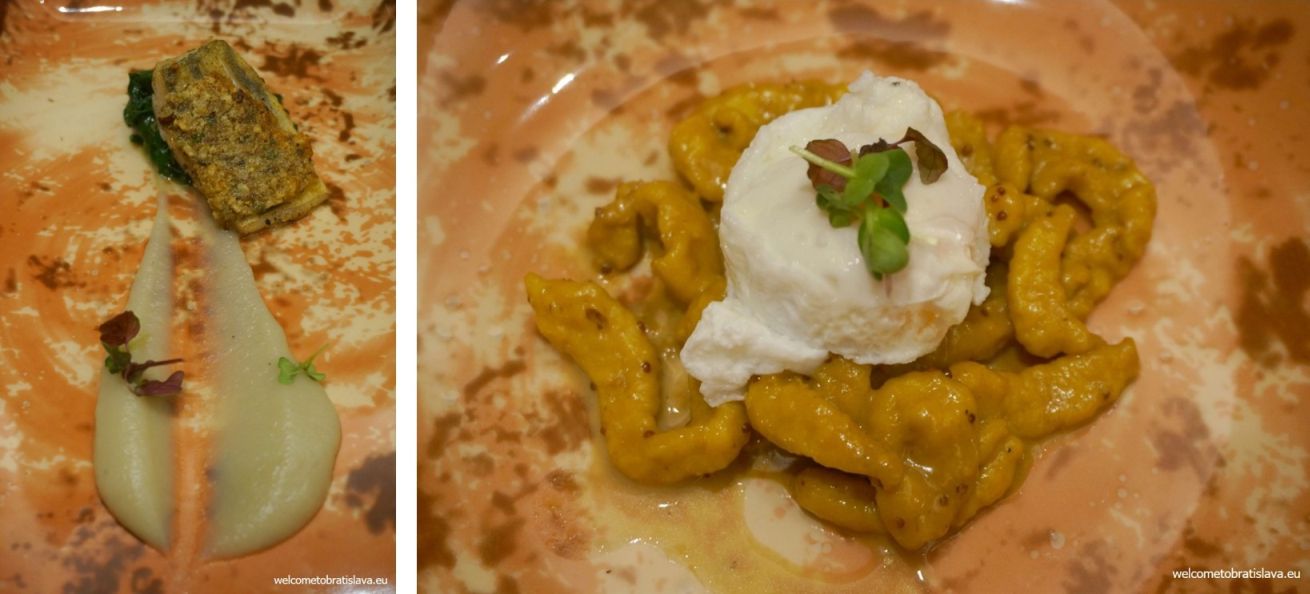 The pheasant breast served with dried cranberry waffle, baked salsify, roasted seasonal vegetable with butter and rose hip sauce was the number two in our best choices. You will totally love the cranberry waffle!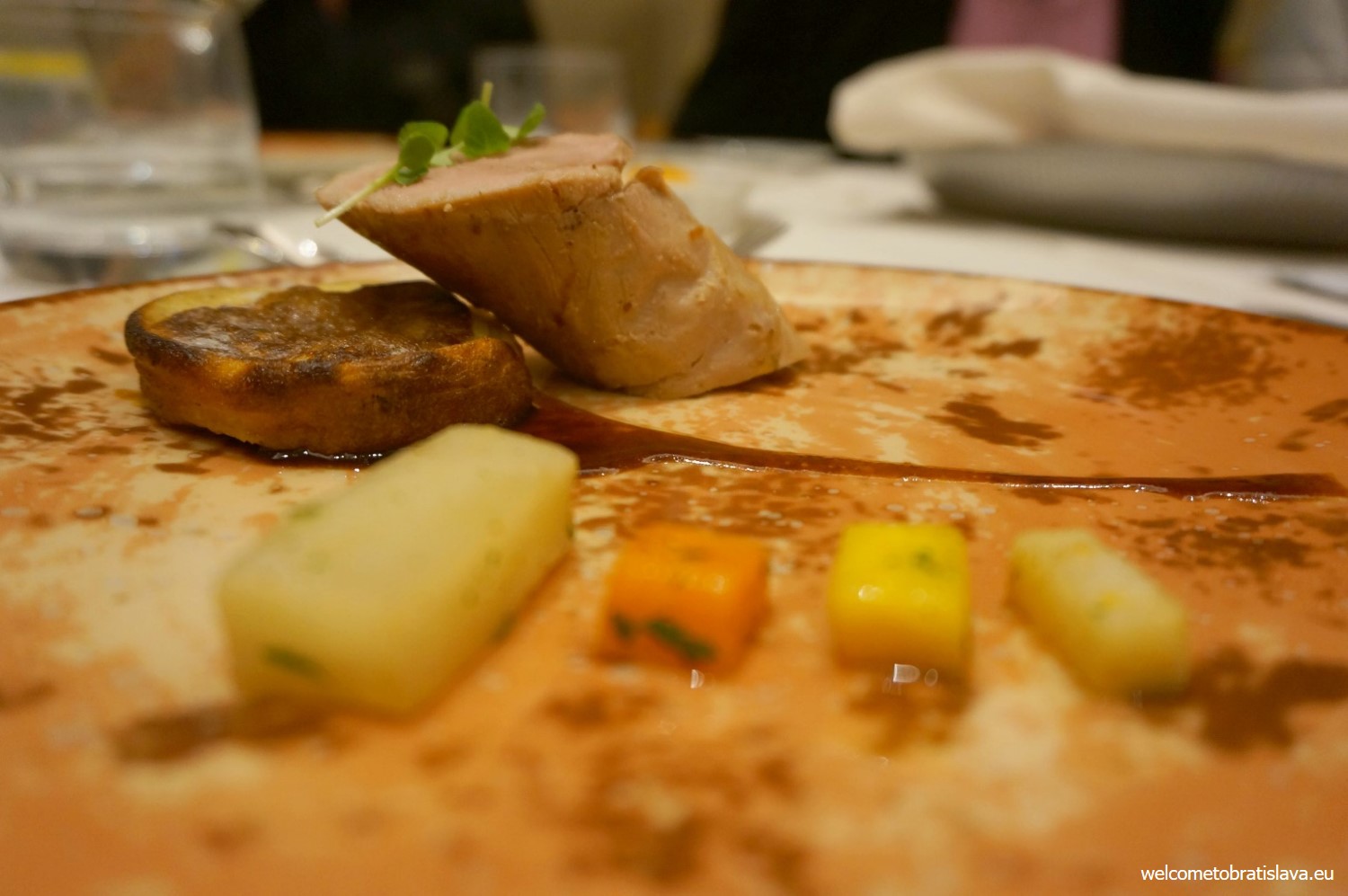 Savoy's dessert menu includes several cakes. Probably their most popular is the Carlton cake served with vanilla whipped cream, ambéed fruit applesauce and marinated cranberries. It was lovely! Pumpkin lovers can also try their pumpkin pie, other alternatives include a chestnut souffle or home-made gingerbread.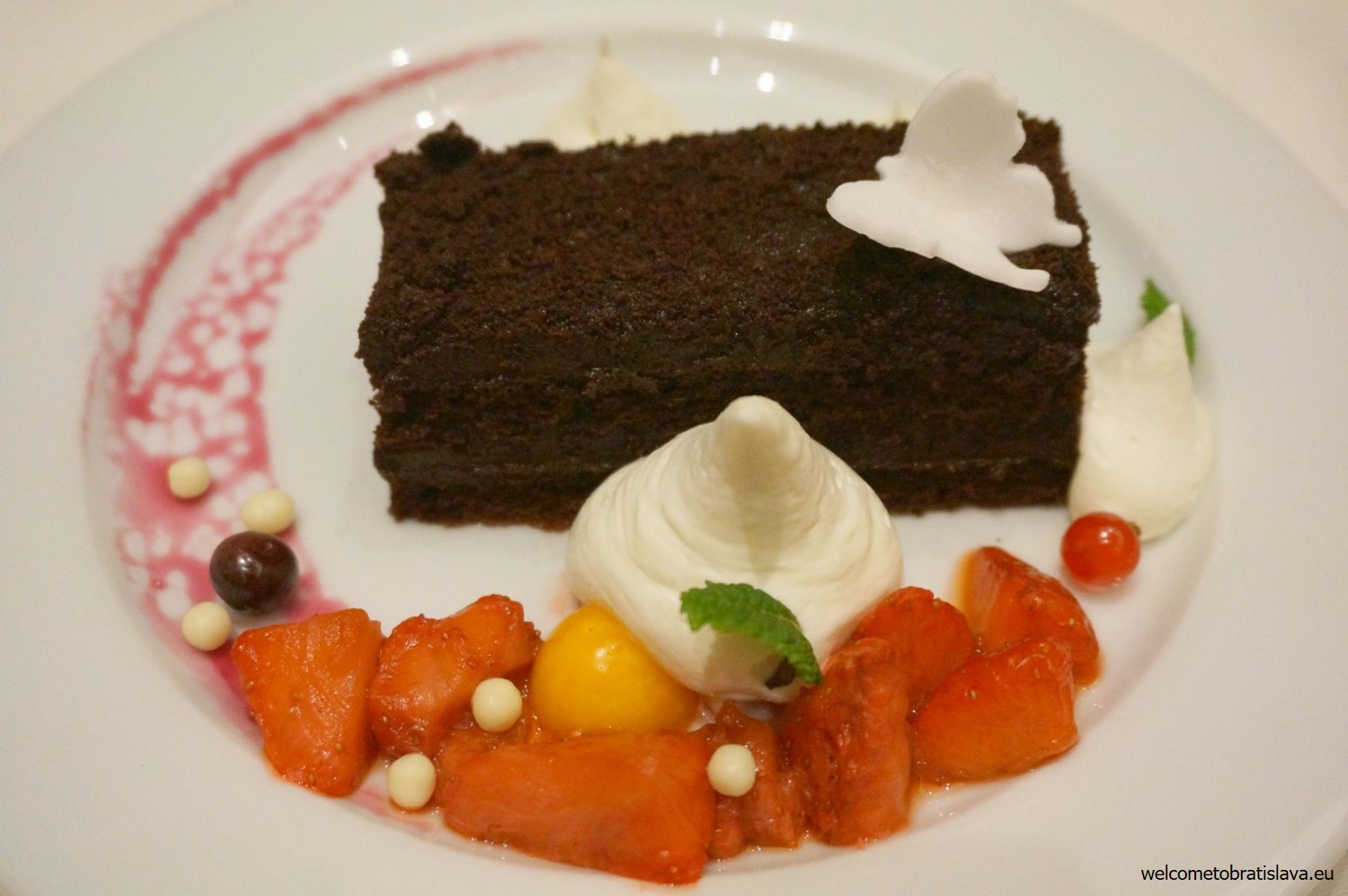 Already hungry reading all this? Check their whole menu on this link!
The prices are not cheap but food and service correspond to the level.
Our tip: You can park 2 hours for free in Carlton garage when visiting Savoy and ordering from main meals, salads or starters. On Sunday, a special family menu/Sunday lunch is offered.
Author: Maria Kecsoova

ADDRESS: Hviezdoslavovo námestie 3


 OPEN HOURS:  Check their FB (Breakfast: 06:30 – 10:30, À la carte: 11:30 – 22:00)


CONNECT: Website, Facebook


MAP LOCATION: