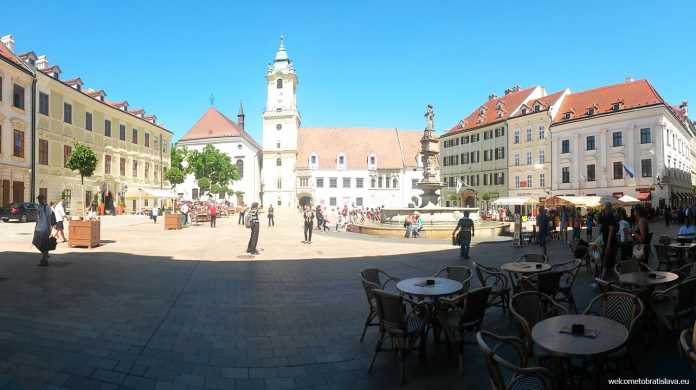 The place where you want to buy your small bottles of Slovak spirits as your perfect souvenirs. The place where you definitely don't want to have hot chocolate but are eager to drink a coffee for the sake of the beautiful view it offers – view on the Bratislava's Main square.
LOCATION
Schokocafe Maximilian has one of the best locations it could ask for – right in the middle of the Main Square, with a beautiful view on the Roland's fountain and the Old Town Hall.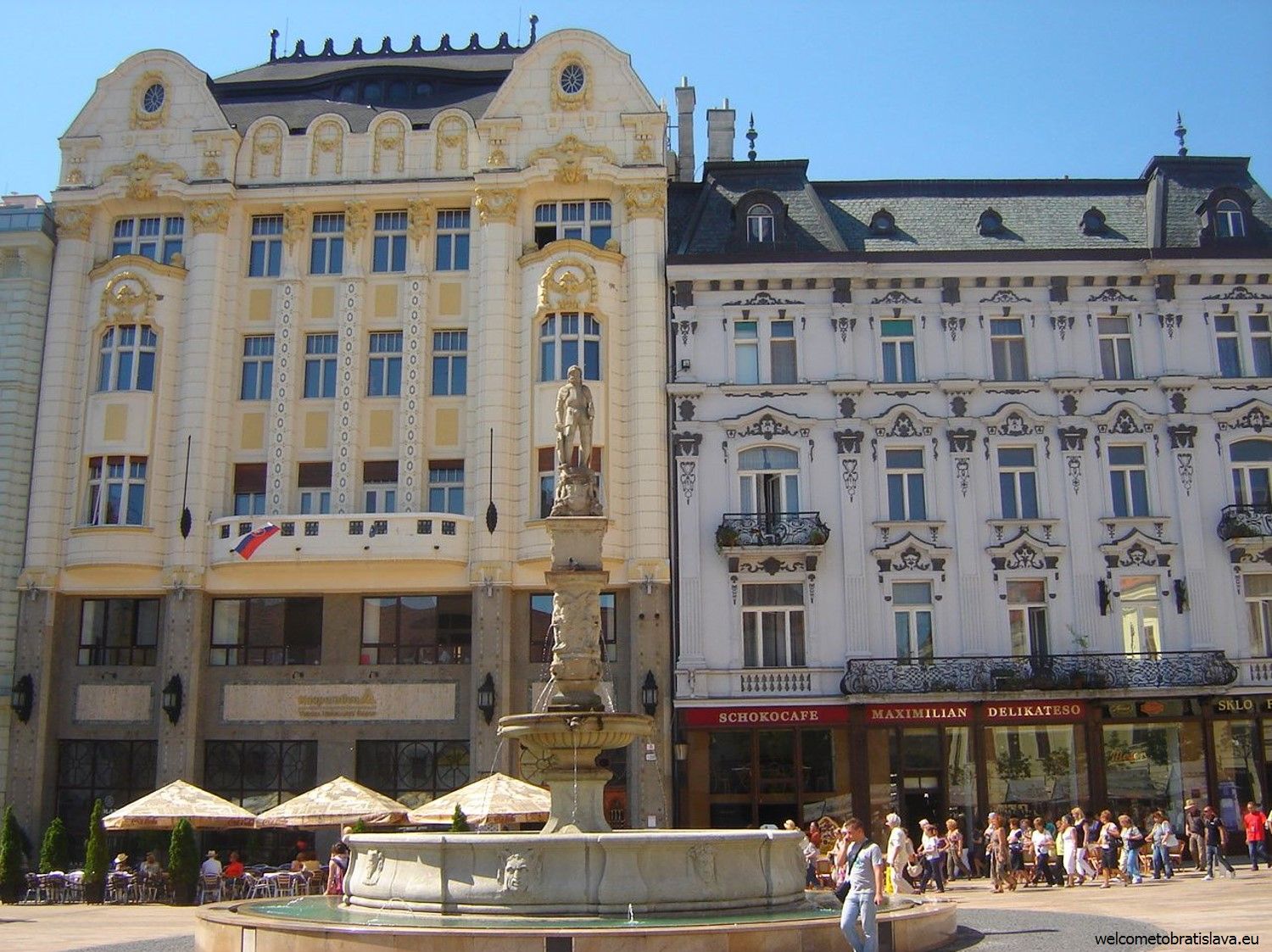 This is what you can see when you sit outside at its terrace :)
THE INTERIOR
For the view, we suggest you stay on the terrace, however when the weather does not allow it, the interior is also quite nice.
Salmon colored walls and big mirrors are complementary to the small wooden chairs and furniture.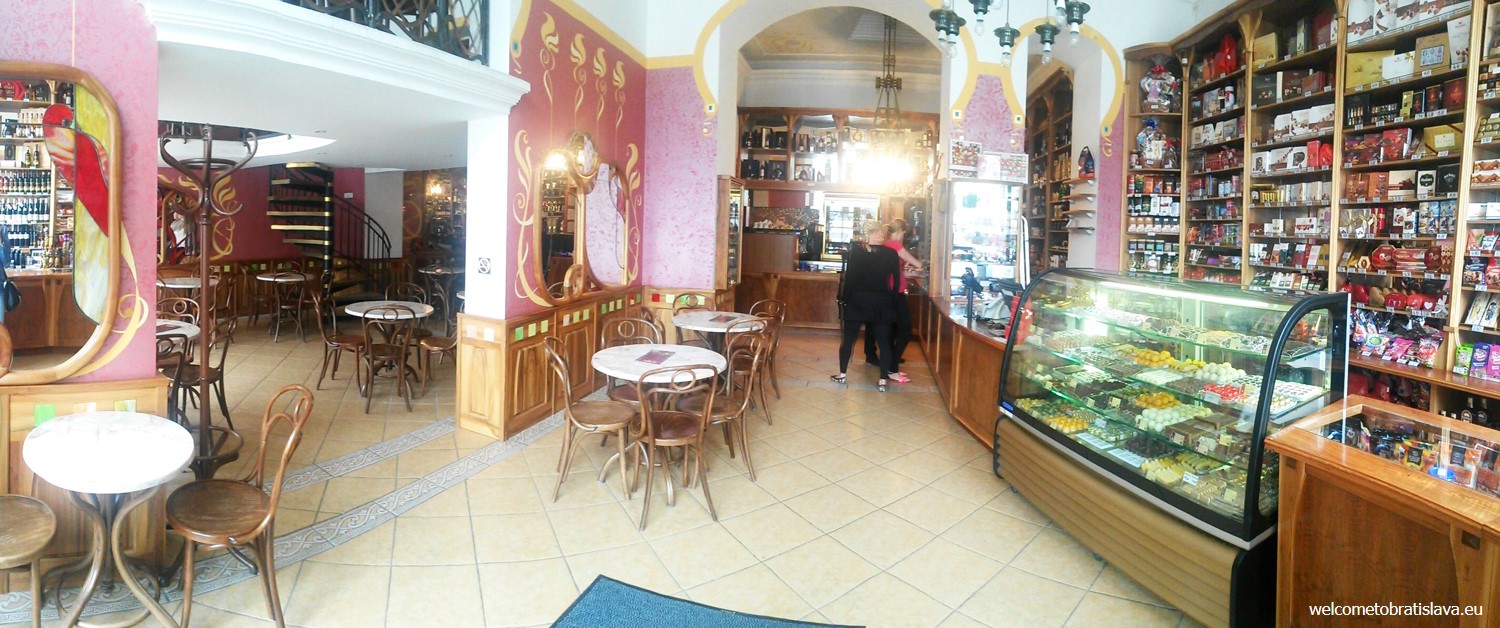 When we come to Schokocafe Maximilian, we like to sit upstairs on its other floor, by the big window. Again, mainly because of the view :)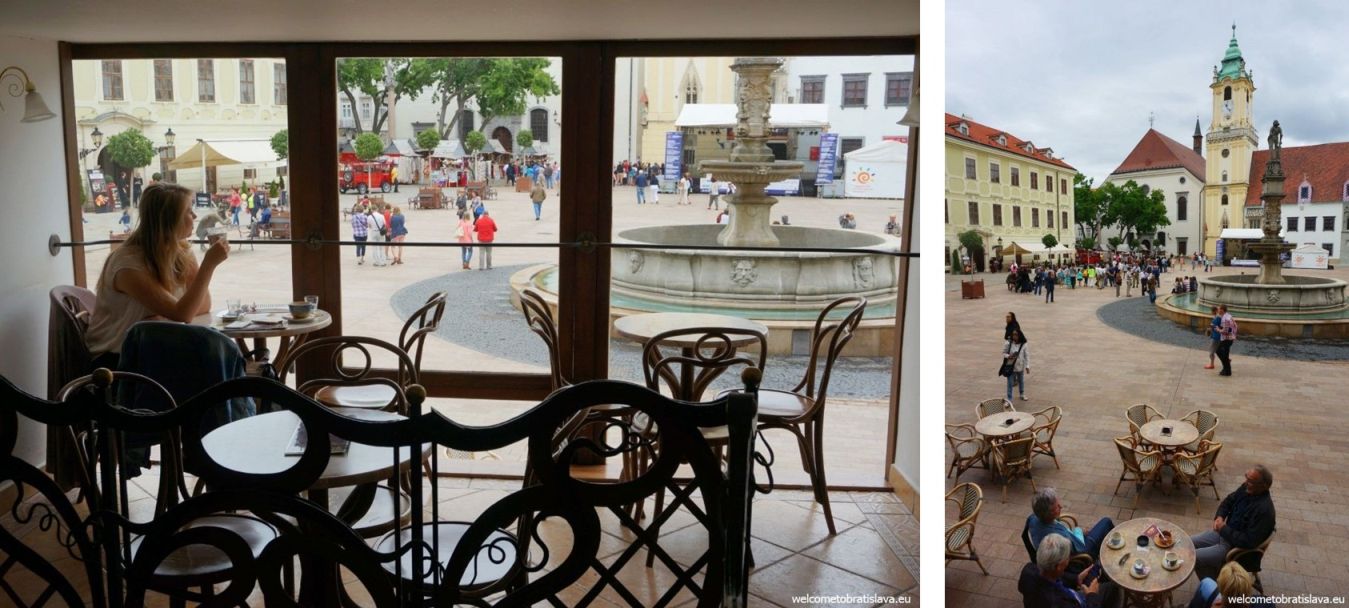 WHAT TO HAVE IN SCHOKOCAFE MAXIMILIAN?
Now this is the tricky part. This place looks like the perfect spot for having a hot chocolate – that's exactly also what we had as the very first thing here. Big mistake. Their hot chocolate does not taste anything like chocolate, rather a powder pudding, very watery. Avoid a disappointment. Have a coffee, if you like, this is quite OK. It is worth of enjoying the view and it is quite comfortable to hide here in case of rain or too cold weather.

You can also purchase some good chocolate truffles and pralines, either as a souvenir or as a gift to yourself for later on :) Bottles of different kinds of alcohol are also available. What we recommend is to buy the small bottles of Slovak spirits as your souvenir (they are like 1 dcl each). Perfect when you have baggage restrictions for your flight and can not take the big bottles aboard.
We wanted to mention this cafe on our list because it is quite a tourist trap, with its great location and visibility. What you really need to remember is not to have their hot chocolate. In general, we would recommend it only for its bottle souvenirs or having something small because of the view.
PS: if you do want to go there for some souvenirs, you can also visit some of their other branches in Bratislava: on Obchodná str. 51, in the Aupark, Eurovea, Polus, Central and Avion shopping centers, in the Tesco store at Námestie SNP or at Šancova str. 112.
Author: Maria Kecsoova

OPEN HOURS: Open daily 08:00 – 22:00


ADDRESS: Hlavné námestie 2 (Main square)


CONNECT: Website


MAP LOCATION: