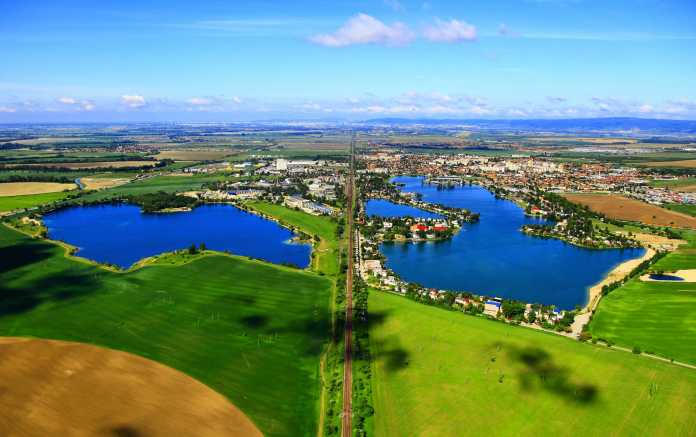 Senec is known as the favourite place of Maria Theresa and is very attractive, especially during the hot summer days, to enjoy the refreshing water of the Sun Lakes (Slnečné Jazerá), which create almost a seaside atmosphere. Not only the lakes but also a variety of accommodation, food and other services make Senec an attractive destination for holiday-makers from Slovakia, Czech Republic and other countries. We made a visit and put together a list of tips which will make your stay in this lovely little city enjoyable, fun and relaxing. Enjoy!
LOCATION
Senec is located 25 km from our capital. If you plan to start your trip from the Bratislava city centre, you have different options of getting here:
Bus
By bus it will take you approximately 50 minutes. The Slovak Lines company  operates between Bratislava main bus station and Senec Šafarikova Ulica (main bus station in Senec), where you can find the cultural centre of Senec as well as its administrative buildings.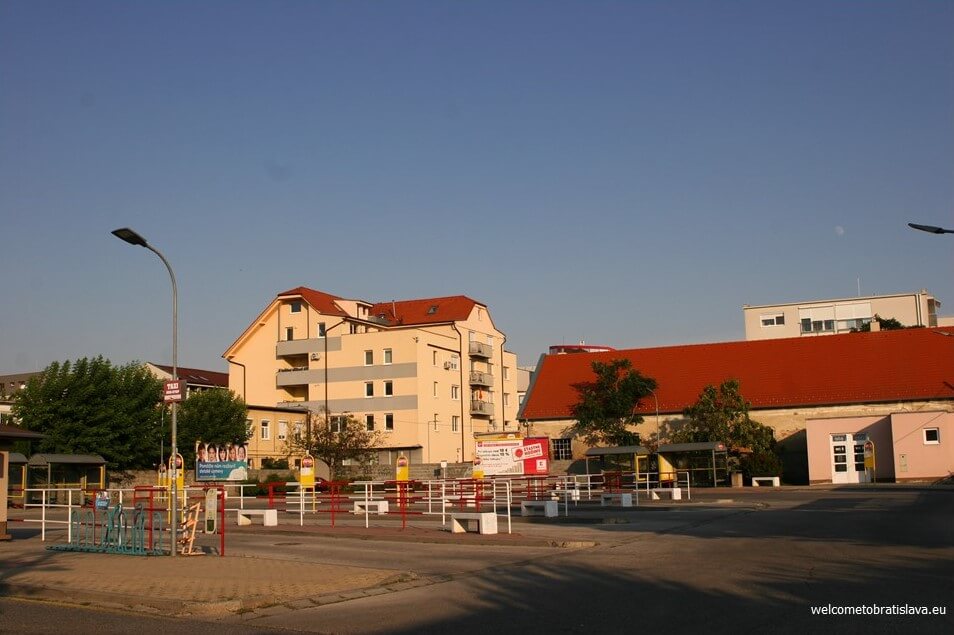 Once you get off at the bus station in Senec, you can walk to Lichnerova Street where you will find the stop of the Express train. The train runs at regular, hourly intervals, daily from 9 am to 10 pm along the Sun Lakes, with its start and terminal station on Lichnerova Street. The length of the route is 7,3 km. However, after an agreement with the driver, it is possible to get on and off anywhere along the route. The price is 1€.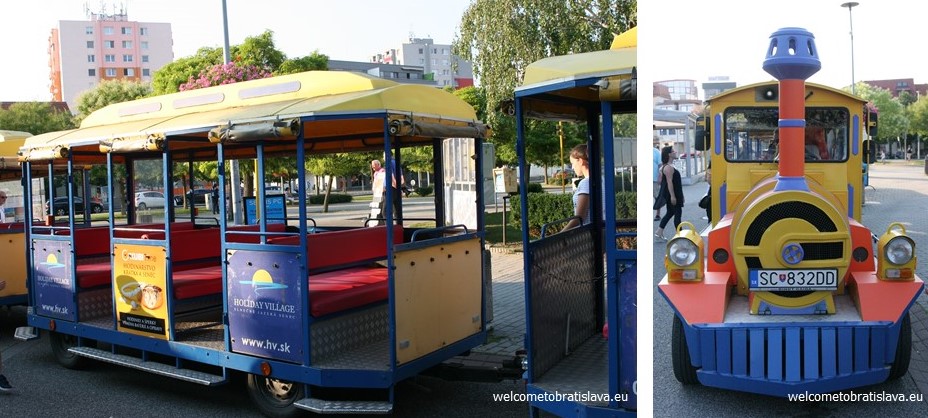 Train
If you decide to take train, there is a railway line Bratislava – Štúrovo that passes through Senec. The journey takes less than 30 minutes, and the stop's located close to the Sun Lakes.
Car
Getting to Senec by car is also an option. The duration depends on which part of Bratislava you will be travelling from and the time of the day you choose. If there are no traffic jams, it should take approximately 30 minutes to get here. There are many parking lots so it is very convenient.
MAIN SIGHTS & ACTIVITIES
Walk around the city center
When walking in the city centre, do not miss the Mierové Square and 1. Mája Square. Many cultural centres as well as historical monuments have found their home here. In the Cultural Centre there is a theatre, cinema, library and many social and cultural events are held here regularly. If you are interested in history and nature, we recommend visiting the Museum of Senec. There is an exhibition of local nature and ancient history but you can also attend a variety of lectures.
Another main sight is the Plague column (Immaculata), located at the Mierové Square. In 1714, the town suffered from a plague epidemic and to honour its end in 1747, the Bornemissza family donated the statue of Our Lady.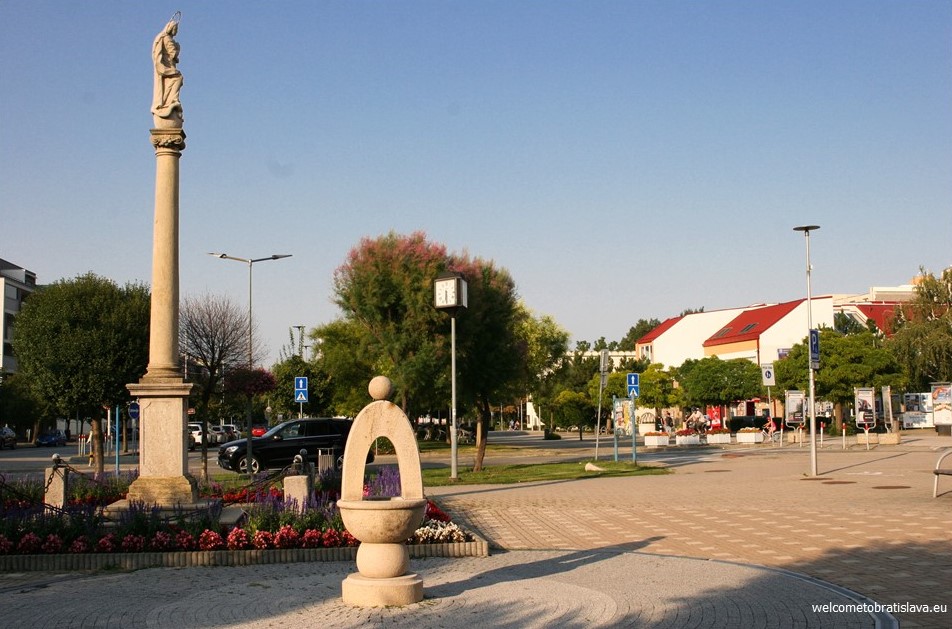 You can also see a pillory from the Middle Ages where delinquents were subjected to public disgrace and punished publicly by whipping. Another interesting sight is a synagogue, reconstructed in the art nouveau and Moorish style.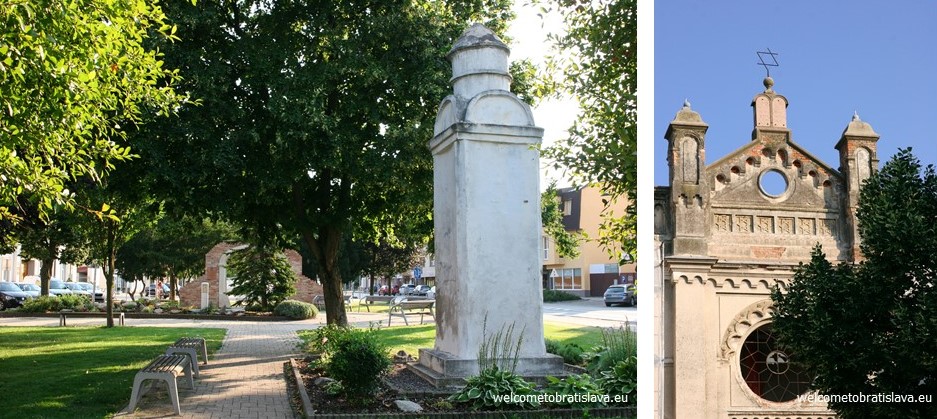 Relax at the Sun Lakes
Sun Lakes are one of the most famous and most visited summer destinations in Slovakia. Enjoy yourself at one of the five separate lakes with water surface of over 100 hectares! You can ride the water bikes which is a good way of exploring the lakes. If you're sporty, play beach volleyball, tennis, football or water football. There is also a cycle path around Sun Lakes which is mainly used by skaters. Pools, whirlpools, saunas, gyms, bowling, squash, billiard, mini-golf and other sporting facilities are waiting for you in the area.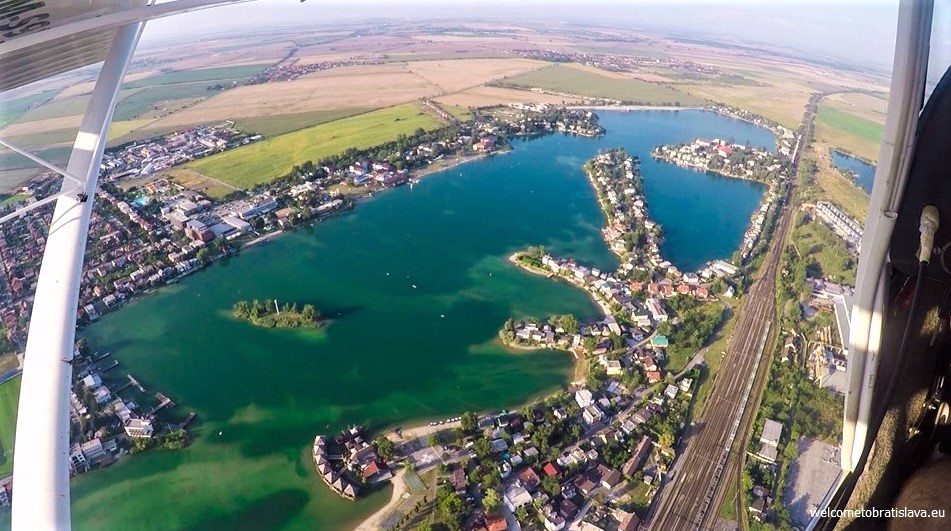 The beginning of the summer season in Senec opens with a cultural event "Senecké Leto", which is the biggest event here by the lakes, with a lot of music, attractive programme and great summer vibes. The event is usually held in the middle of July and it is suitable for people of all ages.
Have fun at Aquapark Senec
Aquapark Senec is located in the well-known resort of Sun Lakes. It is open all year long with 13 swimming pools during the summer and 6 swimming pools during the rest of the year, with water of 28 – 38 degrees. Get ready for different water attractions such as water slides, water jets, countercurrent, water umbrella and more. Pitches for beach volleyball and mini football, a sport bar, a cocktail bar, a food court, a children's corner and a children playground are available within the resort as well.
Visit the Oasis of the Siberian Tiger
This Oasis lies in the protected area near Senec, less than 3 km from the village Kostolná pri Dunaji. Siberian tiger is globally registered in the list of endangered animal species and is included in the category I of the CITES Act. When visiting the Oasis, you will experience a very friendly atmosphere. The staff is ready to explain everything about the tigers and the Oasis itself. You can see how the tigers are fed, and if you are lucky, you can even take a picture with them! :) The animals living here are very well-cared for, and the employees create the best possible conditions for them: sixteen tigers have been born here already. Admission is in a form of a voluntary contribution.
See the city from above – a flying experience
What's a better way of getting a view of the city than from above? After only a 24-minute ride from the town you will reach the airport Dubova, where the Pilot Club (Zážitkové lety) is ready to show you Senec and its surroundings at its best. Fun, relax and a fantastic experience! That's how we would put it. You can choose from a variety of routes, depending on places you wish to see, and also how much time your flight should take. We felt very safe and relaxed, thanks to our pilot Norbert, who also allowed us to fly the plane!


(source: Zážitkové lety archive)
Ready to book this amazing experience? Contact the pilot via 00421 908 770 702 or email pilotclub@pilotclub.sk and set the date and time with him. The weather plays a very important role in flying, therefore when you book the flight you need to be aware that there might be some changes in the schedule. However, the pilot will always inform you in advance and will choose the best possible time to make your experience memorable.

In order to fully enjoy the flight, you won't need to bother yourself with recording or taking pictures. Inside and outside of the plane there are cameras which will do the job for you. After the flight, you can talk to your pilot and choose from two packages. The first one is a photo package (25 €) and the second one is a photo & video package (45 €). Later on, the best shots from your flight will be sent to your email.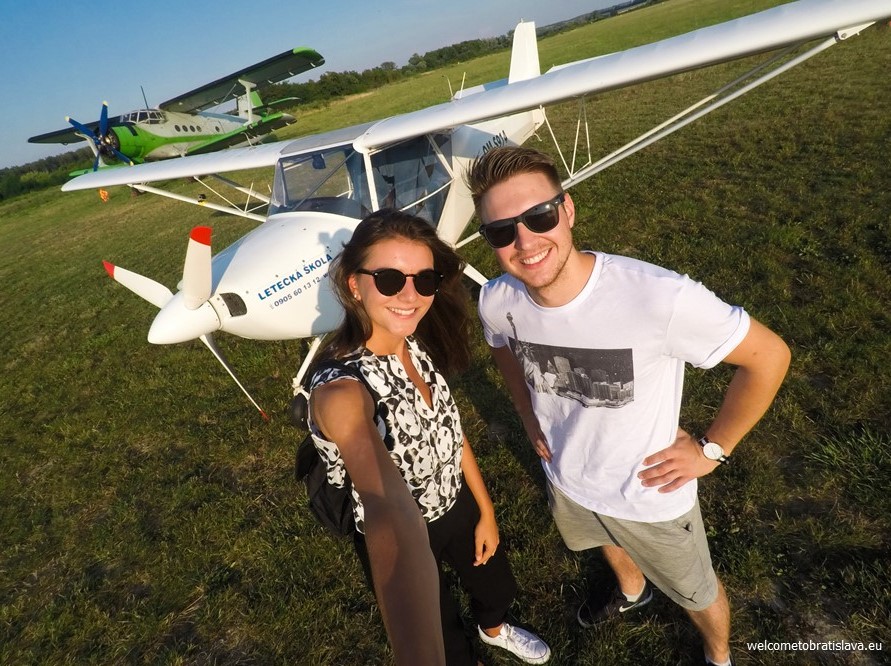 Something for animal lovers
If you are fond of animals, visit Corporex – a family farm in a beautiful rural setting with lots of animals. It's a mini ZOO and a riding school – actually the only riding school within the territory. They will teach you how to respect, control, understand and care for a horse.
EATING OUT & DRINKS
A number of buffets and restaurants are ready to satisfy even the most demanding customers.
Marathon restaurant
If you are looking for a perfect lunch or dinner place in Senec, restaurant Marathon is definitely worth visiting. It is a family business with a long tradition. Located in the pedestrian area, it is very easy to reach and if you come by car, you can park in front of the restaurant.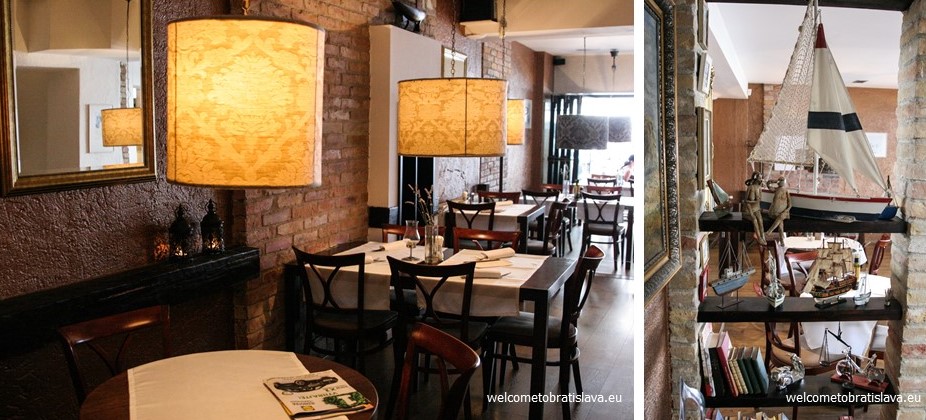 Not only the location makes this place attractive but also the friendly staff and delicious food! Meat, vegetarian meals and Italian dishes. The menu has various options and was made even for the most demanding customers. It changes seasonally. From the meat offer we recommend the roasted veal with baked root vegetables, potatoes and Marathon sauce. We were really curious what the pizza was like here, and even the owner recommended us to try it. We must admit that the Italian classic Margharita with tomato sauce, mozzarella and fresh basil did not only look fabulous, but it was also very delicious. A true Roman pizza! Asking for the specialty of the house? That will be homemade pasta! We had the one with basil pesto and olives, and enjoyed it big time. The bartender is always ready to serve you a good cocktail, hot drinks or a glass of wine from local and exclusive wine-makers.
Country Saloon
Country Saloon is a family-run restaurant established in 1998 located literally a stone's throw away from the Sun Lakes. It has been through many reconstructions and changes, and for generations, individual family members have been contributing to its every day operations. And you can really feel this family vibe here. The overall atmosphere is very informal, and you instantly feel very welcome here. If you are visiting during the summer days, you will have a chance to sit on their terrace. In the outside part of the restaurant there is a playground in a western/cowboy theme.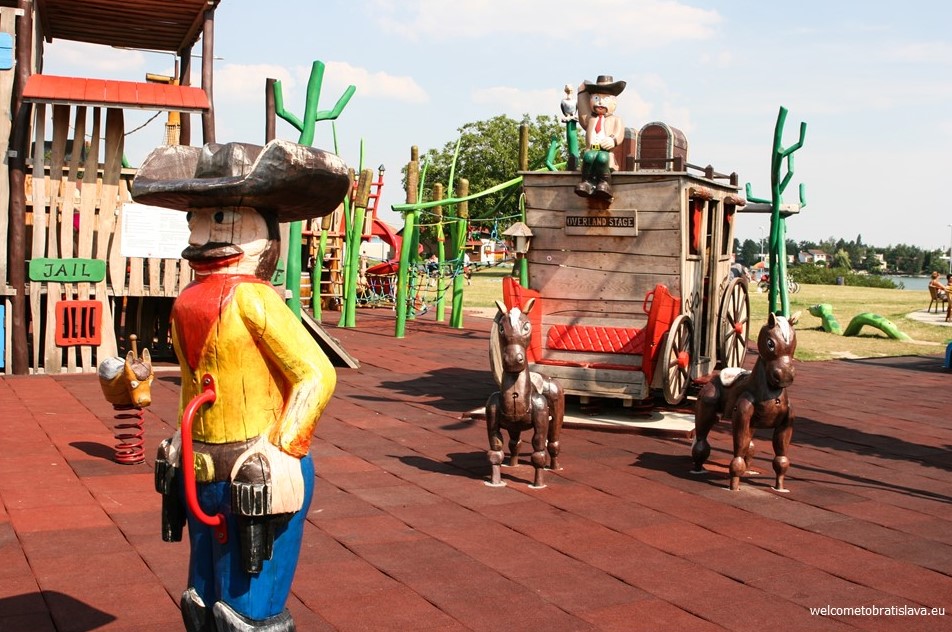 The restaurant is rather spacious so you should always find a seat for yourself. There's also a dance floor, since every Friday and Saturday live bands perform here, and in July and August also on Thursday. For the sports fans there are four wide-screen TVs and a high-quality projector that ensures a perfect sports experience.
Country Saloon mainly focuses on freshness. It is said that you will always get food on your plate which is made from fresh ingredients such as vegetables, herbs, meat from local farmers and even fish. We tried roasted pork rib and tartar with garlic, and we could really feel its freshness. Their homemade pasta, made from traditional Italian semolina flour, was delicious and the risotto was creamy and smooth.
The menu also offers "ready to serve meals" and different snacks. For the beer lovers, they have tap premium, unpasteurized tank beer Gambrinus and Pilsner Urquel.
Café Antikvariát
Friendly and very nice owners, a relaxed atmosphere and delicious cakes! We need to admit that Café Antikvariat left us with a very positive impression. It is a family run business of a mother, father and son.  When entering the place, you will most likely feel like at home, thanks to the owners who have a positive relationship to art and culture. The whole place is decorated with various books and paintings of local artists.
If the weather is good, you can sit outside in the courtyard where jam sessions are occasionally organized. Not only exhibitions and concerts, but also many social activities and workshops are held here, which are very popular among their customers. The best way of finding out whether there is an upcoming event is to check their Facebook page.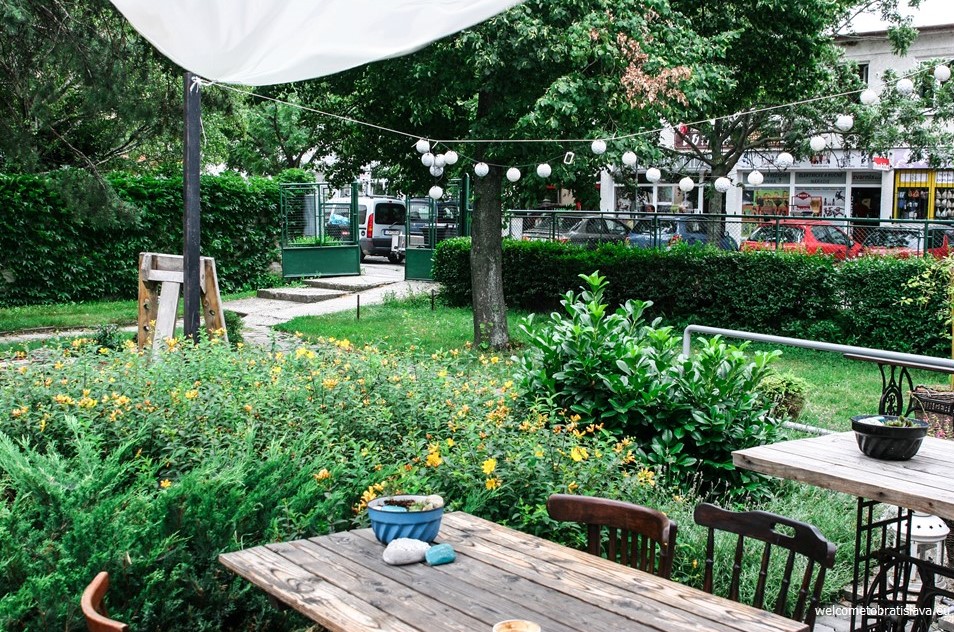 Various cakes from the local producers are on the menu, including gluten-free options. You can taste traditional home made pretzels from Čataj – a village in the district of Senec. The coffee is Italian, from the small roastery MIO. Its taste is very smooth, with a hint of hazelnut. What we also found interesting is that the owners run a hair salon next to the café, so if you feel like getting a new haircut, you are in the right place!
ACCOMMODATION
Senec visitors can be accommodated in the facilities of various categories that surround the lakes such as hotels, guesthouses, cottages, bungalows, tents and caravan camps.
Hotel Marathon
When we paid a visit to the Marathon restaurant, we also had a look at their hotel which belongs to the same owner. It is located right next to the restaurant. The interior is very cosy – just like in the restaurant – and the staff at the reception was very welcoming. The hotel has 11 rooms altogether. Due to its very good location, close to the main square and restaurant under the same roof, it is a very attractive place to stay for tourists.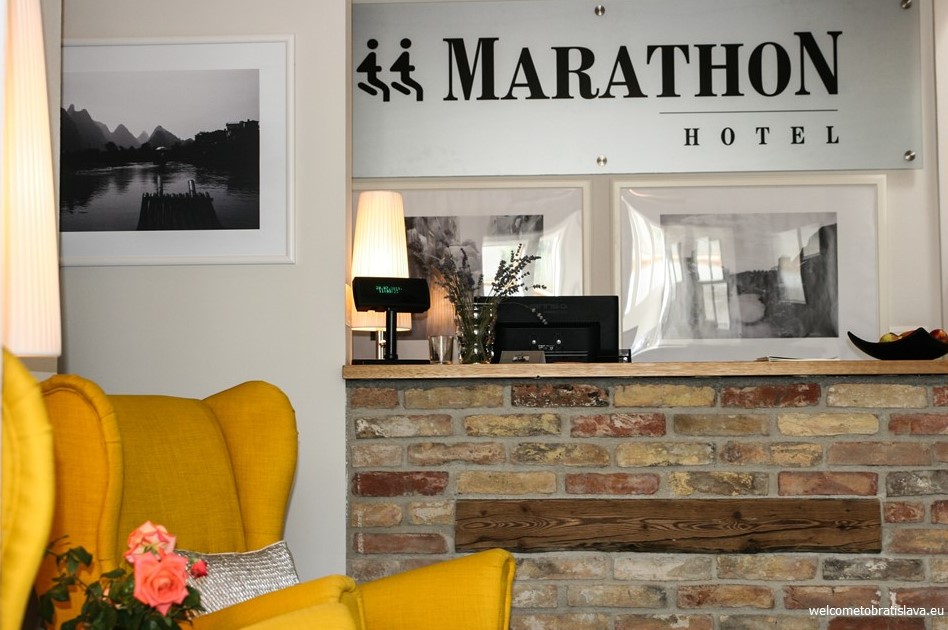 Lobster Water Villas
Searching for something nontraditional? Water villas are a great, quirky option built in the Polynesian style over the lake within the Sunny lakes resort. The bungalows are wooden and look so cute!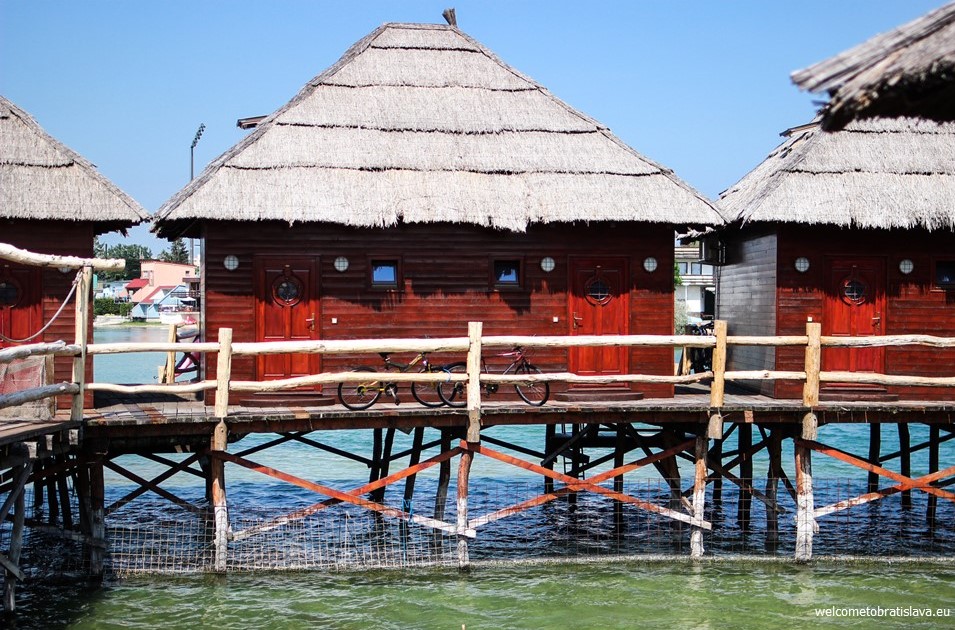 There is a restaurant belonging to the same establishment and looks like a pirate ship. We were not that impressed with the food and service but totally enjoyed the style and the view, as well as the private sandy mini beach that belongs to it. If you plan to check out the restaurant only, they take a deposit of 10 EUR to enter the lakes resort for 2 hours during the season.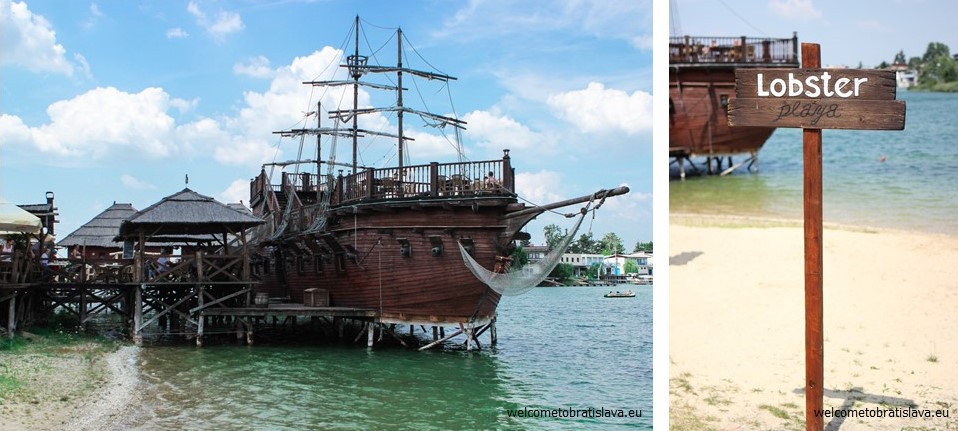 Do you have more tips to share with us? Let us know!
Author: Nikola Babjakova