Whatever your budget, you will be able to find and book short term accommodation in Bratislava pretty easily. Our capital has a good spread of hotels, hostels and B&Bs at great-value rates and if you prefer to rent a flat from locals, here you will find tips on doing so, too:
SUMMER ACCOMMODATION ON BUDGET
Searching for a summer accommodation in Bratislava? And more importantly, would you prefer accommodation on budget? We have a perfect tip for you then – have a look at the rooms in the student dormitories in Mlynska dolina, the biggest student area in the Central Europe! They are available for renting during the summer period also for non-students. Make the most out of your stay in this lively, yet calm area, with many services just around the corner.
STAYING IN A HOTEL
Booking.com is one of the most popular portals worldwide through which you can book your hotel room. With nearly 200 Bratislava properties registered here, you have quite good chances of finding your perfect vacation spot 🙂 Do you want to stay in the very city center? Browse through the hotels in the Old Town area. Do you prefer staying near the Bratislava airport? Click here to see your options.
RENTING A FLAT FROM LOCALS AND SAVING 30 €
Personally when we travel, we prefer to rent flats from people who actually live in the city. It just feels less touristic for us. At Airbnb travelers can search thousands of beautiful rooms, flats and houses for rent by private people. It has been extremely popular the last years with millions of users worldwide. In most cases accommodation found on Airbnb is cheaper than other accommodation in the area, and by using the voucher below you can save even more on your first travel – this coupon gives you 30 € off any vacation rental!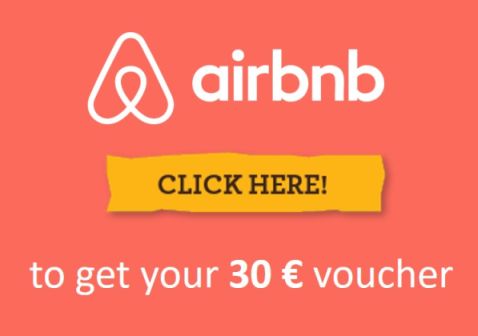 How to use the Airbnb travel voucher?
This coupon can be used to reduce the total price of any accommodation in any city. When you have decided to book an accommodation, the value of the travel voucher will automatically be deducted from the total price at the check out page.
Why are we giving away free Airbnb coupons?
By giving away free Airbnb travel coupons to friends, family and blog readers, we get points we can use for our own travels. If you sign up using our invitation link,  you're not only getting a large rebate if traveling on Airbnb, but you can also give YOUR friends free travel coupons. Everybody wins 🙂
GET YOUR 30 € AIRBNB TRAVEL VOUCHER NOW and see you around Bratislava soon!
Local tip: Let us help you have an unforgettable time in Bratislava, giving you a custom-built travel plan according to your travel times, budget and preferences.
Author: Maria Kecsoova