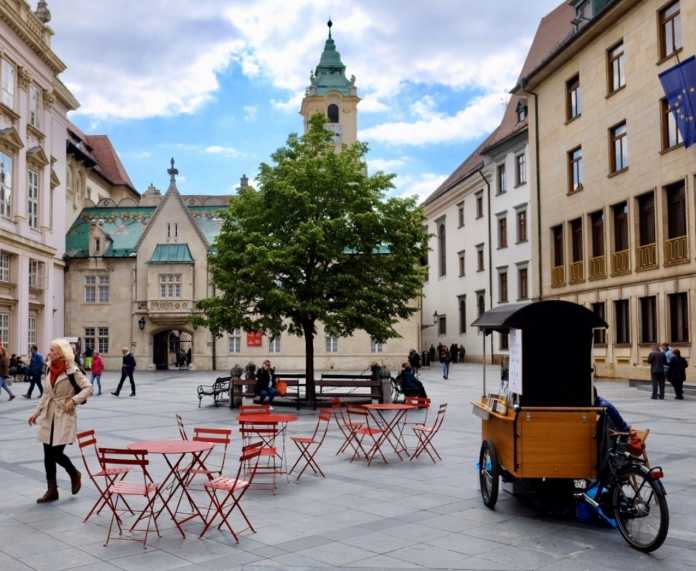 Bratislava wants you to sit down! Okay, not where you are right this second… on one of the many new bright red bistro-style table and chair sets now placed around the city's best spots!
SIT DOWN, BRATISLAVA
Just like other major cities around Europe, Bratislava is embracing the public square ideal and encouraging a sense of community with its Sadni si! seating (literally "Sit down!"). May 2019 was the pilot month of this free-seating initiative and so far public response is great. Instead of needing to fight for a spot at a crowed café or feel obligated to buy a drink just to rest your feet, now you can take a break and people watch with zero stress or obligation, courtesy of the city.
And how you enjoy your seat is up to you! Game of cards, a picnic lunch, or simply watching the world go by – as long as you follow some basic rules (no rough-housing, no hard alcohol, nothing too naughty) while you are sitting, the seat is yours. Even better, the tables and chairs are mobile, so you can follow the shade on hot days or cluster together if you and a dozen friends are hitting the town. When you are ready to get back to exploring the city, pick up your things – and trash! – and that's it. Neighboring cafes and shops help the city keep an eye on things, but they don't offer service at Sadni si! tables so keep that in mind.
WHERE TO FIND THE TABLES AND CHAIRS?
For now you can find these table and chairs at the Primate's Square, on the waterfront at Propeler, and at our favorite – SNP Square under the tress and string lights. We have personally taken advantage of this new seating and it's really appreciated on busy Old market evenings and Saturday afternoons during the Farmers Market. But keep an eye out for new locations in the future like Komenský Square and the Treskoňova Street. And it should be obvious, but we will mention this is a warm-weather offer only. Come snow, the chairs will hibernate until – hopefully – next year.
Enjoy!
Author: Jennifer Brown
Photo source: www.bratislava.sk