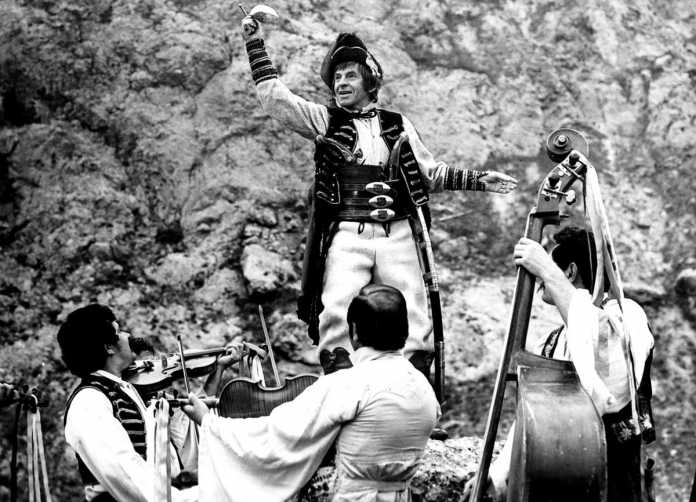 Have you ever seen a Slovak movie? Don't be afraid to answer "no." A culturally ignorant label won't follow from us. The truth is, Slovak cinematography and filmmaking still remain largely hidden to broader audiences, even compared to the film from neighbouring countries. This is a pity. But a possible reason for this is also understandable.
Though filmmaking in Slovakia started 1921, early by European industry standards, unpredictable events massively affected the industry. Namely, World War II and its aftermath in Central Europe. By 1948 the Communist regime overpowered local authority, recombining the area we know as Czechoslovakia in a Soviet influenced union that would last four decades. Art, including film, was heavily controlled during this time, making free, creative expression difficult. Once out of the grips of Communism, the Slovak film industry was still dogged by its vast lack of money. This, combined with the smattering of the native Slovak speakers compared to more dominant languages in the industry, has meant that Slovak film has gone largely unrecognized for its artistic merit. Or simply unheard of.
We share with you now the movies made in Slovakia that are definitely worth watching. If your popcorn is ready, let us guide you through those we find the most interesting for foreign audiences.
Some of these movies you can get with English subtitles – they have been released on Blue-ray /DVD. Look for them in local bookshops. Or, maybe you have a Slovak friend who can help you create them? :)

The Shop on Main Street (Obchod na korze, 1965)
If you've ever heard of a Slovak movie before, chances are it has been this one. Not just because it's great but it also gave us (us – meaning Czechoslovakia) the first Oscar for the Best Foreign-Language Film. It was also the last Oscar we won – so far. A tandem work of two successful directors – Slovak Ján Kadár and Czech Elmar Klos – their cooperation does not result in a film with relaxing themes. The topic of Aryanization during World War II was still an open wound in the 60s, as it is even today. The film tells a story about the honest and simple stoner Tóno Brtko, who under the pressure of his family accepts a decree for the shop of an old Jewish woman. While Brtko pretends to be Aryaniazator, he wants to remain a fair man. Unfortunately, a compromise with evil is impossible and his good intentions mixed with bouts of fear of the fascists and his own culpability eventually leads to tragedy. It is meant to send a strong ethical message. But do not be discouraged from watching it! This black-and-white war drama is enriched with some humorous elements and is really a masterpiece, saying a lot about our humanity. Communists banned the movie for 21 years; it is time now to watch and share.
See the trailer here:
Pacho, the Brigand of Hybe (Pacho, hybský zbojník, 1975)
And now for something completely different! We revisit the same actor from "The Shop on Main Street," but in a movie that is much more fun! Dare we say, the best comedy movie Slovak filmmaking ever had. Of course, the fact that there weren't a lot of comedies made helps its ranking (nor adventures, sci-fi, or genres other than social dramas or historical movies). The main plot of Pacho also raises some social topics. Actually, it is kind of spoof on our legendary highwayman Jánošík, who took from the rich and gave to the poor. But "Pacho" is not our very first movie dedicated to this hero. Actually it was the very first Slovak movie at all, called Jánošík. Yet, filmed in 1921, it may not be an easy watch for current audiences. But Pacho is not a typical lead. With his weak, short appearance, there is no typical superhero charm. But he has pawky wit and a bright mind, and doesn't hesitate to use it in his fight against feudal oppression. You can imagine all the funny situations and extraordinary adventures it creates. Some lines from the movie even became part of our folklore. This one, for example, is one of our favorites: When Pacho and his troop are getting ready for an action, our hero shouts: "On the horses!" The troop answers: "Where would we get them?" Pacho blurts out, quickly as always: "So let's run then!" Lucky you, the whole movie is now available on Youtube:
Let the Princess Stay with Us (Neberte nám princeznú, 1981)
Only a few musicals were filmed here and we regard this one as the best. You will easily observe the age of the movie, not only from a technical point of view. While the acting isn't captivating in a modern sense – the performances are rather naïve as most of the actors were actually professional musicians – what does remain enjoyable is the awesome music! The author is greatly talented rock musician and composer Dežo Ursíny, rightly considered as one of the founders of Slovak modern rock. The movie was also inspired by a fairy tale Snow-white and the seven Dwarfs. Snow-white, Katka, a girl from a very well-situated family, can have everything you can buy, but it doesn't make her any happy. Full of frustration, she escapes home in mother's luxury dress and in the morning finds herself in an orphanage. Seven orphan boys see her sleeping in their beds, realize she is a princess and fall in love with her. But not everyone wants to let the princess stay with them as much as they do. We won't reveal more, but promise that you can look forward to a happy ending ☺ Unfortunately, not every story has its happy-end and soon after finishing the movie, the young and talented singer playing Katka had a terrible car accident that left her paralyzed. This fact gives the film, full of careless dances and singing, a completely different dimension. See the movie here and maybe also take a little moment to thank for your health.
The Feather Fairy (Perinbaba, 1985)
Another classic is kind of a fairy tale for adults and children alike. There is essentially no Christmas in Slovakia without this movie. The story is based on the Brothers Grimm's short story about the Feather Fairy, or Lady Winter, who lives in the sky and controls weather on earth. This open-hearted fairy raises a little boy who she saved from an avalanche. As Jacob grows to young adulthood, he spends his time watching human life from the heavens through a looking glass. He sees a girl, Alžbetka, growing into a young beautiful lady and he desires to be an ordinary human and live with his beloved on earth. This requires an expensive tax, though; the loss of his immortality. But Jacob is not afraid of death! And Lady Death is waiting on him patiently, since his rescue from avalanche years ago… No spoilers here, to learn whether there will be a traditional happy ending and if love will win over death, you will have to watch it :)
We will give you some more interesting facts, too. The director of this movie – Juraj Jakubisko – often labelled as the Slovak Fellini, offered The Feather Fairy character to the Italian actor Guilietta Massina, who was wife of real Federico Fellini! You can also spot various elements of magical realism in the movie and Fellini himself said about Jakubisko: "In Juraj Jakubisko's films, irrational, mysterious and sensual, he becomes as natural as life itself. Not everyone is lucky to have Juraj's eyes, which can see mysterious, unexpected and fantastic, even in everyday life."
If you feel like watching, the whole movie is available here:
These following movies, while great, might not be pure pleasure for the eye of contemporary audiences. Let's also take a brief look at some current outcomes of Slovak film industry, where you will notice an enormous difference. The technology has advanced rapidly, but the absence of political and economic pressures has made a massive impact on the creativity and direction of modern Slovak film. Here are two movies that attracted us mostly recently.
Candidate (Kandidát, 2013)
As the name implies, this thriller follows the background of a political campaign for president. Yet, the main character is not the candidate, but Mr. Lambert, an owner of a successful marketing agency. He is hired for a quite demanding project – the presidential campaign of a dull entrepreneur from a small town nobody knows. At a dinner party, Lambert bets his fortune against his rival, another marketing genius working for a clear political favorite, that he will transform this Mr. Nobody into a president. We witness all the tricks and endless power of political marketing and mass manipulation. The plot of this cynical political farce could work in any other country, but "Candidate" may be regarded as one of the most "local" movies ever. Based on a novel written by two Slovak intellectuals, it analyzes a post-communist society where money started to rule almost instantly after the fall of the regime. The film is full of cameo and local pop-cultural references to Slovak reality. The clever narration and poetic direction remains in contrast with the implied serious social topic. But this witty thriller is a great entertainment rather than highbrow art. Find the official teaser here:
The Line (Čiara, 2017)
One of the latest movies that entered cinemas this year and was a great success. More than 110k visitors viewed this film in just one week! The drama describes a realistic picture of Eastern Slovakia from recent history – the wild times just before entering into Schengen zone; a time of smuggling and hijacking illegal immigrants from eastern neighbours. The main character, Adam, is a stand-up guy and loving father, yet also a head of a criminal group smuggling cigarettes through the Slovak-Ukraine border. Despite (or perhaps because of) the high crime and corruption, Adam's family lives in a relative comfort and great wealth. This ease of living on the edge of the law is soon disrupted by a change in rules related to the new border. Moviegoers will get a sense of increasing nervousness for the uncertain future that triggers an unpleasant sequence of all events. With this film, you will get a quite realistic picture of Eastern Slovakia from recent history, what some used to call "the Northern Balkan." The music and humour, sometimes quite black, are reminiscent of films by Serbian director Emir Kusturica. And you will also get a chance to learn all bad language of Slovakia, as the dialogs are soooo real ☺ This film can still be seen in Slovak cinemas, the trailer is here:
So, if the long winter nights have got you down, let some good movies pick you up. Maybe Slovak ones :)
Author: Eva Latakova