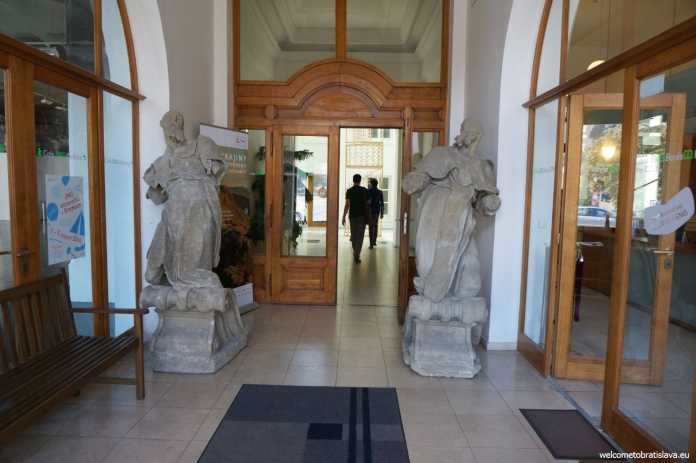 Different exhibitions of modern and classical art including Gothic and Baroque sculpture and painting are exposed in the Slovak National Gallery. The building it is housed in is a national cultural monument and used to be the property of a significant magnate family. Stop at this gallery if you happen to be walking along the Danube river – it is free of charge :)
LOCATION
The Slovak National Gallery is located alongside the Danube river in a building called Eszterhazy palace. There is a tram line and a stop right in front of it. It is a few minutes walk away from the Hviezdoslav's square or the UFO bridge.
When you enter, you will get to a small lobby with two big statues. Continue to the next hall where the main reception as well as a small souvenir shop/library are.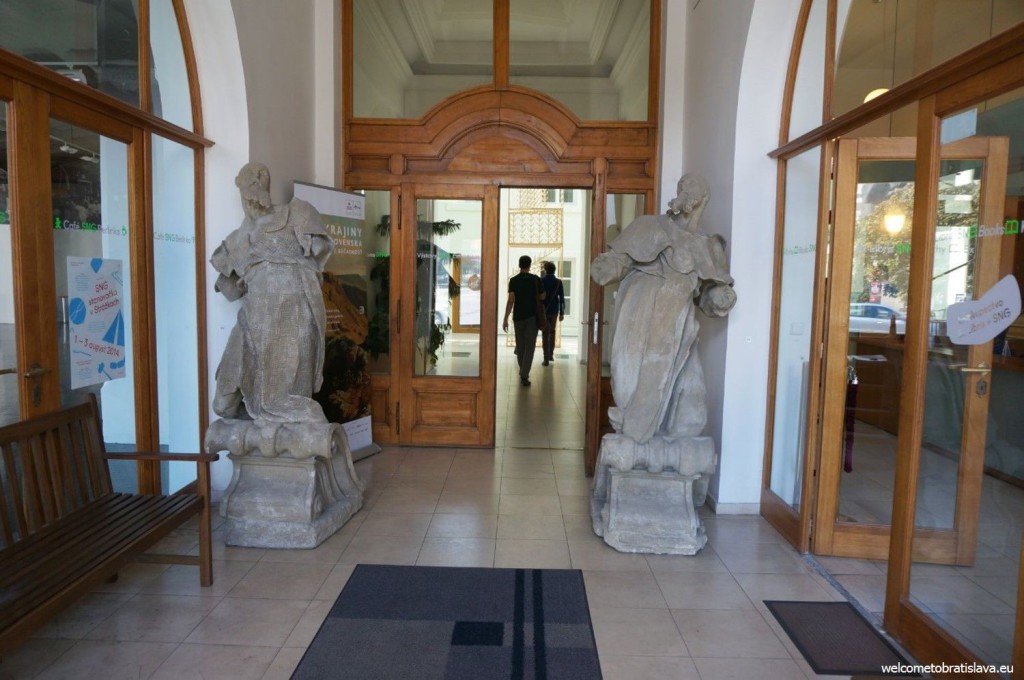 WHAT TO SEE IN THE SLOVAK NATIONAL GALLERY?
When you ask the lady at the reception about where to start your "tour," she will tell you to first go to the 3rd floor, continue with the 2nd floor and finish on the first one. The top two floors house temporary exhibitions and the bottom one houses a permanent one. We'd suggest you check out the gallery's website to see which temporary exhibitions it holds at the time of your visit.
To follow this logic, We'll start with the 3rd and the 2nd floor. These pictures display the rooms where the works are exposed in:

We'll not write about the pictures in details as this is a temporary exhibition and might be already changed when you visit it – we're putting them here for you just to see the premises.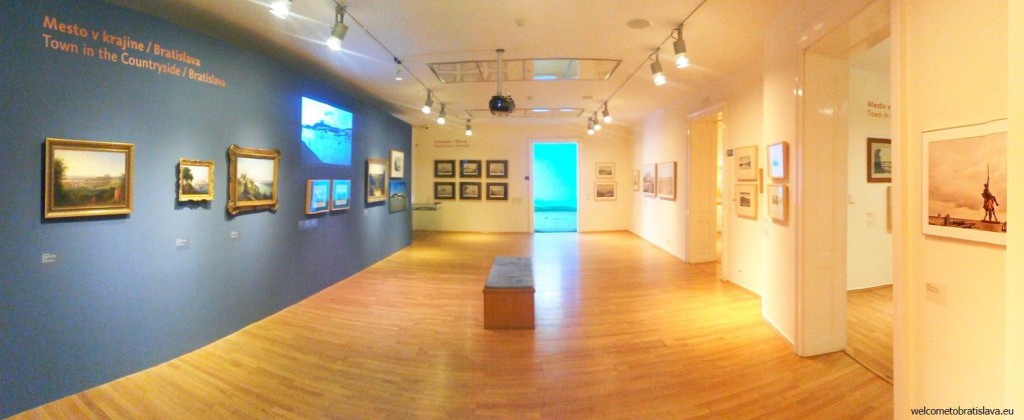 As you can see, there are different rooms, in different colors, quite large. We like how they are organized. Walking through, sometimes you feel like in a small labyrinth :)

On the first floor, the gallery displays a selection of art from its permanent exhibition. We're saying "a selection" because one part of the gallery is under reconstruction at the moment. Only some works are of disposal.
When you are there, make sure you read the English descriptions which are on the walls – because that is the only English text you will find there. There is no description near the individual works. Each statue and painting has a number and these numbers are listed in a small blue booklet, along with the related description. The booklets are unfortunately in Slovak only.
In the first room there is a big blue round object with many heads on its top – different men with screaming, smiling or wondering facial expressions. They were made by a Baroque sculptor Messerschmidt and you might find them associated with the antique type of Roman bust.
Next you will be walking through a dark room with Christian symbols, such as portraits of Jesus Christ or an altar demonstration.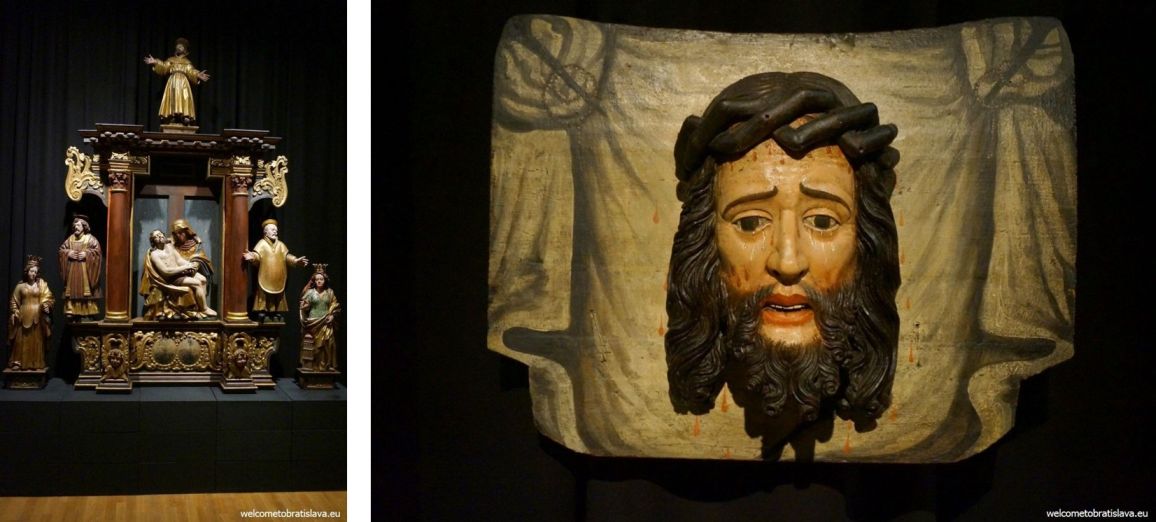 Each of the rooms has its thematic title under which Gothic and Baroque sculpture and painting are presented.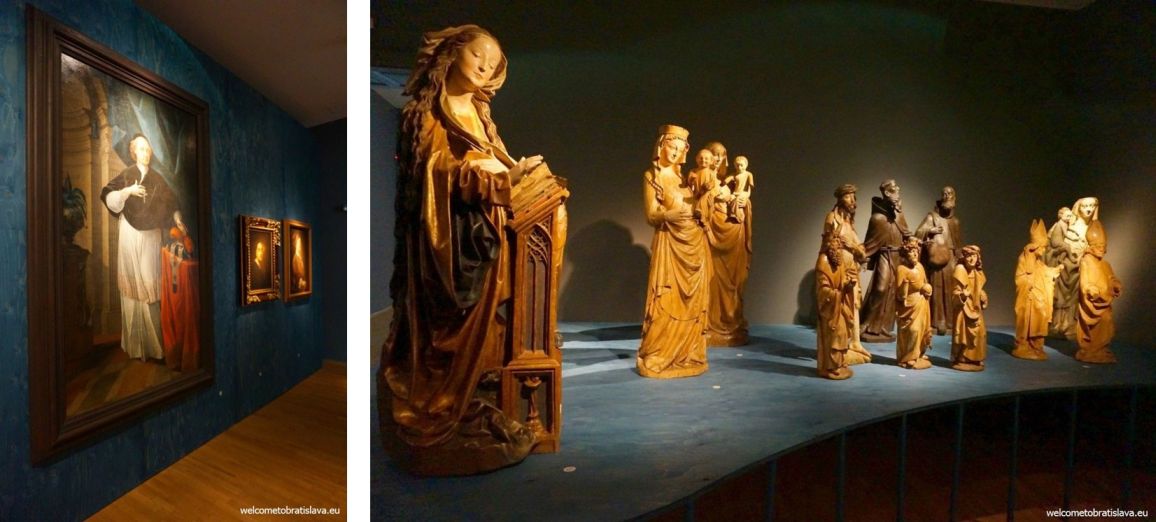 Experiments with illusionistic paintings are exposed in one of the next rooms.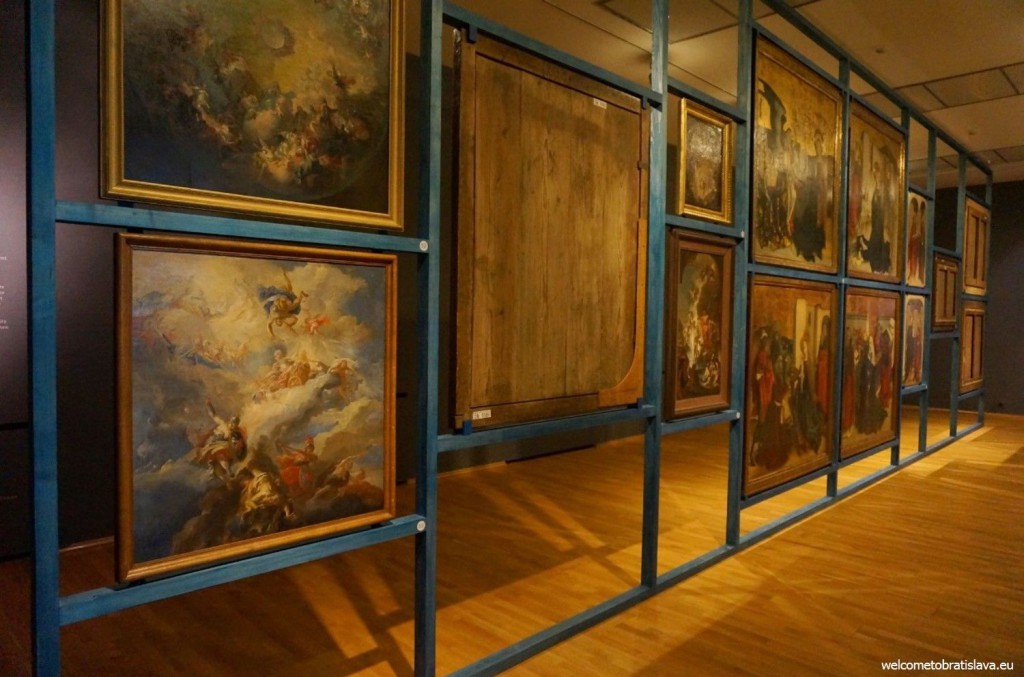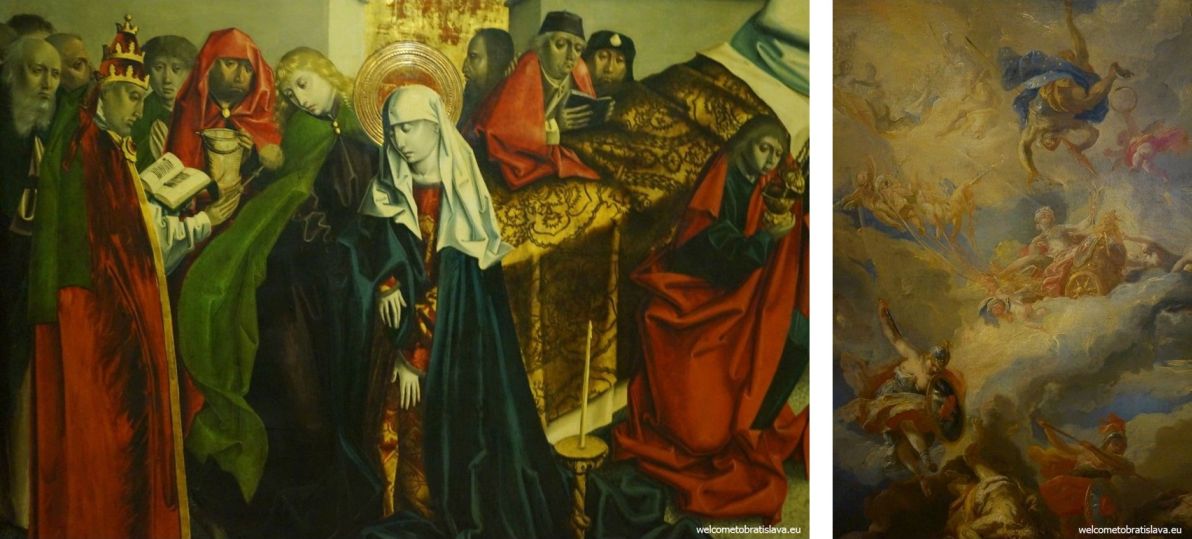 There is a black room separated with a large dark curtain. When you walk in, the only thing you see are a few paintings – with detail on specific parts which are highlighted with a dim light.
"Body and gestures" are the title of another room where you can find statues with various interesting gestures and positions.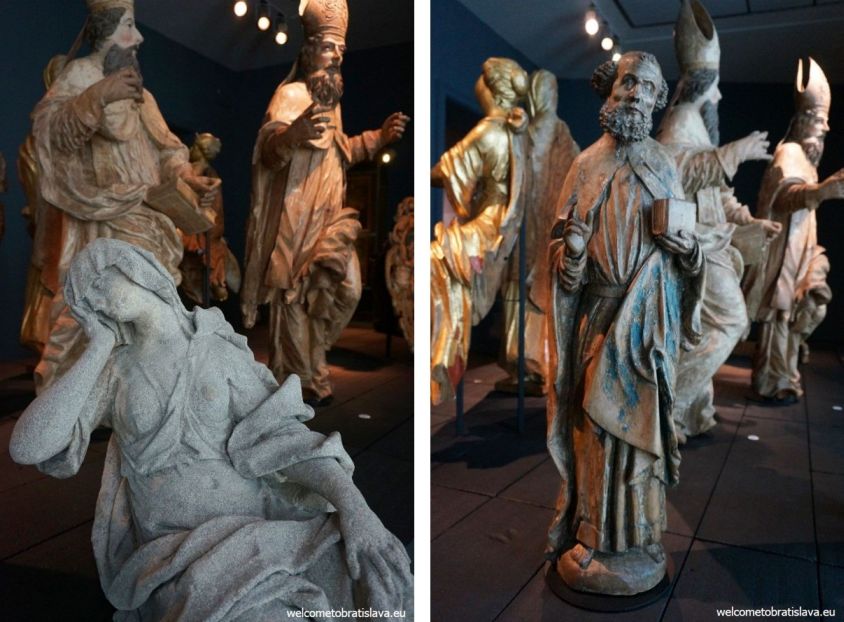 The last room is our very favorite one. It's called "Life and death." It is all blue and its archaic works illustrate how people visualized the death back then.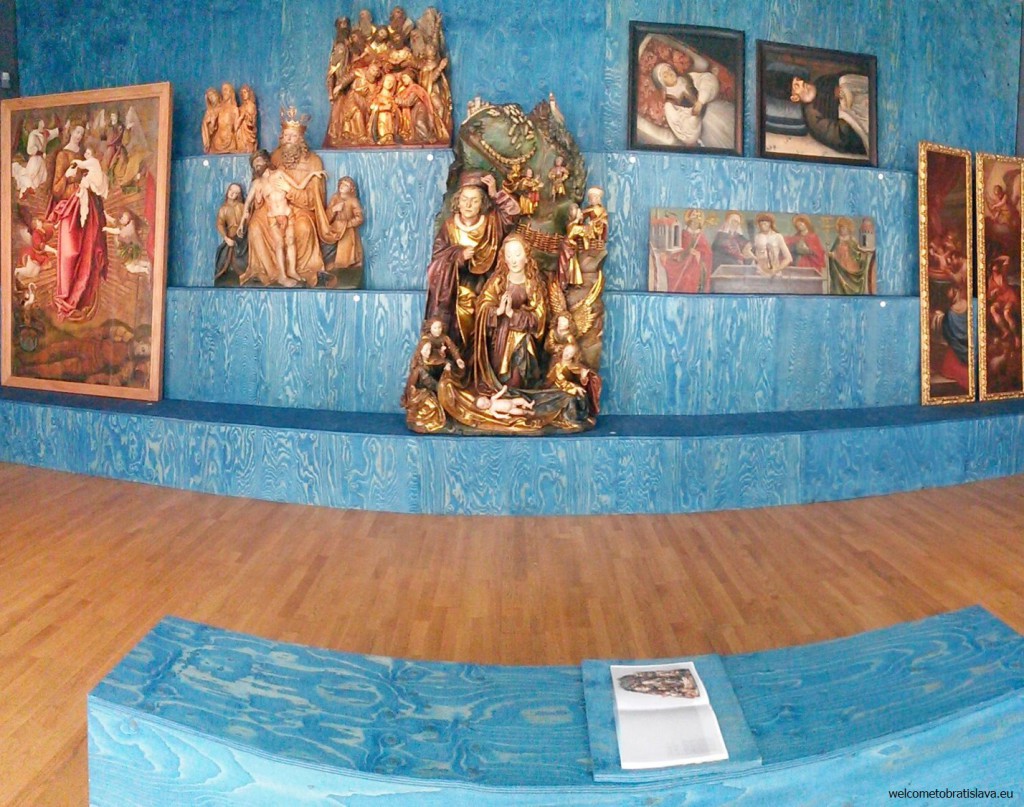 THE KORNEL AND NAĎA FÖLDVÁRI LIBRARY
The library is part of a permanent exhibition in the Esterhazy Palace. It is a project of Slovak National Gallery dedicated to Slovak writer, satirist, art and literary critic, book collector and translator, Kornel Földvári. It preserves Földvári's large collection of books but also serves as another social space of the gallery – hosting discussions, lectures and other chamber events.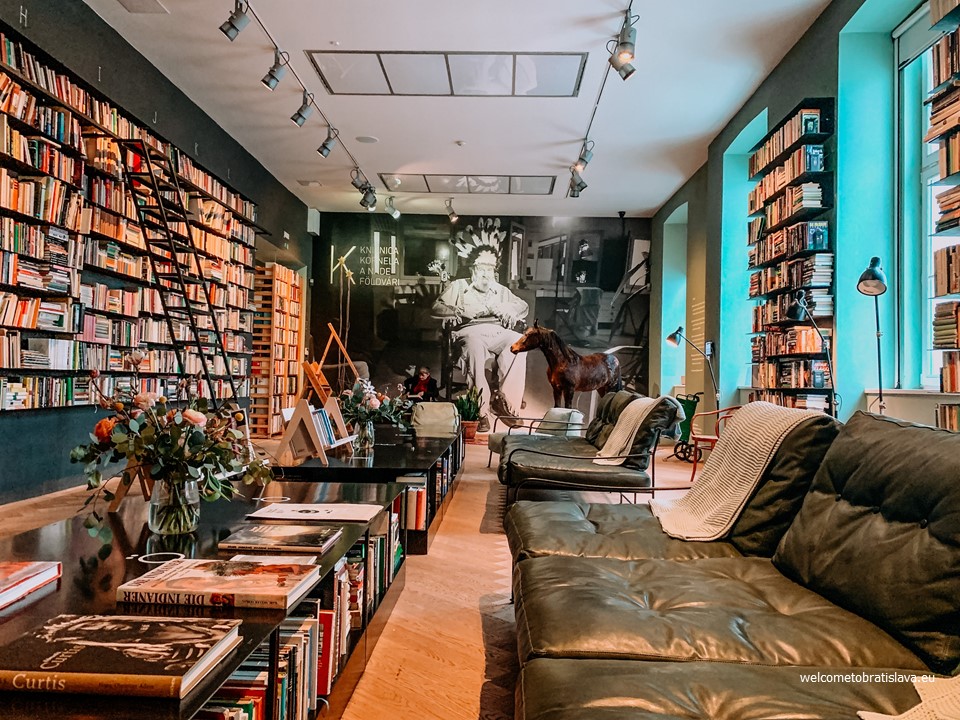 You can freely pick the books from the shelves, read them on the spot, climb the ladders to reach them:) If you want to continue reading a started book later, you can place it on a special shelf with a bookmark with your name and it will wait you there for two weeks.
You can read your own books here, eat your snacks, bring food and drinks from the neighboring cafe Berlinka or just chill.
The Slovak National Gallery also has a newer building (just next to this one) which operates a summer garden, too. Unfortunately it is closed at the moment due to the mentioned reconstruction. We recommend to visit this gallery in case you stay in Bratislava for a weekend at least, as it is free of charge thorough the whole year. Worth of spending a little of your time :)
Author: Maria Kecsoova

 OPEN HOURS: check the official site


 TICKETS: free admission


 ADDRESS: Námestie Ľ. Štúra 4


 CONNECT: Website, Facebook


 MAP LOCATION: