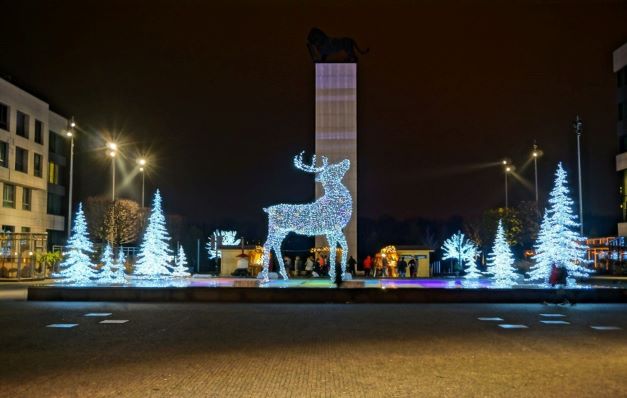 Holiday shopping season is upon us again and the malls have been packed in Bratislava since mid-November! And why shouldn't they be? Shopping malls are absolutely gorgeous this time of year, they're convenient and, quite frankly, a modern holiday tradition. They are also stressfully overcrowded during Christmas and often lack unique items that speak to your vivacious little sister or quirky childhood friend. Thankfully, Bratislava is home to wonderful local artists and entrepreneurs whose ambition is to add quality, meaningful products to the marketplace. All it takes is knowing where to look.
We present a few of our favorite choices when it comes to buying something a little different. Of course, this isn't meant to be a comprehensive list of all the amazing local shops and artisans in BA. Here is our Slovak shopping guide for Christmas! Think of it as a starting off place for your holiday gift-giving inspiration.
P.S. If you're like us, you'll need a nice glass of wine and a little pampering amongst all this shopping. Do what we do and turn your shopping days into opportunity to treat yourself. Tapas, anyone? Tea and cakes? You can find us at the spa! Either way, don't forget about you! And once all the gifts are unwrapped and things have settled down a bit, let someone else do the cooking ;)
BRATISLAVA – THE MAGICAL METROPOLIS – FOR THE PERSON WHO LOVES BOOKS AND OUR BEAUTIFUL BRATISLAVA
Let's kick things off with this absolutely adorable book about our beloved Bratislava. It's a must have item for each local. You might have heard about Bratislava's metro plans from the 70's that were never put into practice. Well, now you can join a magical ride on the non-existing Bratislava metro at least in this book, taking you through its main stops. A famous writer Hans Christian Andersen once said during his visit to Bratislava: "You're asking me to tell you a fairy tale. What for? Your city is a fairytale. And we have the best news for you – the book is available in English, too. You can get it in one of our most favourite bookshops Eleven Books & Coffee (e-shop or B&M) or in the most known bookstore Martinus.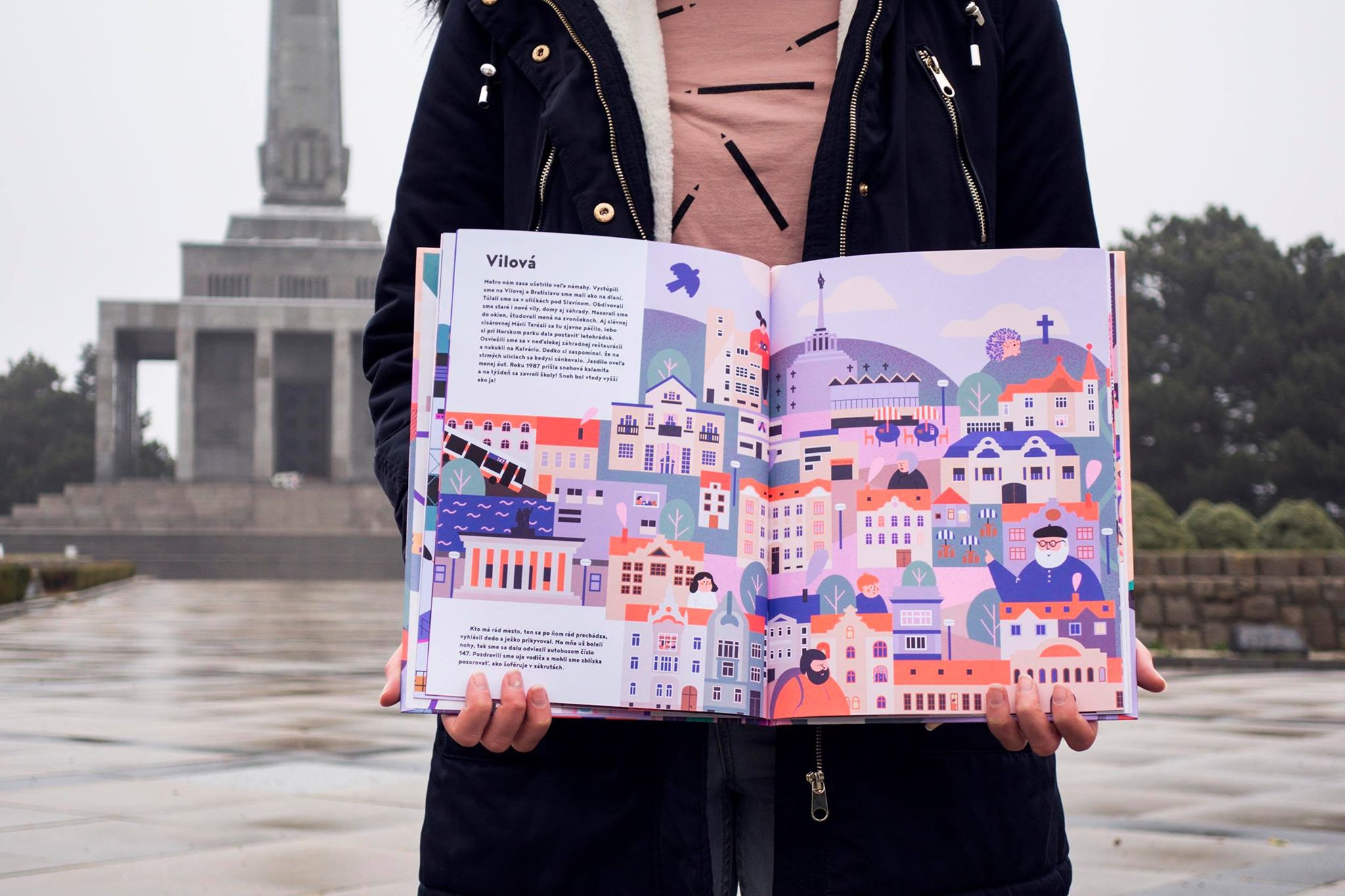 The illustrations are enjoyable by both kids and their parents.
ANCUG – FOR THE PUBLIC TRANSPORTATION FANS
Keeping it connected to Bratislava, here is another local tip. Ancug is a newer local urban brand producing T-shirts. It's based on the strictest minimalism, as there is only ONE design available. That's right, you will be saved from tough decisions that wide choices usually bring. And we absolutely adore their cute Bratislava public transportation map.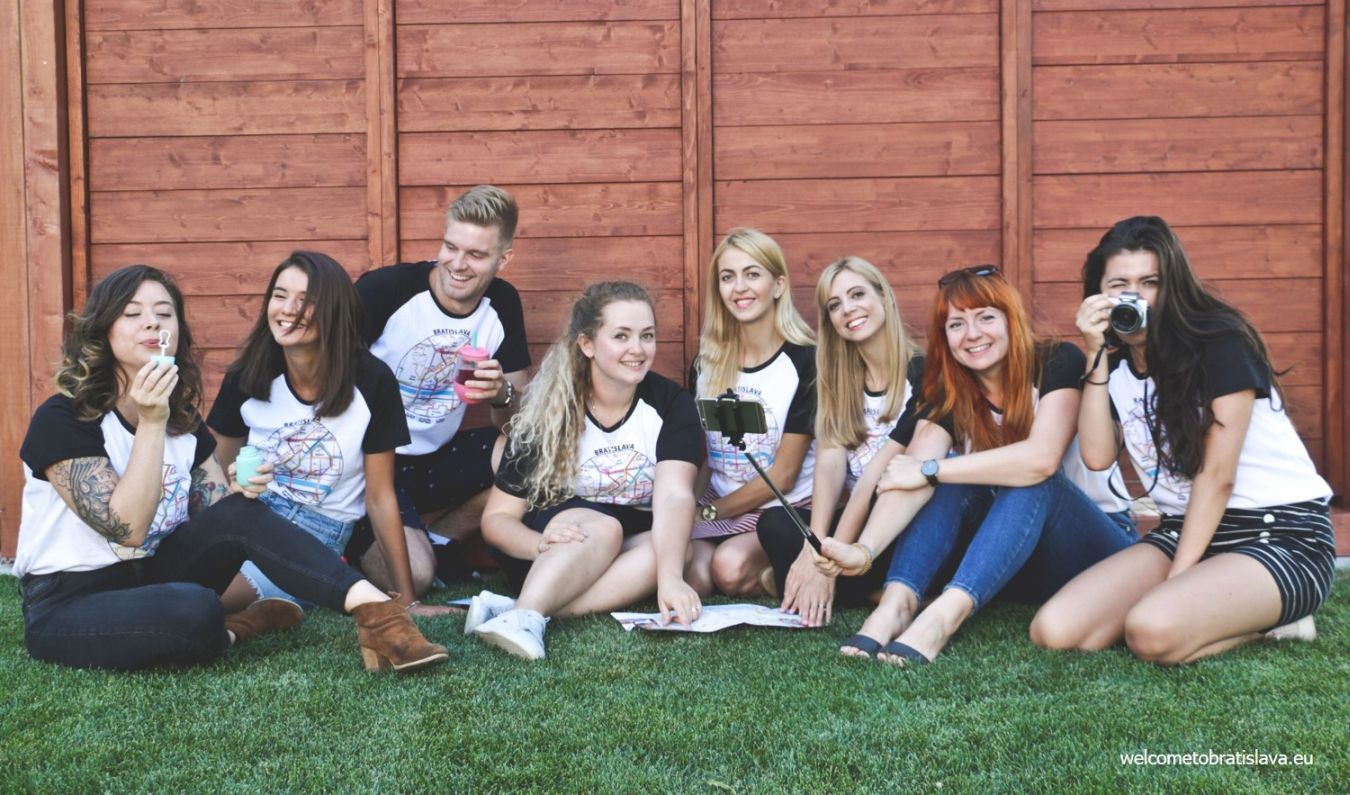 Look how this design suits our team members.
KOMPOT – FOR THE PERSON WHO LIKES TO STAY ON TREND WITH LOCAL GEAR
For in-the-know locals and frequent visitors to BA, Kompot is one of the places to find original T-shirts, books, prints, postcards, and accessories by local artists and designers.
Kompot – a play on compote, the spread made with pieces of fruit in sugar syrup – highlights their name by also designing their own in-house range of shirts and packaging them a glass jam jars. Just like grandma used to do.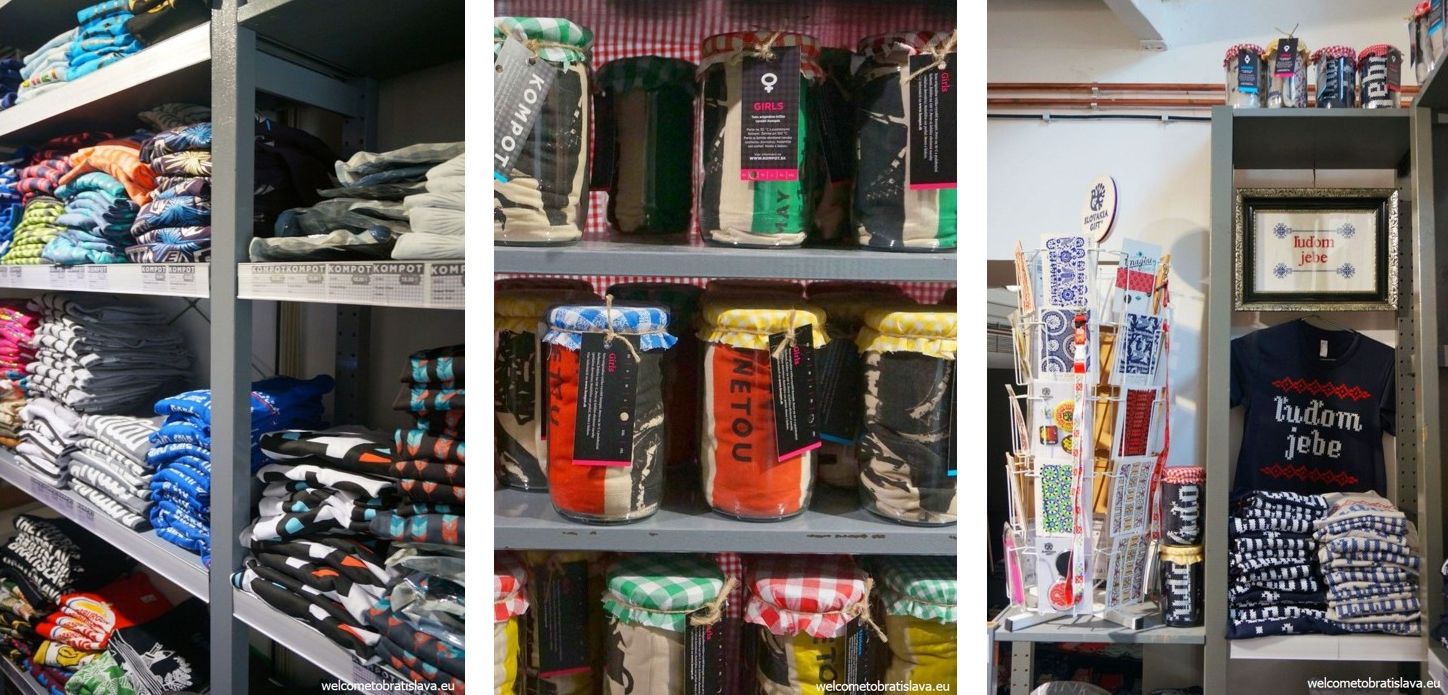 A gift that keeps on giving: a delightful jam jar filled with an equally delightful Tee.
We especially adore Kompot as a central shopping location for cool designs that are uniquely Bratislava based. For example, work by the talented Kristína Farkašová, an actor and artist from Bratislava who writes the beloved "Som Mama" series on being a put-together (and not) mom in a modern world. She also designs a line of T-shirts that are adorable, fit amazingly (we know from experience!), and are a common site on the streets of BA. Your friends living abroad will get a truly local gift and a charming wardrobe addition! But your local peeps – and you – will appreciate it just as much.


The lovely artist herself modeling a classic Koláčová design. (source: kompot.sk)
For something a bit less twee, designers like KAMO offer edgy, contemporary takes on old-school Slovak design and local architectural nuances.
If you prefer online shopping, Kompot also runs an Internet shop through which you can place an order and simply pick it up at the store or, for those shopping abroad or here only a limited time, have it sent to your home – anywhere in the world!

 ADDRESS: Laurinska 19


 OPEN HOURS: MON-FRI 10:30-19:00, SAT-SUN 11:00-19:00


 CONNECT: Webpage, Facebook
YOGINESS – FOR THE ATHLETIC TYPE WHO ALSO WANTS TO LOOK CHIC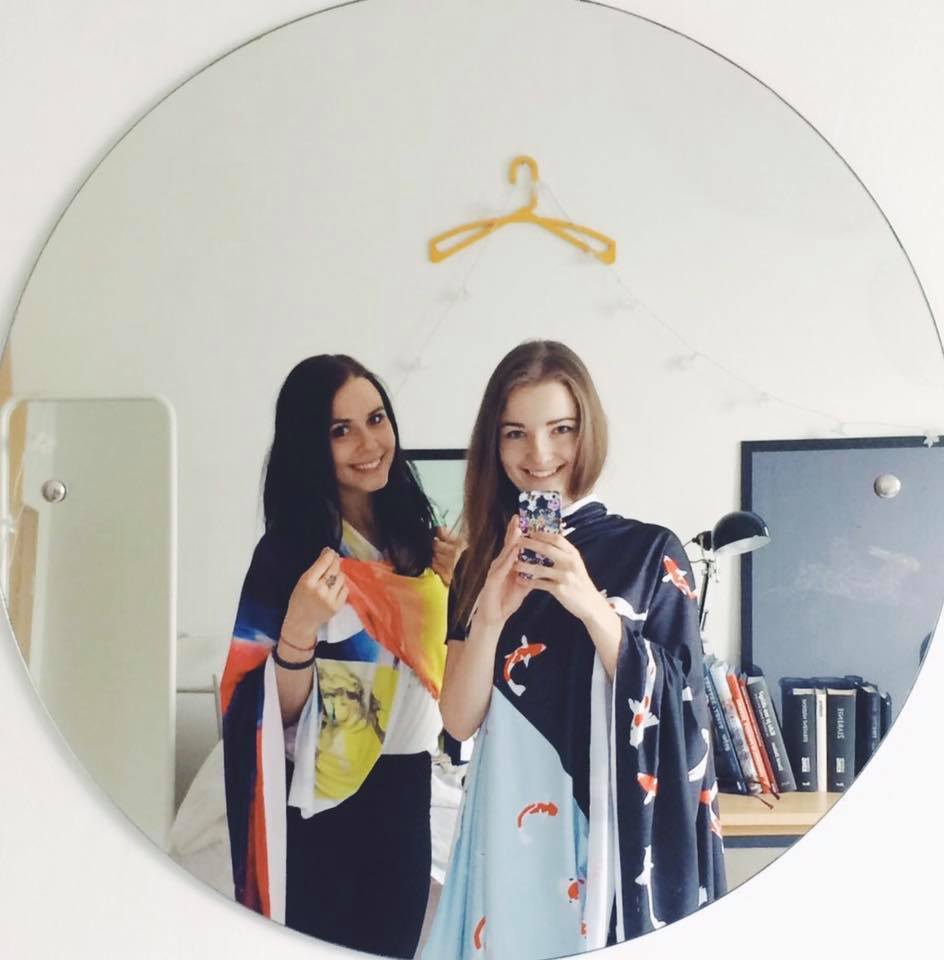 Kika Dugovicova and Jaroslava Jančíková, artists and yoga lovers! (source: YOGIness)
Founded by two artists from Bratislava, YOGIness is one-of-a-kind designer brand that transforms original artwork by Kika and Jarka into high quality, movable (breathable!) athletic wear. As the designers explain in an interview with StartItUp, "we test [our clothes] every day! Handstands, the splits, stretching in any position … our products must endure everything." The women hand paint their illustrations and transfer the designs to material imported from Spain, then have their clothes sewn in a workshop right here in Bratislava. Each piece is ensured to be as sturdy and wearable as it is visually poetic.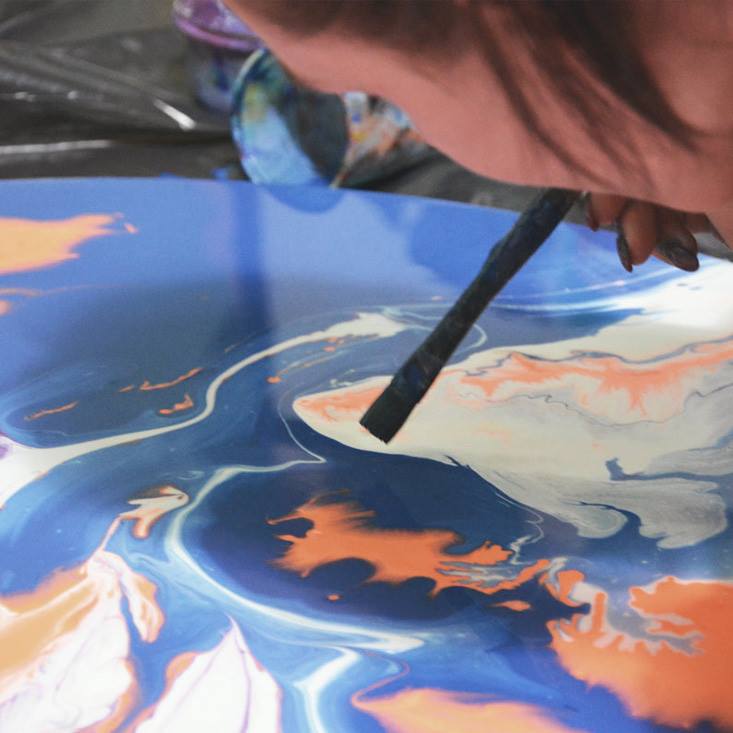 Kika at work on one of her original paintings that will eventually turn into beautiful yoga gear. (source: YOGIness)
What makes YOGIness such a rare find is the passion both artists have for their work. This isn't just about pretty paintings or getting into the retail game: the brand is committed to creating a work of art that you will actually want to work-out in. Or, for some of us here at Welcome to Bratislava, feel really chic around the house in or on the way to the grocery store in. It's a fashion statement either way.
For gift-giving, we like this brand a lot. Giving and receiving clothing designed by Dugovicova and Jančíková supports the chain of local business, while promoting something that taps into the essence of local Slovak artistry, modern style. There is also a wide range of products to choose from, including sports-bras, flouncy skirts, childrenswear and even maternity bottoms! If wearable gifts aren't really your thing, check out the original prints that would elevate the aesthetics of any room!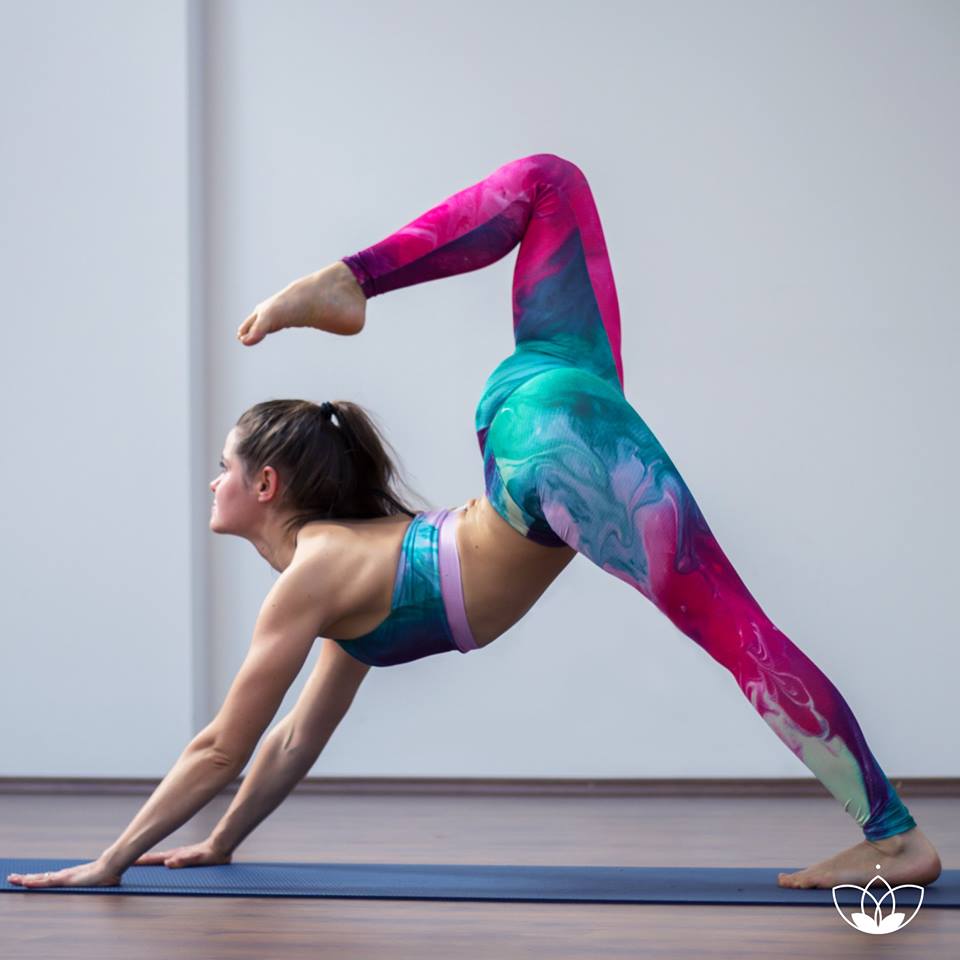 Beautiful, hand-painted design in action. (source: yoginess.sk)
LAPAJ – FOR THE ULTRA STYLISH LITTLE ONE


We totally want those Tees. Do they make them in adult sizes?! (JK – we know it's just for kids) (source: LAPAJ Facebook)
Why do adults get all the fun? LAPAJ is slow fashion for kids using bio materials. Adorned with cute animal and fruit patterns in subtle colors, these little clothes boast a simple cut and high quality fabric and stitching. The pieces are comfortable and functional – which any parent can tell you is a MUST – but also really charming and somehow hip. The tiny beanies and sweatshirts have a laidback feel to them, almost mirroring fashionable skater wear.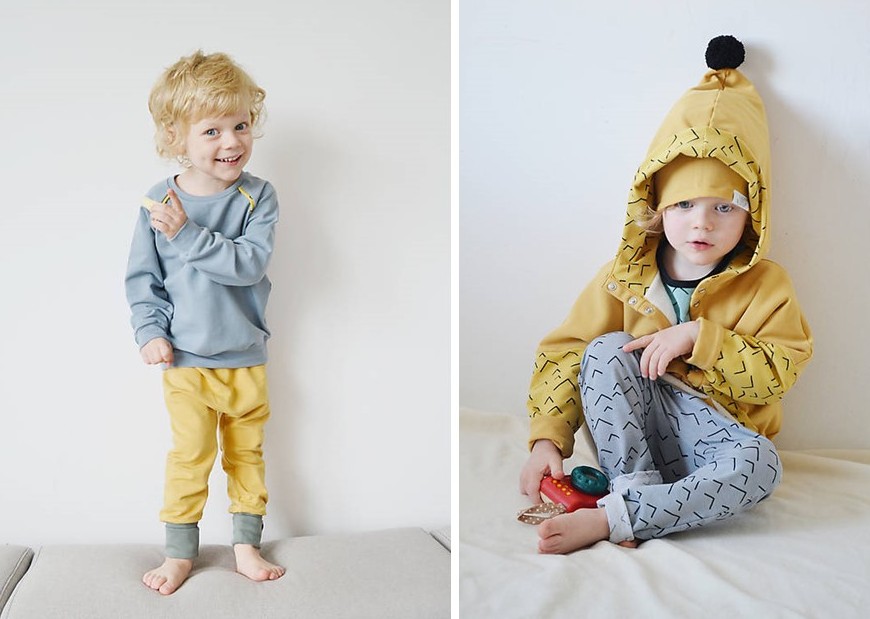 Are you kidding us?! Look how hip! (source: Sashe.sk)
Don't be fooled into thinking these clothes are just for boys: the models you'll see on the LAPAJ site are the designer's own sons, hence the many pictures of them. But girls and boys alike will look perfect in these gender-neutral colors and prints. Also, look, we get that kids don't actually want clothes for Christmas. But their parents will truly appreciate this gesture. And you can feel great knowing you're investing in bio, handmade clothing from right here in Bratislava. It's a win-win (for the adults, at least).
Find her designs via Sashe, the Slovak portal of handmade products, or at various markets in the city.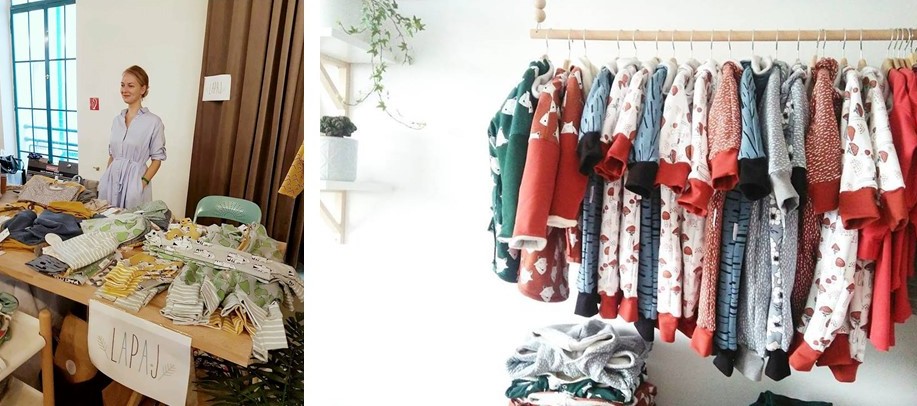 A real mother of two little ones designs and hand sews all the amazing clothes herself! (source: LAPAJ Facebook)
BIO KRASA – FOR THE BEAUTY ENTHUSIAST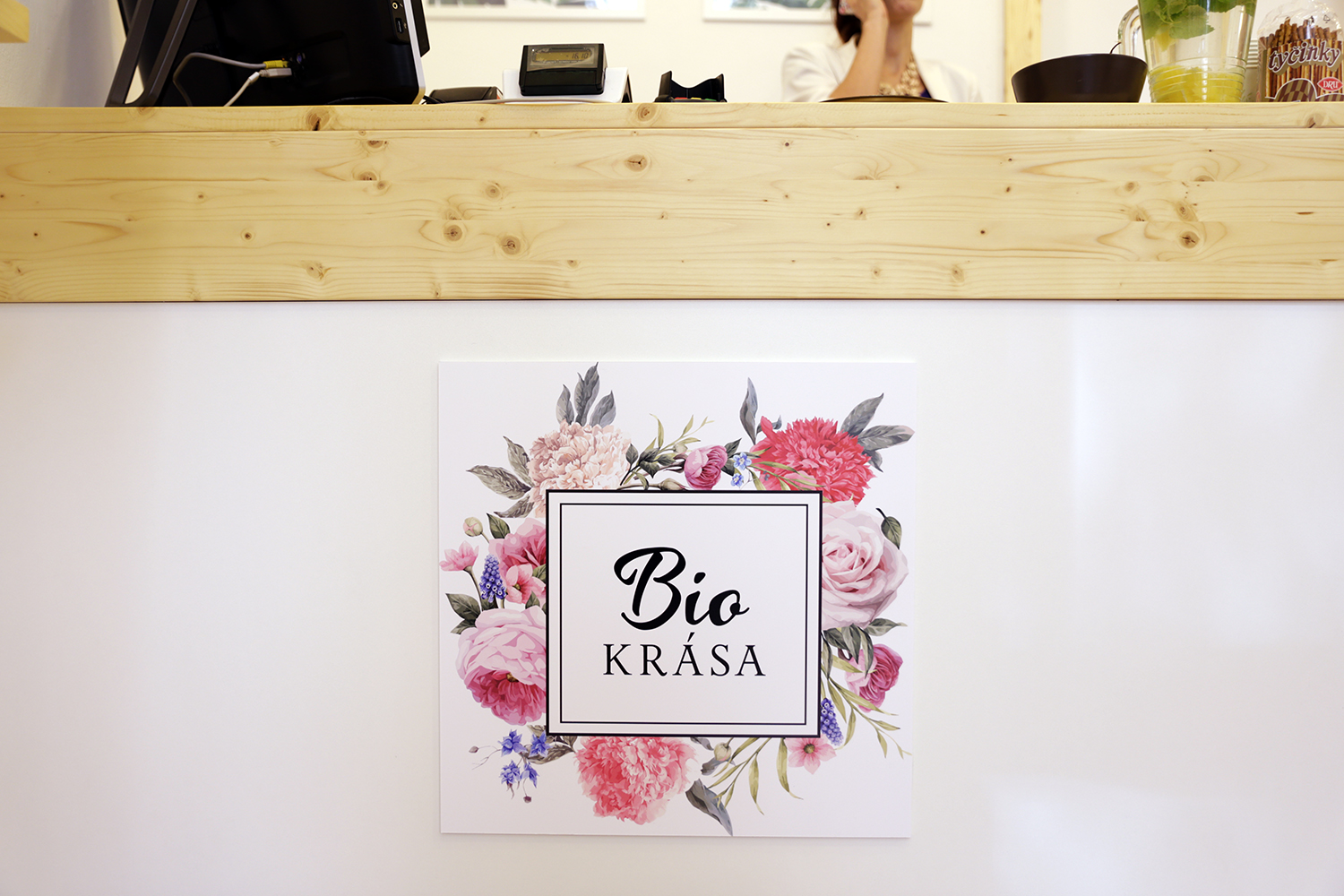 We feel refreshed already. (source: BIOkrása)
Being a team of women isn't a prerequisite for loving beauty products, but the WtoB crew loves beauty products! And with the holidays coming what better for the lovely ladies in your life (and adoring men) than a gift of beauty and pampering. Especially one certified bio (organic) and locally made.
Founded in 2014 as an e-shop exclusive, BIOkrása added a brick-and-mortar store specializing in exactly that: bio products for the body, skin, and hair from Slovak and Czech manufacturers (and of course Italian and French – it is a beauty shop, after all). Katka Bošiaková, owner and shopkeeper, sparked her interest in bio body and skin care with her initial drive to stick to natural foods and remedies. She even tried creating her own organic makeup! "I wasn't satisfied with my work and so I decided to make my own online store and showcase new brands that Slovaks didn't know," she explains. "I imported a new French brand, then I started to cooperate with young Slovak brands. Then I found ZAO make-up and got an exclusive distribution contract for SK and CZ." That changed the game.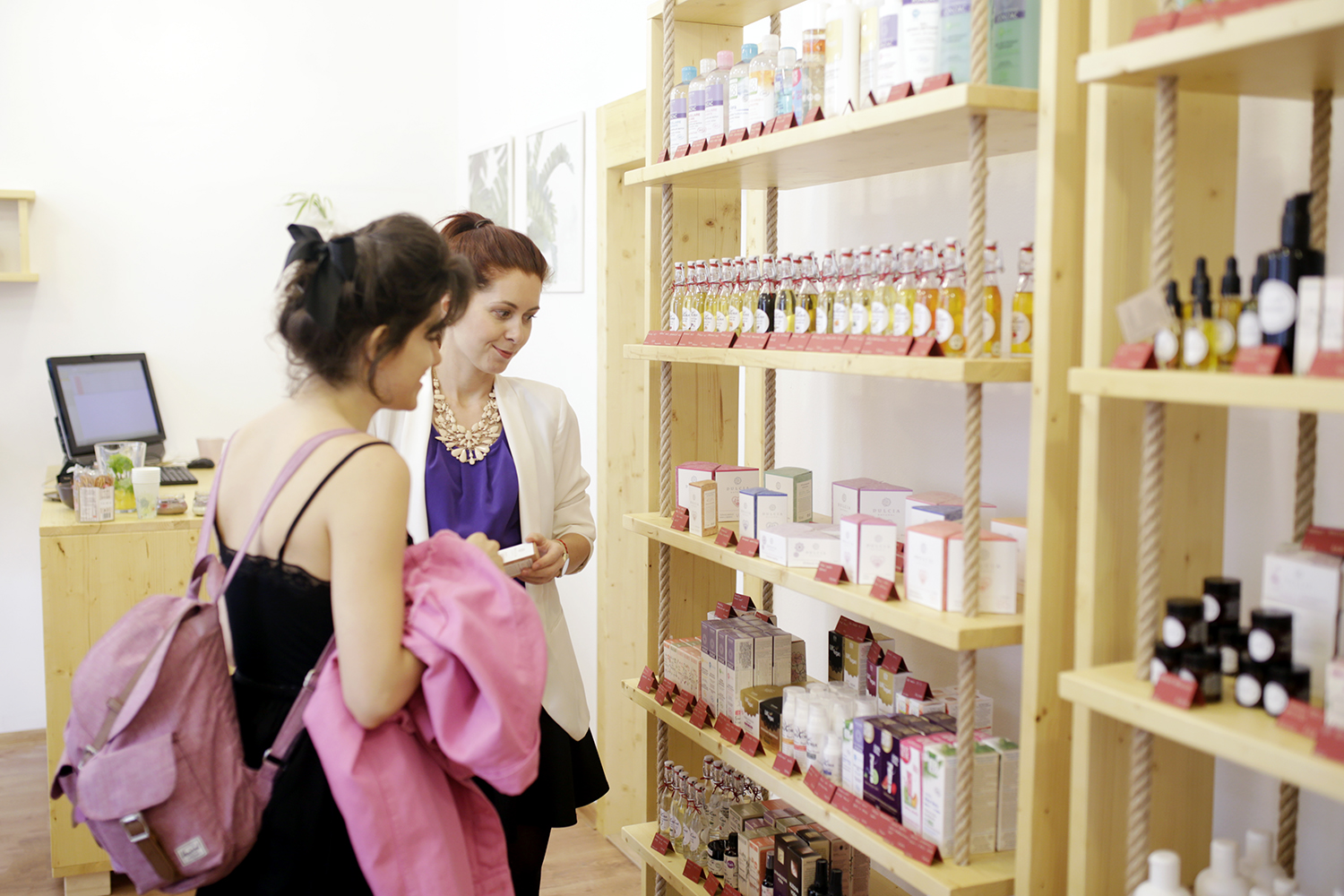 Founder Katka Bošiaková will advise you on local products, such as Dulcia, in her sun-drenched shop. (source: BIOkrása)
We love the idea of gift-baskets during the holidays and the products BIOkrása features would be ideal for a "Mani-Pedi" themed gift or a "Home Wellness" kit. The Slovak line Dulcia is a favorite amongst Bošiaková's clientele base, notably the 100% natural Rosehip Cream (it smells so good!). We recommend the Navia line with its full range of beauty items such as their coffee skin mask for reinvigorating tired skin or cinnamon night cream for rehydration.
P.S. BIOkrása sells products specifically for men and children, too. And if you want to do some holiday shopping in your PJs, you can still order from the online store or Facebook link.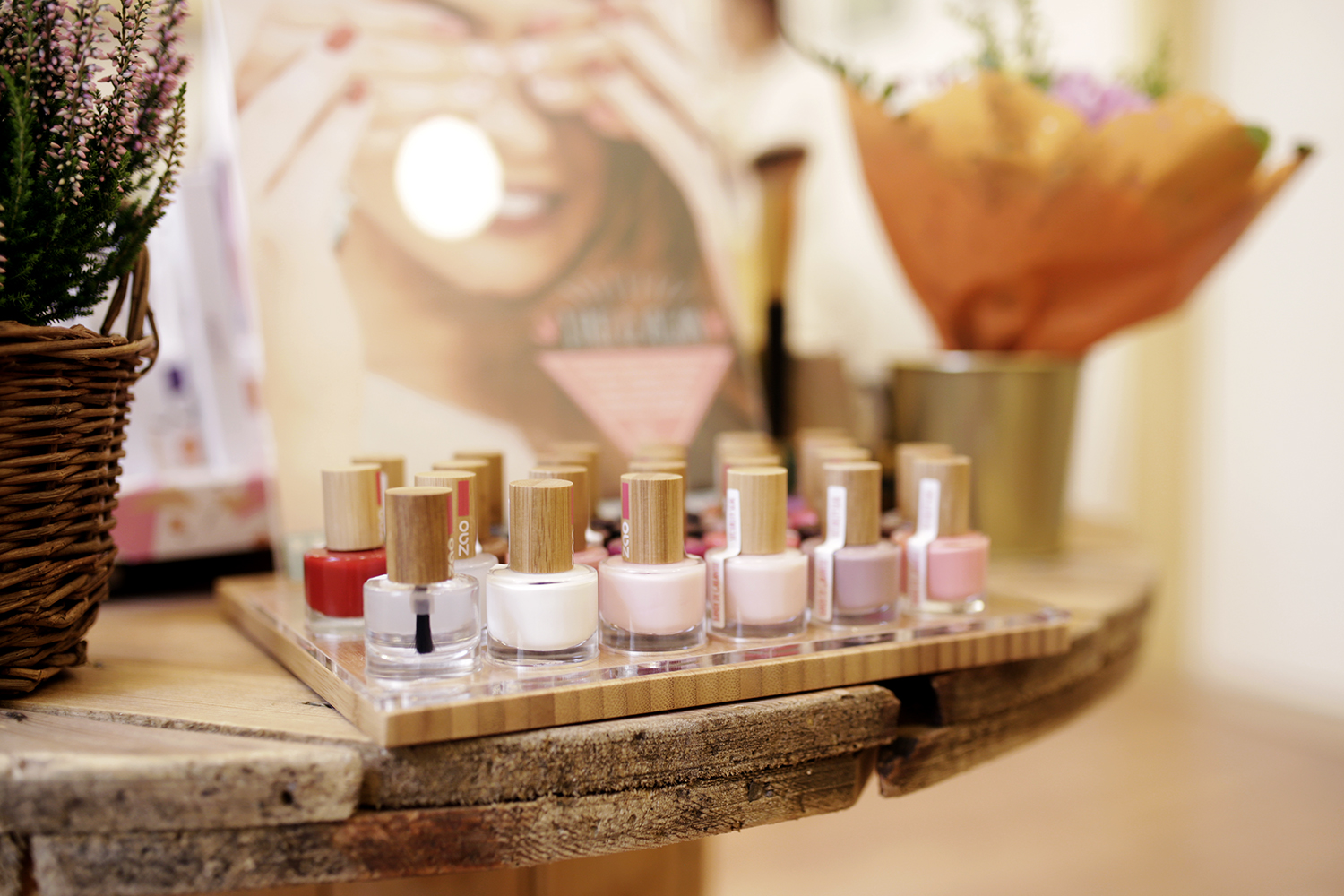 All natural nail polish in on-trend shades and modern packaging make these babies a perfect stocking stuffer or gift-basket find. (source: BIOkrása)

 ADDRESS:  Dohnányho 7


 OPEN HOURS: MON-FRI 10:00-18:00


 CONNECT: Webpage, Facebook
TINA MINOR ILLUSTRATION – FOR THE FRIENDS AND FAMILY THAT LOVE ART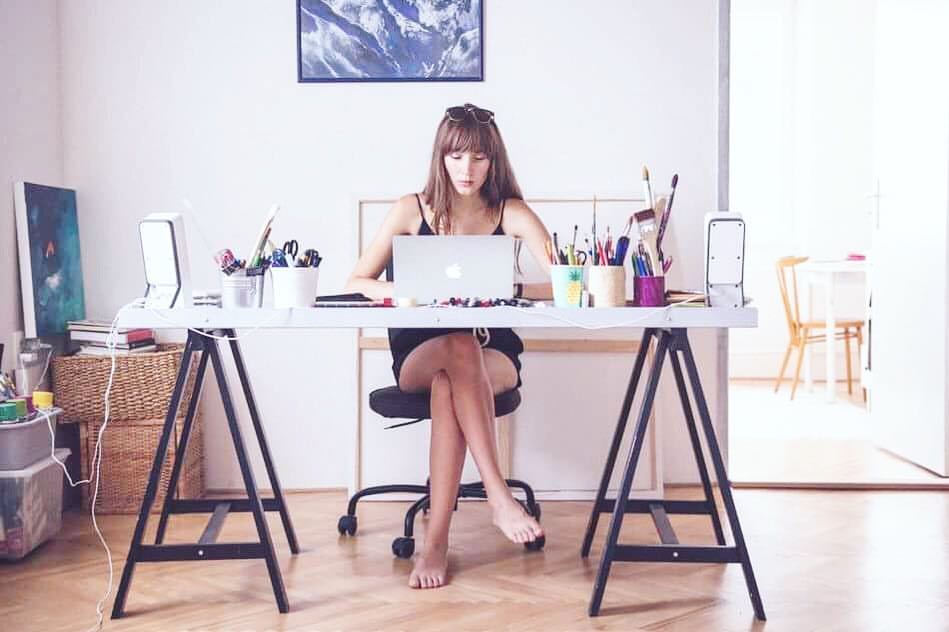 In the studio with illustrator and copywriter Tina Minor.  (source: Tina Minor)
The WTB teammates are suckers for out-of-the-box gifts, so to speak, and we are very fond of the idea of commissioning original, one of a kind artwork for our loved ones this season. Or any really special occasion, for that matter. The portraits and illustrations by Bratislava artist Tina Minor are ridiculously perfect for such a gift. Not only is this a deeply thoughtful present idea (boyfriends and husbands take note!), but is guaranteed to be a gift no one else in the world has anything exactly like.
Minor's work is another gift idea we really like for new parents: she takes classical works of children's art or a cherished picture of your child and transforms them into hand-drawn and painted art prints for your home or office. Adults and couples benefit, too! Minor is often commissioned to create portraits that are quaintly stylized, yet realistic down to the finest detail. To achieve this unique aesthetic, a mixture of ink,  watercolor and occasionally acrylic paint are carefully applied over her original ink and pencil sketches.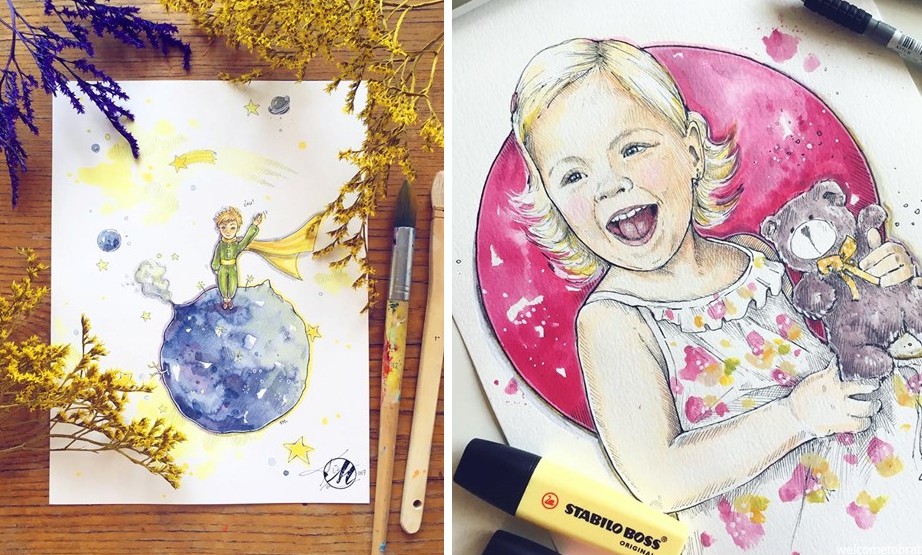 The Little Prince or your own little princess would make delightful works of art for a child's bedroom. (source: Tina Minor Facebook)
As to her work's signature esthetic? "I am inspired by stories I heard once," she reveals, "by fairy tales I read when I was I child, by illustrations I saw in these great books for children. My favourite shape is circle. It's my inspiration in the creating process. I perceive this form as a compact, aesthetic and harmonizing element." The viewer is also swept away to this calm, magical world, because this reality is imbedding into her work: "When I am in my artistic mood, I am in my fairytale reality –  where Good always wins, where Beauty is the boss." We couldn't agree more.
For now, original artwork can be ordered by contacting Minor directly via Facebook, email, and her website. Recently, and we are so thrilled about this, she has launched an e-shop, too, where you can order digital prints of some of her favorite pieces.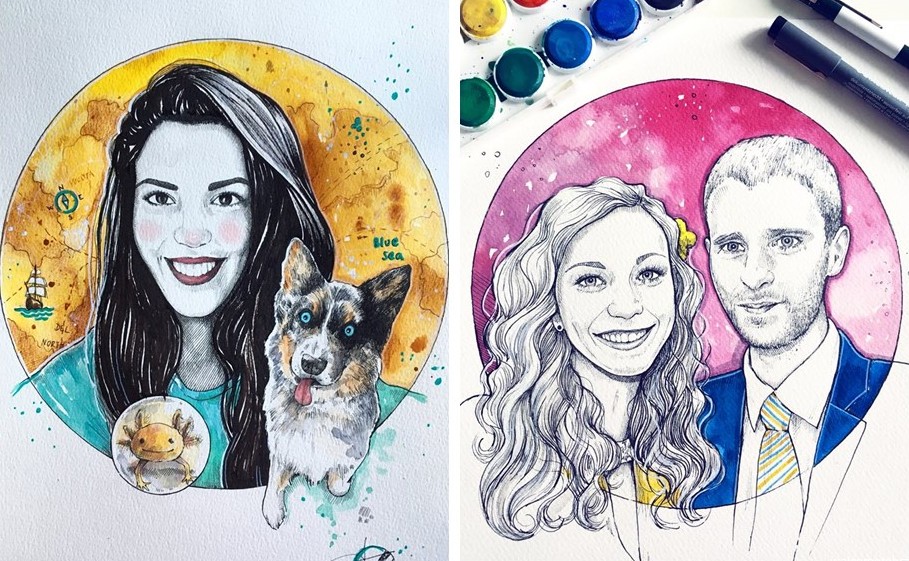 "I enjoy drawing portraits of people. I can capture the essence and magic they often have no idea they have." (source: Tina Minor Facebook)

 CONNECT: Webpage, Facebook, E-shop
ULUV GALLERIES & SHOP – FOR THE ADMIRER OF FOLK CRAFTSMANSHIP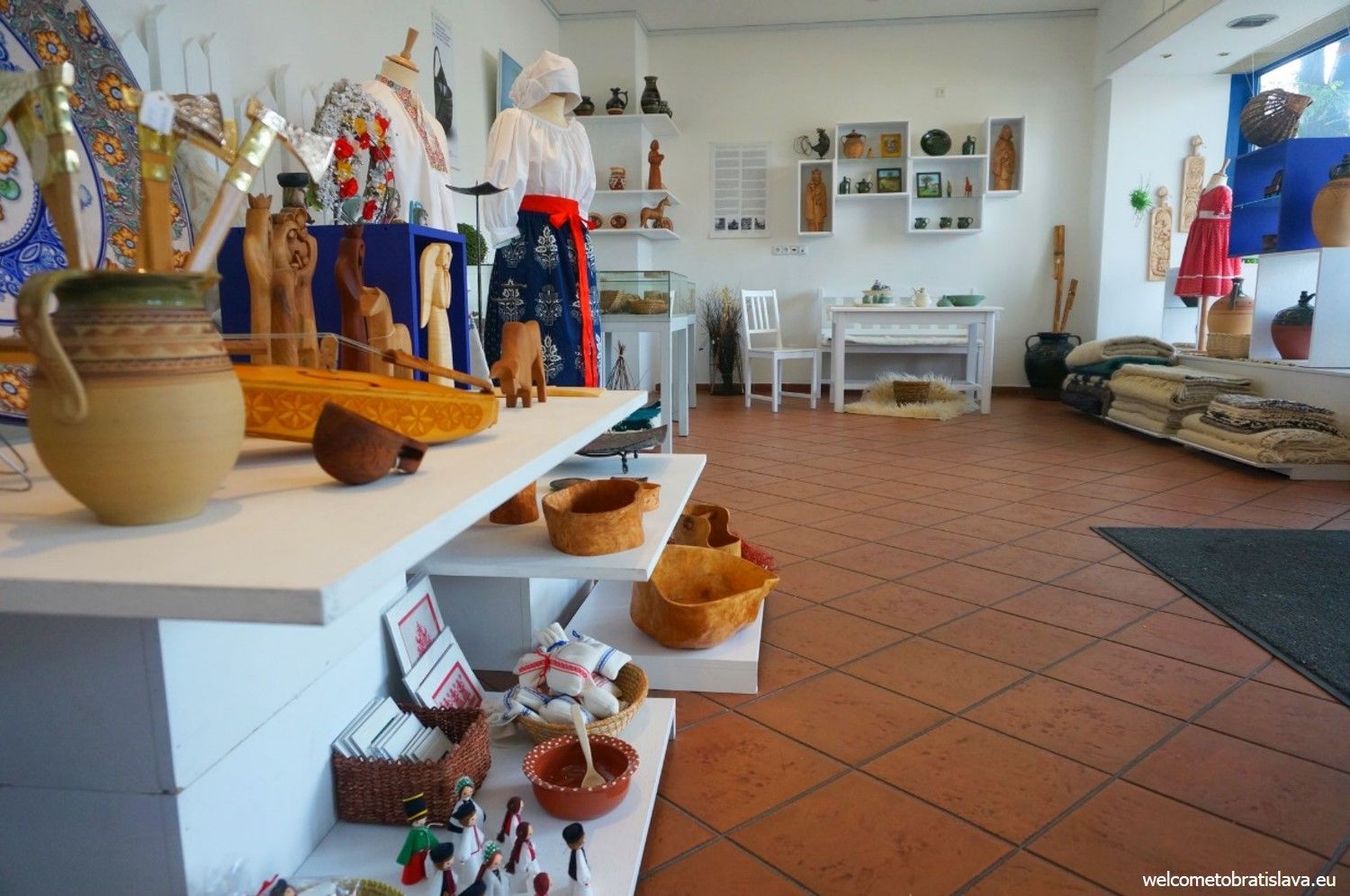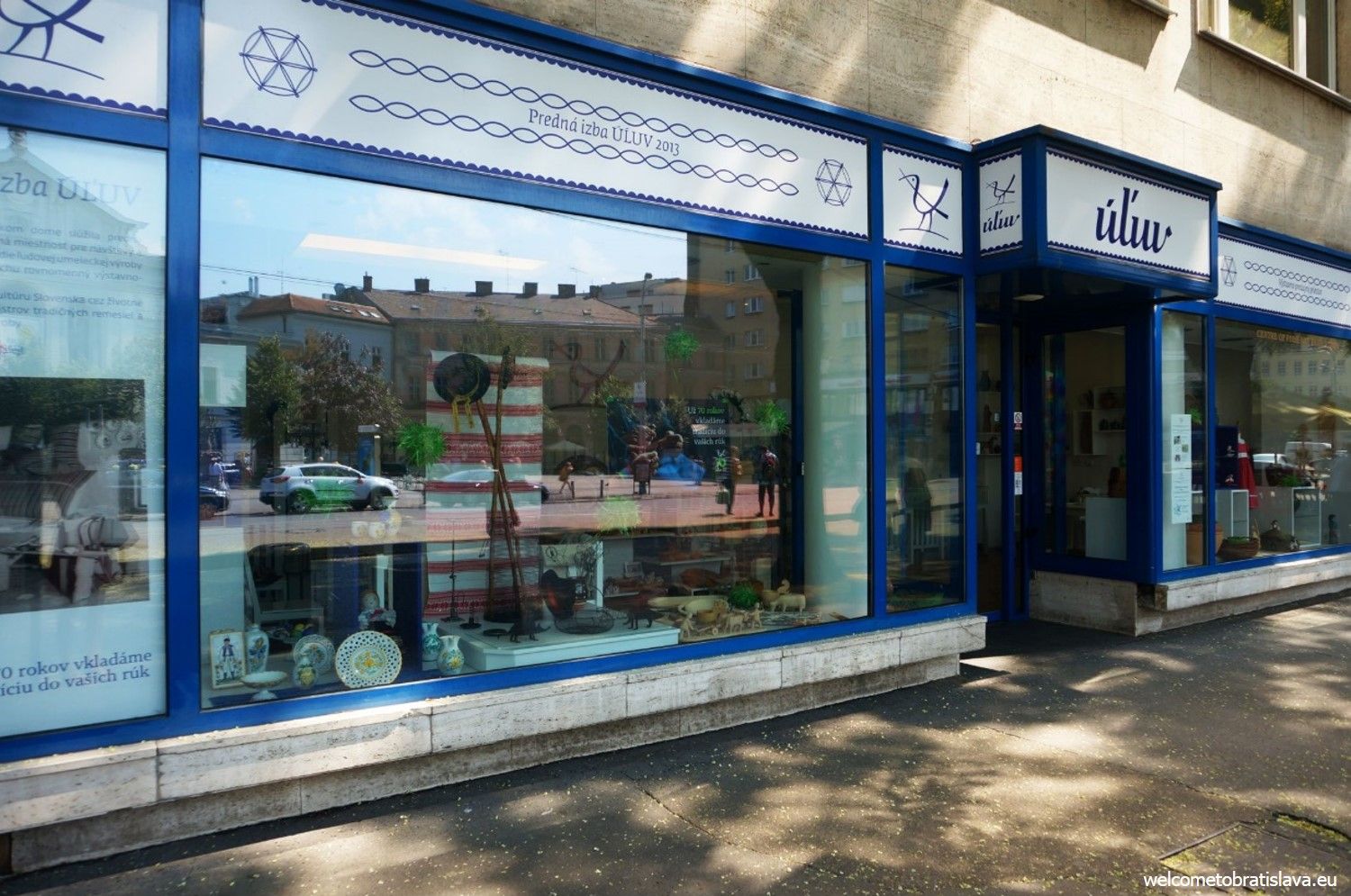 A sampling of traditional craftsmanship for sale; the store front window facing SNP Square.
While it's tempting to duck into the first gift-shop you see to source traditional Slovak pottery and crafts, be warned: while the pieces are most likely "hand made in Slovakia" they may also be mass produced and the price can vary drastically for what is essentially the same plate or pitcher you will find in every shop. This has its place in the world of gift-giving, especially when you find affordable pieces you know your friends and family will just love. For the connoisseur of traditional artistic production, however, we recommend the Centre for Folk Art Production (ULUV) as the place to find the folk craftsmanship of Slovakia brought back to life. ULUV runs three different galleries, a gift shop, and even holds regular craft workshops. Welcome to the world of crafts!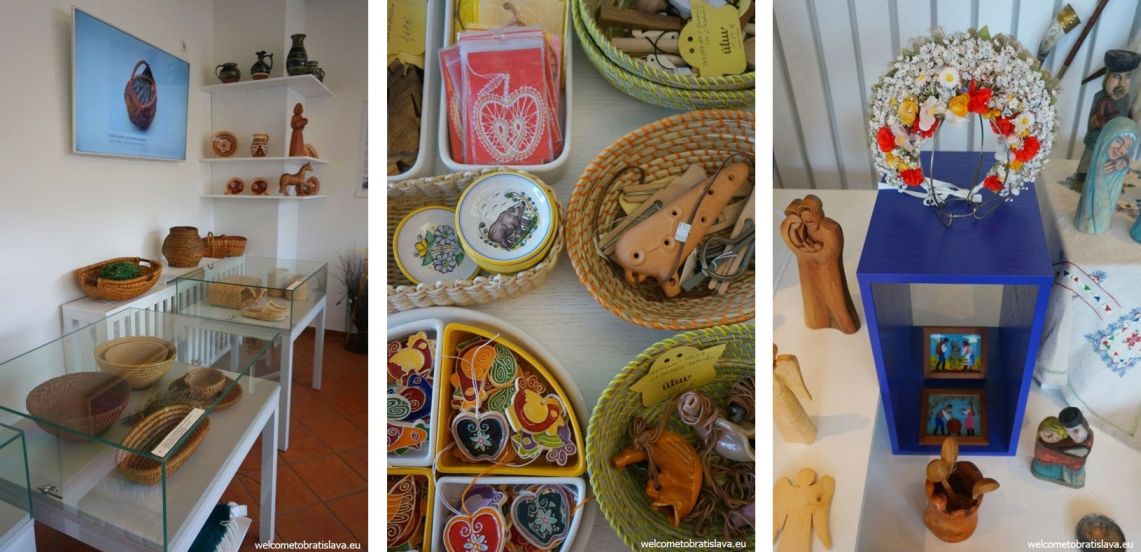 We adore the little lace ornaments and small saucers with classic folk designs. They make perfect gifts for shipping abroad!
What makes this worth the visit, you ask? ULUV is a national repository for the Ministry of Culture and functions as a nationwide center for folk art production. It has also been developing traditional crafts and folk art for 70 years now. 70! What's even better, the center supports traditional producers, designers, and students whose work is displayed in its galleries.
One of these galleries is called "Predna izba," or "the front room," and is combined with a shop – which means you can purchase almost everything you see! Here you can find true examples of folk art and traditional pottery that would make a superb foundation to a pottery collection like the ones that deck our grandmother's kitchen walls in Slovakia.
You can also purchase these unique products at some market stalls. Just keep on the lookout for that perfect piece and don't be afraid to ask questions about who crafted it.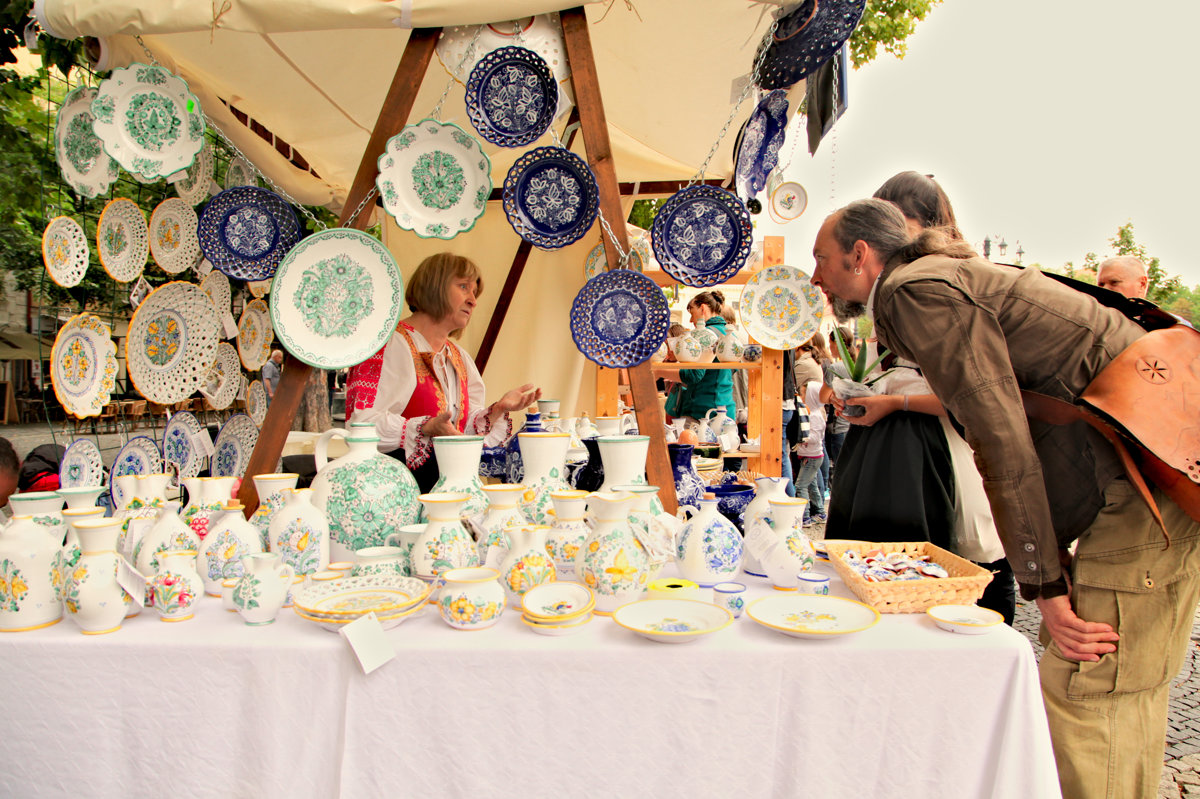 Gorgeous hand-crafted pottery on display during the Days of ÚĽUV Masters. (source: spectator.sme.sk)

 ADDRESS: The Front Room Gallery & Shop, SNP Square 12


 OPEN HOURS: MON-FRI 10:00-18:00


 CONNECT: Webpage, Facebook
SLAVICA – FOR THE ADMIRER OF MODERN CRAFTSMANSHIP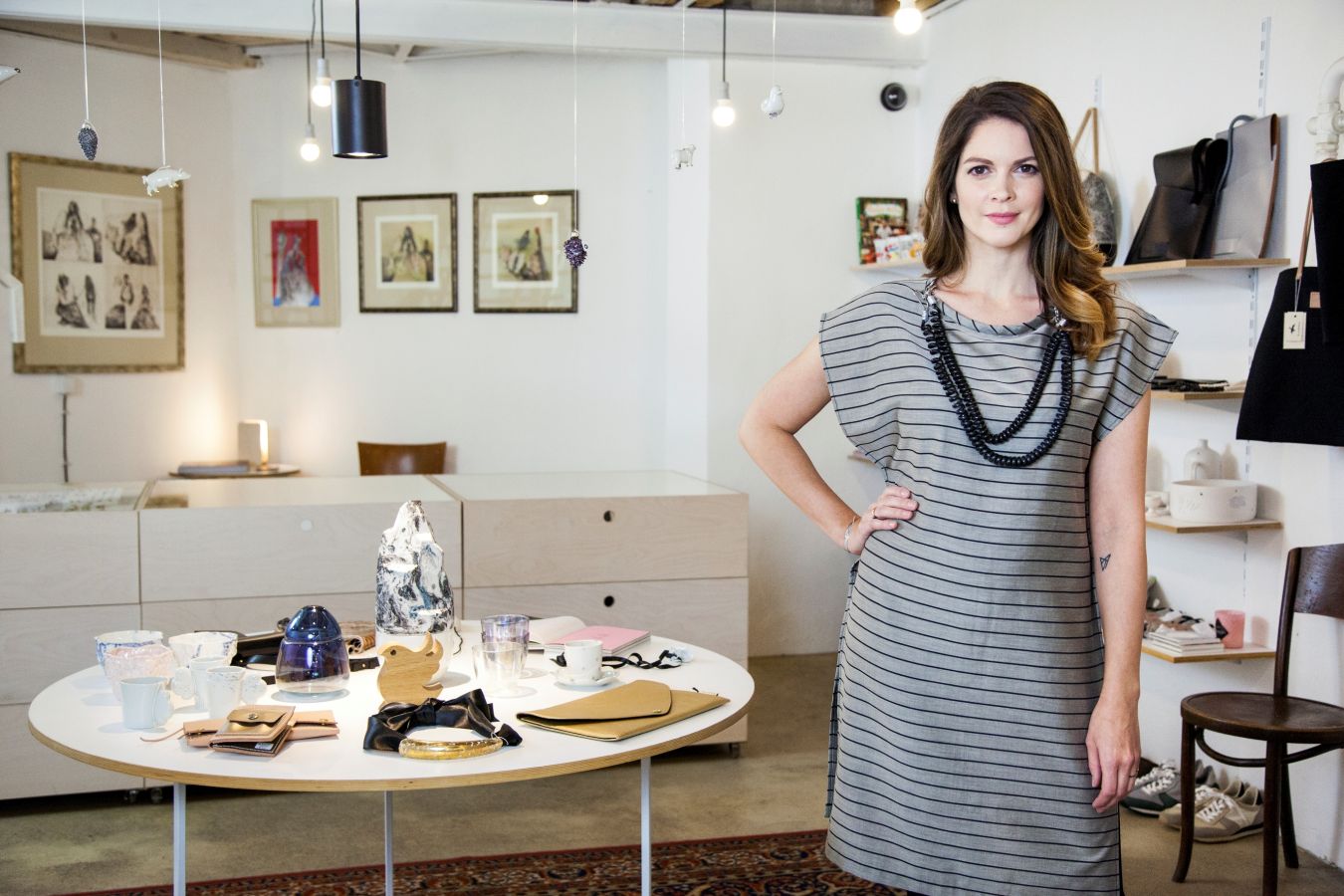 Juskova's shop has an art-studio feel that inspires ideas on how to display everyday objects like art in your home. (source: kamzakrasou.sk)
Slávica, the unique retail shop offering original and quality products made in the workshops Slovak and Czech designers, is an ideal place to find contemporary touches for you home. And we think your friend's and family's homes, too! Prepare to be charmed by the cool interior with super high ceiling where functional everyday items are chosen for their success as design objects.
The owner of slávica, Ivica Jusková – former Beauty Queen of the Miss Slovakia competition, economics major, and mother of two (we know, she's incredible!) – describes her carefully selected product assortment as "things that have a soul." And you can feel it in the air – the items mix and match effectively in the store as they would in your home and feature beautiful clothes, bags, shoes, ceramics, porcelain and other accessories. "Maybe it sounds like a cliché," Jusková says, "but inner peace brings me family and love. When this area of my life is in harmony, I am also. When a person is balanced and happy with himself, he radiates it all around. This is the [vibe of this] shop space. And I believe that what we are sending out, we get back too."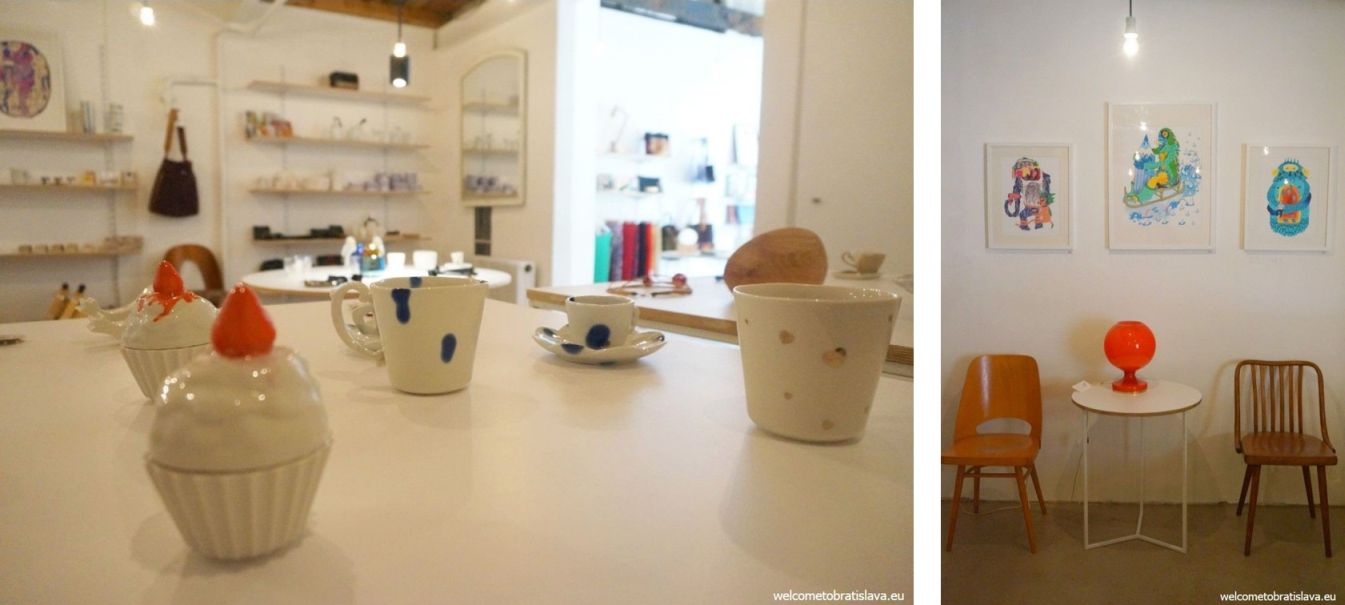 Servingware such as cups and saucers are a regular find here – we could fill up our entire kitchen with them if we could.
The personal approach to customers and designers definitely adds to the good vibes, as well, and we love coming here for heartfelt gifts or even window shopping. And you can make sure that by paying a visit here you will always be spoiled by the ample choices in sophisticated design items that are glamorous, yet retain an urban feel. But don't just take our word for it: slávica won first place in the CEZAAR 2016 Architecture Prize in the Interior category!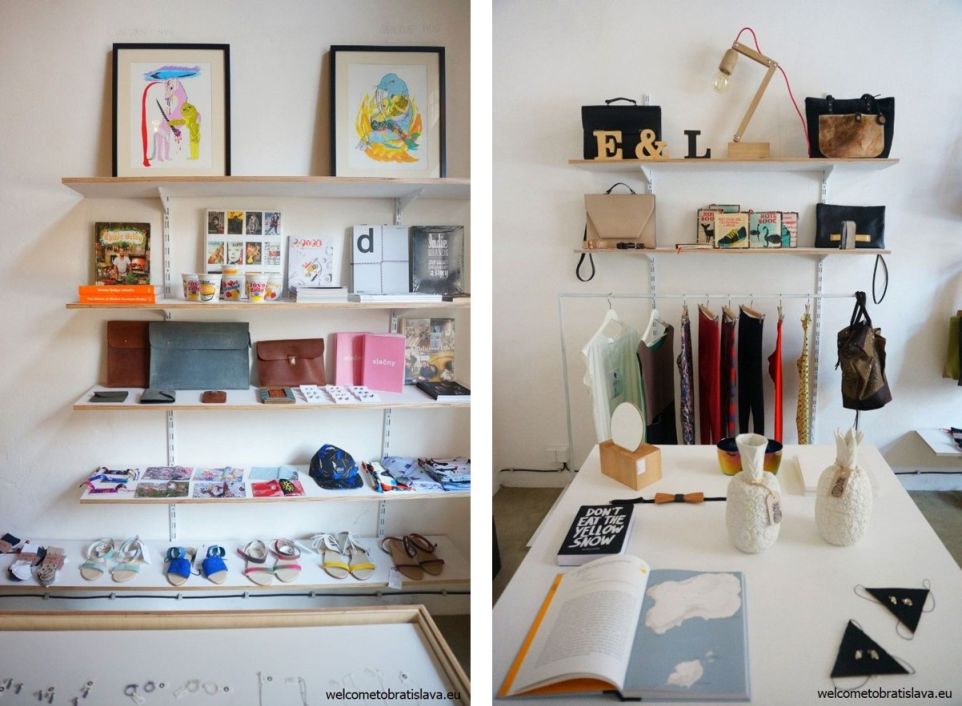 A selection of handmade jewellery and home décor from independent designers can be found here, too.

 ADDRESS:  Laurinska 19


 OPEN HOURS: MON-SUN 11:00-20:00


 CONNECT: Facebook
CERA MEL HONEY SHOP – FOR THE GOURMAND WITH A SWEET TOOTH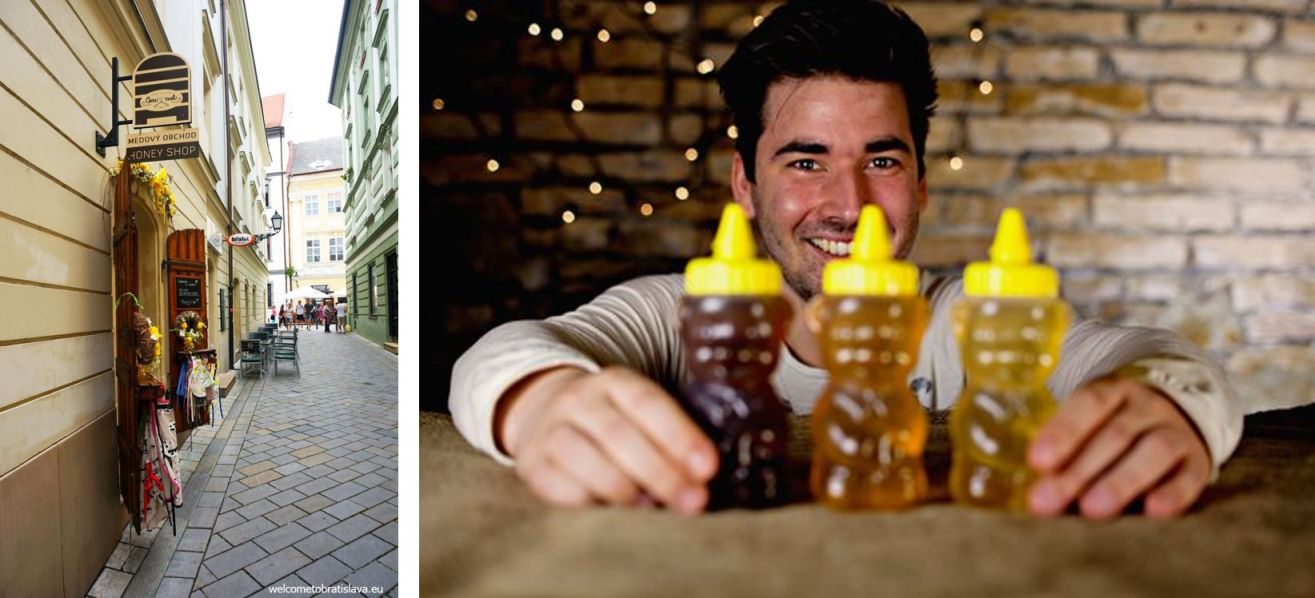 The friendly Filip inviting three family-made honeys into our hearts. (source: medovyobchod.sk)
Looking for a locally produced gift from Bratislava? Spend a few minutes browsing the shelves at the Cera Mel honey shop and you'll definitely find something that hits the spot.
This honey shop is located deep in the heart of Bratislava, on Biela street. It is owned by a family that have been beekeeping for several generations and own and operate several shops, one of them being Cera Mel. Quality honey and various products made from it will definitely make a splendid edible present that can be enjoyed year-round. Healthy and delicious products from local hives are packed in cute small jars and if you stop by, you have a chance to test out some of the samples they offer and choose the flavor you like the most.
We advise trying several flavors and choosing the one that suits your gift-recipient best: cocoa, strawberries or pineapple in creamed blossom honey, acacia honey with vanilla or cinnamon and prunes – each flavor profile is unique and tells the person, "I know just what you like!"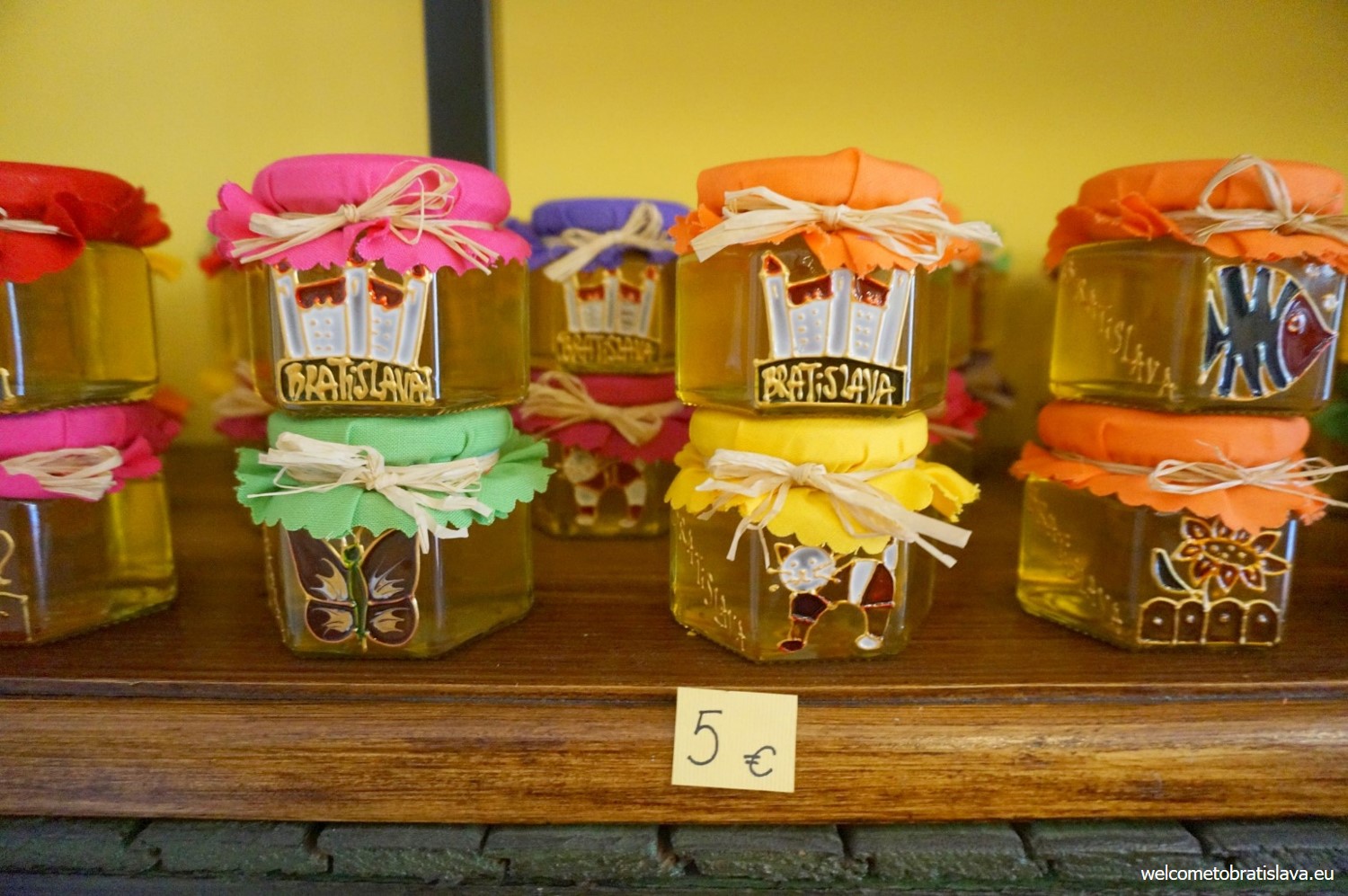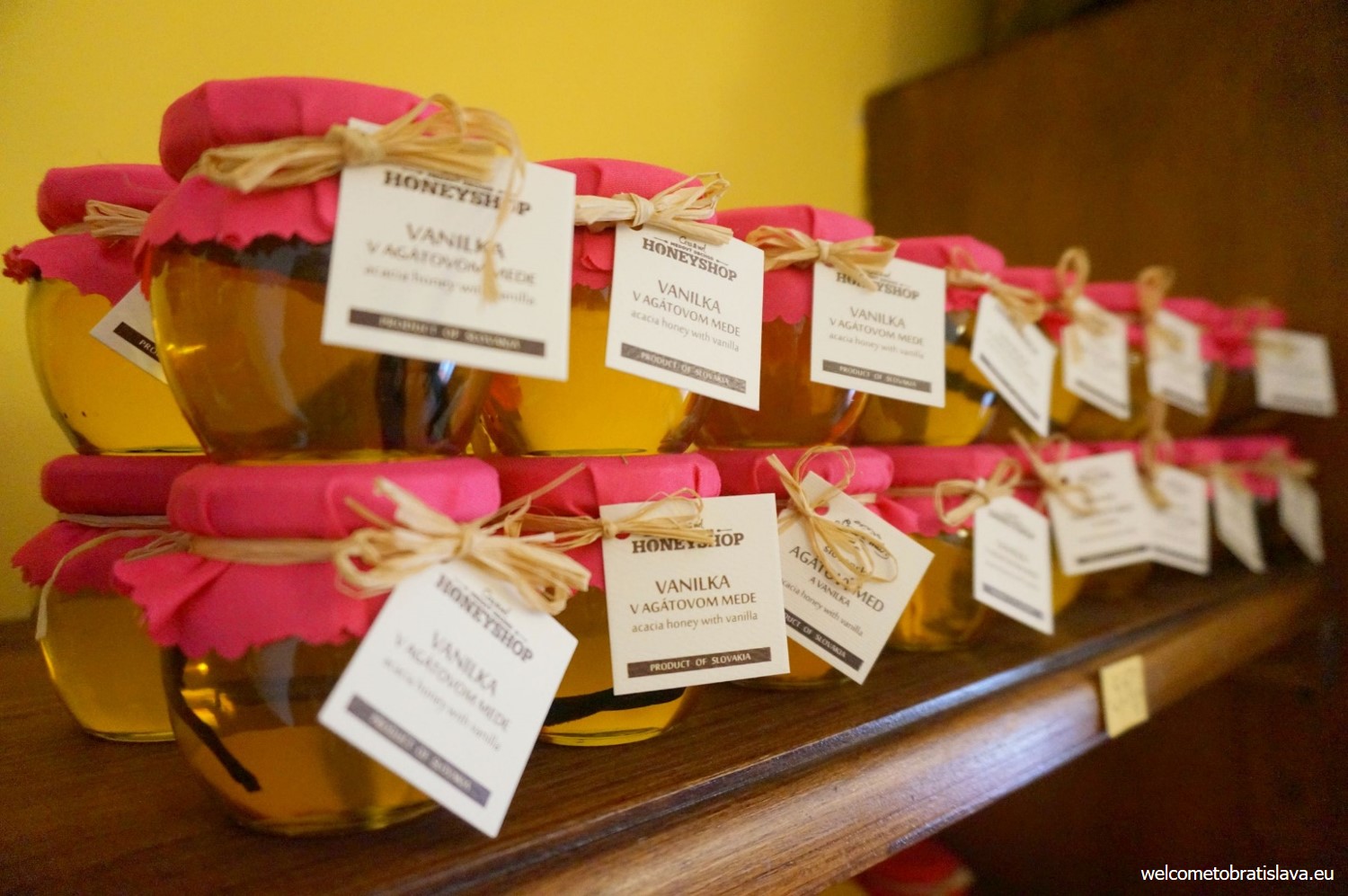 Talk about cute packaging – we're dreaming about gift-baskets again…
Ceramic honey jars and cups, candles, and cute souvenirs from beeswax are sold here in addition to pure honey. And because it's Christmas you have the perfect excuse to pick up a bottle or two of metheglin. This is the alcoholic liquor made of fermented honey, often containing a spice or medicinal substance (so, you know, it's good for you). Or treat yourself to medovina, a sweet honey wine that is just as delicious cold and crisp in the summer as it is spiced and warmed watching the snow fall.
Tip: Their online shop sells pre-made holiday gift packages! While the site is in Slovak, Google will translate the page for you, making ordering easy.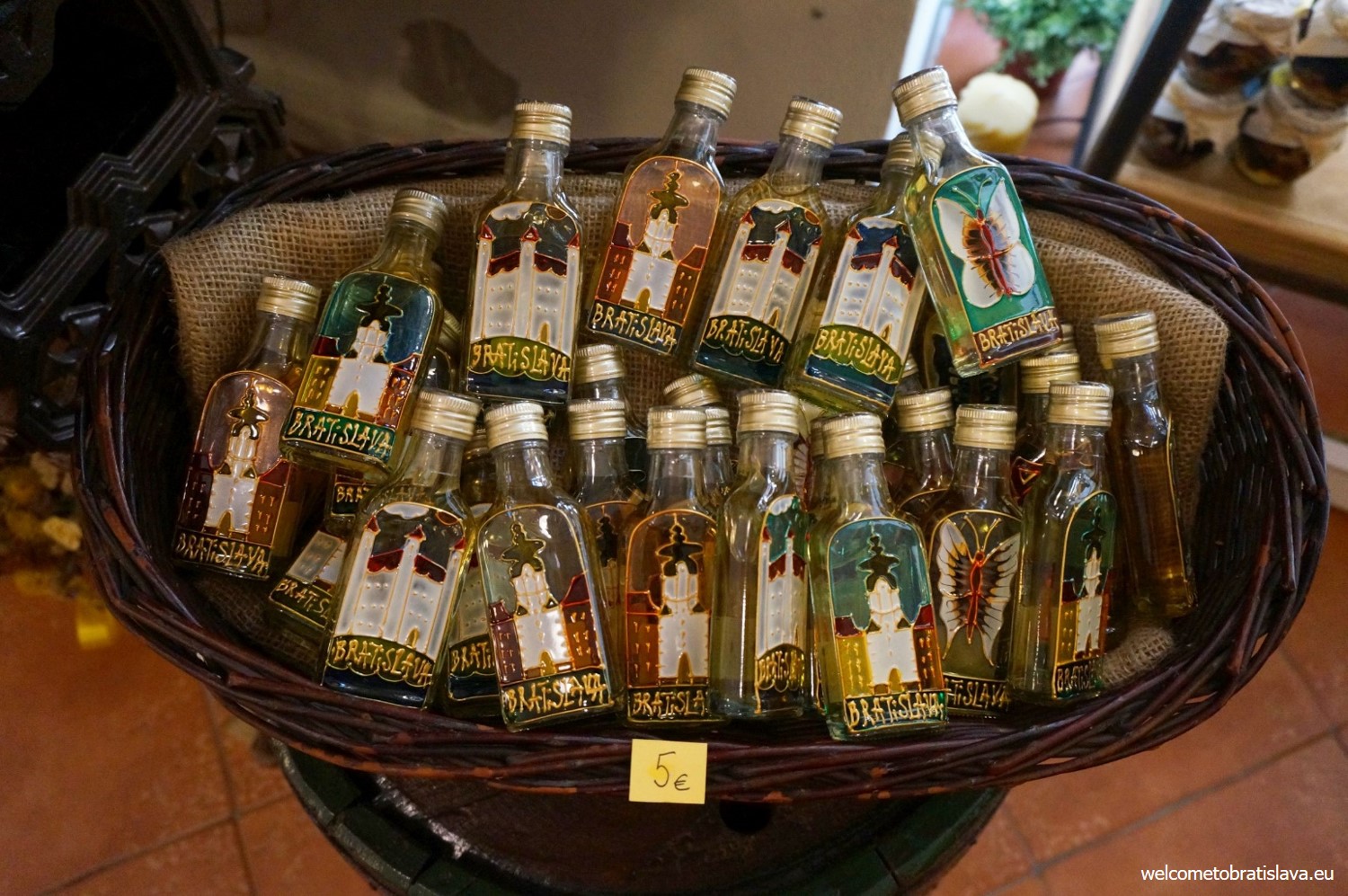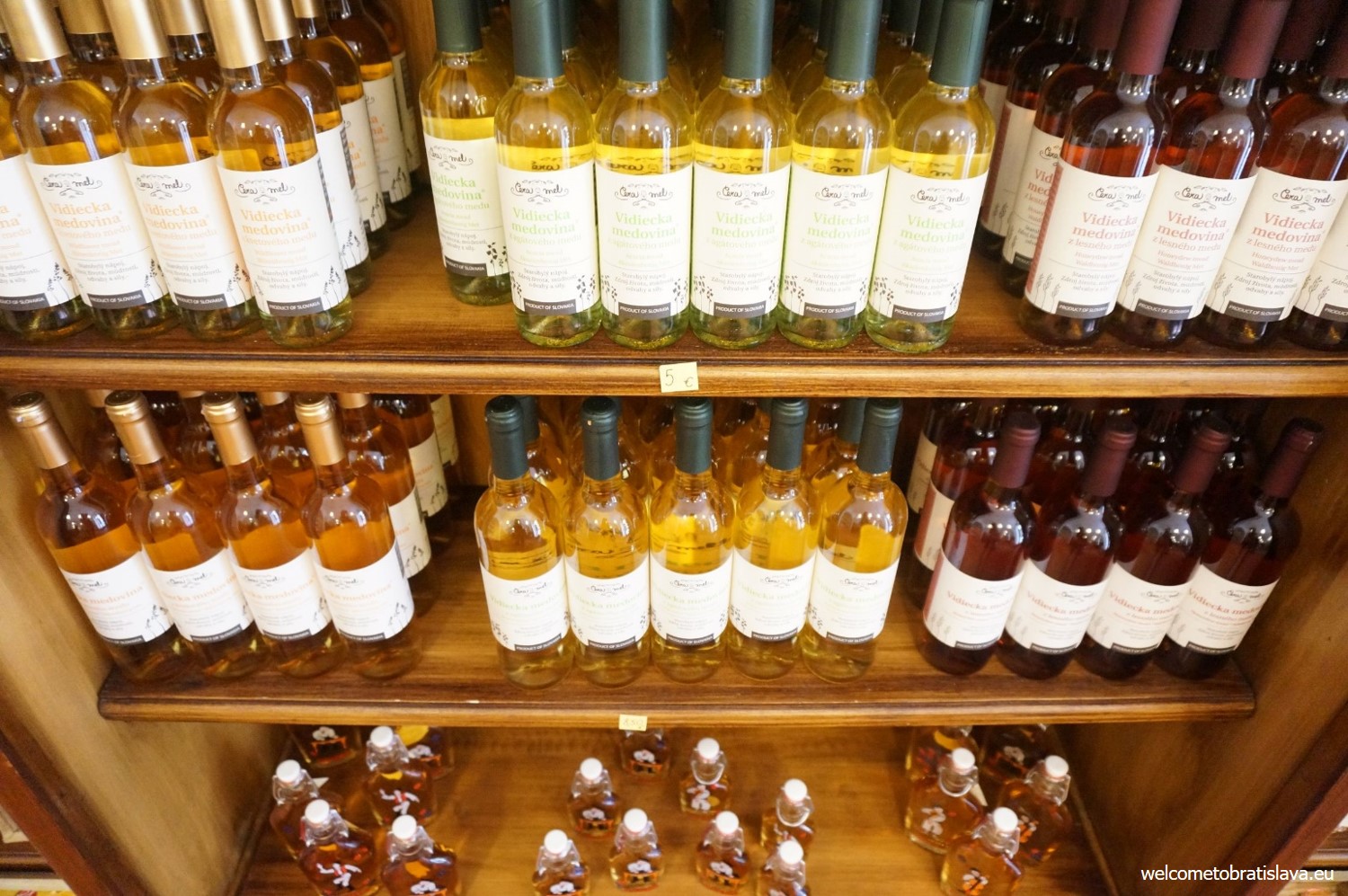 Let a sip of metheglin or warmed medovina restore you during the chilly holiday season.

 ADDRESS: Biela 4


 OPEN HOURS: Daily 10:00-19:00


 CONNECT: Webpage, Facebook
AZIMUT – FOR THE SOMMELIER (OR ANYONE, REALLY!)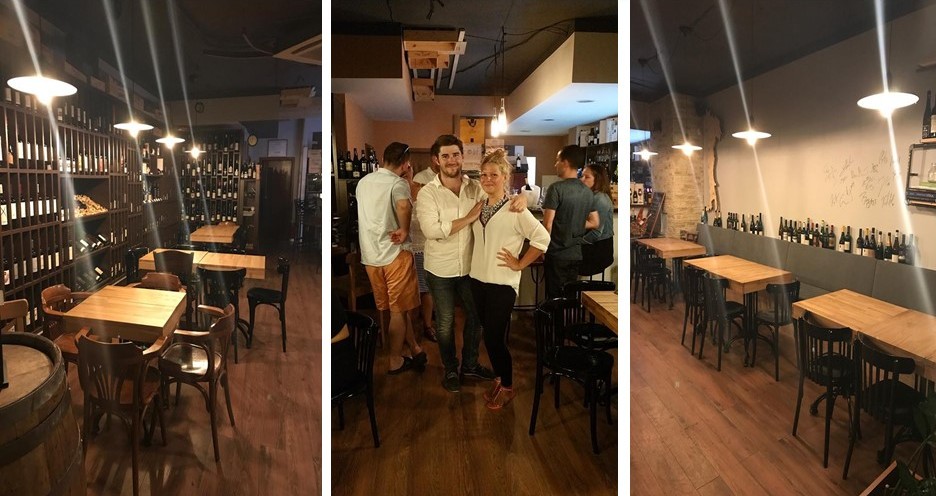 Brother and sister team Lubo Bogar and Simona Bogárová are here to answer wine questions, but also to ensure you feel right at home. (source: Azimut)
Remember when we advised you to pamper yourself a little during this crazy season of shopping and merriment (and the stress that brings)? Right. We have a special neighborhood wine shop where you can do just that. Tucked away on tree-lined Jégého Avenue is the inviting Azimut. Opened in 2015 and operated by siblings Lubo Bogar and Simona Bogárová, this wine boutique is not only an excellent place to unwind while snacking on fresh charcuterie and enjoying distinctive (and affordable) wines by the glass – and it is that, trust us – Azimut is an unconventional yet brilliant place to do some holiday shopping.
After all, this isn't just gift-giving season. It's holiday party season!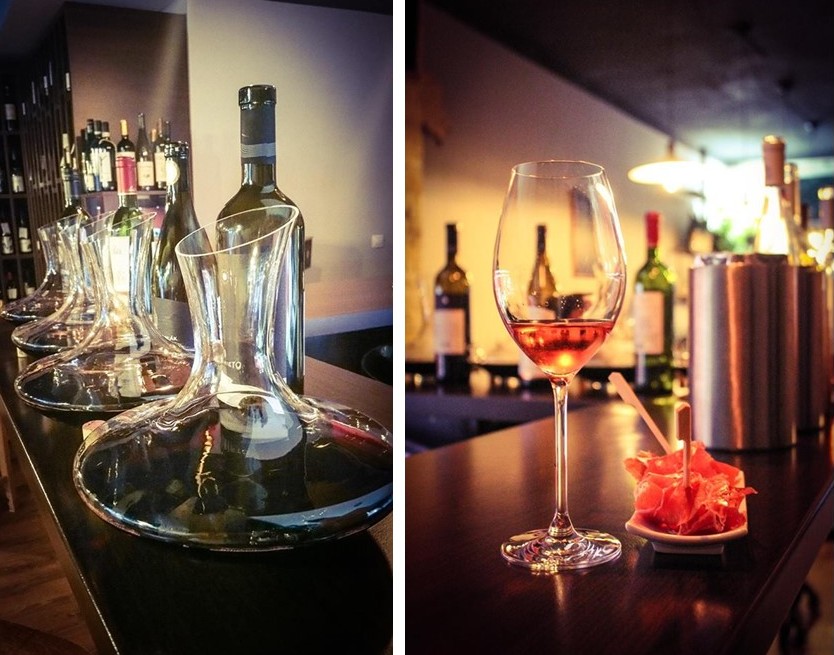 In addition to buying wine or spending a relaxing evening at the bar, you can also host events – but book ahead. Space fills up quickly! (source: Azimut Facebook)
What we find particularly enticing about the gift of wine is that for most of us it represents joyous, gastronomic festiveness. Depending on your budget and enthusiasm, vino can serve as that perfectly neutral – yet thoughtful – housewarming or Secret Santa gift; or, it can be an incredibly personal gesture that highlights your understanding of someone's tastes. We also think Slovak wine is drastically underrated and love introducing our wine drinking friends to its merit.
A current favorite is the Zámocké Vinárstvo Šimák Edícia series from one of Slovakia's top winemakers, Roman Janoušek. This is a new project for Janoušek, who is known for producing high quality and powerful wines, and so far the results are fantastic. "Šimák Edition" is a reference to Šimák Pezinok Castle and the Pezinský Chateau where the winery is located. These wines are relatively limited in production size at only 250-thousand litters currently produced, so the fact that Azimut carries this line is a treat. We suggest the Rizling Rýnsky – a Rhine style Riesling – with its deep yellow-green appearance and citrusy, exotic nose. The Cab Rose is equally delightful, boasting a wild strawberry and preserved gooseberry bouquet and a refreshingly acidic finish.
You can buy bottles (and in-stock cases) of these and other incredible Slovak wine via the shop in person. For your friends and loved ones living in Bratislava, they also sell handmade gift cards – a more portable option if your bags are full to the brim or you're not quite sure what bottle to choose.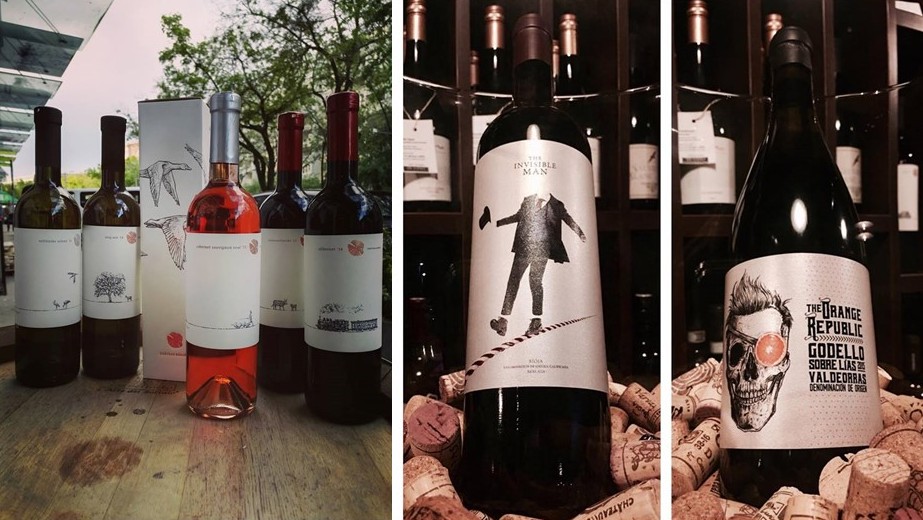 Lubo works closely with local wine purveyors and there are always great finds here, Slovak or otherwise. (source: Azimut Facebook) 

 ADDRESS:  Jégého 10


 OPEN HOURS: TUE-FRI 17:00-22:00 SAT 18:00-22:00


 CONNECT: Facebook
Author: Jennifer Brown