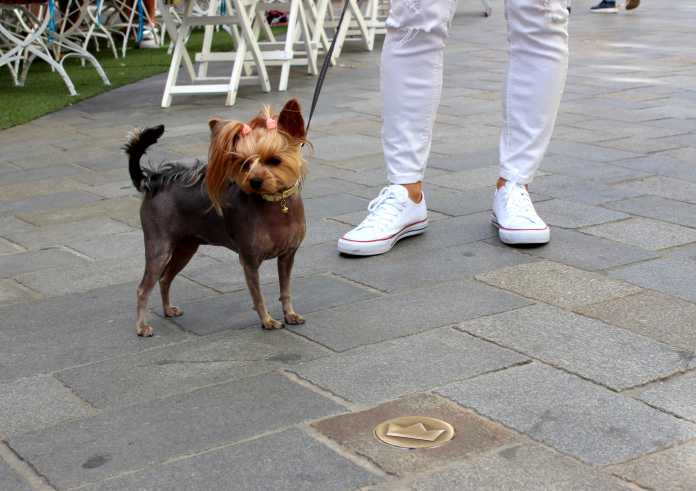 Do you love to bring your dog everywhere with you? Do you like cats but cannot have one at home? Bratislava is making many improvements to become a pet-friendly city. Here are our few special tips for pet lovers you maybe do not know about. Try out some of these extraordinary places or activities!
CAT CAFÉS
MAČKAFÉ
Mačkafé is a friendly coffee place on Zámocká Street right under the castle! Apart from the friendly service, good coffee and tasty lemonades, you can enjoy the company of several cats here. It is an ideal spot for people who love cats but cannot have one at home for various reasons. Thanks to the good location, it is often visited by foreign travelers and thus English language friendly.
The personalities of cat residents differ, so you can enjoy playing with the active ones or gently stroke the others. The rules of the café are written at the entrance (and available online in English, too) to ensure that both visitors and cats feel comfortable here. The aim of this place is to help abandoned cats in need as well as help people to relax in a nice atmosphere. We have to confirm we felt amazing here! Get ready for an expert team of cat therapists (Leon, Kubik, Timo, Frida, Foxie, Izzy, Černica and Mucko)!
MAČINÉZY 
You can see at the personnel of this cat café that they simply adore cats. And you will for sure immediately love the atmosphere of this cosy coffee place. They have lovely interior, tasty coffee and amazing cakes. The cats (currently Gigi, Marlenka and Simba) live in a separate room here, where only a limited number of people is admitted at a time to ensure that no stress is caused to the furry residents of the premises :) Our feeling was that they are cheerful and playful and satisfied with their home. And all of them are available for adoption!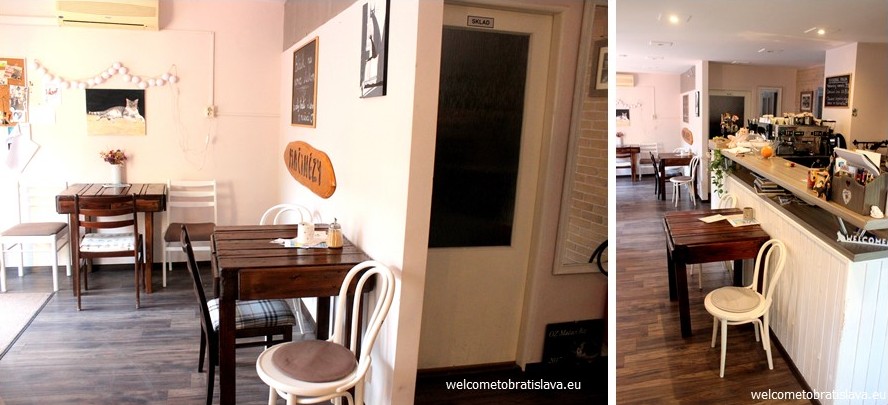 All cats here are saved from the streets and apart from saving these, the owners organize regular events to help street cats and various Slovak NGOs helping animals. One of the favourite initiatives is a regular flea market – all the earned money is divided among several "animal NGOs". A steadily growing community has risen around this place. You will need to step out of the historical center to experience this lovely cat place but we promise it is worth it! 


 CONNECT: Facebook 
DOG CAFETERIA
HAFPARK/MLSKAFE
This dog cafeteria is an absolutely special place. It is a coffee place where they serve cakes for dogs. The idea is just amazing and we have a proof that dogs love these treats! We humans can only admire their visual but our dog friends testify their great taste :D And so you are not just sadly looking at your dog eating, they have also human coffee and cakes here :)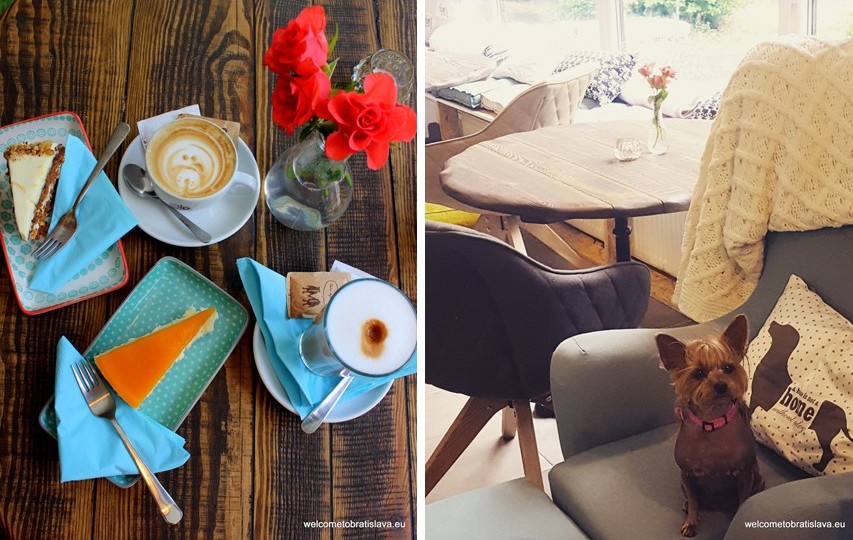 Mlscafe relocated from the Old Town to bigger premises in Petržalka. If you have a dog, hurry up to try this spot out!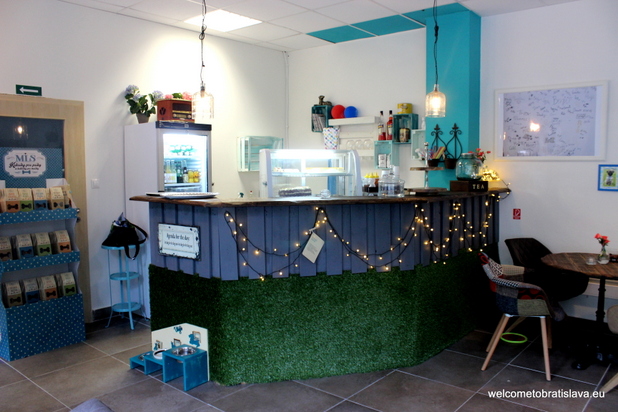 CONNECT: Facebook 
DOG TREATS BAKERIES
MLS

MLS is a bakery where all the goodies served in the above mentioned MLSKAfé are baked.  It used to have a separate location but now is part of the dog cafe. You can get not only different treats here but also order huge dog birthday cakes! All are prepared from high quality ingredients and good for your furry friends. Some of their specials are beef and blueberry sausages, chicken and beetroot sausages, banana and beef tongue treats or a dog cookie mix set. And if you become a VIP client, you can shop with a considerable discount!


(source: MLS FB site)

 CONNECT: Facebook
SUŠIENKOVO

This is an online dog food bakery with an adorable story and funny product names. Originally, the owners were baking the treats for their own dog and decided to turn it into business afterwards. Now they have two dogs and many happy dog customers. You can order the products online – they offer not only dried treats but also dog food jars and cans. And they have cans for cats, too! Their portfolio also includes toys, cosmetics and other necessary dog equipment. We give them 10 points for the creativity.


(source: Sušienkovo FB site)


 CONNECT: Website
DOG HOTELS
If you need to find a temporary home for your dog while you are away travelling, get inspired by the below list of the dog hotels. We have not tested them ourselves but found many positive references on various discussion boards:
DEWEN HOTEL
This is a family type hotel for small and middle-sized dogs. They offer dog boarding, dog walking, wellness for dogs and have a photographic studio for dogs. Dewen lies at the outskirts of Bratislava, behind Devinska Nova Ves.


 CONNECT: Website
HAPPY CENTRUM PRE PSOV
This dog hotel specializes in accommodation of the flat dogs and cats in a family style – this means all animals are placed inside a family house with a small capacity of 3 rooms, so each dog has their own room plus there is one common room. It is a cage-free environment. There are two branches – one in Lamač and one in Dubravka – the latter one has a dog saloon, too. Big plus is a special phone number for communication in English :)


 CONNECT: Website
PET HOTEL
It is located in village Jablonové (approximately 30 minutes by car from Bratislava), this dog hotel hosts small, middle-sized as well as big dogs. It also accommodates cats, rabbits and ferrets. The surrounding nature is perfect for animals and this place also offers rich program for your dog as well as vet assistance in case of need. Sounds like a nice vacation spot!


 CONNECT: Website
ANIMAL SHELTER DOG WALKING
If you love dogs but cannot have one, you can "borrow" a dog from an animal shelter and walk him instead! You will do a good deed as the dogs are placed normally in a cage and need regular movement. For this you will need to have a "dog walking licence" – this is a kind of a registration paper with the animal shelter based on your ID card which they will issue on the spot for a small fee. After each walk longer than 30 minutes you will get a stamp in your licence.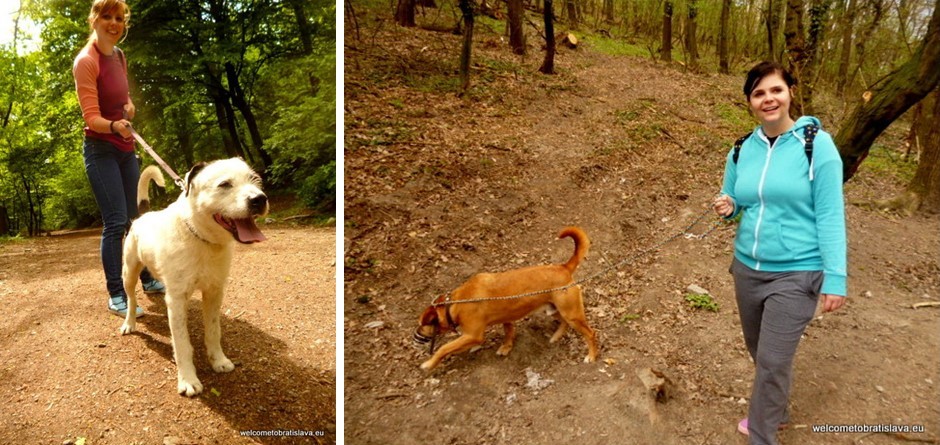 You can ask the personnel to pick a dog for your – there are various size categories. Usually people are less interested in walking the big doggies so if you can, take these out, please. The personnel will let you know about any specifics you should be careful about with the particular dog you are walking. There is a small forest next to the shelter and majority walks the dogs there (we have experience from walking them there only). Dogs can be walked daily (including weekends and holidays) from 12:00 – 16:30 (and until 17:30 during summer time). Our recommendation: as the animal shelter has quite bad public transport connection, go there by car preferably.


 CONNECT: Website
Author: Zuzana Mytna