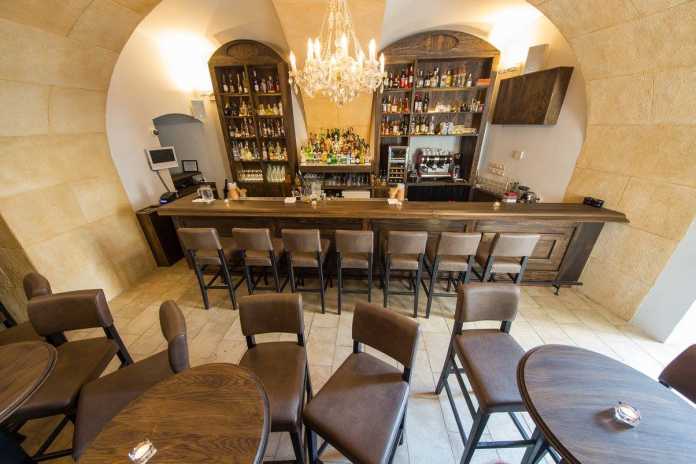 Impeccable drinks, creative and attentive bartenders, dim lights and a playful concept. This is a short description of Spin Cocktail Bar – our new favorite place when we want to have some fun with friends!
LOCATION
SPIN Cocktail Bar has a strategic location in the Old Town, at Radničná Street. Radničná connects busy Main Square with historical Laurinská Street. You cannot miss the entrance thanks to an eye-catching logo over the entrance which reminds you of a wheel. Spin – wheel – games – you might already have an idea that this place will be a lot of fun! No gambling involved though :)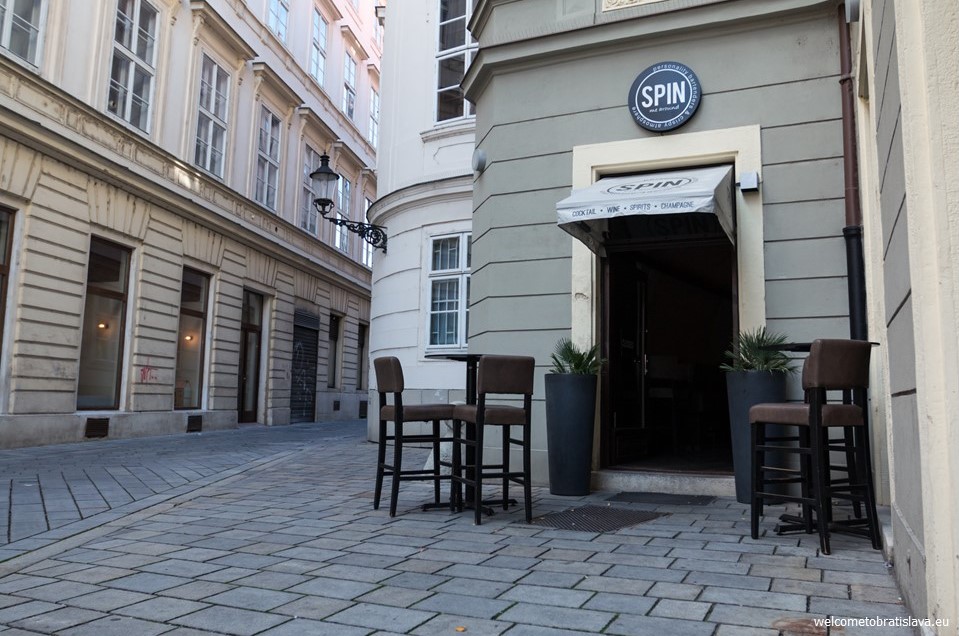 INTERIOR
The SPIN bar is tiny in its size. That seems to be the aim as in this way, the bartenders can take better and more personalized care of their guests. Thanks to the size, the atmosphere is rather intimate, everything here is designed to make sure you have a memorable night.
The space is wonderfully elegant and romantic. It consists of two smaller rooms. The front room is the main one, with the bar and suitable if you are here with your friends. Dark colors, a golden mirror and a big chandelier give the space a glorious look.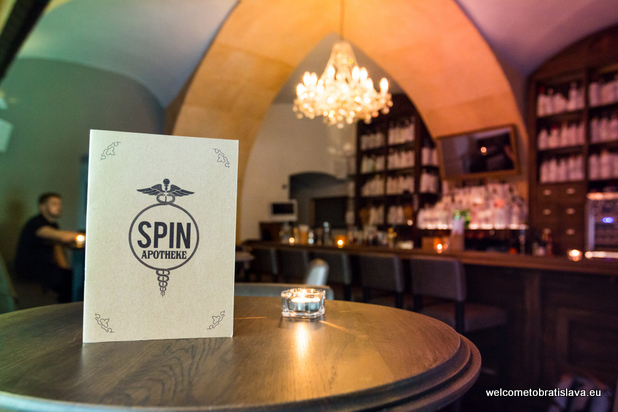 The back room provides you with more privacy which you may appreciate if visiting with your significant other.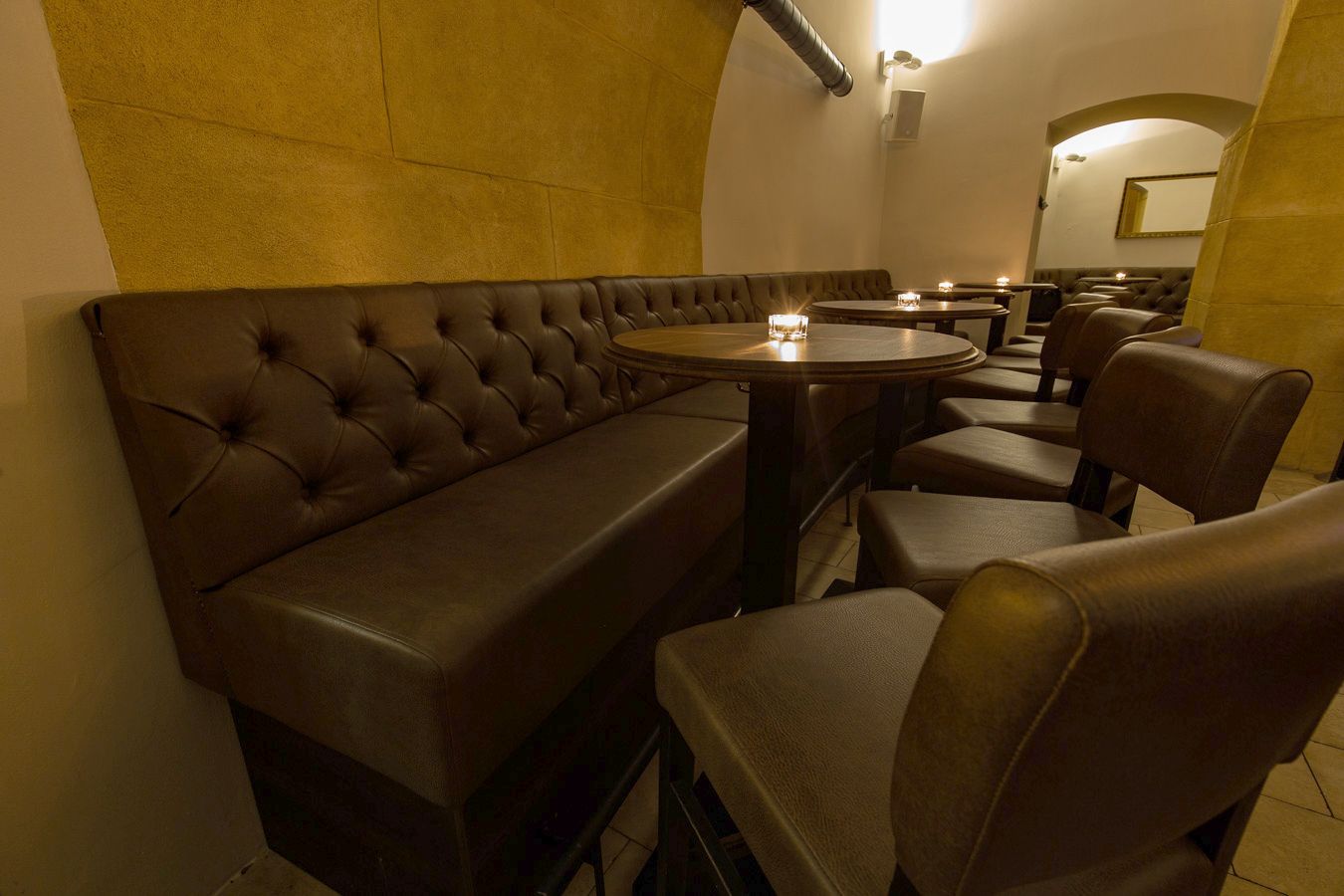 WHY IS SPIN COCKTAIL BAR SPECIAL?
First of all, it is because of its distinctive and tasty drinks! We are not sure if all of them are as good as the ones we tried or it is because of the perfect skill of the bartenders who can prepare a drink that perfectly matches your preferences. Because even if there is a menu, you can simply talk with the bartender, tell him what you like and he will either select a drink from the menu for you or prepare you something totally different. A big plus is that all the drinks are own signature cocktails developed by SPIN bartenders.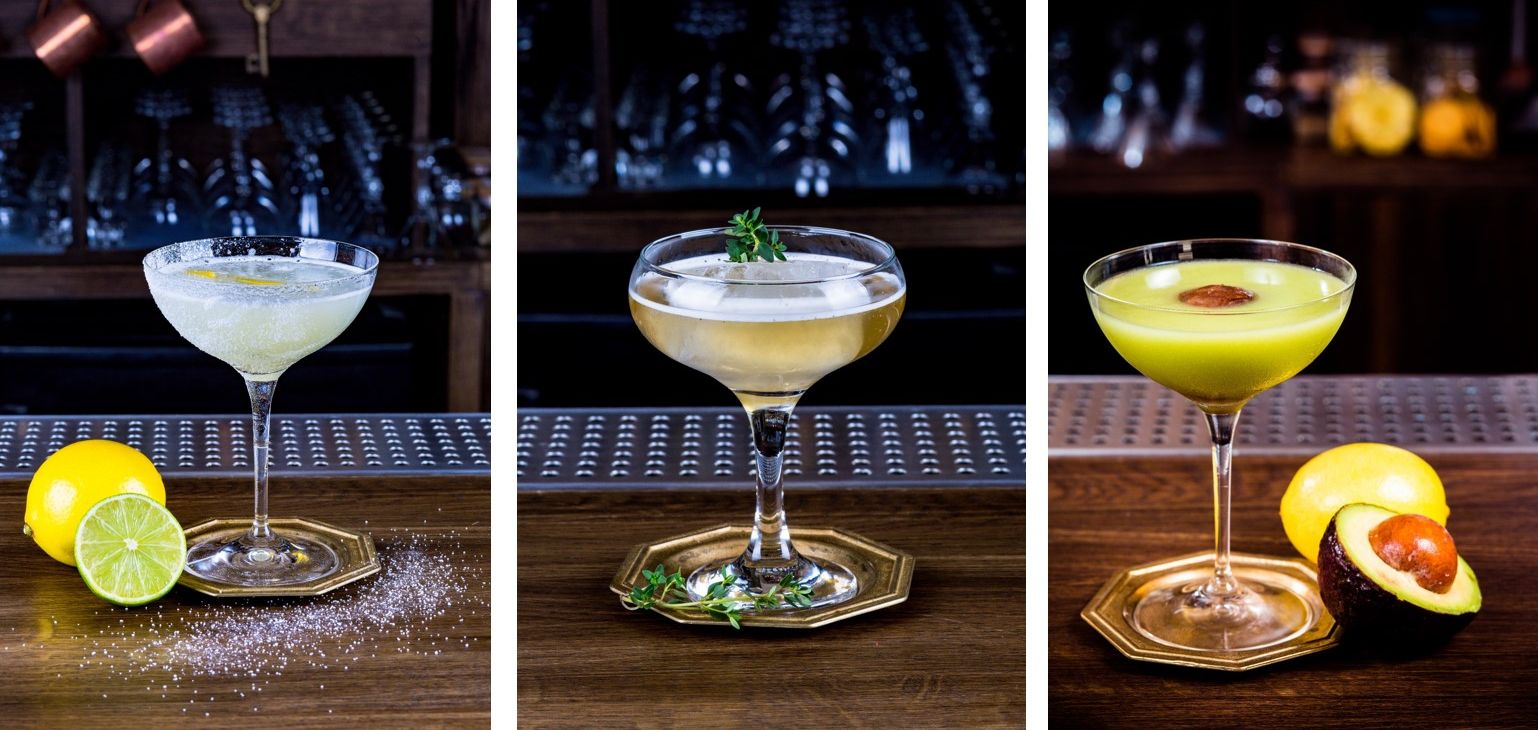 If you, however, cannot decide what to order, you can try a small tasting cocktail shot (1 € each).
Secondly, the service is smooth as silk and everything they stock is of the highest quality. The staff will always find time to check if you are satisfied and tell you more about your drink.
And why, apart from the drinks, should you visit this place? It is because of the playful concept and different games  that will keep you in a good mood throughout the night!
GAMES TO PLAY IN THE SPIN COCKTAIL BAR

SPIN YOUR SHOT – Roll a dice and SPIN invites you for a shot-cocktail. It's great if there are three of you and you roll for example number 5 – you can invite anyone in the bar to have a shot with you. This game is given as a bonus, usually after the second round of drinks, as a thank you from SPIN. You can however play it anytime you wish and order the shots as drinks (1 shot is 1,5 €).
SPIN YOUR TASTE  – known as the Dice of Fate, too – you will receive three wooden dice that will tell you which drink to order. The first of them specifies the taste of your drink, the second one its base alcohol and the third one its color. It is a great way to teach cocktail beginners about the cocktail culture and about the composition of each cocktail. The advanced cocktail lovers can try new combinations through this playful game. It is also a challenge for the bartender – to prepare something you like, even if the dice of fate are not showing the best combination! You can play this game anytime or combine it with the "Spin your shot" game when the dice tell what kind of shots you'll have.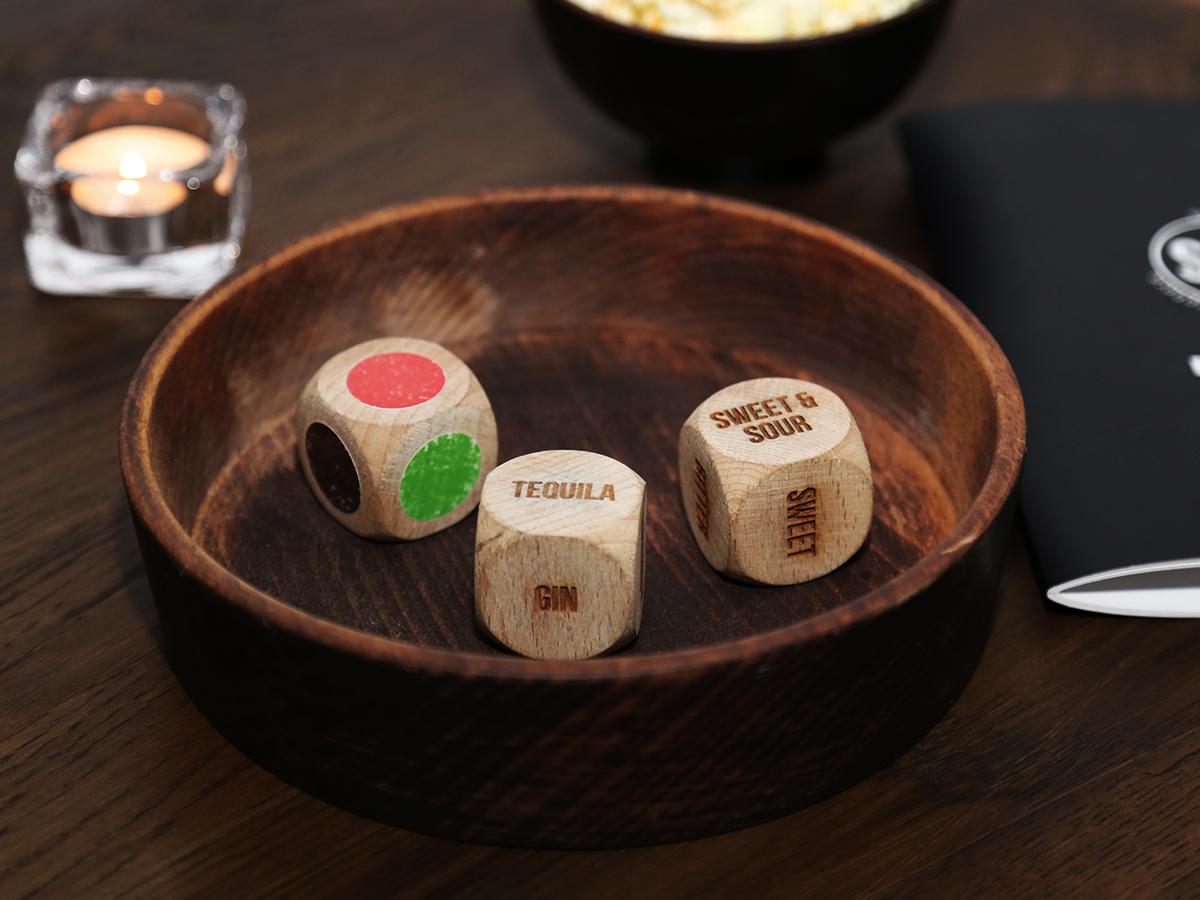 WIN YOUR SPIN – also known as the Russian roulette – imagine 2 identical shots, one of them being water and second vodka. Dice tell you which one to drink, while your mate drinks the other one:)
SPIN YOUR EVENING STORY – playing cards with three different types of cards. The story cards show famous quotes about drinks and bars. The fun cards contain jokes. Finally, the game cards mean action – a task you have to perform. To make it even more interesting, there are also the joker cards. Through these you can for example win a drink for free but you have to give it to a stranger in the bar :)
So go and see for yourself. We heard that the regulars get a goodbye drink for free ;)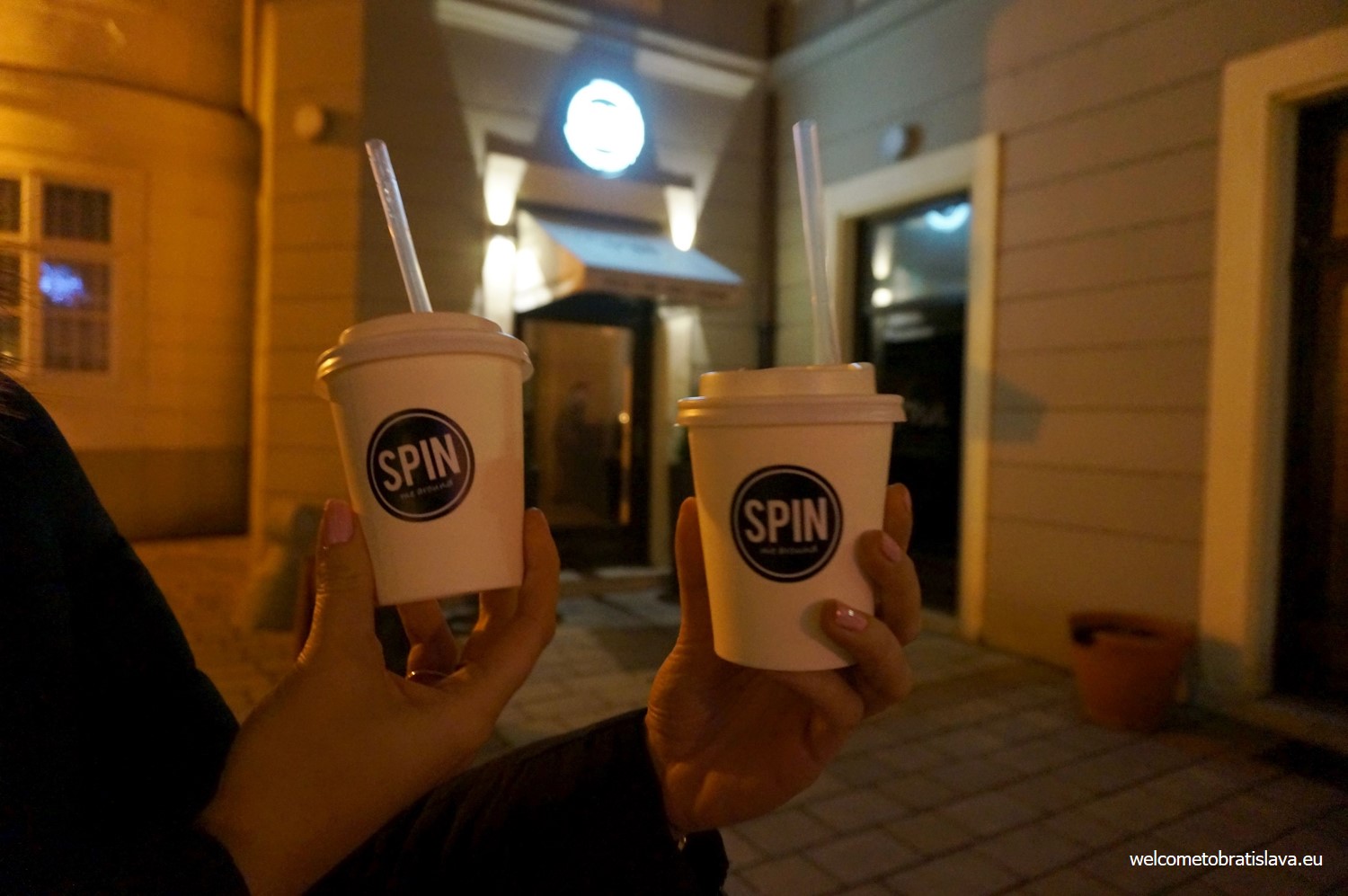 PS: Spin opened another branch on Panska Street named Minibar by Spin. Its concept is based on negroni and shots. A really cool place, especially for crazy party nights! Everything here is a half size smaller, including the bar and the barmans, too :D You can expect nothing less than a relaxed atmosphere, intimate lights and professional service. This place is somewhat crazier and creates a more spontaneous drinking culture.
Author: Zuzana Mytna
Source of some photos: SPIN Cocktail Bar

 ADDRESS: Radničná 1


 OPEN HOURS: Check their FB


CONNECT: Facebook


 MAP LOCATION: