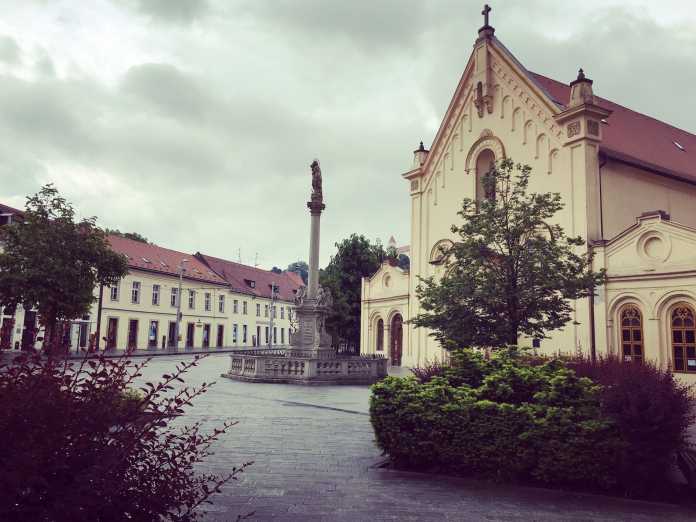 We are back with some fascinating info about squares in Bratislava! If you liked the part I, you are going to enjoy the further reading. You will learn which square used to be called a "Coronation Hill," what urban legend served as an inspiration for building another one or where you can feel the socialism times the most intensively. Enjoy!
HODŽOVO SQUARE
Hodžovo Square carries its name after a Slovak national revivalist Michal Miloslav Hodža. During the era of socialism, it used to bear a name Peace Square. In this spirit, you can find here an impressive fountain – the planet of peace.  

The main attraction at this square is the Presidential Palace. They built it in 1760 as a garden palace for Mr Anton Grassalkovich. In the past this building used to serve as a venue for aristocratic society events and concerts. Even Joseph Haydn, a popular Austrian composer, held some of his concerts at this palace. Nowadays it is known as Slovakia's White House, as it is the official seat of our president. Its large French garden is one of the most popular parks in Bratislava and definitely worth visiting.
ŽUPNÉ SQUARE (ŽUPNÉ NÁMESTIE)
It is an Old Town square close to the SNP Square, Kapucínska Street and Obchodná Street. Its main dominant is the beautiful Trinitarian Church (its full name is Old Cathedral of Saint John of Matha and Saint Felix of Valois) in a Baroque style. They copied the design from the St. Peter's Church in Vienna. It has an oval floorplan and a beautiful cupola painting. A monastery used to stand next to it, however they transformed it into a County House  which used to hold sessions of parliament before the Slovak Parliament building next to Bratislava Castle was completed.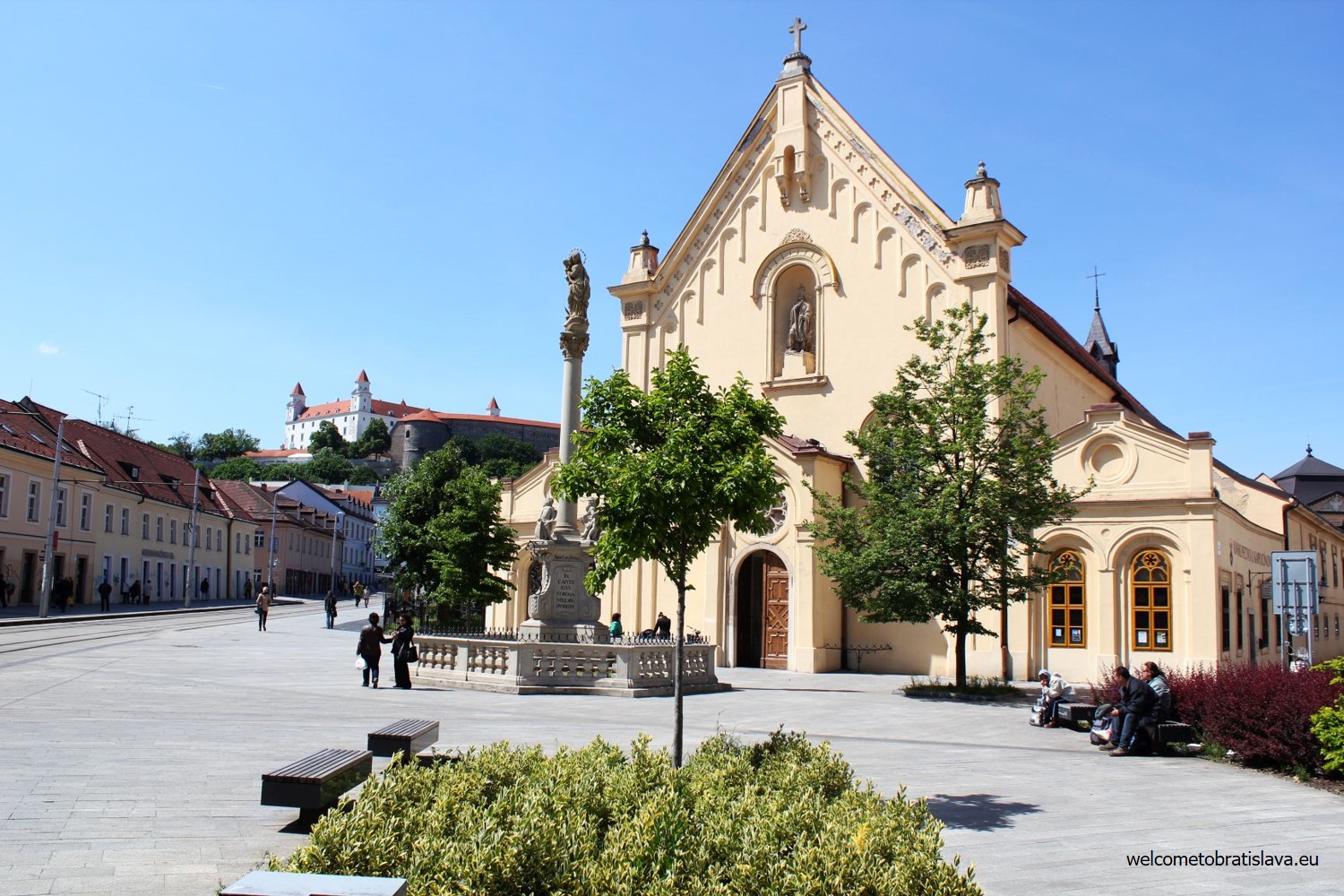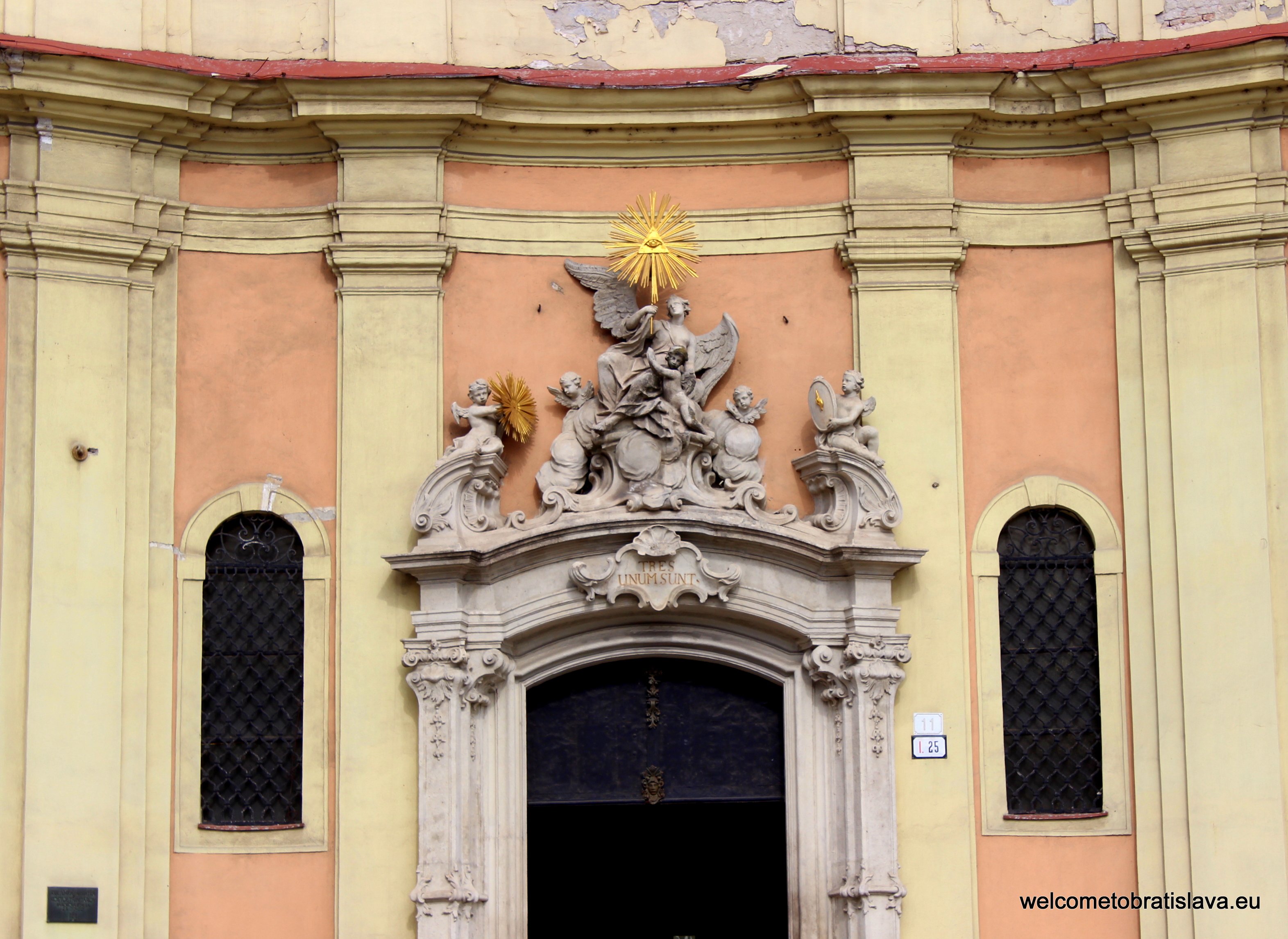 The square underwent renovation in 2006 when they discovered, reconstructed and spotlighted an old well.
KAMENNÉ SQUARE
Kamenne Square with a huge marble shopping mall "Prior" in the past (now Tesco) and slightly disastrous hotel Kyjev is really something! Its current form was built in 1960 and it is a unique representative of former artistic, architectural and urban opinion. Quite monstrous and very functionalist, still remains one of the central squares in Bratislava and represents a popular meeting point for young people.
However, it did not look like this all the time. In the 19th century, there were only 5 houses standing around the square. One of them was owned by the stonemason's family Rumpelmayer whose profession inspired the name of this square – "kamenne" means "stone". There used to be coarse stone boulders lying randomly at the square. Later, a flower market was held here. 
Do notice a huge marble stone in front of the Tesco store – it contains an embossment of a floor plan of Tesco stores, hotel Kyjev, Ministry and name of the architect Ivan Matušík.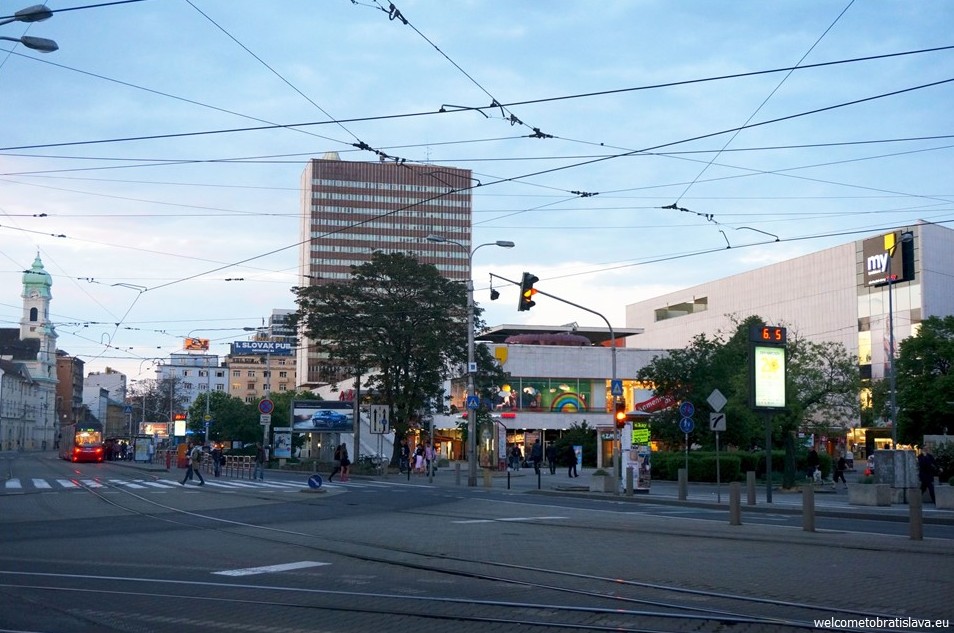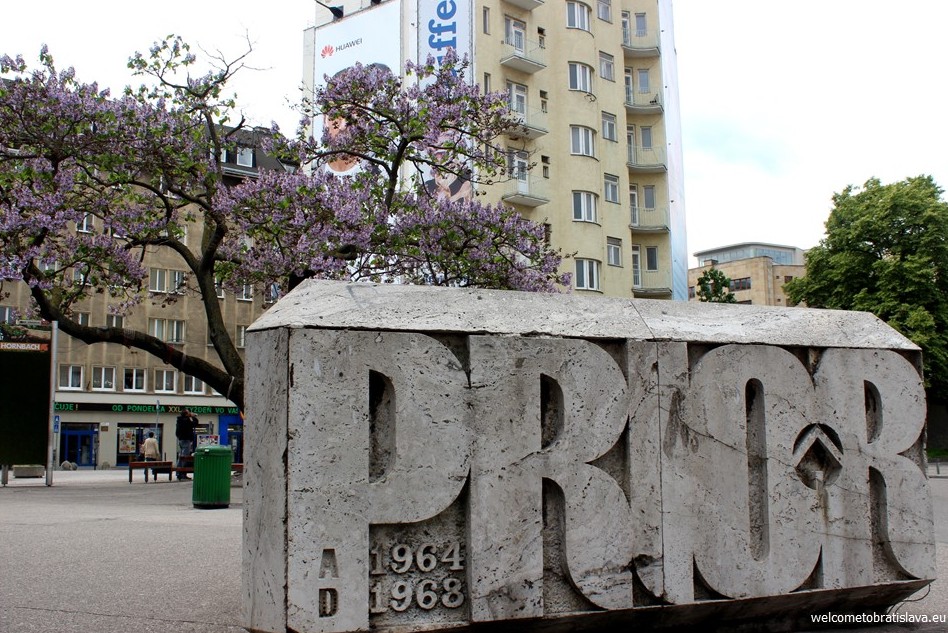 There is one more specialty at this square. Look for a marble clock with a set of twelve bells at one side of the Tesco store. These bells represent the kind of etheric glue for Bratislava people – every person living in the centre knows their sound very intimately. They are loud and thus you can hear them for hundreds of meters. Their sound can be also slightly disturbing and psychedelic :D
ŠAFÁRIKOVO SQUARE
It carries its name after a Slovak linguist and historian Pavol Jozef Šafárik. Its previous name was Square of King Andrew. There used to be a Landerer's Palace at a place where a small park grows now. It was destroyed by a bomb in 1944 which aimed at the Apollo refinery. 
There are three significant sights to notice. One of them is the beautiful art-nouveau apartment building at the corner of the square where street Dovstojevkého rad starts. The second is the Duck Fountain in the middle of the small park. Its author is Robert Kühmayer who created it in 1914. It seems that its inspiration has been an urban legend about little duck shepherds and a goblin. You can read the story here. The third one is the Law Faculty of the Comenius University, the oldest university in Slovakia. Did you know that this building was supposed to be a stock market originally?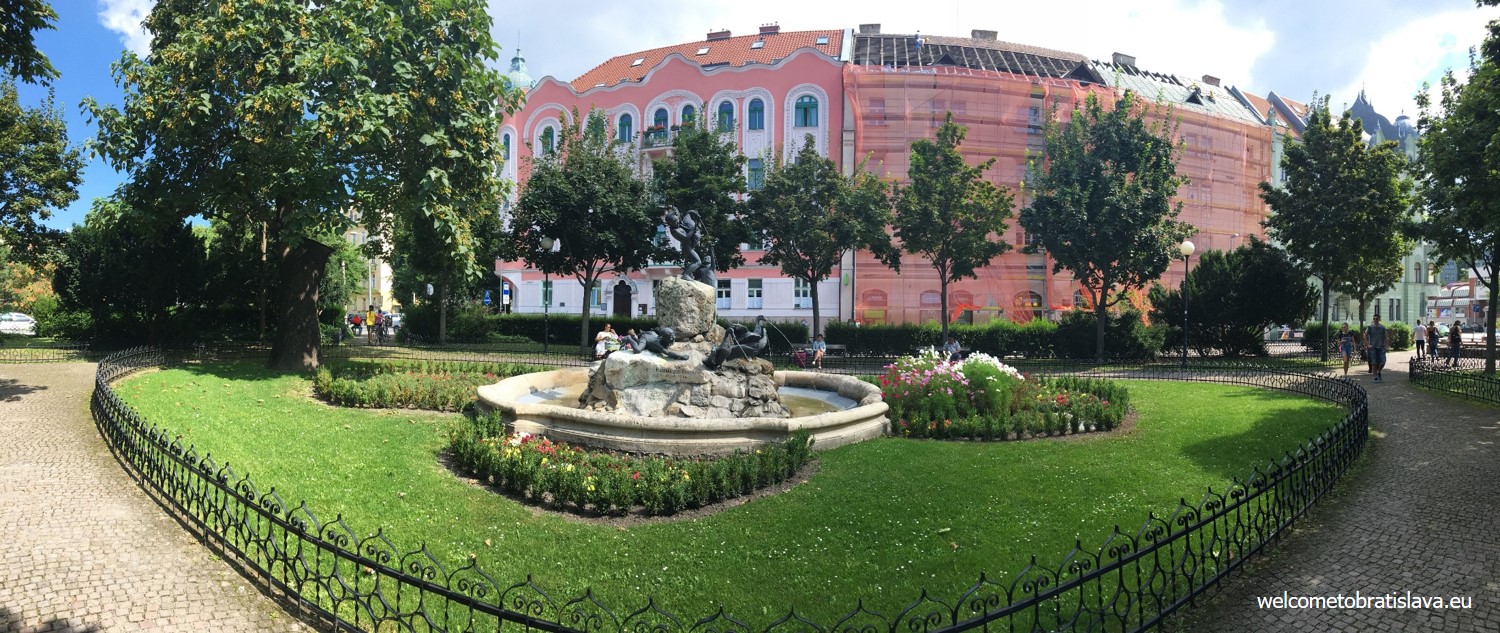 From Šafárikovo Square you can easily walk to the nearby Old Bridge for a panoramic walk.  
SQUARE OF Ľ. ŠTÚR
Next to the Danube embankment, you can find this square named after an important figure of Slovak history – Ľudovít Štúr, our national revivalist  and patriot who codified the Slovak language. In the past, its name was Coronation Hill or Coronation Square.  That's why there used to be a statue of Maria Theresa on a horse which they later replaced with a statue of Milan Rastislav Štefánik with a lion. The latter now stands next to Eurovea shopping mall. Nowadays, a big statue of Mr. Štúr and his supporters dominates the square.

The square is surrounded by elegant buildings. The most important one is definitely Reduta. It was a former granary built on the orders of Maria Theresa in 1773. Later, between 1913-1919, they reconstructed it in a Neo-Baroque style with rococo and art nouveau elements. Now it hosts The Slovak Philharmonic. Esterhazy Palace is another building worth mentioning. It stands in a Neo-Renaissance-style from 1760 and hosts the Slovak National Gallery. Dessewffy Palace is another impressive building built in the late Renaissance style.
Short Mostová Street connects it with the Hviezdoslav Square.
FREEDOM SQUARE (NÁMESTIE SLOBODY)
This square is a true communist era heritage. It really is a monumental sight with a large green area and the biggest fountain in Bratislava called Družba, built in 1980. The architecture around the square brings back memories of building socialism evoking feelings of both ugliness and romance at the same time :D

Prior to the revolution the square was officially known as the Gottwald Square (with a gigantic statue of Klement Gottwald, former President of Czechoslovakia, which was luckily removed), but people from downtown used to call it Firšnál. At that time, it was a vast area which they used for military trainings, folk festivities and circus performances. As there grew nothing, it got also another nickname, Sahara. 
The fountain looks quite impressive, right? It is made of stainless steel and its core represents a linden flower which is the symbol of Slavs. It underwent several changes and at some point in the past, the water was replaced by sand in order to remind square's former nickname Sahara. 
One of the signature buildings standing here is the Postal Palace. It is a spacious functionalist administrative building. The only historical building is the Summer Archbishop's Palace, the former residence of the archbishop of Bratislava. The palace now houses the government of Slovakia and is not open for public.
Author: Zuzana Mytna