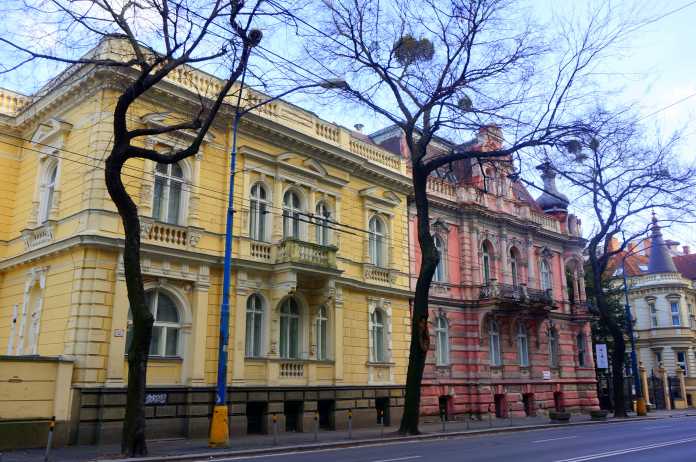 The history of Stefanikova Street is closely linked to the rise of the steam railway in Bratislava. Once a new station was opened on the steam railway line in 1848, it needed to be linked with the city center. The most suitable route was through the vineyards where only a field path had been before. This is why they started building Stefanikova Street.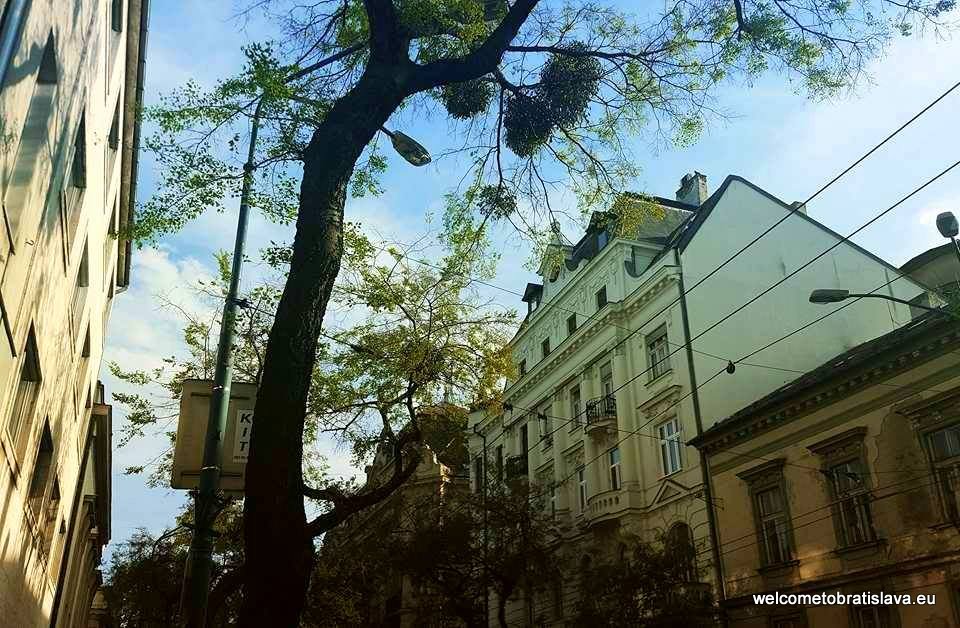 BRIEF HISTORY 
As the station was quite far from the city center, Stefanikova Street was one of the longest streets. Its length gave a great opportunity for many luxurious apartment buildings to be built here. Two palaces, several luxurious villas and higher standard apartments found their place at Stefanikova Street. Each building had quite a range of different architectural elements – since it was trendy back in the second half of the 19th century.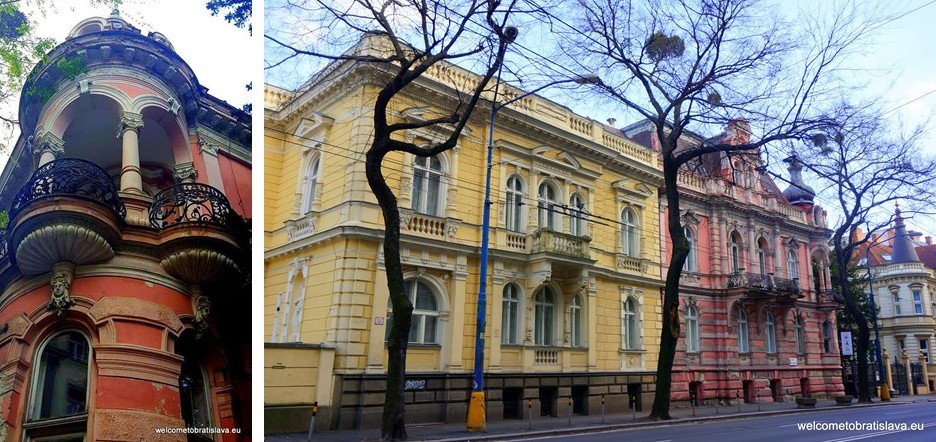 MAIN SIGHTS
What can you actually see here? Let's start with the Grassalkovich Palace. It is one of the must-see sights in Bratislava, as it is the official seat of the president of Slovak Republic. It stands at the Hodžovo Square and connects directly with Štefánikova Street through the beautiful presidential gardens in a French style. The palace itself is open only on a special day once a year but you can stroll the gardens for a magnificent experience. 
Walk along the street to admire beautiful residential buildings. Who could afford to live here? The aristocracy was in the minority. The only exception is the Karacsony (Karáčoniho) Palace from 1884 which belonged to the archduke Friedrich who also owned the Grassalkovich Palace at the time.
The majority of inhabitants were the elite who became rich through trade, industry or luxurious services. One of them was a glove-maker Swetlik who won money in the Viennese lottery.
Apothecary Felix Pisztory built his neo-rococo house here, known as Pisztory Palace. It was designed by the same person who was in charge of the reconstruction of famous Slovak castle Bojnice.  Apothecary Tauscher owned a beautiful villa here.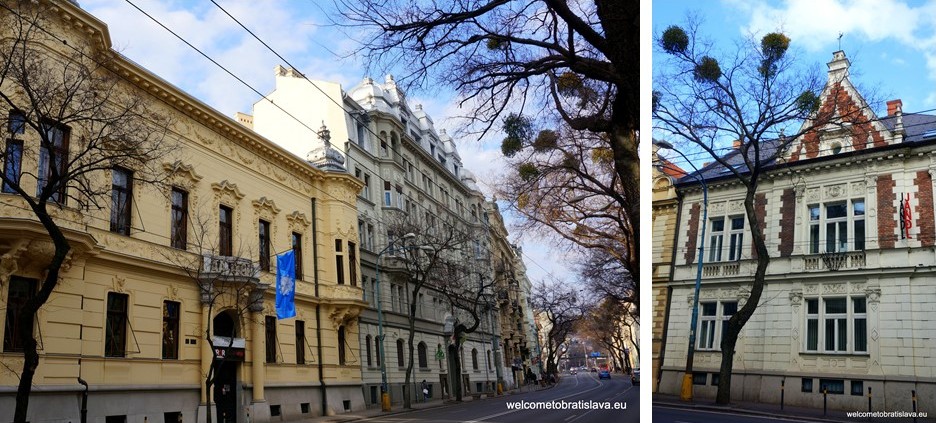 Left: Pisztory Palace (the yellow building) Right: Tauscher's Villa
A Palugyay Palace is another beautiful building on this street. Palugyay family built it as their family seat in the neo-rococo style. They were Slovak wine makers, famous particularly for their sparkling wines under the brand Chateau Palugyay. The family took over the local wine market in the 19th century and accumulated their wealth. They owned a pub, bought a predecessor of current Carlton Hotel (Hotel by the Green Tree at that time) and also owned the popular Au Café in Petržalka, still there to this day. There used to be green vineyards all around the Palugyay Palace. Nowadays, Ministry of Foreign Affairs of the Slovak Republic has its seat in the palace building. 
Walking down the street, notice a building of the Slovak Academy of Sciences. It is a national institution which undertakes scientific research in Slovakia as an autonomous non-university research institution, funded primarily from public finances. Matej Bel's project from 1735, marked the first attempt to establish such an institution on the territory of modern Slovakia.
At the crossroad of Stefanikova and Prazska Street, there's the Museum of Transport. The museum is located in the premises of the former warehouse and Bratislava's oldest steam railroad station. It documents the development of railway and road transport in Slovakia. Moreover you may observe cars with or without engines produced before the World War II, bicycles, personal vehicles and lorries from the interwar period. Vehicles from the 60s and 70s of the 20th century are on display as well. All this plus some temporary exhibitions will enlighten you on how Slovak transportation has changed over time.
TAKE A BREAK
Due to the busy character of this street, the concentration of the coffee places, pubs and restaurants is smaller compared to the Old Town. However, you can still find few great places here!
Café Štefánka is a legend with a unique atmosphere of old Pressburg. It is located in a historical building of an eclectic style from 1897 at the corner of Palisády and Štefánikova Street. It closed down in 2016, has been fully reconstructed and reopened recently. This renowned coffee place has carried its name after the Belgian princess Stéphanie since 1904. Not many people know she used to live in a manor house in Rusovce (one of Bratislava's municipalities). If you like historical touch and décor, we definitely recommend you visit this place.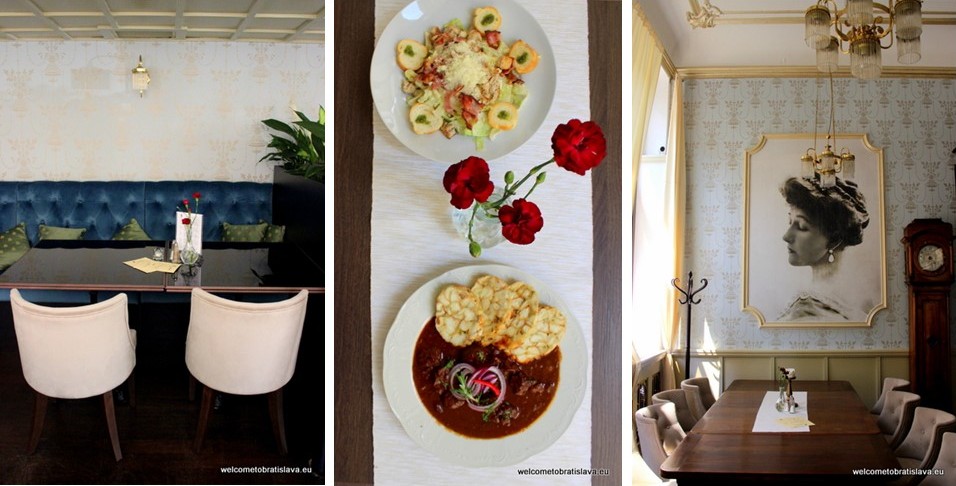 Beautiful historical interior and delicious meals of Café Štefánka
Fabrika is a beer pub with a noble and stylish ambiance, professional staff and great home-brewed beer.  It has several of its own draft beers. For example, their "FABRIKA F 12°" is a Pilsner type lager made of Moravian barley and Czech hops and we definitely recommend to try it. If you are hungry, you can have nice lunch or dinner here!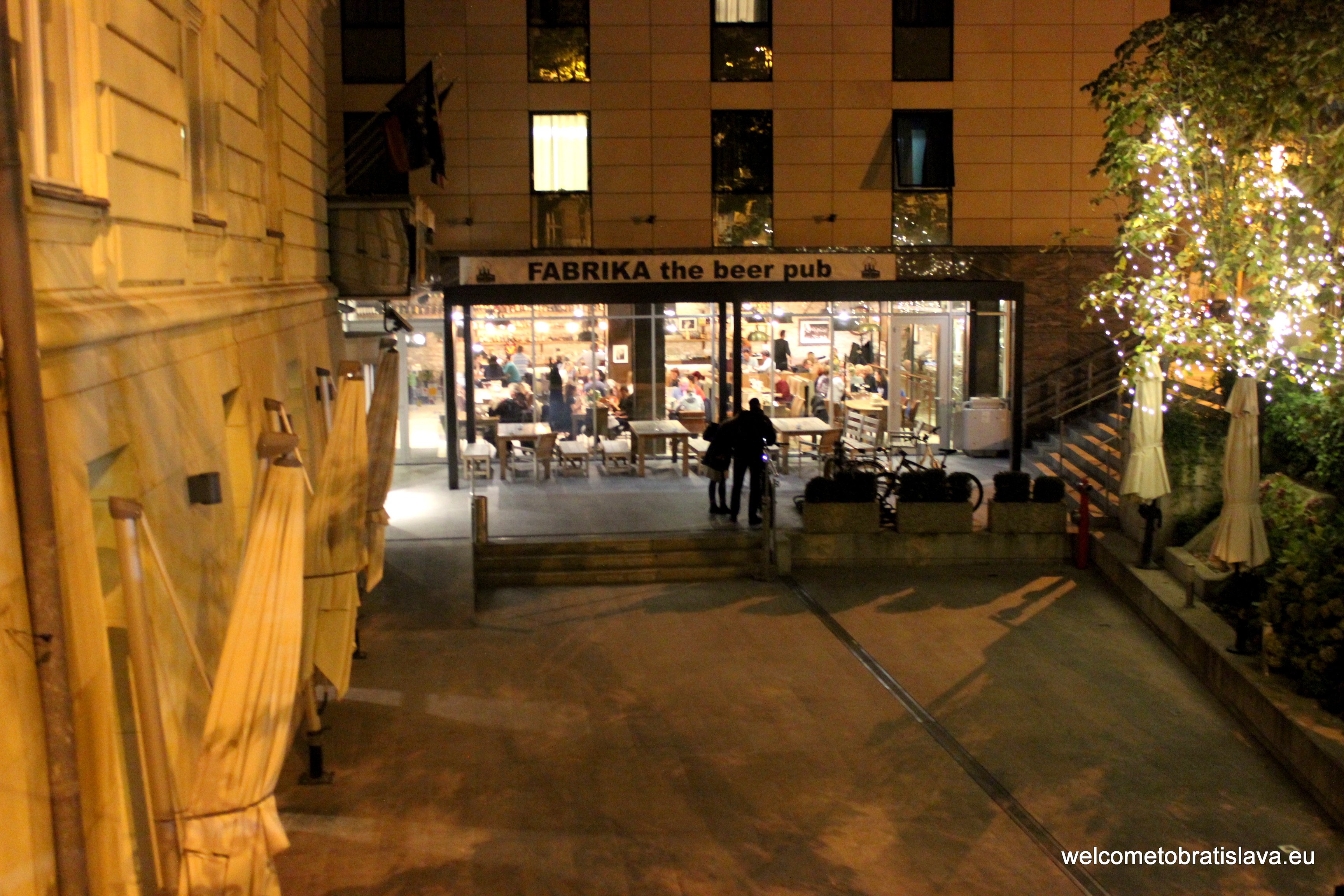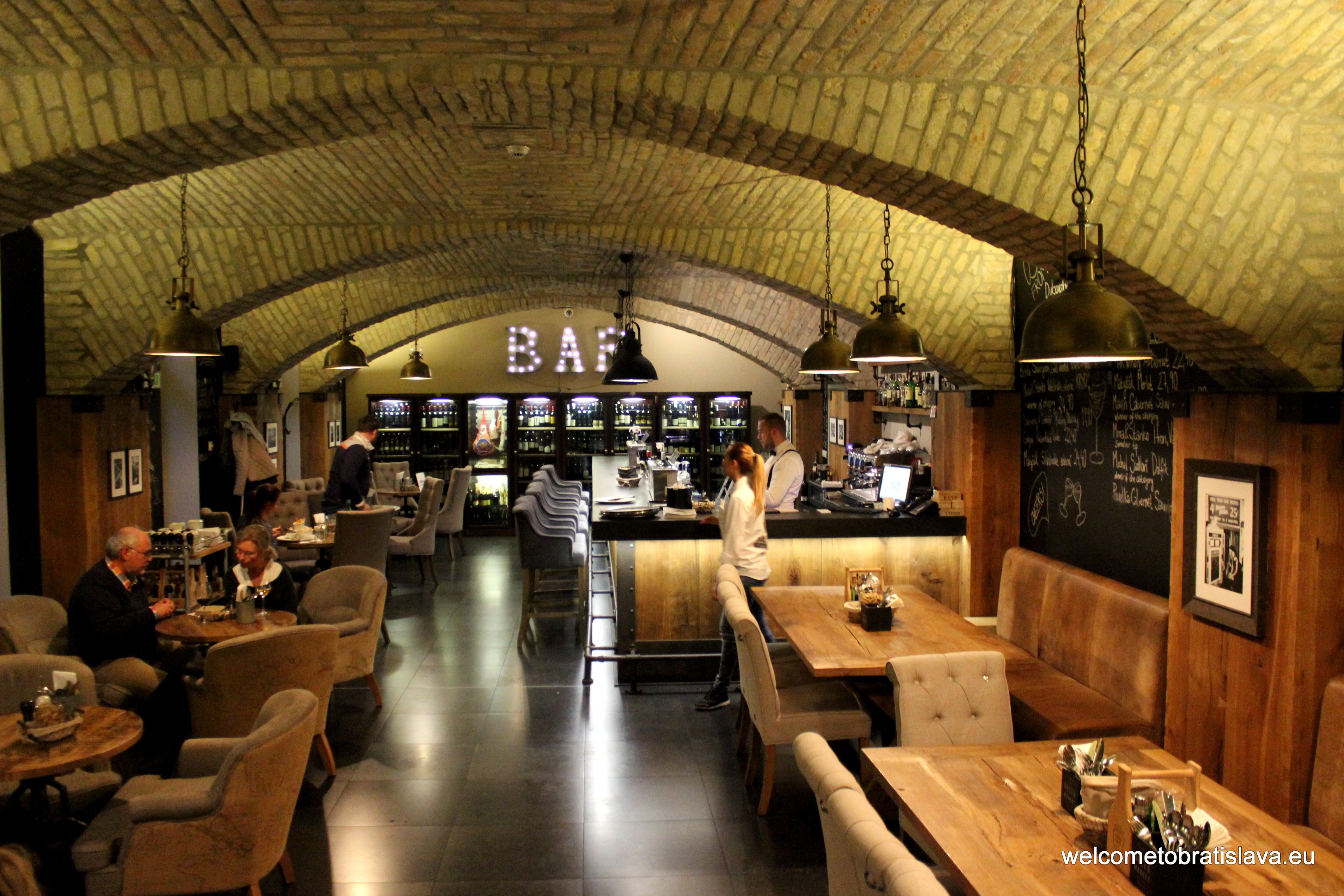 Try home-brewed beer at  stylish Fabrika beer pub
Ave Café is an event place open only when rented for company or private events. We usually go here for different themed parties. Right next to it stands a legendary Dungeon Pub popular for its gaming nights and specific subculture of its visitors. Bon Bon Jazz Bar is a newer addition and its main plus is live jazz music.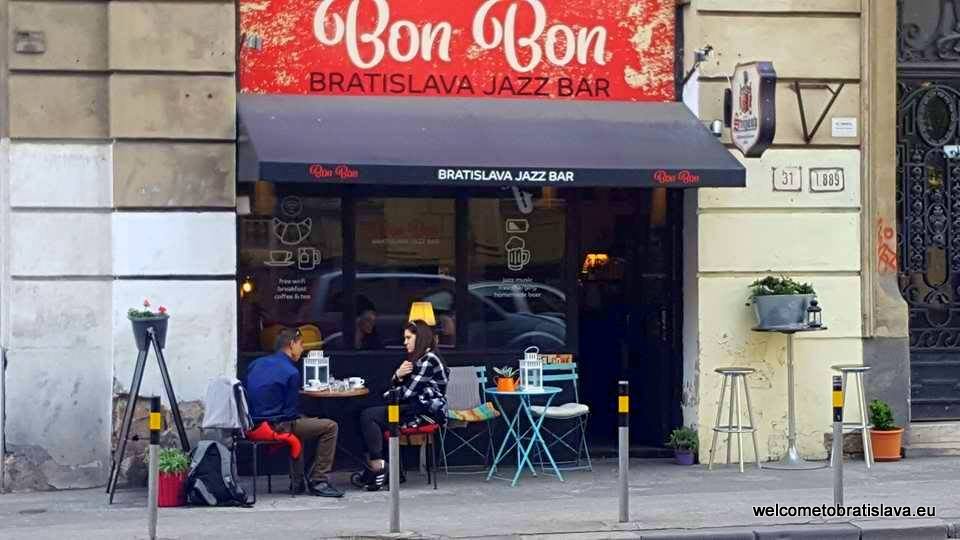 Bon Bon Jazz Bar with live jazz music
Walking further, you will find the popular Japanese restaurant Benihana (it does not stand directly at Stefanikova Street but is literally round the corner, at Hlboka Street). Come to this place if you look for a unique dining experience with chefs cooking at your table.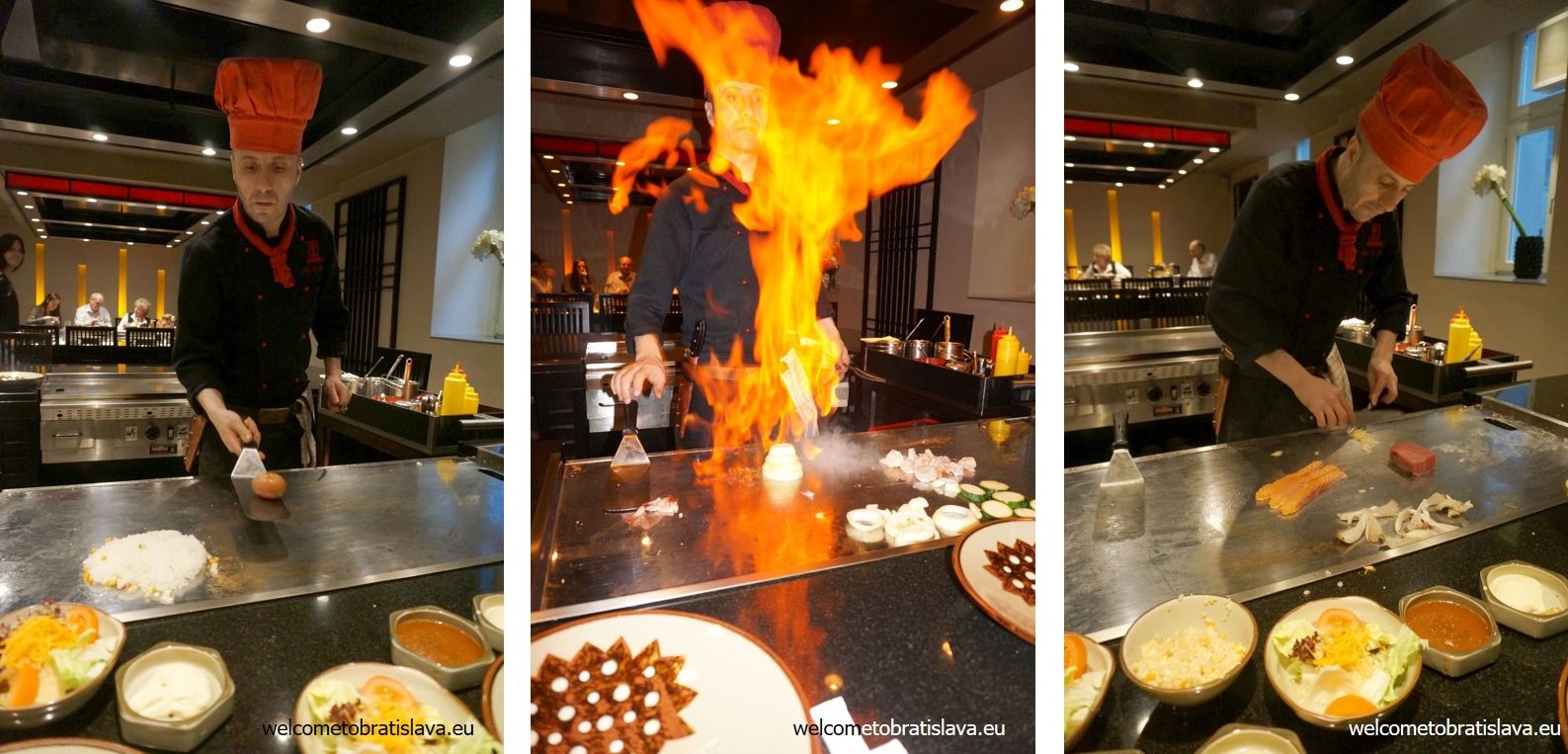 Japanese Benihana restaurant with live cooking show
Which is your favourite building standing at the Štefánikova Street? Do you frequently visit some of these places? Let us know in the comments below:)
Author: Zuzana Mytna