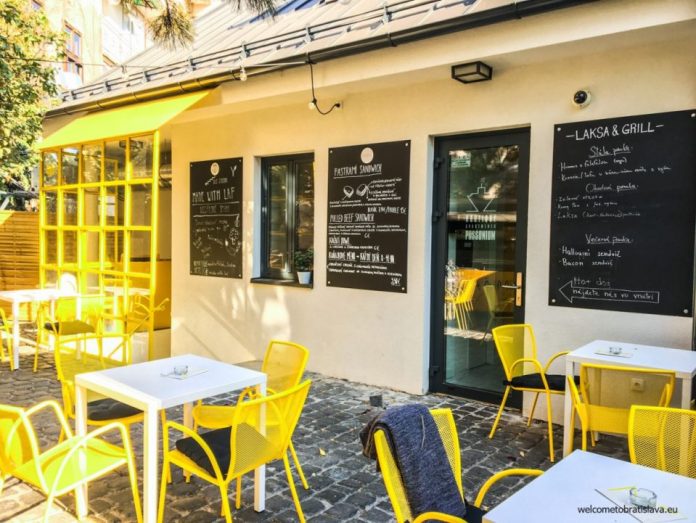 Street food markets are becoming a very popular way to taste something new or enjoy your favourite meal. They are being organized repeatedly and quite often (especially during the summer season) at the city squares or close to the business centers so people can just grab their lunch and have a break from the canteen meals. Those markets are usually a temporary thing, as they are moving around the city. What we have found for you is a permanent street food garden that offers five different cuisines so everybody can find something for them. It does not matter if you are a vegan, a "carnivore", a soup-eater, a hummus lover or a hamburger-addict – variety is the spice of life! Welcome to Street Food & Cafe Possonium :)
LOCATION
Street Food & Cafe Possonium is located on Kyčerského Street, not very far from the main train station (that we still consider as a city center). Easily accessible from Šancova Street or Žilinská Street where there is a food and a florist market during the day. The closest tram stops are Žilinská or Úrad vlády SR and the bus stop is called Karpatská. You can also walk, walking's healthy! Or use the city's bike sharing service.
INTERIOR & EXTERIOR
The place itself is divided into two parts – outside there is the UNAS burger bistro and Ty Somaru Mexican bistro with quesadillas. It is called a street food market, however is placed in a courtyard among buildings. So fortunately the "street feeling" stays there while the rush does not. Inside, you can find the BARsKDE street food deli, Bistro Made with Laf and Laksa&Grill. Modern minimalist sitting can accommodate approximately 40 people. For Bistro Made with Laf you have to go downstairs where there are another three tables available. Inside there is also a café/bar that serves drinks for all the guests.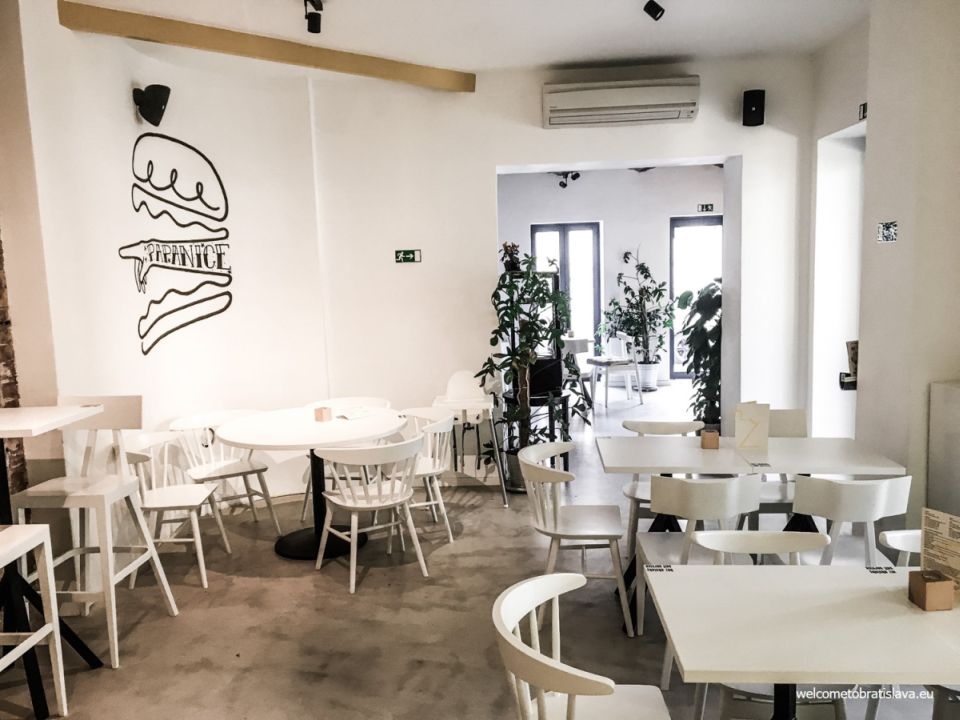 As the best way to taste the food is to share with somebody, we shared everything during our visit. Here's what our experience has been so far:
UNAS Street Food & LOKAL UNAS
Martin: We started with a burger because we were really hungry and the burger kiosk was right where we entered… and the smell… and… c'mon it's a burger! As we wanted something unusual, we tried a whiskey burger. It was apparently a good choice as this is a shipflag of the bistro and also won the first place at the burger festival in Austria! The combination of whisky and burger sounds great, though. What makes it a fantastic burger is a mix of caramelized onions, whisky (Jack Daniels!) sauce and blue cheese. Frankly, I am not an onion lover, but that was really great, did not taste like onions at all.
Radka: I loved the burger! The taste was different, I believe I recognized a high quality beef. What I can appreciate are the homemade ingredients. UNAS are making a homemade tartar and bbq sauce. I do not like big burgers because while eating everything goes everywhere else but my mouth. Although this was so smooth – and the homemade bun was really fresh! While eating it, when squeezed, everything went where it was supposed to go! :-P
Bistro Made with Laf
Radka: It was my first time trying vegan "szegedin goulash" – one of my favourite meals. Instead of meat they put soy which was surprisingly an unrecognizable change! With homemade dumplings (no egg inside) it tasted really good. I personally think that this is a good option for all the vegetarians who really want to have a szegedin for lunch. Apart from the taste we noticed that cutlery was plastic but considered as biodegradable and the napkin was also recyclable. Not our last visit of Made with Laf for sure!
Martin:  I don't eat vegan food a lot but this was like from classic grandma's kitchen. I could not really tell if it's soya or meat because of the way it was prepared. They usually have a daily menu, so you can try something else every time. Heard they had a "nehalusky s nebryndzou" – the typical Slovak meal but vegan style. Maybe next time?
Laksa & Grill
Radka: This bistro is named after a Malaysian shrimp soup. It sounded great, however we chose the rice bowl with chicken and it was a really nice Asian-style lunch. Simple, quick, healthy.
Martin: We had a chicken one but they also serve a vegan one with soy. Meat was flavoured with a mixture of garlic, ginger and soy sauce but it reminded me more of "bourbon chicken" that I ate a lot in Asian bistros in USA. I'd had enough of those already but this one had a lot of vegetables that made taste it more fresh. Great for light lunch!
Glutenfreeaks
Gluten free potato-pumpkin pancakes or a tofu burger anyone? If you are gluten intolerant or just decided not to eat gluten, this is the right choice for you!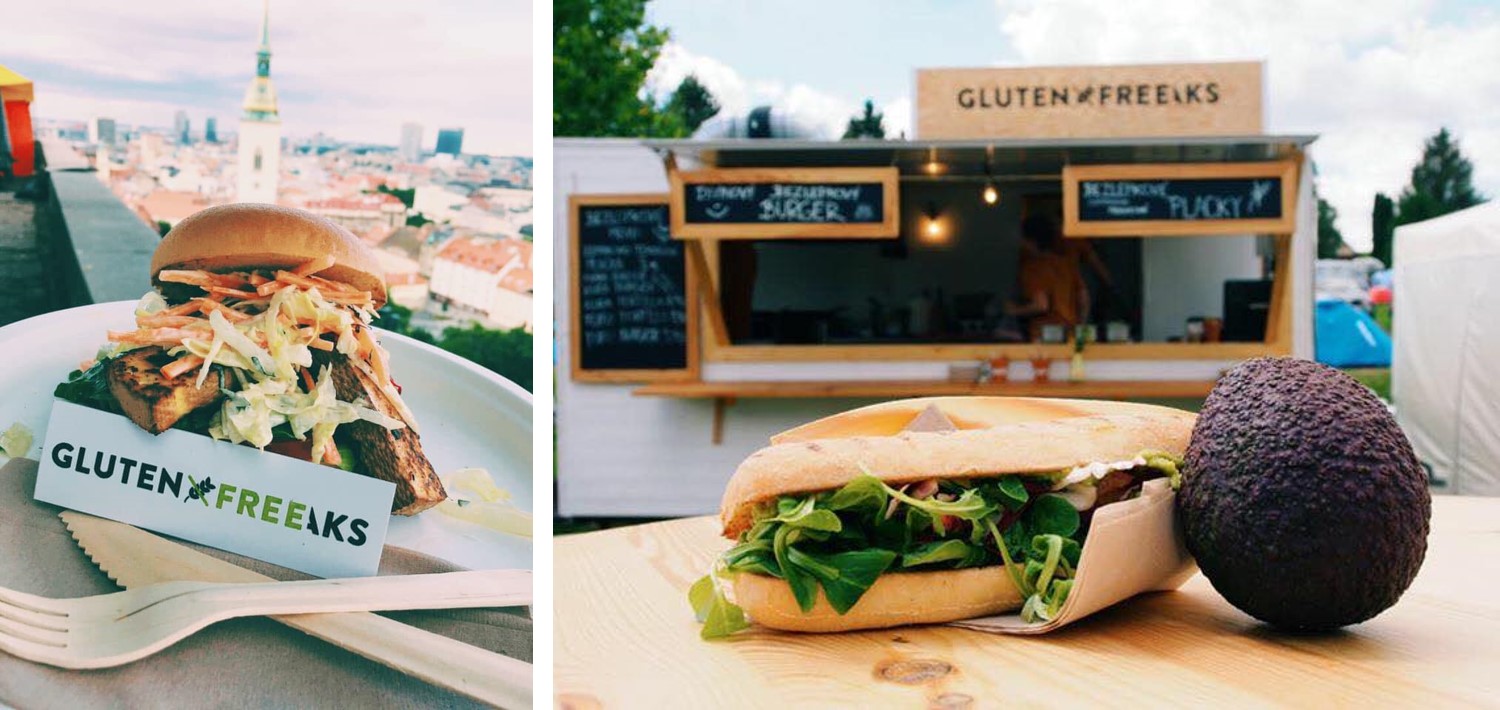 (source: Glutenfreeaks Facebook)
Coffee and cakes, anybody?
Cakes like from your granny are served by Pan Kolacik and those who can't live without coffee will have a chance to try coffee from Bozin Roastery that originates in the small nearby town Pezinok.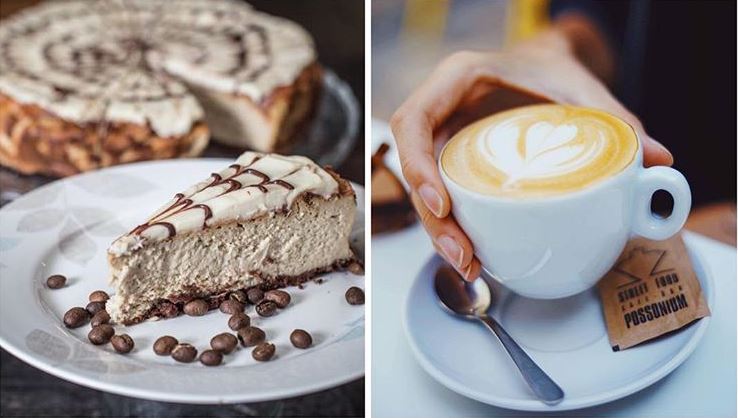 (source: Possonium Instagram)
Daily lunch menus are provided by each of the five places, which you can always find written on the big board. Some bistros offer also breakfast or dinner specials – stop by to find out about the current offer!
Street Food & Cafe Possonium is open daily from early morning (except Sunday when they open at noon) till 10-11 pm depending on the day of the week. Come for breakfast, lunch or dinner – the place has great vibes and atmosphere whether you come daytime or in the evening :)
(source: Possonium Facebook)
Authors: Radka Horakova, Martin Komlos

OPEN HOURS: Check the official FB site


 ADDRESS: Kyčerského 7a


 CONNECT: Facebook, Instagram


 MAP LOCATION: