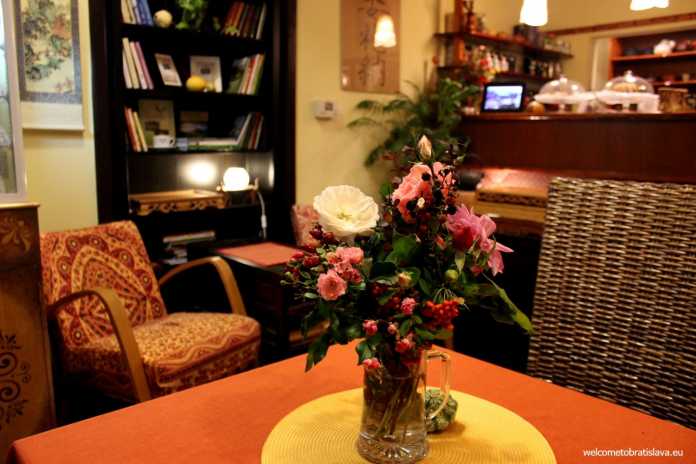 Most of us have never encountered a real tea ritual, maybe except for the classic scenes from movies about the Ancient China. The tea room Čaj Kafé will bring you back in time and across the globe and with help of professional staff, you will discover the hidden world of tea in the streets of Bratislava.
LOCATION
Čaj Kafé is located right next to the famous and beautiful Blumental Church of Ascension of Virgin Mary. You can get there by tram number 3 which goes from Tesco at the Kamenne Square – it's just three stops. The stop you need to get off is called "Blumental."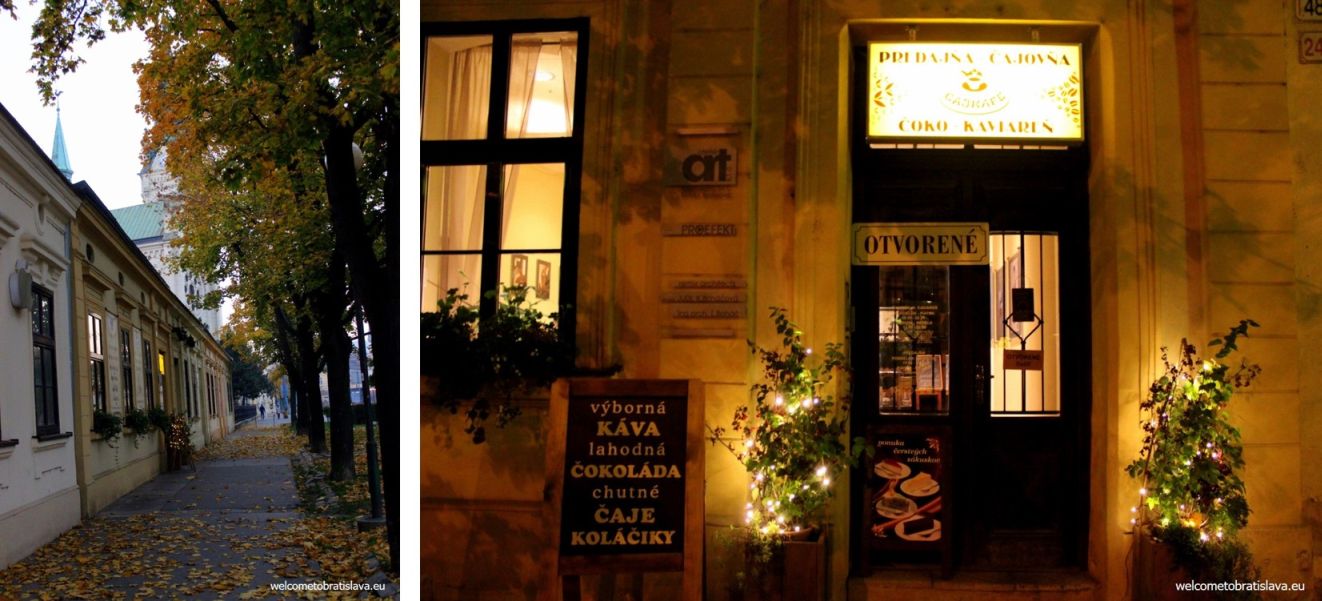 INTERIOR
The interior of Čaj Kafé is furnished with wooden and bamboo furniture in natural color tones and complimented by several original ancient Chinese accessories. The warm and predominantly brown color shades, dimmed lights and exotic furniture pieces create a homey and cosy atmosphere, ideal for relaxed moments with your family, friends or business partners.
WHY IS TEA ROOM CAJ KAFE SPECIAL?
The place has an absolutely amazing tea ceremony! Their high quality teas are served on big wooden tea trays which we have never seen in any other tea room. In Slovak, the personnel referred to it as to "tea sea" because after the tea is washed, the discarded tea water is poured into the tea tray – into the sea. Unfinished tea water can also be poured into the tray. This allows the tea server to serve tea without having to leave the table.
The staff was very professional, knowledgeable and helpful and assisted us with preparing the first infusion, explaining how to rinse the tea, warm the cup or why we have so many vessels on our table, and told us about the specific features of tea brand selected by us. We were also given a card with an overview of correct water temperatures, infusion timings and number of infusions for different tea varieties. We also had a thermometer and our own boiling kettle showing water's temperature for our convenience.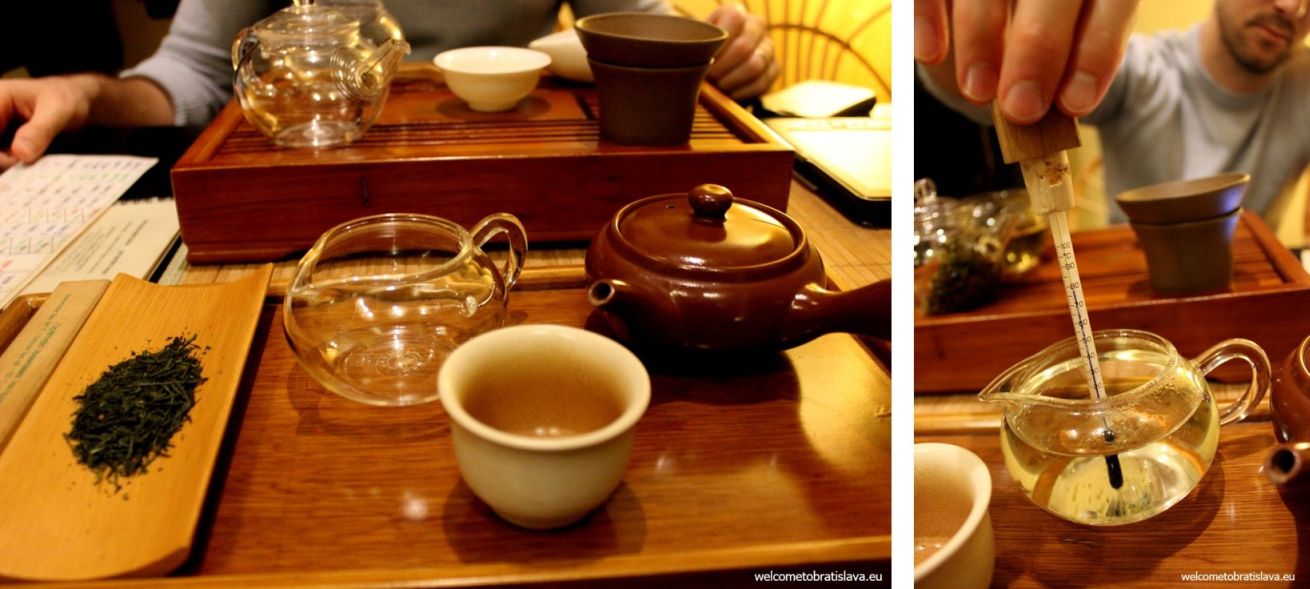 The teas served in this tea room are from tea house Čajový dom and in the menu, they are nicely grouped in logical categories either by type/color or country of origin. The wide range offers also the precious Japanese Gyokuro, the most famous Chinese green tea "Dragon Well", excellent Oolong Tie Guan Yin or different black Chinese, Indian, Nepalese or herbal teas, maté from Southern America, robois tea from Africa or different fruit mixes.
Even if Čaj Kafé is predominantly specialized in teas and we recommend it specifically because of that, the name of the place hints that also coffee can be enjoyed here, serving Musetti brand. We were tempted by zillions of cakes to choose from, seasonal delicacies or quick bites. There is also a tea shop available within the premises.
WHAT WE TRIED
We have tried the Himalayan EverGreen from a small tea factory Sandakphu with rich aroma of flowers and nectar. Our second choice was Japanese favourite – Sencha Kanaya Midori with aromatic herbal and slightly sweet taste and stimulating effect, originating from Kagoshima prefecture. Another good choice was the Chinese green Yunnan Gao Shan Cui Ming which means young sprouts from a high mountain that comes from one of the purest plantations of Yunnan province. It had a creamy flavor with flower and citrus sub-tones. Our most daredevil try was the red Wu Yi Shan Da Hong Pao, meaning Big Scarlet Gown, a legendary tea from the beautiful mountains Wu Yi, belonging into the darker side of Oolong tea family from the Fujian region. Tea is baked over the wooden embers which gives it a typical aroma and a kind of a burnt taste. This is definitely not for conservative tea drinkers.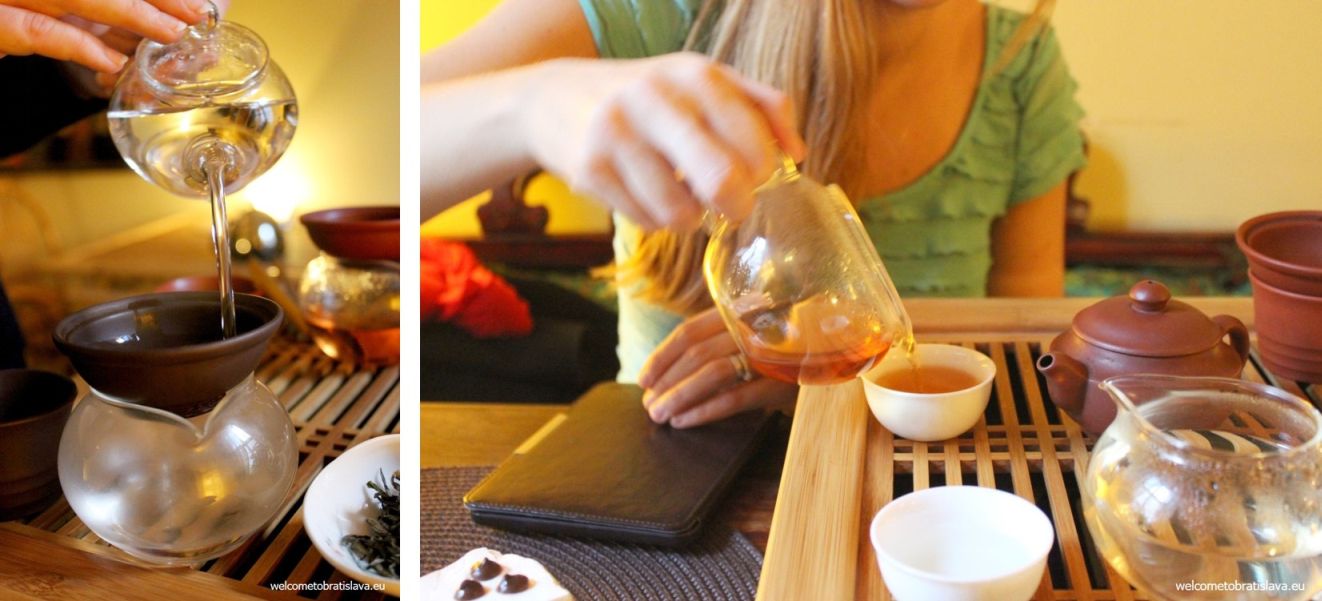 We also tasted their hummus served with olives, tomatoes, rocket and toasts which were somewhat coarse but good enough if you are hungry. Delicious cakes were hypnotizing us from the fridge and thus we tried the Black Noir – a chocolate cake with a whipped cream filling and raspberries, the Oreo cheesecake and the traditional honey cake called "Marlenka" which they had in a gluten-free version. Very recommended!

Author: Zuzana Mytna

ADDRESS: Radlinského 24/C


 OPEN HOURS: Check their website


CONNECT: Webpage


MAP LOCATION: