Ivan Štefánek, Dheerendra Kumar, and Pradeep Kachhap opened The Curry in February of 2019 for one sole reason: to bring authentic Indian food to Bratislava. A tall order, sure, but the owner, directing chef, and head chef, respectively, had no intention of making The Curry a place that claims the flavors of Southeast Asia, only to serve westernized versions of classic dishes to appeal to an intimidated palate. On the contrary; their hope above all else was to serve food so spot on, so defiantly spiced and slicked with Indian flavors, that if you didn't know any better, you'd think your meal was being served at a restaurant in Rajastan or Jharkhand, which just so happen to be where Dheerendra and Pradeep hail from.
For those who do find Indian cuisine to be intimidating to their western culinary tastes, you're in good hands here. Whether out of necessity because of coronavirus or not, the attention to the diner at The Curry is special. Dheerendra, the directing chef, tends to each table personally and walks diners through every aspect of the menu, answers questions, and ensures to tailor a dish for any spice tolerance to make sure the experience you have at The Curry is as enjoyable as possible.
LOCATION
The restaurants on Laurinska are hard to miss even among the general hustle and bustle of the popular street, but to find The Curry, you'll have to follow your nose a bit. Fear not; the unmistakable scent of freshly baked garlic naan and warm spices will grab you the minute you walk through the double doors of the Central Passage. Take the staircase on your right one flight down, and you've arrived. With a convenient location right behind Stará Tržnica (The Old Market Hall), The Curry is the perfect stop for lunch after a day of shopping on Laurinska, or for dinner before a show at the City Theater.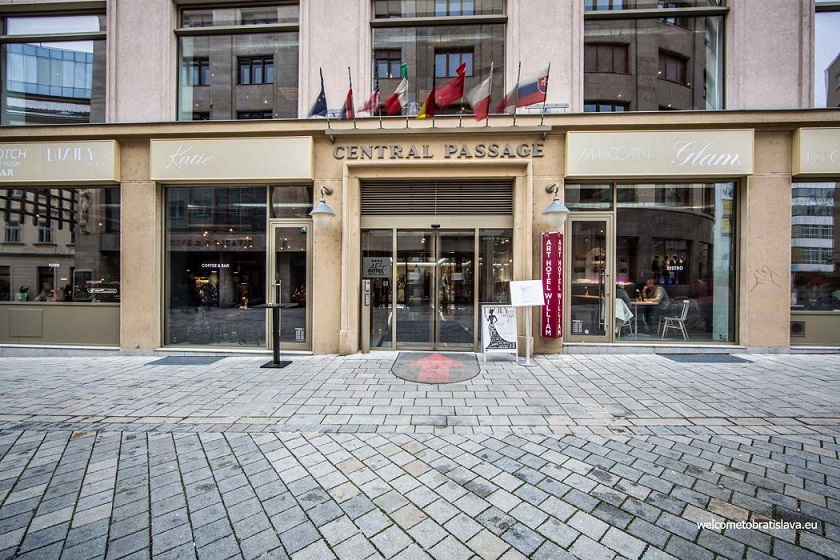 INTERIOR
The current look of The Curry doesn't exactly match up with what you might expect for an Indian restaurant, but don't let the simplistic design fool you. While the team had plans to overhaul the interior decorating this past spring, coronavirus threw a wrench into the plan. They do plan to pick up where they left off later in 2020 and deliver an aesthetic that is more in-line with their vision and approach to Indian cuisine. For now, the clean interior just puts more focus on the food, which is why you're there anyway, so just let yourself sway to the Bollywood music playing in the background.
WHAT TO HAVE AT THE CURRY
The Curry serves lunch and dinner, with slightly differing menus in the afternoon and in the evening. During lunch you'll find a buffet with several different Indian offerings, or you can keep it local and order something off of their Slovak menu which includes some traditional local fare, hence the "multi cuisine" on the sign when you first enter. But, if you really want to experience The Curry and everything it has to offer, come for dinner when the menu is an entirely Indian culinary journey.
The classic samosa – crispy pastry stuffed with potatoes and vegetables and fried to crunchy perfection – is deconstructed for the Samosa Chat, a dish you should absolutely have on your table as soon as possible. Topped generously with yogurt, tamarind chutney, coriander chutney, and aloo bhujia, this is good enough to order for yourself and refuse to share.
The Masala Dosa, a thin, crispy rice and lentil pancake made from fermented batter, is stuffed with potatoes and vegetables, similar to what you'll find in that samosa. The star here is actually served on the side; served with a coconut chutney, a coconut tomato chutney, and Sambar (a lentil-based vegetable stew that you may just want to drink straight from the bowl after your dosa is long gone), this deeply flavorful South Indian dish is one that you'll be hard-pressed to find at any other Indian restaurant you've been to in Slovakia or anywhere else.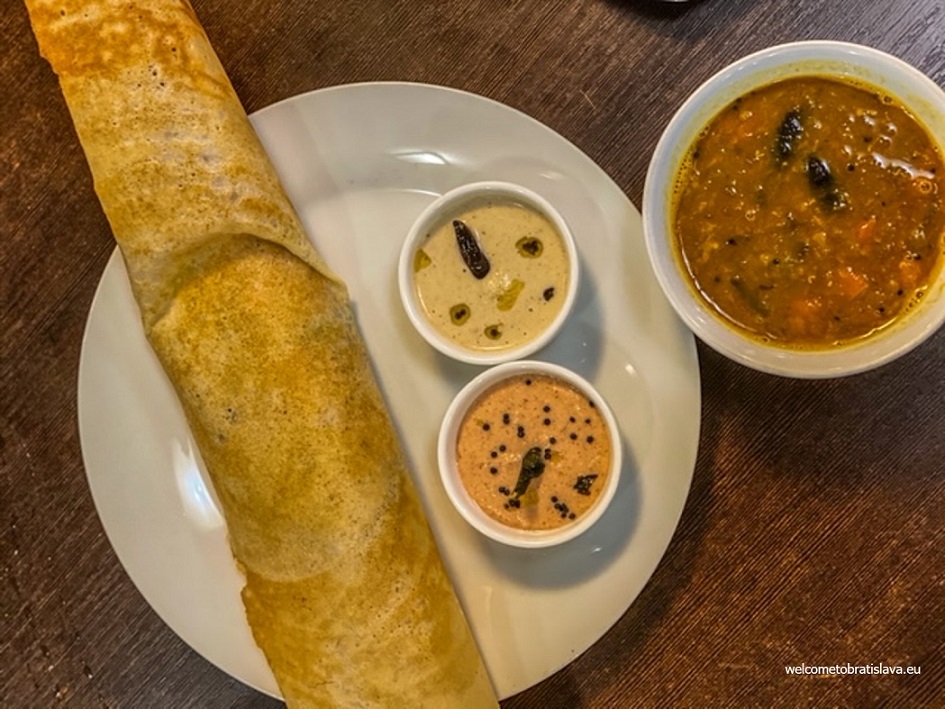 There are several main dishes to choose from at The Curry. Some names you might recognize and some you won't, and at some point we do recommend you try them all. But to easily get the full experience in one sitting, we recommend The Curry Special, which is a Royal Thali (available as both meat and vegetarian options). Literally translated, Thali means plate, but it is also a platter that is traditionally used for Indian meals made up of a selection of various dishes. The Royal Thali at The Curry isn't exaggerating with the word royal; all aspects of it will make you feel just like it. Served on a golden Thali with gold plates for sharing, gold silverware, and gold goblets filled with a sweet and creamy mango lassi, you'll have a royal spread of twelve dishes in one: three meats, two kebabs, dal, maharaja rice, freshly baked naan, papad (a thin, crispy flatbread), salad, raita, and a coriander chutney. Gulab jamon (sweet dumplings thickened with milk and sugary syrup) are also included for a perfectly sweet ending to a very opulent meal. If you do order this (and we really recommend that you do) and are a fan of lentils, get yourself an additional order of the Dal Makhani, a deeply flavored dish of stewed black lentils with tomato puree finished with butter and cream.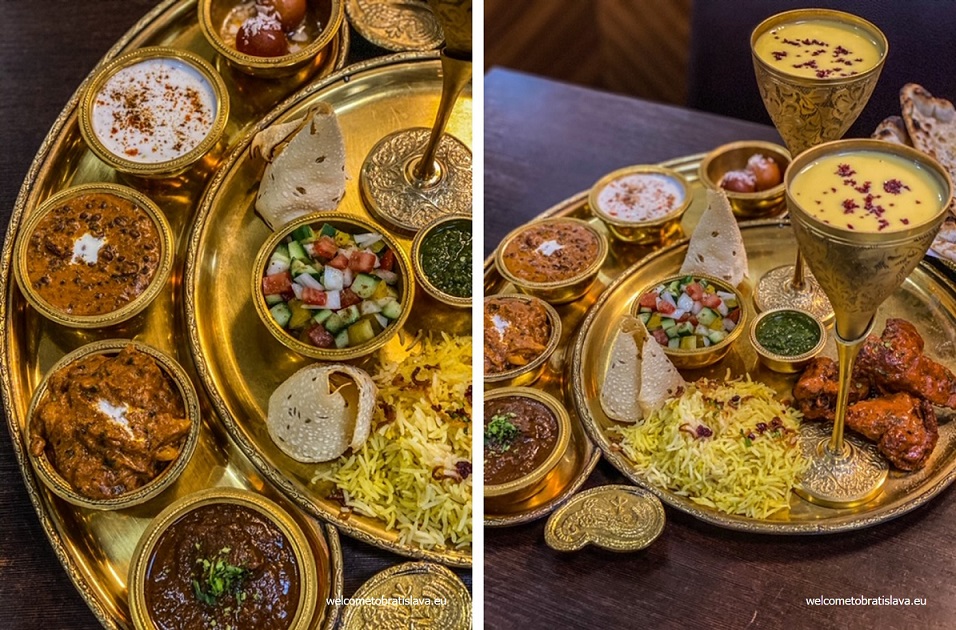 SWEET TOOTH?
Desserts aren't a big point of focus at The Curry, but if you do need something else sweet to round out your meal, order a pot of Masala Tea. A milky tea flavored with ginger, bay leaf, cinnamon, green cardamom, and black tea, the spices are boiled together with the tea for a warm and satisfying post-dinner beverage, with just the right amount of sweetness.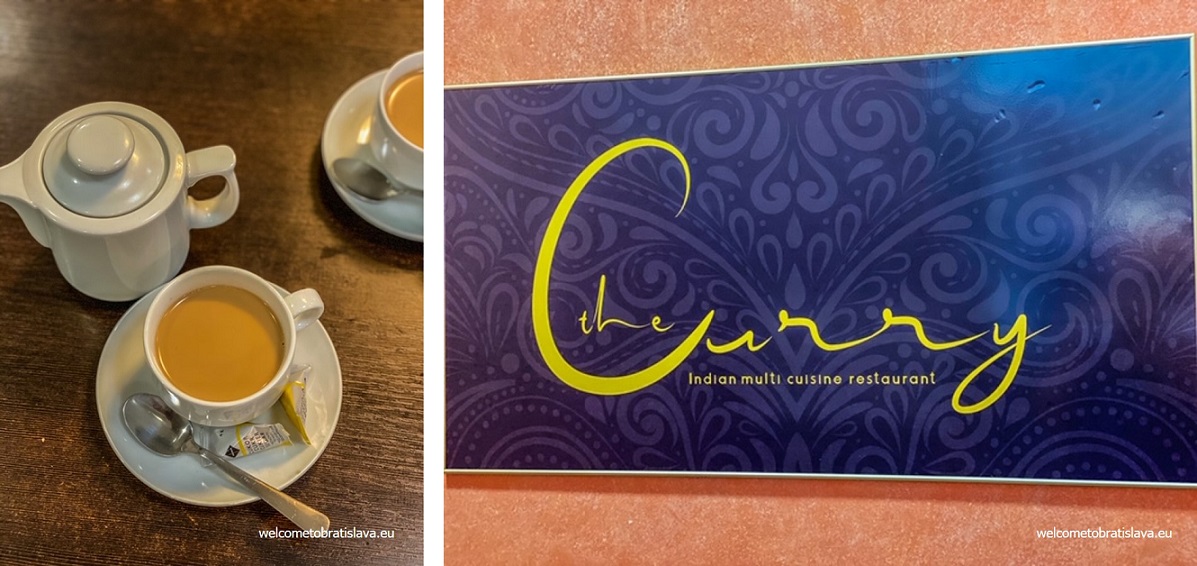 You most likely aren't coming to Bratislava to sample food from India, but if you need a quick break from the plates of halusky and roasted duck (if that's even possible) that are only too easy to find, this is where you want to be. The chefs at The Curry are working with a minimum of 20 different spices in the kitchen at once, and just like a good curry, any dish you have there will be unlike any other.
Author & photo credits: Sara Kay

 OPEN HOURS: Check the official FB site


 ADDRESS: Laurinská 17


 CONNECT: Website, Facebook


 MAP LOCATION: