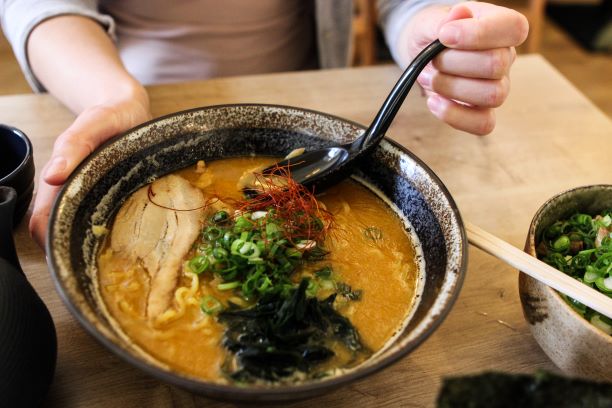 Ramen may be one of the planet's most comforting foods. The delicate fresh alkaline noodles; sheets of juicy sweet-soy and mirin simmered chashu pork and those soft cooked Ajitsuke eggs; expertly prepared Tonkotsu broth, rich with mouth-coating shoyu or miso seasonings: few other meals offer the range of sensations conjured up by slurping down a steaming bowl of savory goodness like ramen can.
Forget that 59¢ cellophane packet of freeze dried nonsense (unless you're super drunk and/or a struggling college student – in which case go at it!). These are Bratislava's choicest bowls of Japan's most soul-nourishing export. Don't agree? Let us know your best spot – we love the excuse to go eat more ramen!
RAMEN KAZU
An obvious place to start for us is Ramen Kazu. Named after its Sapporo-native chef, this Old Town eatery is quintessentially Japanese from the service driven team to the subtle zen of blending a curvaceous baroque interior with minimalist furnishings. The ambiance sets the tone for what is some of the most delightful ramen in the city.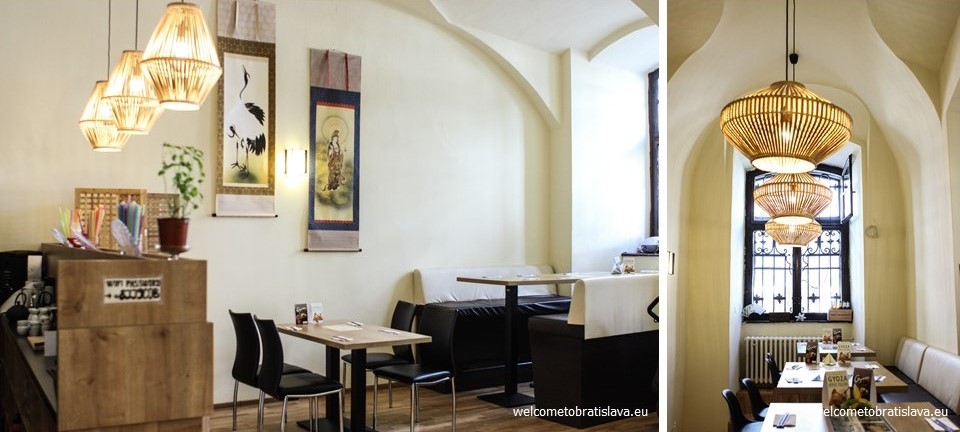 The interior is simple, almost peaceful, allowing the diner to focus on the meal rather than gimmicky Japanese-themed decor or touristy notions of what a ramen bar should look like. Not that tourists don't appreciate it here – it's an idea spot to find tour groups from Japan dining out after strolling the beautiful Panska Street where the shop resides.
While we must note the pricers here are slightly higher than other shops on our list, this is one of the few places in Bratislava that specializes in ramen – a selling point for us. In terms of choice, Ramen Kazu offers the classics: shoyu ramen (soy sauce broth), shio ramen (salt based broth) and miso ramen (miso paste broth). Each come loaded with pork, though the cuts come in various thicknesses to choose from which lends some variety to the menu. Overall, this is as close to authentic as it comes in the city so expect a strongly flavored dish.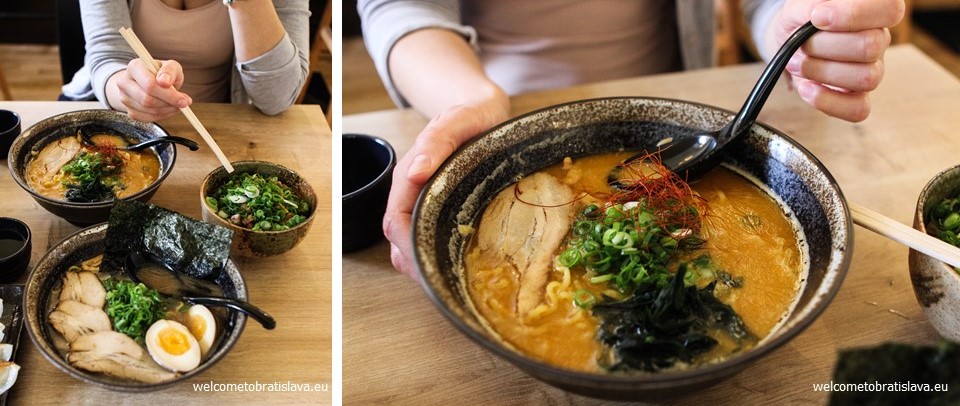 Final word: Special Shoyu Ramen with eggs and Spicy Miso Ramen (which some of us found truly quite spicy) are must tries.

 ADDRESS: Panská 15


 CONNECT: Website, Facebook
GONNSUKE RAMEN
Next on our list is an aesthetic 180 from the serine setting of Kazu, but trust us – the ramen here is surprisingly as close to authentic as possible for food court cuisine. And at a more reasonable price. Located on the second story of Freshmarket – the hipster shopping haven-cum-farmer's market in Nové Mesto – Gonnsuke Ramen is also specializes in ramen with the classic pork and beef broth blend with the added benefit of take-away speed service.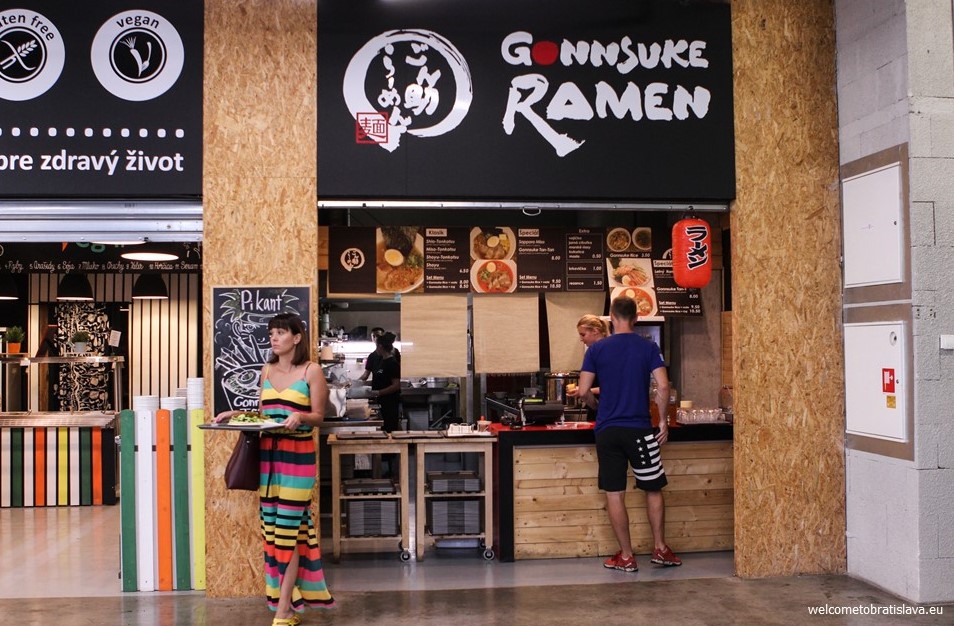 All the favorites are on offer here, from the mild, but pleasant Shio raman to the more robust Shoyo style. The noodles here are a real treat, with a springy texture and mildly alkaline aftertaste. Ask the very friendly team here about the various specials on offer. They are always fun and usually come in more distinct, intense flavor profiles such as the Sapporo Miso ramen with corn and butter. Yes, a delicious pat of butter.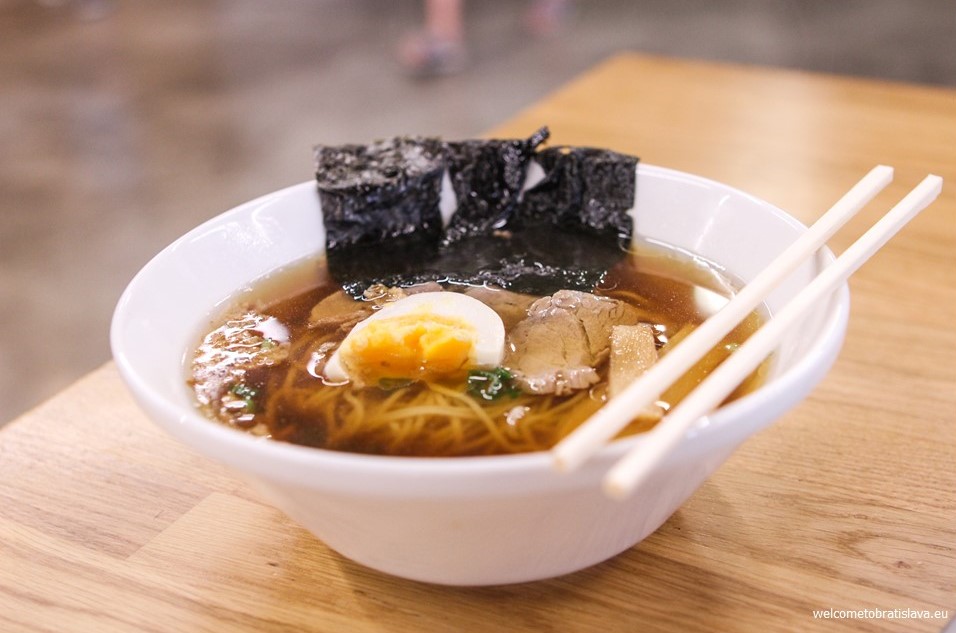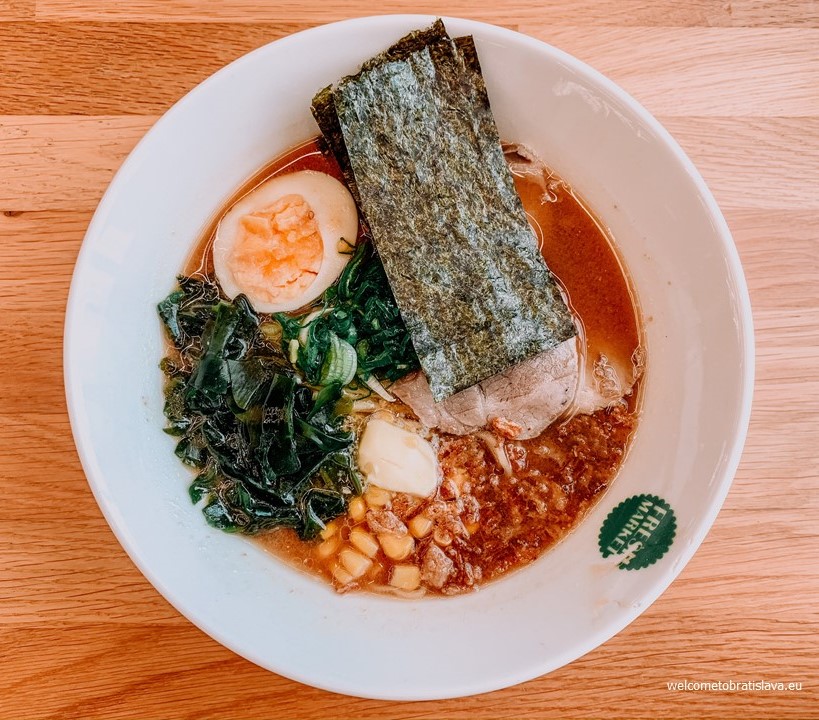 We were delightfully impressed with this walk-up ramen shop and recommend it for a quick, super tasty break from all the weekend shopping we know you're doing between Freshmarket and Yeme. You must be hungry, right?!

 ADDRESS:  Freshmarket, Rožňavská 1A


 CONNECT: Facebook
FOODSTOCK
We were sceptical about trying ramen in a vegetarian bistro – it's hard to imagine our beloved meal without the tonkatsu! Honestly, this was truly delicious ramen. Looking back, we shouldn't have been so surprised. Foodstock started its life in the food-truck scene, offering vegetarian dishes at various festivals and Christmas markets. It quickly became so popular that it was clear to the owners a brick-and-mortar store was needed. Now you can enjoy this amazing cuisine at its small location on Klobučnícka Street – look for the long line of tattooed youths and impossibly cool young families waiting to devour their order there or enjoy it togo under the summer stars at SNP's open-air drinking spot.
This was the only one ramen shop we found in the city with udon noodles – not traditional, but we love the chewy, comforting mouth feel. Plus, the soup is loaded with baby spinach, corn, red peppers, broccoli, onions, and edamame beans so we felt crazy healthy after eating. It's basically a rainbow in a bowl. And while you wait for you meal to be prepared by a lovely, friendly international team, sip on the complementary water that's filtered through the precious stones. Do the precious stones really do anything? Probably not. Do we feel ridiculously zen? You better believe it.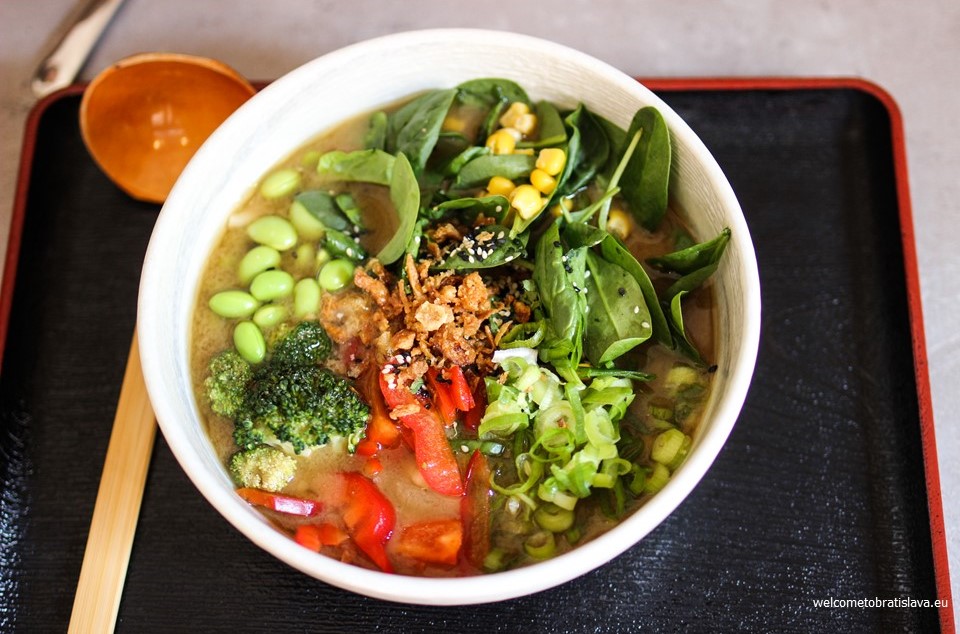 And before you go, you MUST try their Gyoza. It's some of the best in the city. The crunchy little bundles filled with local vegetables and topped with the amazing combination of teriyaki, sesame, and edamame are highly addictive and a perfect foil to that round of shots you're thinking of having next door at Bukowski.

 ADDRESS:  Klobučnícka 6


 CONNECT: Facebook
EDOKIN
The Mall – not the first place that comes to mind when pondering tonight's dinner options. Edo-Kin may lead to to reconsider that. This network of restaurants – mostly hidden way in lively shopping centers – offers very fresh sushi and other tasty Japanese-style dishes in a pleasant, modern, and decidedly relaxed atmosphere. The team is very informal and friendly, yet somehow professional enough to evoke a sense of high quality service.
As for the food, this is fast-food ramen from Central Europe (read: less authentic than it could be), but it is super satisfying and hearty. The menu spoils you with choices starting with main fillers like flank steak, chicken, and even tilapia. Generous portions of egg noodles and heaping ladles of broth fill out the bowl, then it's all topped with items such as eggs, wakame seaweed, tofu, mushrooms, and peas. And don't forget to pick your size – large or really large.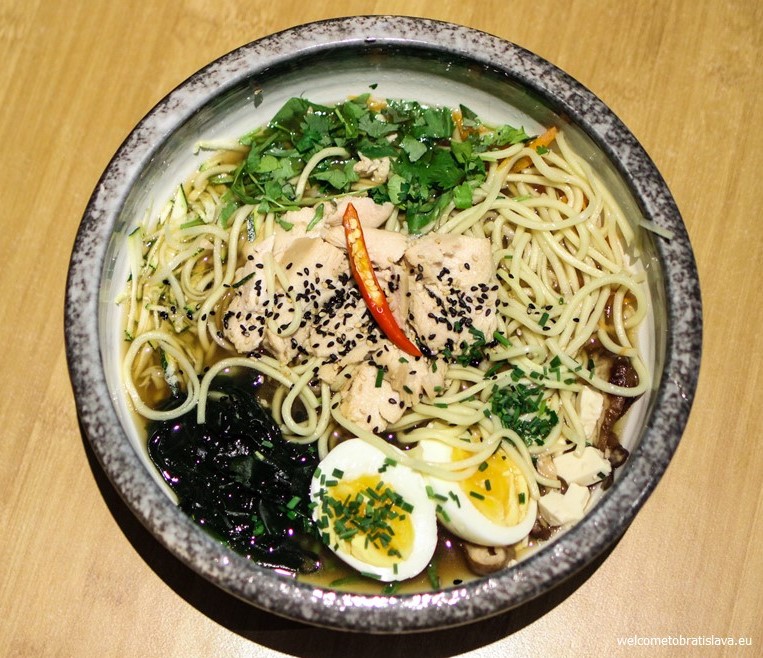 A few tips – 1) We needed to add soy sauce to make our broth richer. Don't be shy if you need to, too. 2) A full menu is served here starting from 2:00 pm – before that you can order only sushi, daily lunch menu, or soups. 3) Expect higher-end prices for food-court location.

 ADDRESS:  SUSHI: Staré Grunty 24 (O.C. Cubicon), Lamačská brána 6780 (O.C. Bory Mall). WOK: Metodova 6 (OC Central), Slnecnice


 CONNECT: Website, Facebook
WAGAMAMA
You probably already know this British chain of Japanese-themed restaurants before Bratislava got it's own site. Wagamama has now become a popular addition to Medusa Group – the restaurant moguls who own some of the city's most thriving chains. It's beautiful location on the Danube embankment within the Eurovea shopping centre has undoubtedly bolstered the restaurant's success, along with with its name recognition, and while the food isn't known for authenticity there are some solid menu items that still make this a go-to spot for lazy summer evenings near the water or a dinner out with your fashionable friends.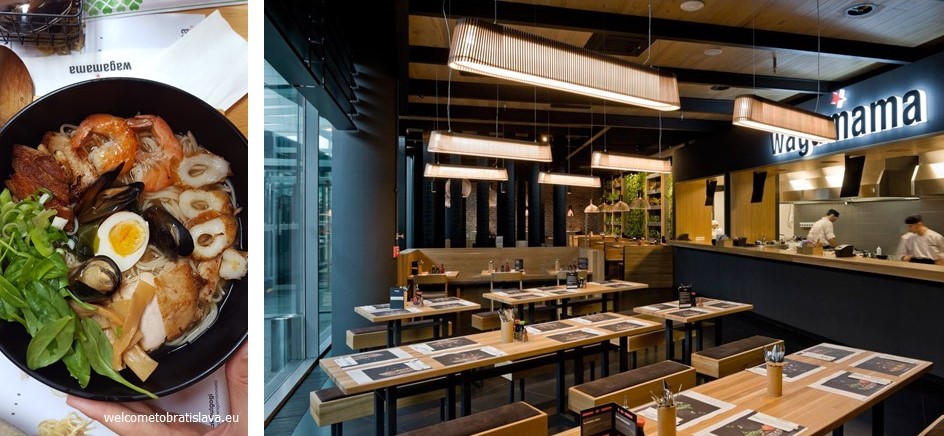 (source: wagamama.sk)
The focus here is small plates and sushi for sharing with at their famous communal tables as you peer into the open kitchen and watch the chefs preparing your meal. Of course, an entire section of the menu is dedicated to ramen, too. Frankly, this is ramen-for-beginners and while good, don't expect to be whisked back to your first bowl of ramen from that college trip to Japan you tell everyone about.  But the concept here is fun and if strong Asian flavors are new for you, and you don't mind paying a higher price than you would at a hole-in-the-wall shop, this is a great introduction into the world of customizable soup.
Choose from three levels of the broth intensity: spicy, light,or rich. Then add extra ingredients to your bowl, if you feel daring. On our last visit we tucked into the self-named Wagamama Ramen and recommend it as one of their better bowls. Fair warning – the portions are gigantic at 850g, but we managed to eat seafood heavy bowl of goodness with no problems (other than a bit of fighting with the unpeeled shrimp).

 ADDRESS:  Pribinova 8 (Eurovea Shopping Center)


 CONNECT: Website, Facebook
Author: Jennifer Brown, Zuzana Mytna
YOU MIGHT ALSO LIKE