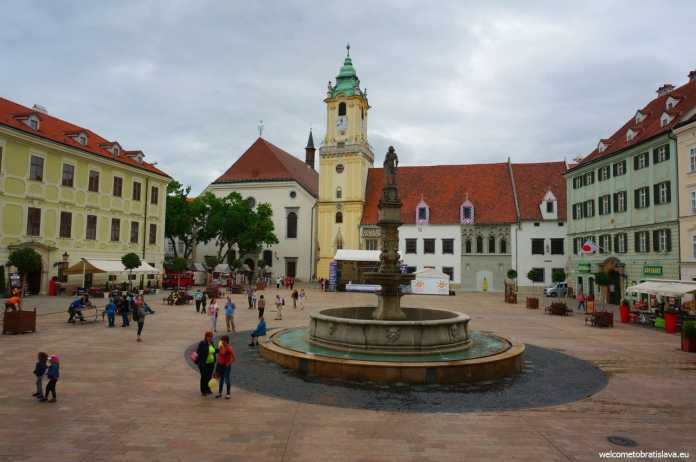 NO, IT'S NOT LIKE IN THAT HOSTEL MOVIE
Nor the Eurotrip. There are reasons tourists visit Bratislava for holidays, get-aways, a stag party or just a casual trip. There is a lot to admire, a lot to experience and a lot to remember.
Bratislava – or BratisLOVE – is a city of half a million inhabitants. It is the capital and the biggest city in Slovakia, even if compared to other important capital cities in Europe, it is really tiny. However it has its own magic. All those tourists which come to visit it thorough the whole year prove so. Does it lie in the friendly attitude of our nation? Maybe. Is it because it gets so cheap to all the visitors from West? It might be one of the reasons we get so many of them. Even though there aren't nearly as many tourists here as in Prague for instance, so it still seems you have the town to yourself. Is it our historical architecture that touches the heart of foreigners? Do people fall in love with our food, traditional drinks or our beautiful women? Most probably :)
BRATISLAVA OR PARTYSLAVA
PARTYslava is also a nickname our city has. There is something about the Old Town area which is situated in a way that you can walk through it within a couple of hours. It means for example that you can just take a short walk from any bar in the night to get to another one ;) It also means you don't get so utterly tired doing the sightseeing and you can enjoy a nice cup of coffee or relax on one of the so-many terraces while finishing off a delicious drink just a few steps from the nearest gallery. At night the whole area turns really lively. The outdoor cafes are packed most of the times and the streets are filled with well-dressed locals and tourists. It's so vibrant because this is really the only place open for people to go.
As you can see, this little city has far more to offer than a strange name. If you want to experience what we think will be one of the most "in" destinations in the very near future, then plan a trip soon! :)
Author: Maria Kecsoova