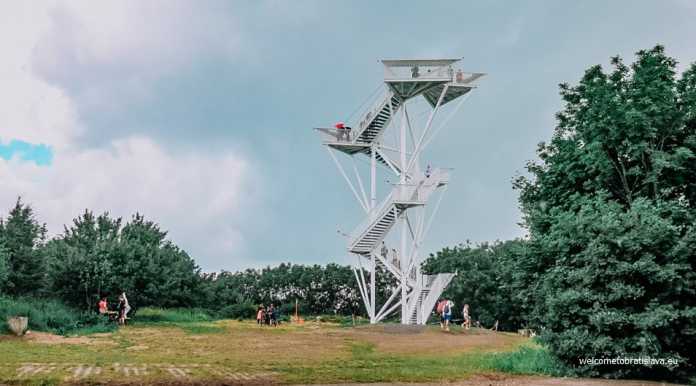 Leave the hustle-and-bustle of this big city behind and recharge your batteries in nature. Take a tram and then take an easy hike to the newest lookout tower standing proudly on Devínska Kobyla. Enjoy the views, which are especially spectacular during the sunset, see the Capital of Slovakia, the splendid Danube river, and even far, far away to Austria.
Location
The observation tower stands on the intersection of popular hiking trails leading from Devínská Nová Ves, Devín and Dúbravka, at an elevation of 514 meters above sea level. It is located near the former rocket base at the summit of Devínská Kobyla, the highest point of Bratislava, and  is very easy to find. Multiple marked hiking trails lead to the lookout tower. We recommend starting from Dúbravka; you can easily grab the bus to reach the "Alexyho" stop,  or by car if you prefer.
If you travel from the Old Town, take bus no. 83 or 84 from stops Zochova, Hodžovo námestie or SAV, or no. X5 from Šafárikovo námestie, Námestie Ľ. Štúra or Most SNP – it's about a 25 minute ride. Later this year, most likely in September, you will be able to go from the Old town by tram.
From Alexyho you'll get there by foot. Pass by Lidl and follow streets Pod záhradami, Vendelíska, and Koprivnícka. In this area, you will start to see yellow markers. Follow them towards an intersection near Horánska studňa and continue to Dúbravská Hlavica. Keep walking uphill and soon you will see the tower. You can choose between a forest or an asphalt path which run side by side. From Alexyho, you should reach the tower in 60-75 minutes. There are places where the hill is steep, but the hike is still doable by bike, with kids, or with a baby stroller.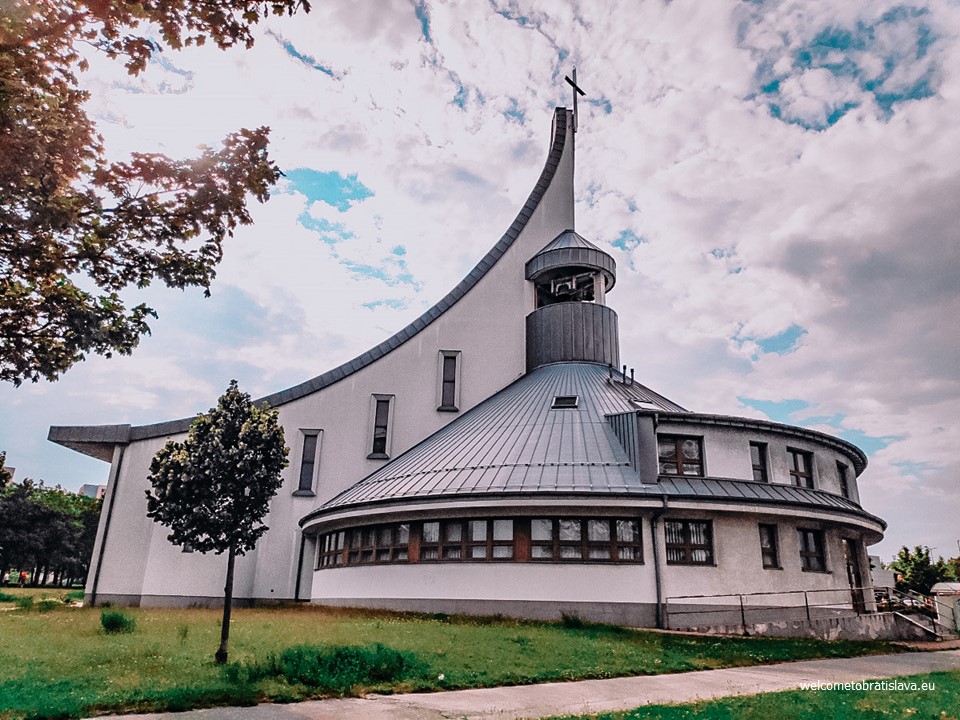 Dúbravská Hlavica has a parking lot if you do decide to drive, but parking isn't always guaranteed, especially on weekends.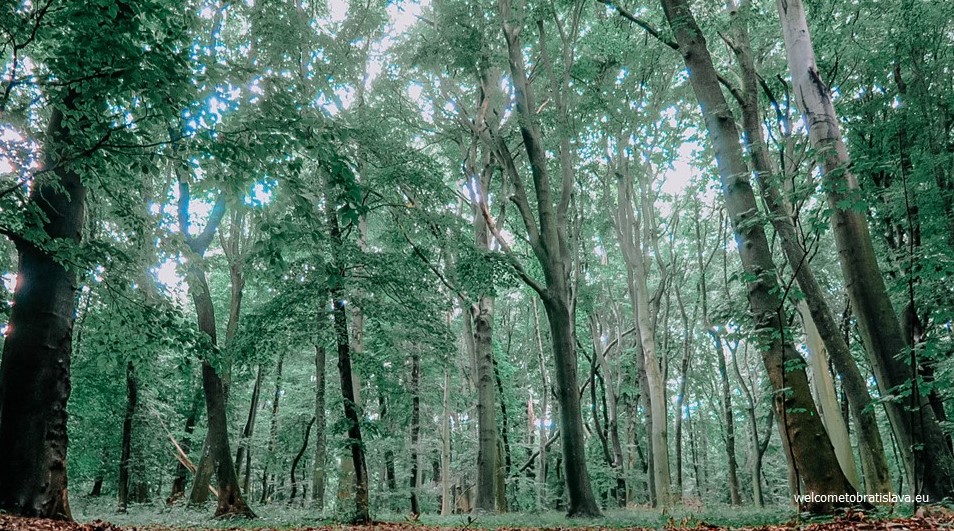 See 4 countries from an enormous iron insect
A long-awaited marvel of our capital city cost 180,000 euros to build, and it was designed by the architectural office "Architekti Šebo Lichý". Inspired by the surrounding nature, the shape of the tower resembles a fighting stance of a green Mantis, a rare and important inhabitant of Devínská Kobyla. There is only one difference. The white tower, which weighs in at over 23 tons, stands out against the background of surrounding greenery.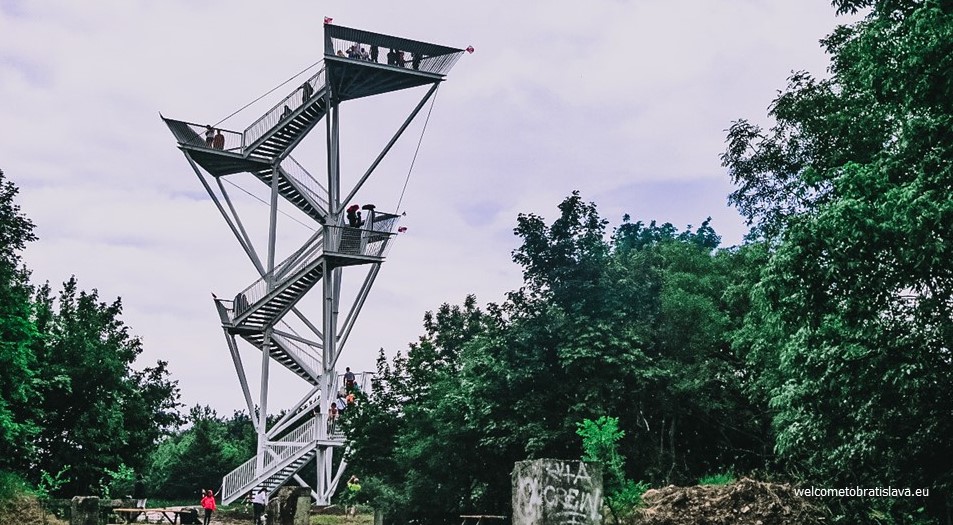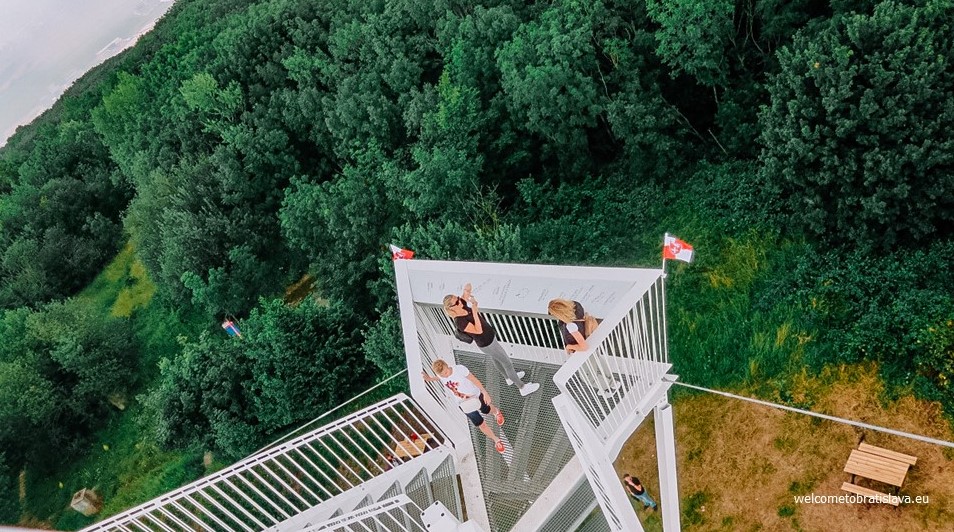 Its body is impressive, but the panoramic view from it is 100 times better. Thanks to its location on the border of three states, it offers a truly unique view. In addition to Slovakia, you can see Austria, Hungary, and the Czech Republic.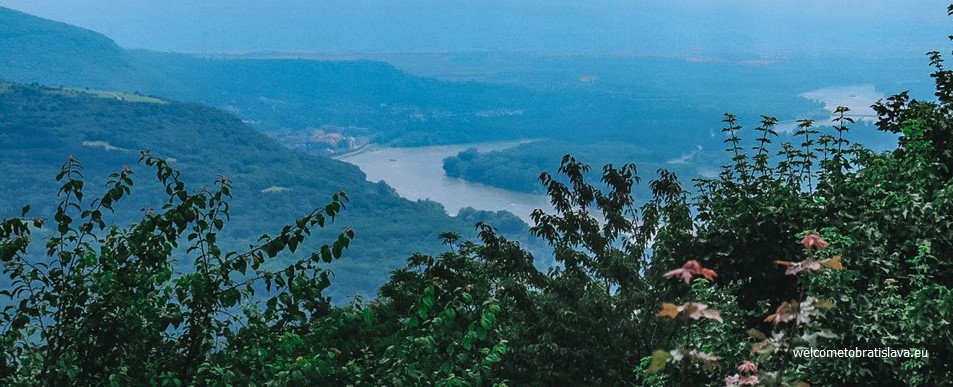 You can admire superb views from three viewing platforms placed at different height levels. The first is at 14 meters, the second three meters higher and the third is at the top, at 20 meters. Each of the platforms are oriented to a different side of the world. If you want to know what you're looking at, just look at the signposts placed on the platforms. If you wanna have the best view possible, visit the lookout tower when the weather is sunny and the sky is clear.
Be aware…
… that the location is touristically undeveloped. You will be able to find some benches and two or three little fireplaces, but there are no other services for visitors. There is no buffet or toilets near the lookout point nor in its close proximity.
Another big problem, especially in the summer, are mosquitoes. We only survived thanks to a super effective repellent applied every couple of minutes.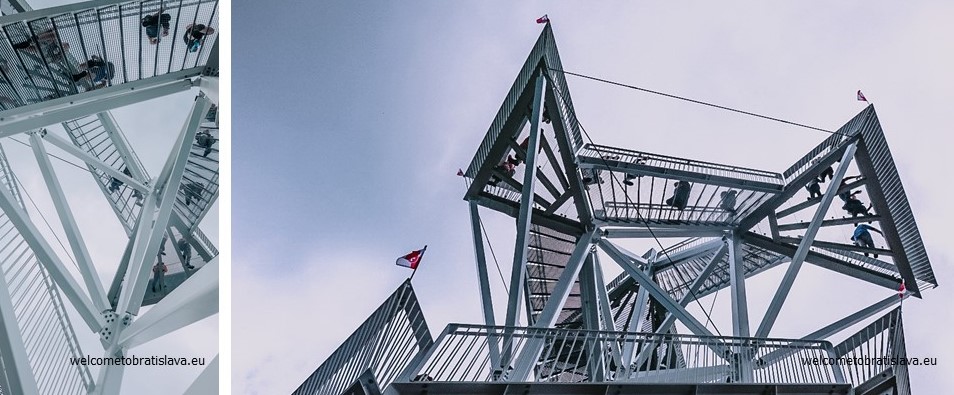 What to see around the Lookout tower?
Devinska Kobyla was loved by tourists even before the lookout tower was built. We understand why. The location is very charming and full of surprises. Check out our article Top five things to see around Devin for more details.
History buffs will be interested in the former missile base, which was part of Czechoslovakian air defense. Concrete silos, bunkers and barracks, built between 1979 and 1983, are interesting to see and easily accessible, however in terrible condition. Watch your steps and kids.
If you wish to find out more about the geological history of today's southwestern Slovakia, visit Sandberg. This paleontologist locality offers you a possibility to check out some really impressive fossils. Plus, from atop you can admire panoramic views of Bratislava.
You can clearly see Devín Castle, another significant monument in the area consisting of ruins from an originally Gothic castle. It magically rises on a cliff above the Danube and Moravia river from where it offers an outstanding view. You can learn about the castle's turbulent history in its museum.
Author & photo credits: Jana Kristeková
OPEN HOURS: Without opening hours. The only restriction is that entry will be prohibited in the winter.
TICKETS: Free admission. The municipality has stated that it does not plan to collect any entrance fees.
MAP LOCATION: