An alert for all wine lovers! There is a place in Bratislava you shouldn't omit  from your itinerary by any chance. As the name implies, The National Wine Salon is a spot where you can try all the best Slovak wines accompanied with an expert explanation from the sommelier. You can also buy these wines or take a wine workshop. All under one roof. Sounds good? Read more below :)
LOCATION
The National Wine Salon resides at a very good address, literally just a few steps from the Main Square. With Maximilian's Fountain behind, continue straight to the end of the square and then turn to the right to Radničná Street. There it is, hidden in a cellar of Apponyi Palace, so easy to overlook! Usually there is an advertising banner laid on the street, alerting the entrance. A good orientation point might be the restaurant Divná múza (Strange Muse) located in the same entrance gate. The entry to the salon is before the restaurant on the right, then down to the cellar.
INTERIOR
Apponyi Palace is a rococo house from the 18th century and national cultural heritage and the salon is located in its cellar.

Not a lot of decor in rococo style down there, but as a wine lover you will probably appreciate its decoration even more :) Top 100 Slovak wines flank the brick walls, which creates visually a pleasant experience, too.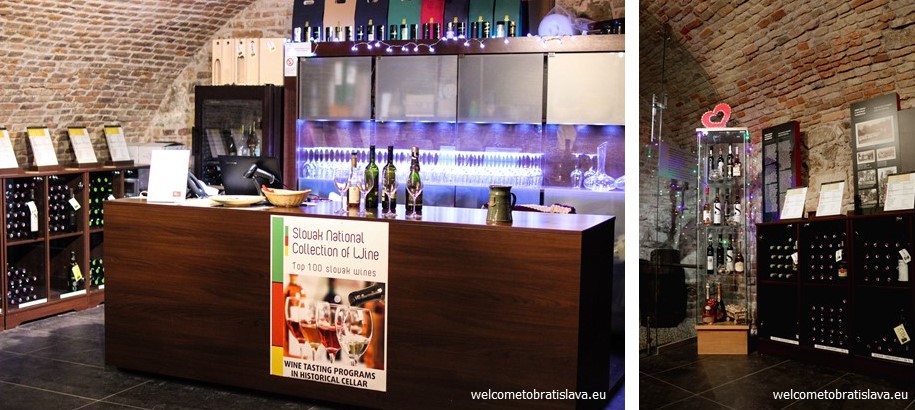 In this cellar full of wine with poor mobile signal you might feel as the time has stopped. And in a way it has. The wine making tradition in Slovakia has lasted for centuries and we are thankful for the legacy those wine merchants left us. The houses they once lived in still have cellars for wine storing – like this once – and we are benefiting even now.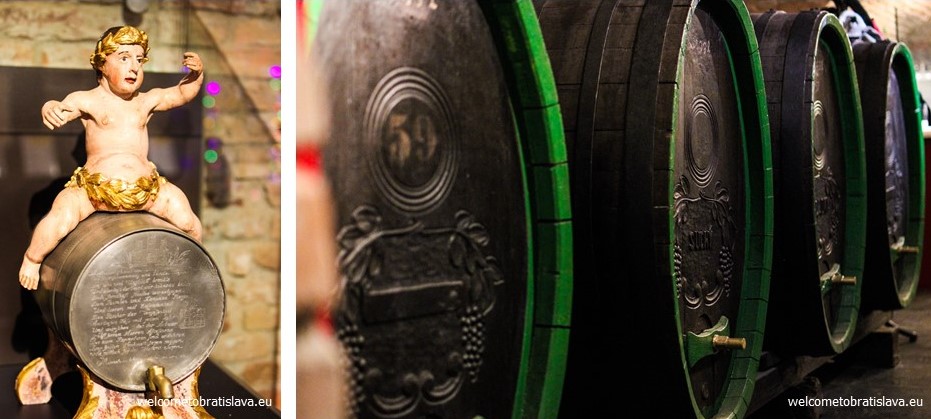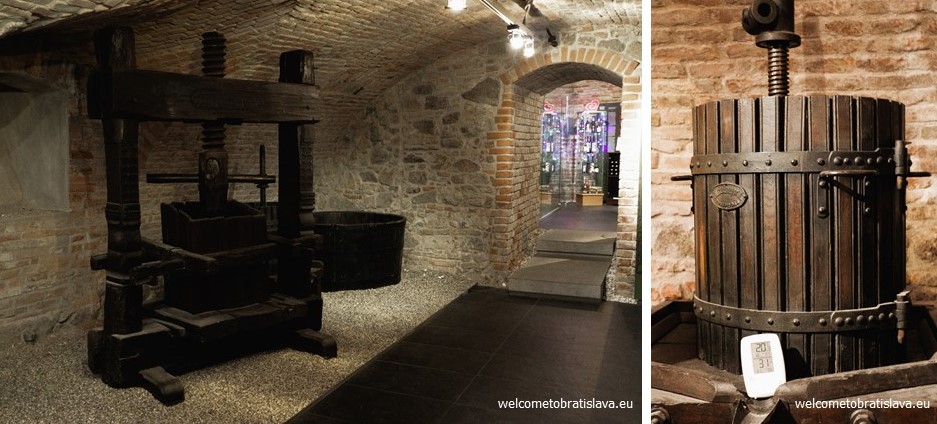 WHY IS THE NATIONAL WINE SALON SPECIAL?
The secular tradition of wine making together with fertile land for vineyards and modern wine-making technologies are a great base for a generous variety of Slovak wines. And here in one place you'll find the complete collection of winners of the annual competition organized by The National Salon of Wines of Slovakia. Wines which are not only produced in Slovakia but use Slovak varietals, too.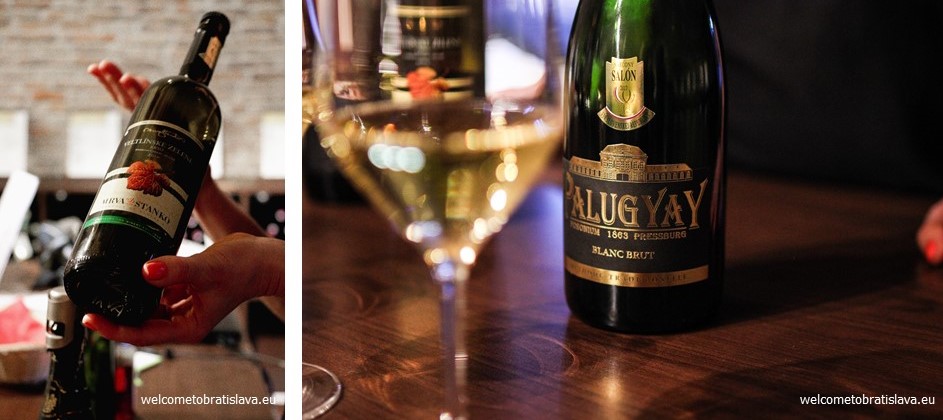 It is up to you if you prefer having a guided tasting with a professional sommelier, where you can choose two, four or eight wine samples in a price from 5 to 12 euro. Or for more adventurous or thirsty types, there is a solo tasting. For 23 euro per person you can get 72 wine samples and time limit 100 minutes. Pretty challenging, right? Wine tastings are available in English and German and you can book them online in advance, which we strongly recommend. Just to be sure you get a spot :)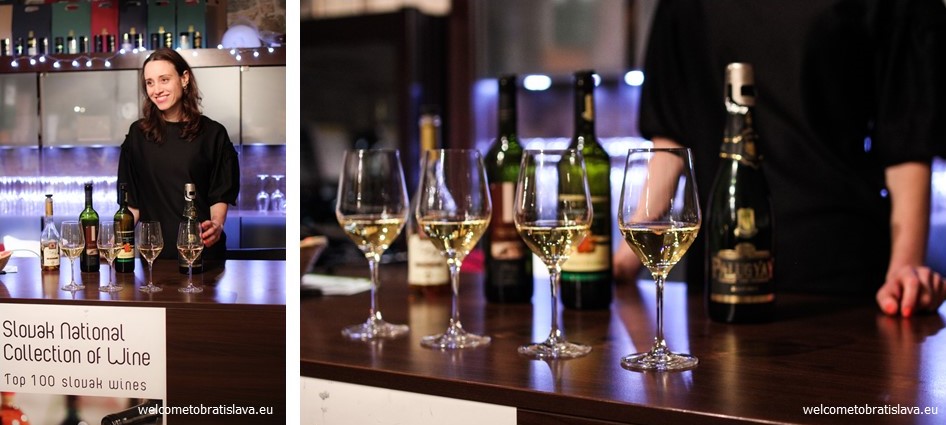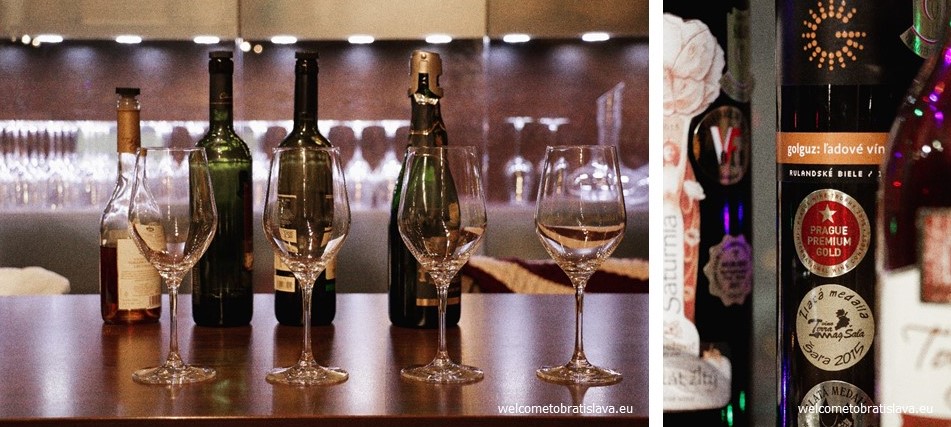 It should be said that most of these wines are available in other shops as well, but here you are afforded the comfort of having them all under one roof and for a very reasonable price. If searching for a present you can also buy gift wrapping,  wine literature, cups, carafe, jugs or other wine related stuff. If you cannot decide, just buy a voucher and let your donee pick for you. Also worth  mentioning are some other services offered, like renting a historic Mayor's room for private events and booking a tour of the historic cellars. They also organize wine workshops where you will get oriented in Slovak wines in three hours in the Museum of Viticulture. The price of 59 euro also  includes some little food for  wine and a surprise at the end :)


And how did we enjoy the tasting here? Check our video:
An alert for all wine lovers! The National Wine Salon is a spot in Bratislava where you can try all the best Slovak wines accompanied with an expert explanation from the sommelier. You can also buy these wines or take a wine workshop. All under one roof!

Zveřejnil(a) Welcome to Bratislava dne 31. březen 2018
Big thanks to our Evka for the article and Natasha for some of these pictures and the video!

 OPEN HOURS: Check their website


 ADDRESS: Apponyi Palace, Radničná 1


 CONNECT: Website, Facebook


 MAP LOCATION: