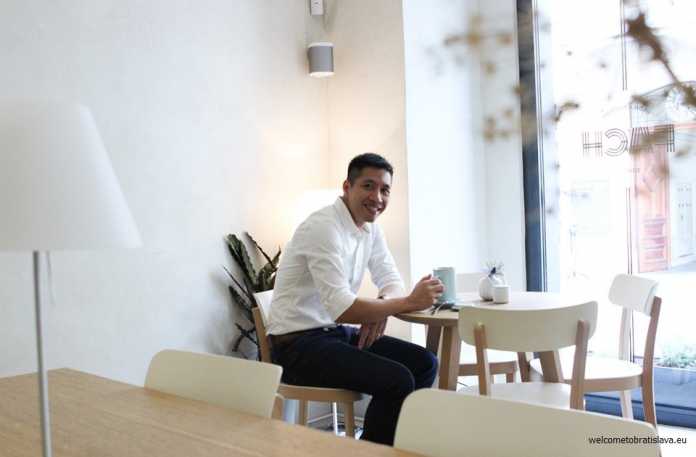 This is one of the 3 special interviews – an entrepreneurial edition – prepared within a project funded from the European Social Fund, supported by the Visegrad Fund and prepared in the cooperation with the Human Rights League.
The story of a Vietnamese businessman: They thought I was crazy to open a restaurant in a dead shopping centre
He Nguyen is a businessman who was born in Vietnam and came to Slovakia to study at the University of Economics. He went through several occupations; from PhD studies up to running his own business. He owns two successful restaurants focused on Vietnamese cuisine. He told us about his beginnings, struggles that he faces and gave recommendations for foreigners who are considering running their own business. Thanks to his language skills, the interview was held in the Slovak language.
You were born in Vietnam. Why did you decide to come to Slovakia?
I have lived in Slovakia for 15 years already. I have two aunts here who finished the tertiary education at the University of Economics. They were telling us that Slovakia is a nice country for living, with peaceful people and a good level of education. I was never a good student back home. So my father decided to send me to study to Slovakia after finishing my secondary school, so I would bring home a diploma. As my father was in the military, it was an order and any negotiations were futile.
What were your beginnings like?
I didn't speak any English, so every language was actually foreign to me. Before my departure, I had focused on learning English and studied it for a year. I found out that I'd managed to grasp it quicker than expected and that I might have a knack for languages. After arriving in Slovakia, I participated in an intensive Slovak language course for a period of nine months, so I could take the acceptance exams to the university in the Slovak language. Despite being a foreigner, they were identical to those for Slovaks. There was no difference. I graduated the Faculty of Economic Informatics of the University of Economics in Bratislava and continued in the PhD studies. I stayed at the University for six years teaching statistics in both English and Slovak.
However, now you do something completely different. Why did you decide to change your career?
I got married and even though I loved my job, I could not support my family with such a salary. I changed my position and started working for a financial corporation as a Risk Manager. My wife works for a big international company, so we both had stable corporate jobs. When we went for lunch  with colleagues, we often could not find places that would cook healthy and fresh meals. Since I like cooking and Vietnamese cuisine is based on freshness, I got an idea to monetize this concept. It has now been three years since I became an entrepreneur.
What were the first reactions when you decided to run your own business?
I opened the first restaurant at Dlhé diely. Everyone thought I was crazy to open a place at the end of the world, where no one goes. But I aimed for a family atmosphere where locals would return. At first, I was afraid of the competition, I didn't have anyone to hire and also lacked finances. All of these factors and also fear prevented me from opening something bigger and in the city center.
Firstly, I had no staff in the restaurant. It turned out not to be the best option, as the location was really far! There were no companies around from which people would come for lunch. The business started very slowly. My wife supported me financially at first. Then the business took off a bit but I worked more than when I was employed and for less money. The next year brought a change. Suddenly I could hire another person and instead of working 16 hours a day, 10 hours was enough. This was finally a phase when I could start thinking about further development. My restaurant at Dlhé diely has now a good reputation and high ranking.
Consecutively, I opened my second branch. The motivation came from my clients who regularly told me to open a restaurant in the city center. I was afraid but everyone was jokingly saying that when I managed to open a restaurant at Dlhé diely, that I would manage this one, too. When I found a suitable space in a dead shopping centre, people were again telling me that I was crazy to think that I could run business on the sixth floor of a building nobody was going to. But I liked the view of the city center. Now, on top of me, I have six other people in the kitchen and each of them specializes in one specific task. I focus on preparing the specials, I check the quality and watch over the service. Thanks to such division of work we can manage to prepare meals quickly, with short waiting time for our customers.
What helped you to start your business at the beginning and how do you ensure its further advancement?
We have a different menu in each of my restaurants. The one at Dlhé diely is more family oriented. In the city center, I can be more courageous to experiment and market it on the more modern lifestyle. For example, I can serve fish in the city center, since I want to have it fresh and there wouldn't be enough people to order it at Dlhé diely. I don't want to create exact copies of the restaurants. To me, it means the end of creativity.
I read a lot of reviews about my places. I personally prepare the menu, including the text. Even if I make many grammar mistakes, I consider it being authentic with my foreigner's Slovak. We also try recommending new customers the meals that meet their preferences. If they want to choose the meal themselves but have never tried Vietnamese cuisine before, sadly they have to accept the fact that they might not like the selected meal. It's impossible for everyone to like everything. Everyone likes something else and the fact that someone does not like something, it does not mean the meal is not good. It just means that it is not their style or it is a new taste to them. That's why we have several styles on the menu, so everyone can find their favourite meal here.
Why did you decide to abandon the safety of your corporate job and take the risk?
I had a stable life before, that's true. I decided to take a risk because I like to fight and making the biggest efforts makes me happy. I don't want to regret, when I get old, not having the courage to take the risk and go for it. I knew that if I wasn't successful, I could return to my previous job. I always try to look at the bright side of things and therefore I saw an opportunity to learn new things and experience something new. Now, having two kids, I would probably not allow myself to take that much risk but back then, the circumstances were ideal.
Let's go back to your beginnings. How would you describe the first administrative and legal procedures you had to go through when coming to our country?
Starting a new business in Slovakia is the same catastrophe for the locals as well as foreigners. There isn't a unified place where all relevant regulations and laws would be accessible or explained, the steps and documents that need to be taken when starting a business. For me it was a bit easier, as I had studied here and had my network of contacts and knew the language. I found the information more easily. But I still needed to invest an extreme amount of time into it – time needed for information research, asking my contacts for explanations, or running around the relevant institutions that would provide me with more information. I could not prepare myself in advance because many internal regulations were accessible only at the given institution. Personal contact was inevitable. In Austria, people get a free course or a small amount of money to start their business. We do not have anything similar here. I feel that the state does not help you with starting your business, even though you contribute to the society with it, create new job opportunities, boost the economy and pay taxes. Now, for example, I have 15 employees, so I can see the direct value that I am creating.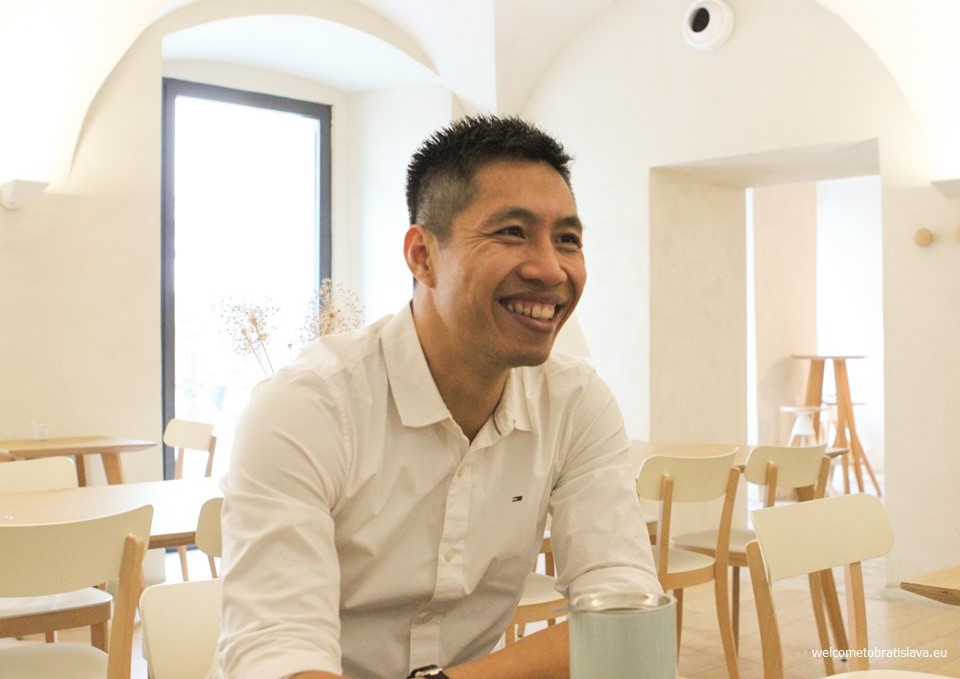 What were the biggest struggles that you had to face at the beginning?
The toughest one was the red tape. It felt like I had no time for my actual business. There is a more liberal market in Vietnam and the administration is easier there. In Slovakia, some of the regulations are too strict and it's almost impossible to meet them in real life – they make no sense in the real world.
What helped you the most when starting your business?
I definitely recommend all foreigners to take up a Slovak language course. Language courses are quite affordable here and will open you doors to the local society. You will understand Slovak behaviour and culture better and will be closer to the end market to succeed. It helped me to integrate, since each nation has its specific customs. My other recommendation is to connect with the community from your country after arriving in Slovakia – they went through the same process and all the conditions they had to meet apply to you as well.
Another thing that helped me in my business was my social network. Problems that were insoluble for me were a small thing for my contacts. A good example is the situation when I was looking for new premises, or when I had different red tape issues. A big problem was the question of contractors, which were hard to be found and I reached them thanks to personal recommendations. My restaurant has high requirements for the meat, which I wanted to have from Slovakia, or we care about the freshness of vegetables. It was tough to reach smaller, high quality contractors but I managed eventually.
Have you ever had a feeling that you as a foreign entrepreneur here have some advantages in your business, compared to the locals?
When you want to start your own business, you have to have a new idea that is not yet present on the market. It was natural for me to bring it from my country. Every foreigner can think about introducing something here as new – culture, services or something else. It's most important not to compete with the Slovaks in what they already have. That's why I opened an authentic Vietnamese restaurant. In Slovakia, the concentration of foreign enterprises is increasing and so does the number of foreigners. People travel more and have bigger zest to try new things and not just traditional ones as before. So definitely, I consider my origin as advantageous. As I come from Vietnam, I can offer Slovaks our authentic cuisine.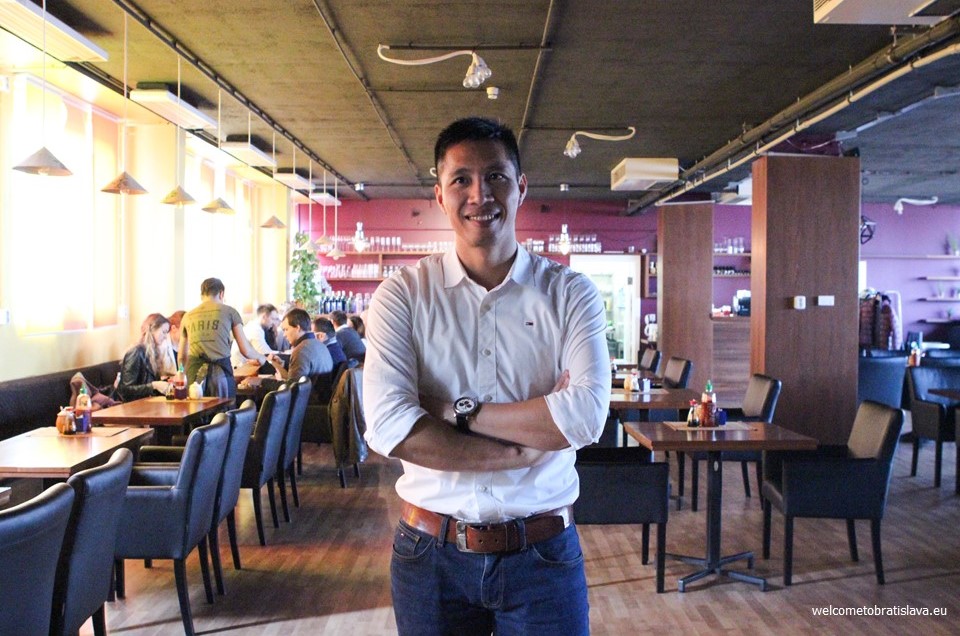 Did you try using local financial structures aimed for supporting businesses?
When you start a business, you have to count with the entry investments. To calculate with any subsidies from the Slovak side is a dead end street. A bank needs a history and there are no governmental support structures. There might be EU funds one could apply for but unfortunately I do not have access to them or an overview about how they work. I started everything from my own resources.
What about your closest friends and community, do you connect more with foreigners or Slovaks?
The bond between foreigners is firmer. Because we have the same problems, we share them and talk about our experiences and support each other. We have a similar lifestyle and we have more topics in common than with the locals. After some time, however, I naturally bonded with Slovaks. I value these relations very highly – I have only a couple of them but they are very deep. I move a lot – I play football and this is my way of meeting Slovaks and befriending them. I started with football already at the university and I still play with the same people. I have more groups with which I play lower league and it's a great way of making and maintaining contacts.
Was it hard for you to integrate into the local community?  Do you feel now like Slovakia is your home?
I think that the most important thing is to be open. To be ready that things will be different than in your country. To remove negative emotions. I cannot say something is bad just because it is different. By removing the barrier and respecting the culture, I received the openness back. From time to time there are situations when I have to explain some things to my kids. For example to my daughter who attends kindergarten. Once, other kids were asking their parents why she has a different name or looks differently. But I accept that I am a foreigner here and I try to explain that these children just don't know us and that we have to explain them where we come from. We feel good in Slovakia and I consider this country safe for me and my family.
You can read the Slovak version of the interview here.
Author & photo credits: Zuzana Mytna