Waffles are always good news – cover them in chocolate sauce, berries, or top them with maple syrup. They are happiness on a plate.
We should mention that waffles are not the most common thing in Bratislava and there are only a few places that serve this tasty treat. We searched high and low for the waffle places in our city. Check out our ultimate waffle guide on where to go to have nice waffles in Bratislava. It's time to ditch your bowl of fruit, and order waffles instead!
ICE-DREAM
Ice-Dream is a lovely ice cream place that serves amazing waffles – with whipped cream, chocolate and forest berries dusted with powdered sugar. Apart from this, they also serve them with their amazing gelato! We think these waffles are the best in town! When making them, they follow the Brussels waffle  recipe and as a result, you can expect perfectly tender dough, lightly crispy on the outside, with amazing fragrance. It seems the waffles here won't be only a seasonal winter thing but a permanent team member thanks to their success. If you crave for something unusual, try their waffle fries!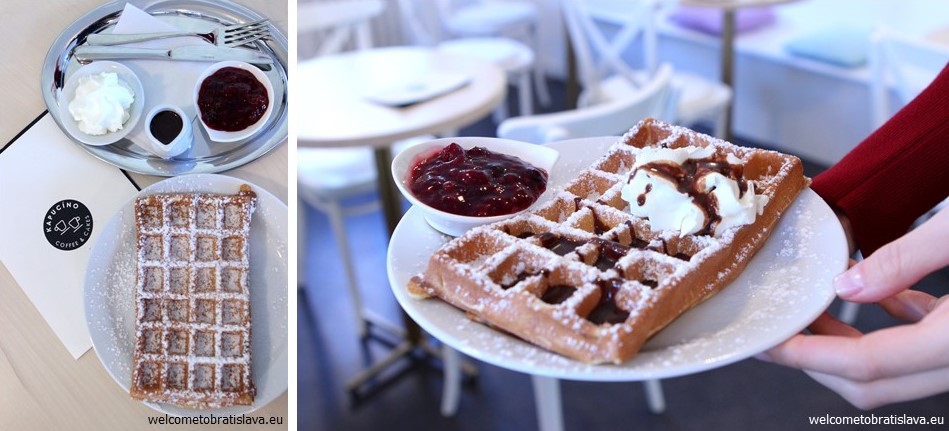 This place is also known for their attentive service which makes you feel like aristocracy in the beautiful pastel colored feminine premises.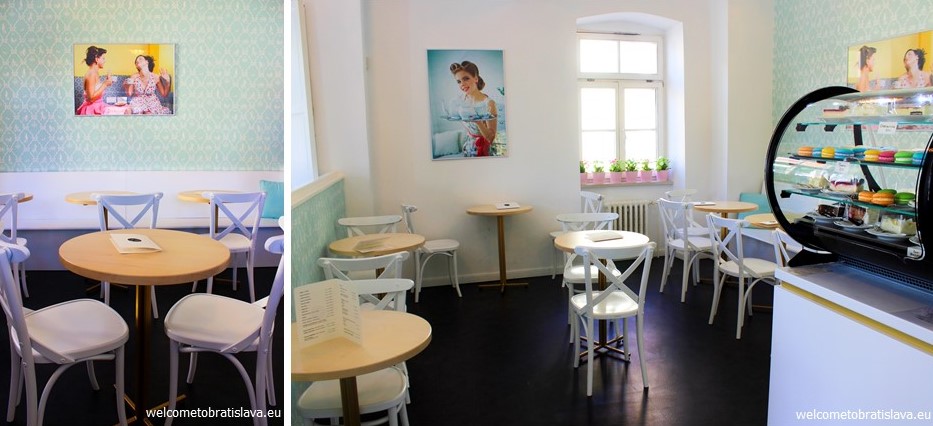 OPEN: Check the official FB site


 ADDRESS: Špitálska 23


CONNECT: Website, Facebook


 MAP LOCATION: 
MATSU PREMIUM TEA & COFFEE
We are going to put our Honorable Mention waffle spot smack dab in the middle of this piece, that's how enamored we are by Matsu Premium Tea & Coffee. Allow us to explain – this ADORABLE Japanese themed tea and coffee house on the work-a-day Spitalska Street is not a waffle house. This is an amazing cafe for authentic green tea and hipster Japanese snack specials in an Insta-worthy setting that happens to serve waffles. But we fell in love with this place so we had to mention it here – honorably.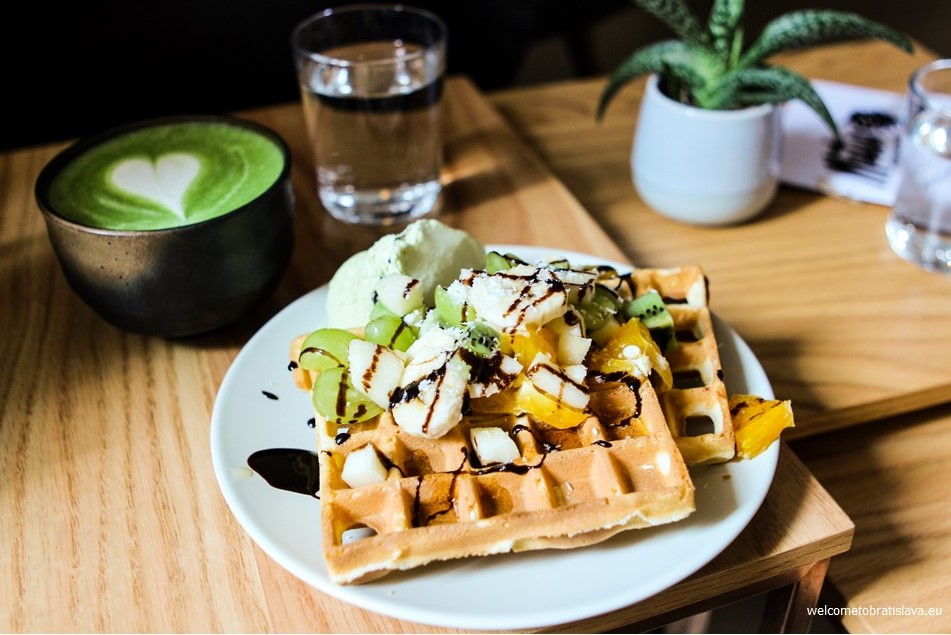 The incredible team of baristas are specialists in coffee and tea, as mentioned, and this is the perfect spot to unwind that's close enough to the bustle of Old Town without the risk of having to endure a roaming stag party [read: not touristy]. We definitely recommend the decadent waffles with matcha ice cream as the must-try. And for you Japanophiles, regular events watching Japanese movies and even speaking Japanese take place here, too.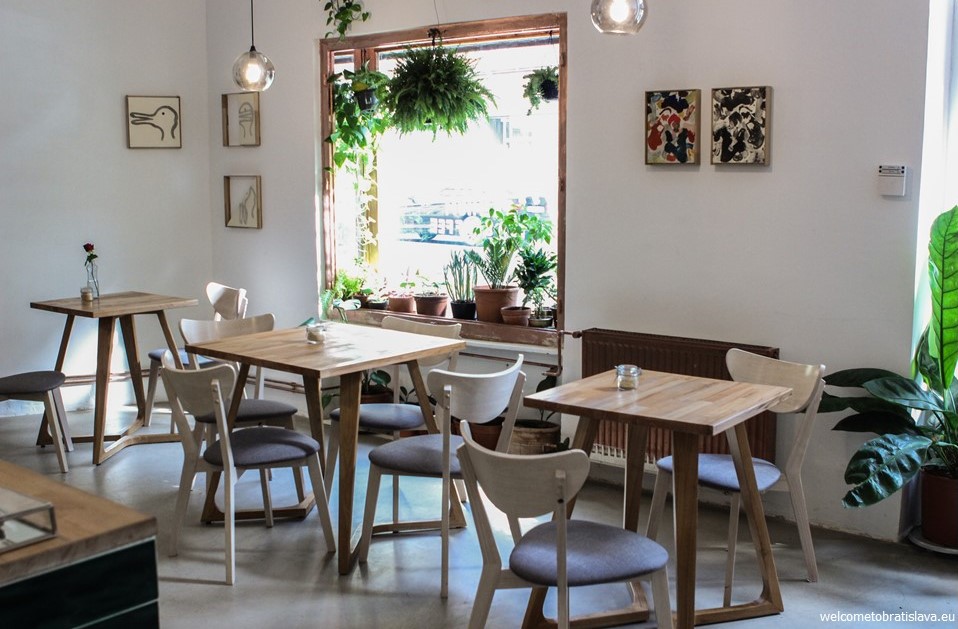 OPEN: Check the official FB site


 ADDRESS: Spitalska 51


 CONNECT: Website, Facebook


 MAP LOCATION: 

PAN KRALICEK PRIESTOR
Pan Kralicek is a lovely hipster hangout in the proximity of the Nivy bus station. They offer three kinds of waffle dough (vanilla, nut and gluten-free) with three kinds of toppings (banana&chocolate, maple syrup&nuts and berries) and with whipped cream, following the Liege waffle recipe. In general, we loved the waffles here! Just don't order the gluten-free ones if you don't have to – these are very dry and have no taste. The rest are great :)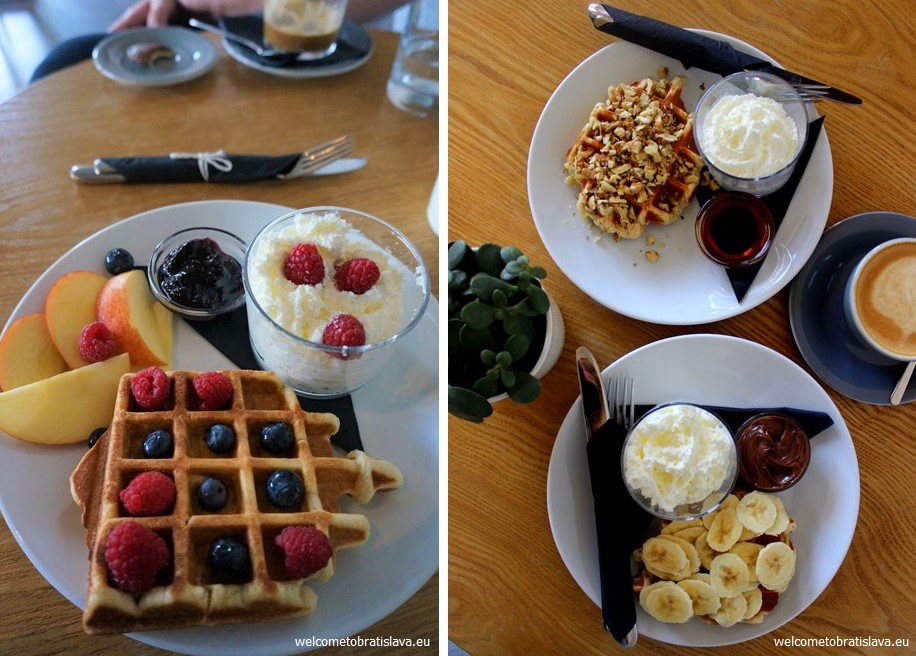 What else is Pan Kralicek known for? Coffee, clearly! They offer just two coffee brands – one basic and one specialty. Big deal comes with choosing the method of coffee brewing. They have all those classic ones and also some special ones, according to the season. For example, for the summer time they don't only have our beloved affogato (with a scoop of Madagascan vanilla ice cream that is smothered by coffee, yum! :), inverted iced cappuccino, but also cold brew or cold cascara.  Or try something brand new – like nitro. This is coffee cold-brewed in large barrels for more than twelve hours, with white foam on the top reminding a draft beer!


 OPEN: Check the official FB site


 ADDRESS: Budovatelska 2


 CONNECT: Facebook


 MAP LOCATION: 
KOUN
Koun is known for making one of the best gelato in Bratislava. Its ice-cream became a cult here – with the flavors changing  daily, and always offering something exciting such as muscat wine and wild strawberries or cream and salted peanuts.  
This is another place in Bratislava where the waffles are served with ice-cream! They are one of Koun's seasonal specialties, mostly during the winter time, so if you head up here only because of waffles, rather contact them in advance to check if they are still on the menu. You can choose one scoop from the daily offer ice-creams and the topping. While we did not enjoy the waffle's dough that much (it tasted a bit powdery), we liked the overall combination with the ice-cream.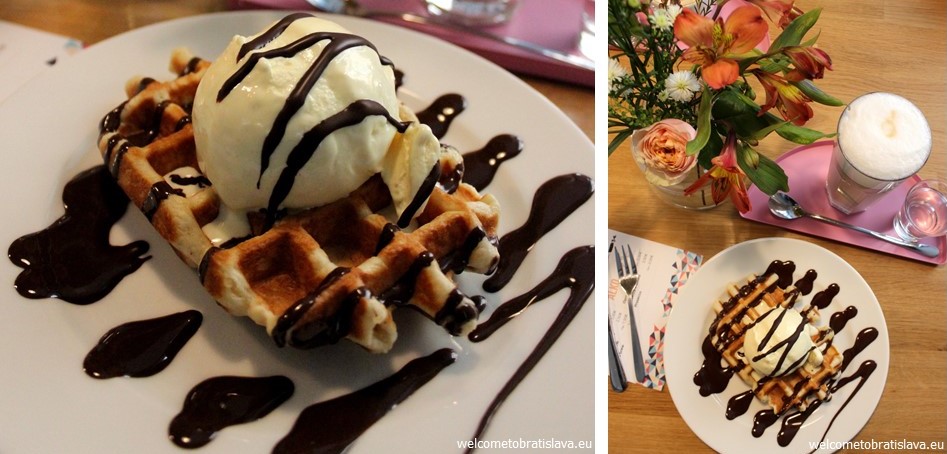 Eating waffles in Koun's premises is an experience on its own. Bright walls and a natural wood-beam ceiling give this large space a modern, very hip feel that is made delightful by the large cotton clouds and ice-cream cones floating above. The artwork and other details such as fresh flowers are truly charming.


 OPEN: Check the official FB site


 ADDRESS: Paulinyho 1


 CONNECT: Facebook


 MAP LOCATION: 
STUR
Delicious food, heavenly cakes and home made drinks. Add a big amount of charm, shake it with a good deal of hip people and you get a lovely cafe which lives its vivid life in a busy street of Bratislava Old Town.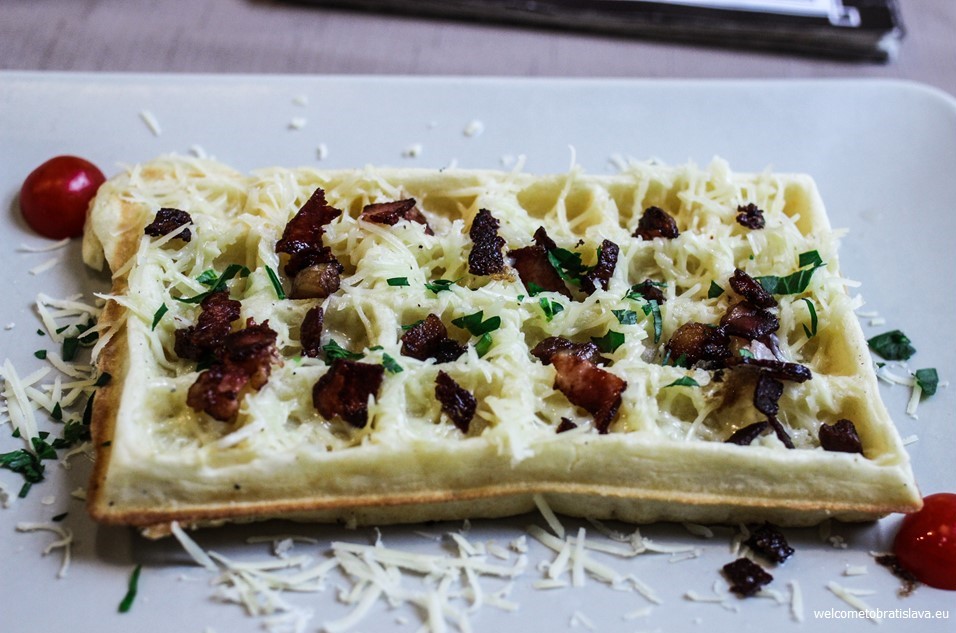 Stur is the only place where we found savoury waffles – with cheddar cheese and bacon! We have to say that we enjoyed eating it, the dough was tender and  we liked the unusual salty combination. For those who like their waffles sweet, no worries – they have the classical ones with chocolate and whipped cream on the menu, too!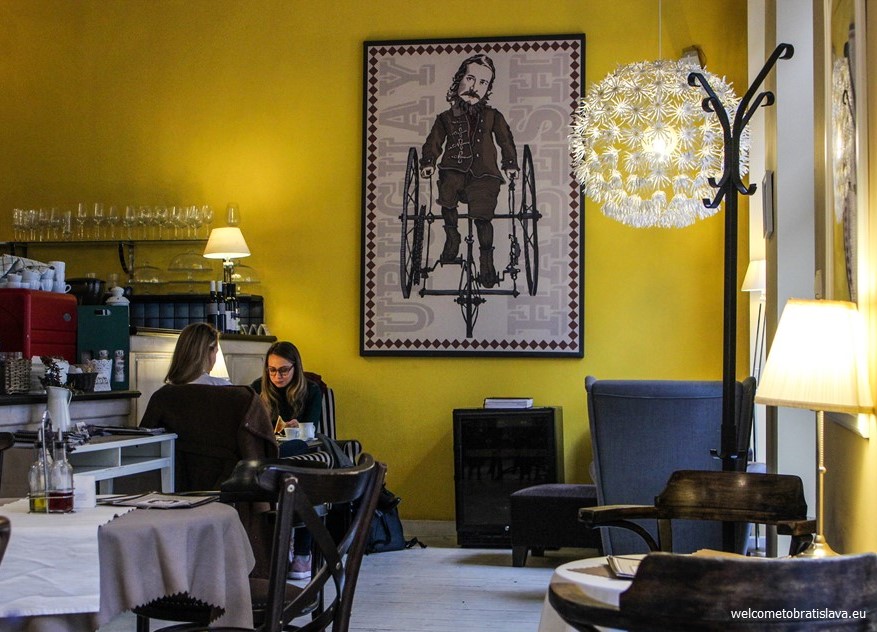 OPEN: Check the official FB site


 ADDRESS: Sturova 8


 CONNECT: Facebook


 MAP LOCATION: 
THE WAFFLE SLOVAKIA
If you don't mind a little travelling in order to indulge in something delicious, and perhaps want to combine this cheat meal with shopping, we advise you to go to Bory Mall and visit The Waffle Slovakia. Owned by a young couple who's been in the waffle business for a while, it's also the only waffle shop in Bratislava that offers, besides traditional sweet Belgian waffles, also salty and completely vegan waffles with vegan chocolate, vegan Nutella and vegan whipped cream.
Choose vanilla, cinnamon, chocolate, almond, coconut or rose dough (or the mentioned vegan version – no eggs, no gluten, no lactose), top it with fruit or nuts and cover with a whipped cream, chutney, icea-cream, marmalade or maple syrup. Endless combinations! Using the traditional Belgian formula, they prepare the dough on the spot, of which the outcome is some of the softest waffles we have eaten. Love at first bite! They offer breakfast daily till 11:30 am but the waffle menu is available all day long. A very cosy premise makes this place ideal for dates but also business meetings.

 OPEN: Check the official FB site


 ADDRESS: Bory Mall, Lamac (2nd floor near the cinema)


 CONNECT: Facebook


 MAP LOCATION: 

LA MAISON DES WAFFLES
This place's specialization are waffles! This means you can choose different kinds of dough (including vanilla, cinnamon, chocolate, almond or other) and numerous sauces and toppings to go with them (like Belgian nougat, Belgian caramel, salty caramel or pistachio cream and many others). Pure waffle heaven! The dough is made following the Liege waffle recipe. As a result, these waffles are denser and more crispy. As per the legend, in the mid 1800's, the Bishop-Prince of Liege, Belgium grew tired of his usual breakfast brioche and asked his chef to prepare something new. Just before baking, he put the sugar pearls that were normally on the outside of the finished brioche into the dough directly. His result was a warm waffle coated with caramelized sugar!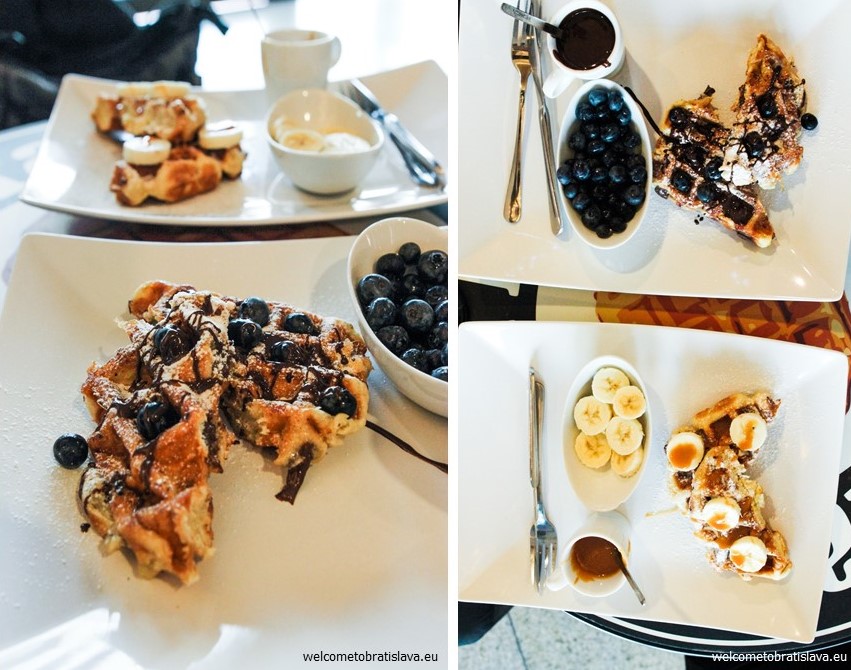 La maison des waffles is situated on the ground floor of the Cubicon shopping mall, outside of the city center. We miss a calm and hygge atmosphere here due to this open location within a shopping center. On the other side, we love the number of options you can choose from to build "your perfect waffle".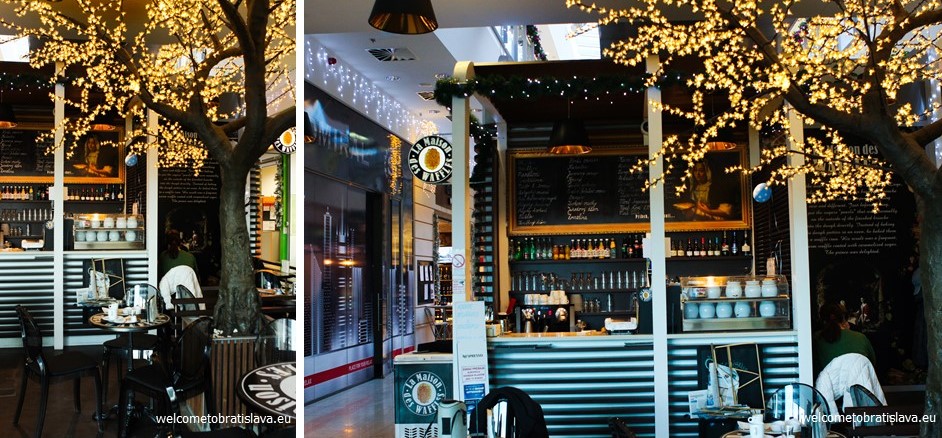 OPEN: Check the official FB site


 ADDRESS: Cubicon, Stare Grunty 24


 CONNECT: Facebook


 MAP LOCATION: 
PENNY COFFEA
Bratislava is not only the Old Town. So if you are not here only for a couple of days but live here, get outside of your comfort zone and explore its other city parts. And if you love waffles, Devinska Nova Ves should be on your radar. It hosts a lovely local coffee shop Penny Coffea which has pretty awesome waffles on its menu! Usually they offer two seasonal specialties plus have an option to build your own waffle. On top of that, they organize waffle weekend events when you can come and try some of their waffle specials. We tried amazing cinnamon waffles with vanilla cream, pears and almonds and vanilla waffles with chocolate&baileys sauce, pineapple and whipped cream. They were both delicious and quite huge, so we had problems to finish them.

What we liked about this charming coffee shop is its local character. Most of the visitors were regulars, bringing a special community character to the place. The personnel is very nice and attentive and makes you feel like at home. The premises are beautifully furnished, with a huge attention for detail – you will find many lovely decorations around. Plus, they regularly organize live music evenings with piano or jazz music or various handcraft workshops!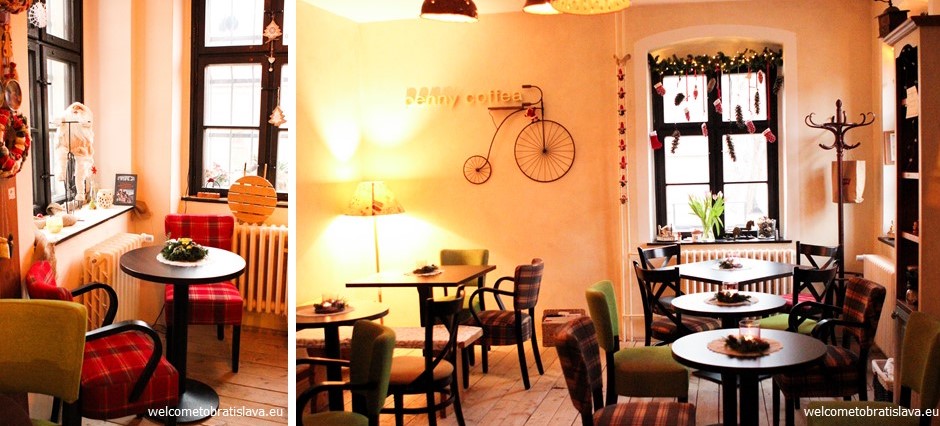 OPEN: Check the official FB site


 ADDRESS: Istrijska 49


 CONNECT: Facebook


 MAP LOCATION: 
Author & photo credits: Zuzana Mytna