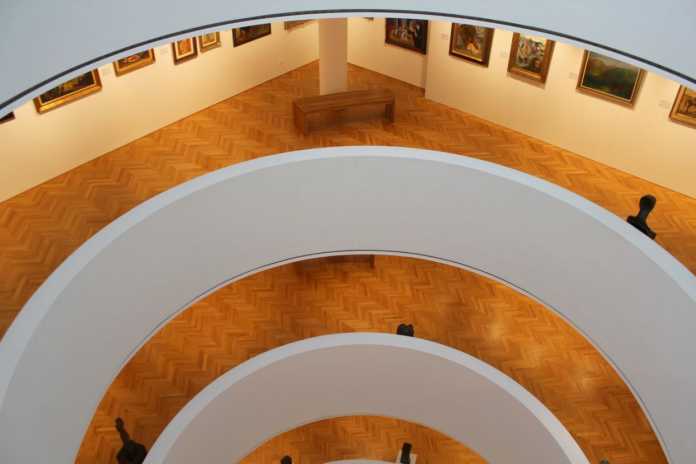 In Bratislava you're never far from a museum or a gallery. For such a small city,  there is plenty of cultural institutions. If you want to visit at least some, get inspired by our list of the top 10 museums and galleries in Bratislava! This is our pick based on personal preferences, so read why we think these ten are unique.
DANUBIANA MEULENSTEEN ART MUSEUM
Why to visit? Location on the peninsula cutting into the Danube river creates an unforgettable scenery and stunning view from the roof terrace is an experience on its own. Want something more extraordinary? Get here by a bike or take a boat!
What to expect? Danubiana is one of the youngest museums of modern art in Europe. The framework of its impressive architecture is formed by its unusual location on the borders of three neighboring countries: Slovakia, Austria and Hungary, but above all by the superb contrast of the wide expanse of water, open air and the endless banks of a dam.
It exhibits modern art works of renowned Slovak and world artists. Along with the beautiful exhibitions, as a bonus, you can enjoy the interesting park covering an area of 8000 m2  with 60 sculptures.

 ADDRESS: Vodné dielo, Čunovo – Bratislava
NEDBALKA GALLERY
Why to visit? Nedbalka is a Slovak take on the NY's Guggenheim  – one of the most beautiful buildings of this type in Slovakia.
What to expect? The Nedbalka Gallery has a collection of more than 500 works of Slovak fine arts from the late nineteenth century to the present. There are mostly paintings but you can also find sculpture and graphics art. The main things to see are the 4 permanent exhibitions, each on a different floor. Do notice a big circle hole in the middle of the room. Look up and down the "hole" for a great view!

 ADDRESS: Nedbalova 17
SLOVAK NATIONAL GALLERY
Why to visit? We love it for the various educational and cultural programs and workshops bringing art closer to an average visitor.
What to expect? Slovak National Gallery offers great exhibitions levelling with western standards for which we are very proud of! Majority has descriptions in English language too. Good time to visit it is on Thursdays, when the Gallery is open until 20.00. SNG offers also. Permanent collections are currently closed due to reconstruction but there is plenty to see at the temporary exhibitions.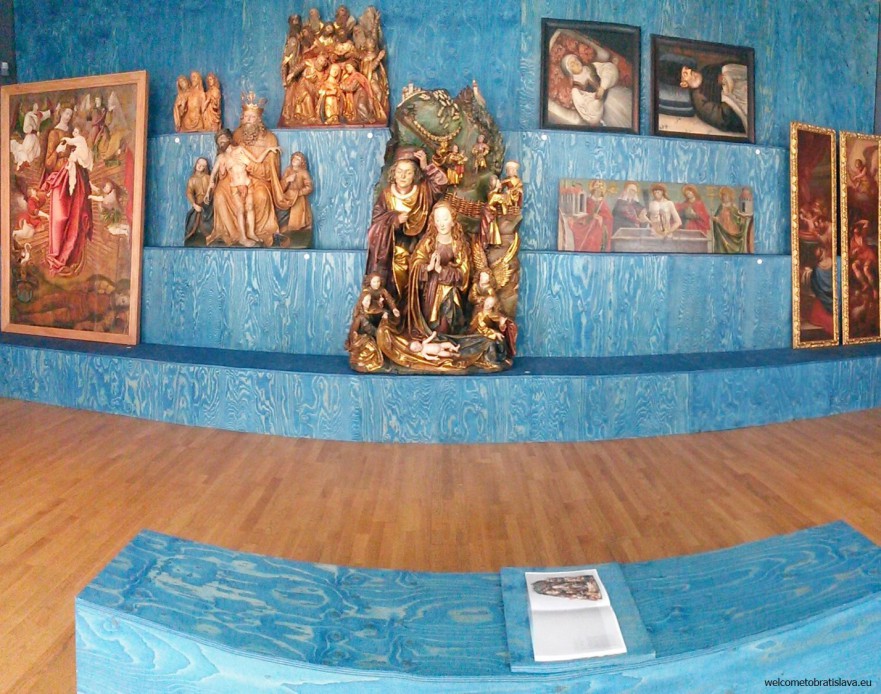 ADDRESS: Námestie Ľ. Štúra 4
BIBIANA, AN INTERNATIONAL HOUSE OF ART FOR CHILDREN
Why to visit? A must-visit place for those with children!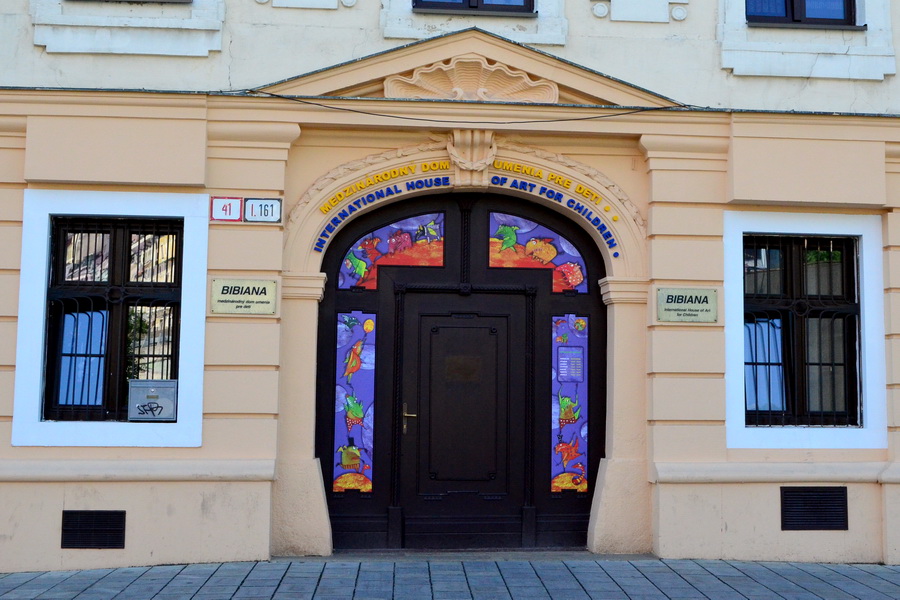 (source: programsdetmi.sk)
What to expect? Bibiana is a creative centre for kids located in a historical building where they can play, see original, modern but tasteful interactive exhibitions, or can try how it is to be an artist. They also have a rich library and interesting accompanying programme.


(source: bibiana.sk)

 ADDRESS: Panská 41
FLAT GALLERY
Why to visit? Ever visited home of a man who installed a gallery in his flat's interior? Get ready for an unconventional concept inspired by galleries in Berlin, contemporary art works displayed and social events held.
What to expect? The gallery takes place only in one part of the flat – in 3 rooms. There you are more than welcome to look around and talk to the owner Andrej. He is an artist by heart that studied history with specialization on architecture. Andrej is familiar with the artistic society and knows the people who still study or have already graduated from art schools. He regularly visits their studios and depending on which works he likes, he chooses to display them in his gallery.

 ADDRESS: Baštová 1
MUSEUM OF PERIOD ROOMS IN THE APPONYI PALACE
Why to visit? For that special feeling of  being taken a couple of hundred years back :)
What to expect? Rococo style, fine art, aristocratic interior, period furniture and accessories, reproductions of historical clothing or colorful chandeliers – that is what this museum is about. Don't miss the Red Drawing Room – we love the color and its huge mirrors! The ticket you purchase in the Museum of Period Rooms is valid also for the Museum of Viticulture which is housed within the Apponyi Palace, too – on the ground floor and the building's basement.

 ADDRESS: Radničná 1
MUSIC MUSEUM
Why to visit? If you play piano, don't miss out this museum! It definitely leaves something in you once you leave :)
What to expect? This museum is dedicated to the life and artistic activities of Karol Elbert, an important Slovak composer,conductor and an excellent pianist.  He is one of the most played authors of Slovak evergreens. The Music museum offers an extensive photo documentation of his life trail as well as exposes instruments and personal belongings to him.The whole museum is only one big room but is rich in personal photographs, musical instruments and other belongings to the composer. We just love the colorful samples of printed editions of songs he wrote or the copy of his band's set up from an old photo!

 ADDRESS: Žižkova 18
MUSEUM OF CLOCKS
Why to visit? The narrow house "At the Good Shepherd", which houses this museum, is a small jewel of the Central European bourgeois architecture. You can explore the history of clock making from the end of the 17th up to the end of the 19th centuries here.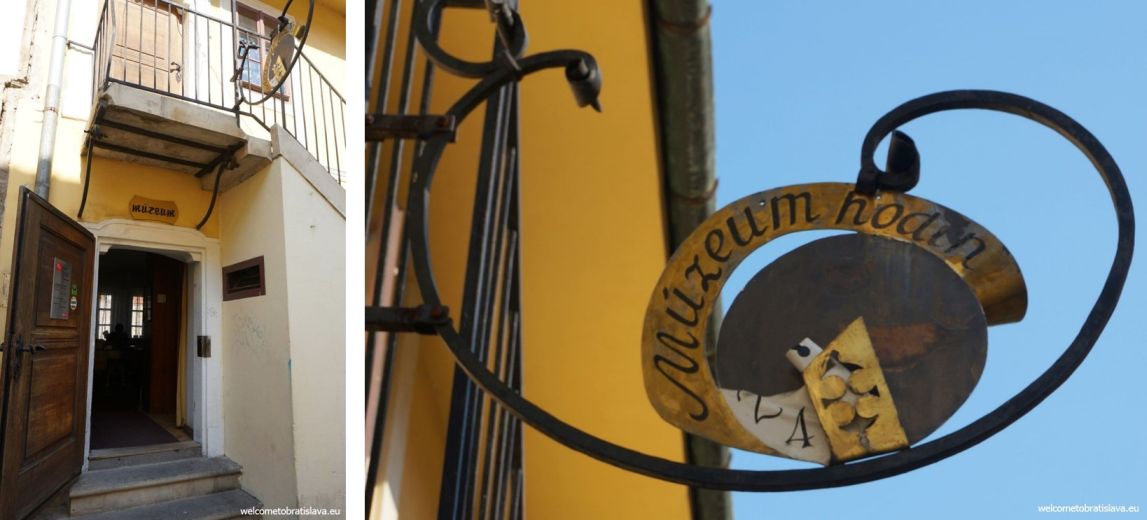 What to expect? The museum's building in an area which was once known as the Jewish Quarter of the city is so narrow that each floor has only one tiny room. Bratislava was a huge center of clockmakers in the old Austro-Hungarian Empire. In the 16th – 19th centuries almost 100 clockmakers were living and working in this city. No surprise that the museum has 3 different floors full of clocks!

 ADDRESS: Židovská 1
PALFFY PALACE
Why to visit? Apart from the beautiful historical building, don't miss the Matej Kren Passage – with the illusion of infinite number of books towering over a chasm and The Villa of Mysteries with many mirrors, red interior and many surprises you wouldn't find in any other regular museum :D
What to expect? Palffy Palace is one of the two historical buildings where The Bratislava City Gallery is housed. The other building is Mirbach Palace which is nice to see as well. The City Gallery holds permanent as well as temporary exhibitions  of Slovak and international art.
One of the top things to see is the above mentioned "Passage". It represents a kind of a symbolic "short cut across the world" in which we exist. It consists of almost 15 000 books which together with mirrors create an illusion of endless space and infinity of human knowledge.

 ADDRESS: Panská 19
MUSEUM OF CITY HISTORY
Why to visit? This is the oldest museum of Bratislava, housed in the Town Hall Tower which you need to visit for an amazing view on the Main square, the castle and other important sights.
What to expect? The museum documents the history of the city from the Medieval ages including the history of crafts and trade, coronation ceremonies, science, technology, culture, sacral arts, nobility lifestyle, national revival and industry development. Our favorite room in this museum is the Court House. First admire the beautiful pin & gold ceiling that looks like copied from a church. Then check the doors which you need to take next – they are "hidden" in a large wardrobe which when closed, you don't even see :) It used to be a secret way for judges in the past – people who were present at the court did not know about it!

 ADDRESS: Radničná 1
Author: Zuzana Mytna
Would you recommend something else? Let us know!
You might also like:
MUSEUMS IN BRATISLAVA
GALLERIES IN BRATISLAVA