Follow the current happenings! This article gives a preview of the top events in Bratislava.
Christmas markets

One of the most beautiful periods of the year in Bratislava is definitely during the last weeks of the year, when people celebrate the scents of Christmas on the street markets. Yes, we are talking about the traditional Christmas markets. They are so popular among locals and tourists that the city is probably never so constantly packed like it is from the end of November (23.11.2018) until the third week of December (22.12.2018). Some markets happen just over a weekend and others last for weeks. Which parts of Bratislava should you visit to see the best of our Christmas markets? What street specialties should you try to experience the real Bratislava? Read on to find out :)
Christmas tram 6.12.-30.12.
Starting 6th December 2018, you have a chance to spot a special Christmas tram in Bratislava. It will offer free rides for all its passengers. Besides this, the city has also prepared a specially decorated stop which will remind you of the traditional gingerbread cottage from fairy-tales. It will open its door for the general public without charging, too! Forget the hustle and come to absorb the Christmas atmosphere while sitting in the uniquely decorated vehicles reminding you of living rooms, listening to thematic melodies. More info.
Solamente Naturali concert 17.12.
The program consists of a combination of music and dance that expresses the standardized characters with the Commedia dell'arte masks, a "comedy of professional actors". Between the 16th and 18th century,  it formed the basis of an improv folk theatre in Europe. Steven Player, a member of the musical formation Solamente Naturali, is one of the world's leading musicians, dancers and experts dealing with the music, dance and theater from this era. More info. 
Christmas market in Freshmarket 17.12.-22.12.
This is a great chance for your Christmas shopping – get the ingredients for your Christmas dinner such as fresh fish, honey or cabbage. You will also find here Christmas trees, handmade Christmas decorations and craftsmen products. FB event.
Street Food Park vol. 26 18.12.-21.12.
Join another edition of the Street Food Park for yummy street food, drinks and good vibes taking place in the Old Market Hall. You will find vendors such as Folcík, Foodstock, Glutenfreeaks, Laksa, Muránske buchty, NYC Corner and much more to look forward to! More info. 
Christmas Open Ateliers 18.12.
You will be able to get inspired by various Slovak brands that will open their workshops to public from 16:00 until 20:00. Brand Verbua is known for its leather products, Puojd offers small accessories like socks or hats. There will be several clothes designers including Lenka Sršňová or Rozbora Couture, a jewellery producer LB Jewellery and a bridal parlor Lulu & Anna. FB event. 
Folkekøkken in Mareena: Danish Edition 19.12.
Folkekøkken (literally people's kitchen) is a Danish concept of social dining, where people & conversations are the key ingredients of the evening, where cultures & stories are shared in a cosy environment and where you can meet new people from different walks of life.
This edition will be held in the Christmas spirit. Mareena's Danish friend Mads will cook sweet Danish Christmas meal "Risengrød" and you can decorate typical Slovak gingerbread ("medovník") and take it home with you.
The capacity is limited, so you need to save your place at the table. Suggested donation: 1.5 EUR (The money raised will be used to cover the expenses and to support future activities of this kind). FB event. 
International Quiz 19.12.
The English Quiz will entertain and teach. And you have something to talk about afterwards. The admission of each team member is € 2, and the prizes are discounts for food and drinks during the quiz – drink as much as you want if you feel confident. Invite your friends too and have fun together!  FB event. 
A party with La3no Cubano 19.12.
La3no Cubano is a multi-genre Slovak band, performing since 2005. Initially, it was a group of percussionists, playing rhythms from all over the world – African, Latin American, Arabic, Gypsy, Balkan, drum & bass and funky. Hence the name "world music". Gradually, melodic instruments such as violin, keyboard, saxophone, or bass guitar were added and the band's popularity grew beyond the borders. This time, you will get a chance to party with them in the renowned club KC Dunaj. FB event. 
Christmas Concert – Bratislava Boys Choir 19.12.-21.12
Traditional Christmas concert of the Slovak Philharmonic Orchestra aims to bring virtues of modesty, humility, and peace. Whether it's the masterful adaptations of classical carols, the adaptations of musical "evergreens" of great masters or other musical pieces, they will always find a place in our souls during Christmas. More info. 
3rd Poetry Cafe Night 20.12.
Picture a neat little coffee place with filled bookshelves on every side of the room. No competition, no points, just poetry – honest and filled with emotions, this time with a special surprise from Glasgow!  Come enjoy the holiday spirit, drink some good coffee, and chat with your favorite poets. Entry fee: 3 EUR. FB event. 
Jazz Christmas in Bukowski 20.12.
Mária Reháková is a jazz flutist and a singer who studied jazz in London at Guildhall School of Music & Drama. She is active at both Slovak and English jazz scene. She will perform together with a guitar player Pavol Bereza at this intimate duo concert in the Bukowski Bar. FB event.
Katarzia live concert 20.12.
Katarzia is releasing a new album in collaboration with Jonatan Pastirčak, and will be performing alongside VJ artist Kateřina Blahutová. Most of the songs were created for the performance of Antigona, performed in the Slovak National Theater. Katarzia´s is known for songs with a deeper meaning. More info. 
The Bat Opera 20.12.
The Bat is a tough test for every theatre ensemble, both from the aspect of playing as well as acting. A critic from Viennese Morgenpost newspaper wrote after the world premiere in 1874: "…sitting in a box in the Theater an der Wien one may get seasick because down in the parterre everything is in motion at the charming tones of the orchestra, performing this gem by Johann Strauss."  More info. 
A Christmas Bashavel with Romano Stilo 21.12.
The real Christmas Bashavel will take place at L'Art. The band Romano Stilo, comprised of violin, cymbalo, double bass, piano and guitar, has prepared classic melodies, world music, gypsy music, Christmas songs, songs from various parts of the world in both untraditional and virtuoso format. The admission of 20 EUR includes delicious Christmas punch. FB event. 
X-Mass Dnb Show by III Trident w. Macky Gee & Phace 22.12.
A special Christmas edition of DnB party with foreign headliners. DJ Macky Gee from UK and DJ PHACE from Germany together with many talented local DnB musicians will get everybody moving, including the Christmas tree. FB event. 
A grand Bazaar: Christmas Editions 22.12.
Last minute hunt for Christmas gifts? Not a problem! There is a special Christmas edition of Grand Bazaar prepared on Saturday, just before Christmas Eve. If you're looking for something original that you cannot find in stores, you're in the right place. A wide selection of antiques, vintage and retro products along with the food market and children's theater is at your disposal. FB event. 
Advent in Ružinov 23.12.
In front of the House of Culture in Ružinov you will get a chance to light the symbolic candles on the Advent wreath. You can also enjoy the magic of Bethlehem along with the cultural programme prepared for all visitors. More info.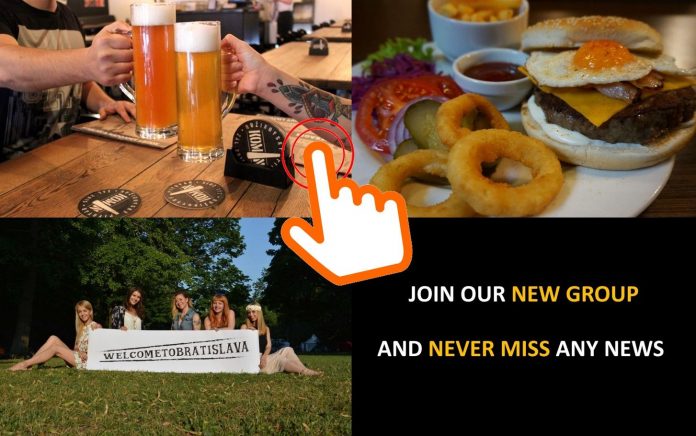 Author: Nikola Babjakova
NOTE: Some of the featured pictures come from the Facebook pages of the mentioned events.
You might also like:
New Year's Eve in Bratislava
New Year's Eve Celebration Outside of Bratislava