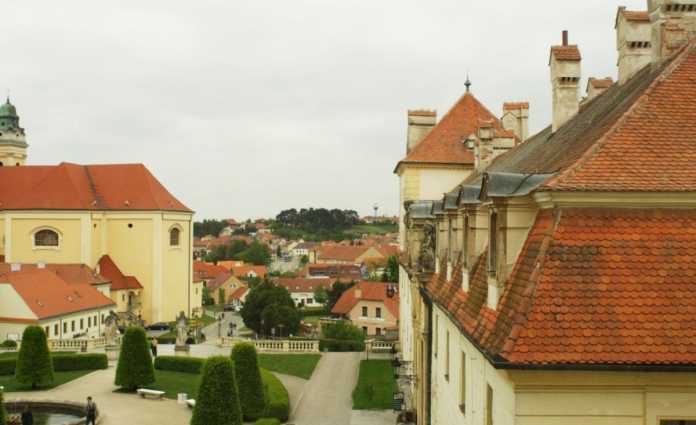 Less than one hundred kilometers from Bratislava lies one of the most splendid cultural heritage sites in the Czech Republic. With their sprawling estates, celebrated castles, and surrounding villages that boast storybook charm, Lednice and Valtice are the ideal destination for lovers of natural and historic beauty. And for lovers of food and wine, a trip to this region guarantees delighting in some of the best Central Europe has to offer.
We (our great girls Evka and Jen) were lucky enough to join Internationals Bratislava on their recently organized day-trip to Lednice and Valtice and had a truly wonderful experience. The beauty of tours with Internationals, and our accommodating host Maria, the organizer, is that as a participant you are given ample flexibility to tailor the excursion to your tastes: provided with a well-defined itinerary, you can choose the activities that suit you best.
For many on the tour, this meant enjoying each planned activity on the tour. The response to Maria's itinerary was overwhelmingly positive from this amiable group, as many we spoke to were there to socialize and network as much as to explore. For others we met on our trip, including us, the urge to adventure into the parks and villages we visited led us to discover an authentic slice of these cities we will never forget.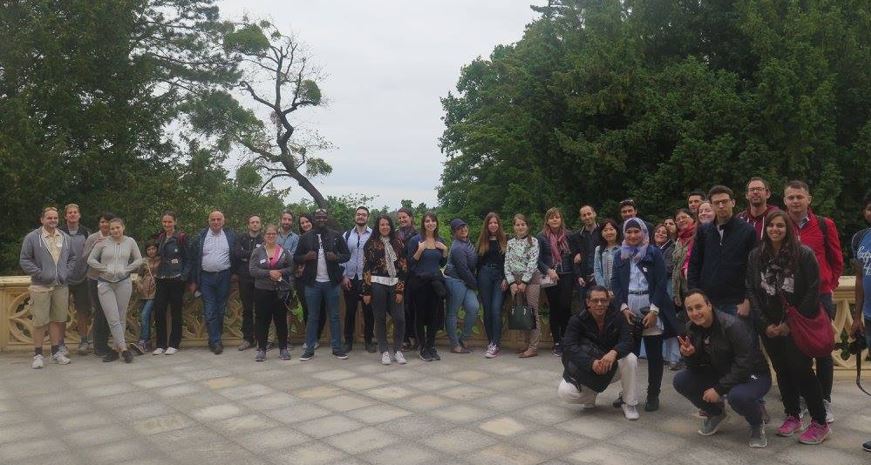 Our amazing Internationals tour group!
LEDNICE
Nicknamed the "Versailles of southern Morava," Lednice Castle is the most visited historical home overseen by the National Heritage Institute. In fact, it joined the UNESCO World Heritage List in 1996. The laureate chateau once served as the summer residence of the princely family of Liechtenstein and dates back to the 14th century. The building's English Neo-Gothic style, acclaimed interior craftsmanship and formal French-style gardens invoke a romance normally reserved for fantasy. You can almost see handsome aristocrats riding horses and hunting wild fowl, while princesses stroll through dreamy stretches of the estate or float on dainty boats in the surrounding canals.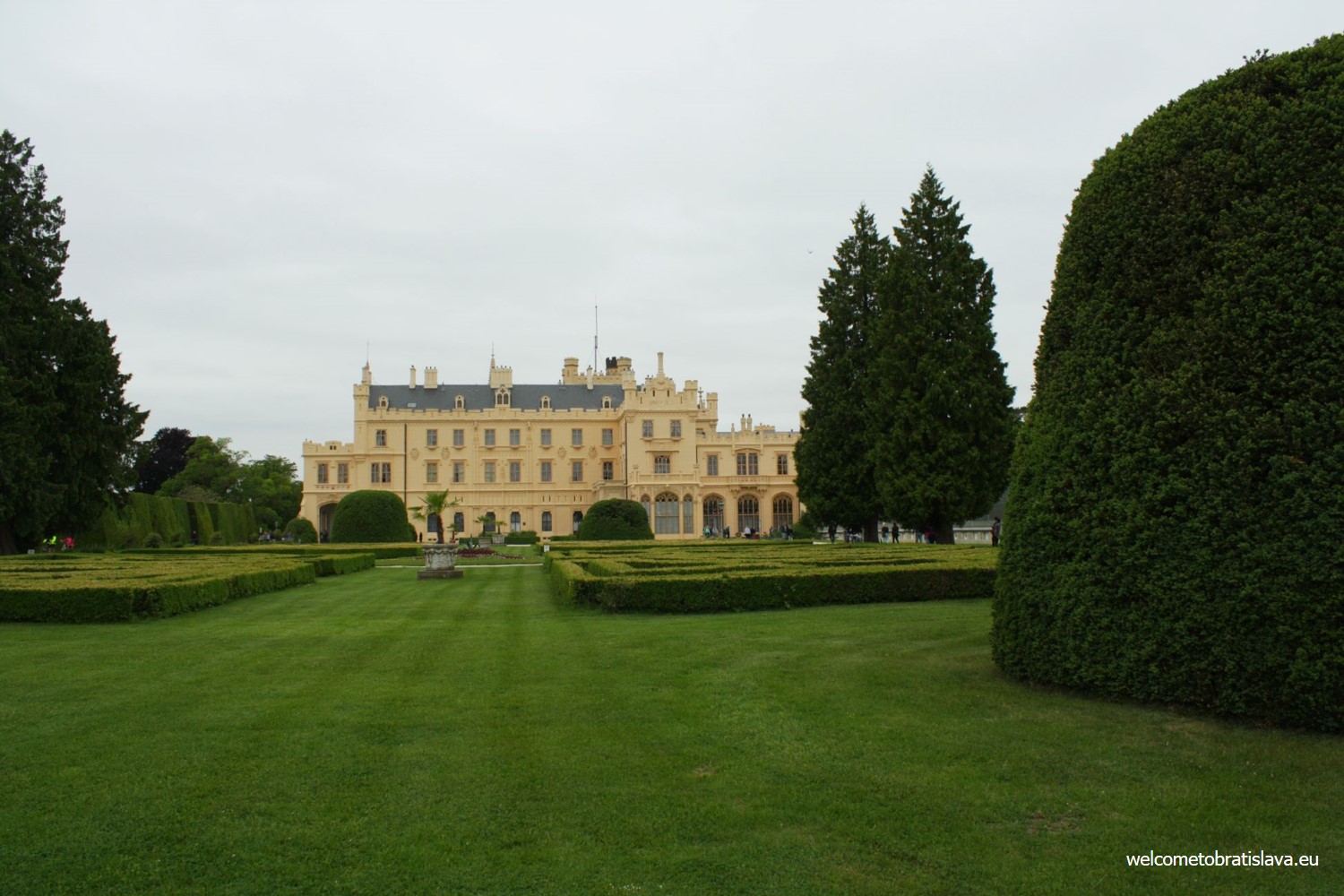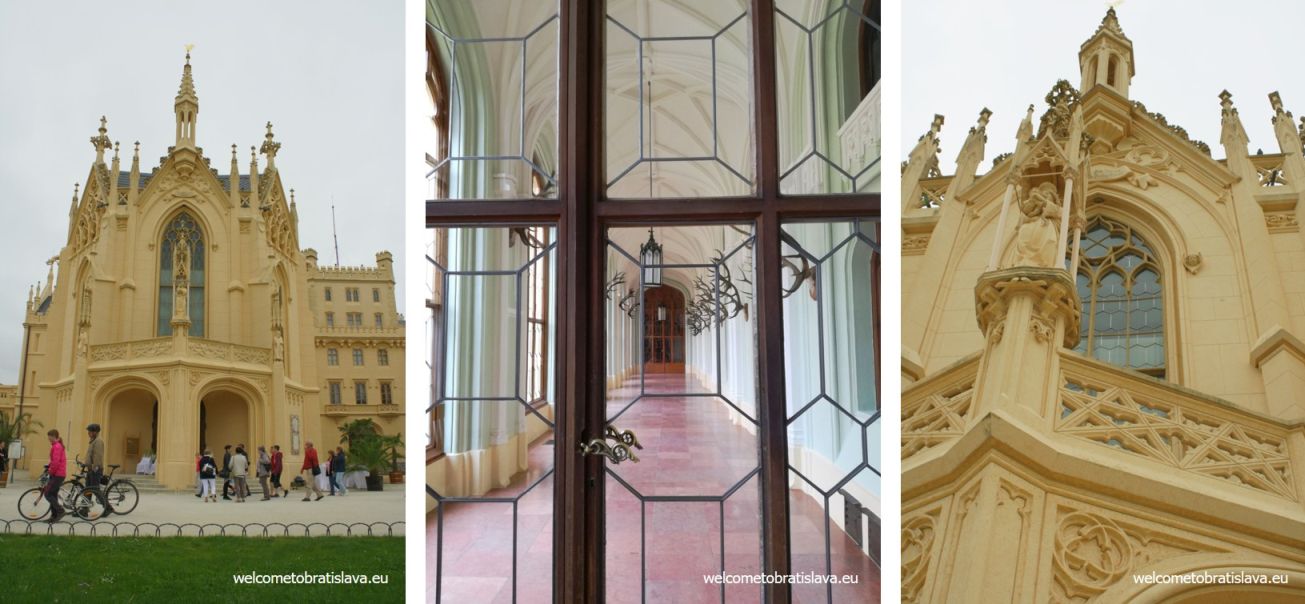 We chose to spend this leg of the tour exploring the chateau's grounds, of which there are 100 km2! While we only viewed a portion of this during our visit, we delighted in the park itself and its hidden treasures. The glamorous greenhouse here was built in middle of 19th century and is full of tropical flowers and palms that are hundreds of years old. Across the lake is a Minaret. You can see this exotic Islamic tower from a distance, but if you manage to hike the 302 steps to its top, the view is astonishing. And if time allows, stop in to the quaint cafe behind the main building  for delicious local wine!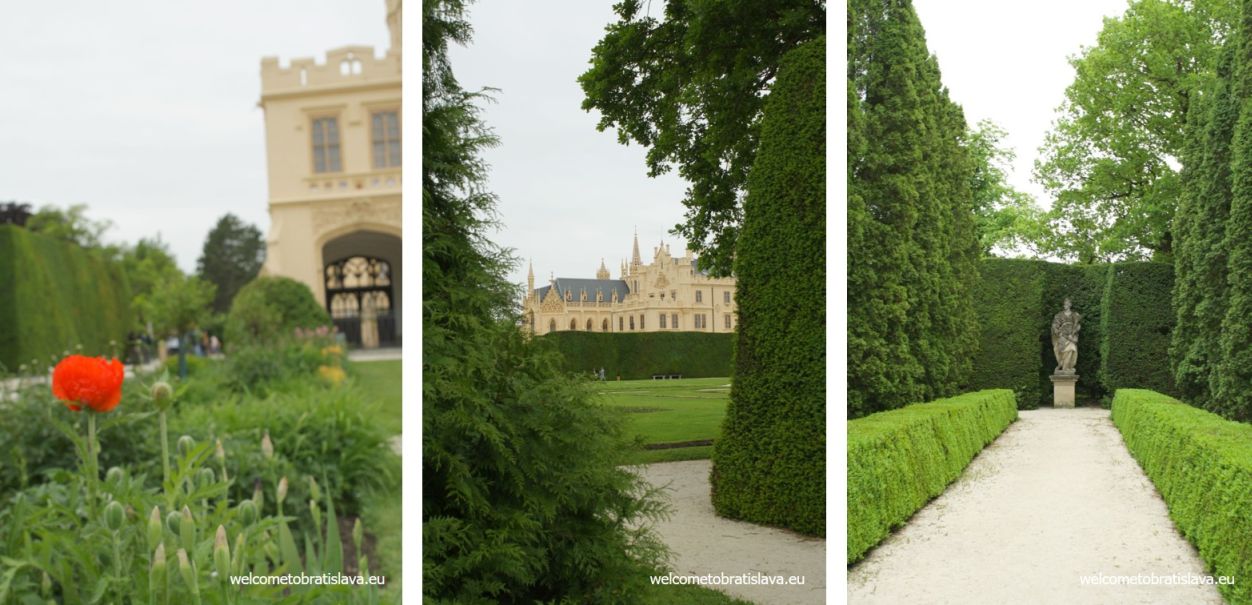 VALTICE CASTLE
The next stop on our journey was the picturesque Valtice, the capital city of wine! Though the distance between Lednice and Valtice is just eight kilometers, but when drinking in wine country ensuring hired transportation is a must and we were very grateful for the convenience of the tour bus. The tour spend the most time in Valtice and Valtice Castle and, again, we appreciated Maria's flexible schedule that allowed us partake in the castle tour while leaving time to savor the local food and wine at our own pace.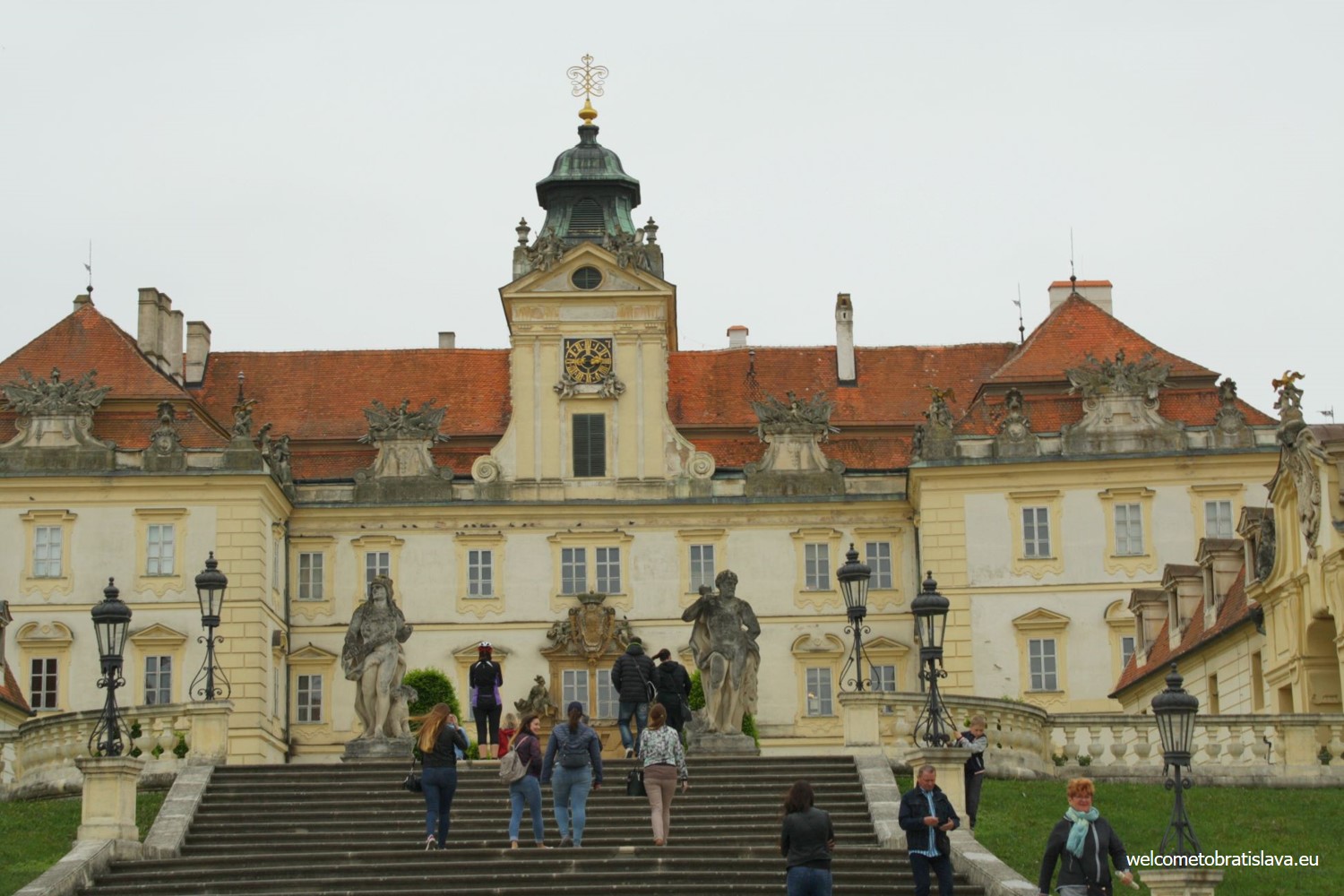 Valtice Castle is a somewhat crumbling, though absolutely gorgeous estate that served as the official residence of the royal family of Liechtenstein from 15th until the last century. Originally built in Gothic style, its current Baroque design was influenced by Anton Ospel, Domenico Martinelli and Antonio Beduzzi, prominent architects of the 17th and 18th centuries.
The interior is opulent and allows a glimpse into royal life during the region's aristocratic heyday. Every element of the home is historic and invaluable, making the clumsy, borrowed slippers they provide a must. Word to the wise: While Eva was clever and wore flats for the tour, Jennifer found that her heeled ankle-boots made touring the estate in oversized house-slippers extremely difficult. (We walked around ten kilometers that day: wear flats!)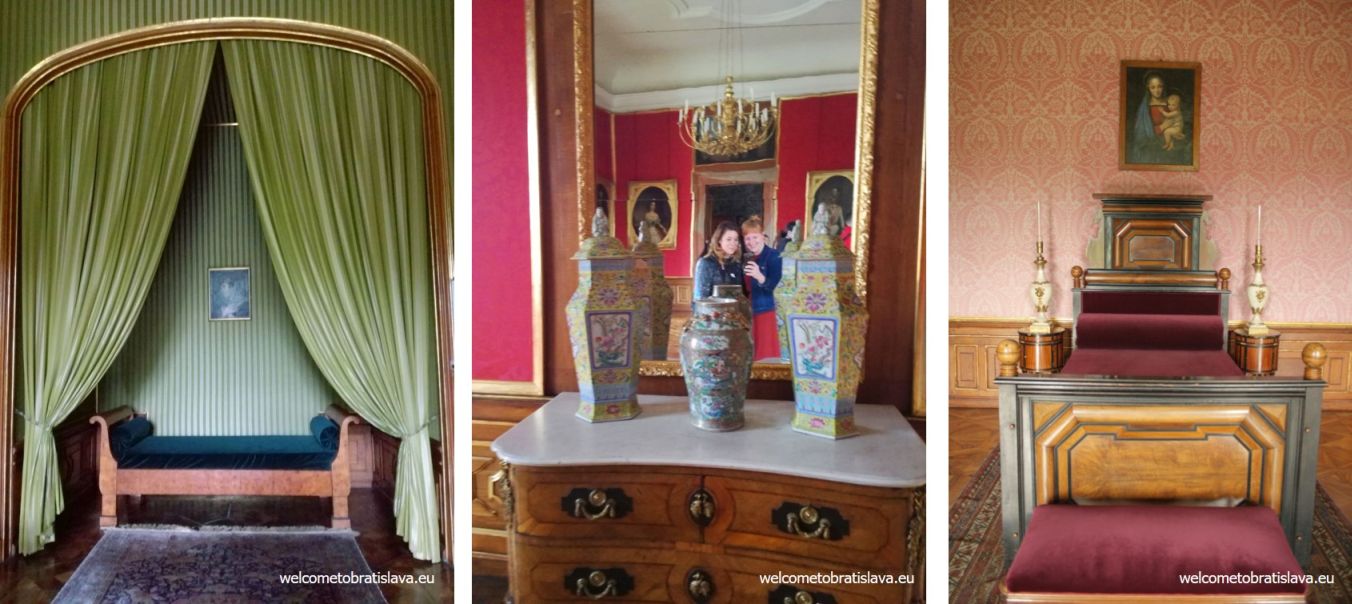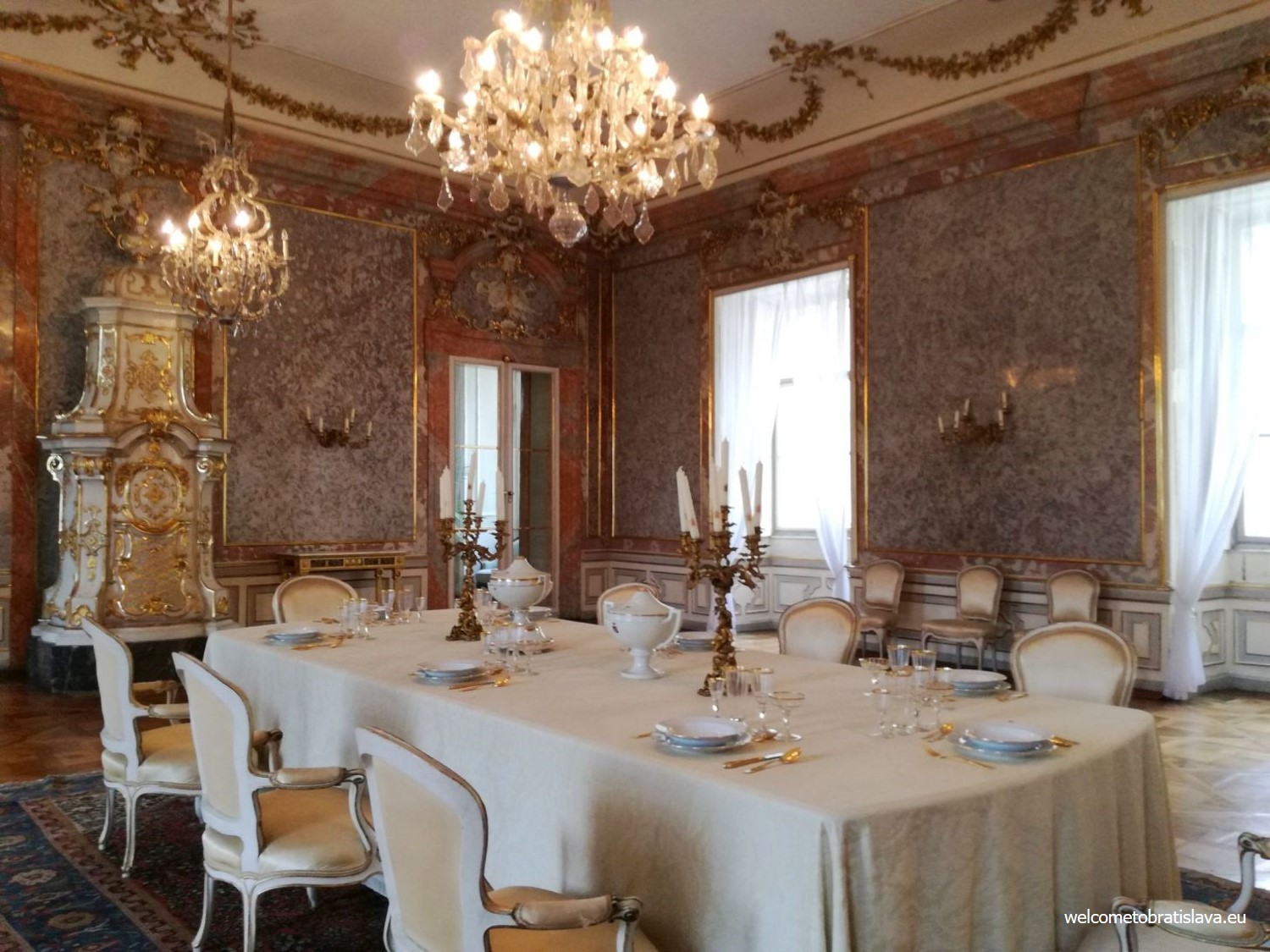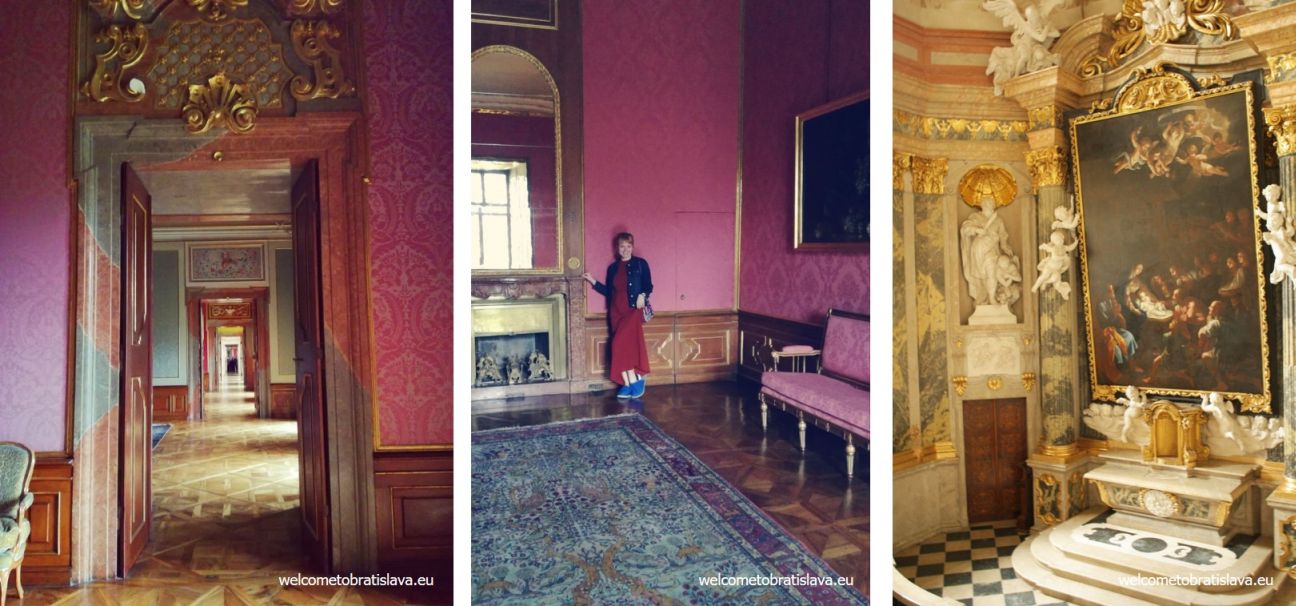 VALTICE TOWN
We adored Valtice and its hospitable locals. Every shop owner, cafe server, and person on the street was ready to greet us with smiles and advice about what to try and where to go in their village. This is a fitting area to get a little adventurous. For example, we asked the young, local ice cream seller about where to find the best lunch and we discovered what might just be best Sviečková in the Czech Republic.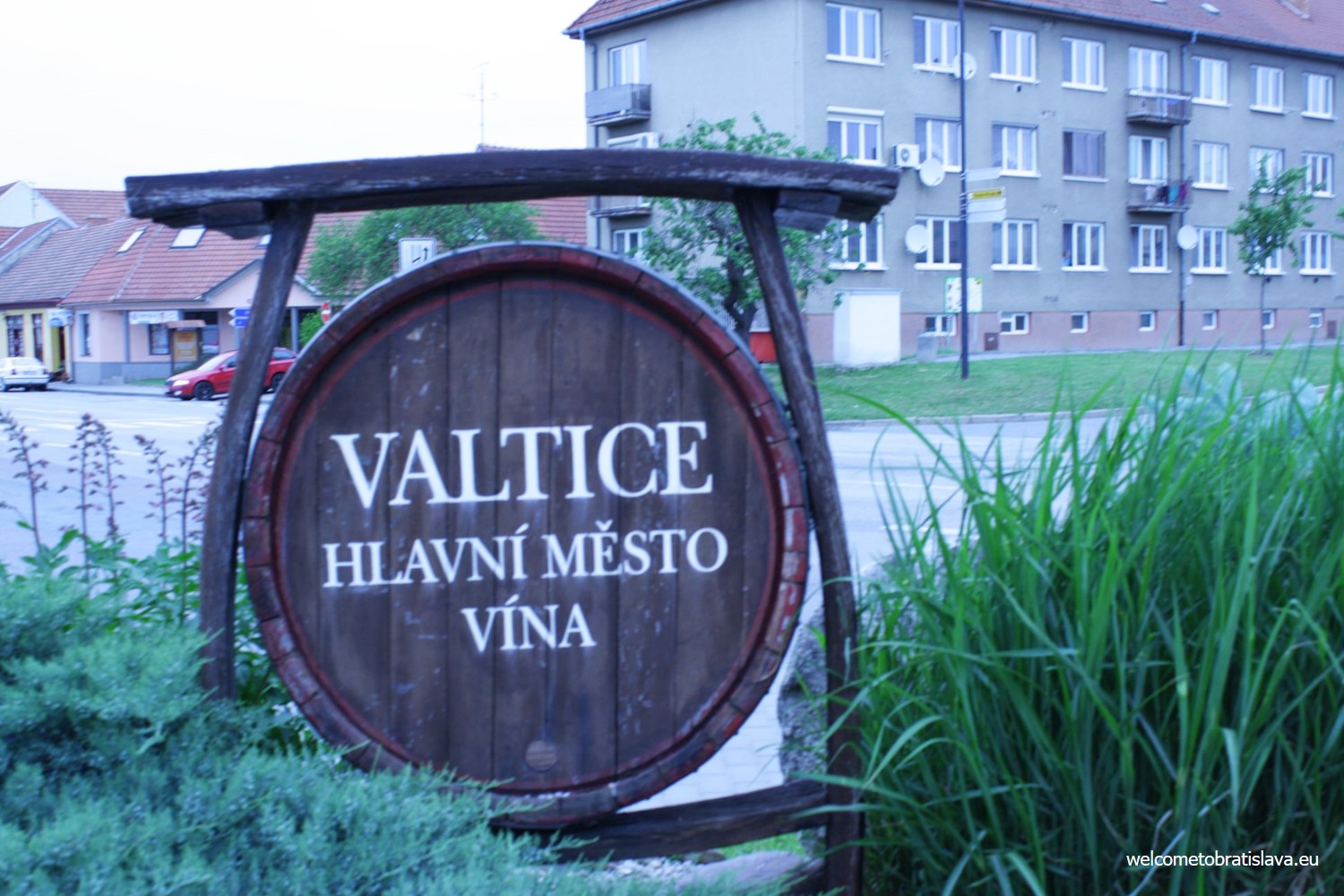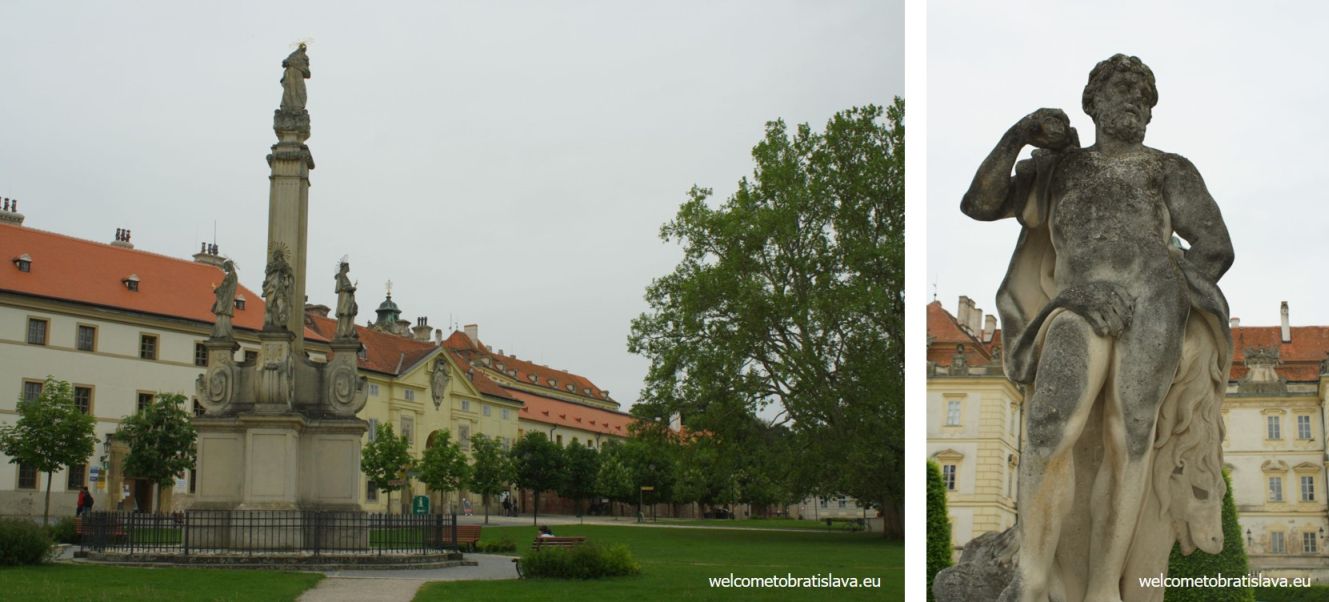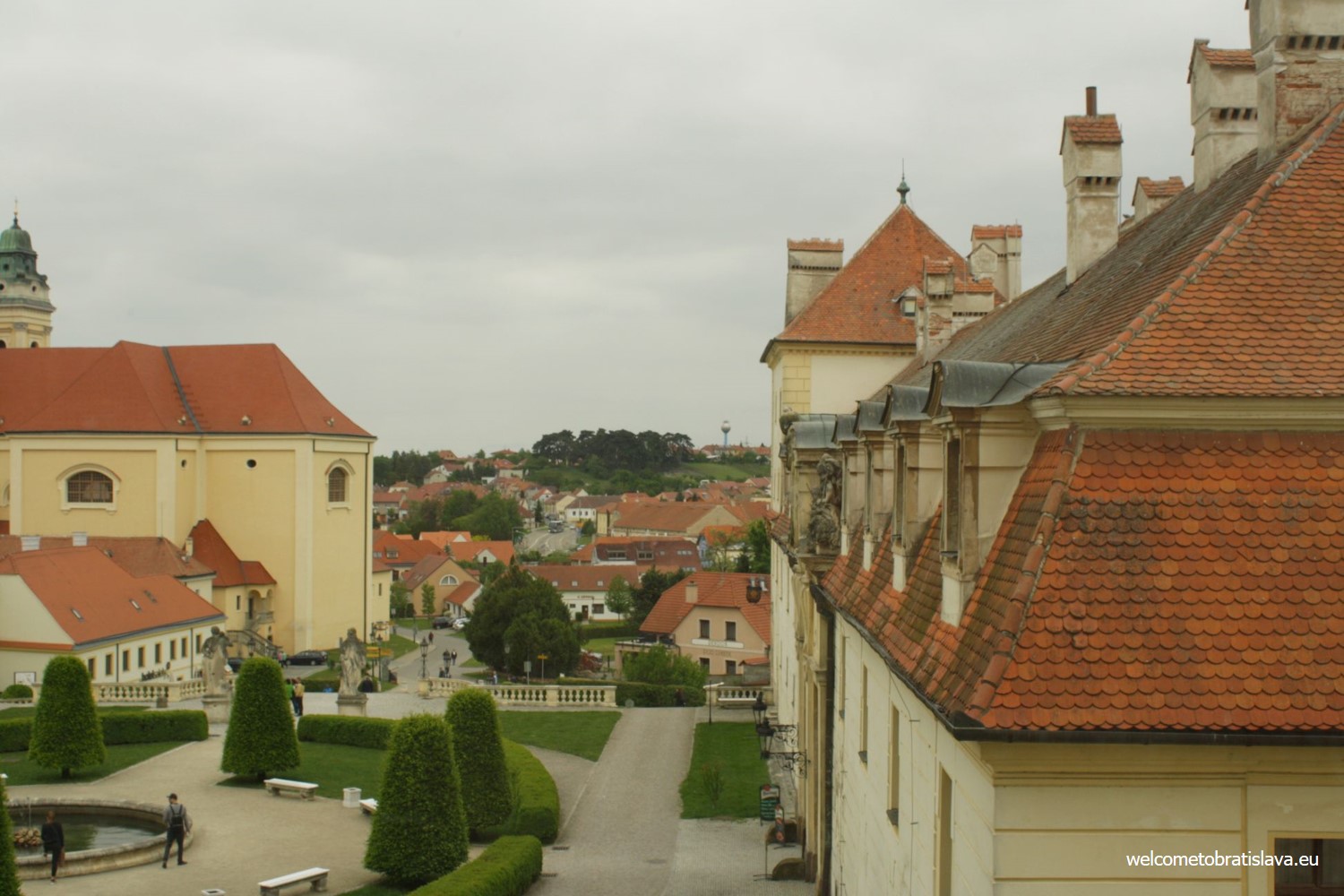 CZECH FOOD AND COFFEE A LA PERIOD TIMES
Due to the amazing cuisine here, restaurants are noticeably crowded during lunch time. Despite its many reservations, we were able to find a table at Albero. We cannot over emphasis this – the kitchen here serves some of the finest Czech cuisine we have ever tasted. The wine is regional, the dishes taste like home, and the atmosphere jovial and welcoming. So welcoming that a local couple asked if they could share our table with us!
After our incredible lunch, we enjoyed lattes at the inviting Café Liechtenstein. Located just after the large steps leading up to the chateau, the cafe is a perfect location to recharge before another round of sightseeing.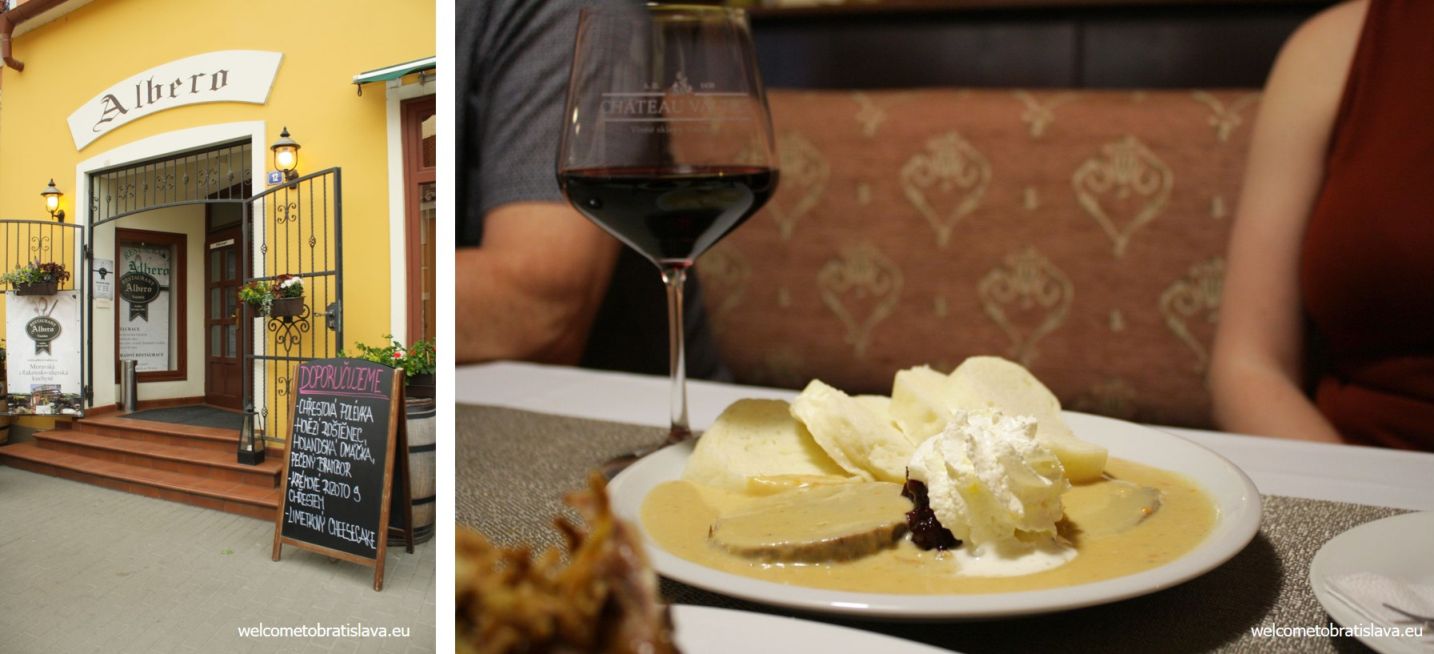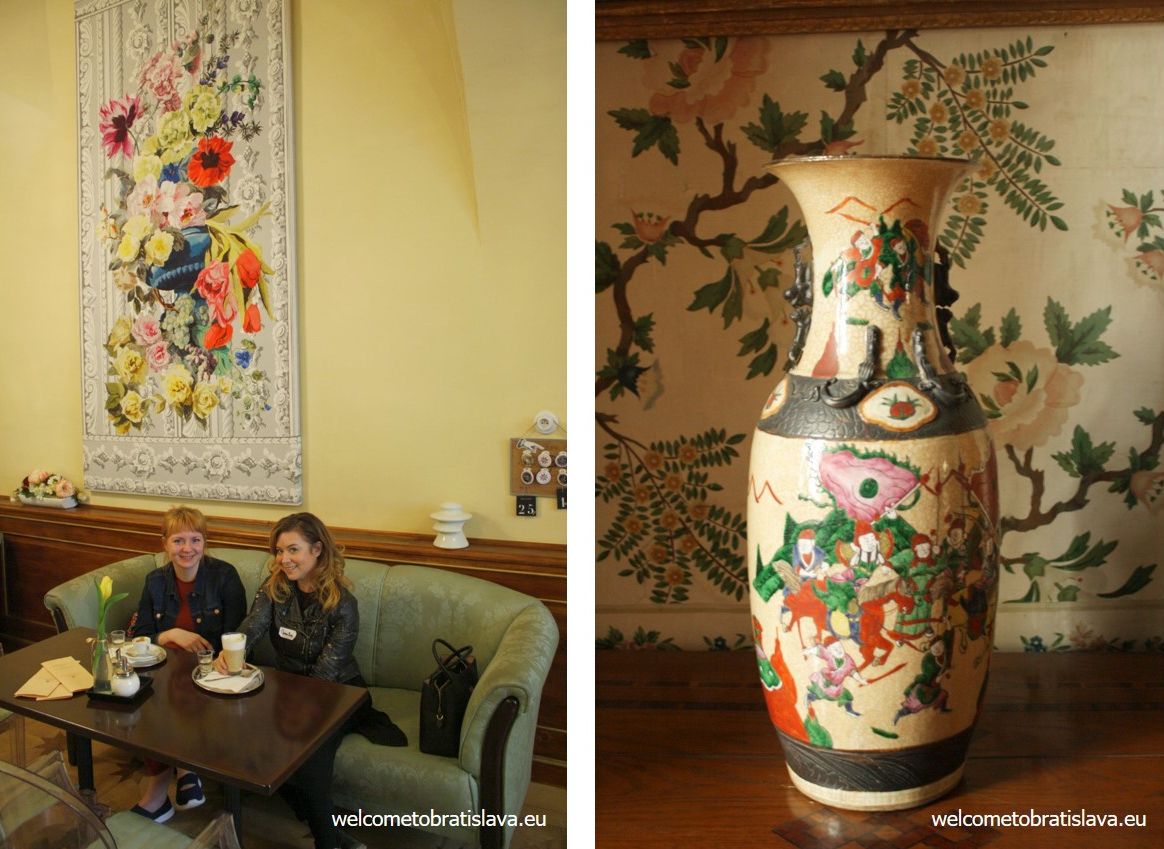 WINE TASTING
The day-trip to Lednice and Valtice had many highlights, but our last stop on the tour might have been the most anticipated. The former private cellar of Valtice nobility has been transformed into one of the most celebrated wine saloons in the Czech Republic. It is now cellars – and sells – some of the best Moravian and Czech wines available. Entrance is free, which is excellent if you are just there to look. For tastings, however, there are several packages to choose from ranging in price and variety.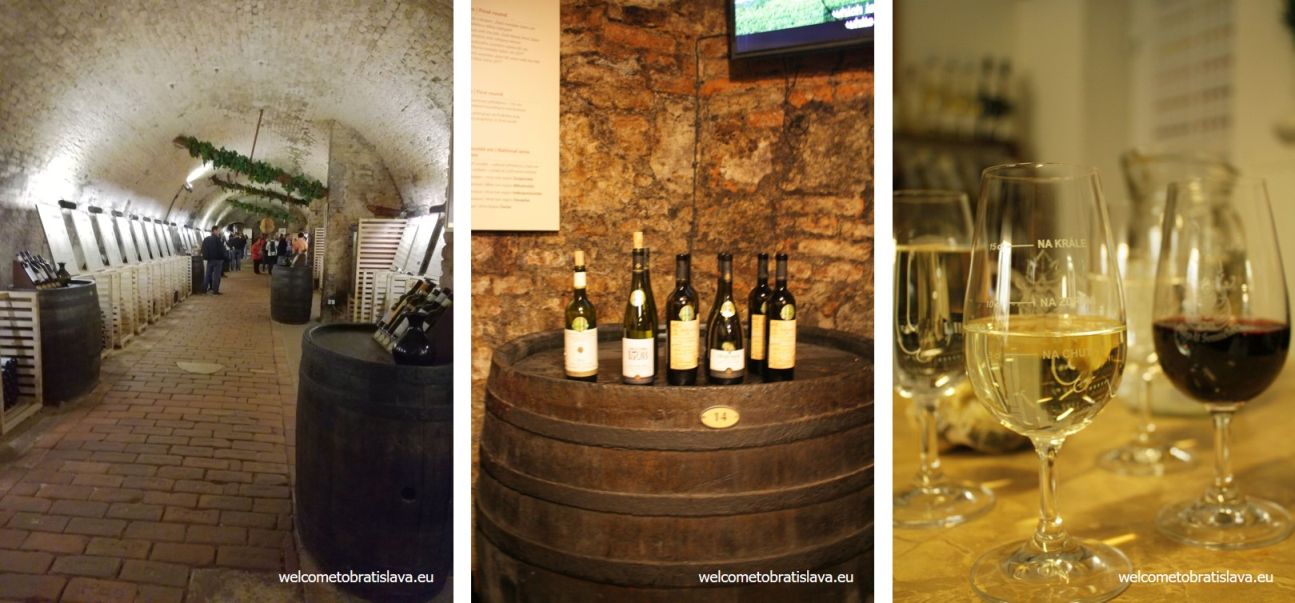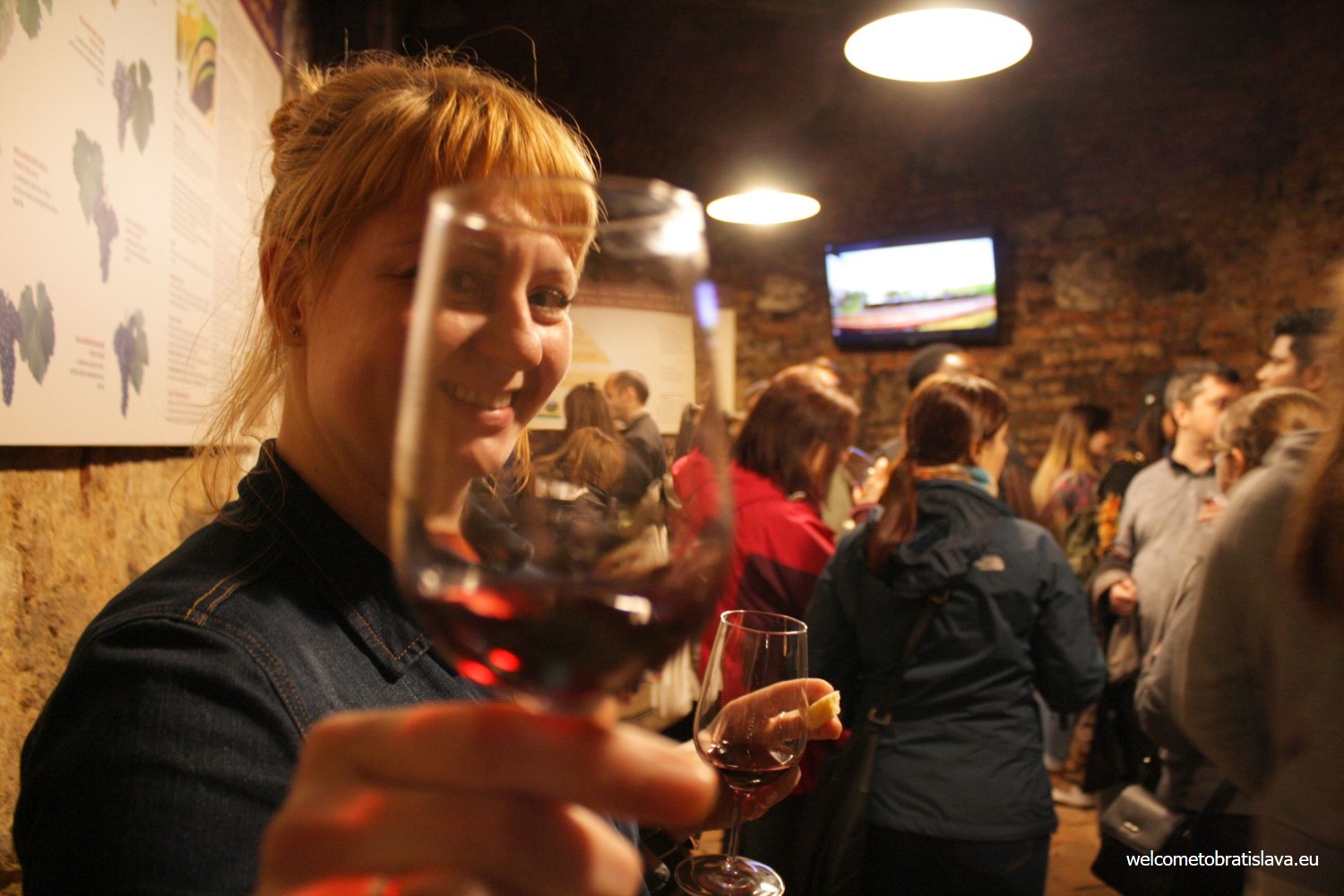 After a long day exploring, we loved the opportunity to discuss the day with our co-travelers over local wine. Getting to know each other a little better, we noticed that each of us on the tour that day had their own unique adventure. Some people, very new to Slovakia and looking to build new friendships, found that by trying everything on the itinerary they had the chance to spend time with other newcomers and experience a part of the world they might have never visited on their own. Others, including us, loved the freedom this tour gave us to roam around quaint villages and indulge in a mini culinary feast of Sviečková, Pečená Kachna, a Ryzlink Vlašský (roast beef in carrot cream sauce, crispy roast duck, and Riesling from Chateau Valtice itself!)
Overall, we recommend to visit the beautiful Lednice and Valtice – either with this tour or alone – and whether you explore on your own or stick to the itinerary, remember this phrase: Pojďme na to!
For more trips and events organized by Internationals Bratislava, follow their Facebook page or website.
Authors: Eva Latakova, Jennifer Brown