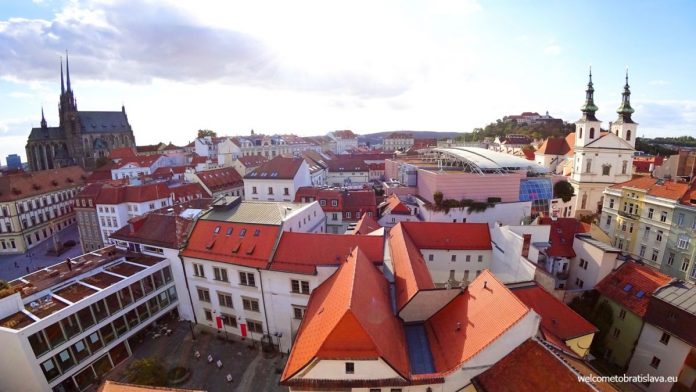 Brno is the second largest city in the Czech Republic and the center of Moravia Region. Among locals, Brno is well-known as the center of higher education – as thousands of Czech, Slovak or international students come here to study research & development, medicine or engineering.
Nevertheless, not only universities make the city so popular, though amount of young people has its influence on the cultural and gastronomic life here. Thanks to its rich history and medieval and modern architecture, Brno truly deserves to take a place among beautiful capitals and great cities of Eastern Europe, such as Bratislava, Prague, Budapest or Vienna.
Enjoy our guide based on our trip to Brno – the city of architecture masterpieces, old legends, hipster coffee shops, hidden bars, Czech colours and flavours with a modern twist!
LOCATION
Brno is located 131 km north from Bratislava. The journey will take about hour and a half, so it can be a nice one-day trip, if you start in the early morning and are okay with coming back at midnight. If you are not limited in time, you will easily find great accommodation for 2 or 3 days for a reasonable price.
There are a few ways how to get there. The comfiest option is going by car as you are not limited by amount of stuff you want to take with you and can make your own schedule of travelling. But if you go just for one day or your apartment does not provide you with parking, you'll have to take care of it yourself.
The next option is to take a train. A one-way ticket costs about 5-8 euro, the journey takes 1,5-2 hours and the train leaves every 1-2 hours. The bus ticket price is 6-7 euro. You will get to Brno in 1 hour and 45 minutes, if there are no weather or road maintenance issues, and there are also plenty of time options, including night hours.
Our tip: Check the weather forecast! Though Brno and Bratislava are not far from each other, weather conditions may significantly differ.
SIGHTSEEING
Brno has hundreds of cultural and historical sights. It's up to you and the duration of your trip what to choose.
Cathedral of St. Peter and Paul
The first building you will notice entering the city, the Cathedral of St. Peter and Paul, is located on the Petrov Hill and is in walking distance from the historical city center. The cathedral is a national cultural monument and belongs to the most important architectural monuments of South Moravia. The style of the monument is mainly Baroque, except for two 84 meters high towers, built between 1904 and 1905 in the neo-Gothic style. An interesting fact: the bells are usually rung at 11 am instead of 12 pm, thus reminding us of the successful defence of Brno against the Swedes during the Thirty Years' War. According to the legend, Swedes promised to call off their attack if they had not succeeded in taking the city by midday, so ingenious Czechs rung their bells an hour early.
Opening hours vary each day, based also on the actual season of the year. Visitors can use the guide service on the opening hours; on Sundays from 12.00, except for the cases of a church service, a wedding, a funeral or a concert taking place in the cathedral.
Špilberk Castle
One of the most important and well-known buildings in Brno. It used to be a royal castle during the Medieval Era, but later was transformed into a fortress with a prison. Nowadays it's a museum complex with a brilliant opportunity to visit castle's casemates, south-western bastion and the tower. Also there are permanent exhibitions: Vulcanalia, The prison of the peoples. From the castle to the fortress, From the Renaissance to the Modern, From the Modern to the Present, The New Brno, & Brno at Špilberk.
Casemates: Guided tours in Czech are held every hour, the first tour begins in the winter time at 9:15, in the summer at 10:15. The last tour begins one hour before the closing time. Duration of the tour is 45 minutes; sightseeing capacity is 45 people. A guided tour for groups (10 persons or more) in Czech, English and German can be arranged individually on the phone number 542 123 614 or by e-mail: kasematy@spilberk.cz. Casemates can be viewed without guided tours individually with a printed plan. There are plans in Czech, English, German, Italian, Hungarian, Spanish, French, Polish and Russian languages.
The tower is open only under favorable weather conditions. Ticket sales end 30 minutes before the end of the opening hours. Also, you have a unique opportunity to play an interactive game Stories from Casemates, full of secret codes and logical tasks to engage your creativity. The maximum number is 5 participants per team. The game is designed for adult players. The average game takes 1.5 hours. Check their rules and needed equipment. You can find more information about the Castle and events here.
Villa Tugendhat
Villa Tugendhat is a masterpiece of modern and functionalist architecture of the 20th century. Since 2001 it is protected as a World Heritage Site by UNESCO.
The building was designed by architect Ludwig Mies van der Rohe in the 1920s for the wealthy family of Fritz and Greta Tugendhat. However, due to the coming World War II the rich Jewish family had to leave their Motherland. They spent only 8 years in the Villa and then had to run to Switzerland and later to Venezuela. The house was confiscated by Gestapo and was used as an apartment and office.
After the war it served as quarters for Soviet military, then as children physiotherapy center. The document that divided Czechoslovakia into Czech Republic and Slovak republic was also signed here. Since that, Villa Tugendhat became a museum, open to public. You can find more information about opening hours, tickets, directions and rules of visiting here.
According to their website, due to great interest in tours they recommend booking your tour at least 3–4 months in advance. Groups of 5 or more people need a reservation even more time in advance.
Old Town Hall (Stara Radnice)
The Old Town Hall in Brno is a former town hall building and the oldest secular building in the city. It is located between the Cabbage Market (Zelny trh) and Svobody Square on Radnická Street. The beginnings of the construction date back to the 13th century. The building served as a town hall until 1935, then the councilors relocated to a nearby newly renovated State House, which is why it began to be called New Town Hall. Nowadays there is a cultural and information center and an observation desk which reveals a breath-taking view of the Brno with all its sights and historical city center. Here you can check their opening hours and admission fees.
Our tip: Don't miss the Brno Wagon Wheel and the Dragon of Brno ('Brnensky Drak') in the passage straight under the Hall. According to the legend, one man from Lednice bet his friends from a tavern that he would cut a tree between sunrise and sunset, make a wheel and roll it to a magistrate from Lednice to Brno (about 60 km!) for the confirmation. That happened on May 14, 1636, and since then the wheel hangs in the city hall's passage.
Another legend is about a dragon who settled near Brno and threatened the inhabitants and their cattle. To get rid of it, a few braves brought him a leather pouch with Calcium hydroxide (traditionally called slaked lime, the substance which makes a thermic reaction with water) that made the dragon thirsty, so he drank water and literally burned himself to death. The existence of the exposed "dragon" (a stuffed crocodile, actually) is documented already in 1568.
CHURCHES OF BRNO
Beside the colossal Cathedral of St. Peter and Paul, there are plenty of catholic churches and monasteries in Brno worth mentioning.
St. Thomas's Abbey (Starobrněnský klášter) is the place where Abbot Gregor Mendel established the new science of genetics and discovered Mendel's Laws of Inheritance. It is located on Mendel's Square in the Old Brno district. The entire area of ​​the monastery is protected as a cultural monument of the Czech Republic. The Abbey was founded in 1323 by the Czech and Polish Queen Eliška Rejčka. Part of the monastery is the Gothic Basilica of the Assumption of Our Lady. Under the tiles of the temple in a place marked with a crown and the letter E, there is the tomb of Eliška Rejčka.
(source: wikimedia.org)
The Church of St. James is a late Gothic three-nave hall church located on the Jakub Square. Its history dates to the beginning of the 13th century. This is a remarkably preserved monument of the city's ecclesiastical architecture on the Czech territory. There is a burial of the city defender against the Swedish siege, marshal Louis Raduit de Souches. It has been a national cultural monument since 1995.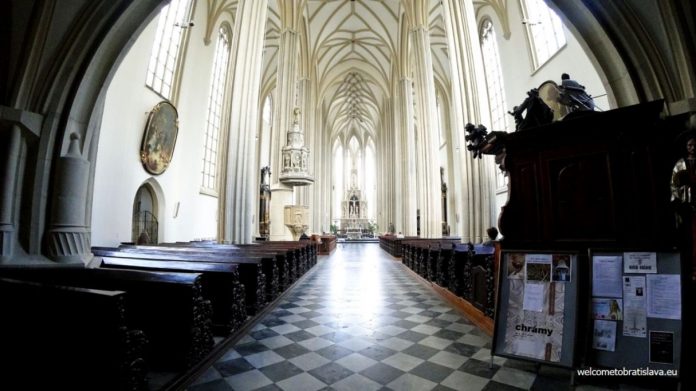 The Church of St. Thomas, originally the Church of the Annunciation of the Virgin Mary and St. Thomas the Apostle, is a Baroque parish church, originally a Gothic monastery church of the Augustinians, founded in the middle of 14th century. It is located in the southern part of the Moravian Square.
Justice and Courage at the Moravian Square
If you appreciate not only classic culture and sightseeing, but also a bit of humour, do not miss those sculptures at the Moravian Square.
The statue in honor of Jobst of Moravia (Margrave of Moravia, Duke of Luxembourg and Elector of Brandenburg as well as elected King of Germany from 1410 until his death) as an allegory of courage was installed at Moravian Square in 2015. Made of bronze, an 8-meter statue represents a knight in armor, sitting on a horse with unusually long legs. The concept had already raised a considerable number of discussions, for example because Jobst's dominant advantage was not courage, but diplomacy. Others criticize again that the horse does not have such long legs. In any case, it's not only the legs lengths what attracts many people, but the angle of view. There is often the queue of those who want to look at the sculpture from below. If the viewer stands between the front legs and looks upwards towards the horse's head, a surprising picture is waiting for him.
At the same square you can find another statue of the same person. Just a few meters away there is a stone statue of Margrave of Moravia lifting a heavy block just in front of the entrance to the Governor's Palace. The author rejected the classic notion of blind justice and gave it a completely new form. He described his concept as follows: "Justice is a difficult and fragile matter. It is supposedly in the hands of those who rule the earth. The Figure of Justice does not rule but faces. At first glance it hardens, but then the weight of the block is easy to hold and balances. The stream of water is lifting it from the bottom, sometimes lightly, sometimes with force." But not everyone in Brno likes the concept, as it usually happens with modern art, so one of the popular nicknames of the statue is the executor carrying a washing machine.
Freedom Square (Namesti Svobody)
Namesti Svobody or the Freedom Square is a beautiful example of combination of incompatible elements. You can find here the Renaissance House of the Lords of Lipa and Klein Palace, the House of Four Giants, built in the beginning of 20th century, the functionalist building of Komercni Bank or mate green blocks of Omega Palace's facade, the Plague Column from the 17th century or the most controversial installation made of black granite. On google maps you can find it by the nickname "cock clock" as it reminds you of everything possible and impossible except for the real clock.
Next to it there is a manual telling you how to determine the time – the process still looks quite difficult. Actually, the monument is supposed to remind you of a bullet and is devoted to the Thirty Years' War with Swedes. We recommend you to stop by the clock at 11 am as it releases a glass marble. The monument cost was 12 million crowns which is about half a million euro.
The Vegetable Market (Zelny trh)
Zelny Trh is a square located about 400 m south from the Freedom Square and usually used as a farmer's market. Fruits and veg mostly come from Slovakia or abroad, so there is actually no point of buying it here, but the square is still worth of coming. First, there are a few monuments you should see: the Parnas fountain from the 17th century, the Holy Trinity Column from the 18th century and the statue of Mozart.
The last one is 2 meters high bronze sculpture of the famous composer with a body of a child and a head of an adult located in front of Reduta Theatre, where young 11-years-old Mozart performed as a miracle child. His nudity symbolizes the desire for freedom and the movement of the figure is a classicist allegory of joy and freedom. On his back, Mozart has only one angel wing that refers to his tragic ending.
Another reason for visiting Zelny Trh is the Brno Market – a 2-floors complex with local bistros, coffeeshops, beer shops, pastry shops etc. You can enter it from the Old Town Hall yard or from the Vegetable market. Here you will find the Craft Beer Bottleshop & Bar plenty of local and international beers and ciders and the Cupcakarna pastry shop with a charming motto "Cupcake is not a muffin!" (as an accompaniment for the cupcakes we recommend to try their baked tea with forest fruits). If you are visiting Brno in summer, you simply must try the ice-cream from Bozsky kopecek retro food truck (the Divine Scoop) at the square. A scoop of vegan gelato is divine indeed: sea-buckthorn, roasted coconut, tonka bean, pina colada, papaya, strawberries and cardamom, raspberry… What would you choose?
EATING & DRINKING OUT
So, finally we've come to the most delicious part of the Brno story. Let's start with the place that impressed us the most.
Bar, ktery neexistuje (Bar which doesn't exist)
This bar is located on Dvorakova Street, not far from the Freedom Square. The first experimental bar in Brno. It was established in 2012 and offered people old-school-style bar interior and revolutionary cocktails. It all started with a Christmas market where owners of the bar had a great success with innovative warm apple drink instead for usual mulled wine. A small journey to New York for the inspiration came after, and now we have a fantastic bar with a well-thought concept, qualified staff and a laboratory where they make their own syrups, marmalades and infusions!
The menu is changed twice a year but we would like to give you the general idea of it. We tried the menu called "The best of Brno" where 23 cocktails were inspired by the best cafes and bars of the city. Created recipes had to be tasted and approved by the team of each place, and the menu itself reminds more of a travel guidebook with photos and warm descriptions. The amount of pure alcohol types is enormous, it took 3.5 pages of menu; there also are mysterious covered bottles on the top bar shelves. Those are experimental bottles where bartenders are ageing or infusing alcohols (for instance, with chocolate or bricks). There is an open kitchen on the second floor where you can see how they cook burgers, using only fresh meat and buns from bakery.
The general atmosphere of the bar shows you that people working here simply love what they do. A hostess will meet you at the entrance, help with your outer clothing and show you your table. A friendly waitress will help you choose a drink and refresh your water. Also we noticed that they don't use cocktail straws, stating there's too much plastic in the world already.
If you want to book a table (and you better do, as in the evening the bar is usually full), keep in mind that reservation is possible until 7 pm for the first floor and 9 pm for the second floor. The bar is usually open till 2-4 am, you can check the exact time on their Facebook page.
Although the bar is experimental, the interior and presentation of drinks is rather classic and even old-school. If you are up for trying something more unusual, crazy or even weird, visit their second bar – Super Panda Circus – a hidden bar at Šilingrovo Square 3. First, find the bar entrance, as they have no sign, and then get ready to enjoy Bloody Mary served in a soup bowl with a spoon or a cocktail served with a yellow duck!
SKOG Urban Hub
The airy interior of SKOG Urban Hub is a minimalistic combination of pure materials: wood, metal, bricks. At the daylight with its white walls and huge windows it has no sense of a sealing, walls or any barriers. They serve breakfast till 11.30 (a sweet one and a non-sweet option), and then switch to a daily menu which is changed quite often, but usually you have few options: a soup of the day, a buddha bowl, a burger or hummus, for instance. SKOG is vegan and vegetarian friendly, therefore a burger can be made of buckwheat and chestnuts, but doesn't it make it more exciting? At night it becomes a stylish but cosy bar with a special evening menu – after 9 pm.
The kitchen team is extremely friendly and open to the customers, so when we asked for a dressing without jalapeno to be served with our lentils & veg bowl, the chef brought us freshly-made peanut dressing and wished a "Bon Appetit!" herself! There is also a nice choice of house-made cakes. To surprise your taste buds, try the sweet potato cake – a bold step if you are still afraid of carrot cake or beetroot brownie, though. Locals love the café also for the coffee from Rusty Nails Coffee Roasters, so go for a strong espresso or creamy cappuccino if you are of old school. If you are up to something new, try the Cold grow – cold brew with rhubarb puree, lemon and ginger.
In Scandinavian languages the word "skog" means "forest." "Come into our woods and sit down, but do not expect silence as in the wild. Our forest is full of friendly interviews, music, clinking glasses and our creaky floors…" – that's how they describe themselves on their Facebook page.
Soul Bistro
"Live to eat, not eat to live" – how do like the slogan? Another vegetarian friendly café with breakfast and daily menus and exciting house-made desserts. Do not worry, meat lovers: besides fantastic hummus and Asian-style rice, Soul bistro can surprise you with a sous-vide chicken breast, pate or English roast beef. Cosy atmosphere with a light hint of countryside makes it a good place to relax with a cup of coffee, mint mascarpone & brownie bowl.
4 pokoje (4 rooms)
Although this place doesn't have anything in common with the famous movie, it is worth visiting. Having the same owner as the Bar, ktery neexistuje and Super Panda Circus bar, 4 pokoje hits you with the same approach: imaginative, innovative and fearless team of passionate people creates a unique concept with all possible passion. How they describe the concept:
"Want to have breakfast at 9 pm? Want champagne for dinner? Want a party and a business meeting at the same time? Want Czech steak and gyoza dumplings? Imagine the bedroom where Marilyn Monroe is eating. The workroom where Kennedy rehearses in front of the mirror: "Ich bin ein Berliner." Elvis' test room. A dance hall where Madonna is twisting on the pole. You got it? And what do you see?
We will tell you. 4 rooms.
We've seen something like this from the beginning. Liquid place for liquid time – no unnecessary categories and prohibitions. Why see the border where there are none? Gravity can not be cancelled yet – but everything else can. So come try it."
(source: brno.idnes.cz)
Breakfast, lunch, dinner and non-stop bar are all at the same place. Intriguing enough? Find more information here.
Susenkarna Momenta
There is no exact translation for the word "susenkarna" as it doesn't really exist in Czech language, but it can be simply described as a cookie shop. And that's what it is – a small charming cookie shop in the heart of Brno. Buy a sweet gift from Brno for your friends or treat yourself with freshly made cookies inspired by Belgian, French and American recipes. Or simply surprise your dog with dog cookies! You can find them on Mečova 8 Street if you go west-north from the Zelny trh.
More things to do and see in Brno.
Author & photo credits: Natalia Jankova

MAP LOCATION: