A fascinating world of optical illusion awaits you at Tripland Gallery. Let beautiful works of art created by spray-paint take you on  a trip around the globe and up, up, up into outerspace. Try to strike a perfect pose while making your muscles work and your friends laugh.
Location
Tripland is located in the Old Town, right next to the historical center and close to popular sights. You can find it at Námestie SNP Square with the entrance just around the corner on Kolárska.
From the world to Bratislava…
Tripland is a kind of a gallery of optical illusions and tricks. Unlike old-fashioned galleries, the artworks in Tripland are not just to be admired. This spectacular attraction for all ages invites you to play with perspective and become a vivid part of the art.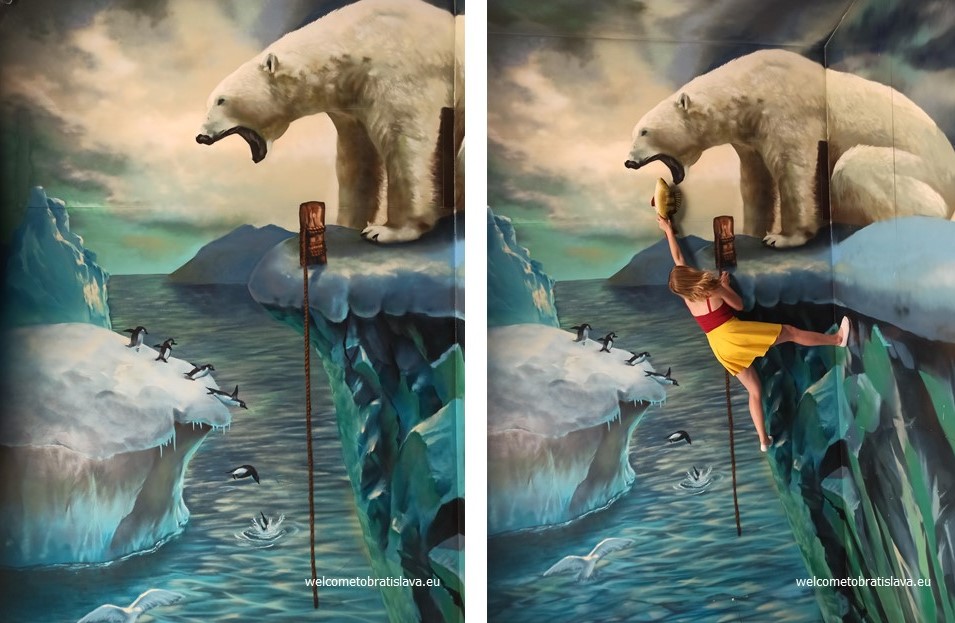 The owners and creators are Lucia Jergušová and Christian Schoepf, a Slovak-Austrian couple who wanted to bring their love of graffiti, art, optical allusions and family fun to Bratislava. They sought inspiration all over Europe, visiting similar attractions in Hamburg, Prague, and Vienna. They liked what they saw, but knew they could take a more unique approach that went beyond wallpaper and prints.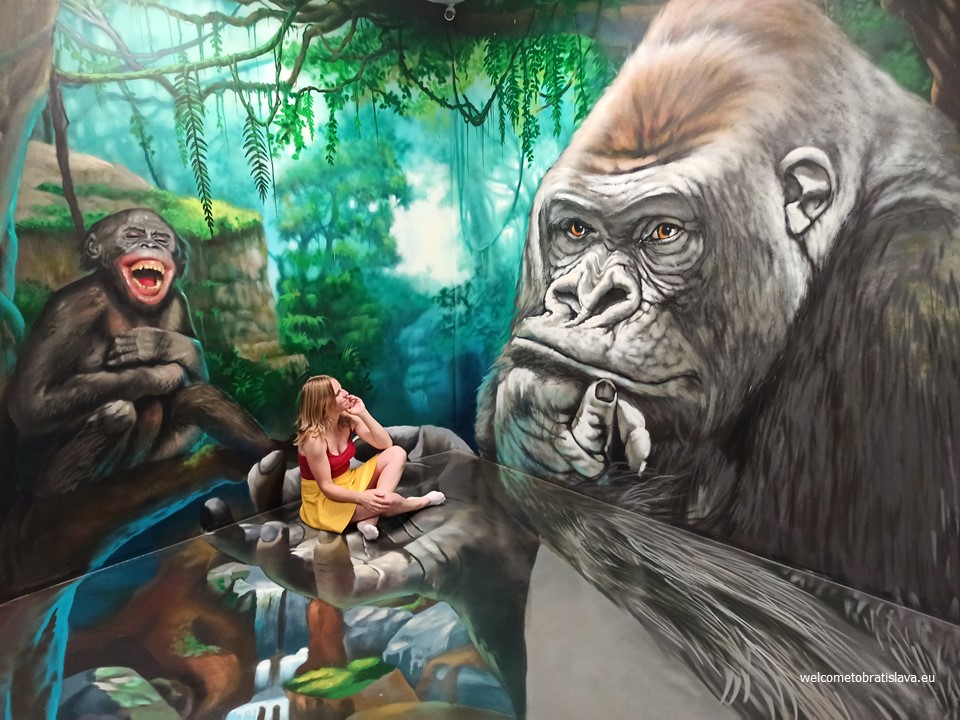 In Tripland they decided to be unique and went with hand-sprayed graffiti. Together with artists, they brainstormed ideas that came to life on the walls of two floors and seven rooms. Some of them were painted by sprayers from Wall Design, most of them by Dodi Grint, a successful graffiti and 3D artist from Košice. Some dreams, like a painting of the Avatar, are still waiting to come true.
… From Bratislava around the world in 1 hour
When you arrive you may be asking yourself, "how does this all work?" Actually, it is quite simple. It is "only" an image playing tricks on your eyes and brain. It is an arrangement of elements, color combination, and lighting that changes the 2D image to 3D. Add to it your striking pose and a visual effect is complete and ready to be captured.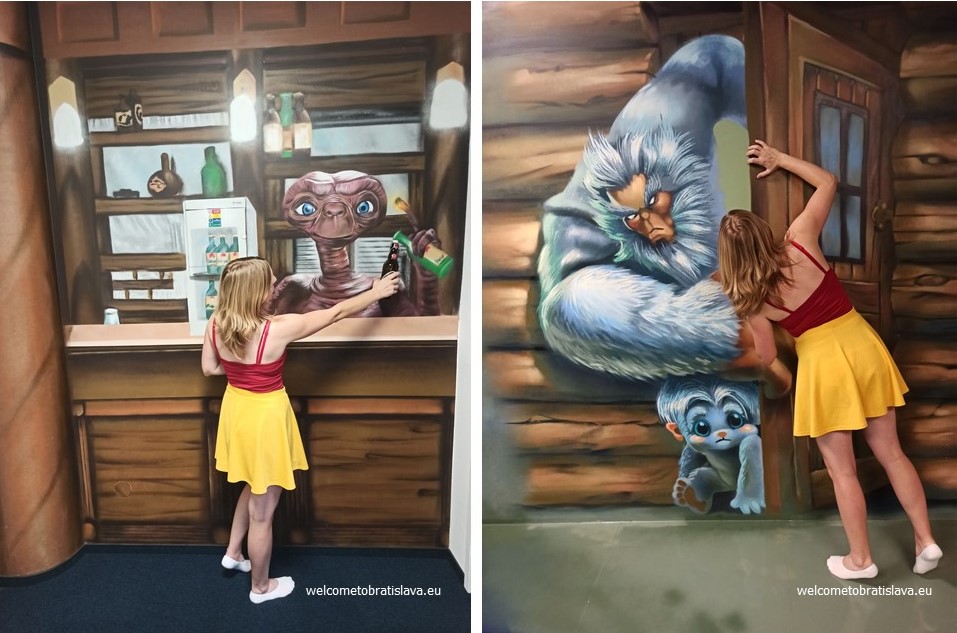 You don't have to figure it out by yourself. When you arrive, one of the owners will show you around. They will point out the green dots on the ground, that mark the best angles for the best photos, and give you inspiration and advice on how to strike the best pose. Then you are ready for a journey into the world of optical illusions and 3D art and around the world itself. You will visit Asia, Antarctica, Australia, America, and up into the great beyond.. You can climb the Grand Canyon, surf with an angry shark, attend a boxing match against a kangaroo, ride an elephant, stand atop Bratislava's UFO and many more, all in under an hour.
Know before you go
You will move around Tripland without shoes, so make sure to bring socks with you. Sometimes you may need to lie down on the ground to create the best possible effect, so dress for comfort. Bring a camera or mobile phone to take photos.
The tickets need to be purchased online. Afterwards, a reservation is needed to schedule your visit.  As the number of visitors is limited, we highly recommend making a reservation by phone, e-mail or filling out the ticket form via their website.
Author & Photo Credits: Jana Kristeková

 OPEN HOURS: Tripland is open all year round and every day.


 ADDRESS: Námestie SNP 15. The entrance is from Kolárska Street.


 CONNECT: Website, Facebook


 MAP LOCATION: