Are you that kind of person for whom just having coffee or dinner on a top of a bridge simply doesn't cut it? No worries, UFO watch.taste.groove. has teamed up with Skywalk in order to create a unique attraction: UFO Skywalk. Are you intrigued? Do you crave that adrenaline rush? Well, what are you waiting for? Keep reading and once you decide to go for it, it's going to change into UFO – watch.live.repeat.!
LOCATION
The UFO Restaurant is located on the pillars of the Bratislava New Bridge (Nový most), also called the UFO bridge. It takes just a couple of minutes on foot from the Old Town to get there. The closest landmark is St. Martin's Cathedral. This bridge over the Danube connects the Old Town with another Bratislava borough – Petržalka. It offers a great view of the castle, too.
For more details check out our article about UFO and learn more about the interior or what to do as you wait for the Skywalk.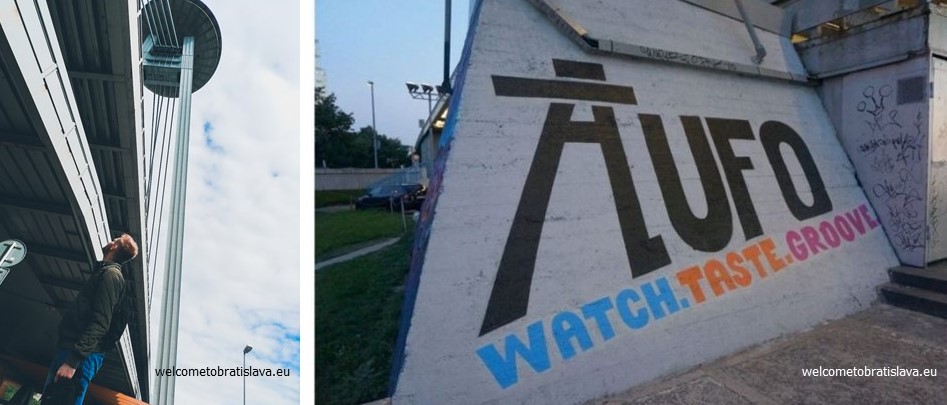 SKYWALK
If you are having cocktails or coffee at the restaurant you might never expect someone to walk on the other side of the windows – but this is exactly what's happening. You won't find anything else like this in Bratislava. What's more, UFO's Skywalk experience is unique even within Central Europe. The closest metropolis with a similar activity is Tallinn, Estonia. By creating such an attraction, UFO Bridge Tower joined the World Federation of Great Towers that offers Skywalk/Edgewalk, including the most popular CNN Tower in Toronto, Canada.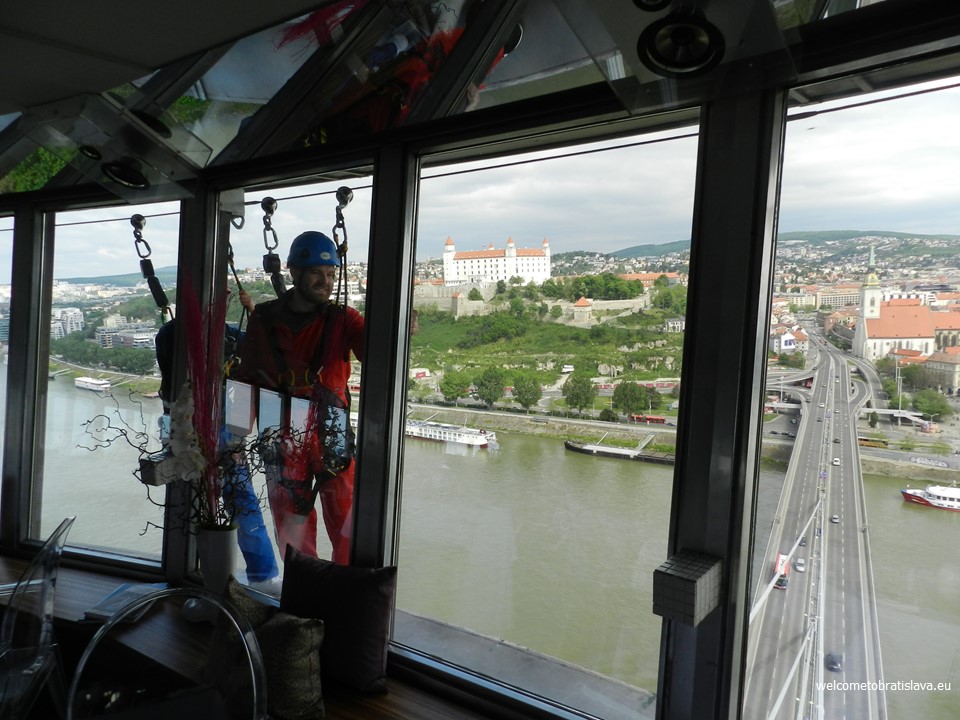 In essence, Skywalk is a panoramic 360-degree walk on the windowsill of an observation tower with an amazing view of the city, 85 meters above the ground. Don't worry, you are 100% secured by a double safety system of steel ropes (that can easily sustain the weight of a bus). Do not expect to reach your daily step goal up there – it's only 60 meters long but once you find yourself on the rim, it takes around 10 minutes to make it anyway. The pairs of eyes will watch you with admiration through the sixty windows as you walk past them 🙂
HOW WE FELT
As first-timers, we had no idea what to expect but we won't lie – once the elevator took us on the top we got a better understanding of what anxiety is. However, the super nice instructors assured us that nothing bad can happen as they were helping us with the gear. By the way, they give you a special suit that you put on your clothes and also there's no need to bring any special shoes. However, high heels are really not recommended 😉 You'll get the safety instructions and then it's up to you to take the first step – we found it really challenging. After a few more meters the initial fear dissipated and we were able to enjoy that breathtaking view. Skywalk isn't just about walking the walls. There are 3 points on the path where instructors give you a minute to try some stunts such as "swing move" or stepping on the edge of the windowsill. If you've got the balls – go for it!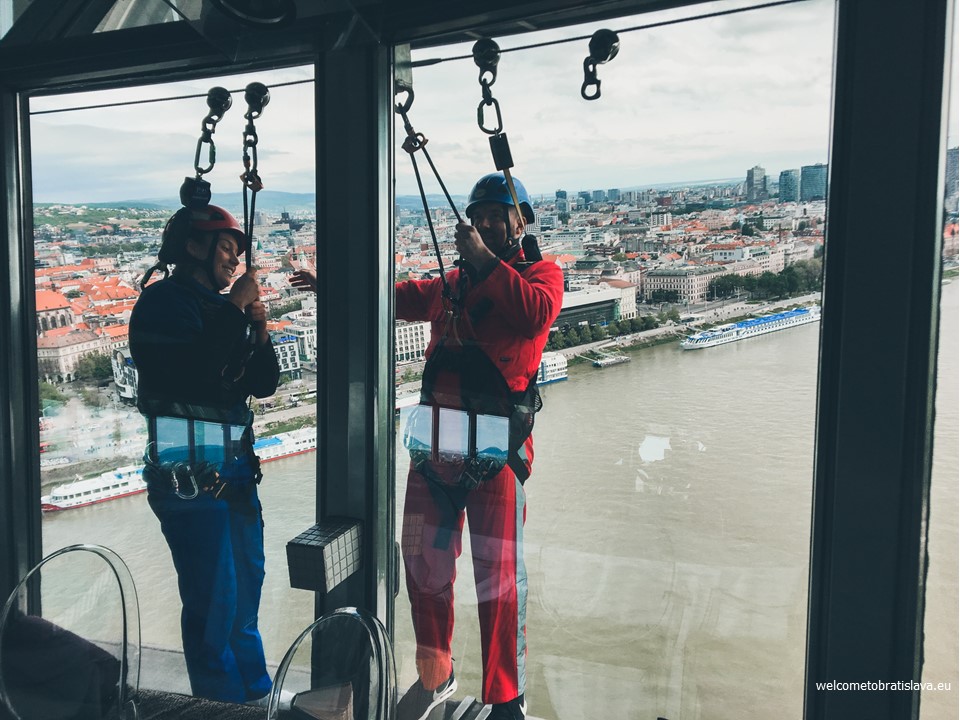 As we were slowly approaching the end of our "mission impossible remake" we got one last chance to glance at the Bratislava castle and look down at the tiny people waving at us. A truly unforgettable experience.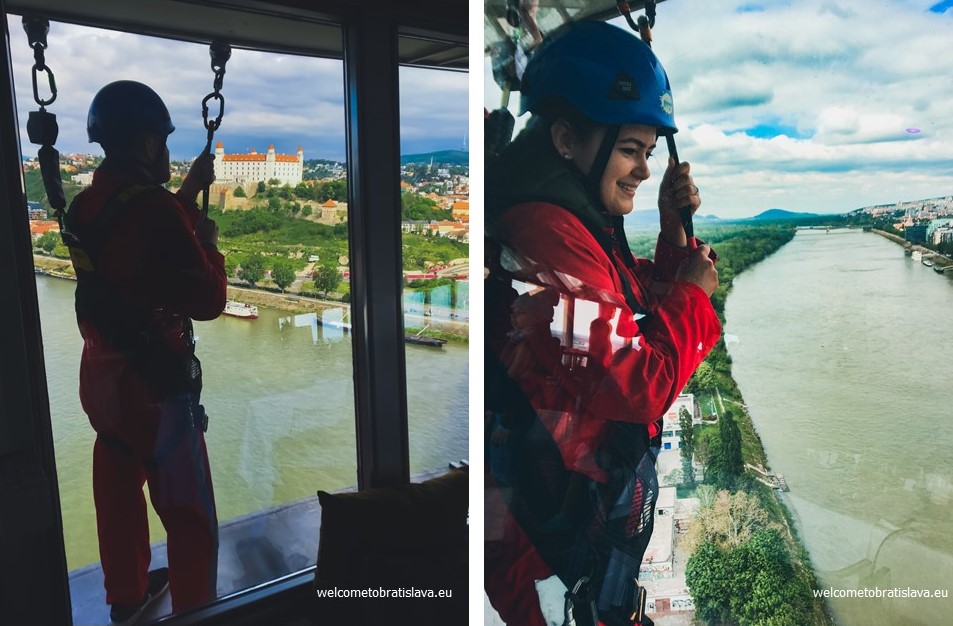 HOW TO BOOK
Usually the season lasts from April to September but of course, the weather is the main variable. If you check their website you will find a reservation system with dates available (every week during the season). Skywalk is ready to operate with eight or more participants. If they don't meet the required number, there a risk of the event getting canceled. Make sure to check the validity of your reservation before visiting UFO. In that case, of course, you'll get a full refund.
Still on the fence? Check out our video!

OPEN HOURS: season from April – September, online reservation needed


 ADDRESS: Most SNP (UFO Bridge)


 CONNECT: Website, Facebook


 MAP LOCATION:

Authors and photo/video credits: Radka Horáková, Martin Komloš