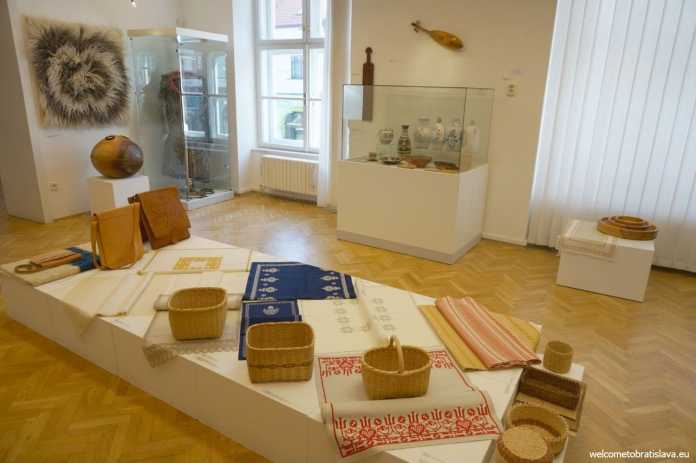 Come to have a look at the traditional artistic production of Slovakia brought back to life through the Centre for Folk Art Production (ULUV). Its galleries are a place for organizing exhibitions focusing on traditional crafts but also for actual design work where craft serves as a source of inspiration. ULUV runs three different galleries, a gift shop as well as holds regular craft workshops. Welcome to the world of crafts :)
WHAT IS ULUV?
ULUV is a national repository institution of the Ministry of Culture which functions as a nationwide documentation and information center for folk art production. It has been developing traditional crafts and folk art as part of the cultural heritage for 70 years now.
The center supports traditional producers, designers and students whose works it displays in its galleries and also cooperates with gift shops where the visitors can purchase these unique products. The center also develops cooperation with other cultural institutions in Slovakia and abroad.
THE FRONT ROOM
One of the galleries that is part of ULUV is called "Predna izba" (translation: the front room) and it is a gallery combined with a shop – which means you can purchase almost everything you see :) It is located on the SNP Square.
The objects and products presented in the gallery are part of collections from the Museum of Folk Art and Production in Stupava.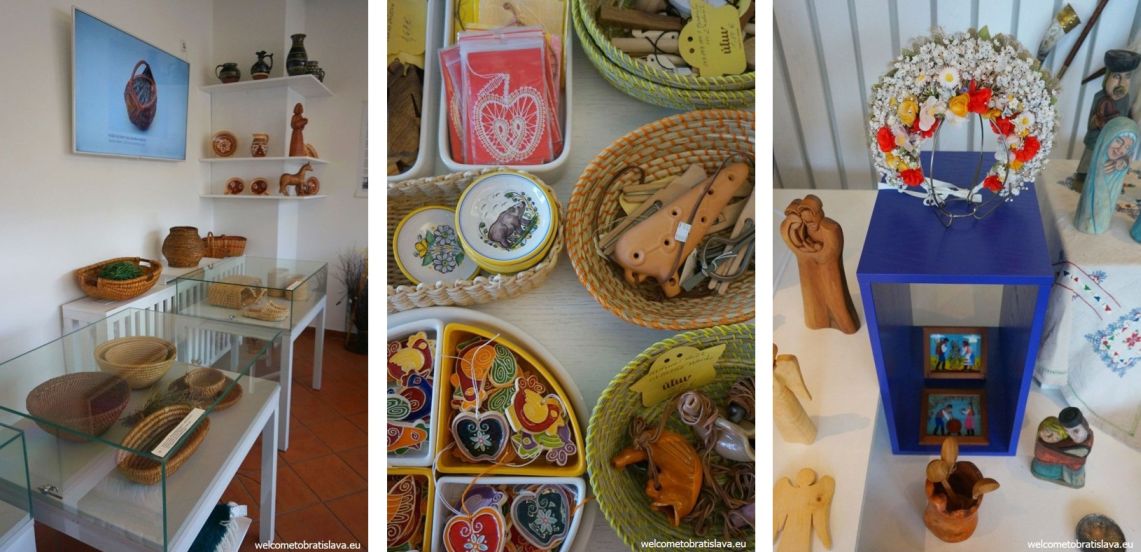 An interesting thing to remember about this place is that it holds pop-up craft demonstrations each Monday from 4 pm till 6 pm which you can join to watch (and sometimes also try) for free. But rather always check with them directly when you plan to come:)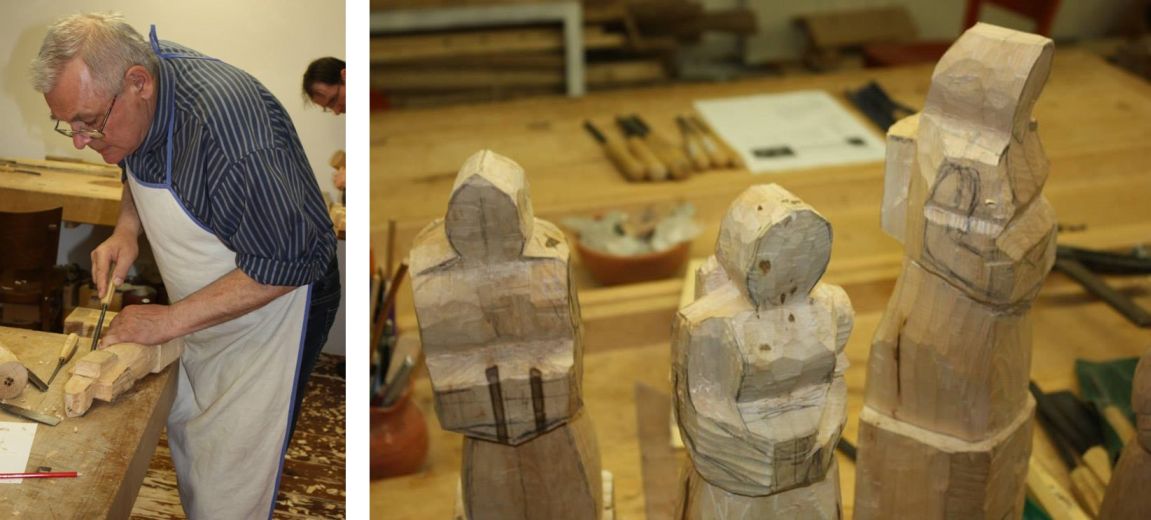 (source)
DESIGN STUDIO
Another gallery that belongs under ULUV is the Design Studio on Dobrovicova 13 which is focused more on modern art.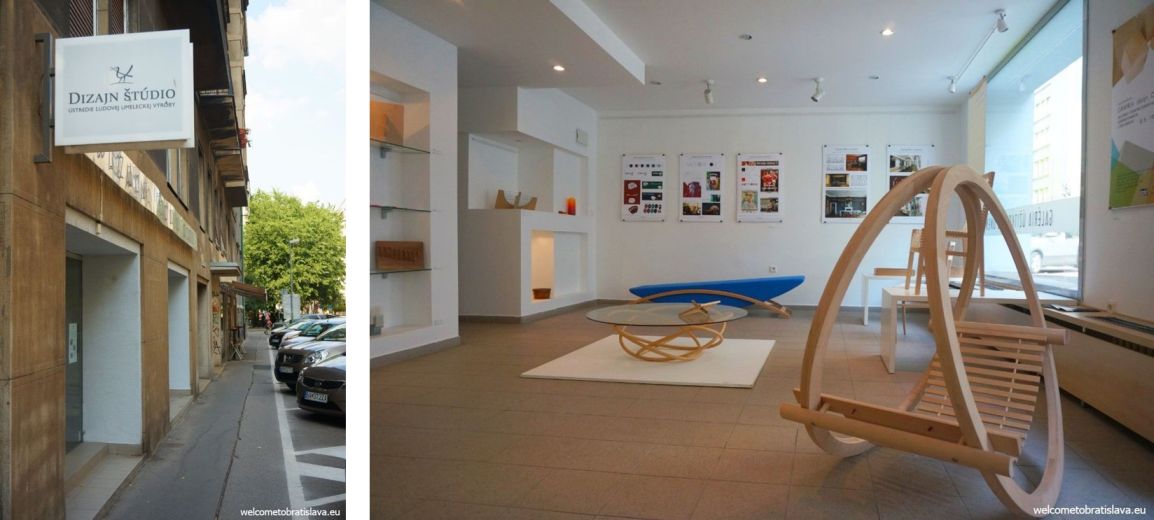 The philosophy of the studio is based on reviving original Slovak design focusing on crafts which are designed with aspects of tradition and creativity.
The objects and works presented in the Design Studio are characterized by mainly traditional orientation, classical technology and also the use of natural materials, all in conjunction with an original idea.
ULUV GALLERY
The third ULUV gallery is located on the Obchodna Street, close to the Slovak pub. You need to walk into a small courtyard and enter the second door on your right. The gallery is on the 1st floor. There will most probably be a doorman who might ask you where you plan to go – just tell him you want to visit the gallery :) In case the door is closed, ring the bell and they will let you in.
The important thing is that you walk to the second door on your right – as the first door leads to a souvenir shop, not the gallery. But that you would notice after a while :)
The gallery's exhibition is dedicated to the creation and the beginning of the organization. It represents the first research done by workers in this field, together with their technical equipment such as cameras, film records on reels or a typewriter. All these items can be found in the front room. The first thing you will notice when walking in is the lady at the table which looks like a real one. Some visitors apparently don't notice it's a manikin and greet her which almost happened to us as well :)
The artists themselves have a special place here, too: one of the aim's of ULUV is to make sure that the existing traditional artistic production and craft techniques of Slovakia do not become extinct, and to present the work of contemporary artists who are in some way unique and original. So you are going to find here a lot of admirable items.
The majority of the displayed works is craft products of daily lives – such as these beautiful jars, pots, plates and vases.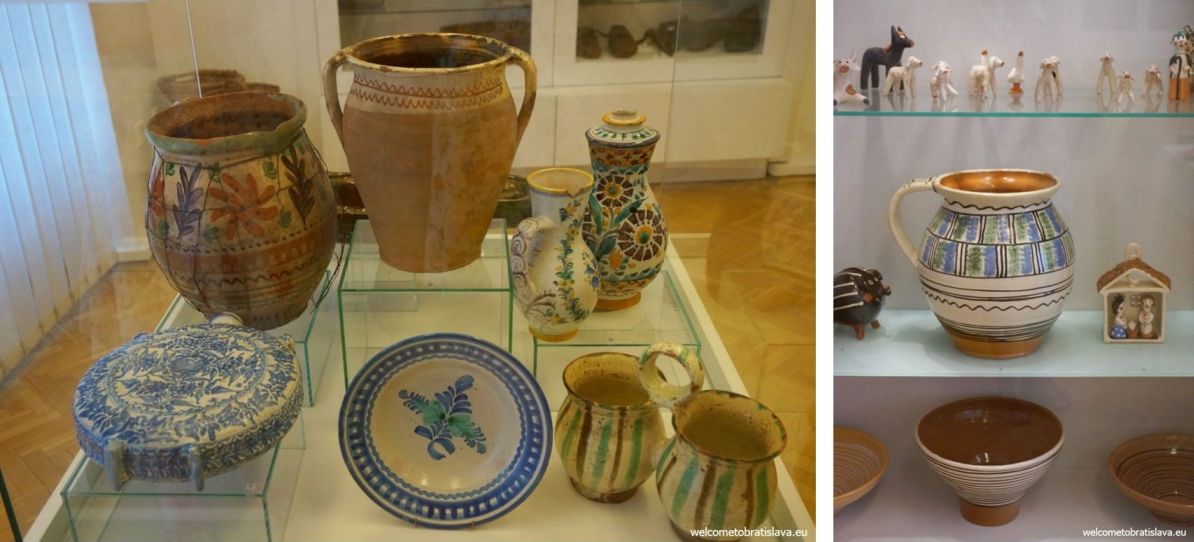 Painted ceramics, creel buskets, dolls made from husk or brass bells – all these are symbols of Slovak tradition and tourists like to buy them as souvenirs.
Woven textiles, leather bags, quilts, wooden bowls or a colorful themes have found their home here, too.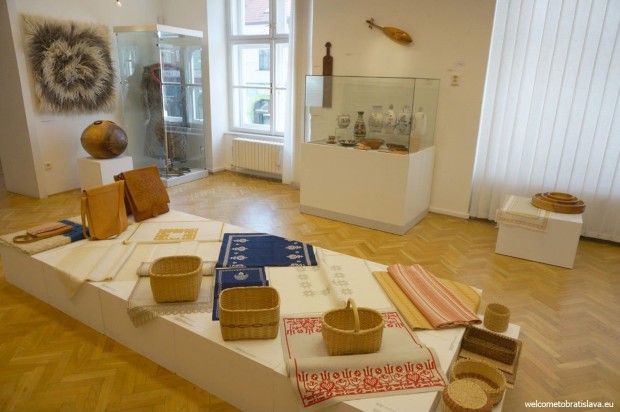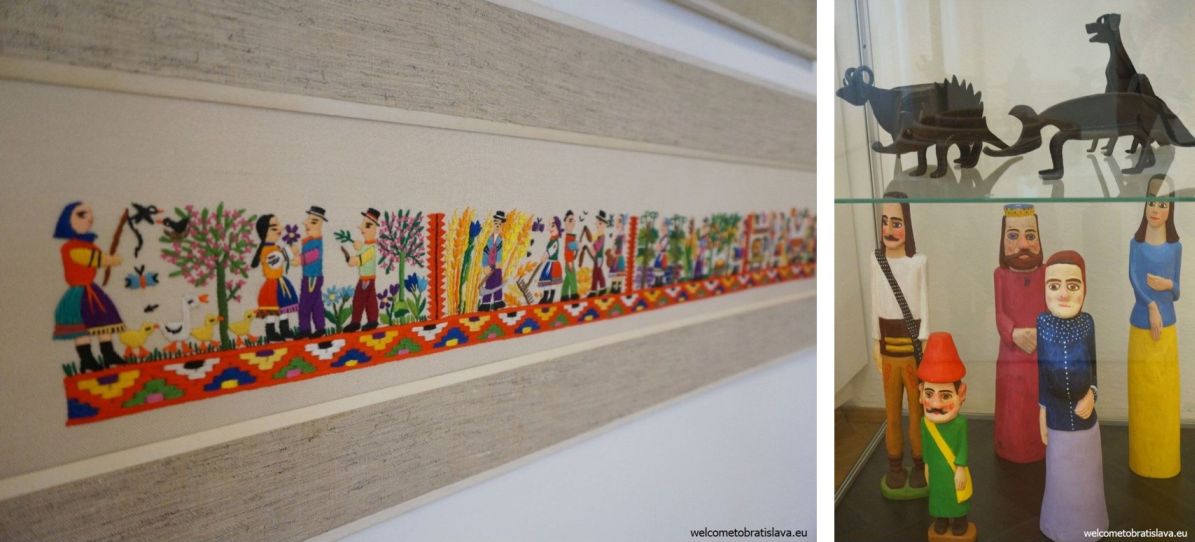 The last room in the back is dedicated to art works of young designers who are inspired by traditional motifs. ULUV regularly organizes art competitions for children, young people and those who actively care. The most popular one for children of 8-15 years is called In the Country of Crafts. The exhibition also presents some award-winning work from the competition Rings in Water which is meant for creative designers and craftsmen and initiates the creation of new Slovak products, based on traditional crafts, in the spirit of contemporary lifestyle.
Making a living from crafts today is not so easy and traditional crafts are slowly disappearing from our lives. That's why in the back room of the gallery there is a small "cinema" with a TV where you can watch short stories of Slovak craftsmen who still manage, and who tell their stories with passion that is usually being firmly rooted.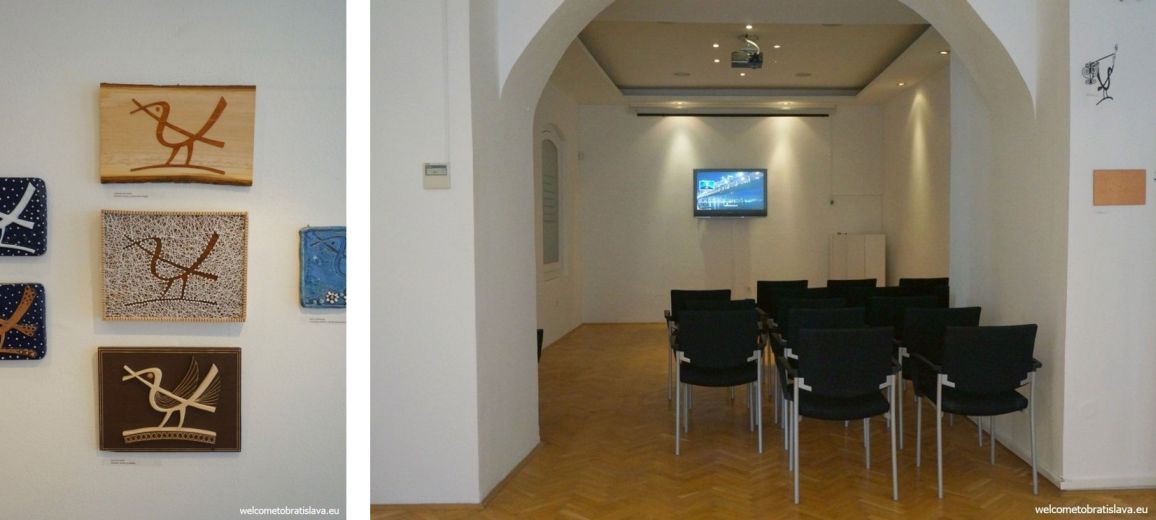 Have you ever wanted to discover or improve your traditional artisan skills in crafts such as pottery, wood carving, basketry, tinkering, bobbin lace making or weaving on a loom? Now you can! ULUV organizes courses and workshops in all its regional centers, and one of them is held here, on Obchodna street. You need to register upfront as they get full quite quickly. Click here for the list of current offerings.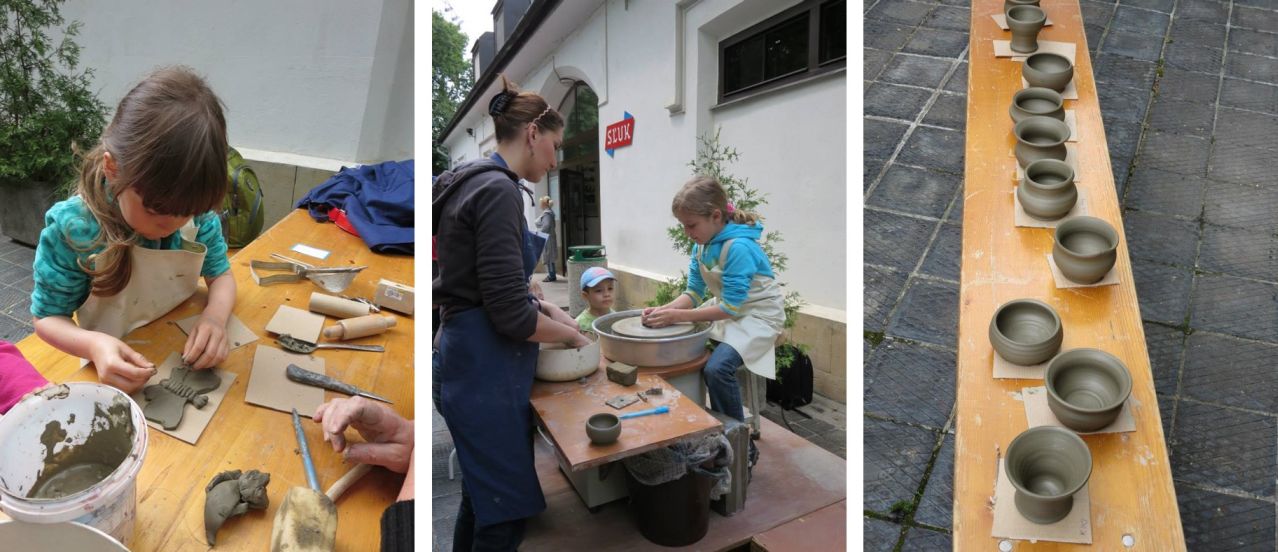 (source)
Besides all the mentioned activities, ULUV also has an editorial activity and publishes brochures, a regular magazine (RUD) and books from which the readers can learn various production and craft techniques, interesting facts about the traditional as well as contemporary crafts, design and applied arts in Slovakia. These can be purchased in their gallery/shop on the SNP square.
MASTER CRAFTSMEN DAYS
It's been already 25 years that ULUV has been bringing the largest urban festival of folk culture and crafts to Bratislava. More than 100 craftsmen from all regions of Slovakia, musical and dance performances as well as workshops attract children and adults each first weekend of September / last weekend of August. Check their site for more info and make sure you come to have a look! :)
CONTACT INFORMATION:
ULUV Gallery, Obchodna street 64, OPEN: MON -FRI 12:00-18:00, closed during weekends
Design Studio, Dobrovicova 13, OPEN: MON -FRI 12:00-18:00, closed during weekends
The Front Room Gallery & Shop, SNP square 12, OPEN: MON -FRI 10:30-18:00, SAT: 10:00 – 14:00
Author: Maria Kecsoova