UPDATE: Currently closed down due to reconstruction. Please check back later for more info.
Meet your friends, come for a delicious light meal, try one of their home-made lemonades or just relax in a big sofa. Pick a book from the open shelves and read it while enjoying your treat. This coffeehouse which serves also as a bookshop has a particular atmosphere for which it became so popular among the locals as well as tourists. Once you walk in, you'll know what we mean :)
LOCATION
You can find Urban Space at Namestie SNP (square SNP) which is a few minutes walk from the very city center. It has a big "Gorila.sk" name on its entrance door as well. The reason is that Gorila.sk is the title of the online bookshop which was founded before they launched a coffeehouse under this brand.
THE INTERIOR
Right after you walk in, you will be amazed by its interesting look and feel. It is a modern design place, yet you will find retro elements here. Probably the first thing you will spot are the very diverse lamps: from simple light bulbs hanging from the ceiling to enormously big lamps and chandeliers built from empty bottles :)
We love their idea of having tuli bags in a cafe. Colorful old style chairs, wooden tables, various fur stools and huge white bookshelves make the whole place very cosy, too. Plus there is a big sofa in the middle of the space of your disposal (with many cushions!) – what more could you need? :)
Urban Space actually serves as a book store, too, so you can pick and read any book from the shelves and if you like it, purchase it. They have quite a wide offer of English books so it is easy to spend hours just sitting, reading and chilling.
There is a small stage next to one of their wide windows, with a few tables. It is a hot spot as you get to watch what is going on outside. We love to sit by the window mainly in the evenings. The combination of dim lighting, relaxing music and usually a friendly service is great when you want to have some time off with your friends.
WHAT TO HAVE IN THE URBAN SPACE?
What we absolutely fell in love with was their granola with thick Greek yogurt and fresh strawberries. Pure heaven! Great breaky! They offer hot chocolates as well and these made it to our list of best hot chocolate places.
You can also have a main dish at Urban Space. They have a menu which is quite healthy. We like their hummus with pita bread and olives. You will find salads, toasts and other snacks there which are good options for a quick lunch or dinner. And we can't forget to mention their lemonades – you need to try their lemonades! Our best tip? The elderberry & ginger one with mint and lemon.
If you can't live a day without a cake, you will find this place interesting as well. Their cake menu is very similar to the one at Urban House (so check that page for more info as well). The pictures below display a poppy-seed cake with poppy-seed filling. Light, tasty, fabulous. And a super tasty caramel cheesecake – the best cake we have had at this place so far!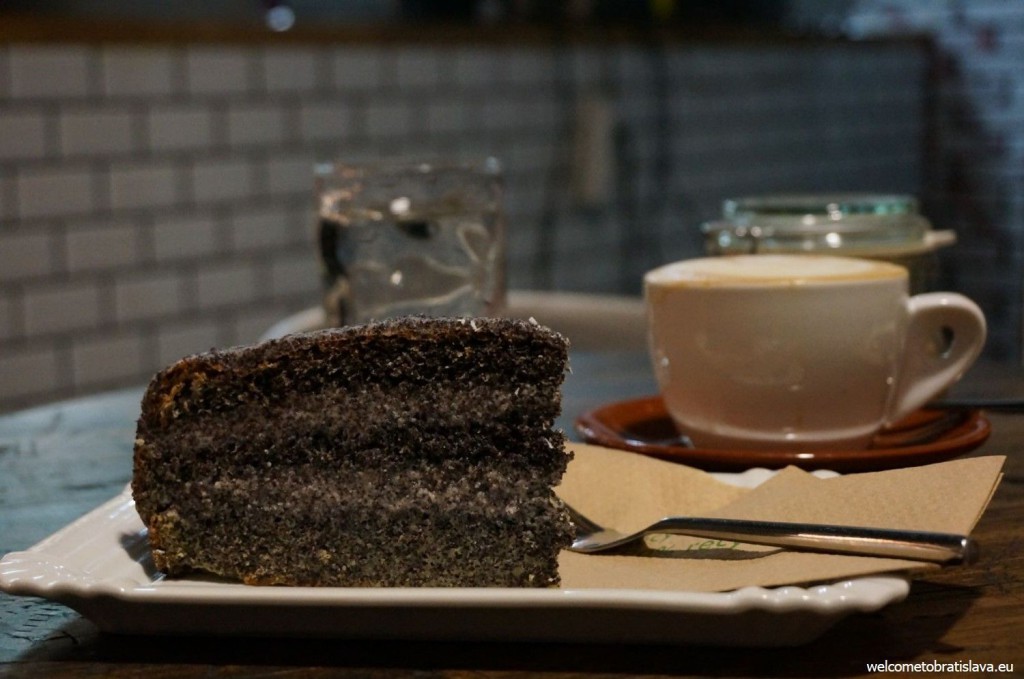 Those who like raw cakes will find some options here, too :)
In this cafe you will meet people of all age groups. Partially because they come with the aim to buy a book and they end up staying for a while, mostly because this Urban Space is very popular. That's also a reason why the brand opened their second coffee house in the city center only a few months after their launch, Urban House and even a third branch Urban Bistro. If this one is packed (as it usually is), try the other ones or vice versa. Good luck!

OPEN HOURS: Check their FB page


ADDRESS: Námestie SNP 30


CONNECT: Facebook


MAP LOCATION: