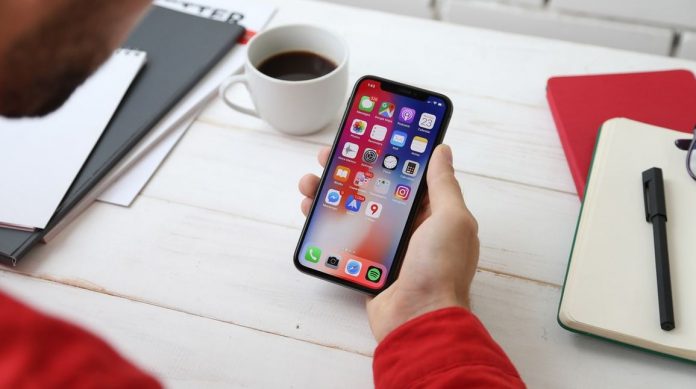 Don't leave your smartphone behind when planning your trip to Bratislava – it might come in handy! We have made some research on mobile apps that will help you make the most of your time while you're visiting out city, providing offline maps and advice on taxi services, tips for sightseeing, recommendations for local food as well as popular places.
UBER
Whether you're headed to work, the airport, or out on the town, the Uber app connects you with a reliable ride – from low-cost to premium – in minutes. One tap and a car comes directly to you. Your driver knows exactly where to go. When you arrive, payment is easy with cashless options. The advantage is that the app is available in 600+ select cities worldwide, so you can count on a ride even when you're far from home.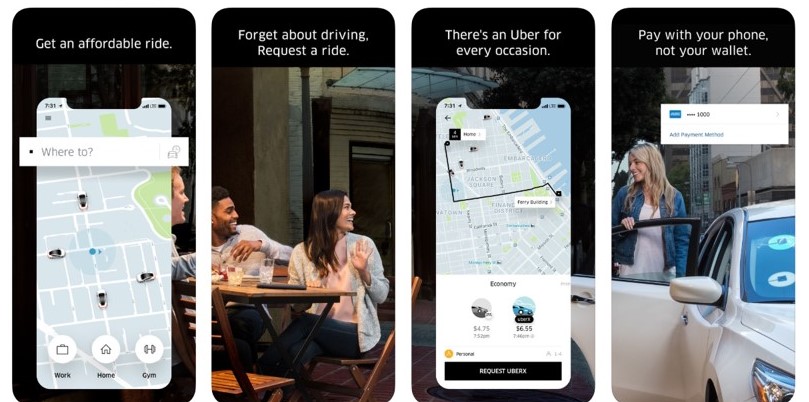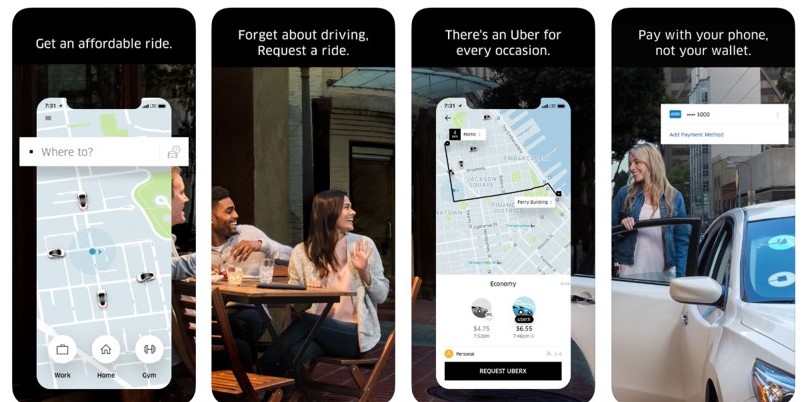 DOWNLOAD HERE:
Google Play (for free)
App Store (for free)
HOPIN TAXI
It can get tough to call a taxi in the middle of the night in Bratislava, especially on Friday and Saturday nights. If you don't want to wait long and don't want to stop the first taxi driver you see (as these charge more), we recommend to download the HOPIN taxi app – the first Slovak application for taxi ordering.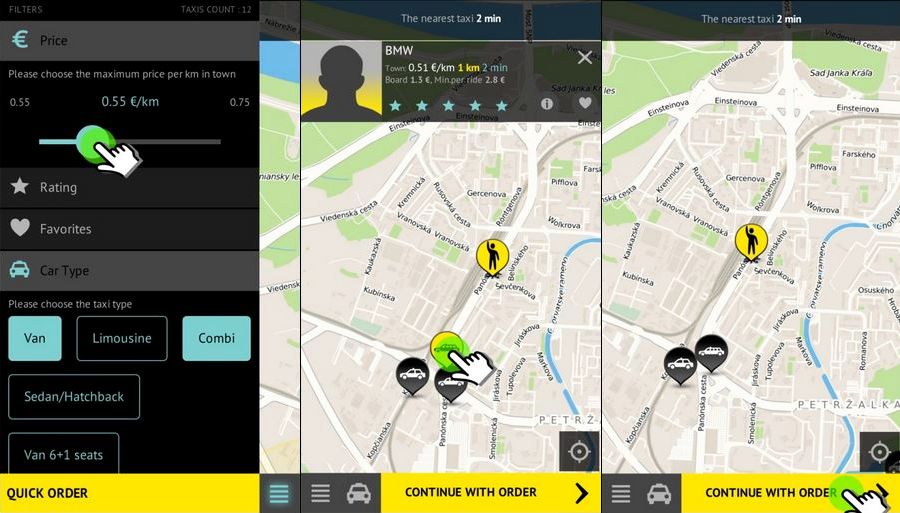 Not only can you set the limit you are willing to pay per km and the type of the car, you can also choose the drivers according to their references or even filter those who speak Slovak, English, German, Russian or Hungarian. If you don't care about these and just want a car quickly, use the "quick order" option which will automatically send the nearest car to pick you up. You can track the car's position directly in your mobile so you will no longer need to stay outside in the cold and wait. With this app you can check in advance how much you will pay for your ride – and you can be sure the drivers won't charge you more once they hear you are a foreigner :)
DOWNLOAD HERE:
Google Play (for free)
App Store (for free)
Windows Store (for free)
Note: The language is adjusted immediately when first starting the application – according to the language of your phone's operating system.
BOLT
Another popular way to grab a taxi is to use Bolt. This Estonian company is a market-leading platform connecting riders to private drivers or licensed taxis. The advantage of using Bolt is that you don't need to have cash on you – upon registration you will be asked to fill in your debit/credit card details and the card gets charged automatically once your ride is finished. On the other hand, you still have an option to pay in cash if you prefer to do so.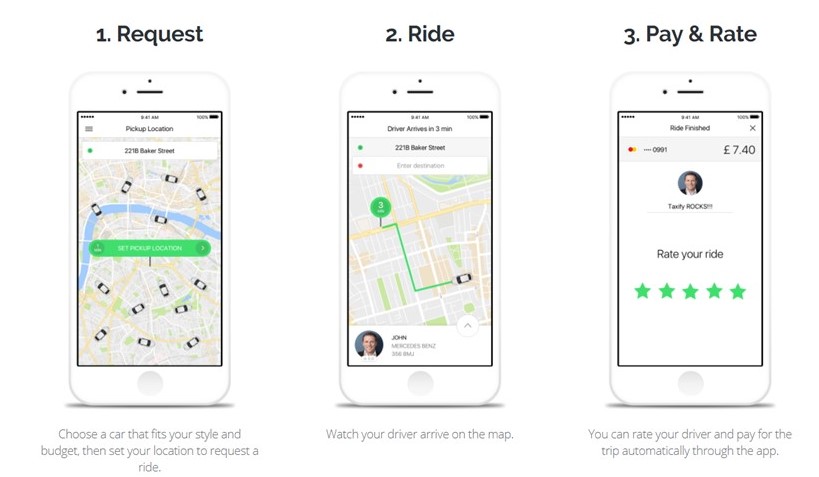 DOWNLOAD HERE:
Google Play (for free)
App Store (for free)
IMHD.SK FOR PUBLIC TRANSPORTATION
You will find this app useful if you plan to use the public transportation in Bratislava. It contains the list of all available stops and their time schedules, as well as maps of different parts of the city. The application enables you to plan your journey between two places as well as search for schedules. What you might like is that even if you aren't connected to the Internet, you can view the schedules offline :)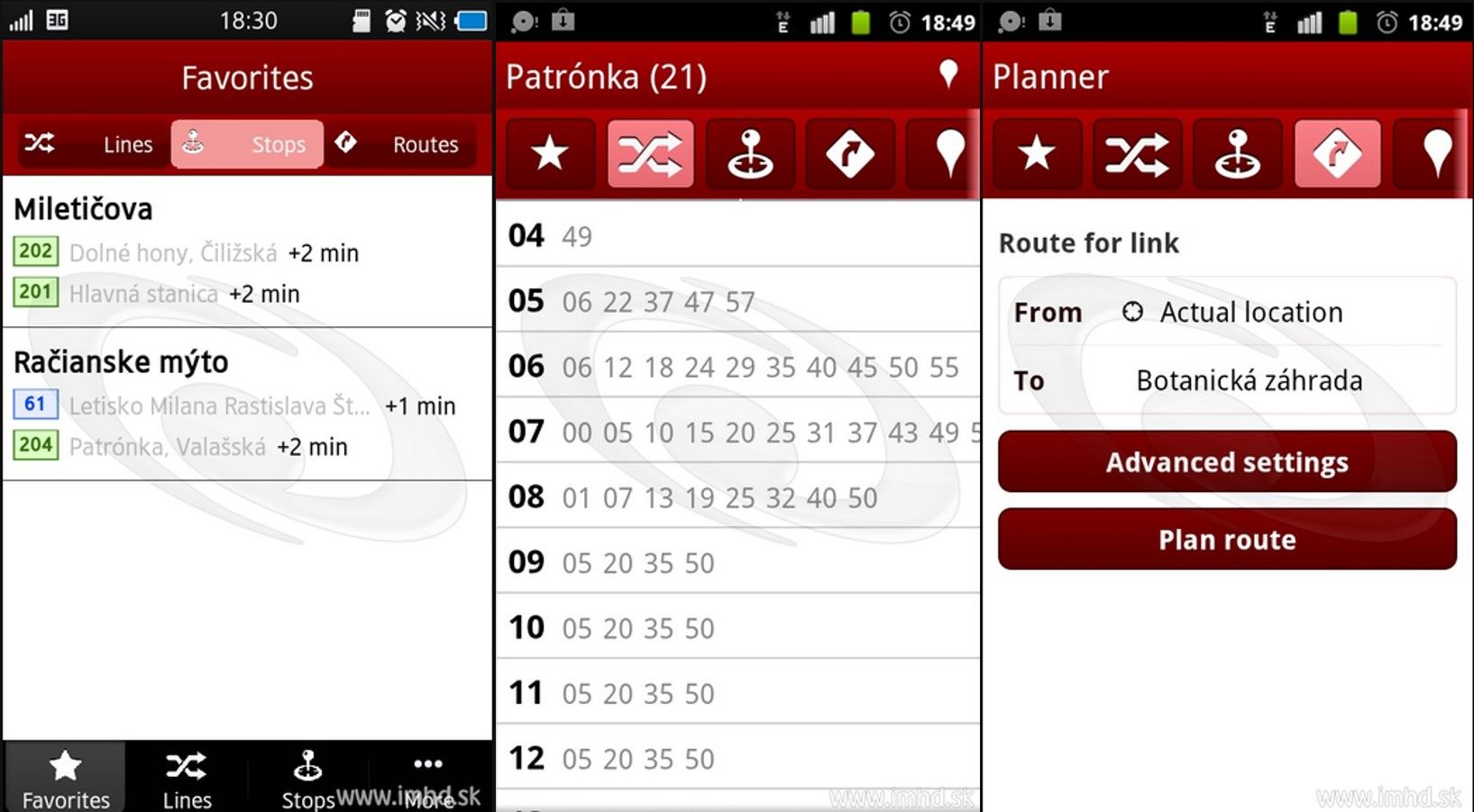 DOWNLOAD HERE (for free)
Note: The application is currently available exclusively in Samsung Apps for Android and Bada platforms for Bratislava and Košice. This app is available in multiple languages. The installed language will be set depending on the language of your smartphone's operating system.
EVENTLAND: EVENTS IN BRATISLAVA
See what's happening around you and drag yourself into the life of the local community with this mobile app! Visit concerts, cultural exhibitions, festivals, flea markets, sport events or parties. Have all the information in one place without the need to browse through long articles and various websites.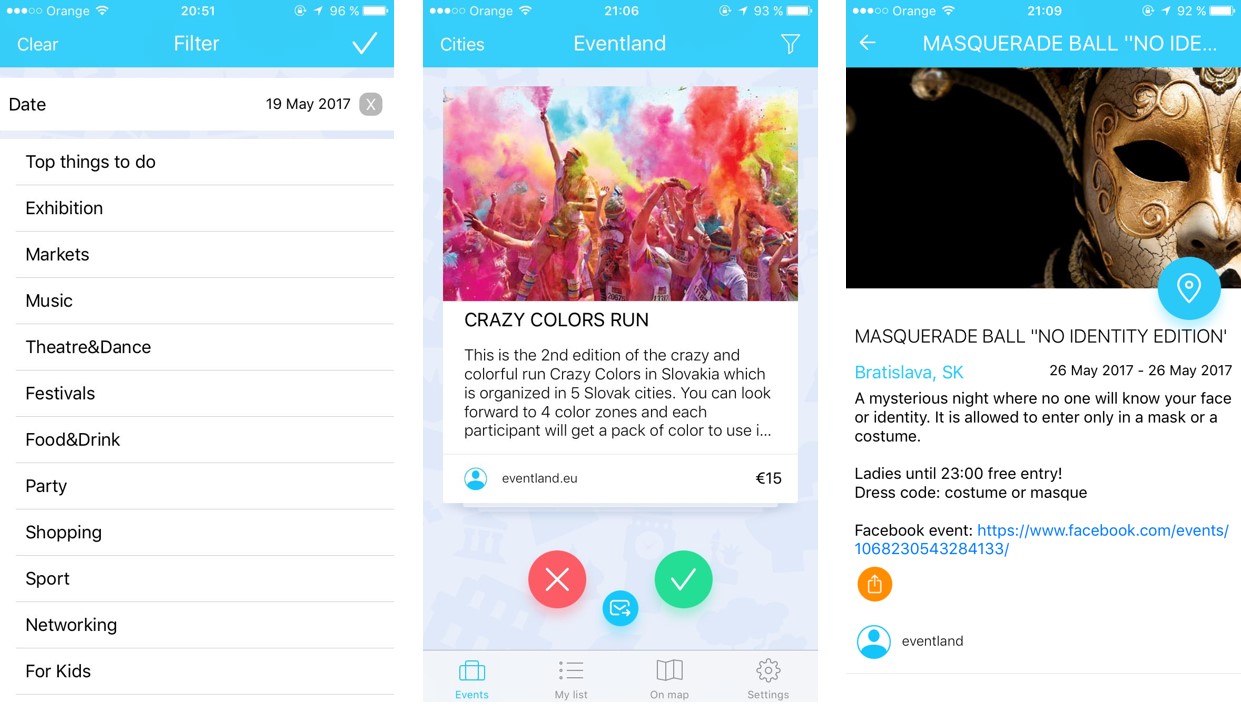 In this app, all the local events are translated to English for you and you can just swipe from left to right or vice versa to see what's on in the upcoming weeks. Use the date or category filter to find what interests you the most!
DOWNLOAD HERE:
Google Play (free)
App Store (free)
BRATISLAVA SPOTTED BY LOCALS
Spotted by locals is an app which is available for more than 66 cities worldwide and offers authentic tips by locals. There is always a group of people living in the city assigned to write about their favorite places. The current Bratislava version contains tips on almost 90 spots – cafes, restaurants, souvenir shops, leisure time activities and more. Don't expect tips on sightseeing though, there are other apps for those. We must say we were positively surprised by this app. You can have it for a one-time fee of 3,59 €. Good feature is that it is 100% offline so you won't be charged any roaming fees once you decide to use it.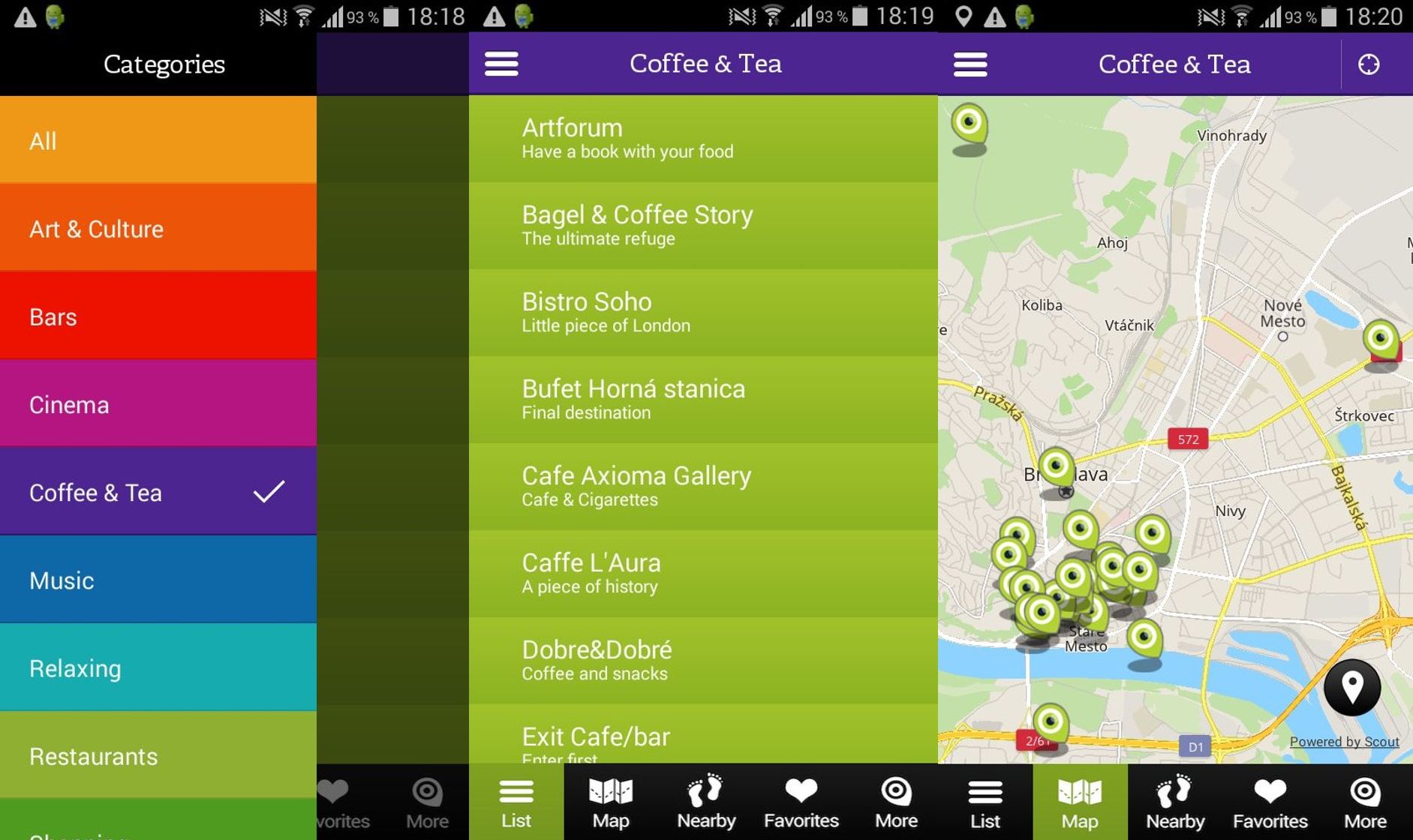 DOWNLOAD HERE:
Google Play
App Store
BRATISLAVA POCKET GUIDE
PocketGuide is an audio city guide application which gives you tours by voice, revealing the best stories, insider hangouts and must-see sights in close to 100 major cities and tourist destinations, including Bratislava as well. You can choose from different themed tours, or just wander around the city and let PocketGuide inform you when an interesting site is nearby. During your tour you can take photos and add comments; from this PocketGuide automatically creates a 3D video which you can easily share with your friends. You can use the app online for free or download it and use it offline (for small fees: 2,99 – 5,99 €).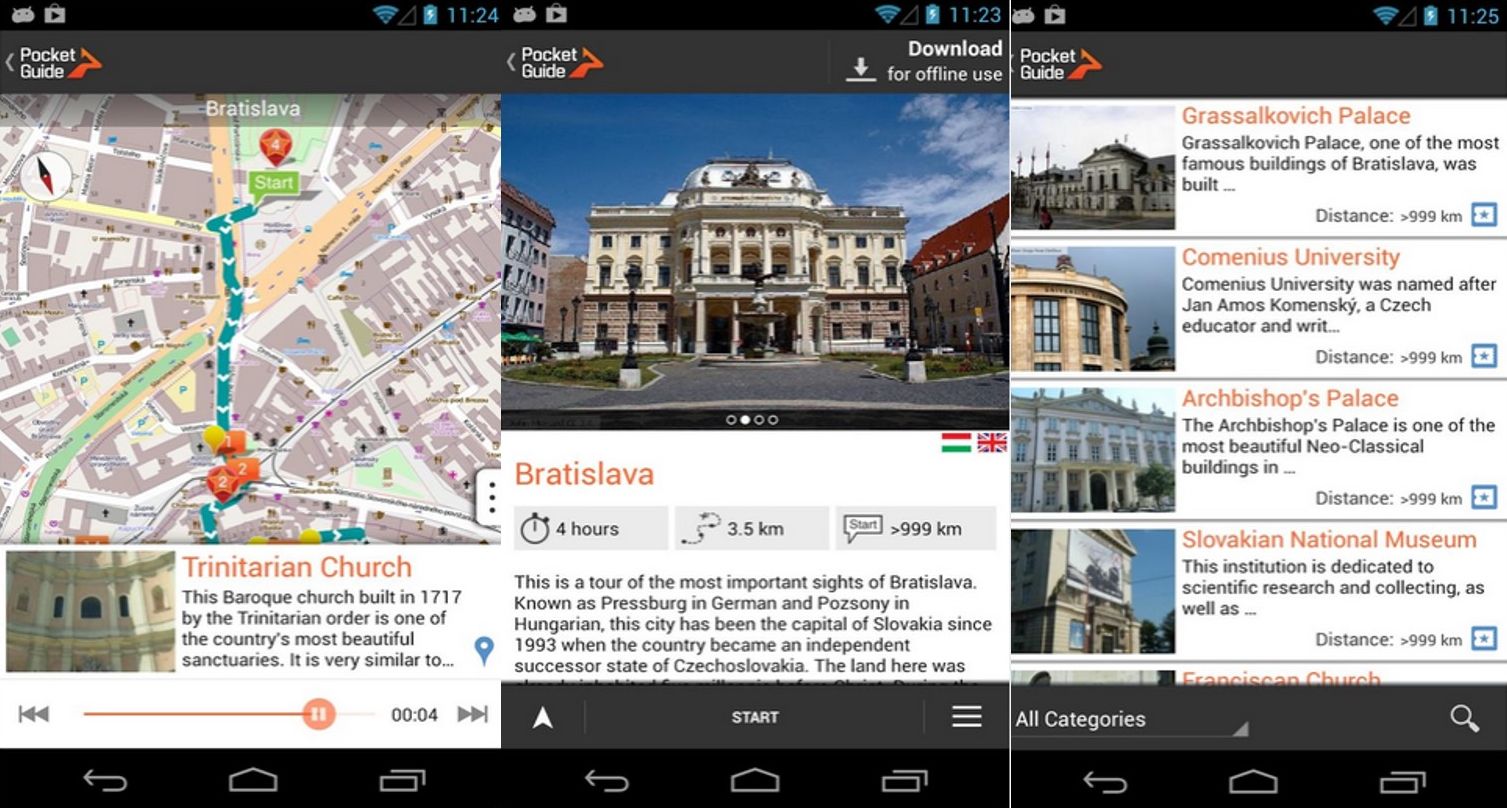 DOWNLOAD HERE:
Google Play
App Store
TRIPADVISOR
We probably don't need to introduce you to this app – as Tripadvisor is one of the most famous travel web sites. Its mobile app (which is absolutely for free) is very similar to the web site: you can look for hotels, restaurants, cafes, sightseeing attractions, shops, leisure activities – with the most various filters. Biggest advantage of this app is its reviews of all the places. If you are a traveller, you probably already have it :)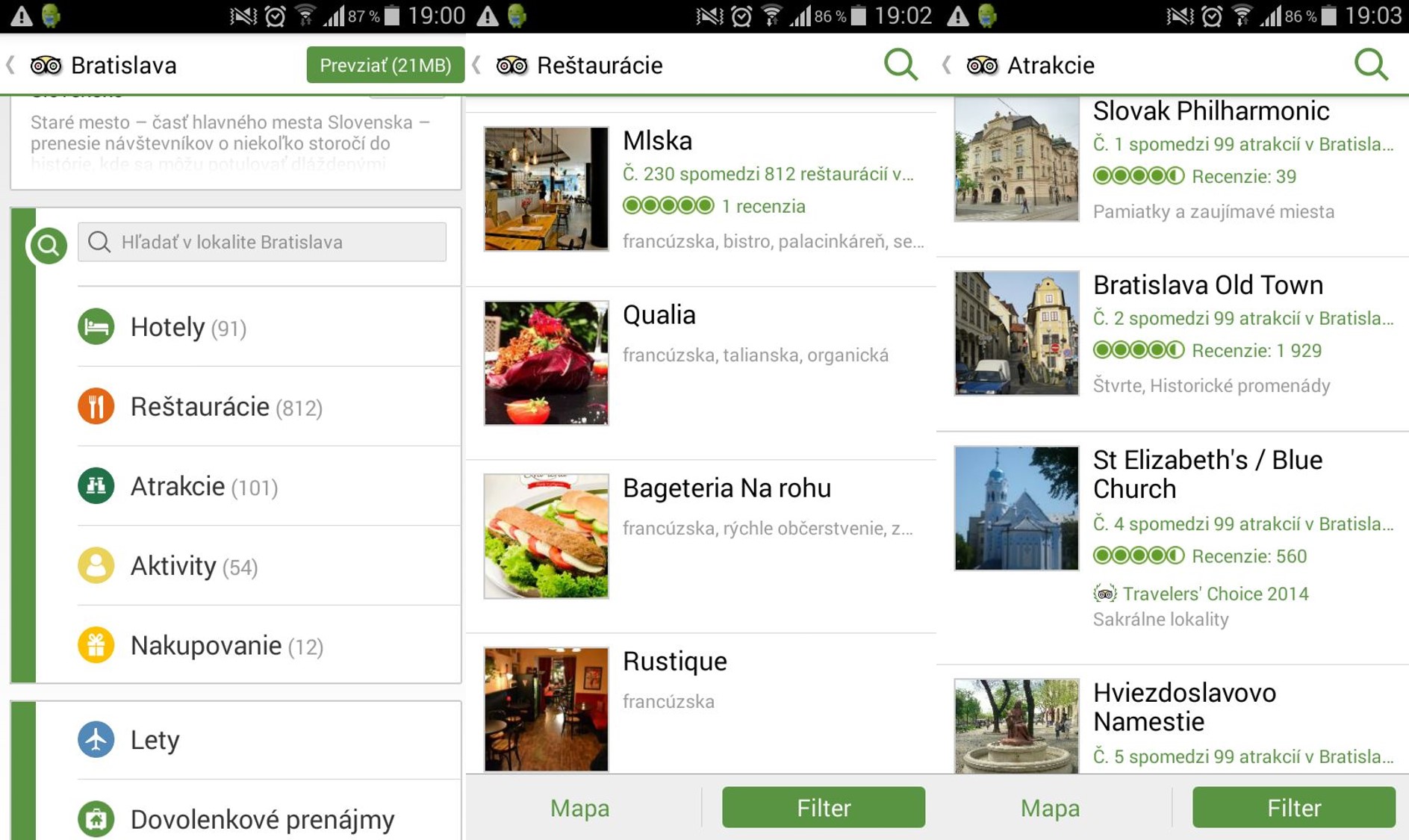 DOWNLOAD HERE (for free)
HELLO BRATISLAVA
The Free Hello Bratislava app – made by a Bratislava's native – allows you to have your offline city guide always at hand. One day 100% offline trip guide will lead you every step of the way with no advanced internet search and will let you to explore seven out of the 10 Top sights in one day. For you to learn something new and interesting there is always a brief description of each monument along with some helpful website links to find out more. If you stay in the city for more than one day, Hello Bratislava presents you with numerous options to choose from based on your preferences. Transportation, Food & Drinks tips are included as well. With Hello Bratislava app you will be set for your trip in Bratislava in no time!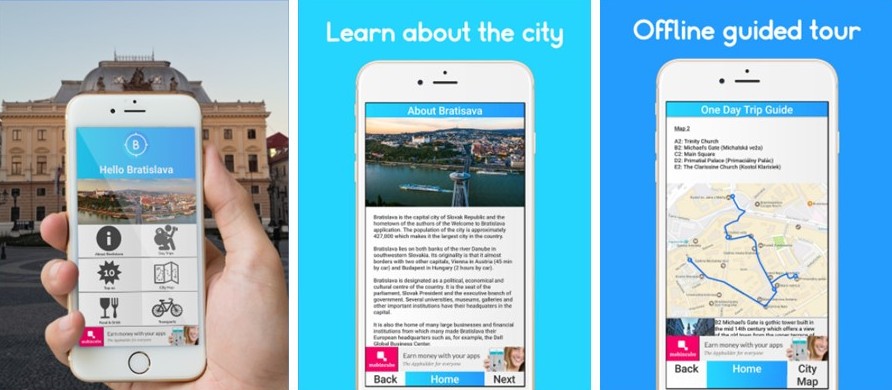 DOWNLOAD HERE (for free)
Local tip: Would it make your travel easier if you had a trip plan tailored exactly to what you like – tastes, travel dates and budget? Try this travel planner and save yourself time and worries on missing out!
Author: Maria Kecsoova