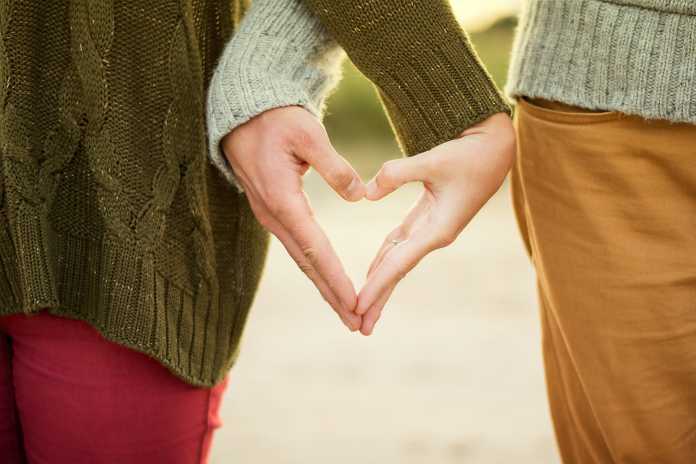 Here's our pick of the best places for couples and singles with a romantic soul, beautiful restaurants, cafes with special ambience that offer some privacy, things to do NOT ONLY for a Valentine's Day in Bratislava! Enjoy the reading :)
3 TIPS FOR OUTDOOR FOLKS 

ADMIRE A BEAUTIFUL VIEW 95 METERS ABOVE GROUND

If you are not afraid of highs, take an elevator to our UFO tower. You will get a panoramic view on the whole Bratislava and up to the distance of 100 km from its open-air observation deck. The exciting ride in one of UFO's legs takes 45 seconds. If you don't mind walking, use the pedestrian lane of the 430 m long bridge – the walk above the Danube is also worth it. You will love the view :) The entry fee for the UFO sightseeing deck is 7,40 € but you don't pay in case you visit the restaurant.
Fancy eating in the UFO restaurant? For this Valentine's Day, they prepared a special menu!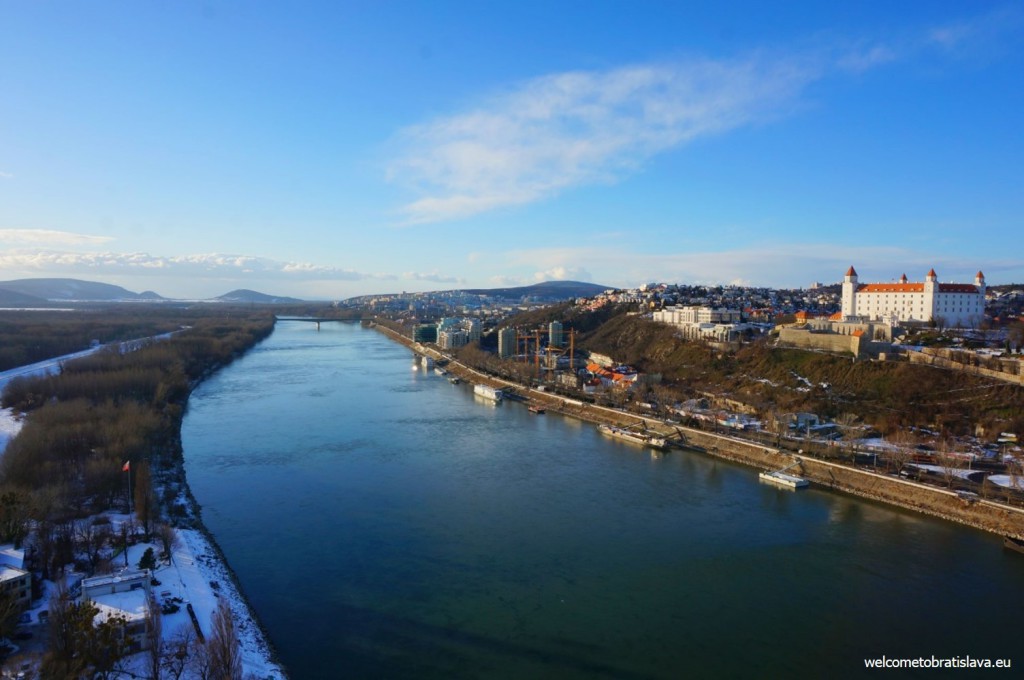 We highly recommend to also take a walk along the Tyršovo nábrežie and Garden of Janko Kráľ which are near the UFO cupola. This beautiful embankment is popular for a romantic walk in the snow, just look at the picture (works without snow, too!) :)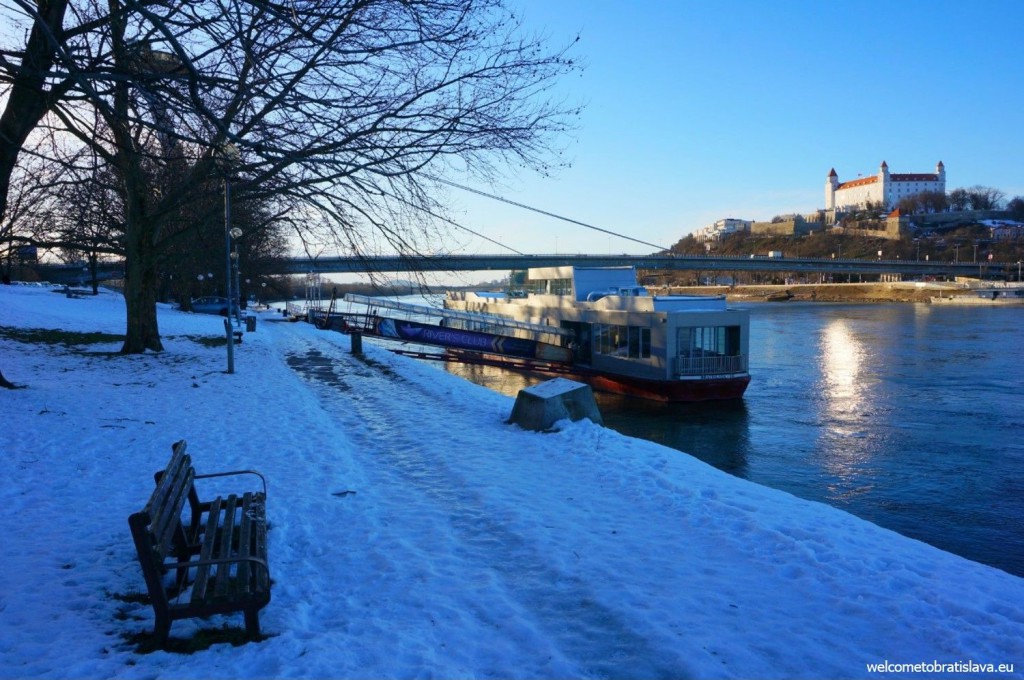 And if you feel like warming up somewhere, visit the Aušpic restaurant which is a 5 minutes walk from here. The huge glass windows with an outlook on the castle might just be it for the perfect atmosphere :)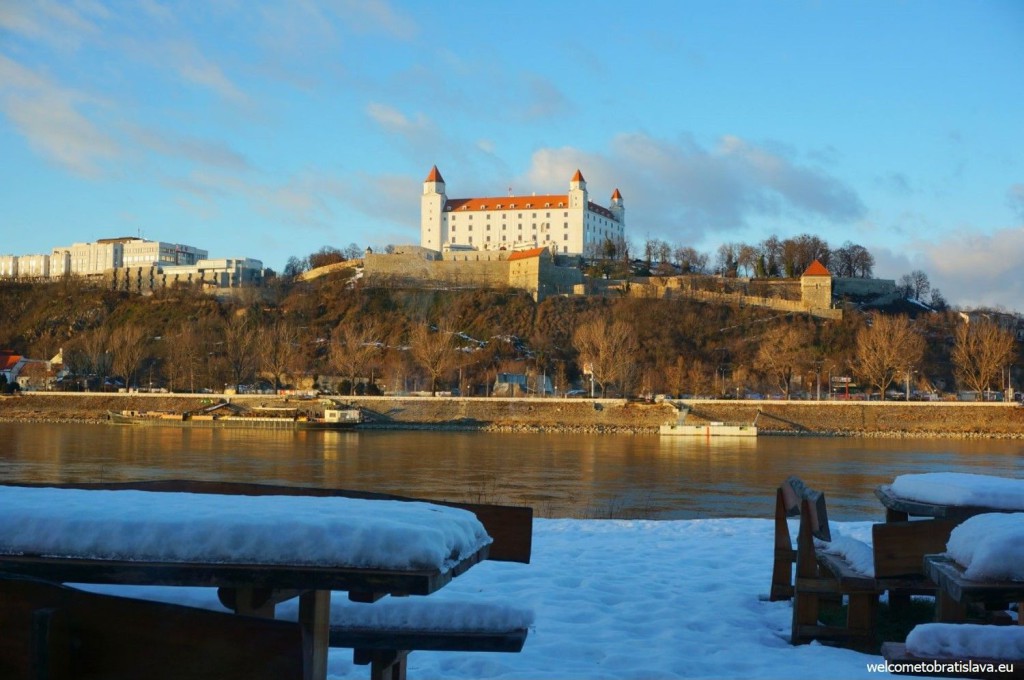 ENTRANCE: UFO sightseeing deck 7,40 € per person, a hot beverage in Aušpic around 2,50 € per person
ADDRESS: Most SNP
OPEN HOURS: UFO: Open daily 10:00-23:00
WATCH PEOPLE FROM THE TOWN HALL'S BALCONY WALKWAY
The oldest city hall in the country offers a charming view on the city center: you can see the colorful buildings of our Old Town – like the Main Square and the Roland's fountain. You also have a clear view on the UFO tower, St. Martin's Cathedral as well as the Castle. Grab a Bratislava roll in the "Shop in a Museum" store before coming here, so you have a treat to share while enjoying the view :)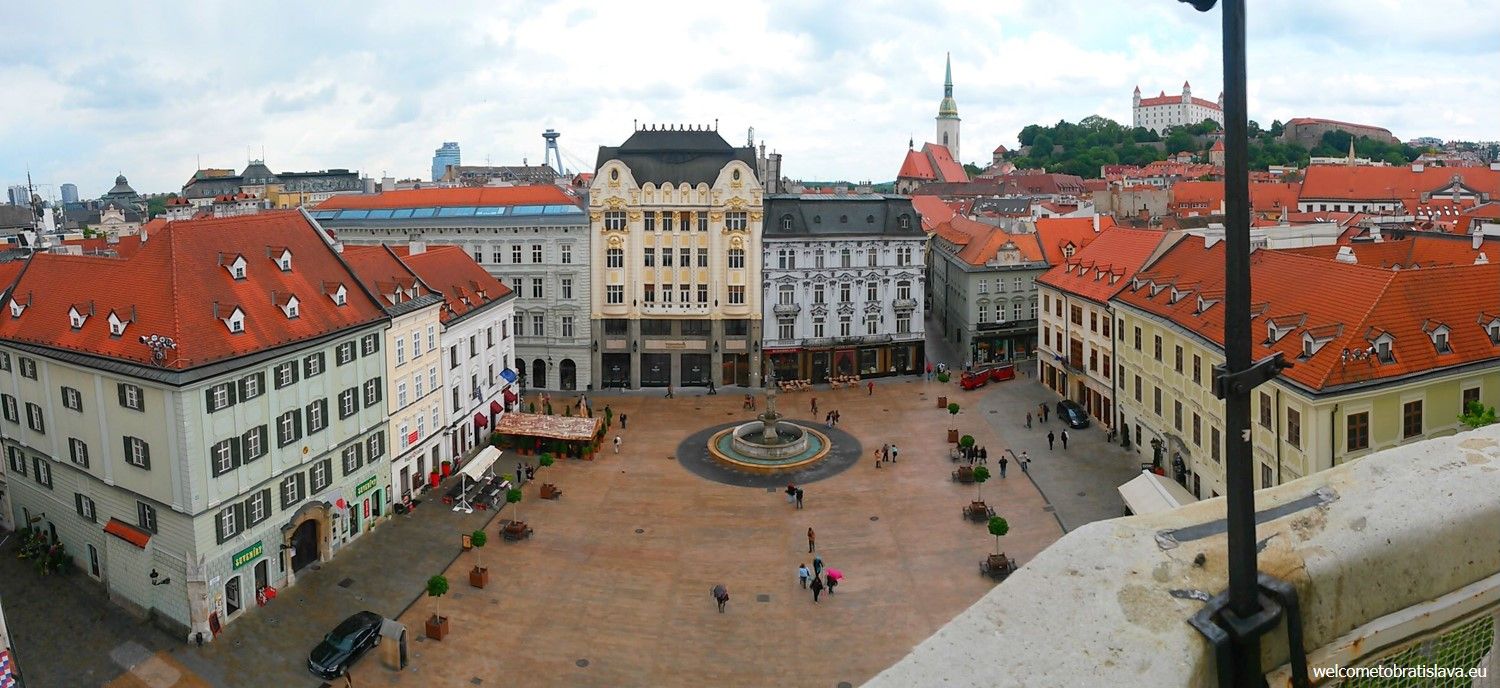 ENTRANCE TO THE TOWN HALL: 1 € per person
ADDRESS: Hlavné námestie
OPEN HOURS: Open daily except Mondays, TUE-FRI 10:00–17:00, SAT-SUN 11:00-18:00
"GET LOST" ON THE WAY TO THE CASTLE AND AROUND IT
Meet somewhere in the city center. One of the best spots to start the walk at is the Michael's Tower. Pass the Baštova Street (Bratislava's narrowest street), continue with Kapitulská Street (Bratislava's oldest street) and get to the bus station near the UFO Bridge (Nový most). These small streets will look like they don't lead anywhere but don't worry :) There are stairs which you need to find to get you to Beblavého Street. Continue walking up the thin paths and you will not only have a spectacular view on the city but also an exciting walkway to our Castle. Plus, its surroundings is beautiful – in each season of the year :)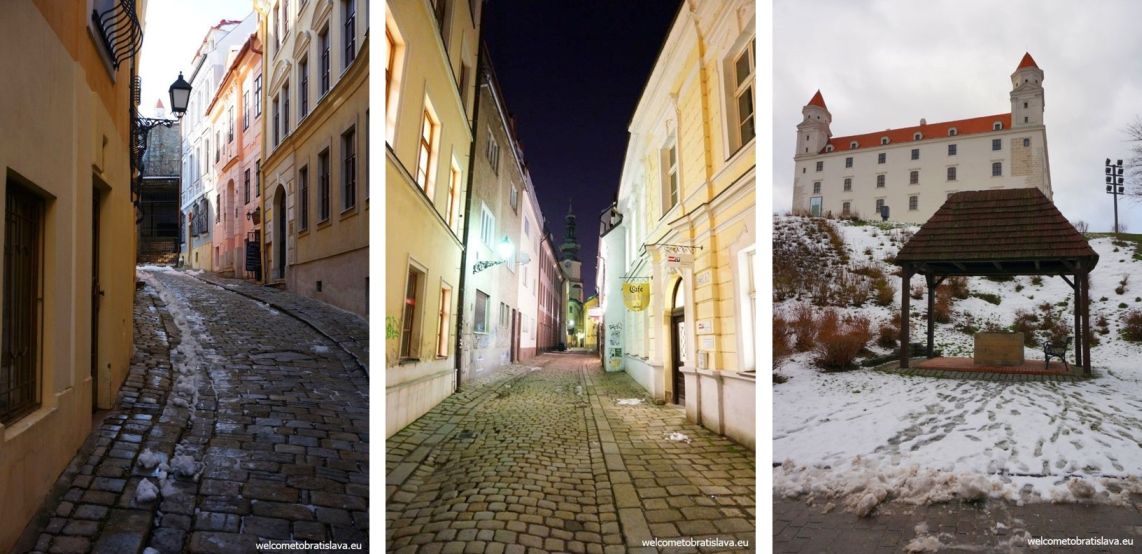 5 TIPS FOR GREAT EATING OUT 
Before we introduce you our favorite "romantic places" where we like to eat out through the year, let us highlight these special offers for this year's Valentine's Day we put together for you recently!
ZYLINDER
Looking for an elegant place with a special ambience? Zylinder's concept is based on capturing the old Pressburg times. With its traditional dishes as well as design. Its interior is warm and cozy in the same time and you will definitely feel comfortable bringing your half here. It is situated at the Hviezdoslav's Square so as a bonus you have a great view on the promenade if you sit by the window :)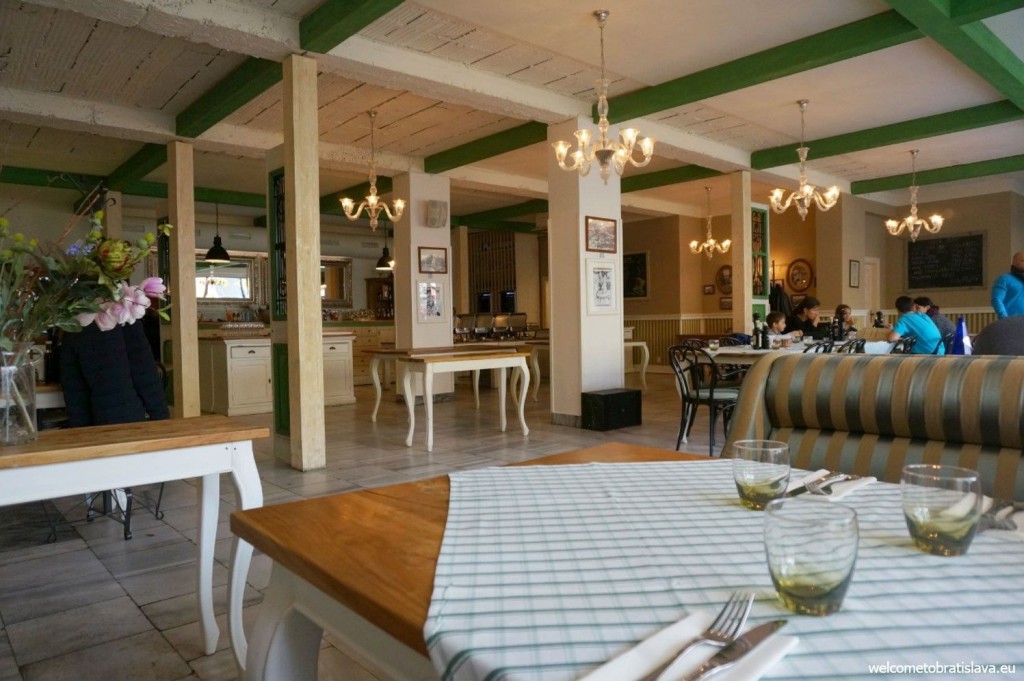 PRICES: Main dishes from 8 € per person
ADDRESS: Hviezdoslavo námestie 19
OPEN HOURS: Open daily, 11:00–00:00
SAN MARTEN

Are you a wine lover? Then this is the place to go! San Marten has some of the best wines in the city, and with its "al fresco" dining & charming ambience, it's a popular venue. If you prefer dim lights, you might want to make a booking in the front part of the restaurant. If your priority is privacy, the back part will be a better choice.

PRICES: Main dishes from 7 € per person
ADDRESS: Panská 33
OPEN HOURS: Open SUN-THU 11:30–24:00, FRI-SAT 11:30-03:00
ST. GERMAIN

If you want to have your rendezvous in a less elegant but more "cool" place, we recommend to go for St. Germain. This Parisian style bistro is full of charm and its stylishness goes hand in hand with an always smiling service and delicious food. What else do you need for a perfectly spent time? :) Probably just a proper reservation – as the place gets quite packed.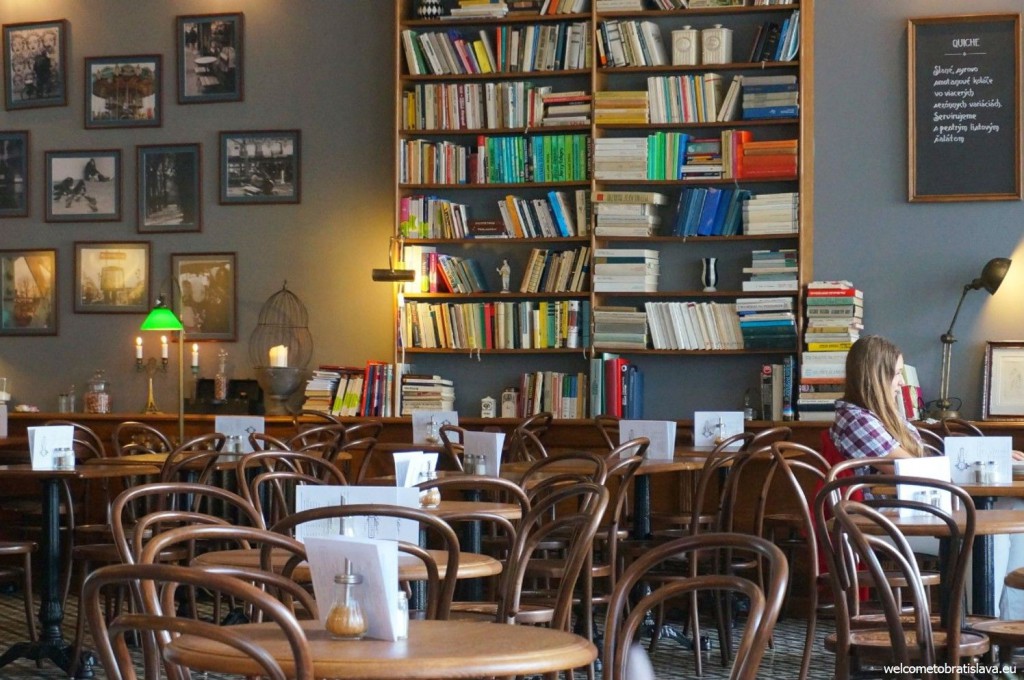 PRICES: Main dishes from 6 € per person
ADDRESS: Rajská 7
OPEN HOURS: MON-WED 10:00–23:00, SAT-SUN 12:00–23:00
SAVAGE GARDEN

A place you go to when you want to treat yourself. A mixture of hipster, stylish interior, fantastic food and top quality service make Savage Garden a definite venue to come back to. An ideal spot for a romantic dinner or meeting your friends. The place has a special vibe especially in the evening. Even though it gets quite busy, you get your privacy at each table.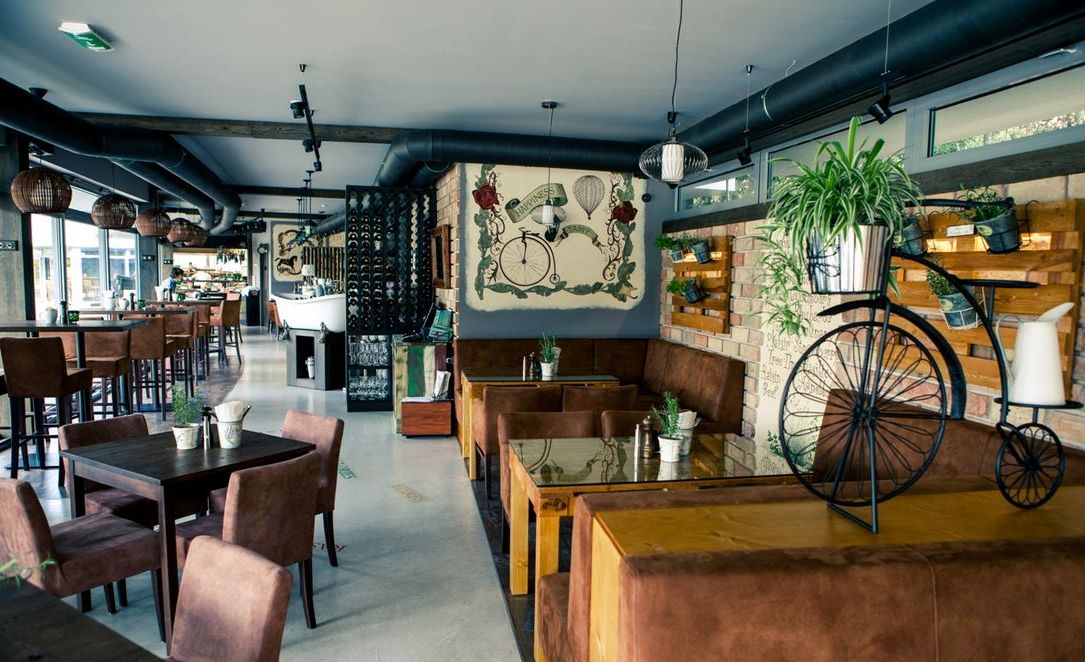 (source: Savage Garden Facebook)
PRICES: Main dishes from 10 € per person
ADDRESS: Námestie slobody
OPEN HOURS: MON-WED 08:30-22:00, THU-FRI 08:30-23:00, SAT 12:00-23:00, SUN 12:00-21:00
GREEN BUDDHA

If you are looking for a modern, stylish and healthy restaurant in the downtown, Green Buddha might be the right choice for you. It is located in Bratislava's very heart, a hidden street called Zelena, near the famous Town Hall. The combination of top service, high quality Asian traditional food and stylish premises inspired by exotic charms are a promise of an unforgettable experience.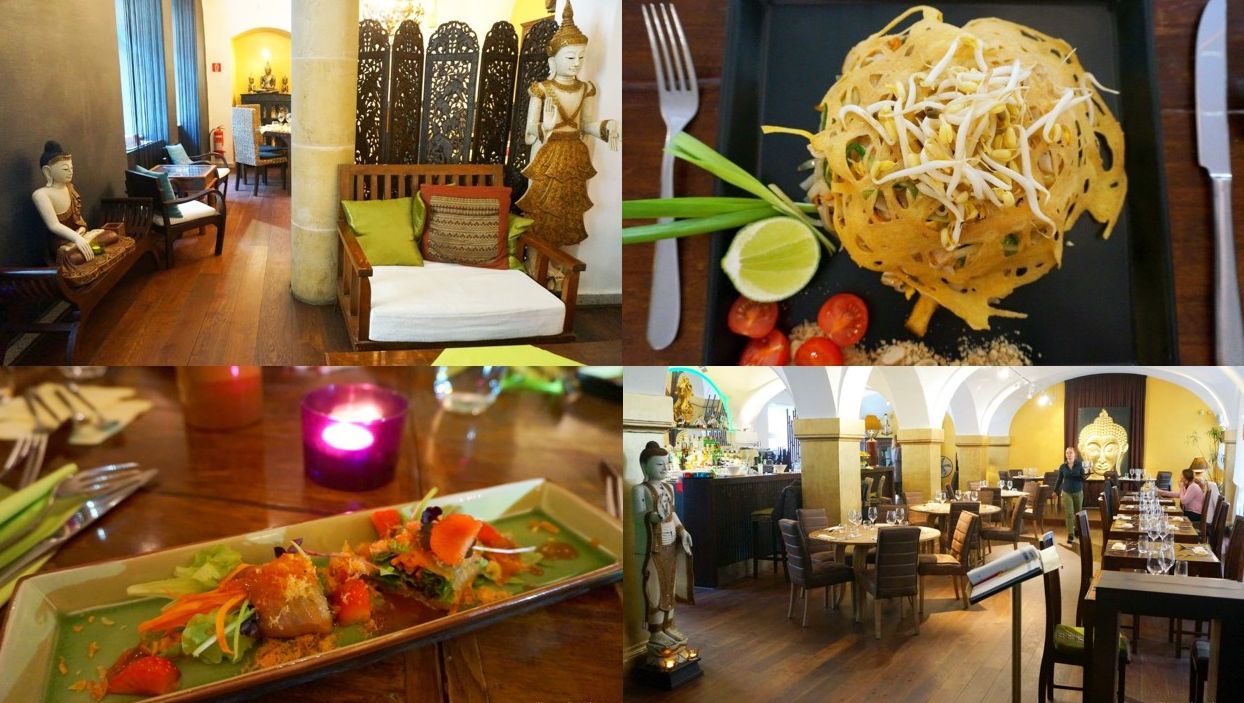 PRICES: Main dishes from 8 € per person
ADDRESS: Zelena 4
OPEN HOURS: MON-FRI 11:30–23:00, SAT 11:00 – 23:00, SUN 11:00 – 22:00
BONUS LOVE TIPS FOR EATING OUT: We have compiled a list of the most romantic events and best activities to make the most of your Valentine's Day in Bratislava in 2020. Check them out here!
TIP FOR A SWEET SUPER TREAT 
ICE-DREAM

Ice-Dream is a cute ice cream place with great Italian coffee and one of the best Italian gelato we have had in Bratislava. Your romantic soul will be on cloud nine  from the beauty of this place in the pastel colors and feminine decor. Don't miss a chance to enjoy genuine atmosphere, a scoop of ice-cream in winter, the best waffles and one of the most outstanding services we experienced in our city.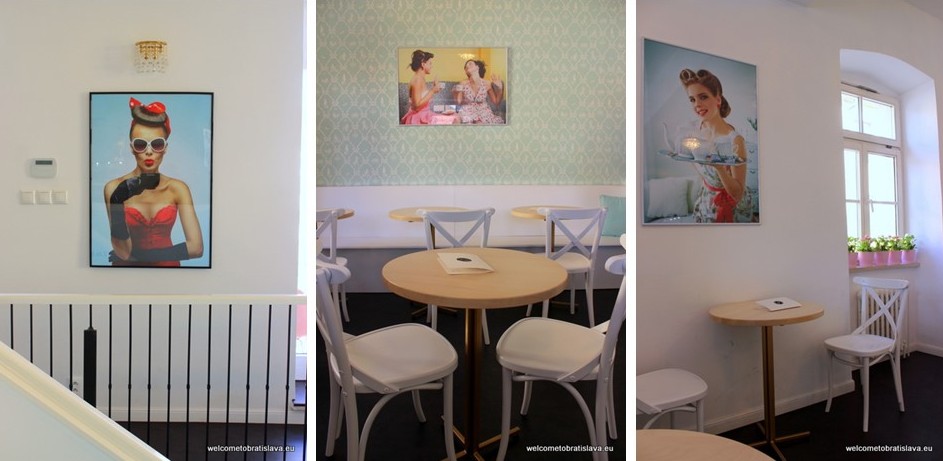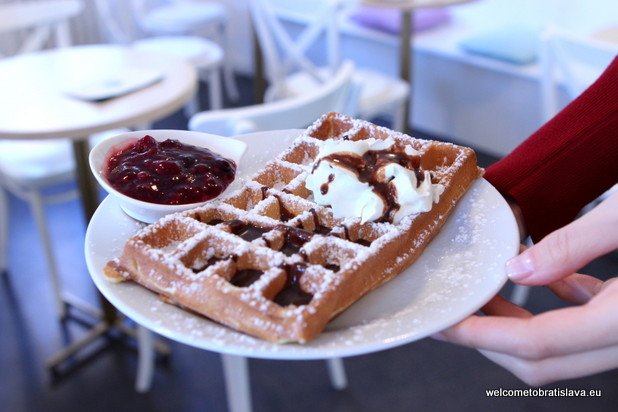 PRICES: A cake with a coffee will cost you around 5-7 € per person
ADDRESS: Špitálska 23
OPEN HOURS: daily 12:00-20:00
 5 TIPS FOR A MAGICAL DRINK 
SKY BAR

This is the place to visit if you like super stylish bars with elegant waiters and perfect service. Sky bar is located on the 7th floor so you will also have some of the most beautiful views on the Castle, St. Martin's Cathedral and Bratislava Old Town from here. This vodka bar and restaurant has it all to charm you: a fascinating view, great cocktails, delicious food and welcoming service. A perfect final touch to your perfect date! :)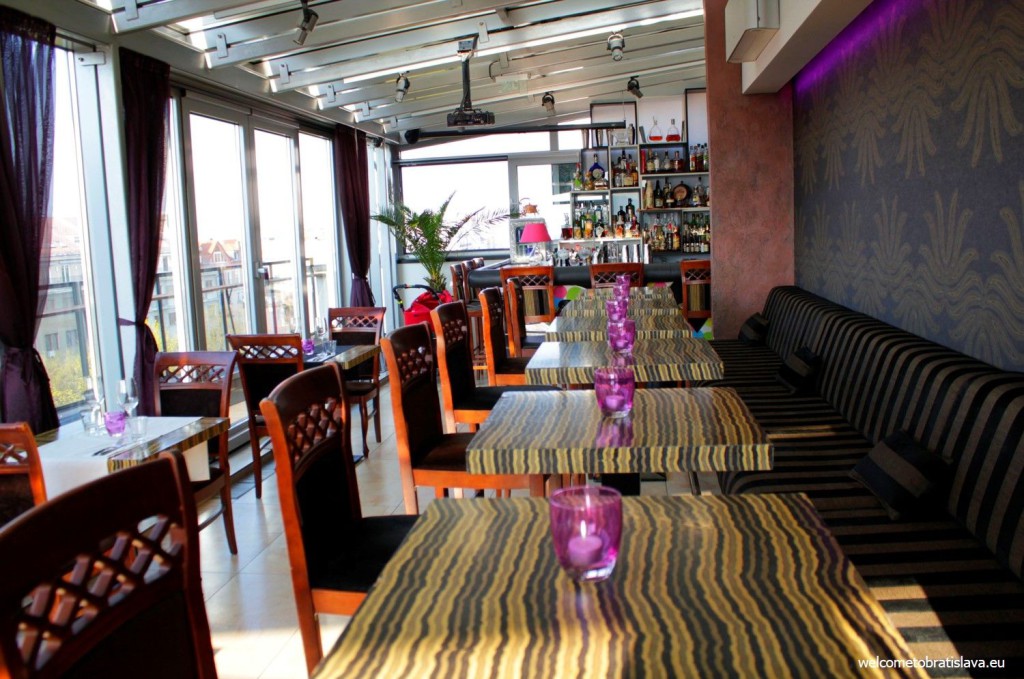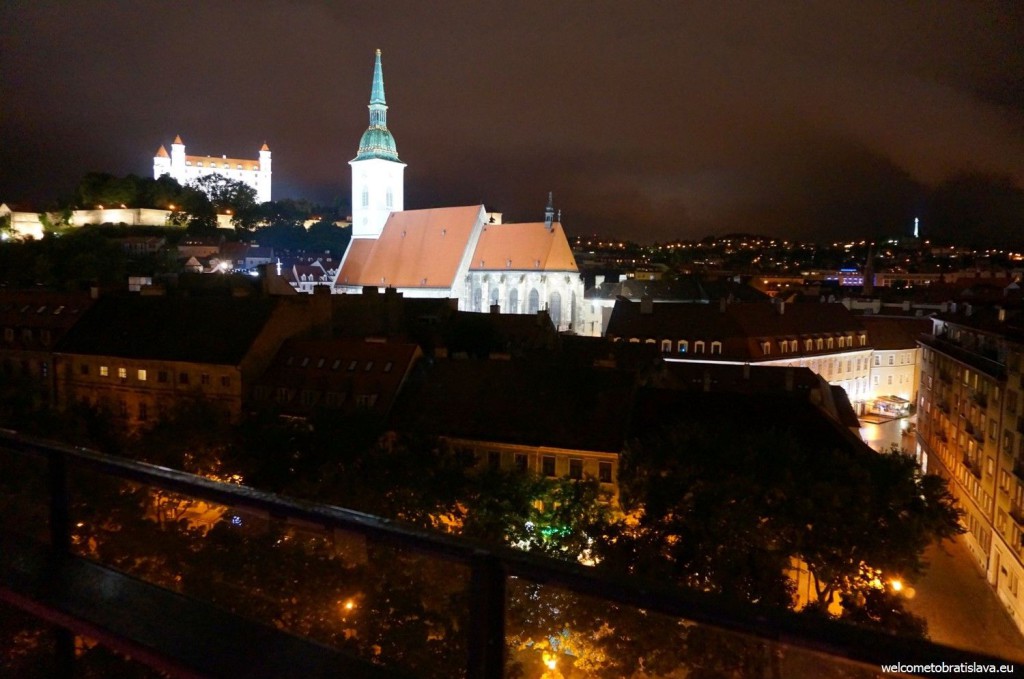 PRICES: Cocktails from 8 € per person
ADDRESS: Hviezdoslavovo námestie 7
OPEN HOURS: SUN-THU 12:00–00:00, FRI-SAT 12:00–01:00
UFO BAR & RESTAURANT
Now this is one of the most prestigious places of our capital. You come here when you want to impress your partner. The truth is there is no way a person could not be impressed seeing the view from this UFO fusion bar which is located on the pillars of the Bratislava New Bridge (Nový most). The whole interior is designed in a modern, minimalistic style, tables covered with white cloths, candles set on each, lounge music in the background… a luxurious experience with a luxurious view. They have a special Valentine's Day offer, too.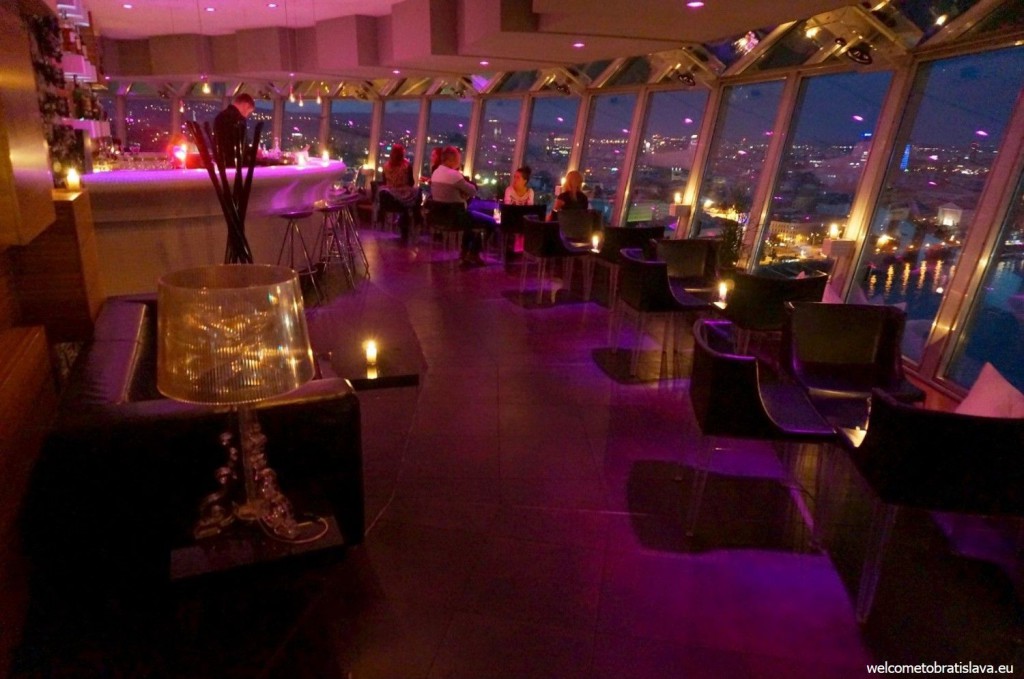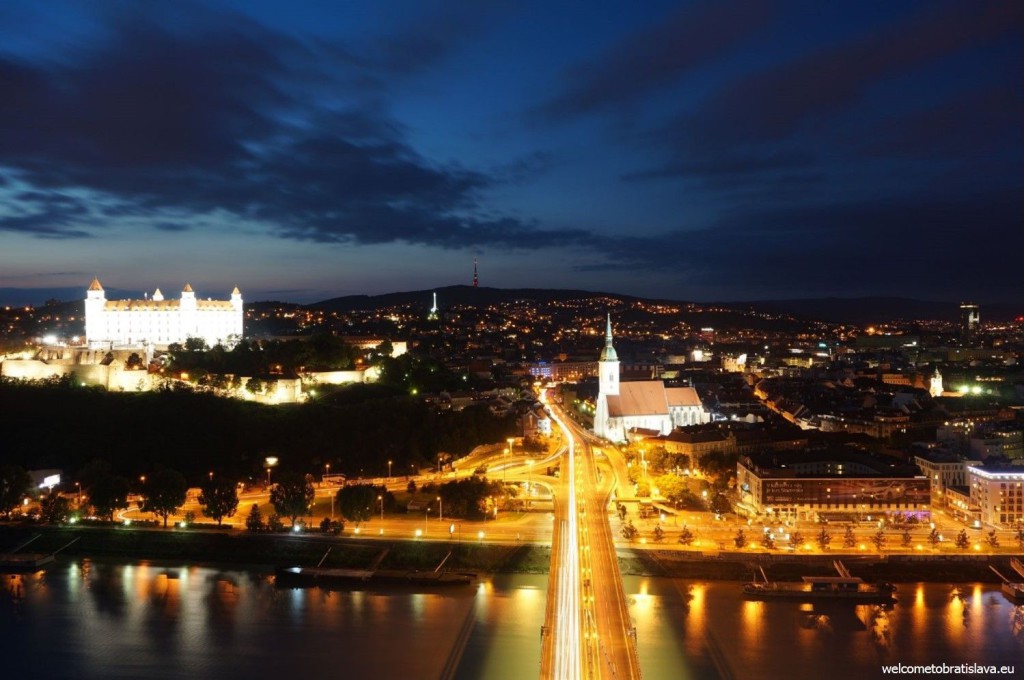 PRICES: Cocktails from 9 € per person
ADDRESS: Most SNP
OPEN HOURS: Open daily, restaurant 12:00-23:00, bar 10:00-23:00
SPIN COCKTAIL BAR
Impeccable drinks, creative and attentive bartenders, dim lights and a playful concept. This is a short description of the SPIN Cocktail bar, a tiny cocktail jewel with a rather intimate atmosphere. Everything here is designed to make sure you have a memorable night. Enjoy their tasty drinks, play their entertaining "drinking games", be taken care of by professionals the whole evening and enjoy your unique company:)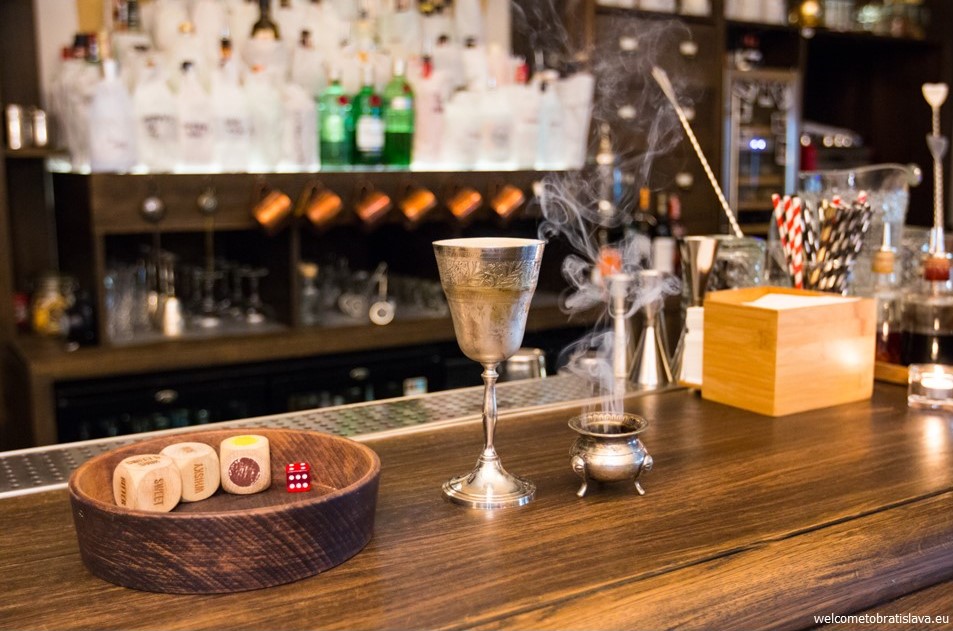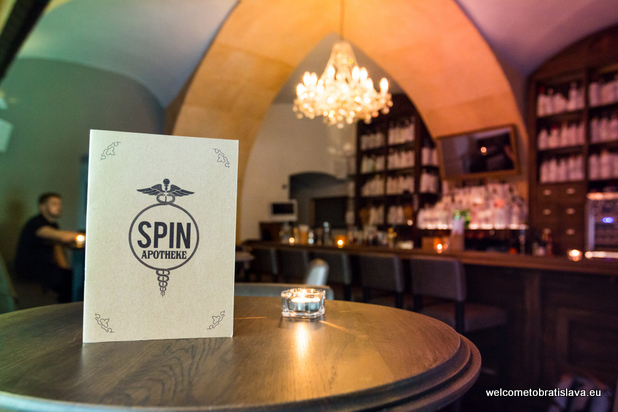 PRICES: Cocktails from 6 € per person
ADDRESS: Radnicna 1
OPEN HOURS: SUN-MON 17:00-00:00, TUE-THU 17:00-01:00, FRI-SAT 17:00-02:00
SECRET BAR

Have you ever wanted to explore a place concealed behind unmarked doors? What about having a drink or two at such a hidden spot? Well, if you're looking for a truly unique night out in Bratislava, you're reading the right article right now. With the reference to the period of prohibition of 20's and 30's in the USA, Bratislava's Secret Bar wants to remind us of New York or Chicago when you entered the bar through a barber's shop or a phone booth. Except that here you will need to enter through a closet next to the toilets :) A world full of tasty cocktails is waiting behind the doors!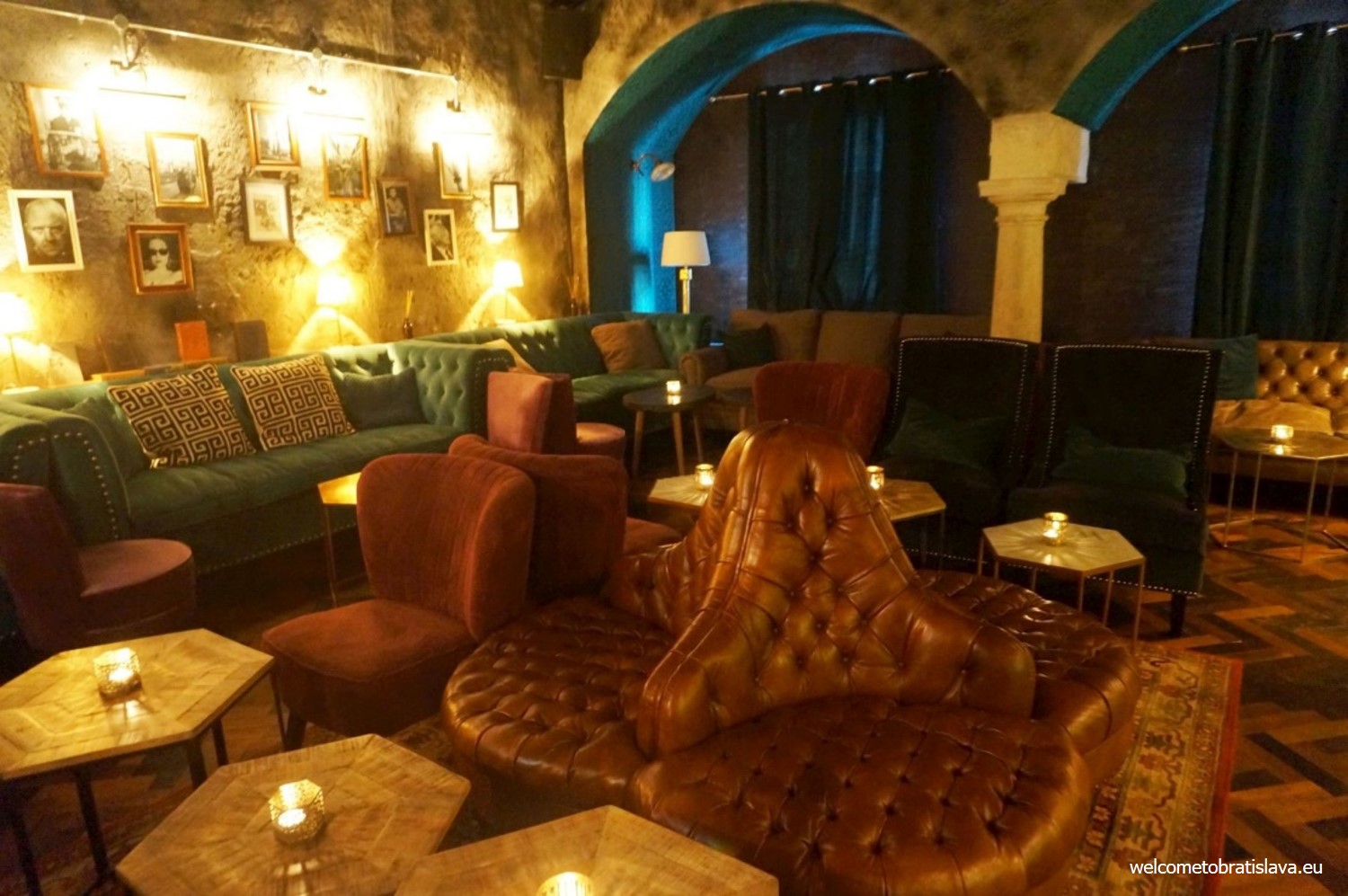 PRICES: Cocktails around 8 € per person
ADDRESS: Michalská 5
OPEN HOURS: MON closed, TUE-WED 18:00-00:00, THU-SAT 18:00-02:00, SUN 18:00-00:00
OLD FASHIONED BAR
A less hidden secret bar (follow the gate with iron bars) – bigger, more commercial but also more luxurious as its sister on Michalska Street. This bar is ultimately, completely and unarguably gorgeous! Old Fashioned has a dimly lit bronze-hued interior with Chesterfield leather sofas, romantic candlelight and it's classy as hell. This is a great place for one of those special occasions when splurging on cocktails is just what you want to do.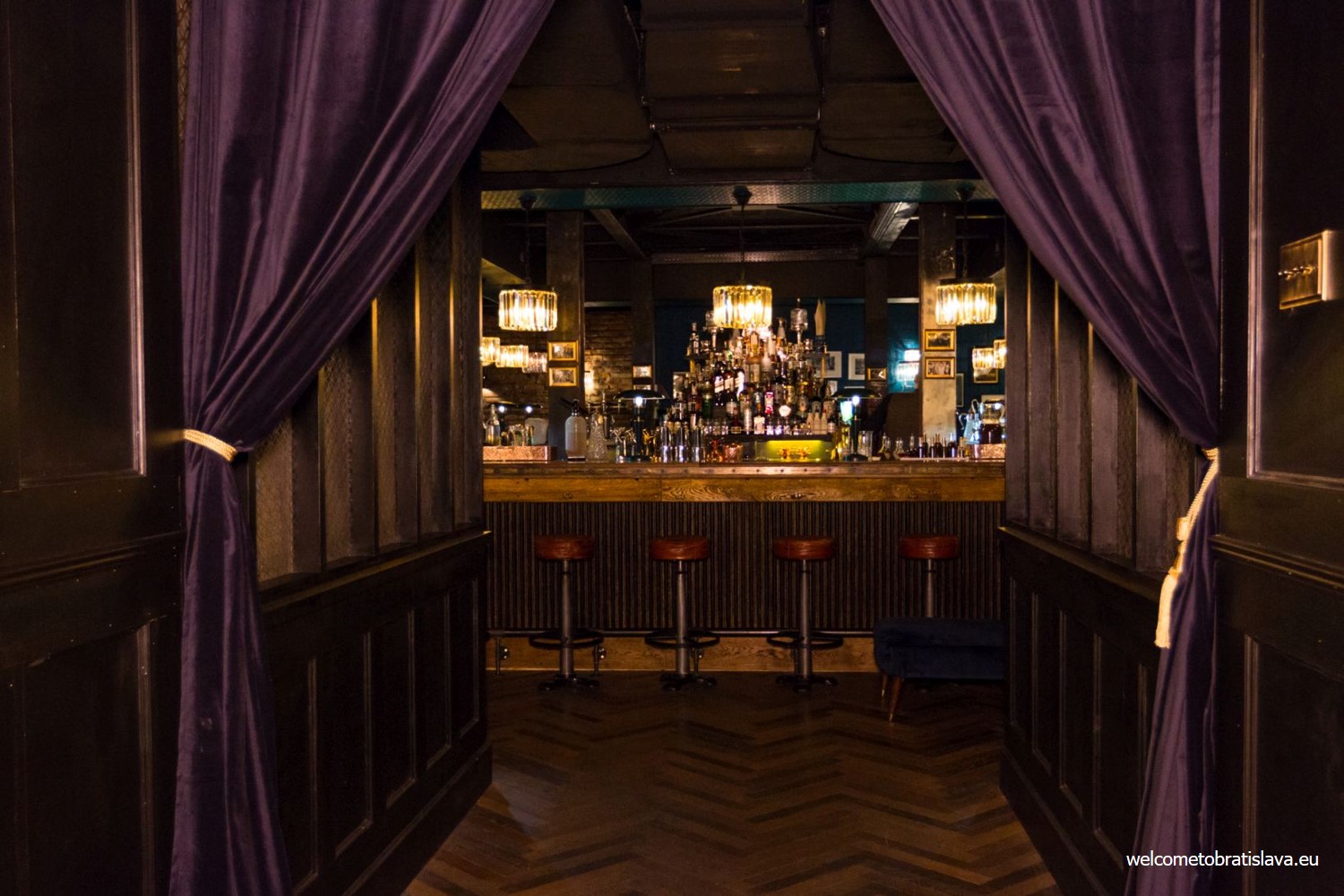 PRICES: Cocktails around 8 € per person
ADDRESS: Laurinska 14
OPEN HOURS: MON 18:00-00:00, TUE 18:00-01:00, WED 19:00-02:00, THU 18:00-02:00, FRI-SAT 18:00-02:00
2 SPOTS OUTSIDE OF THE CENTER 

LUCETTE PATISSERIE

This place is simply charming – elegant premises complement perfectionistic desserts served on porcelain plates, with napkins with a noble logo. Lucette simply has a style. All the desserts look just perfect, even though hand made. To get here, get ready for a trip through Petrzalka's deepest parts. A longer distance should however not discourage you from the journey, as the best hand-made macarons are waiting for you at its end. Besides the perfect French macarons, Lucette's specialty is the tremendous cheesecakes of different kinds as well as tiny Pavlova tarts.

PRICES: Cakes from 3 €
ADDRESS: Humenské námestie 4
OPEN HOURS: MON 14:00-21:00, TUE closed, WED-SAT 10:00-21:00, SUN 10:00-19:00
ŽUFAŇA

Žufaňa is a lovely bistro situated outside of our Old Town, specializing in traditional Slovak cuisine with modern and often healthy twist. Established by three young friends and serving meals prepared from fresh ingredients from a nearby market, it became very popular, mostly among Slovaks. Žufaňa's specialty is its wide breakfast offer but you will enjoy their desserts and coffee as well, or a light dinner (but they are open till 7 pm only on weekdays). We love the place especially because of its laid back atmosphere and the small details like flowers on each table or the personalized menu with recommendations. Even though being quite small, you get to have your privacy.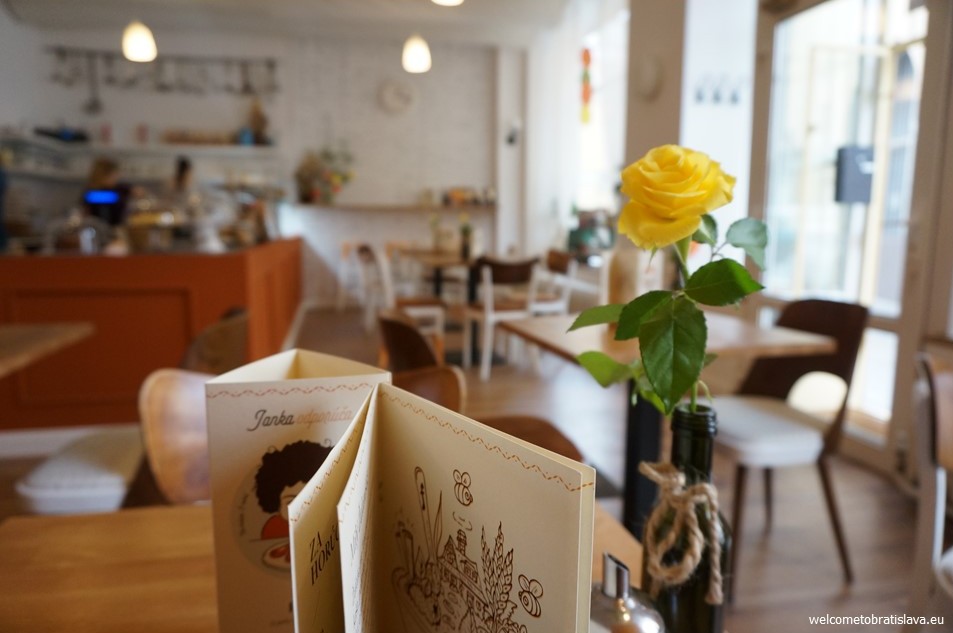 PRICES: Cakes around 3 €
ADDRESS: Dulovo namestie 4
OPEN HOURS: MON-FRI 07:00-19:00, SAT 08:00-15:00 SUN 09:00-15:00
We wish you many memorable and awesome experiences!

You might also like:
Best breakfast in Bratislava
Best pancakes in town
Top hot chocolate places in Bratislava
Author: Maria Kecsoova