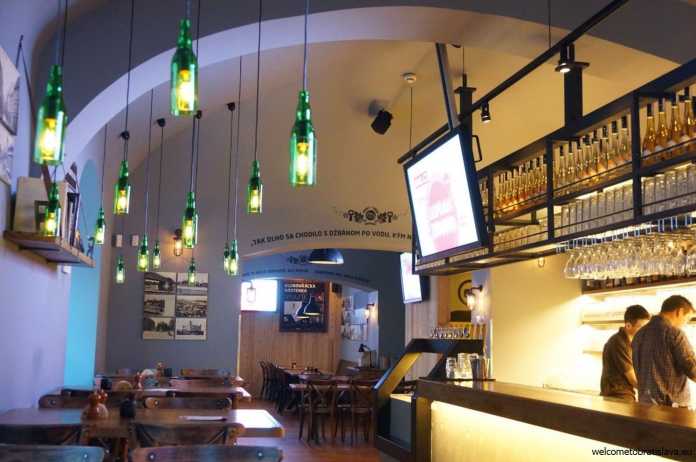 Something for those who like to enjoy beer – whether it is while eating food, chatting with friends or watching a sport game – and prefer a slightly fancier place to a traditional pub. They have more than sixteen kinds of beer here and the list of accompanying meals is endless! Do you want to have some fun playing table football with your mates? Go no further, you've just found your place.
LOCATION
Venturska klubovna is situated right in the city center, on the corner of Venturska and Panska streets, which makes it a very good place for tourists to take a break and refresh after walking in the Old Town. In summer they have a big outside terrace which is usually packed with people.
THE INTERIOR
Venturska klubovna has a bit of a fancier feel then you might be used to for Slovak pubs/restaurants. The traditional wooden furniture is mixed with hipster lamps and the whole interior is designed in a rather modern way.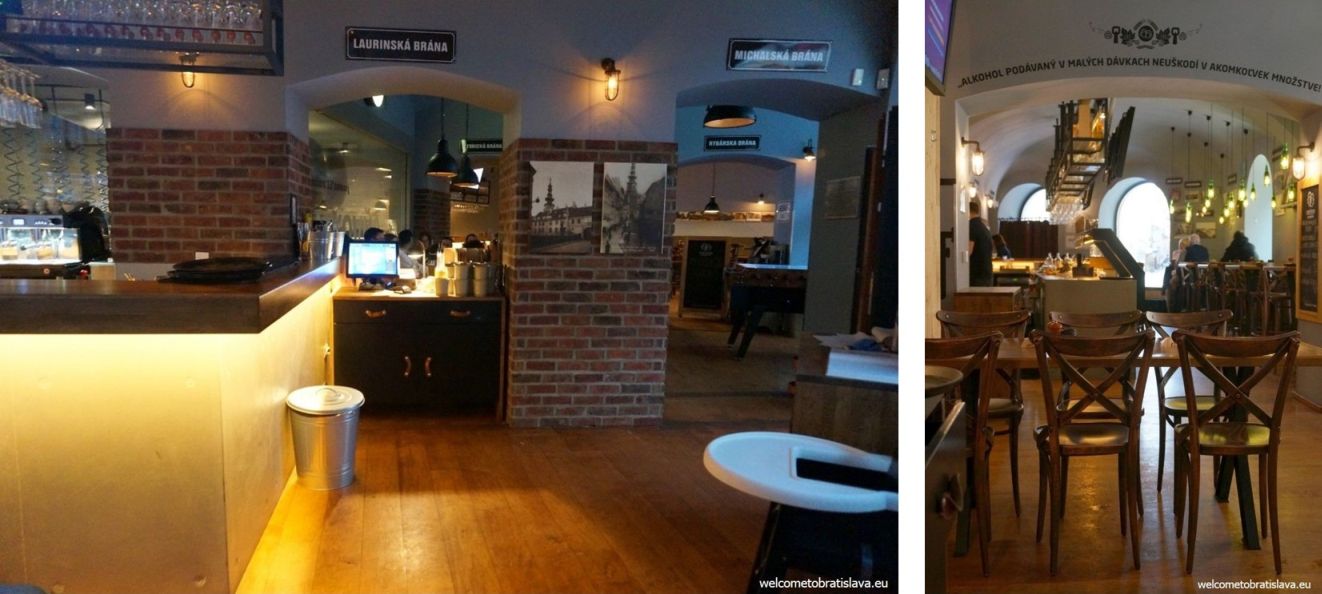 It is a perfect place for sport fans who like to watch their favorite game while enjoying some beer along – as there are a lot of TVs inside showing sport. Once you are inside, note the historical photographs and old paintings of various important buildings of Bratislava.
WHAT TO HAVE IN THE VENTURSKA KLUBOVNA?
This place caters for all the visitors throughout the day. They've got everything you could want in a pub – mostly beer of course and with it related delicacies such as smoked sausages, ribs and steaks, snacks including home made spreads and pastries, Slovak cheeses with different kinds of marinades, toasts, chips and other meals that will go well with beer. Slovak meals can't be missing – you can try their halušky (both with bryndza – sheep cheese – and cabbage), Slovak dumplings or a goulash for example.
When it comes to soups, you can get a chicken broth or a bean soup with pork knuckle confit prepared in their beer – both are OKish. And they have another soup of the day for which you always need to ask the staff.
We have heard praise of their burger so we had to try it. It is a really big portion you get (2 pieces of meat) and we could hardly finish it all, and it will probably be heaven in mouth for those who are big eaters, but we can't say we liked it much. Not sure what we had a problem with – the garlic mayonnaise, onion, pickled cucumber or the bit too spicy taste for us… but we would not have it again. If we were to have a burger, we would go to one of these places.
"Paprikáš" is another traditional meal – where you have a chicken leg and halusky (kind of a gnochi) in a sauce – this one was good (even if they put too much salt when we were there).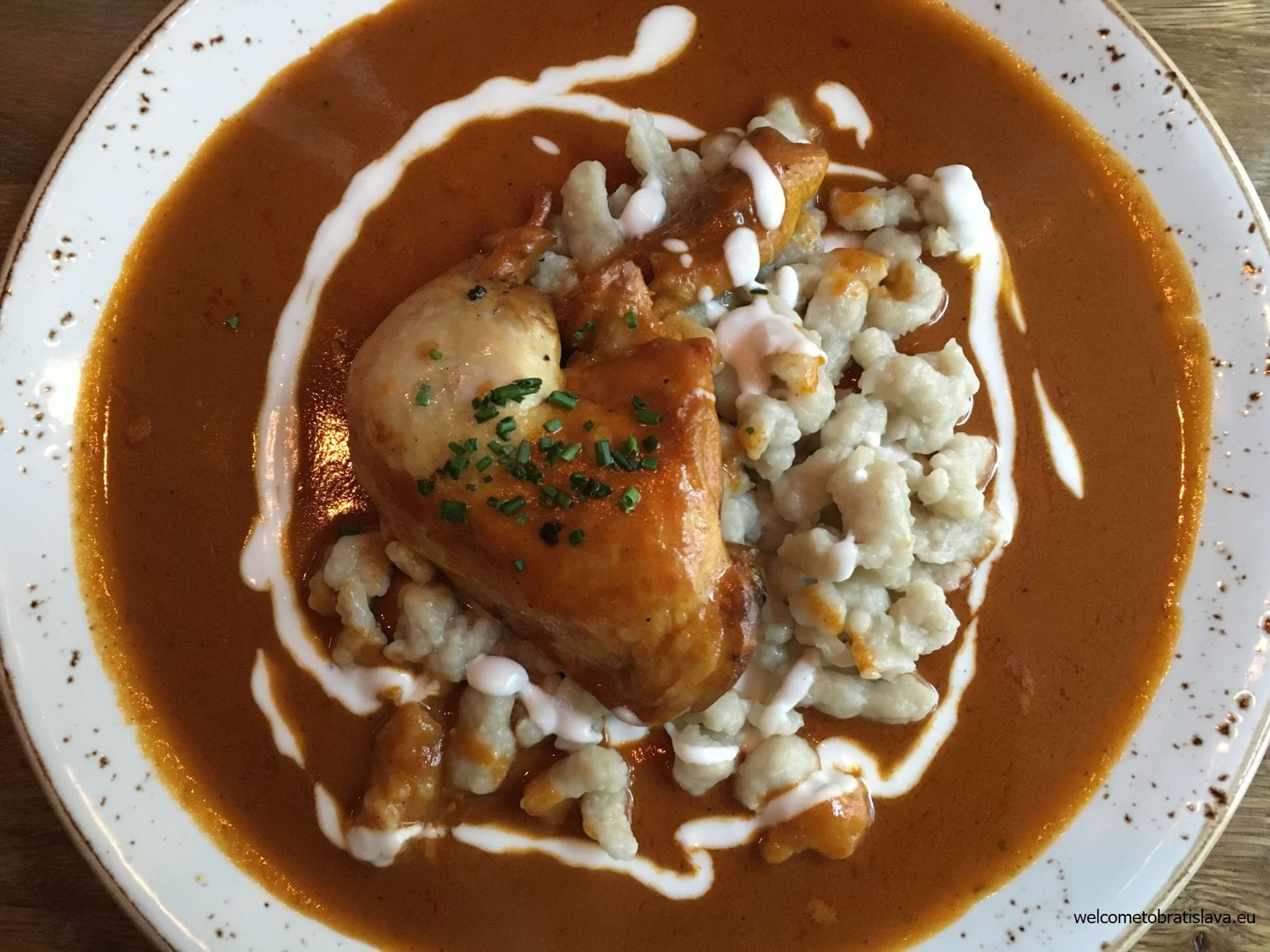 If you prefer healthy meals, you can choose from their salads menu. We tried their grilled sheep cheese served on mixed salad with roasted beetroot, broccoli, chickpeas, baby potatoes, roasted pumpkin seeds and dressing of pumpkin oil, and with a garlic toast. Quite an interesting combination but eventually it tasted well.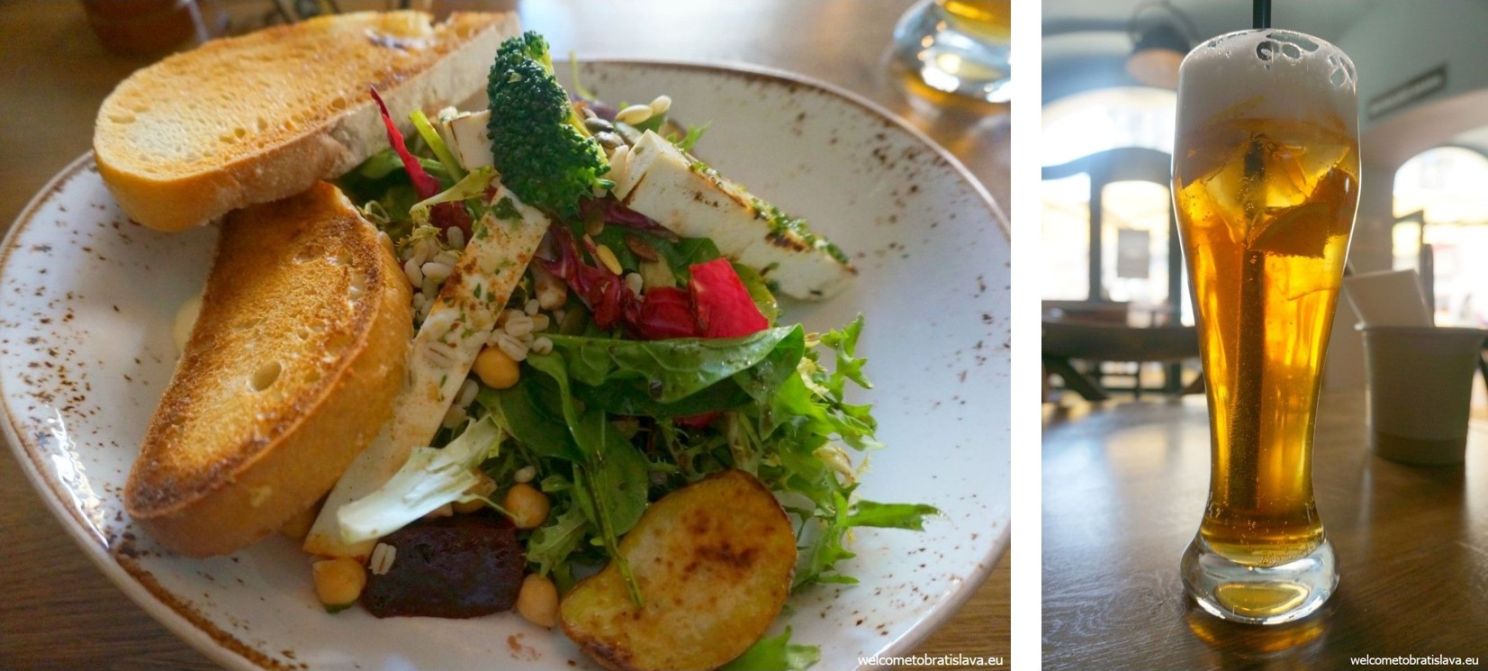 Venturska klubovna is one of the "klubovnas" chain – in Bratislava there are 4 more – Centralna klubovna next to the Central shopping center, Ruzinovska klubovna on Herlianska Street, Karloveska on Jurigovo namestie and Petrzalska on Starohajska Street.
Author: Maria Kecsoova

OPEN HOURS: Check their website


ADDRESS: Ventúrska 1


CONNECT: Webpage, Facebook


MAP LOCATION: