The biggest pancakes we have ever seen. A super delicious treat you are not going to forget, in a friendly old-style little cafe a few minutes ride from the city center. We constantly take here all our friends visiting Bratislava and they are all thankful for that! If you think you know what a big pancake looks like, come here and you will be surprised 🙂 If you feel like having great pancakes in Bratislava, this is one of THE places to go.
LOCATION
Victoria cafe is one of the few places out of the city center we are willing to take public transport to. Why? Because it is simply worth it 🙂 You will find this place at Prievozská Street – by taking a tram number 207 from Hodžovo námestie (Presidential palace) towards Ružová dolina. The stop you need to get off at is called "Novohradská" – the ride will take about 12 minutes. After getting off, cross the road and walk a few meters until you will see this hidden place under a small brownish roof.

THE INTERIOR
Yellow walls, blue ceiling and wooden furniture – quite a combination! Sit down and you will be taken a few years back to an older bistro like from a movie. That is however not what you come here for. It is the fooooood!

THE BEST PANCAKES IN BRATISLAVA
We have known this cafe for over 9 years and are still excited to go back because the pancakes there are really something. Even though the cafe offers soups and salads as well, you want to order a sweet or salty pancake. We deliberately wrote "a pancake" – don't order more than a piece, trust us – you'll have problems finishing that solely one 🙂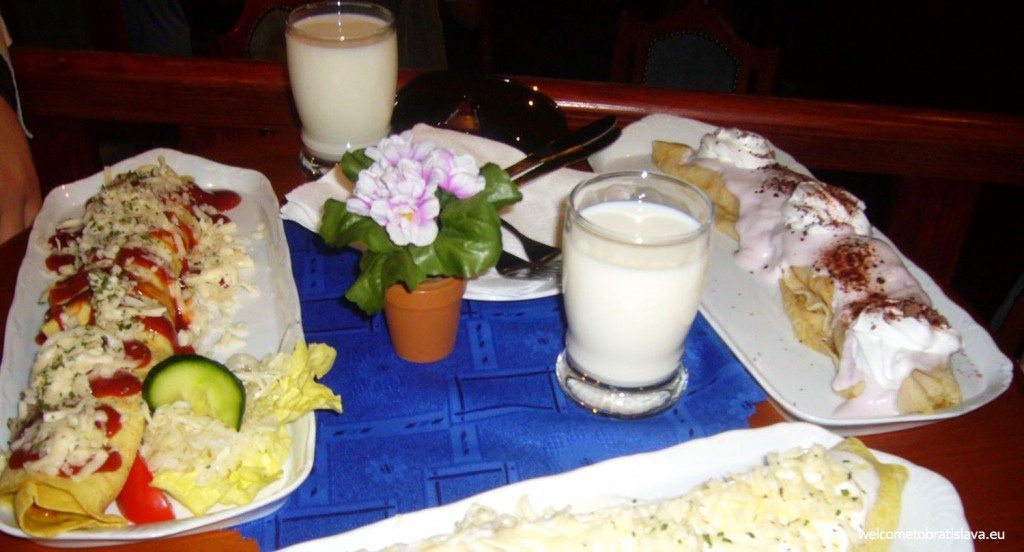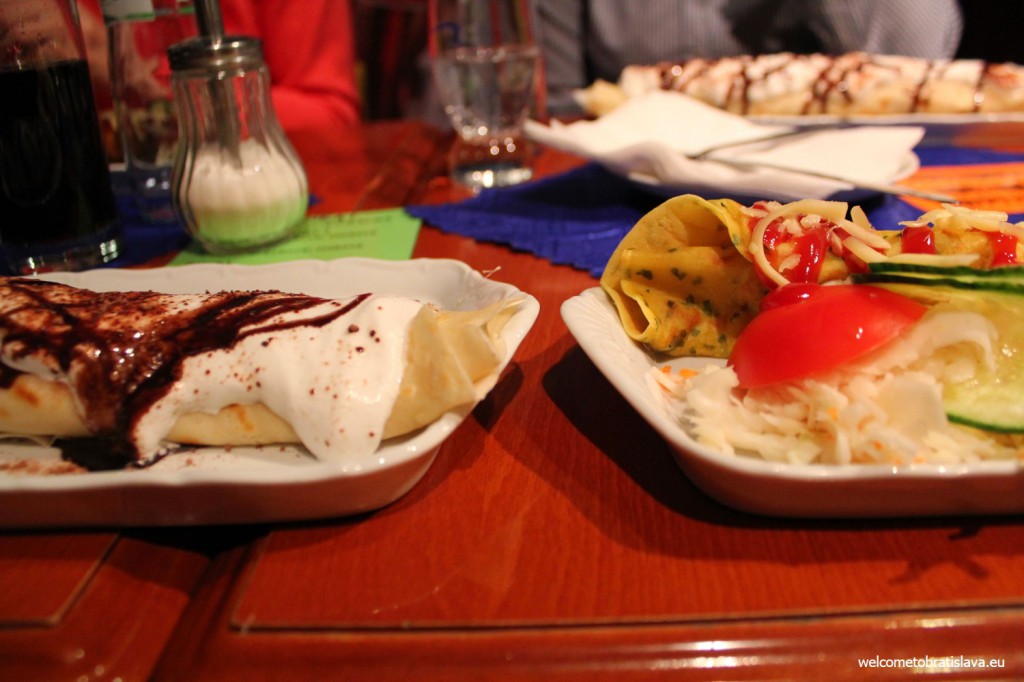 The biggest sweet one is called "Extra" and choosing it you are ordering a 350 grams pancake filled with whipped cream, mandarin curd, nougat, mixed fruit, vanilla pudding and walnut liqueur. Our favourite sweet one. When we feel like having something salty, we usually go for "the broccoli delicacy" – chicken thighs strips, mushrooms, vegetables and broccoli sauce. There are of course plenty to choose from and you can also ask for additional ingredients.

Ideally have a glass of milk or water – in case you order a sweet beverage, you might have problems finishing your meal. Also, if you want to try both sweet and salty ones, we would recommend you take a friend or go as a group. The perfect way is to have half of each so you can still move after your lunch 😀
One tip: have some cash on you when coming here, they don't take cards – it is not common otherwise but as you will see, this place is unique in more ways 🙂
Author: Maria Kecsoova

OPEN HOURS: MON-FRI 10:00 – 21:30, SAT-SUN 11:00 – 21:30


ADDRESS: Prievozská 21


CONNECT: Website


MAP LOCATION: