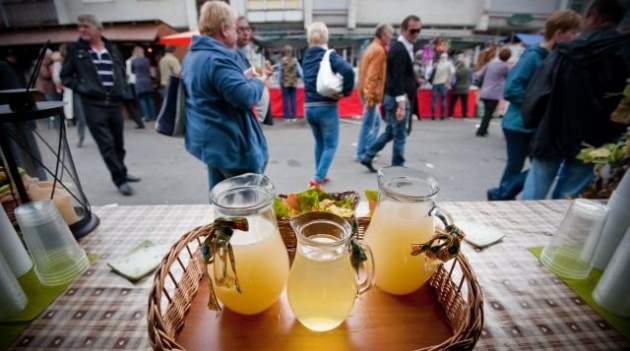 Vintage festivals are traditional events celebrating wine and wine making and often include a show of grape processing, pressing and tasting. They are connected with the period between harvesting the fields and autumn planting – usually held in September. In regions with vineyards, they used to be some of the biggest holidays of the year – especially when the wine harvest was particularly good. These events (in Slovak called "vinobranie") are held until now in the streets of Bratislava as well as its outskirts – with a wide range of gastronomic specialties and a rich cultural program.
The festivities are usually initiated with an allegoric parade, accompanied by singing and music performed by local folk groups.
The visitors of "vinobranie" can look forward to tasting wines from local cellars and also trying various kinds of food – "lokse" (potato pancakes), "burciak" and wines are probably the most popular things to have.
Burčiak is something like a grape cider which is let into the fermentation process for up to 10 days – until the sugary white grape juice turns cloudy. If you haven't tried it yet, this is the time of the year you should – just don't drink too much of it as it is quite dangerous and can get you in a fun mood very quickly :)
WHERE AND WHEN TO GO?
Vintage festival in Nove mesto 6.9.
Vintage festival in Raca 13.9. – 15.9.
Festival in Vajnory 14.9. – 15.9.
Vintage festival in Pezinok 13.9. – 15.9.
Festival in Dubravka 27.9 – 27.9.
Festival in Karlova Ves 27.9. – 29.9.
Vintage Festival in Modra 27.9. – 29.9.
Festival in Ruzinov 28.9. – 29.9.
Vintage festival in Devin 11.10. – 12.10.
Sources of the pictures: PKnet.sk, Bratislava.sk, Aktualne.atlas.sk, TVNoviny.sk, Svkonline.sk
Author: Maria Kecsoova