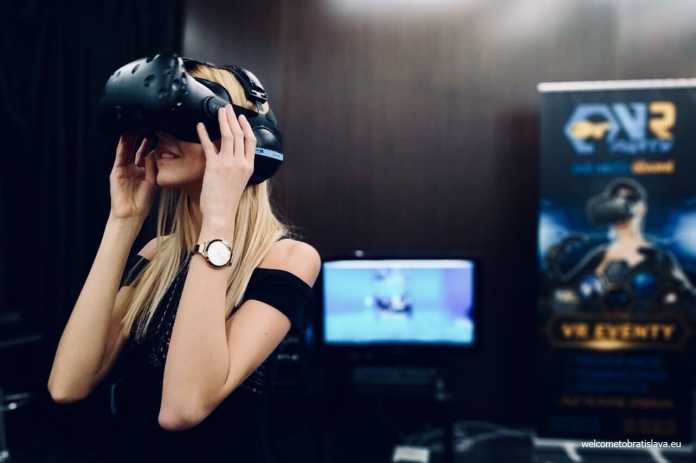 Everyone needs some time off once in a while. To pause the clock and get out of reality. Sport, nature, cinema, or reading books are great activities but what if you have already tried all of that and nothing lets you stop thinking about your job or daily duties? The best way how to get rid of your daily boring routine is to try virtual reality! If you haven't done so yet, let us show you some great virtual reality places in Bratislava where you and your friends can have fun and go crazy in a different dimension!
VIRTUAL REALITY & GIN TONIC BAR

LOCATION
Virtual Reality & Gin Tonic Bar is situated on Panenska Street near Hodzovo Square in the Old Town. You can easily get there by a bus and get off at the bus stop "Hodzovo namestie." Walk for around 4 minutes to get there.
GIN & TONIC, ANYONE?
Why is this place different than other VR places in Bratislava? It's not only a virtual reality place but also a gin & tonic bar. They offer more than 20 types of gin served either as a regular gin & tonic or as a fancy cocktail.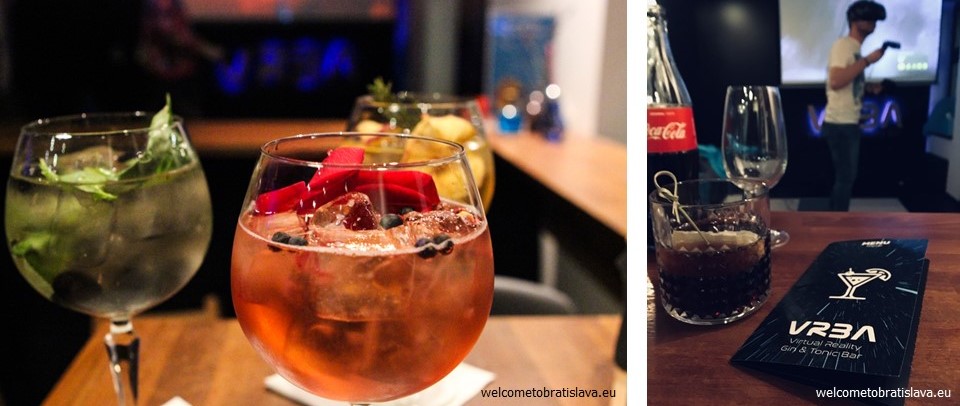 When you enter, the first thing to notice is a bar and a playbox on the right. The nice thing is that you can enjoy watching your friends on a big screen playing while having a drink. There are another three separated playing areas with sofas downstairs. These can accommodate up to four persons each. We have tried the one by the bar – it looks like a stage and as it is not separated, every customer having only a drink could watch us playing. In our case, the music coming from the bar was a bit disturbing since we couldn't fully focus on the game that required silence. If you want to have more privacy, we recommend using the playing areas downstairs.
Virtual Reality & Gin Tonic Bar is very popular for hosting team-buildings, family celebrations or hen/stag parties, as they can provide the guests with catering as well – the capacity is up to 45 people. For this reason you should check in advance the availability of the place, as it is easily booked out. This is actually one of the reasons that their space is divided into two areas. One of them has a more chilled vibe with tuli bags and "homey" ambiance, the other one is an "open space" with a bar. In summer, they also have a small terrace which is great for smokers. Depending on your preference and the number of guests, they will prepare the perfect program for you and seat you so that you can enjoy your stay here to the fullest.
OUR VR EXPERIENCE WITH VIRTUAL REALITY & GIN TONIC BAR

Very few people can afford to have a VR device in their homes and thus know how to work it. Because of that, there is always an instructor who stays with you the entire time and shows you how to use the devices, navigates you throughout the game, talks to you and laughs with you. Our instructor helped us to choose the right games according to our preferences. They offer around 40 games in their portfolio which is more than enough. You can choose from various relaxing, adventurous, educational or other types of games. If you are up to climbing the Mount Everest, swimming underwater or shooting orcs with the bow, we are sure you will find an interesting game for you that will make you forget the reality around you for a moment.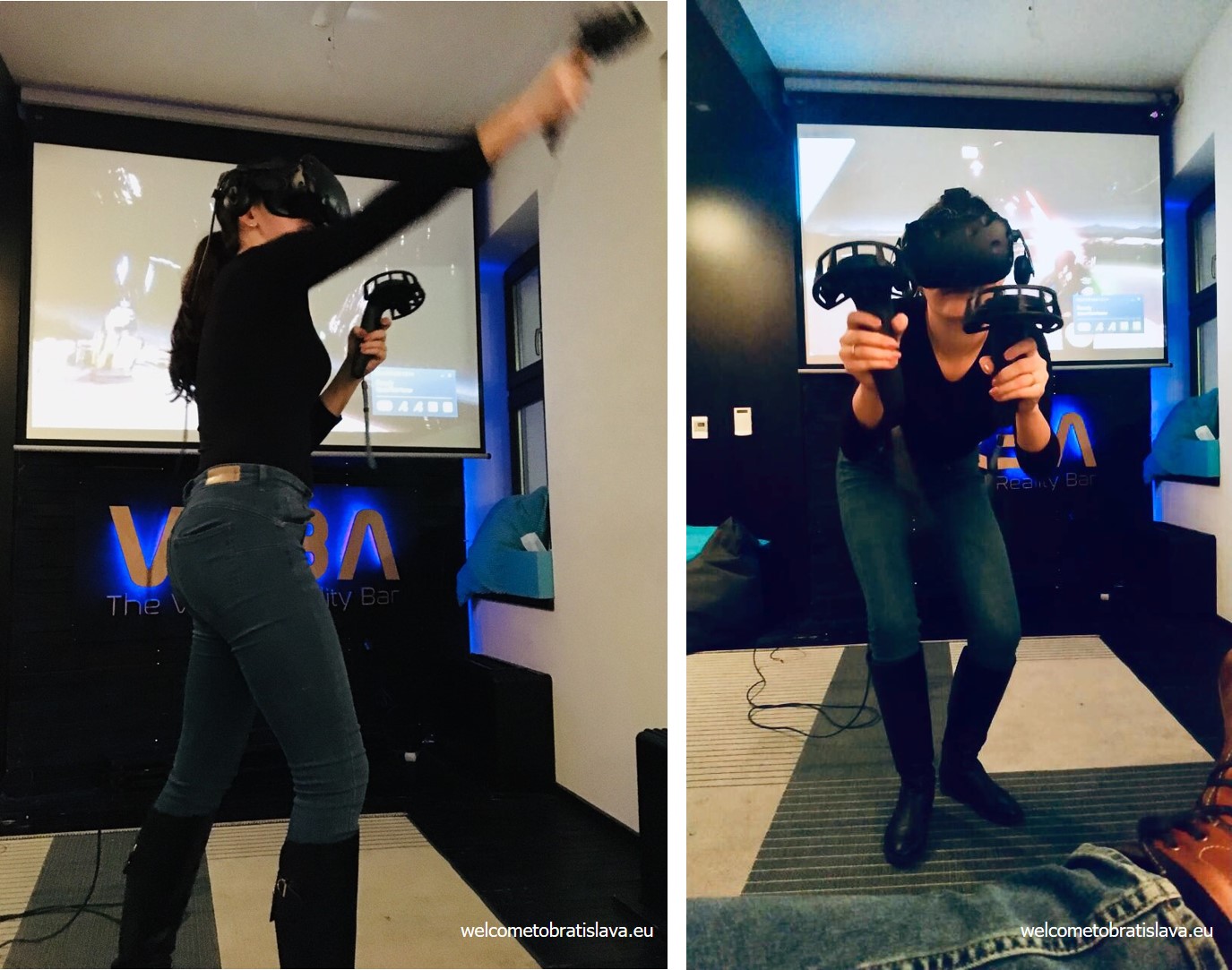 Virtual Reality & Gin Tonic Bar used to provide VR Escape Room experience in the past. Even though they currently do not do this anymore, we would be thrilled to try it once reopened!

 ADDRESS: Panenská 23


PRICES: 33 €/hour/a play box


CONNECT: Website, Facebook
VR Party
LOCATION
The VR Party is located on Kosicka Street in the municipality Ruzinov. If you travel by bus, get off at the bus stop called "Dulovo namestie" and walk for around 8 minutes between the blocks afterwards. Search for the entrance from the building's back side. For someone it could take a bit longer to find the right door but we trust that you can make it! :)
SLIPPERS FOR EVERYONE!
The place itself has a unique atmosphere, as it used to be a photo studio. High ceilings and black walls create a very alternative space that the virtual reality indeed deserves. When entering the studio, there is a nice gesture prepared for the guests – spare slippers that make you feel comfortable during your stay. If you are a bigger group, some of you can also play the air-hockey that is available by the entrance. In case you want to watch your friend sweat over a dancing game with a beer, it's an option. They offer various beverages so you won't stay thirsty! If you get hungry, you can use pizza delivery. The studio is one big open-space that consists of one playing area that can accommodate two players. A big plus is that there is always just you and your friends in this studio and no one else.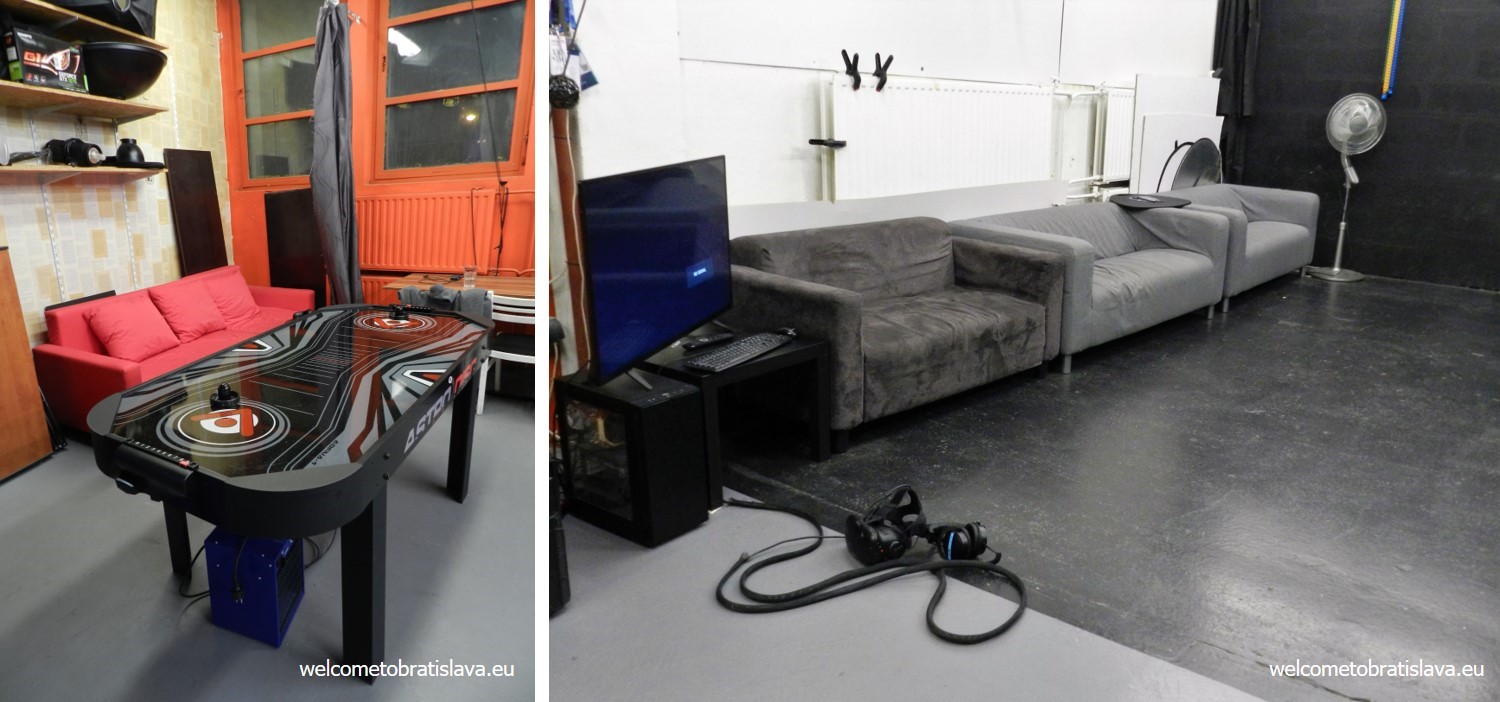 OUR VR EXPERIENCE WITH VR PARTY
What we liked about this VR was its big space and that we could laugh and scream out loud and it felt like we all were playing one game. There is always one instructor who shows you how to play, tells you which game could fit you, or asks you what you like. You can be a skier, a sniper, a scuba diver or you can "just" jump off a skyscraper. It was a great experience and even though all of us had different interests, they could easily find a suitable game for us.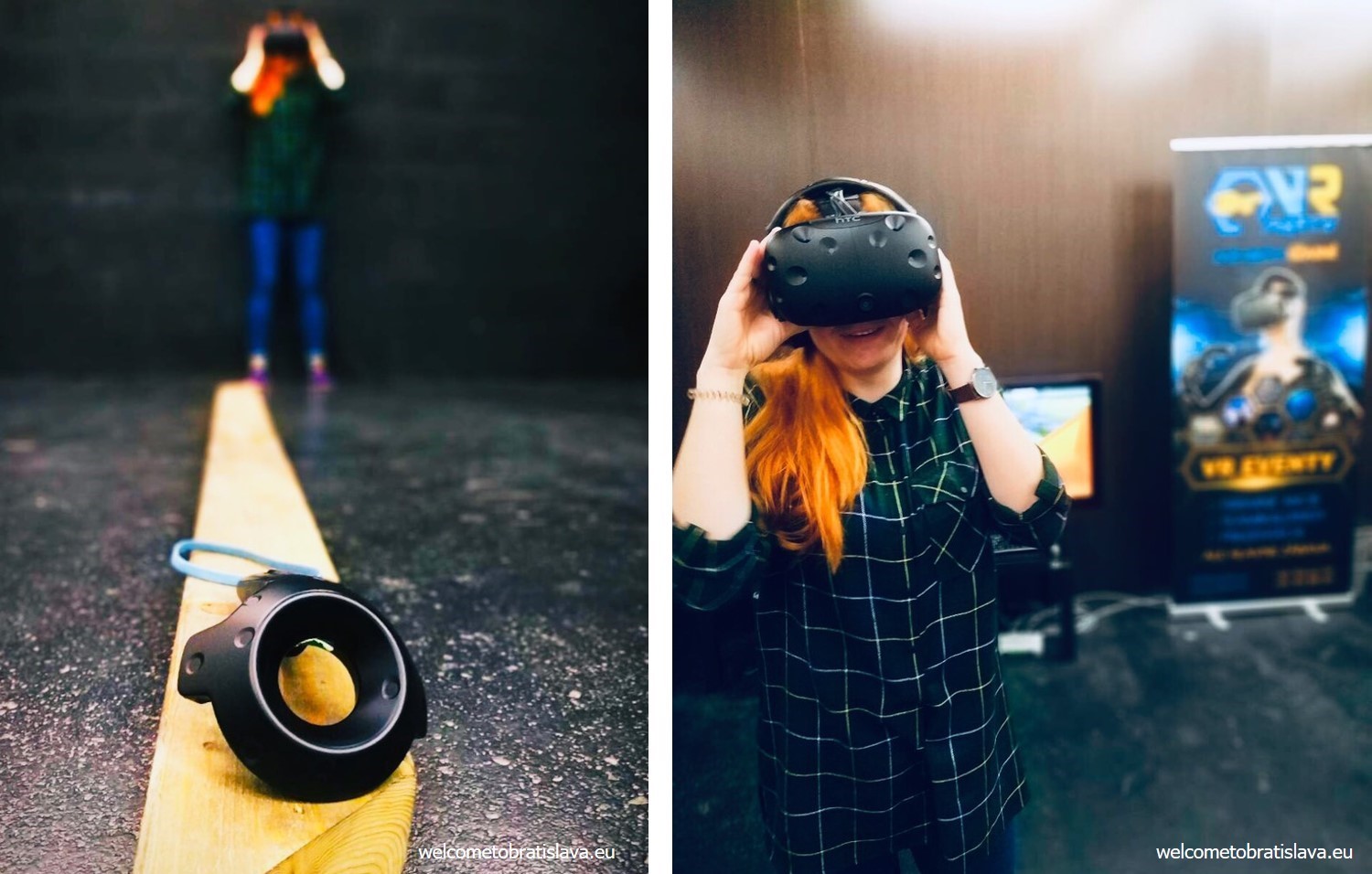 ADDRESS: Košická 37 (Cvernovka)


PRICES: 35 €/hour/two VR devices


CONNECT: Website
Virtualna realita Bratislava
LOCATION
Virtualna realita Bratislava can be easily found on Miletičova Street right opposite to the popular Miletička market. The closest bus stop is "Trhovisko" and the place is well marked and easy to find. Plus, they have a disability access, so everybody's welcome.
ONE OF THE VERY FIRST IN BRATISLAVA!
This place has been renewed lately but it started in 2016 as one of the very first VR places in Bratislava. They have 2 main playgrounds and a small additional one – this means 3 headsets in total and more than 100 games with VR experience. Even though this is not a bar, they serve simple refreshments such as soft drinks, beer, chips or candies. They can however arrange a full catering from a nearby restaurant that they cooperate with. That's why this place could be a good fit for celebrations or team buildings. 20 players can be comfortably accommodated inside.
OUR VR EXPERIENCE WITH VIRTUALNA REALITA BRATISLAVA
We loved that two of us could be playing at the same time here! It's even possible to play the same game in a cooperation mode but it's a limited selection of games that support this feature. If you are a fan of action games, just try the Serious Sam series and you'll feel the adrenaline kicking in, as you are trying to shoot horrible creatures running towards you. In case you like something more quiet and peaceful, try exploring and observing our beautiful planet in Google Earth VR, which gives you a completely different view of Google Earth. Do not worry, an instructor will not let you get lost in the virtual reality world, they'll instruct you anytime you need. What we like about VR Bratislava is that they try to bring the VR technology to people by attending expositions or visiting schools, and cooperate with the developers to bring the latest VR trends to their guests.

 ADDRESS: Miletičova 46


PRICES: 25 €/hour. Payment by card possible.


CONNECT: Website, Facebook
For all the virtual reality places, make an advance reservation online or via phone.
Authors & photo credits: Radka Horakova, Martin Komlos