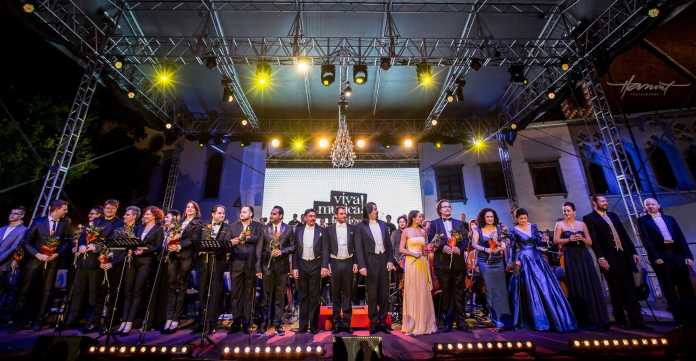 The biggest international summer music festival in Bratislava aiming to make a truly valuable artistic contribution offering the best of classical music. Since it was founded, it has provided high-quality music and top artists from around the world. Check the program and get your ticket before they get sold out!
2018 FESTIVAL AFTERMOVIE
2019 PROGRAM
ÓLAFUR ARNALDS 4.7.
Ólafur Arnalds is an enthusiastic experimenter and innovator who loves to shift the boundaries of music. Indubitably one of the most original contemporary musicians, he combines elements of (neo)classical music with sophisticated electronics. More info. 
START: 20:30
WHERE: Old Town Market Hall SNP Square
TICKETS: from 15 €
BUY YOUR TICKET
THE OPERA LOCOS  18.7.
The Spanish ensemble Yllana was formed in 1991 and during its career so far has played about twelve thousand performances in 44 countries worldwide. This summer Yllana is arriving with its musico-theatrical project The Opera Locos, a crazy parody on opera. An evening full of the most famous opera hits of all time, overlapping with rock and pop rendered by five outstanding opera singers, promises an unforgettable experience for the entire family, and will delight not only opera enthusiasts but also those who are operatically completely unversed. More info.
START: 18:00
WHERE: Ateliér Babylon, SNP Square 14 / Kolárska 3
TICKETS: from 20 €
BUY YOUR TICKET 
PETER GREGSON & CELLO ENSEMBLE – BACH RECOMPOSED 25.7.
The work of the Scottish cellist and composer Peter Gregson is based on classical music, but electronics plays an important part in it. Gregson comes from Edinburgh and has been playing the cello from the age of four. He studied music at the Royal Academy of Music in London and music technology at MIT Media Lab in Cambridge, Massachusetts. To this day he continues to collaborate with MIT and other technology companies including Microsoft Labs and United Visual Artists on his projects. More info.
START: 20:00
WHERE: Great Evangelical Church, Panenska street 28
TICKETS: 15 €
BUY YOUR TICKET 
4CONCERT 31.7.
The festival offers also concerts by artists who have previously performed at Viva Musica! and whose appearances have resonated most powerfully in the festival's history. One of those is undoubtedly the much-loved symphony sessions, several times performed and always with great success, where artists from the non-classical music scene come together with the orchestra. In 2009 Jana Kirschner, opening a series of these sessions, played an unforgettable concert with the orchestra in the Main Square. In 2011 Dan Bárta appeared in Bratislava's Old Market Hall with Illustratosphere and with the Czech Epoque Quartet. Later (2014) Korben Dallas played with the orchestra, and last year Katarzia too presented her songs in experimental arrangements with the Viva Musica! ensemble. On July 31, 2019 these four artists will appear at a joint 4Concert, where they will present their greatest hits, and also some new numbers, with the symphony orchestra conducted by Braňo Kostka. More info.
START: 20:00
WHERE: Old Town Market Hall, SNP Square
TICKETS: 25 €
BUY YOUR TICKET
NEMANJA RADULOVIC 7.8.
A violin virtuoso with a highly conspicuous appearance and temperament, reminiscent more of a rock star than a classical musician. The Franco-Serbian violinist Nemanja Radulović has devoted himself to music since the age of seven, and as a 14-year-old he was already giving concerts at the world's best-known venues. An artist who seeks to broaden the boundaries of classical music, Nemanja champions the power of music to bring people together with his unique energy and candour. He is a winner of a number of prestigious competitions and the holder of several music awards, including ECHO Klassik (currently OPUS Klassik). More info.
START: 20:00
WHERE: Old Town Market Hall, SNP Square
TICKETS: from 15 €
BUY YOUR TICKET
VÍKINGUR ÓLAFFSON 16.8.
A Piano Virtuoso from Iceland. He has collaborated with Philip Glass and Björk and records exclusively for the Deutsche Grammophon label. The New York Times described him as "an Icelandic Glenn Gould". Thanks to the rare combination of passionate musicality, bravura virtuosity and intellectual curiosity, the Icelandic pianist Víkingur Ólafsson, a graduate of prestigious Juilliard School, is undoubtedly one of the most inspirational artists of the present day. More info.

START: 20:00
WHERE: Slovak Radio Building, Mýtna 1
TICKETS: from 15 €
BUY YOUR TICKET 
MUSIC-PICTORIAL HOMAGE TO NATURE 22.8.
In September 2019 the director, screenplay writer, traveller, and internationally most successful Slovak documentary-maker Pavol Barabáš will celebrate a "round-year jubilee". On this occasion the organisers of the Viva Musica! festival in cooperation with Michal Novinski have decided to prepare a special concert, which via music and video materials from his films will bring visitors on a journey round the world: from the bowels of our Earth to the highest snow-covered peaks, from the green jungles to the frozen, inhospitable poles, from unknown lands to the High Tatras, from extreme adventure to the meditation and philosophy of other cultures. Barabáš lives in stories that are played out far from civilisation, beyond the frontier of the known. For some decades he has been recording his view of our planet in his documentaries, for which he has received many awards throughout the world. More info.
START: 20:00
WHERE: Old Town Market Hall, SNP Square
TICKETS: from 15 €
BUY YOUR TICKET 
Author: Zuzana Mytna